Earlier this week, Scribd stealth released a "Comics Unlimited" wing to their Netflix for books subscription service. According to Scribd you can "Browse more than 10,000 comics and graphic novels from Marvel, IDW/Top Shelf, Valiant, and more." It's an exciting addition to the digital comics landscape, and as you'd expect, I have a lot of thoughts.
To begin, I'm excited to see a new entrant in the digital comics subscription landscape. I had thought that entrant might be DC Comics (click here for more on "DC Unlimited," or the lack thereof), but this provides some much needed (sort of) competition for Marvel Unlimited. Speaking of…
Scribd Comics vs. Marvel Unlimited
If you're totally new to the digital comics game, here's how this works. With Marvel Unlimited, you pay $9.99 a month, or $69 annual, and you are granted a subscription to their digital comics library. Very similar concept to Netflix or Spotify, with comic specific differences.
Scribd has been offering a variant of this service with books, and now their library has expanded to include those 10,000+ comics we mentioned (for $8.99 a month mind you).
Since Marvel Unlimited has held something of a monopoly on this type of service, and since it's a great way to read the Marvel Universe, it makes some sense to use the service as our baseline comparison.
Support For Comic Book Herald:
Comic Book Herald is reader-supported. When you buy through links on our site, we may earn a qualifying affiliate commission.
Comic Book Herald's reading orders and guides are also made possible by reader support on Patreon, and generous reader donations.
Any size contribution will help keep CBH alive and full of new comics guides and content. Support CBH on Patreon for exclusive rewards, or Donate here! Thank you for reading!
How Do The Comic Selections Compare?
Somewhat surprisingly, the Scribd comics library includes a variety of comic book publishers, and Marvel Comics is lead among them. I'll talk in more detail in the "Best of Scribd Comics" section about the other publishers, but for now let's look at just Marvel.
The Scribd selection of Marvel Comics is surprisingly deep, and in some ways can hold it's own with Marvel Unlimited. For example, if you're most interested in catching up on all-time classic Marvel stories, Scribd offers some nice curated collections to get you going.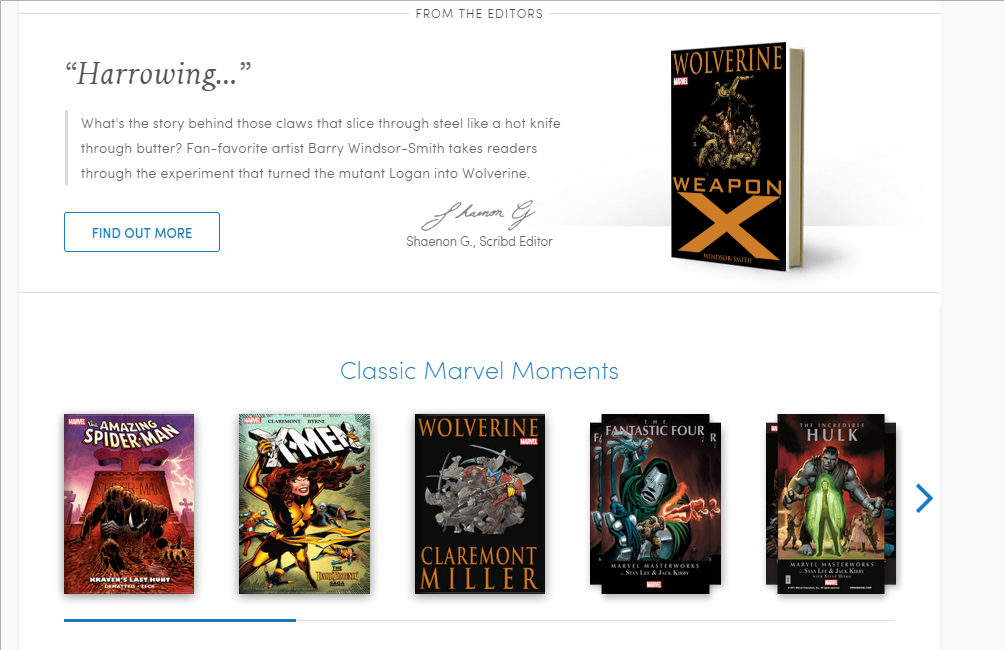 If you were to make your way through my "Best Comics on Marvel Unlimited" post, you'd find the vast majority of those selections also available here on Scribd.
The Marvel Scribd range is deep, but it is not as deep as Marvel Unlimited. For example, I can read all of Jonathan Hickman's Fantastic Four on Scribd, but you'll only get his Avengers and New Avengers (those essential Secret Wars prelude comics) through Marvel Unlimited.
This appears to be true for nearly all Marvel NOW! comics (anything released later than 2012 such as Superior Spidre-Man) as well as slightly newer fan favorites like Rick Remender's Venom or Fraction & Aja's Hawkeye.
So the short answer here: You're going to get a lot of great Marvel trade collections through Scribd, but not nearly as many series overall, especially of newer comics (which, remember, are already on a 6 month or so delay within Marvel Unlimited).
Wait, Marvel Trade Collections?
That's other other thing: the Scribd Marvel selection is broken into the trade paperback collections, rather than issue by issue. This approach is actually a bit nicer in some instances, for example reading a crossover event like the Avengers / Defenders War. Instead of crossing between series, you can just consume the trade in one highly enjoyable sitting.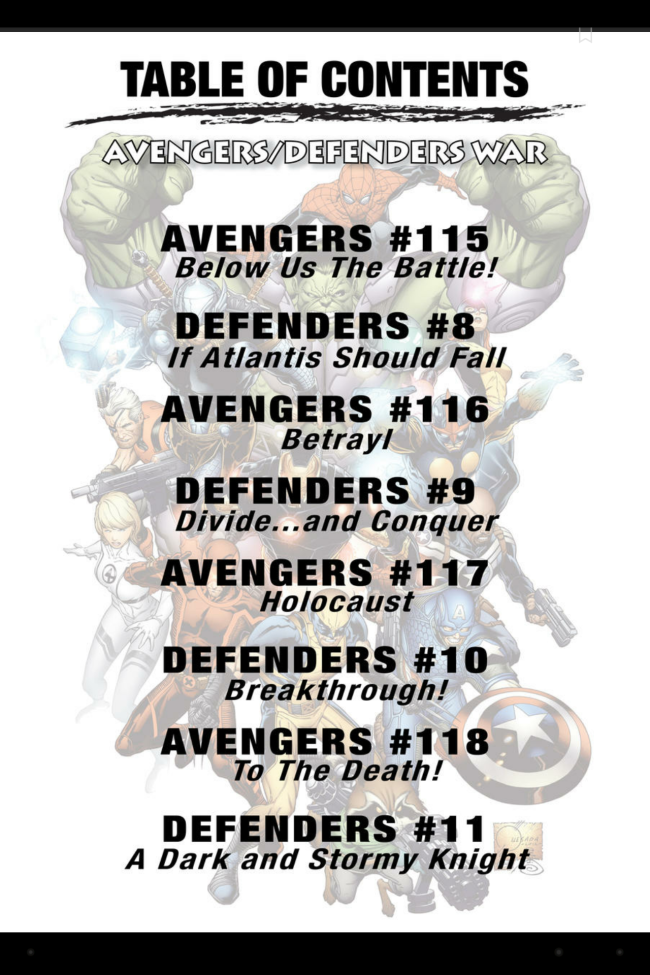 The primary issue I have with the Marvel trade collections within Scribd is that they're a bit overwhelming and unorganized. Scribd does a nice job with editorial content curation (suggesting good stories, and categorizing) but outside of this you're left with clicking on trades and hoping it'll make sense to you. If only there was a complete marvel reading order to help…
Probably the biggest missing feature in Scribd for Marvel right now is the ability to filter by hero, comic book series, or event. I'd imagine this content is in progress, but as is, it's definitely going to be a challenge for newer readers to sift through all of the comics.
Are There Any Scribd Unlimited Selections Not in Marvel Unlimited?
I thought for sure I had found the long lost Silver Surfer: Parable issues from Stan Lee and Moebius that I could never find on Marvel Unlimited. I was extremely excited to report this finding to you all. And then… I realized those issues have always been on Marvel Unlimited, they're just labeled weird.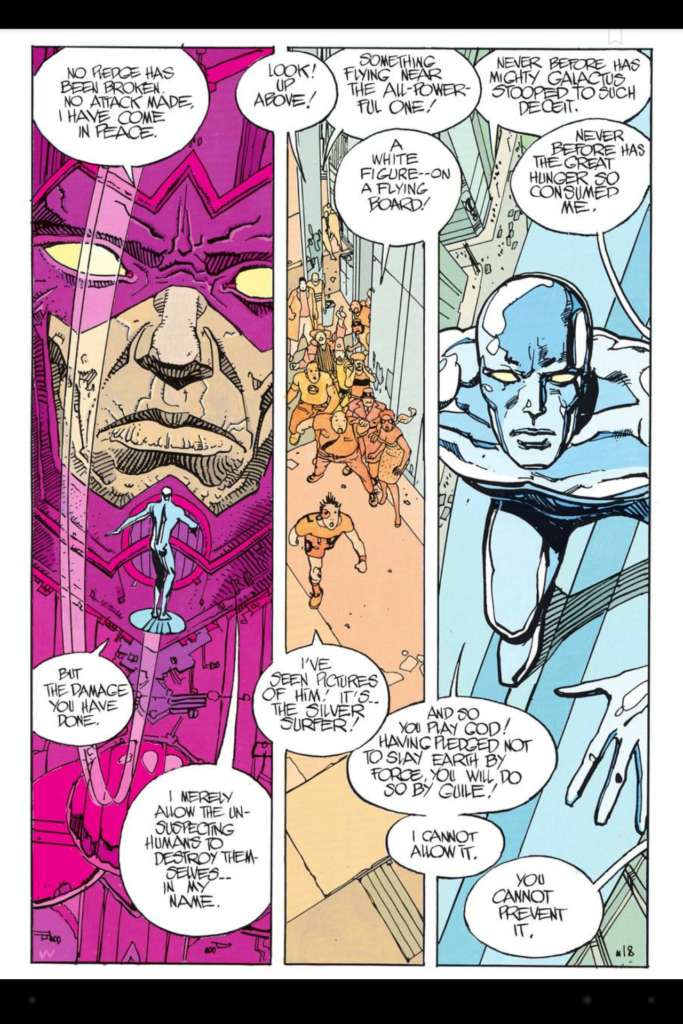 So the short answer here is I haven't found any Marvel Comics on Scribd that aren't available through Marvel Unlimited.
What About the Scribd Unlimited Reading Experience?
This is one of the biggest differences between Scribd and Marvel Unlimited. So far, the library within the Scribd app is a lot more functional and smoother. Compiling collections of books you want to read is less of a buggy hassle than it has occasionally been on Marvel Unlimited.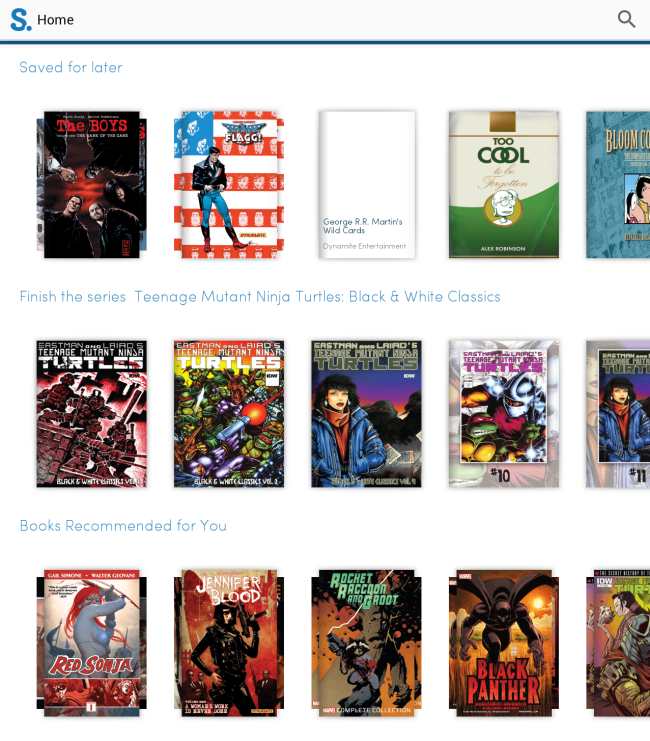 On the other hand, once you're actually reading your comics, you'll notice that Scribd does not seem to offer any comic specific reading functionality. Whereas Marvel Unlimited has "smart panels," Scribd just has singe full pages, and double-tap zoom capabilities. As buggy as Marvel Unlimited's smart panels can be, they're definitely useful when they work. This is a bit of a miss on Scribd's part as I'm not sure you'd want to read any comics on any device other than a full 9 / 10 inch size tablet.
Could you read your Scribd comics on a 7 inch tablet or a smartphone? Sure. Inevitably, though, it's going to be a lot of double tapping the page, and pinching and zooming to read each panel.
Final note – the single comic page usually fit to my tablet screen without any scrolling. This was not always the case though, and I occasionally had to scroll to reveal cut off text.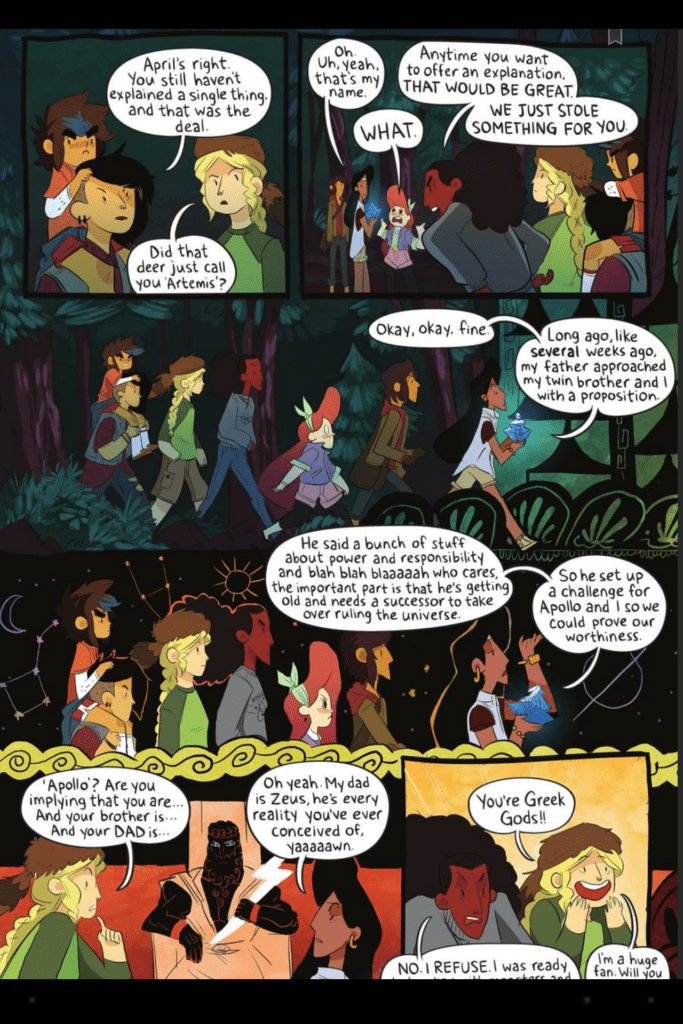 Offline Comic Book Reading
Scribd's biggest victory right now is completely unencumbered offline reading. Marvel Unlimited offers 12 offline comics at any one time, and by Odin's Beard, it can be the most frustratingly buggy experience this side of Ant-Man's lab.
Scribd, on the other hand, allows you add as many books to offline reading as your device can store. This is a huge win, especially if you don't do much else with your device than read comics.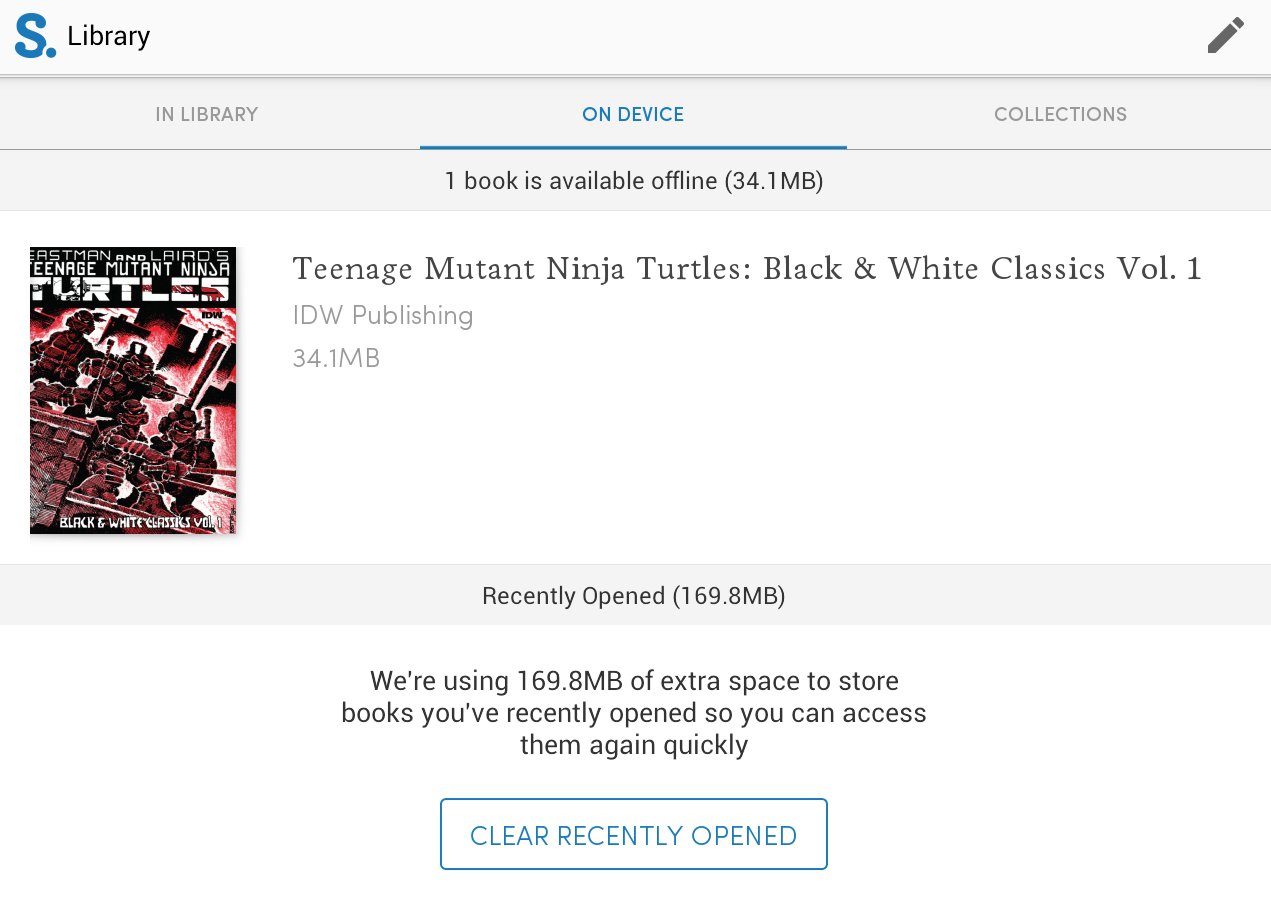 While we're on the subject of Scribd successes, I'd also highlight the nice job of moving you through one collection to the next collection in the sequence. This makes up for some of the difficulty in finding content in Scribd currently.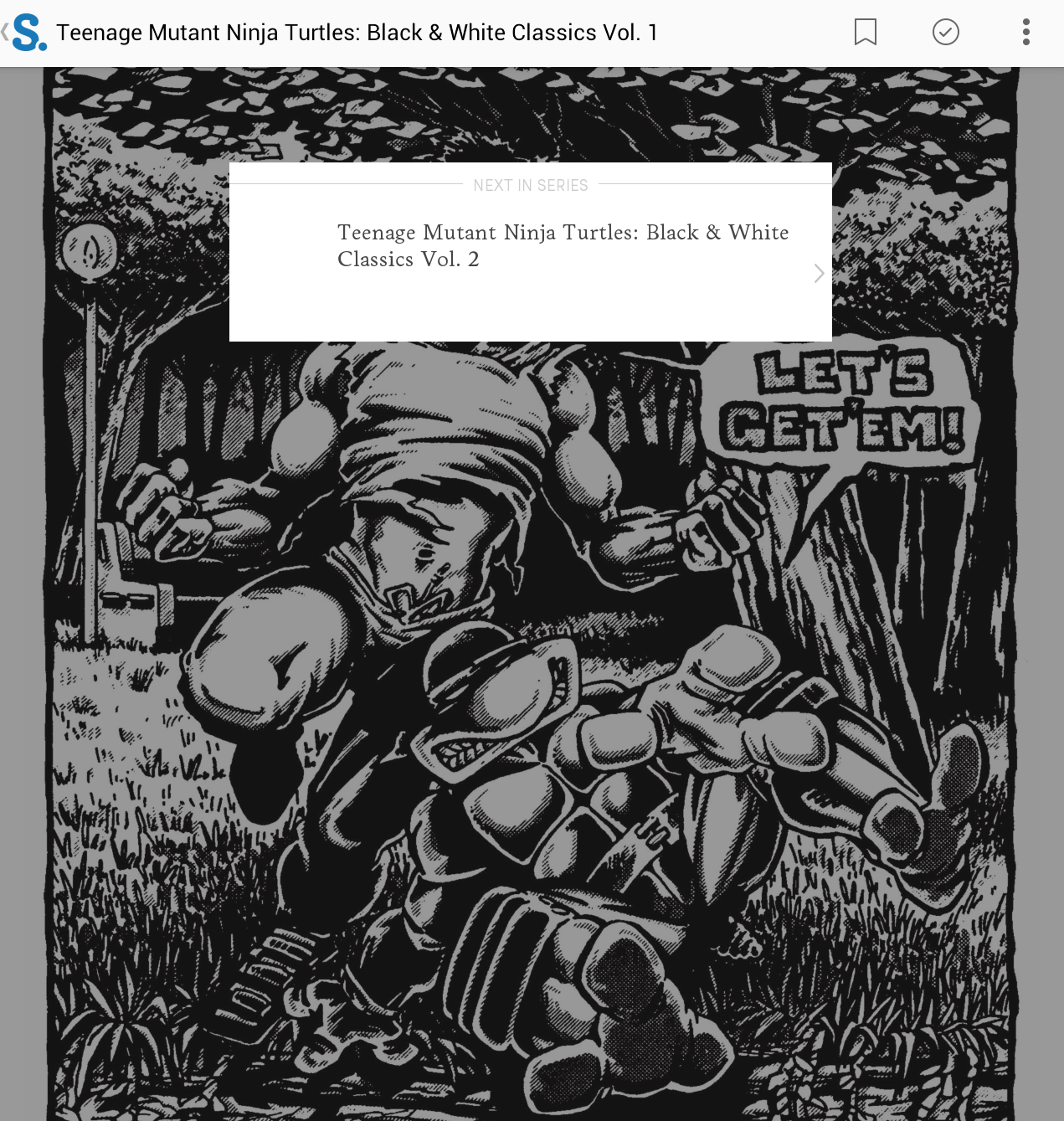 Would I Use Scribd as a Marvel Unlimited Replacement?
This is a legitimate question in my opinion. Personally, I wouldn't, but that's because I'm extremely invested in slightly newer Marvel Comics, and wouldn't give up the depth of the Marvel Unlimited library for my family's safety (wait, did I say that out loud?). I think Marvel Unlimited is entirely worth it.
For me, the depth of the library wins out. I wanted to read Death of Wolverine on a whim this weekend, and I was able to do that with the complete background of Paul Cornell's "Killable" Wolverine run because those 20 or so lead-in issues are available on MU.
That said, I'm enamored with Scribd's offline reading capabilities. In addition to the one other crucial Scribd offering – all the other comics.
Is the Scribd Comics Library Worth It?
Here's where the comparison gets tricky. Scribd isn't limited to just Marvel Comics. So when you factor in a comparable Marvel selection, alongside all the other comics available (not even mentioning actual books without illustrations… the horror!), $8.99 a month for Scribd vs. Marvel's $9.99 a month is understandably difficult.
Now, there's actually one deal breaker that Scribd offers right now that makes the decision quite a bit simpler: you can get a free trial month on Scribd.com if you sign up now. This way you have 30 days to test out the Scribd library, and can cancel if you decide it isn't right for you.
Even if you already use Marvel Unlimited, I'd encourage you to give that free month of Scribd a look. Primarily because of the other comics available.
The Best Comics on Scribd Unlimited
There's some nice curation going on in Scribd already, and I wouldn't have added some comics like The Rocketeer to my library without the quality recommendations inherent to the subscription.
That said, it can also be fairly difficult to mine through all the comics in Scribd, and there were a handful of excellent reads I didn't notice until I'd dug for a long while.
I'll primarily ignore Marvel below since I"ve already talked about the comparisons to Marvel Unlimited, and because my best digital Marvel Unlimited comics guide applies here as well.
Publishers Included in Scribd Comics:
Marvel Comics
IDW Publishing
Kingstone Comics
Dynamite
BOOM! Studios
Space Goat Productions
Archie Comics
Top Cow Comics
Valiant Comics
Arcana
Zenescope
Personally, I find the IDW, Archie, Top Cow, and Valiant collections most worth your money. I was excited about BOOM! Studios inclusion, but their offerings are currently very limited, with only an issue or so of great series like Transformers vs. G.I. Joe.
My IDW Top Picks
The Comic Book History of Comics
Joe Hill and Gabriel Rodriguez's family horror mystery is an excellent blend of supernatural fantasy, haunted house tragedy, and family dynamics. It might not be as creepy as that first season of American Horror Story, but there are a number of parallels, and it's overall a GREAT comic book series. All 5 volumes are available.
The TMNT comics collection is really expansive, starting all the way back with Eastman and Laird's original black and white brilliance. I've been meaning to do a Teenage Mutant Ninja Turtles binge for ages, and this offered the perfect excuse. Excellent comics, and be sure to look for the Marvel Secret Wars diss in issue #2!
Richard Stark's Parker Adaptations by Darwyn Cooke
Completely awesome noir, tough-guy mysteries from the writer and artist behind DC: The New Frontier and Before Watchmen: Minutemen.
Plus, Books in my library I'm excited to read:
Plus other exciting properties you might like:
Godzilla
My Little Pony
Tank Girl
Transformers
G.I. Joe
Star Trek
Judge Dredd
My Dynamite Top Picks:
For all the Garth Ennis lovers out there. Hey kids, do you like violence?
George R.R. Martin's Wilds Cards: The Hard Call
I find Martin's Wild Cards universe completely fascinating, and while I wish there was more of it in Scribd, this read is a way in (if a confusing and in the weeds one).
Innovative and influential early 80's comics from legend Howard Chaykin, featuring a dystopian 2031 America.
Plus other exciting properties you might like:
Red Sonja
The Shadow
Vampirella
Jennifer Blood
Green Hornet
Army of Darkness
My Top Cow Top Picks:
I actually really dislike Wanted as a comic book series, but the fact that it's from Mark Millar and was made into a (nearly unrecognizable and I'd argue improved) movie makes me feel like I should reference it.
My Top Shelf Top Picks:
There are a fair amount of excellent graphic novels from Jeff Lemire in the Top Shelf selection (Essex County for one), but The Underwater Welder is my first pick. It's an absolutely beautiful love story filtered through the twilight zone.
Explaining March inevitably sounds like a high school reading assignment. Rich and true portrayal of the civil rights movement… wait, where are you going?! That said, this is a truly excellent graphic novel, and an important reflection of civil rights in America.
This is probably the single greatest graphic novel in the entire Scribd collection. From Hell is Alan Moore and Eddie Campbell's off-the-charts meticulous account of Jack the Ripper. You'll also find some League of Extraordinary Gentlemen work from Moore, but From Hell is Moore & Campbell's masterpiece.
This account of an 80's hacker genius is almost impossibly interesting. I couldn't believe how fascinating the early days of hacking were, as an ambiguously innocent hacker runs from the law.
I didn't even know how much I loved Kung Fu until I read this graphic novel. One of the best looking and most enjoyable reads you can possibly pick up.
Top Shelf Books in my Library I'm Excited to Read:
Too Cool
Alec
Matt Kindt's Super Spy
Everything from Jeffrey Brown
Box Office Poison
American Elf
… and more – the Top Shelf selection is LOADED
My Valiant Top Picks
As best I can tell, you can pretty much consume the entire Valiant universe here, which is awesome. I highly recommend starting with the first issues of X-O Manowar, Harbinger, Bloodshot, Archer & Armstrong and Shadowman to get a feel for the universe.
From there…
If you've got a feel for the Valiant Universe, and you're not feeling Kindt's Unity, Valiant just isn't for you. Comics might not be either. This has been an outstanding new entry in the Valiant Universe (Unity launched in 2013), and you can read the first 13 issues in Scribd right now.
Brush up on your Archer & Armstrong and Quantum & Woody and then dive head first into the steaming pile of rubbish that is The Delinquents. A funny, messy buddy comedy times four!
Final Thoughts: What Ever Happened to DC Comics?
There was a brief moment when I first saw the Scribd comics announcement that I got almost immeasurably excited. YES – DC Comics unlimited! What better opportunity to DC to test the digital subscription waters than through a third party software provider on a limited basis?
And then of course it turned out that DC Comics was not in Scribd. Not only that, but Marvel – of Marvel Unlimited fame and fortunate – was in Scribd's library. If anything could more clearly define the state of the Big 2's digital arms right now than this decision, I'd be shocked.
I found the Marvel decision boldly clever. Rather than run scared at the first sign of a comics subscription competitor, Marvel simply said "Let's leverage this new player into a promotion tool for our books." There may be some potential Marvel Unlimited sales that ultimately move to Scribd instead. This will likely increase as Scribd expands it's comics library in a way that Marvel simply can't. Nonetheless, all those Scribd subscribers will be reading Marvel comics. In the long run, this is a win.
Meanwhile, thousands upon thousands of new comic book fans will consume hundreds of comics, and none of them will be from DC. Will DC's trade sales remain higher as a result? It's possible, but I'm testing some data from Marvel trade sales that suggests Marvel Unlimited hasn't hurt their trade sales at all (in fact, they've only improved). Instead, all sorts of new potential DC fans just don't have access to their books through a perfectly reasonable, and increasingly popular means of digital consumption.
Shake. My. Head.
It's harder for me to blame, say, Image Comics, who are also conspicuously absent from the Scribd library. Image has a dramatically smaller lineup, and absolutely kills trade sales. Image also has made large strides in enhancing their own digital sales capabilities with DRM-free comics, and a 50% off sale every Christmas that nearly drives me to bankruptcy. As a fan, I'd naturally like to see their books available here, but I can understand the resistance.
I can't fathom why DC wouldn't select some highlights from their lengthy history and add them to Scribd, though. Hell, toss in Golden Age Superman and call it a night – something.
End of the day, though, I'm excited about Scribd as a new player in the digital comics subscription game. Again, if you're interested, you can check out Scribd for yourself!