So Wolverine is dead. Finally, after Marvel dragged it out, and now they continue to give us more insight into that story as the Marvel Universe vies to fill the void left by the death of Logan. If you missed the first issue of The Logan Legacy, here is a short recap.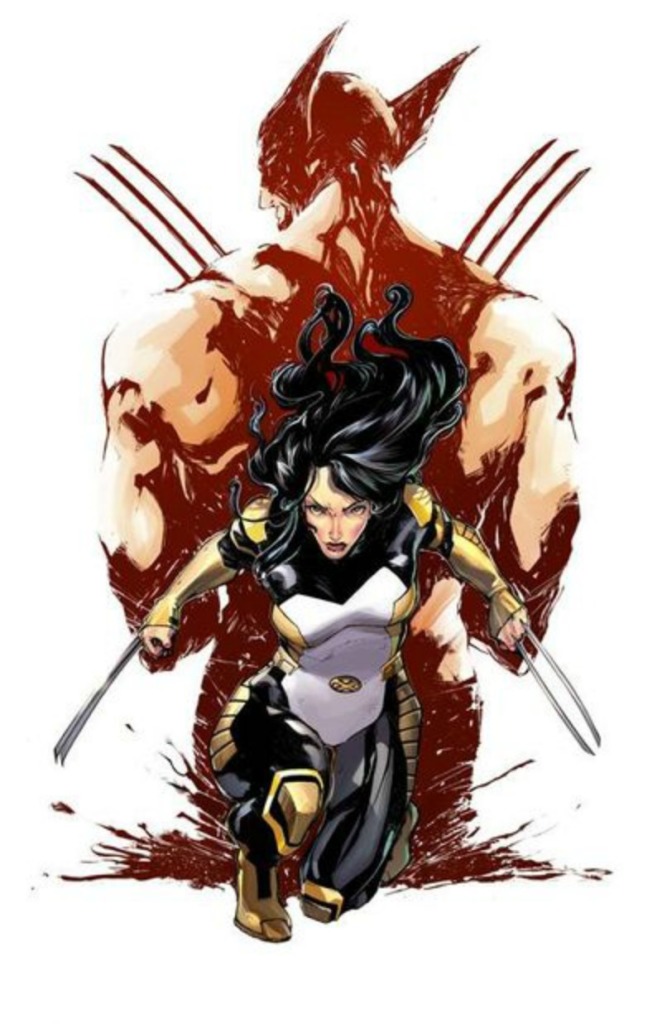 Laura, or X-23, is being transported to a holding facility, already populated by Daken (Wolverine's son) and Sabertooth. They don't know who their captor is, but safe to say the reason behind it must have to do with Logan.  Lady Deathstrike is also thrown into the cell, and a masked figure sits quietly in the corner, who is revealed to be Professor X! But, SPOILER, it's not him, because he is dead. (See the AXIS event happening now for more info). It turns out it is actually Mystique, and the connection between all of them and Wolverine gets only stronger. The final prisoner turns out to be Elixer, a newer X-Man who also had a stint on Wolverine's X-Force kill squad. The mysterious captor reveals little about himself, other than he knows all about Weapon X and what Abraham Cornelius did to all those he worked on. He implanted four trigger words, than can make them docile, or even kill them. He goes on to say that he will offer all of the prisoners a deal, and will decide which word to use on them at that time.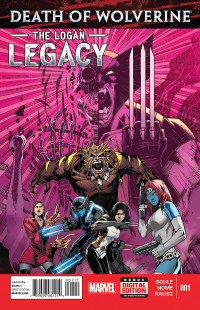 This is slated as a seven part mini-series, so it is safe to assume that each subsequent issue will deal with a single character, leading back to the point where issue one leaves off. Charles Soule, who also penned the Death of Wolverine story, wrote that first issue, but this second one is written by Tim Seeley, with art by Ariela Kristantina and Sonia Oback. Each issue will give us a little background on how each one of these characters deals with the death of this integral mutant. Some are friends and others are not, but all could potentially fill the hole left behind by no more Wolverine. Again, I am going to infer that this will be dragged out and an ongoing debate for sometime, as Marvel has slated a new series to spin off from here, titled Wolverines.
This issue does bring a good story to the fold, as we see X-23 working out her frustration in the danger room. She isn't necessarily saddened by the loss of her mentor, and rightfully so because emotions don't come easy for a clone. (Didn't know she was a clone of Wolverine? Shame on you then!) So, in a very Wolverine-esque fashion, she decides to leave the Xavier School and head out on her own for awhile, to not only process how Wolverine left her by herself, promising he never would, but to also distance herself from Kitty Pryde and the rest of the X-Men trying to relate to her feelings, or lack there of.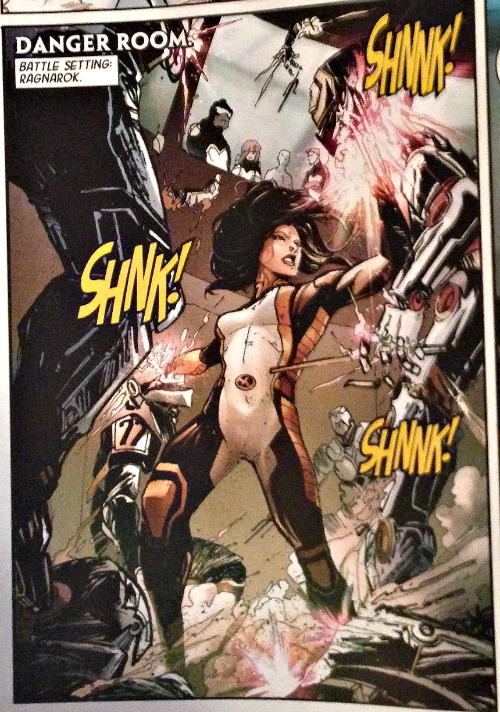 She makes her way to Toronto and finds herself in a dance club just as it is terrorized by a group of outsiders called The Happy Clams. Lame names aside, she jumps to action, being eventually aided by The Chinook. Ok, lame names and alias seem to permeate this whole issue. This Canadian super-hero of sorts is given an interesting backstory, tying him to Wolverine's past, but the story on a whole falls a little flat. Laura is a tough character to write, as she is supposed to be a emotionless killer that is dealing with finding her humanity. Seeley does an adequate job, and the art is very colorful, but the only takeaway from this story is the ending. Laura realizes what it means to be a hero, and what Wolverine did in his life being a symbol in the clothes he wore. It is an interesting turn and feel good moment, but just barely.
Support For Comic Book Herald:
Comic Book Herald is reader-supported. When you buy through links on our site, we may earn a qualifying affiliate commission.
Comic Book Herald's reading orders and guides are also made possible by reader support on Patreon, and generous reader donations.
Any size contribution will help keep CBH alive and full of new comics guides and content. Support CBH on Patreon for exclusive rewards, or Donate here! Thank you for reading!
The "Best There Is":
The ending where Laura dons a little color in her hair as a tribute to Wolverine, and also returns to the X-Men.  It is a nice moment, and a clunky character arc for her.
The "Isn't Very Nice":
The story seems force-fed and a little all over the place. The one question that wasn't addressed is how Laura was kidnapped and brought to the holding cell in issue #1.  Maybe we will be seeing that later on, but I am starting to wonder if Marvel is still trying to just sell books affiliated with the Death of Wolverine, and not really sell books with great stories.
CBH Score: 3 out of 5. I would have given this a lower score, but I do enjoy X-23 and feel she is underused in the Marvel Universe, so any story featuring her I readily want to read.
[schema type="review" rev_name="Wolverine: Logan Legacy #2″ user_review="3.0″ min_review="0.0″ max_review="5.0″ ]