First of all, this review contains MAJOR SPOILERS about this mini-series. I know that many of you might only read these reviews, maybe because you don't collect Wolverine, or don't read comics at all. But this event is pretty significant to all of the Marvel Universe, hell, it's pretty damn significant to anyone and everyone who knows who Wolverine is. I will be very curious to see how the general media handles this, considering how previous beloved character deaths have made nationwide and international news, like Superman, Captain America, and Spider-Man. So again, please read on, but if you are waiting still to actually read the book, beware of SPOILERS.
This series has been incredible, to say the least. Charles Soule has done an excellent job creating a tale that doesn't seem 'done before', while also infusing it with story beats and characters that we haven't seen for a long time. Kitty Pryde, Lady Deathstrike, Ogun, Madripoor, Weapon X, and others all make appearances, making this a good look back at how far this character has come, and the lives and areas he has touched. Coupled with the incredible art of Steve McNiven, accented even further by Jim Leisten and Justin Ponsor, we all are truly blessed with a mini-series that lives up to it's hype, and more.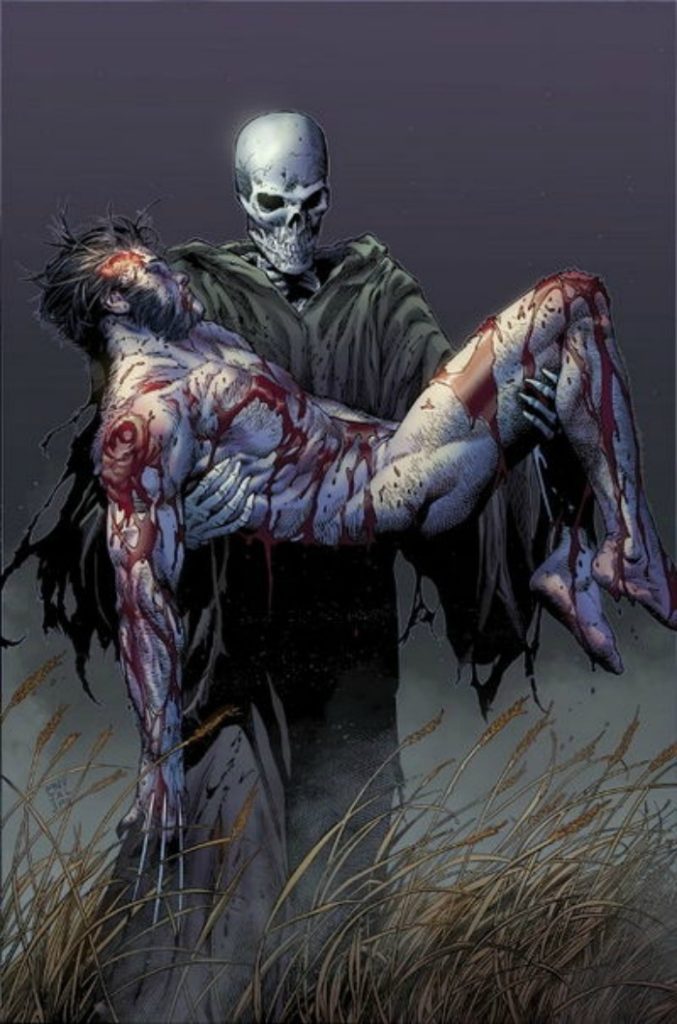 Last issue, we left Logan dealing with his onetime mentor, multiple times villain, Ogun. He learns the awful truth, that the man behind all of the pain and suffering brought to Wolverine's doorstep has been none other than Dr. Abraham Cornelius, the scientist behind the original adamantium bonding process, and the Weapon X experiments that made Wolverine into far more than he was. Granted, we have now learned thanks to the series Origin and Origin II, that Logan was born with bone claws, super-human agility and senses, and a mutant healing factor. But the adamantium that was bonded to his bones made him almost indestructible for a long time, until recently when his healing factor was taken away and the metal was slowly killing him from the inside.
So this final issue opens up with Wolverine making a tear across the desert for the facility where Cornelius is perfecting his experiments. He is hell bent on stopping him, and it shows beautifully in McNiven's art. Very few words are needed when he pops his claws, even though they come from gauntlets on his forearms, other than one singular word that is on the thoughts of all Logan comes in contact with: FEAR. He has been many things in his lifetime, hero, villain, spy, soldier, x-man, avenger, teacher, father. But one thing has always remained constant – he is a wild, feral force that is next to impossible to stop of make yield. One that should always be revered and feared at the same time.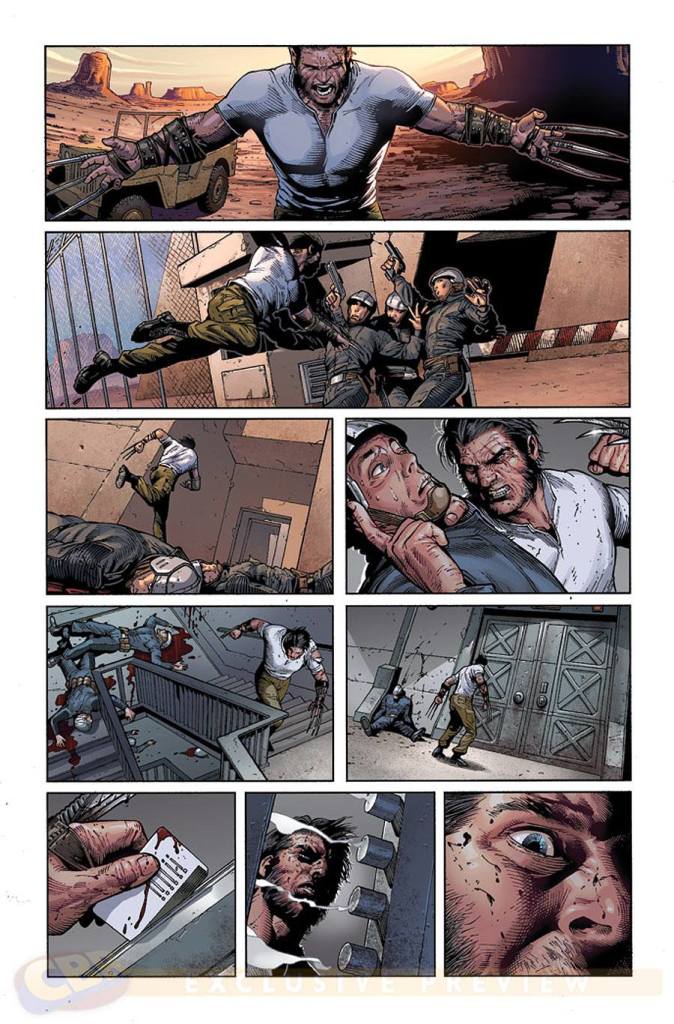 Upon gaining access to the lab, Wolverine is confronted with his worst fears, banks of operating tables with subjects being experimented on, and what looks like to be a clone of Logan himself. All awaiting the adamantium bonding process, which Logan believes Cornelius needs from him. His skeleton has always been widely sought after as a true source of the metal, but we quickly learn that this is not what the doctor wants, but rather his healing factor. Bad news for Cornelius, as Wolverine shows him that he lost that a while ago. So, to cut his losses, the doctor orders his super powered attack dog, Sharp, to finish off Logan. Wolverine is not up to his normal peak form, and it looks like this masked monster might be the one that ends his life. But, it is not so, as Wolverine is able to best him in the fight, and growls at Cornelius to shut down the machines. Gruesome images of the poor three test subjects being torn apart by scalpels and buzzsaws to ready them for the bonding process bring Wolverine to the breaking limit, and he pops his real claws for the final time.
Support For Comic Book Herald:
Comic Book Herald is reader-supported. When you buy through links on our site, we may earn a qualifying affiliate commission.
Comic Book Herald's reading orders and guides are also made possible by reader support on Patreon, and generous reader donations.
Any size contribution will help keep CBH alive and full of new comics guides and content. Support CBH on Patreon for exclusive rewards, or Donate here! Thank you for reading!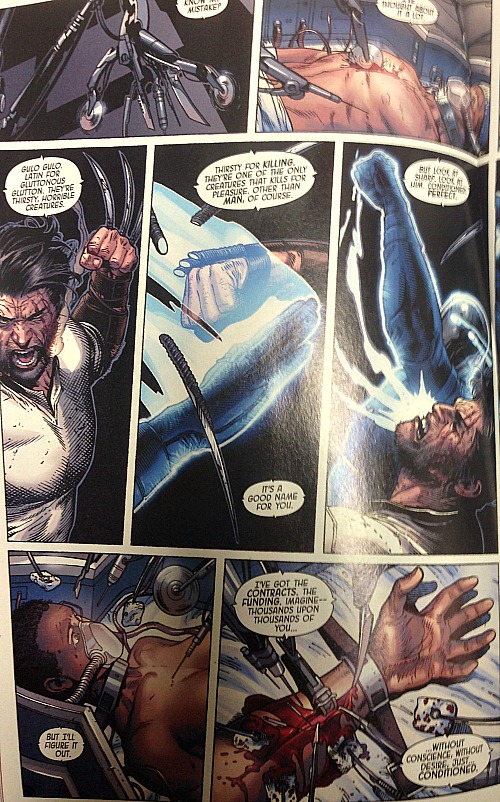 Many readers and fans alike will be on both sides of the argument after reading the final pages of this book. Some will have wanted this to go down in a blaze of glory, bone-crushing, gory details on every panel as the fight for his life reaches a crescendo. But I am firmly in the other camp, and believe the way his final moments were dealt with were near perfect. Now, one last time, SPOILERS are coming. 
Wolverine takes his claws and rips open the reservoir of adamantium, letting it all rain down into the room and stop the process from happening. This comes with the final price, as it encases his body in the molten metal, making the very thing that defined him and plagued him be the thing that leads to his end. The doctor tries to escape via helicopter, but in Wolverine's final act of heroism, he takes the vials of regenerative serum that Kitty had on her last issue, and injects them into the poor helpless victims, hopefully giving them a fighting chance to survive the terrible ordeal they went through.
He drags his broken and beaten body, now covered in liquid metal towards the helipad, as Cornelius falls from his mortal injuries. He screams at Wolverine that at least he tried to change the world, and with his dying breath asks what Logan had done with his own life. Flashes of his service in the military, kissing Jean Grey, marrying Mariko, running Professor Xavier's school all flash panel to panel, and the metallic mass that is now Wolverine drags himself to the edge of the helipad. He looks out at the beautiful sunset, something that he so enjoyed in life, always gazing at natures beauty, and he finally gives in. The final panel, Wolverine on his knees, claws still out, as the metal finally cools and definitively kills him. With no healing factor, it is unlikely he would ever recover from something like that, even if there was anyone around to help him.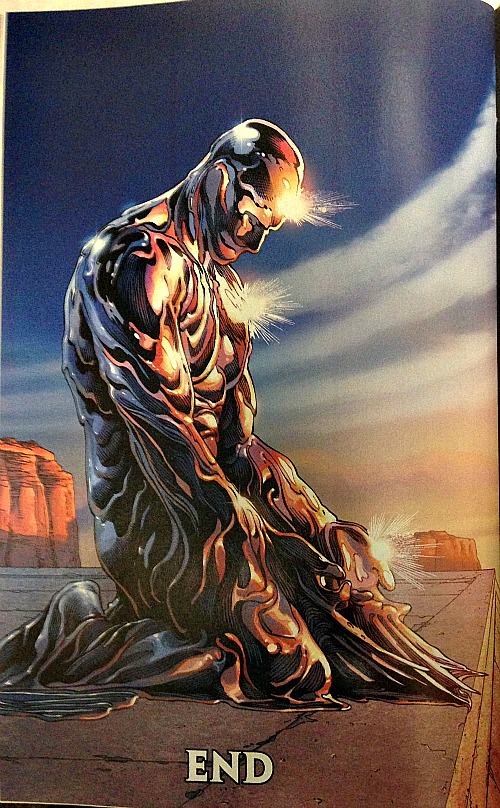 If that final heroic act and moment of peace doesn't hit you in your gut, then either reading isn't for you, or you are just a hardened soul, and either way, I'm sorry. Speaking from a fan of literature in general, this is an amazing way to kill an iconic character with dignity and in an epic sendoff, much in the vain of how Tolkien or Shakespeare might handle such a task.
The "Best There Is":
I can't even find the words to type in this section. There is no best, only that Wolverine will be forever The Best at What He Did, and What He Did Wasn't Very Nice. But it was awesome, inspiring, amazing and will truly be missed. 
The "Isn't Very Nice":
All the new questions!!!!  We have The Logan Legacy, Death of Wolverine Weapon X, and a new line called Wolverines to keep us guessing and reading books. But who were the three people being experimented on? Will they survive? Will we see more of them? Who will fill the void of Wolverine in the comics? Will there be some miniscule clue that we all miss, but will be the lynchpin when he finally makes his triumphant return in the years to come? Whatever the case, this is why I read comics, to love and hate them and to grow with the stories and characters that are held within the pages. Onward to the next adventure, Excelsior! 
CBH Score: 5 out of 5. Seriously, go get these four books. If you haven't read my reviews of the first three, check out Number 1, Number 2, and Number 3.