X-Force #6, 9 & 10.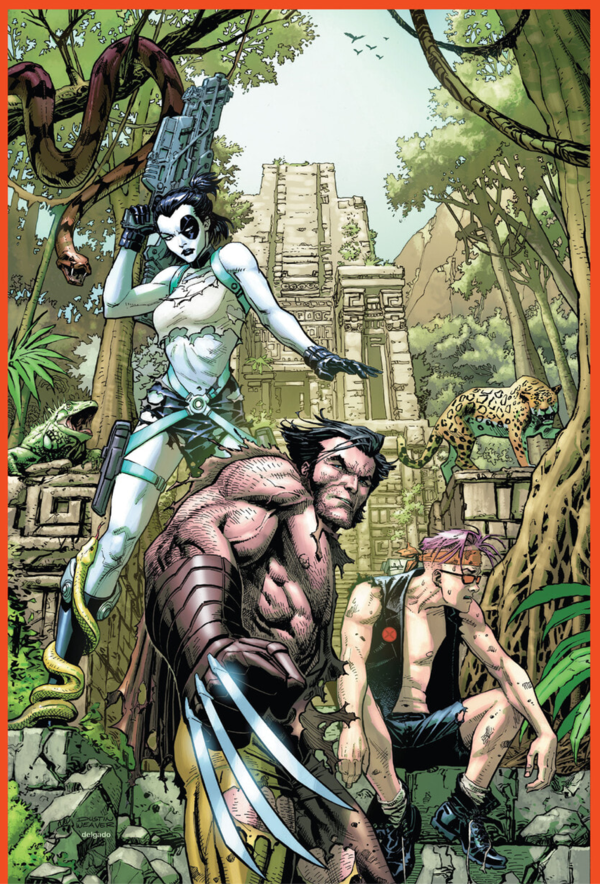 [While Dustin Weaver and Edgard Delgado are still on cover duty, issue #6 is drawn by Stephen Segovia and #9-10 by Josh Cassara; interior coloring is by Guru-eFX and Dean White]
(*This follows Part 1 from last month.)
Related:
Support For Comic Book Herald:
Comic Book Herald is reader-supported. When you buy through links on our site, we may earn a qualifying affiliate commission.
Comic Book Herald's reading orders and guides are also made possible by reader support on Patreon, and generous reader donations.
Any size contribution will help keep CBH alive and full of new comics guides and content. Support CBH on Patreon for exclusive rewards, or Donate here! Thank you for reading!
I. Before Diving in: The Bigger Picture
A. An Odd Mix of OG X-Men
This team just can't get a win—but apparently, that's the point! And frankly, it's part of what makes this title so distinctive. At first, it baffled many fans that in issue #10 Jean Grey, its second-highest profile character, calls it quits, as baffling as her presence on X-Force in the first place. But of course, the ensuing X of Swords shakes out with a new X-Men team whose very raison d'être is breaking away from Xavier and Magneto and the authoritarian nature of the QC. And while it's easy to note that Jean's contribution was vital to the book wherein Xavier was assassinated and then resurrected, her continued membership in Krakoa's black ops is revealed as powerfully relevant toward the close of this most explosive of Dawn of X era story arcs, just as she decides to bail: It's the dramatic break between the two O5 X-Men on the team* that fully brings home the complete moral collapse of the good doctor Hank McCoy, an evasive locus of corruption that spreads ruinously to those around him.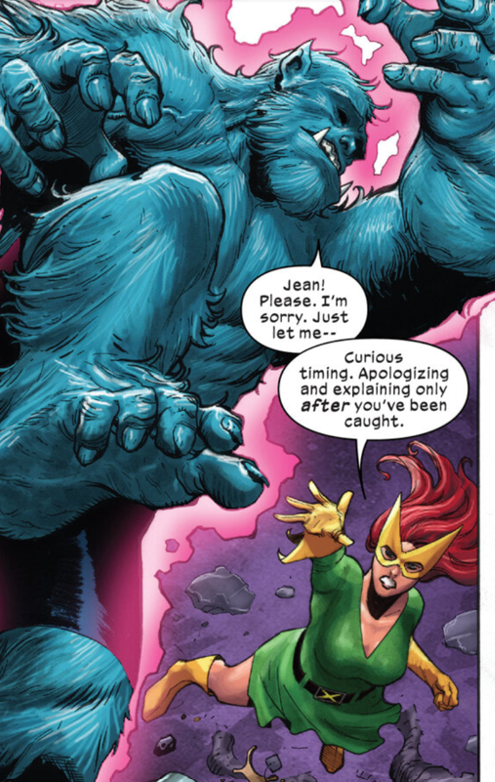 *Sage, really the OG X-Man for those fans who know their Claremont, has yet to break with Beast though she knows his foul secrets better than any at this point. So has she been morally compromised? Well, that's a complicated question! She seems pathologically isolated, forced by circumstances Xavier created to work with one of the most despicable citizens of Krakoa—and hey, gee whiz, doesn't that sound an awful lot like what Xavier did to her long ago when it was just the O5 at his school, and he secretly directed her to infiltrate the Hellfire Club and become the Black King's mistress for years (decades in publication time). She quietly stands (or sits) in the background as just as much a survivor in her own way as front-line soldiers Logan and Domino. But she's not coping well, apparently with alcohol. And as comically unfashionable as her field outfit is in issue #10, it also speaks to her being out of touch with the world beyond the Pointe and its dimly monitor-lit rooms (and maybe her barstool at the Green Lagoon).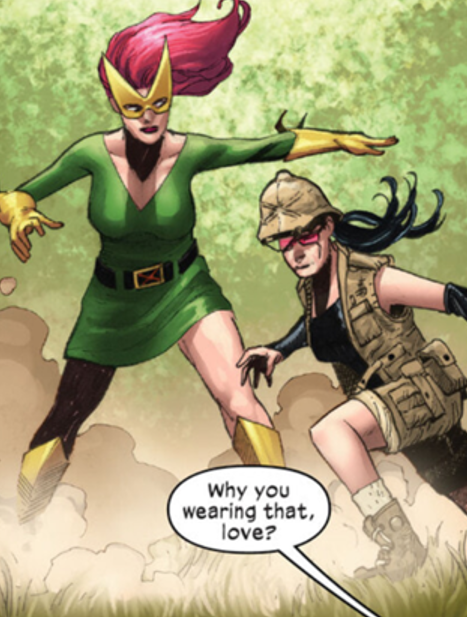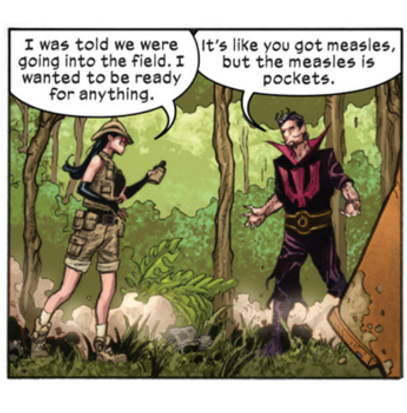 B. Briefly Taking Stock of Percy's X-Force
Now, last we checked in on this title, we looked at an intense two-issue arc focused primarily on Domino, her isolation, her trauma, and her betrayal by fellow traumatized mutant Colossus, also her erstwhile lover.
Looking back now to issue #6 and that story's wild fallout in issues #9 and 10, we can see with clarity that sandwiching the Domino-centric narrative in the midst of Hank McCoy's mindboggling mass atrocity (however much it was an unintended consequence of his carelessly overweening hubris) was a masterstroke on Percy's part. This isn't the narrative inconsistency Duggan demonstrated in awkwardly juggling his cast over on Marauders; Percy is practicing his art as a novelist, letting the juxtaposition of various plot threads speak almost as powerfully as what's actually on the page.
The X-Force creative team has electrified the space between, from the art on the page—which we'll look at here and there—to the arrangement of plot threads. And once you've read X of Swords, you can reread this dark juggernaut of a book, skip over the two X of Swords issues, and get an almost unified narrative.
Only almost, though, because it's unclear if the Omega Red/Dracula subplot imported from the early issues of Percy's Wolverine (and then sent back there after X-Force #15) is actually going to find a resolution soon! We might have to wait until the Winter Guard miniseries by Ryan Cady and Jan Bazaldua wraps up in December, since Dracula is one of the star antagonists there, in Russia no less. (It might also be telling that Bazaldua's art there echoes her recent work on X-Force—although the undead enemy here is, um, plants, not vamps.)
Given that X-Force's archnemesis has turned out to be Mikhail Rasputin, a resolution to all plot threads converging in the chilly reaches of Russia is sure to be just around the bend.
C. Marvel's Odd Fixation with Russia
That said, between all the abovementioned titles, including Marauders and Jason Aaron's Avengers, I think we've had more than enough Russia-bashing. Yes, Putin is vile, obviously, but Marvel's Russophobia has really become strained at this point.
Seriously, isn't this just the flipside of Republican China- and Iran-bashing? Is Russia an easier target nowadays because liberals feel the need to take a stand on a national security threat the GOP doesn't view as such and it's also a predominantly, er, white nation (whatever that means to Russians)? Do we really want writers going off trends in American news rather than an actual understanding of geopolitics?
For my money, I'd much rather see greater self-examination of the ills of our own society, which is also where these comics are coming from; there are plenty of human monsters here in America, yet the CIA, despite its antagonistic role in the Krakoa era, consistently comes off as more sympathetic than any Russian living in Russia, maybe barring some of the Black Widow's not-well-known antiheroic compatriots.
D. Tropic of the Undead Veggies
Anyhow, the enemy under review here is the fictional Terre Verde, which in-universe is much worse optics for Krakoa—though it's never spelled out directly just how so. Given that it's a small Latin American nation, however, we need only think about the predation of colonial powers, from old Spain to the United States, that has relentlessly ravaged the Western Hemisphere for half a millennium.
Previously, Terre Verde was known for only one story, in 1971's Fantastic Four #117-118 (50 years ago), where it was merely exoticized scene-setting for FF foe Diablo making a play at conquistador. Apparently, the nation is demographically analogous to Guatemala—being predominantly of Mayan descent.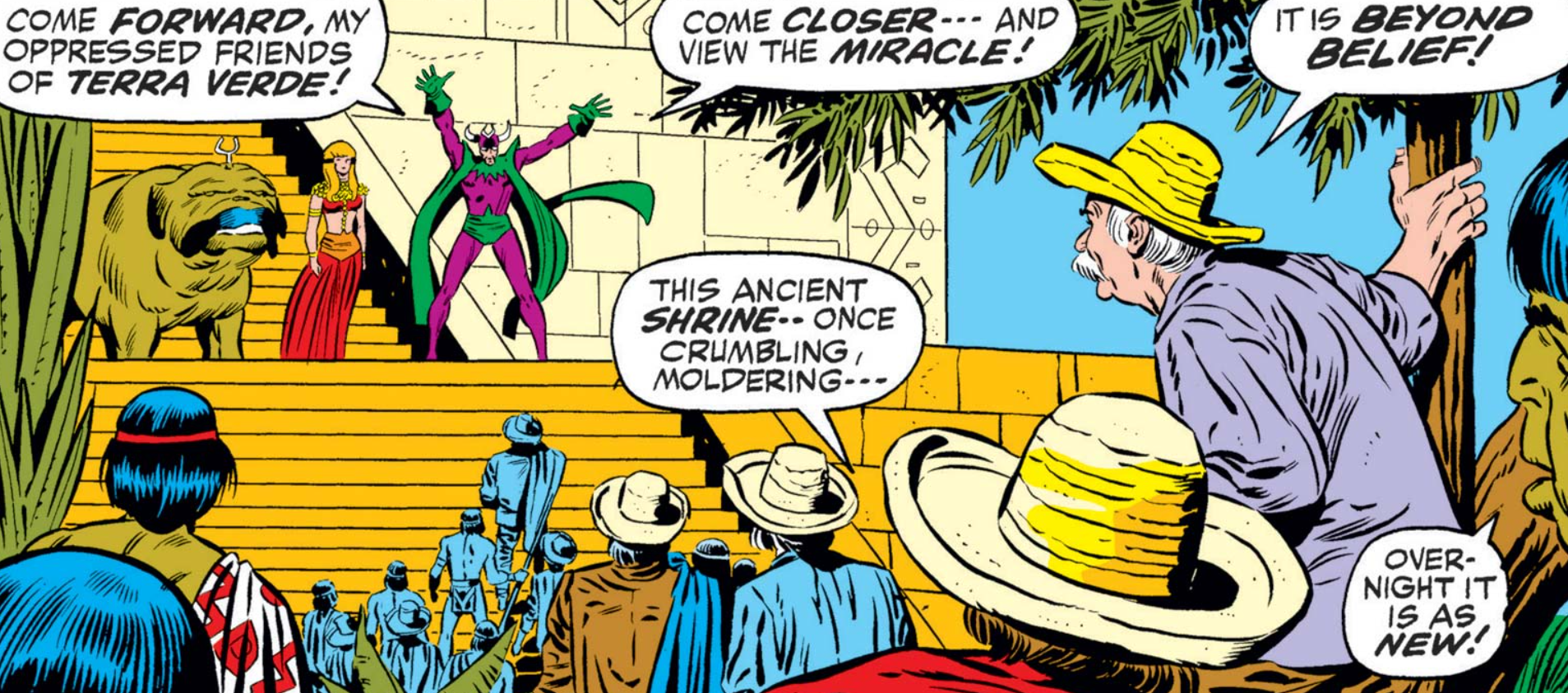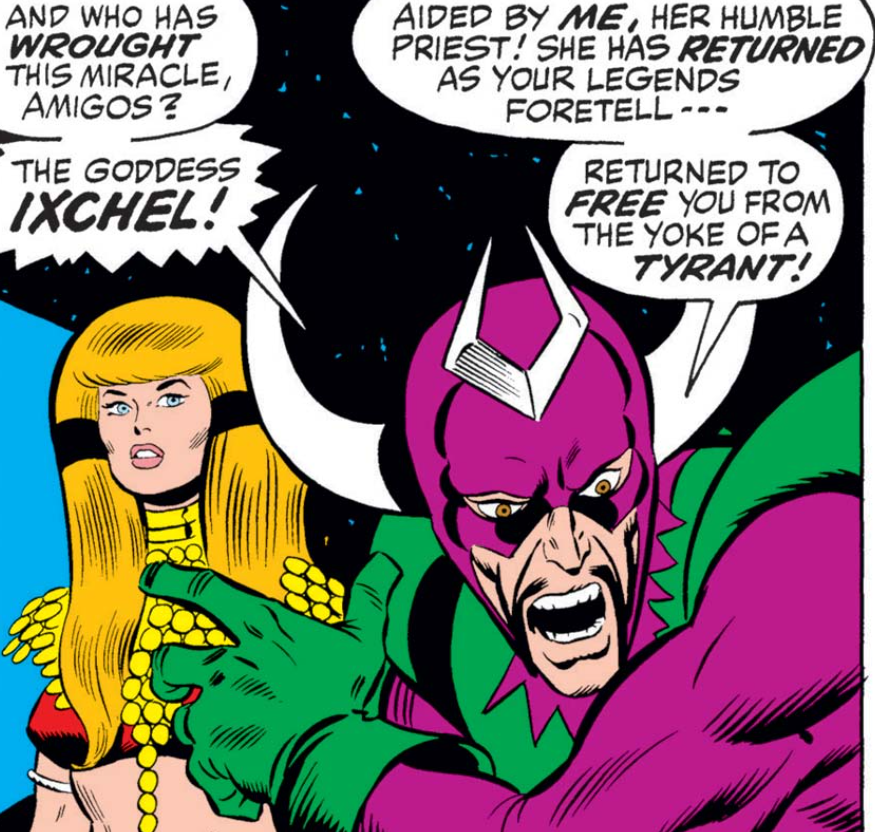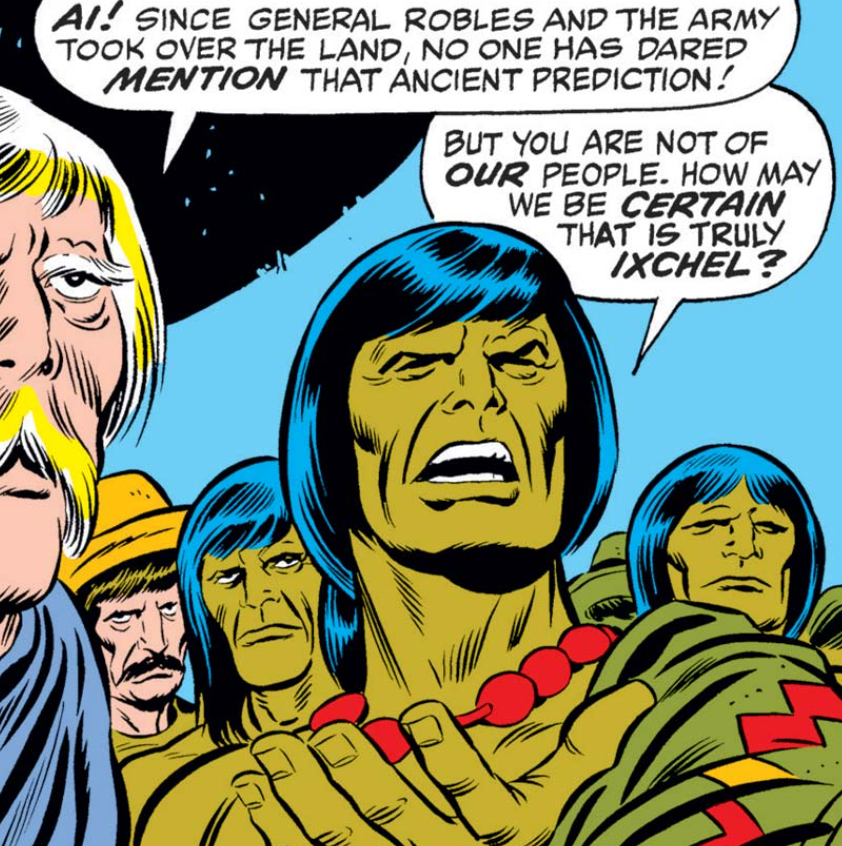 [Fantastic Four #117 by Archie Goodwin, John Buscema, and Joe Sinnott]
For Beast, it's ultimately little more than a playground for his "dark orchestra." As Percy said from launch, this book is "poison" (cited from the memory of a 2020 episode of Marvel's Pull List podcast), and it's indeed all so poisonously delightful under Percy's masterful stewardship of these dark materials. X-Force is here to stare vertiginously into the abyssal eye of the dark art of—nation-building. (So that dull-seeming subject isn't just about taking civics class and building public institutions after all!) The bottom line is that this title is essential for the believability of this new era. And Terre Verde is Krakoa's first serious collateral casualty, the basic litmus test for any world power.
So let's acknowledge the full import of what Beast has done: It was his own hand, not his "orchestra," that, however, hm, inadvertently, committed mass manslaughter, responsible for countless civilian deaths, presumably many of them native peoples. Why is this schmuck still breathing? Why isn't he in the Pit? Why would Xavier insist on the total erasure of Destiny but not the worst mass killer among the X-Men? We all know all nations, including our own, do not apply their laws, much less their norms, impartially (i.e., Hank is a favored son; Sabretooth is trash.)
However, it was only in my recent close readthrough of issue #10 that I realized, when Jean merges and channels Sage and Black Tom's powers to "stage a coup" against the monstrously transformed mad-scientist Muerte Verde that Beast might not have actually committed genocide—"just" an extremely horrific atrocity against at least many thousands of innocents. For at the end of the arc, against Jean's suggestion that "Maybe they can be free now," we see naked Terre Verdean bodies, shorn of their telefloronic captivity, which might in fact be still-living people, albeit unconscious or super groggy. I'm very hopeful this is the case, really for their sake, not Beast's.
And yet, does anyone think the mad scientists behind telefloronics had anything better in store for their own fellow citizens? They most certainly did not. They were the worst sort of elitists going by both their motives and the broader assumed context of exploitative elites of Western descent across the Americas (including the US no less than Latin America—probably more so). Now I can't say what Percy's intention is in terms of Terre Verdean worldbuilding, but I'm not going to buy the notion that nonindigenous elites would sincerely embrace the pre-Columbian past on behalf of the people of Terre Verde.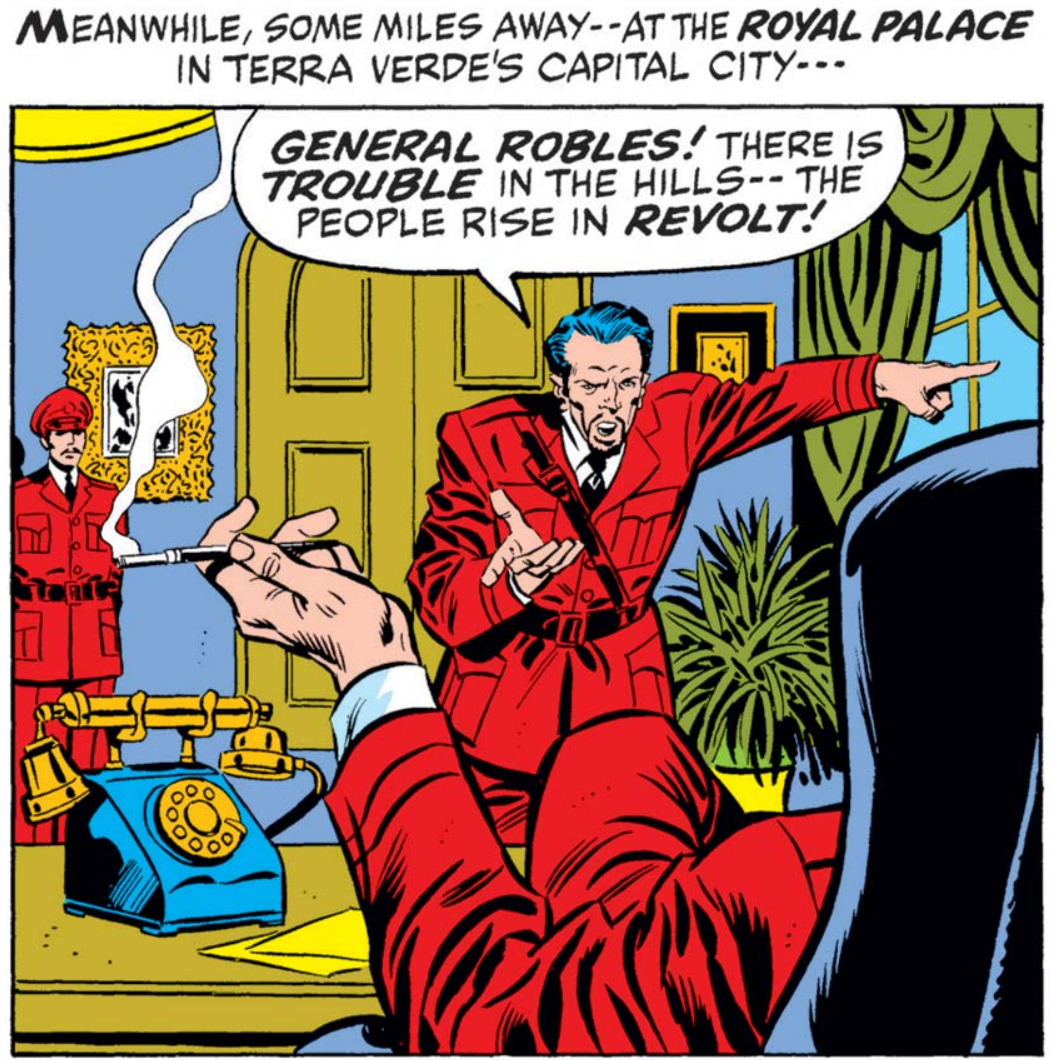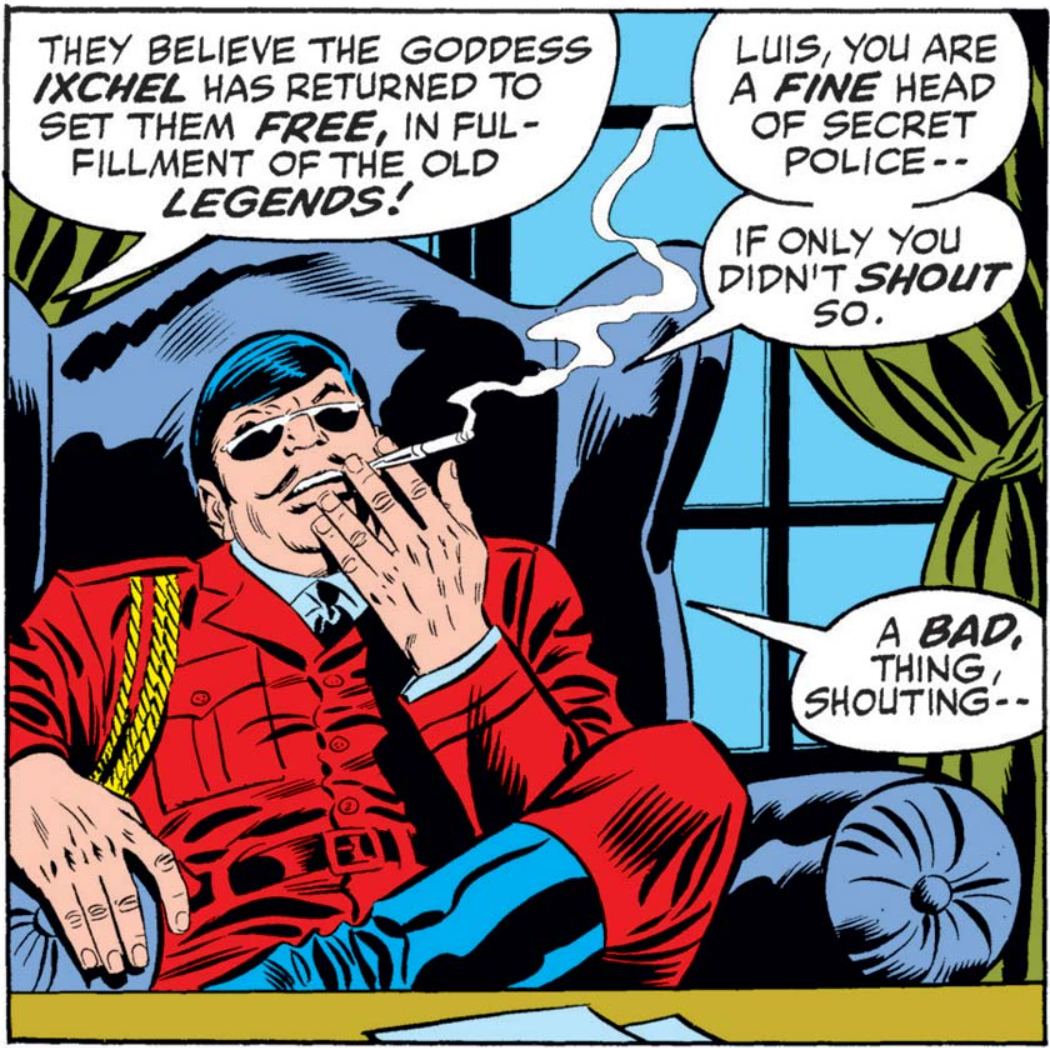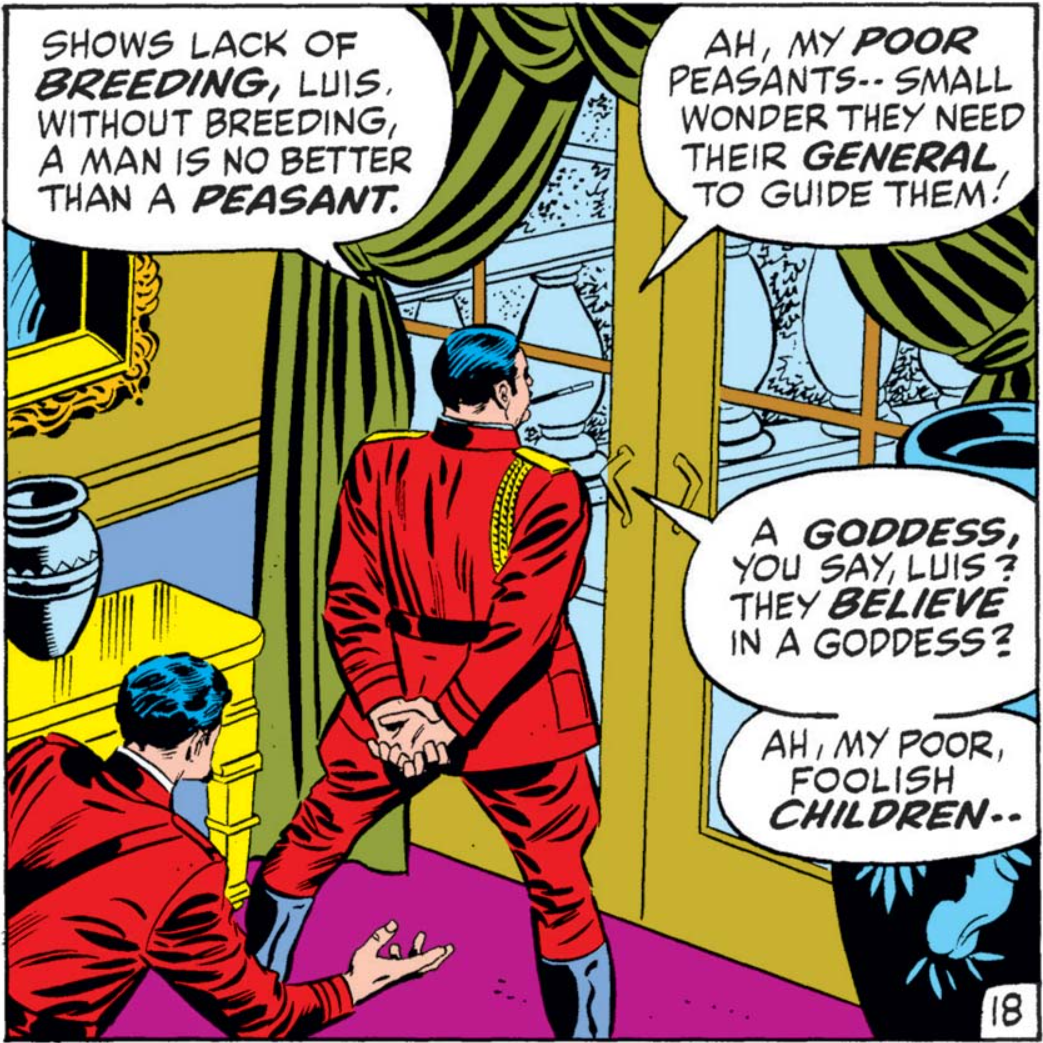 [also from FF 117; apparently, Terre Verde transitioned away from military rule at some point, but we've been given no reason to believe the "peasants" hold any power]
That said, I'm surprised by the fact that no other readers or critics have questioned the wisdom of Percy describing this fictional society's indigenous culture with nominal references to the Mayans and Olmecs* while painting the fictive Terre Verdean offshoot, if that's what it was supposed to be, in the pulpiest terms possible. Based on what we find in issue #10, a reader might not think the Spanish Catholic conquest was such a bad thing for stamping out such a luridly morbid society. But it's entirely made up for shock value. After all, did the elite telefloronic terrorists really need a mythopoeic backstory to justify their horrors? Well, if nothing else, I suppose it parallels real-world elites creating ideological justifications by pandering to a contrived sentimental mythologization of "folk culture," the nativist glorification of the "Volk."
Maybe that's a lot of mental gymnastics to justify Percy's choices here—because he sure gave no clues as to why he framed indigenous Terre Verdean culture in the most lurid terms possible. Perhaps there will be some reveal of a buried chthonic deity from Lovecraftian prehistory somewhere down the line?
(*All Percy's references to the Olmecs are also entirely fictionalized; the native-sounding words aren't real, nor is there evidence of an Olmec writing system. Further, Ixchel, the Mayan goddess of the moon and fertility, though central to Diablo's conceit in Fantastic Four #117-118 isn't brought up at all in X-Force, and she certainly wouldn't fit in at all with the morbid mythology devised by Percy for this particular story.)
II. "I like to think of X-Force as a dark orchestra" – X-Force #6: "Intelligence"
A. Tonight, in the Moral Jungle
We open near the end of the first leg of the Terre Verdean tragedy before stepping back to the day before for the middle third of the issue and finally returning for the climax of the straightforward balletic violence cut short in this first scene—followed by a fantastically horrific twist at the very end, tragic and comic simultaneously (without being tragicomedy).
The three-person "Delta Force," along with Jean in a field captain position, has been sent to Terre Verde on a take-no-prisoners wet-works op—though it's immediately clear their foe isn't human. But ultimately, even now, the humanness or alienness of the Terre Verdean enemy remains ambiguous. (For they are still out there, even if the whole nation isn't merged with or transmogrified by telefloronic programming.)
Whatever the case, through Beast's inner monologue, we get the most lyrical framing of the field team yet: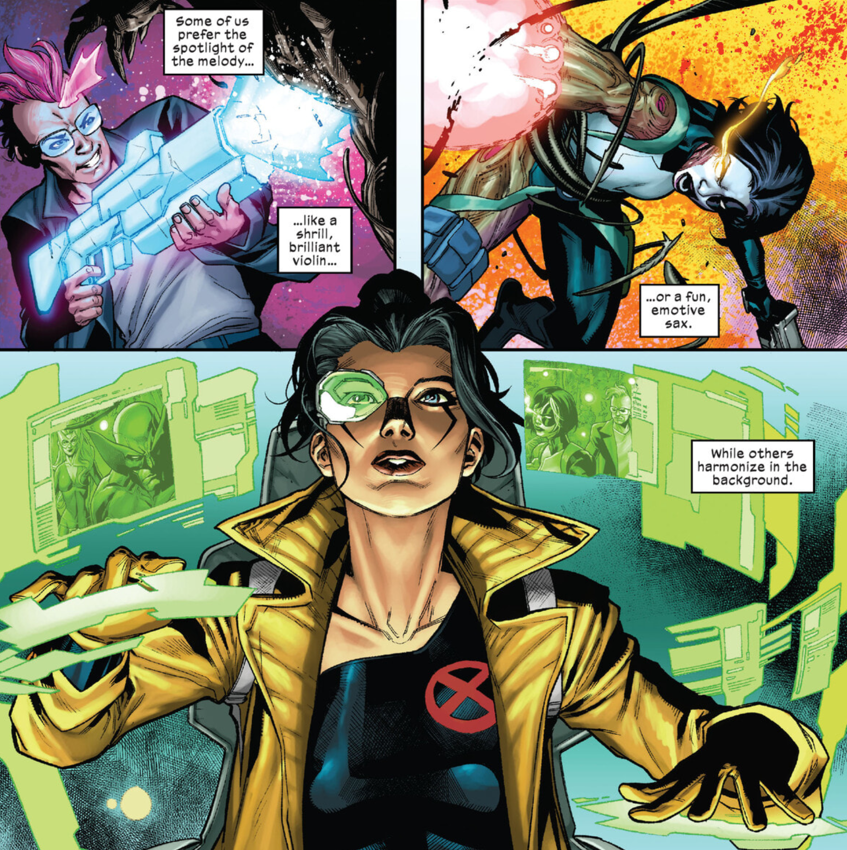 This beautiful but rather arrogant interpretation of Beast's team might remind you of Xavier's description back in issue #4, which was a bit more poetic—not to mention ironic: Jean, Beast, and Sage were Athena and the CIA while Logan, Dom, and Quentin were their Delta Force Hercules. (Also, it's been a real treat seeing Segovia hitting his peak with Hellions after his first take on the Krakoa era here, a good substitute for Cassara.)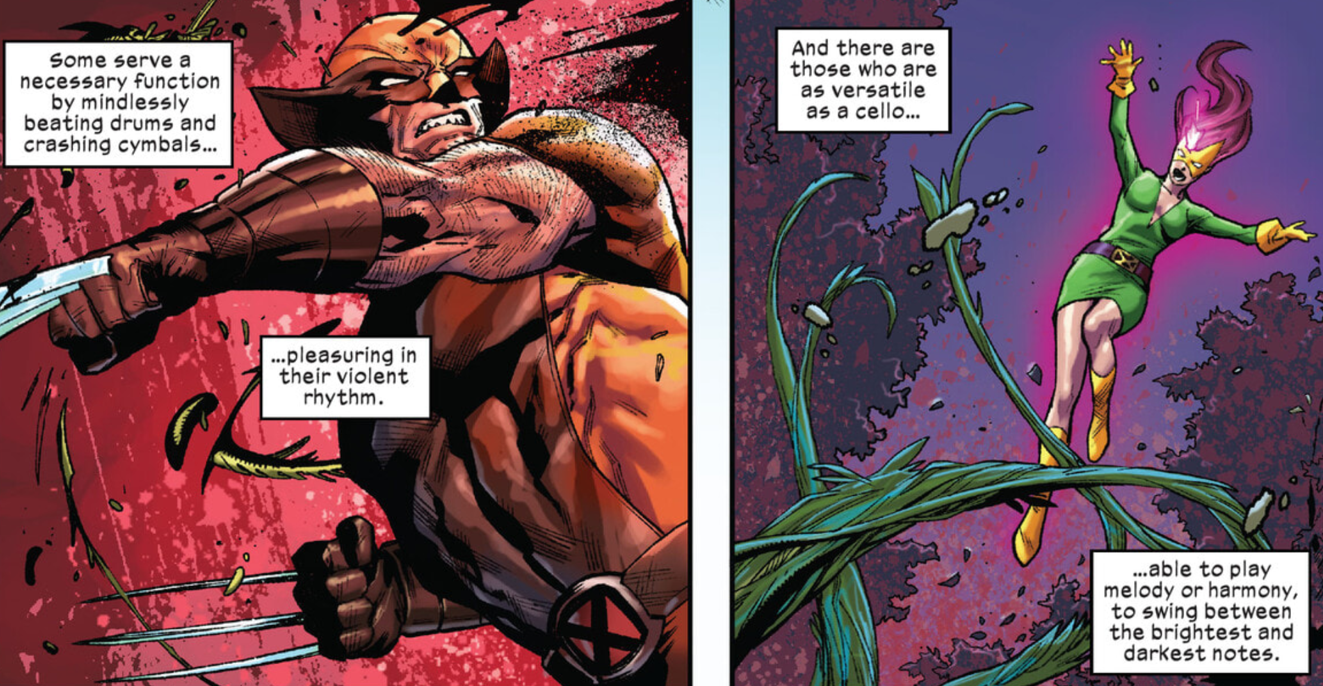 With Jean gone come X of Swords, Athena's wisdom was half-lobotomized, leaving Sage as the other half of that damaged virtue standing alone against Beast's self-destructively parasitic hubris. Herculean madness might be what's needed to excise that parasite and keep the nation from losing its way, at least in this book. Across Krakoa's upper echelons, however, hollowed-out consciences hold sway over what could be paradise. (Of course, drama will always trump utopia—which is always someone else's dystopia anyway.)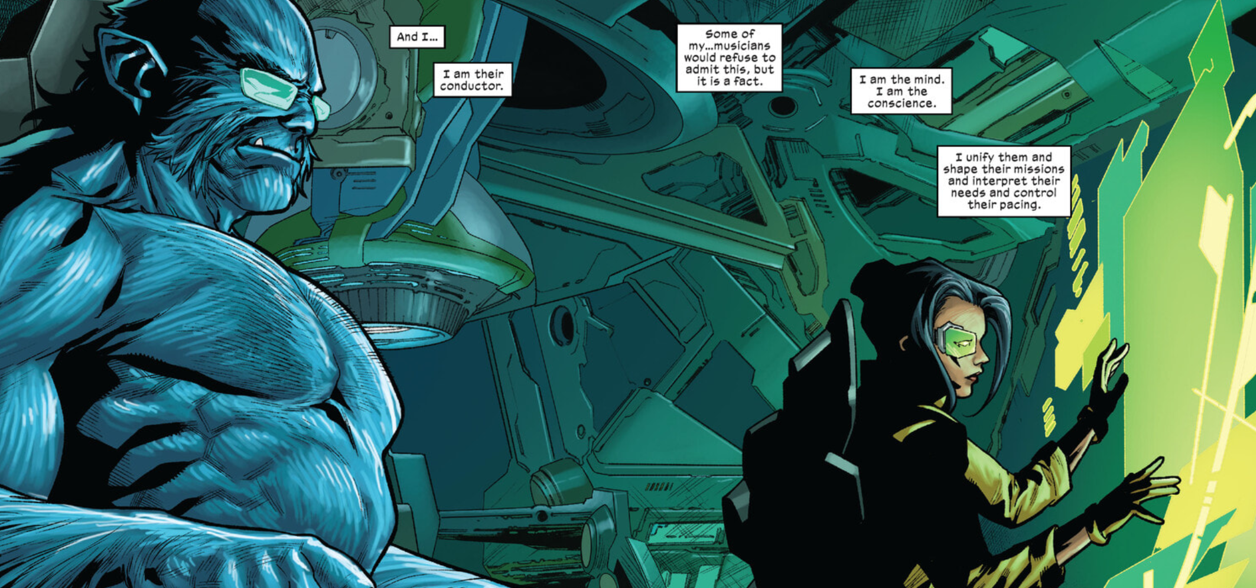 But isn't Beast really just channeling Xavier's paternalism throughout?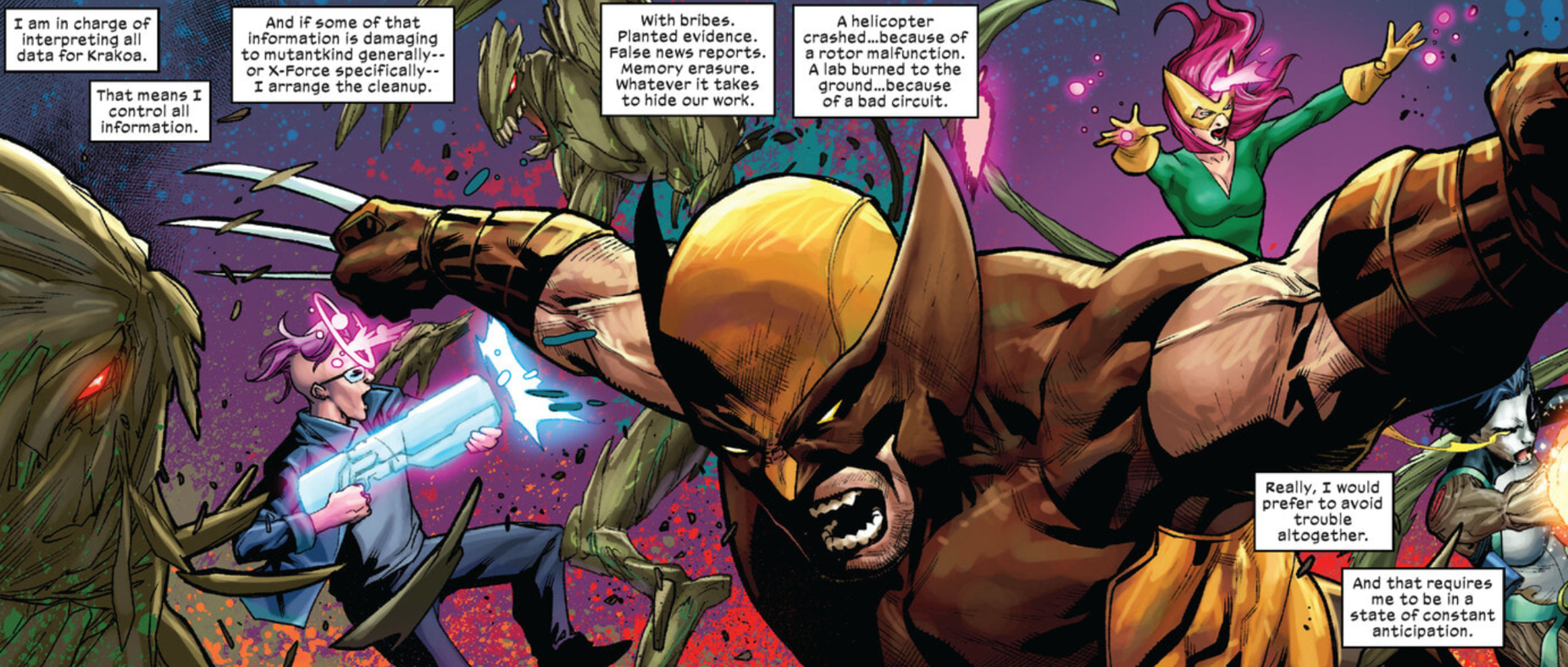 His reverie continues: "Like a father chasing after his toddlers, forestalling every steep drop and sharp edge and choking hazard." Again, one would think he's appointed himself to his own Quiet Council; in fact, Beast has more unchallenged power on his own than any other Krakoan but for the Autumn seats. (See also the penultimate page of this issue for further confirmation on this in Beast's own words.)
B. Yesterday—Before Paradise Was Trashed
Meanwhile, Black Tom, whom we don't get nearly enough of, chews every scene he's in. And yet maybe the rarity of his appearances is what makes them such a delight. He's certainly never been so fascinating.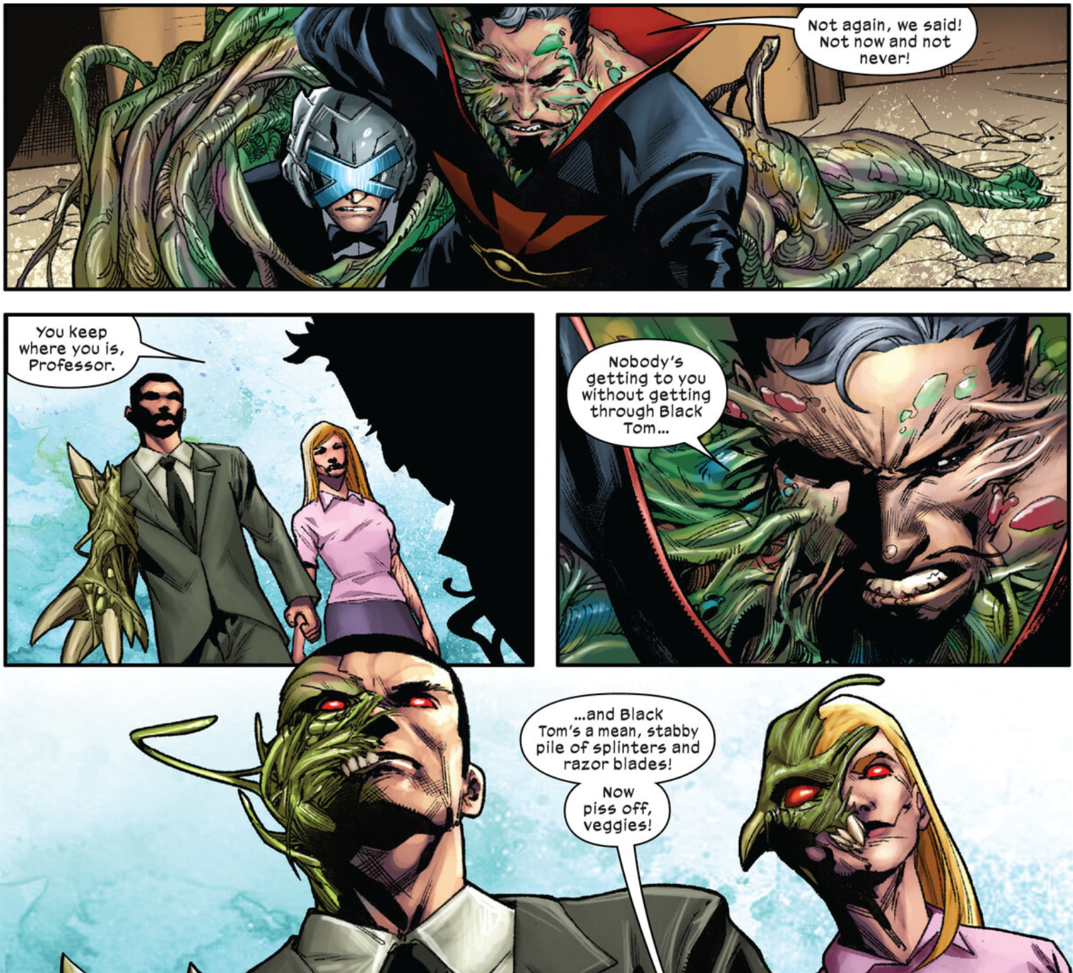 Against "wisdom's" reasonable doubt, he thinks he's the reason the would-be assassins ran, but it's Sage who figures out the "obvious": the grotesque monsters who had been disguised as humans were targeting the Terre Verdean president's son, who was in on the plot himself; it wasn't a foiled assassination plot at all.
To back up: Xavier, under Tom's guard*, had gone to Terre Verde to sign the now standard treaty, but what looked like an assassination plot was purely a bid to halt the signing and kidnap the president's son. The perpetrators turn out to be the impoverished nation's top scientists, who had discovered the potential of telefloronics—which we'll see later in the series is a direct but uniquely reinterpreted influence from one of the greatest comic runs of all time, Alan Moore's Swamp Thing (Swamp Thing villain Jason Woodrue, the Floronic Man, is also famous for turning Pamela Isley into Poison Ivy.) This is pretty neat since elsewhere in the X franchise currently there isn't as much unique inter-comics referentiality beyond mutantkind's own vast history. Of course, Empyre, the big Marvel event that was just kicking off concurrently, was all about vegetable terror as well—only not nearly as effectively as what we find here—and who knows, maybe Hickman's Hordeculture will develop an interest in La Muerte Verde. (Steve Orlando might be ideal for such a story given his recent and upcoming Marvel work.)
(*Per X-Men #4, Great Captain of Krakoa Gorgon is supposed to be Xavier's bodyguard, but he apparently belongs in X-Men, as a Hickman creation no less, whereas Black Tom is an X-Force character—and also just much more interesting now. Still, he is supposed to be as tied to Krakoa as Cypher and Sage; said ties are literalized in X-Force #10!)
Hoping to utilize telefloronics for miraculous medical advances, the Terre Verdean scientists were stymied by Krakoa beating them to the punch with their own Krakoan floronics. Feeling their life's work destroyed, they make a desperate play, weaponizing their discoveries by transforming themselves into monsters, perhaps posthumans, but probably something less than human, atavistic.
Yet I suppose someone in a lab could've just gotten carried away and caused an infectious accident.
To be real, though, let's consider the assumed context here: Like elites across the Americas, these scientists appear to be of European descent. In a country like Guatemala that is majority indigenous, the elites have little to no interest in uplifting most of their fellow citizens. Nations that have a large indigenous population are still heavily racialized societies. I bring this up because I'm not convinced an analogous fictional nation would do wonders for its own people when offered elite access to wonder drugs, homegrown or not.
These literally monstrous nationalists declaring themselves the "future of Terre Verde" were not looking to forge the downtrodden nation into a utopia for all; they were always out for themselves. I mean, who would actually turn themselves into monsters over dashed dreams of hubris?
Well, I guess Beast would! What about in the real world? Let's say people who were expecting to hold on to their position of wealth and privilege forever… We don't have to look far in our own country for that.
None of this excuses Beast, of course. It's just to say the Terre Verdean mad scientists were nuts, too.
C. Waking from a Nightmare—into the Dawn of the Living Dead/Veggies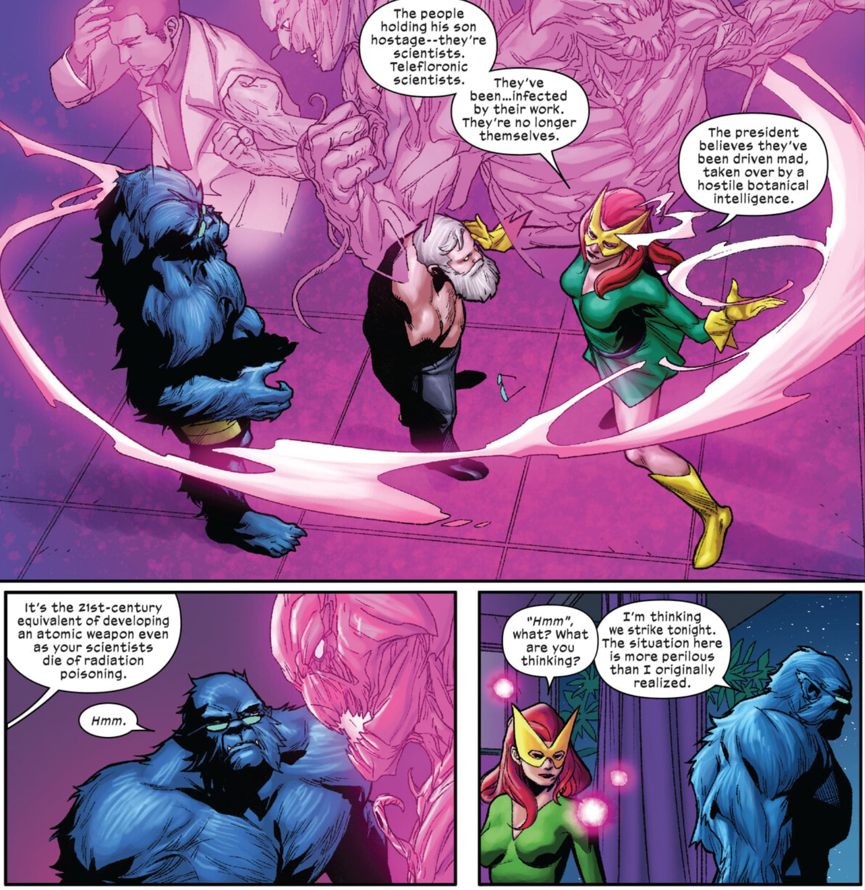 A shadowy hulking leap from the balcony, Hank's departure from the president's mansion darkly heightens the sense of his brooding, bottled-up brutality, a darkly wound coil making old friends keep their distance. Before he leaves, Beast requests Jean do a mindwipe of any potential witnesses of their uninvited visit, except for the Terre Verdean president: "then he will know, when this is all over, that he is in our debt."
Alas! He'll know of Beast's unanswered crimes against humanity, and when the president is swallowed up by sentient telefloronics, this vegetal lifeform will absorb this damagingly valuable memory.
As usual here, Beast is wrong. Even if he's right that telefloronics is a "dark mirror" of Sentinel evolution, Krakoan society as it currently exists is very likely on a similar path—toward Sinister's chimera breeding pits.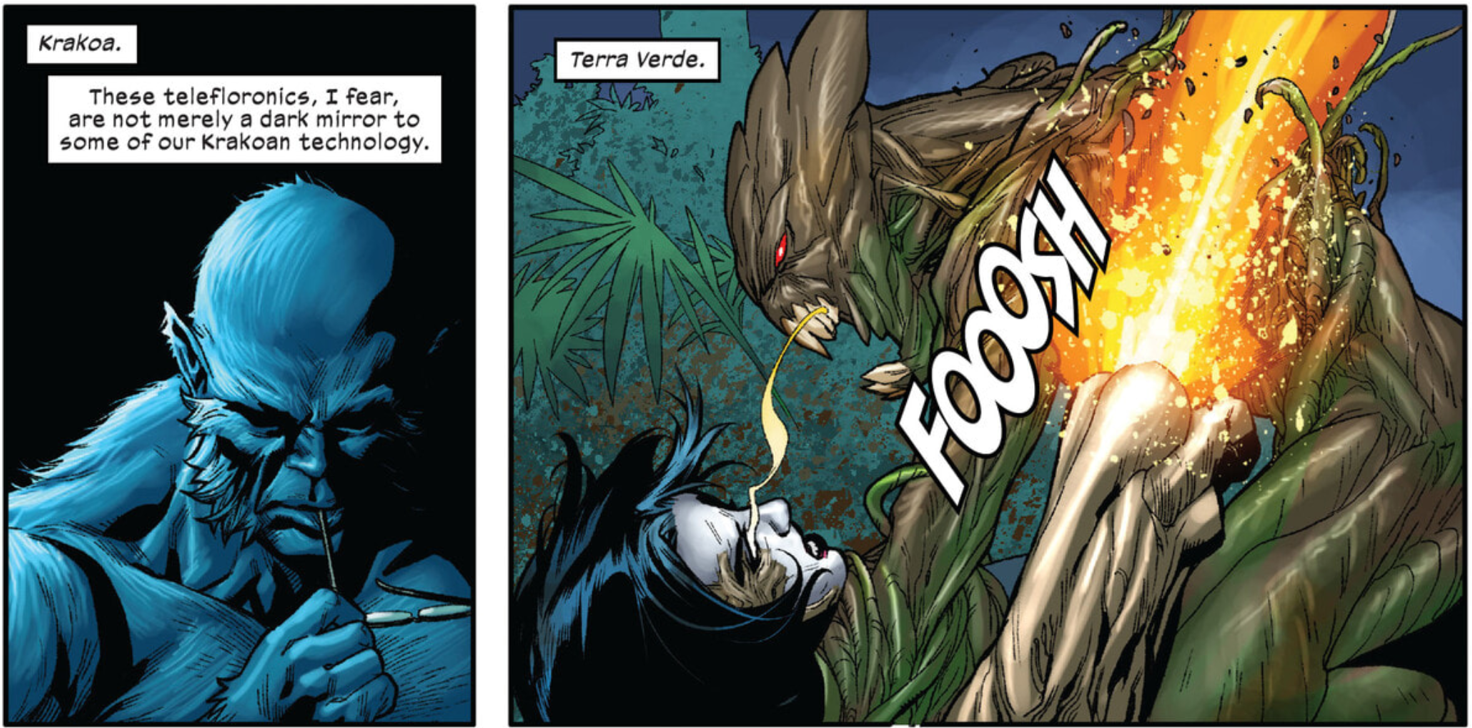 His deeply self-involved anxiety here, though, is masterfully portrayed—truly disquieting.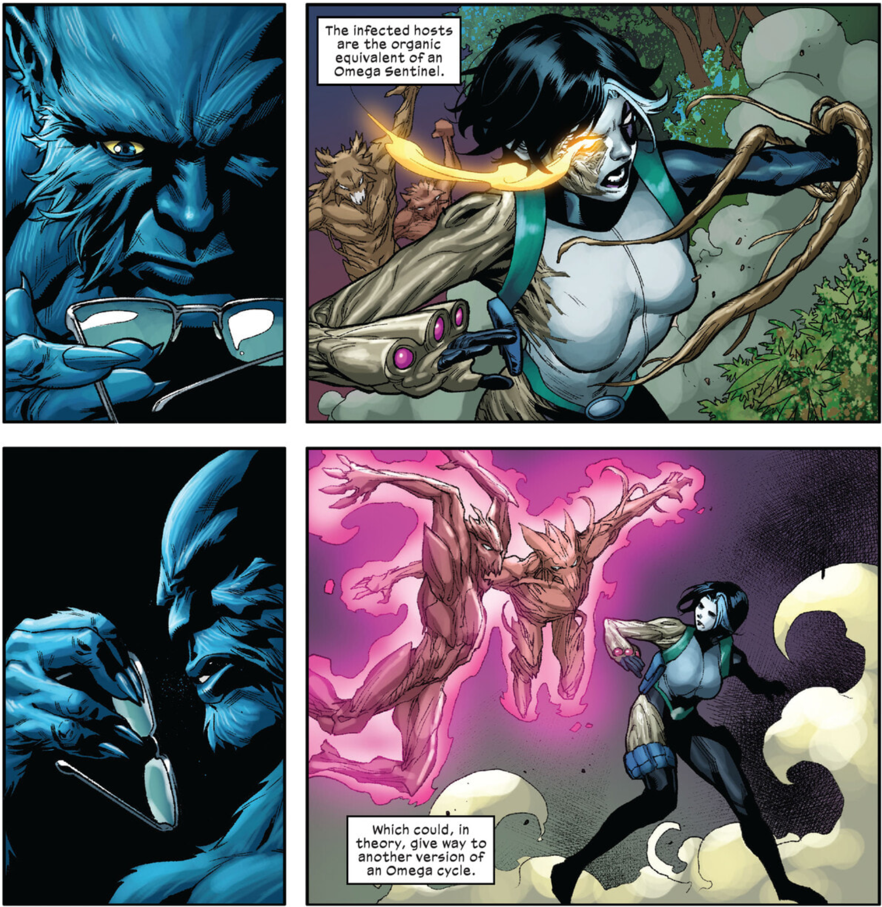 He immediately begins infecting Jean with his paranoia, while still being a condescending prick. Nevertheless, in her uncertainty in the face of this sudden ambush, she countenances Beast's fevered vision of a vegetal analogue of the Omega Sentinel enough to take no prisoners, the laws of Krakoa be damned. And I guess he's right if the horrifically transformed Terre Verdeans are now post-mortal and posthuman. His paranoia is infectious, compelling, creative—the paranoiac's recipe for a viral meme plague.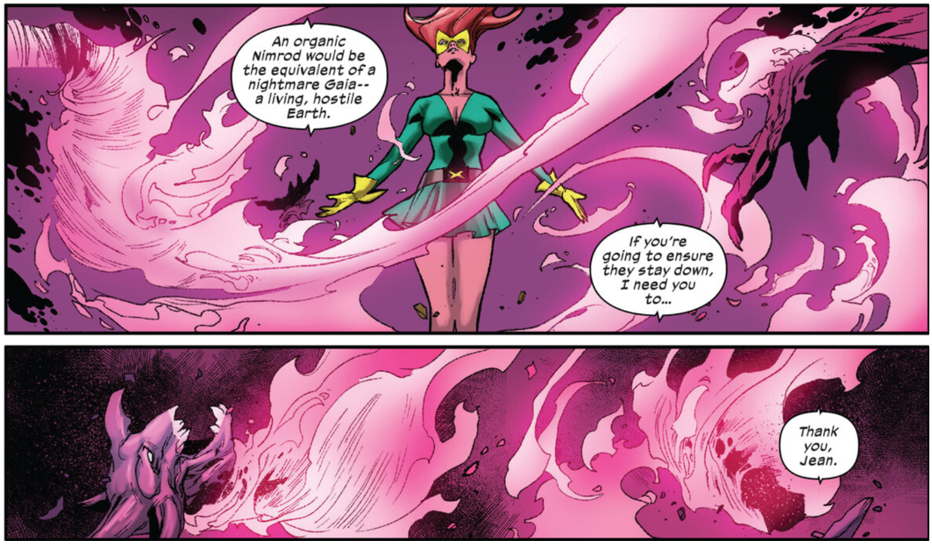 Jean's furious because she's afraid he's infected her, at least with a poisonous doubt; and he has.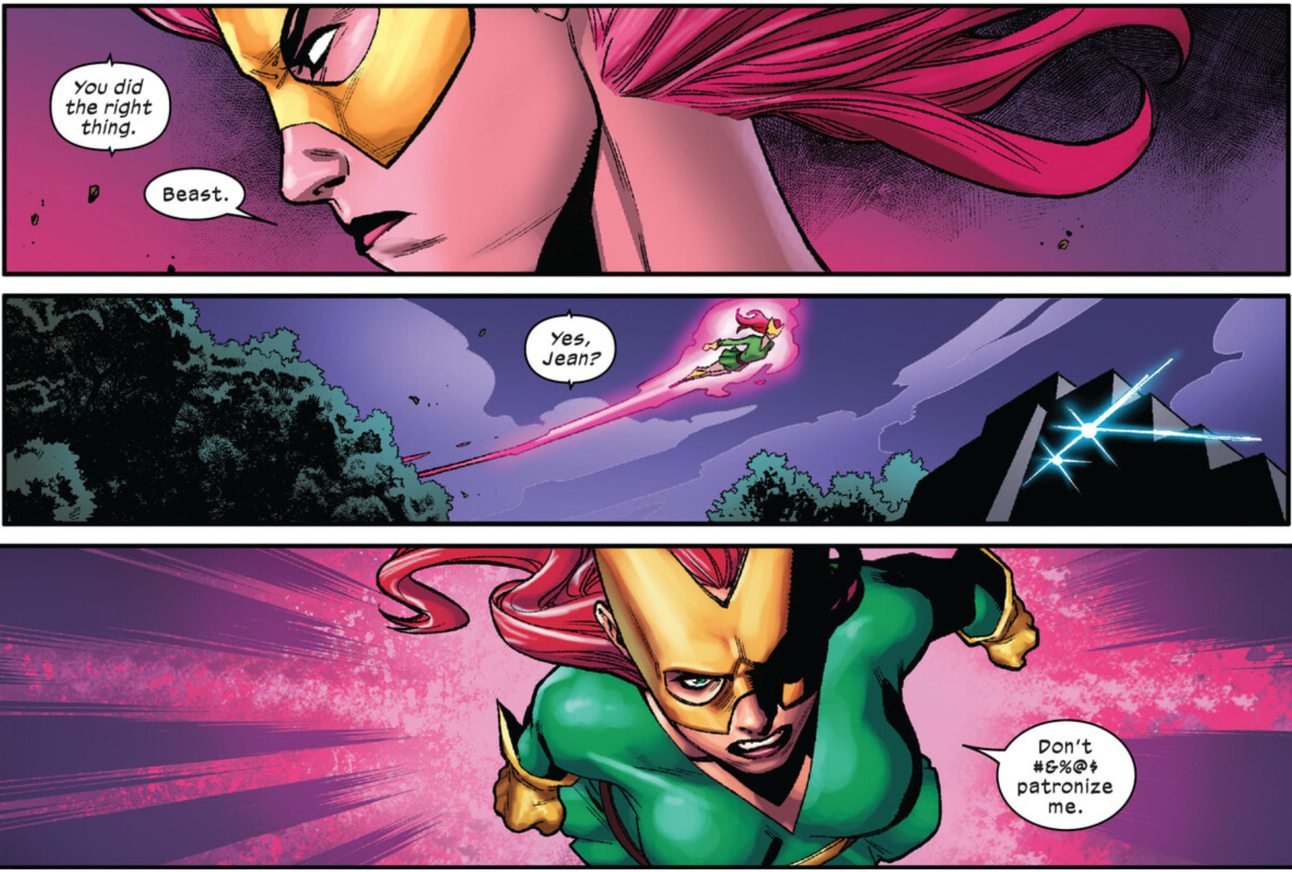 The remainder of the issue sees Beast further elaborate his baroque personal nightmare. The worst thing is maybe he was right, at least about the threat telefloronics posed. Unfortunately for him and everyone else, Hank pushed the threat-level into the deep red once he proved just too damn clever for his own good—or anyone else's for that matter.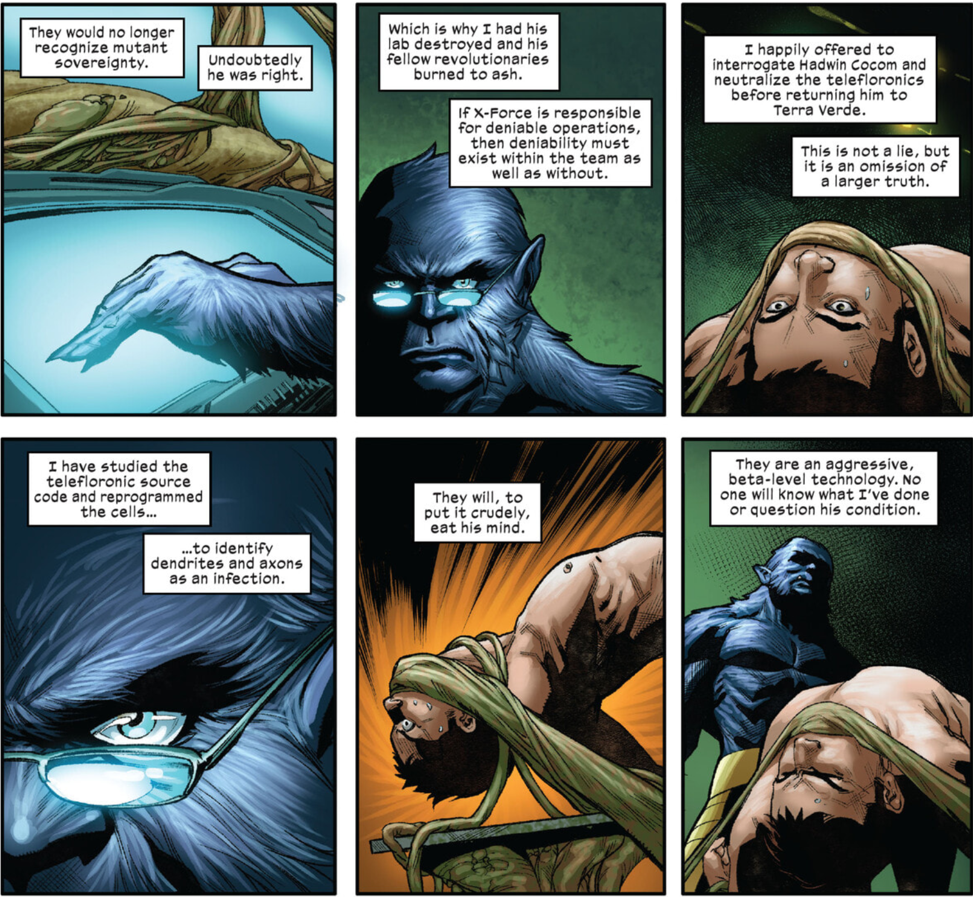 If this telefloronics stuff is eating this guy's brain, what fills the vacuum? Telefloronics. Furthermore, we can safely assume that this reprogrammed biotech will not be content to die with this man's vegetal body.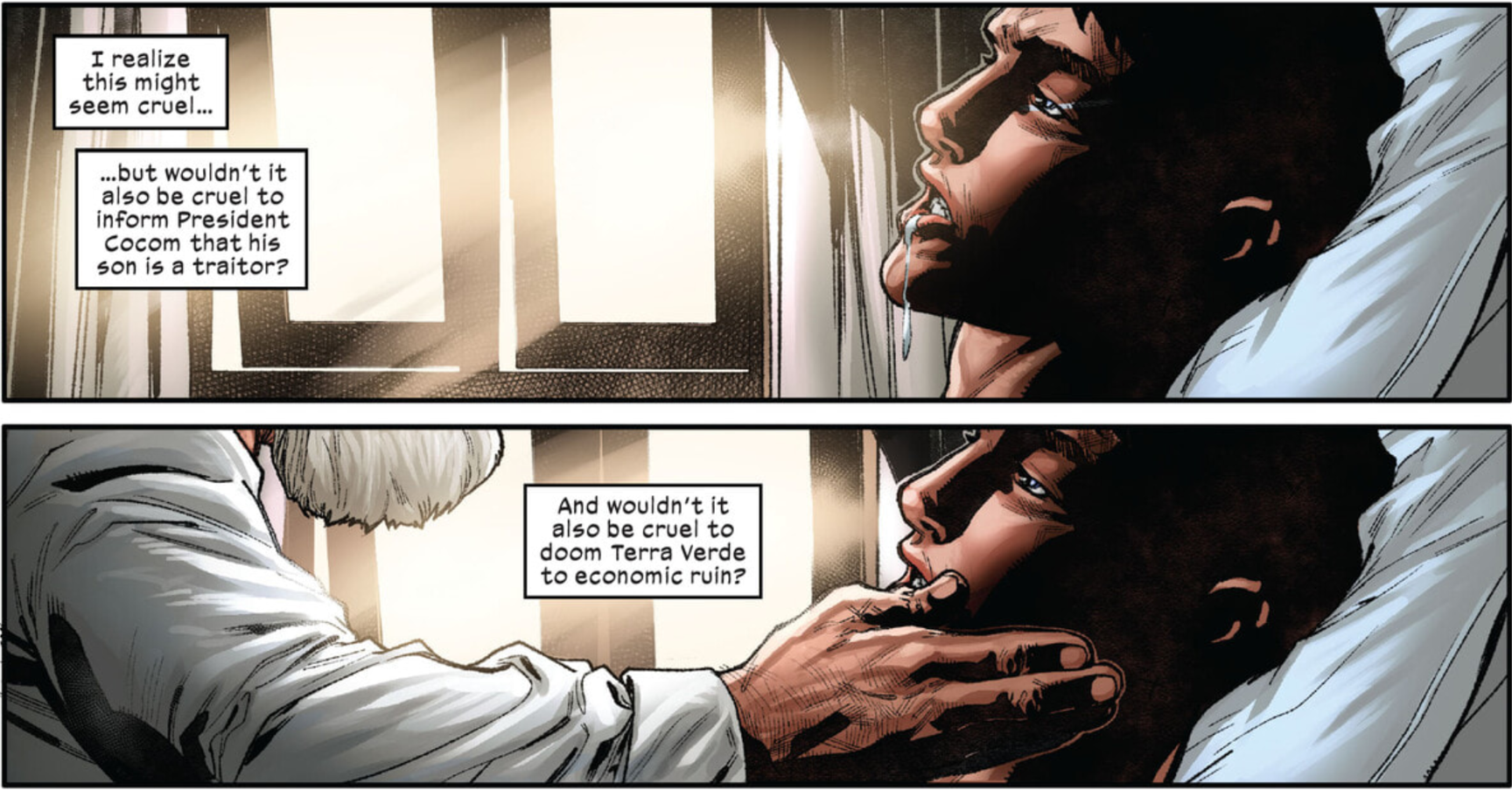 Beast doesn't care about Terre Verde. The self-involved symphony of his "intelligence" is for himself alone. Further, he does not believe in the sanctity of anyone's life.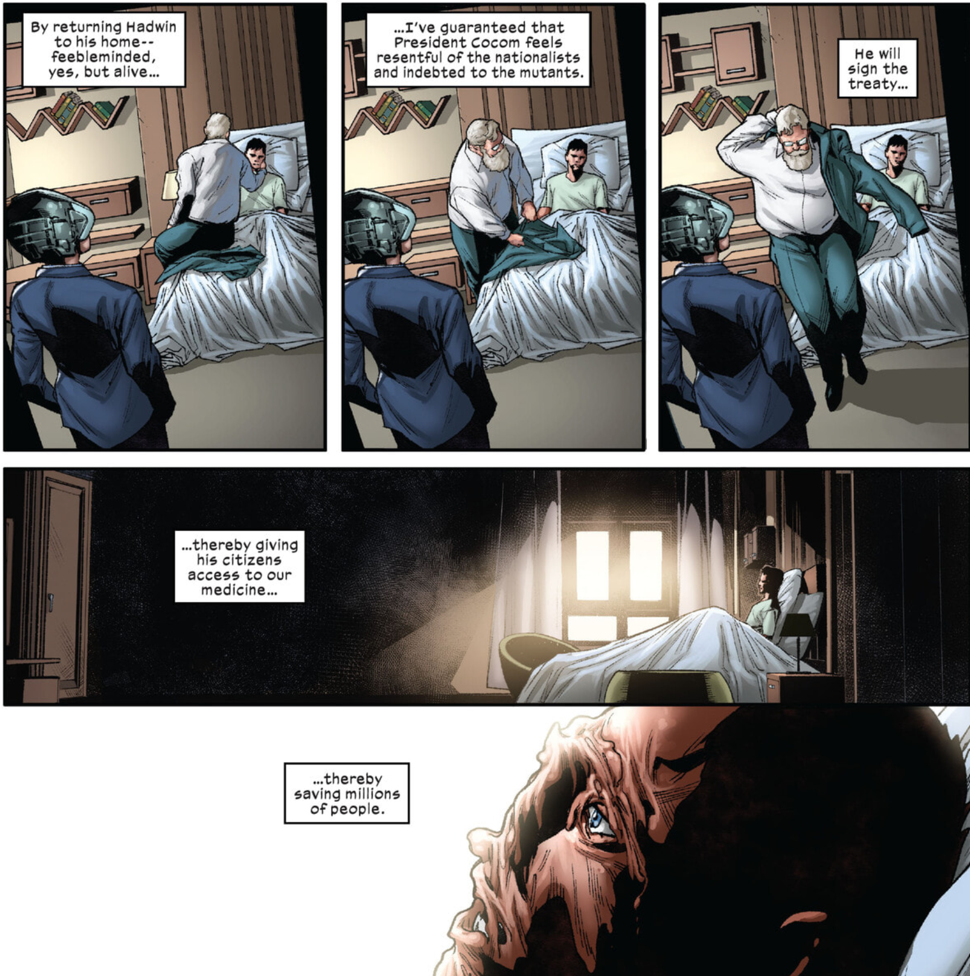 And in later issues, it will be clear how lacking in foresight Beast has become, but his trajectory here shouldn't really surprise, as shocking as it still is. (I've documented this dark descent elsewhere; however, again, with this piece, I'm backing off on the declaration that he committed genocide.) Consequences are beyond him—beyond his care, beyond his capacity to think about them too deeply, unless it involves something he believes he can quickly (i.e., sloppily) master and pat himself on the back. His cold calculus is what's "five moves ahead of" his own enervated conscience; everyone else around him is well ahead of him both in wisdom and intelligence where it matters.
He certainly never foresaw the floronic man dropping out that hospice window and stepping into the world, looking to rejoin its brethren and carrying new code, new intelligence, and new appetite—courtesy of Xavier's most loyal pupil.
III. "I hate to interrupt the revelry" – X-Force #9: "The Moral Jungle"
So, it's a little odd that the complete destruction of a small Latin American nation is met with indifference across the rest of the X franchise, let alone the Marvel Universe. This is sort of like the nuclear annihilation of Uruguay's capital of Montevideo, a modern metropolis of over a million people and considered the city with the highest quality of life in Latin America; don't worry, you didn't miss anything—I'm talking about Grant Morrison's JLA from the late '90s! Seriously, who remembers this atrocity?
Seriously, this is an issue. Of all the countries outside the US where metahuman atrocities have occurred, how many superheroes have been introduced from these places to compensate for having their real estate carelessly used as two-dimensional playgrounds for collateral damage and white saviorism?
Alas, I don't expect Percy's X-Force to answer this tall order, to foot this ever-increasing bill. But maybe it's time to have higher expectations here.
In any case.

Per Beast's Logbook, we find that it's been several months since the tragic events of issue #6. A week ago, Terre Verde went "completely black." (Again, where are, say, the Avengers? Yes, I know these franchises are almost distinct universes the majority of the time.)
Now much as I love the horrific bathos of issue #6, I'm a bigger fan of painful attempts at honesty, especially between the likes of Logan and Domino, whose often rather twisted friendship I'd like to see much more of—as in Percy's recent Wolverine #17.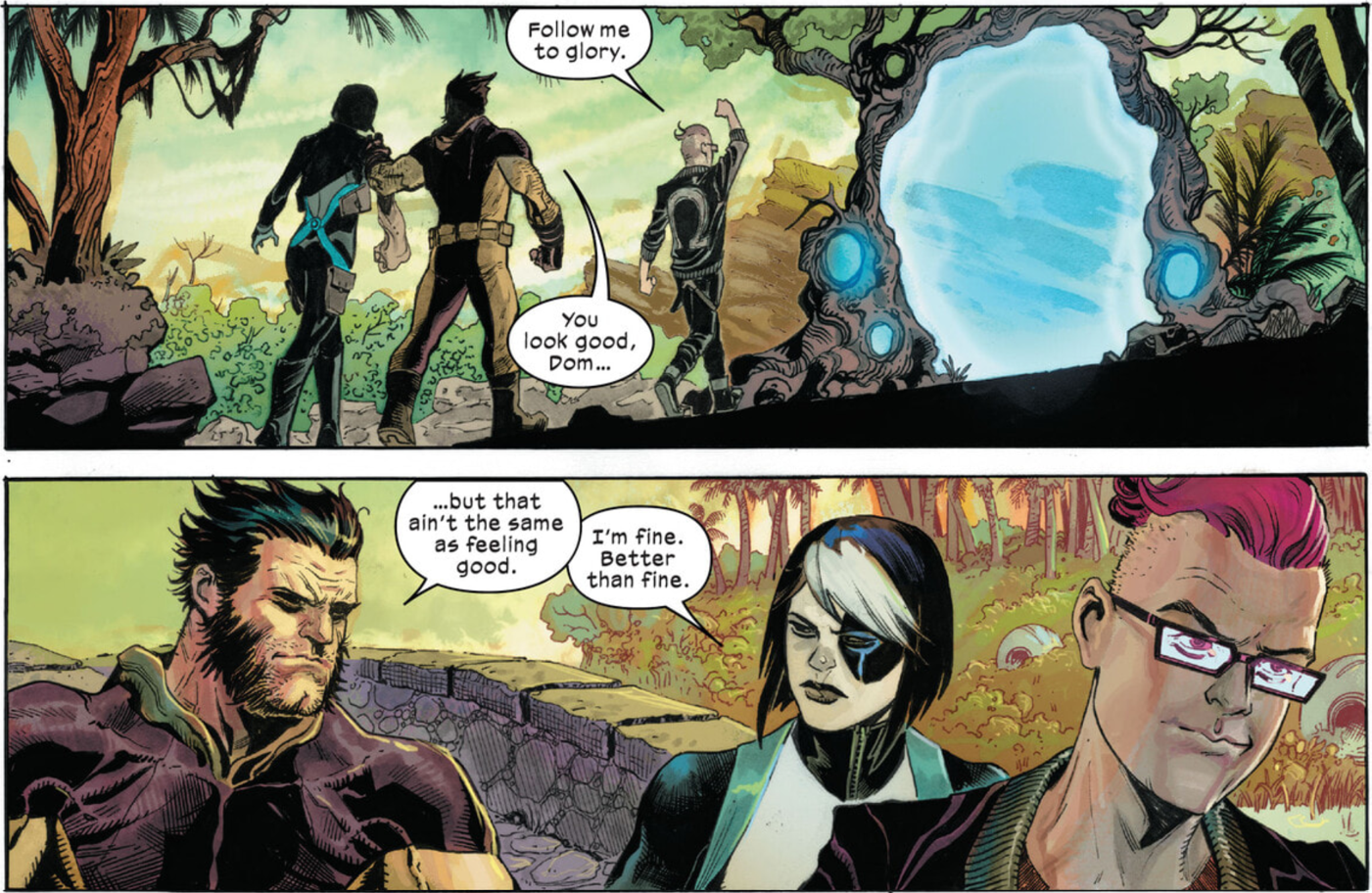 Also, Percy presents so many unstated parallels between the foreign telefloronic foe and Krakoan biotech, as here, juxtaposing this scene with Beast's logbook, which describes telefloronics as "neuro-responsive green tech"—clearly not too unlike Domino's bio-cybernetic armament created by Forge from the quiddity of Krakoa itself. Forge's weaponization of Krakoa's body strikes an unsettling echo of what Muerte Verde has done to the land and people of Terre Verde, its corpus. (We'll see more such echoes throughout Percy's X work.)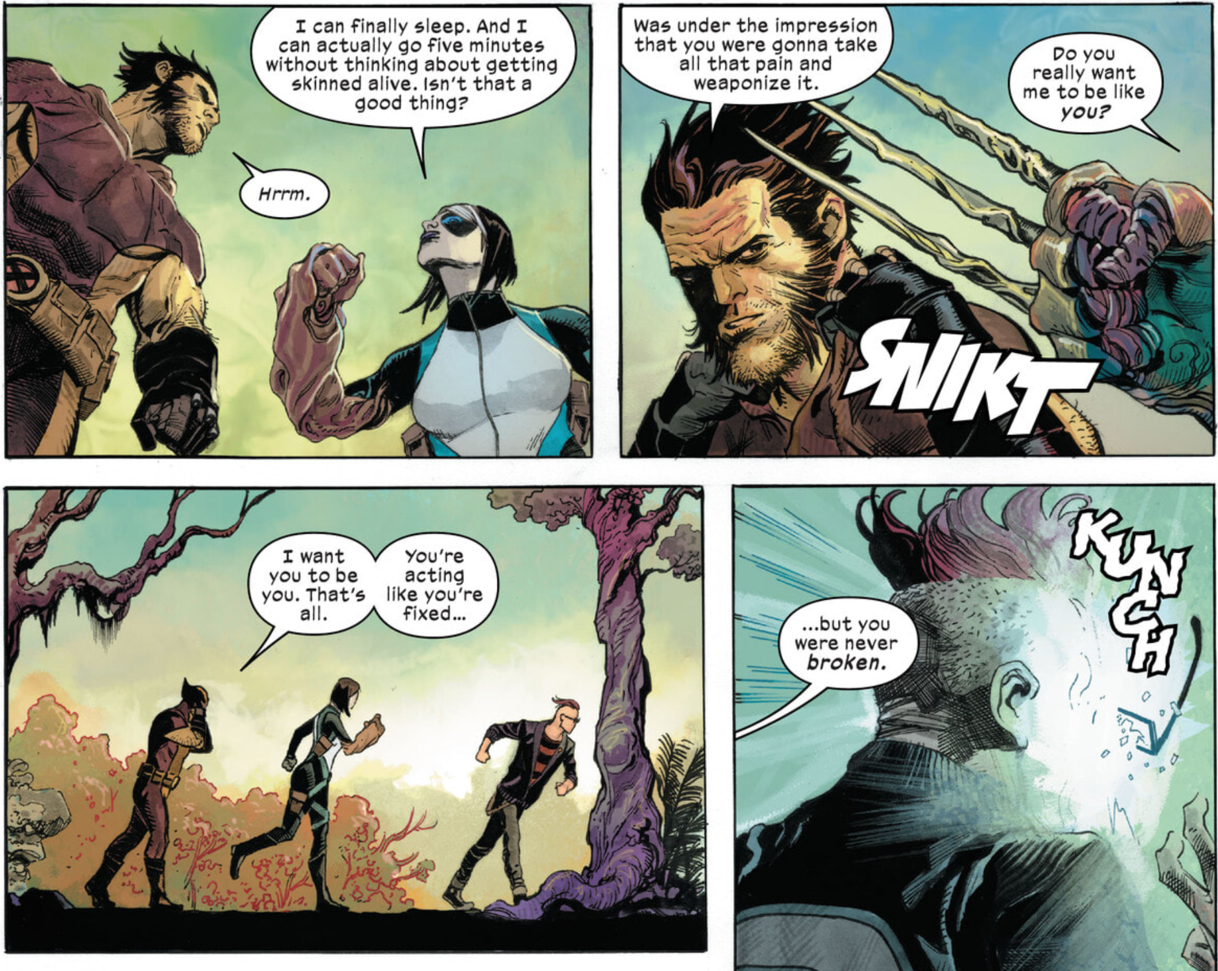 A. Slasher Mission
The difference is that Muerte Verde has taken Terre Verde in a radically isolationist direction (albeit because of Krakoa's existence) and is very bloody-minded in its telefloronic radicalization—as seen here inside the presidential manor, where the Terre Verdean president himself has become a corpse flower and they've blocked the Krakoan gate with a pile of flowering corpses.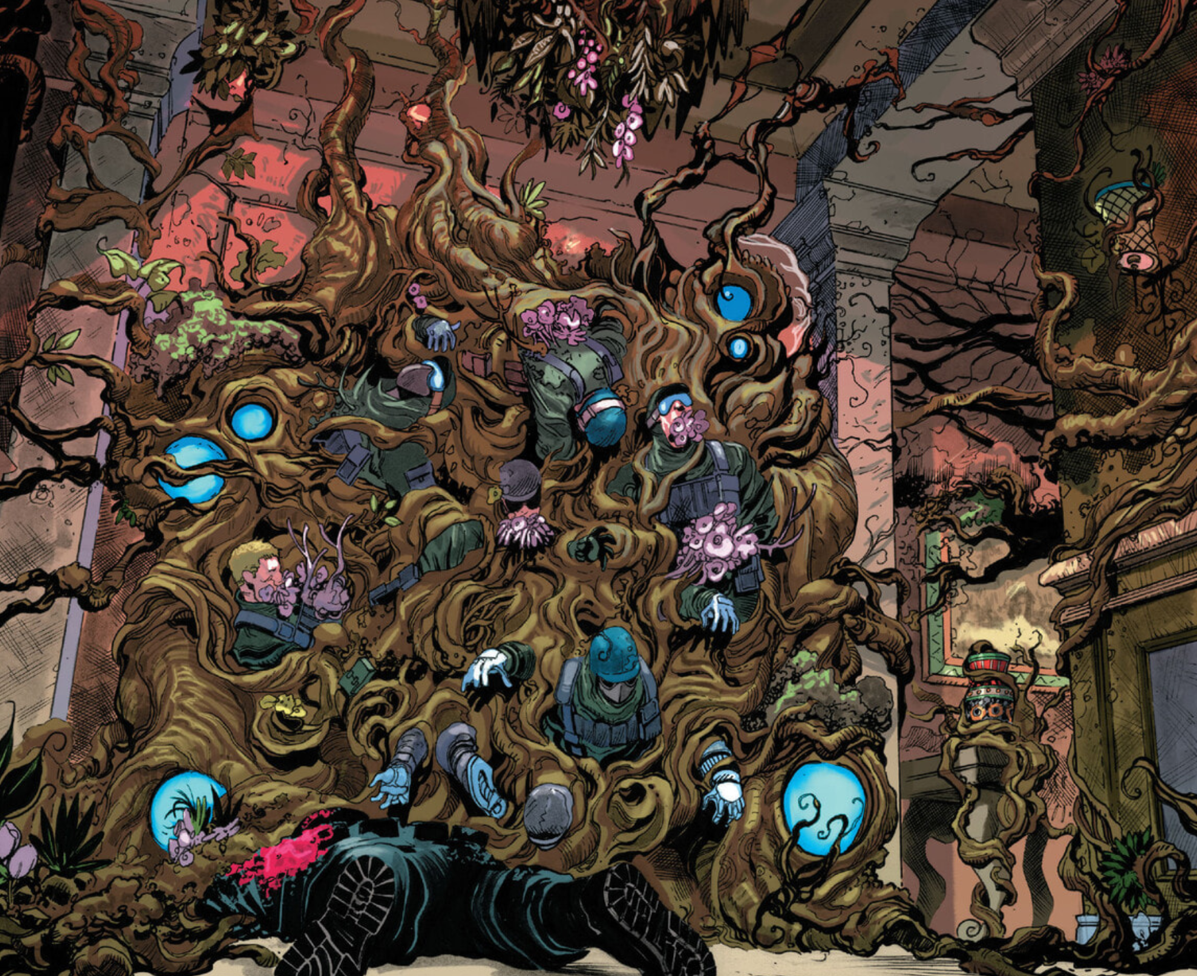 This whole scene brings to mind my favorite modern sci-fi movie, Annihilation (itself a veritable corpus of sci-fi and horror tropes, hybridized into something strange and new). It's so fitting, then, that my favorite era of Marvel in over a decade is so fixated on vegetal horror—balanced by an almost Gaian sense of wonder!
Meanwhile, Quentin is still a pompous ass, trying to strike sparks off Beast's damp fur to no avail. Post-XoS, we'll see Quentin's surprising redemption arc begin, but I'm not convinced it will stick (which may be intentional on Percy's part; we shall see…).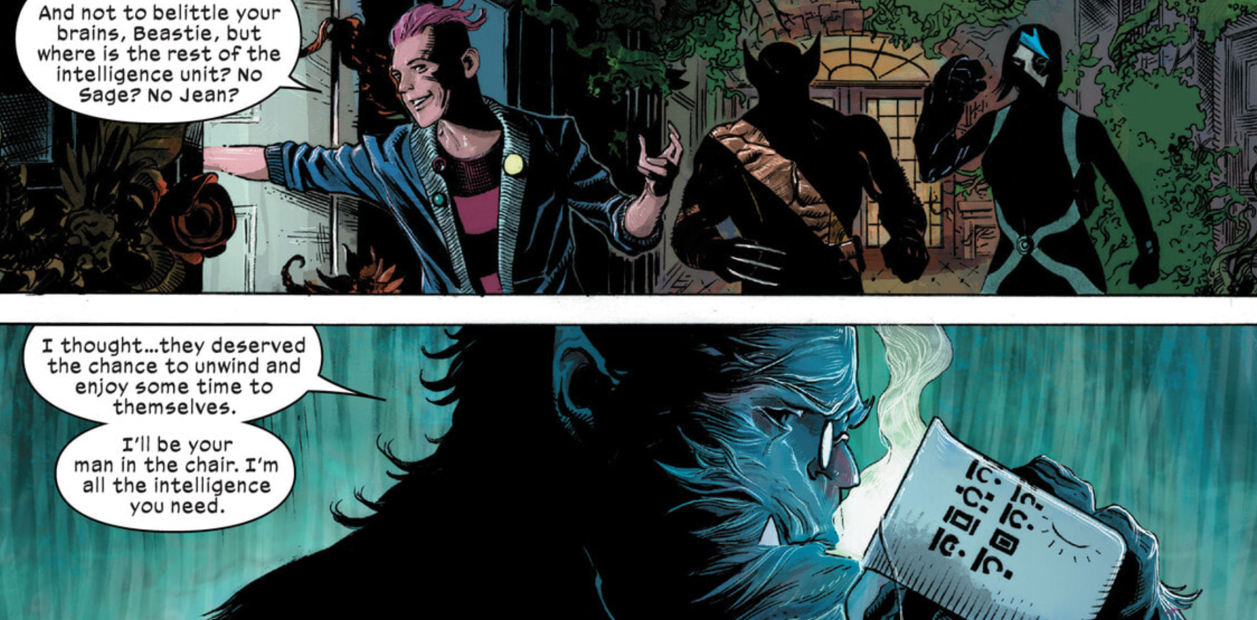 Quentin really is hilariously out of place here in the jungle. Soon enough he'll be sporting black spandex.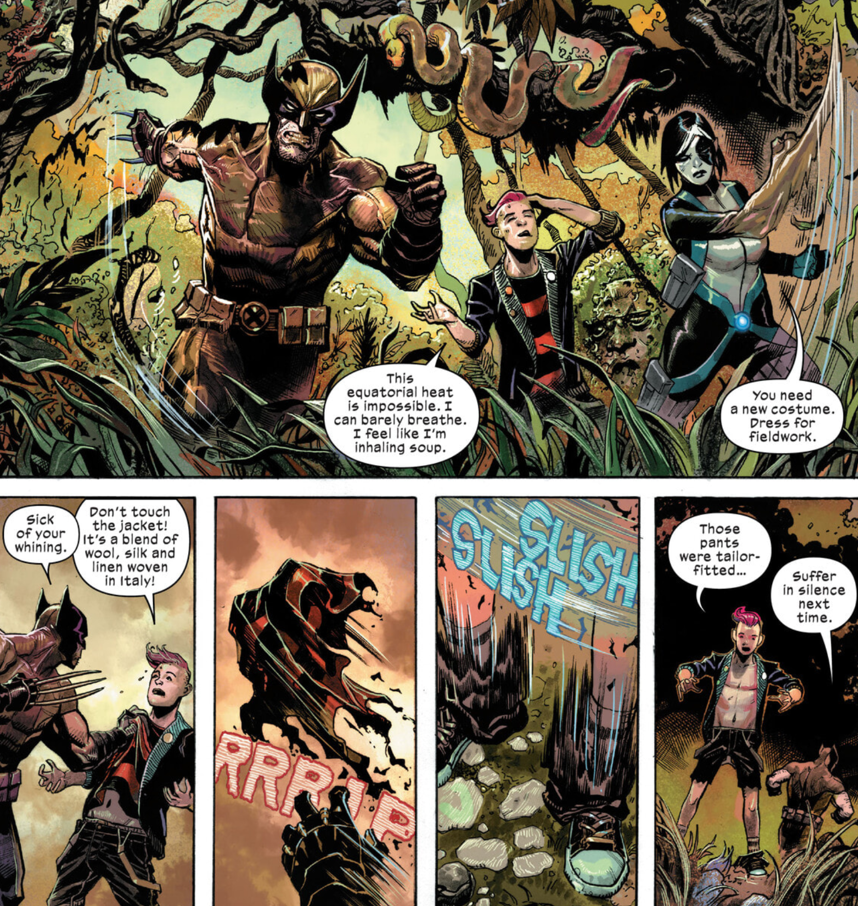 And Domino's "fine" feelings have quickly taken a downturn by the time the trio have hacked their way through the jungle to the entrance of the temple seen from the presidential palace (the layout here probably true to Terre Verde's initial Fantastic Four appearances?). "What isn't Beast telling us?" she wants to know. Logan, his attempts at consolation gone, reminds X-Force, "We're [only] here to hurt."
B. Drunk Tom—Sublimating All Krakoa's Hidden Rot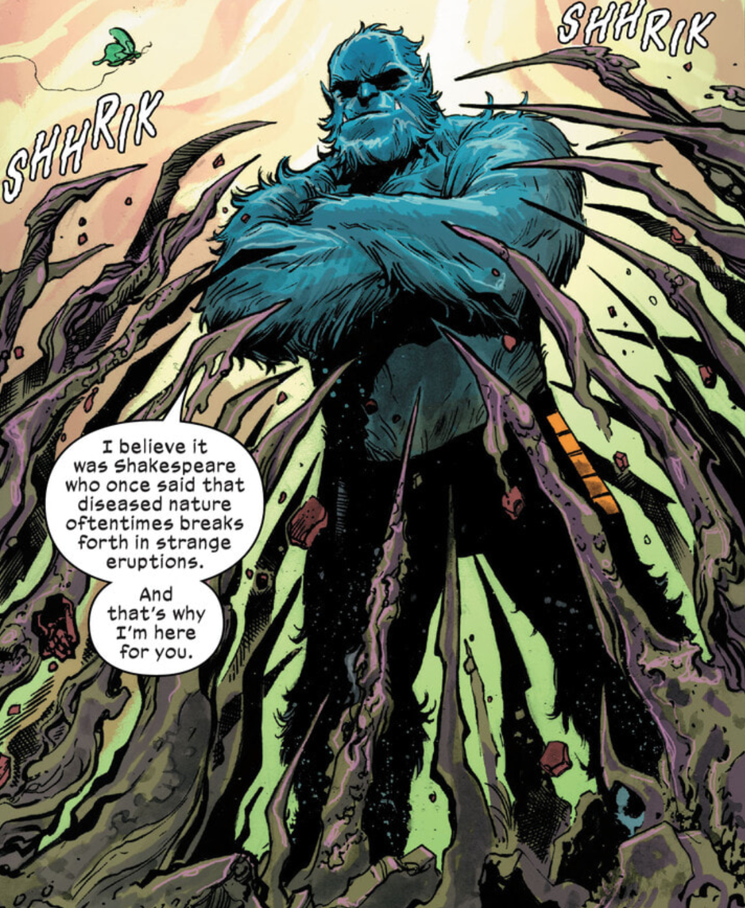 Or: Miserable with Other People's BS
If Tom is, to readers, endearing in his misery and neglected neediness, Hank's off-putting in his hollowness and despicably miserable with self-avoidant projection: Besides Tom's grotesque entanglement with Krakoa's knotted quiddity, all the "strange eruptions" in this title are from Beast's own "diseased nature." Use the Bard to examine thyself, you quack.
It's interesting, though, that Tom was having "despicable nightmares"; I wonder if any of it was sublimations of, let's see, a slow creeping techno-organic infection, Sabretooth's soundless howling from the Pit, clandestine chimeric tinkering out of Bar Sinister, Beast's own spiritual corruption, much less that of anyone else for whom we have nothing but an abyss of doubt—Xavier, Magneto, Moira, hell, even Forge. Something is indeed rotten in the state of Krakoa, and it would all out in Tom's bad dreams.
Now let's see what comes of sending off Krakoa's strung-out human-mutant proxy to fight "an angry God."
IV. "I might have made a minor miscalculation" – X-Force #10: "The Deadly Garden"
A. Stink Eyes in the Deadly Garden
Well, Krakoa has to let him go first, allow him to unplug from its "hundred million thousand channels." Maybe Tom's apparently loving dirt-kiss or soil-munch is all it takes?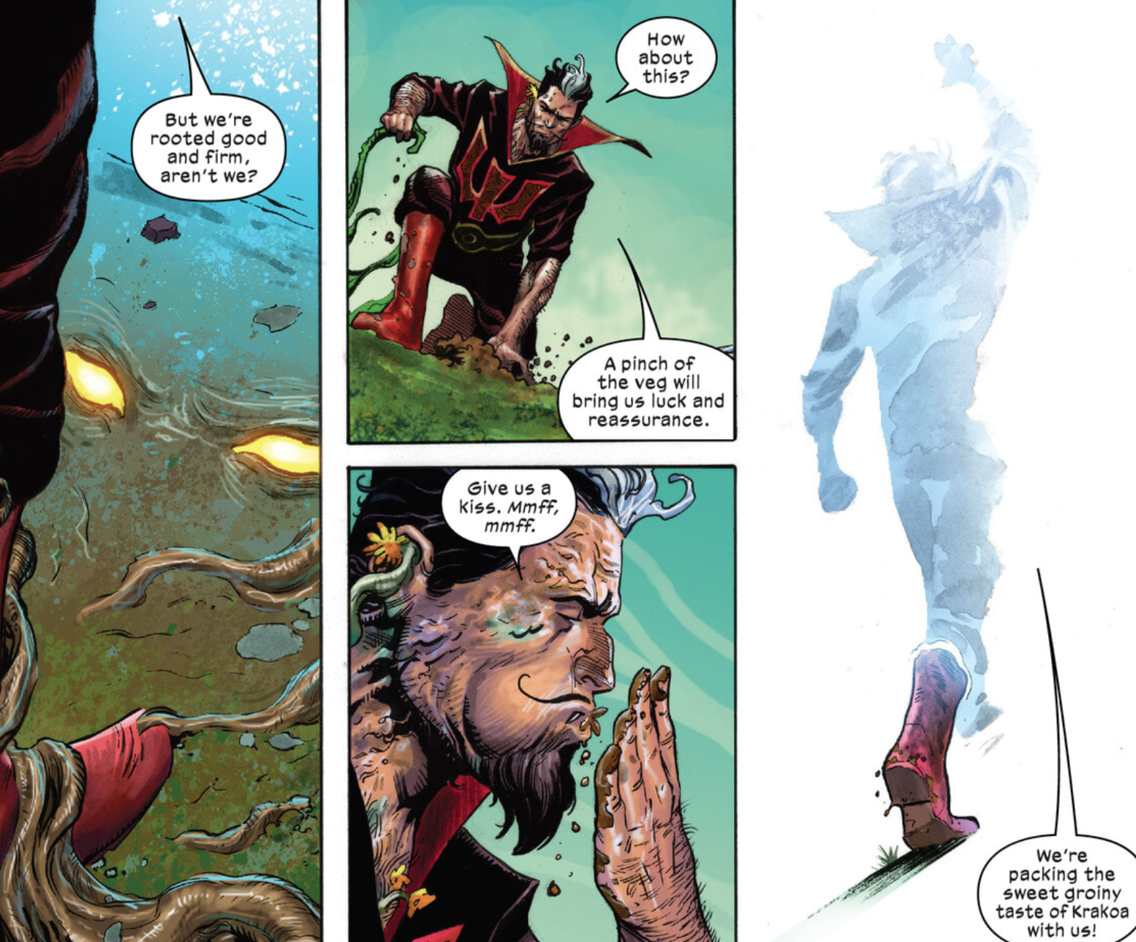 Seriously, there's chewing through the scenery and then there's this!
Anyhow, note the creepy eye motif from the sundry veg.

I suppose the shaggy one-eyed head encircled by strange glyphs might just be ancient stone. But with roots reaching into this temple room from all sides, the borders between vegetal and mineral are indistinct.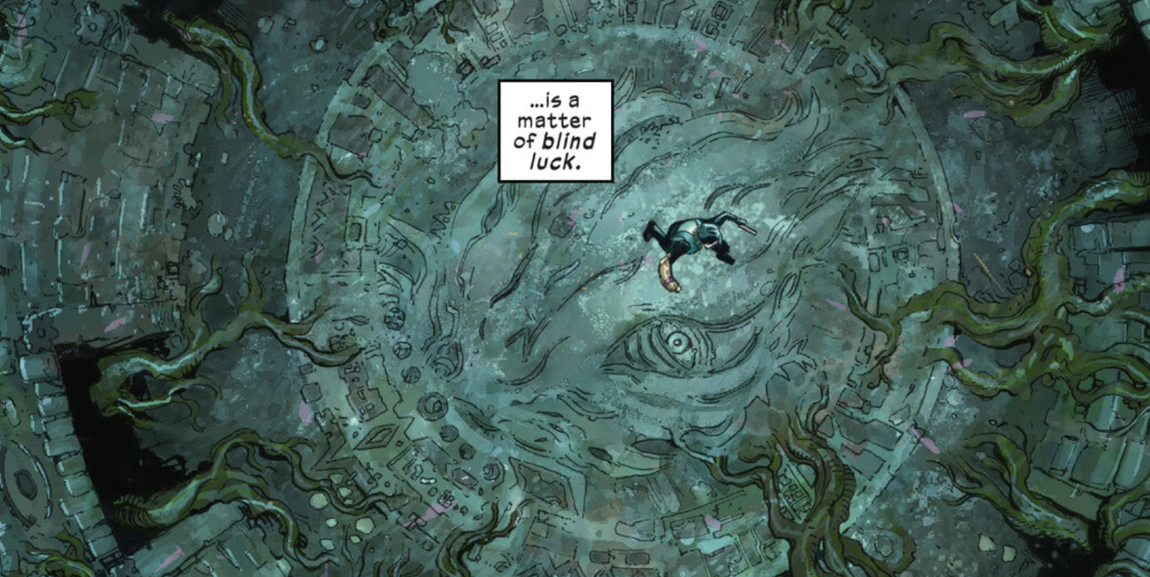 And then there's Domino's Forge-forged, Krakoan-grown night-vision lens and headgear—bionic veg put to new sight.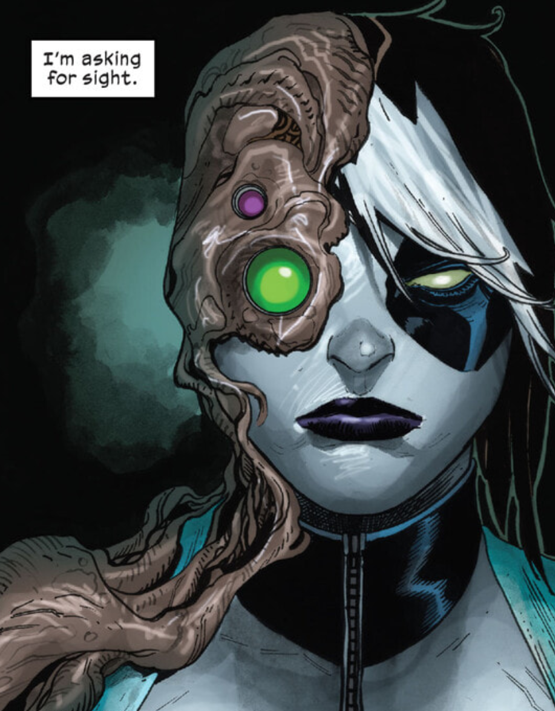 Later, we see eyes annihilated, sockets become flowerbeds, a vegetal blindness—again recalling Annihilation. It almost seems blissful.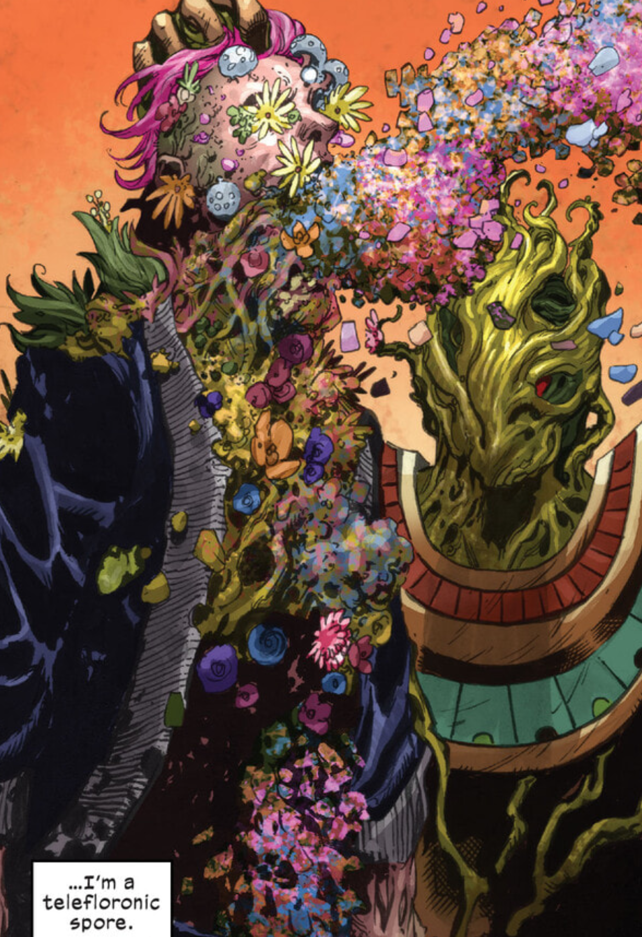 With the strange maturity and detachment of Kid Omega's thought captions here, I wonder if this is where his coming turn toward redemption or making good begins. (Also, note Logan's claws punching through what would be eyes in a human.)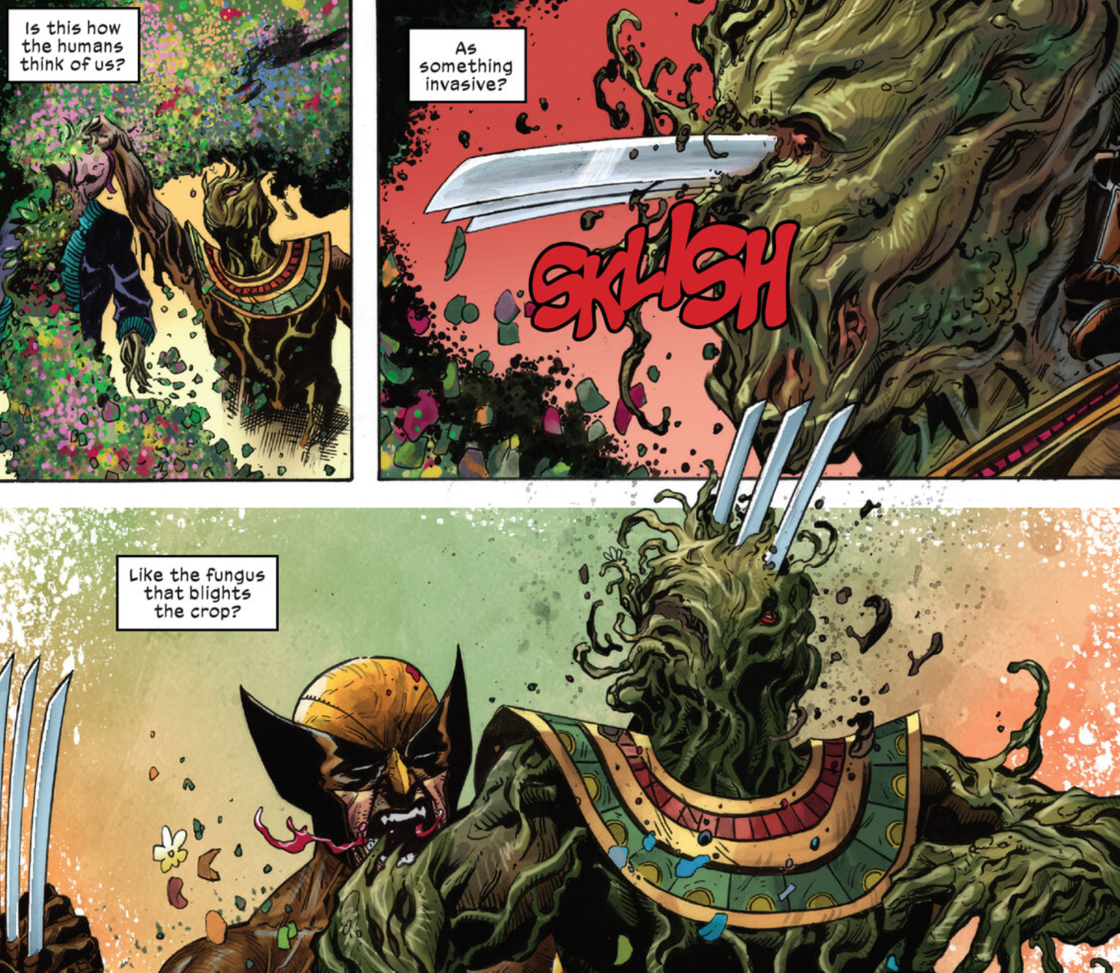 Before recalling she can use her Krakoa tech for sight, Domino runs through a thrillingly drawn gauntlet, Indian Jones-style. It's Cassara makes this sort of action montage feel fresh and new yet classic, playing on familiar tropes.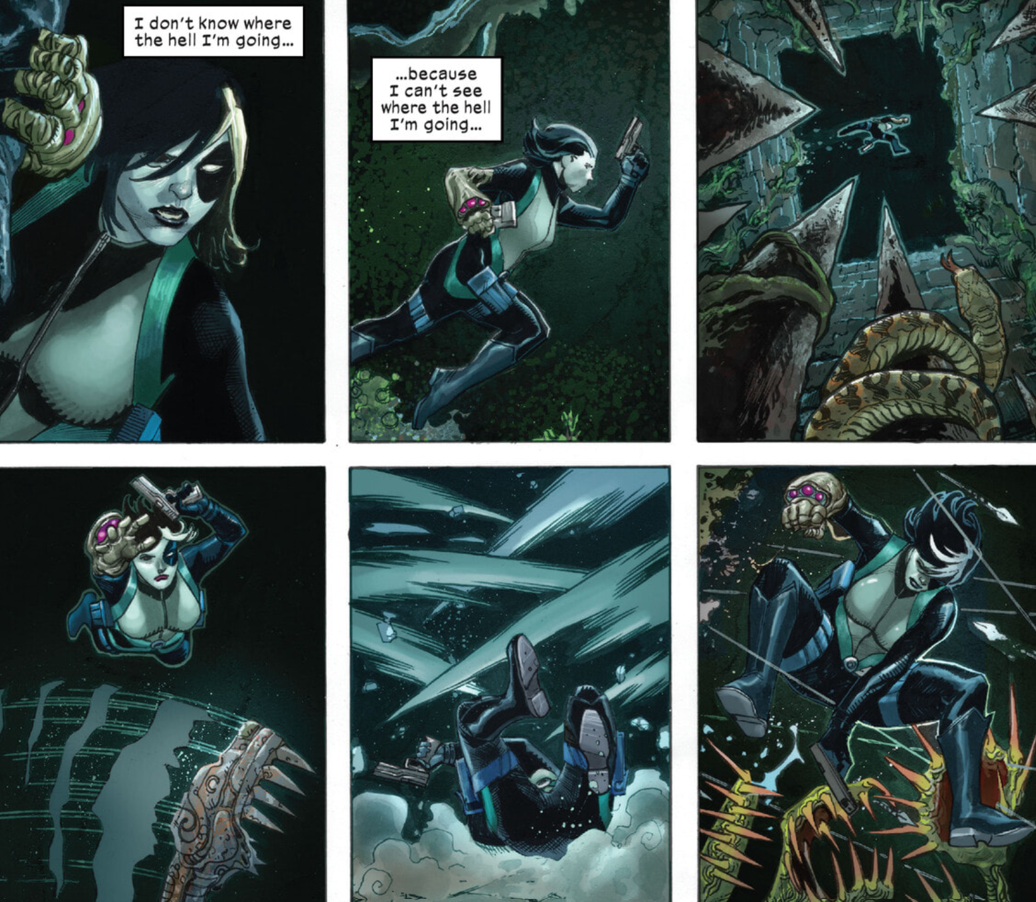 B. Calling Hank on His BS—Isn't Enough
Jean at last confronts Beast. His expression here is Hank at his most wretched and distraught by far throughout this whole series to date. This speaks to Jean's strong influence going back to their early days together as Xavier's teen pupils; there are three people he respects—or two, besides Xavier, for whom he has vestiges of respect, and probably Jean has the stronger hold on him now than Scott. (After their split over the original black-ops X-Force, they never mended things.) However, he's just too far gone for even Jean to call him back from the abyss, to break through his squirmy evasiveness.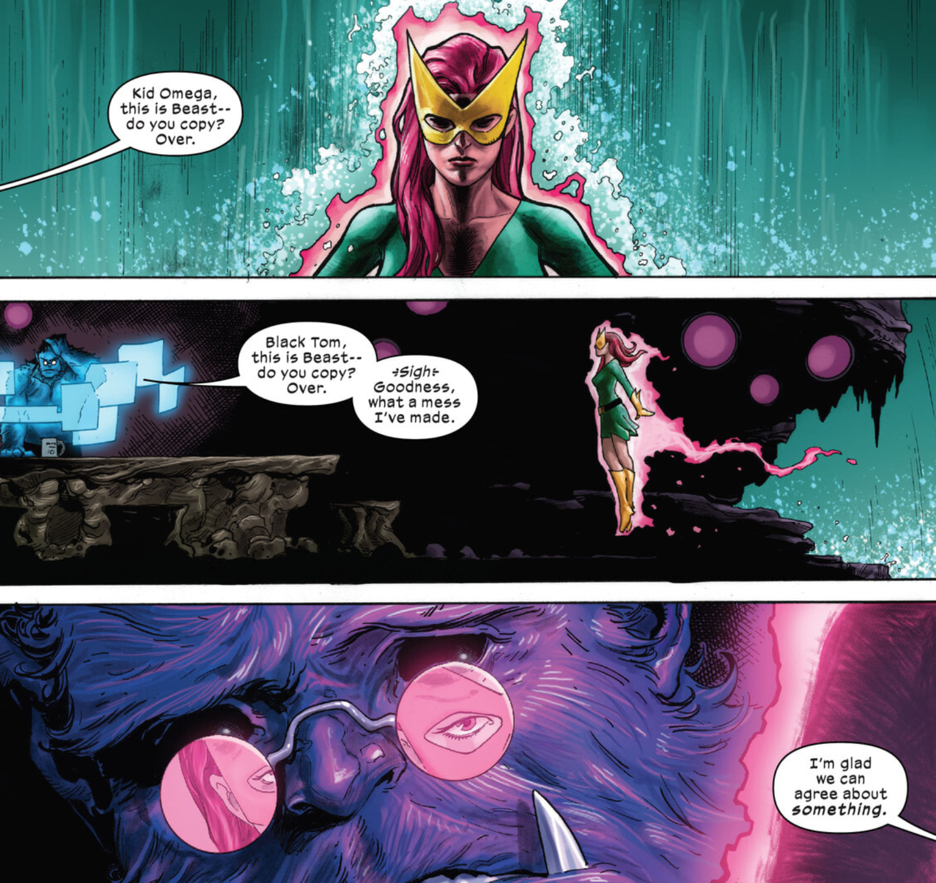 Sadly, in regard to how things are run from the top on Krakoa, it's Beast who's right here. Jean doesn't know—as we do, with tragic irony—that "trust in the vision of mutantkind" is radically not at the root of this utopia. If that failure is there at the start, at the core, that is the birthplace of corruption. Insofar as Xavier put Hank in charge here, this essential moral rot is ultimately Xavier's responsibility—not to mention Magneto and Moira's as well.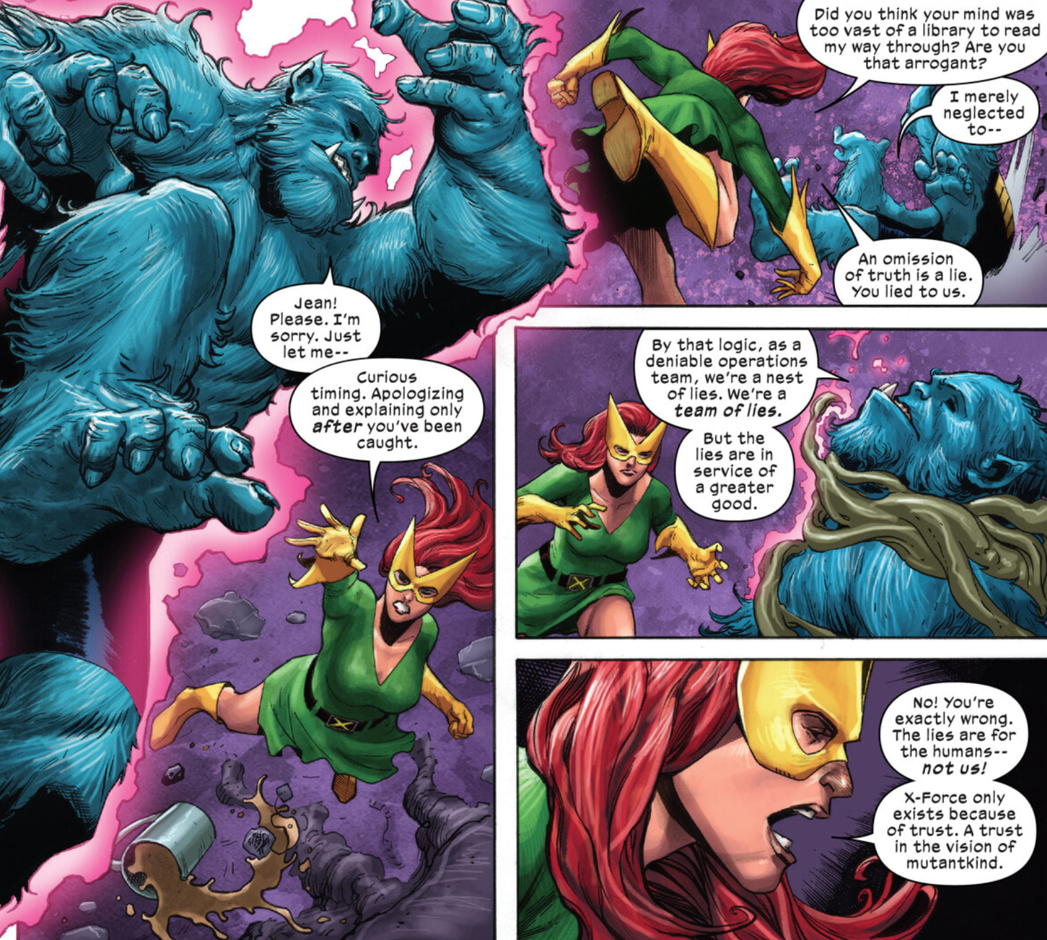 It's astonishing how bad Hank's moral "math" is here; he can't even admit he's destroyed an entire nation to "counter a risk [it] posed to our country"—a small but not insignificant possibility that became a certainty only due to his disgustingly inhumane and perverse meddling.
C. All Together Now Sans Beast: Jean Brings the Wisdom to Rescue the Brawn—Then Bows Out
Jean now manifestly realizes that this team is only about "getting the dirty $#&% done." But really what she "orchestrates" here is as radiant as this book is going to get, "merging" the team's minds and powers, Jean's amping and broadcasting Sage's computational power, including the ability to "see" biological structures down to the genetic level, and Tom's ability to manipulate wooded environments at will, in order to neuter the Muerte Verde death cult, presumably helmed by the telefloronics-possessed Terre Verdean scientists.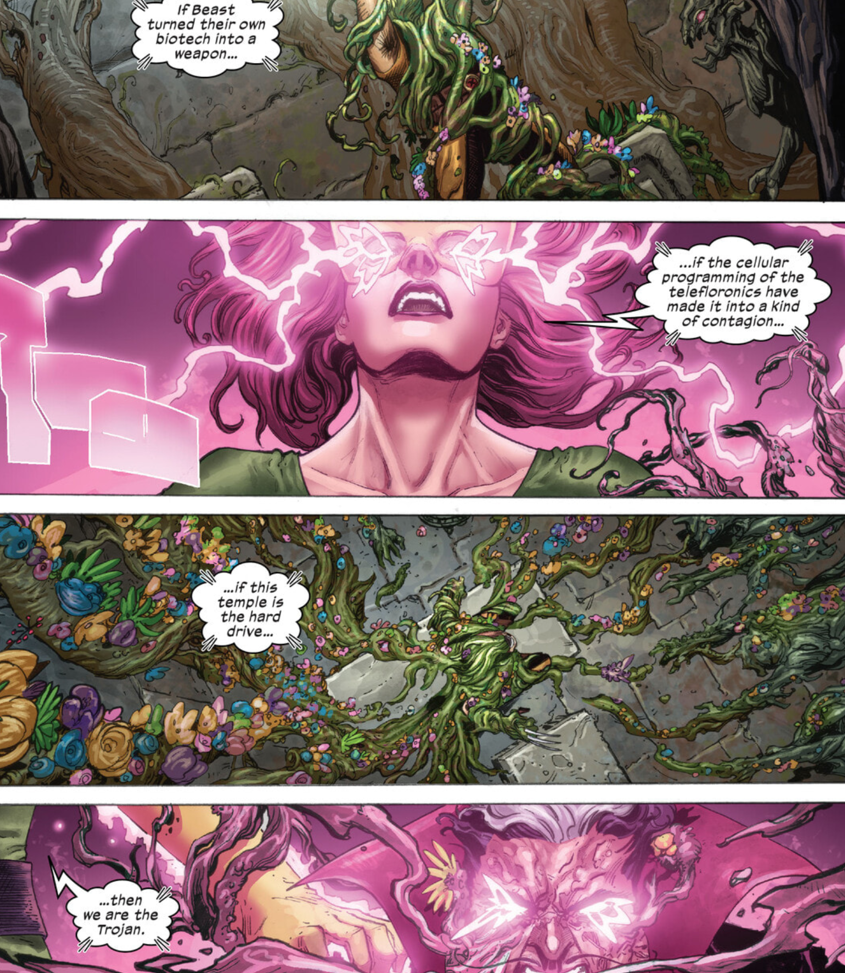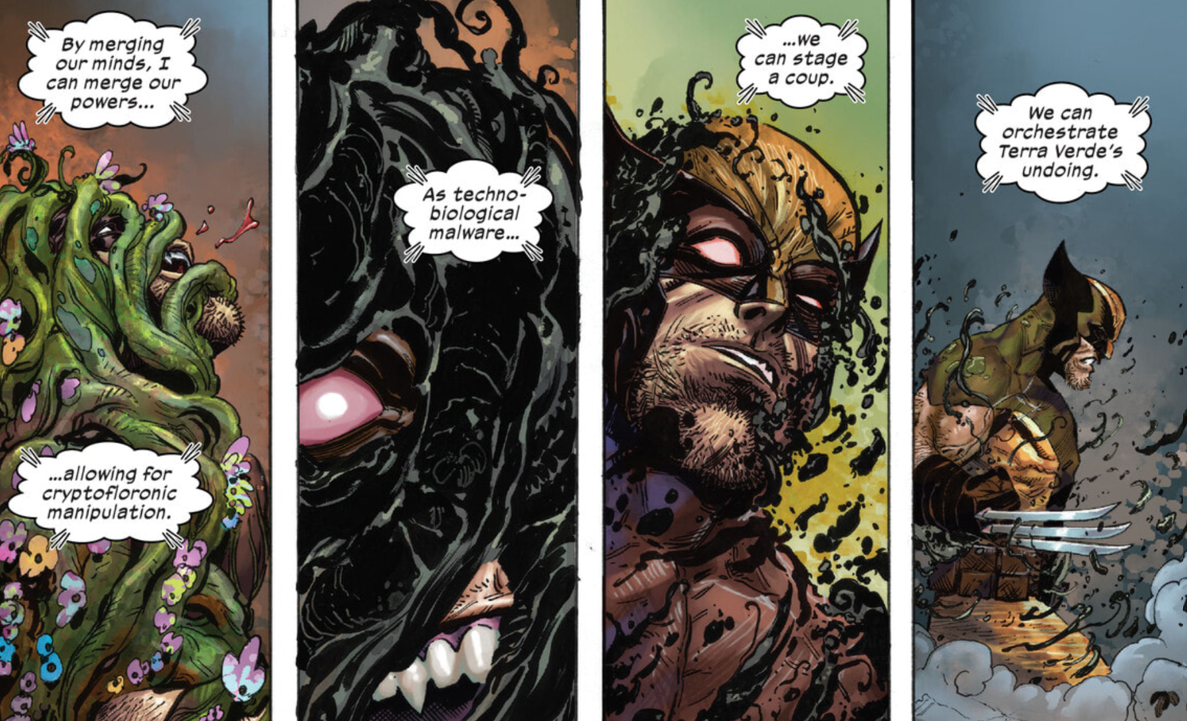 And so here, at the very end, as Jean announces her resignation from the team, we see the first glimpse that perhaps all the Terre Verdeans haven't been slaughtered, made into undead vegetal monsters and then eradicated with the trio's "malware"—for we see these now naked human bodies around Logan, which initially I'd taken to be corpses. But with Jean's suggestion that "Maybe they can be free now," perhaps instead we're seeing these erstwhile telefloronic captives come around slowly, or about to.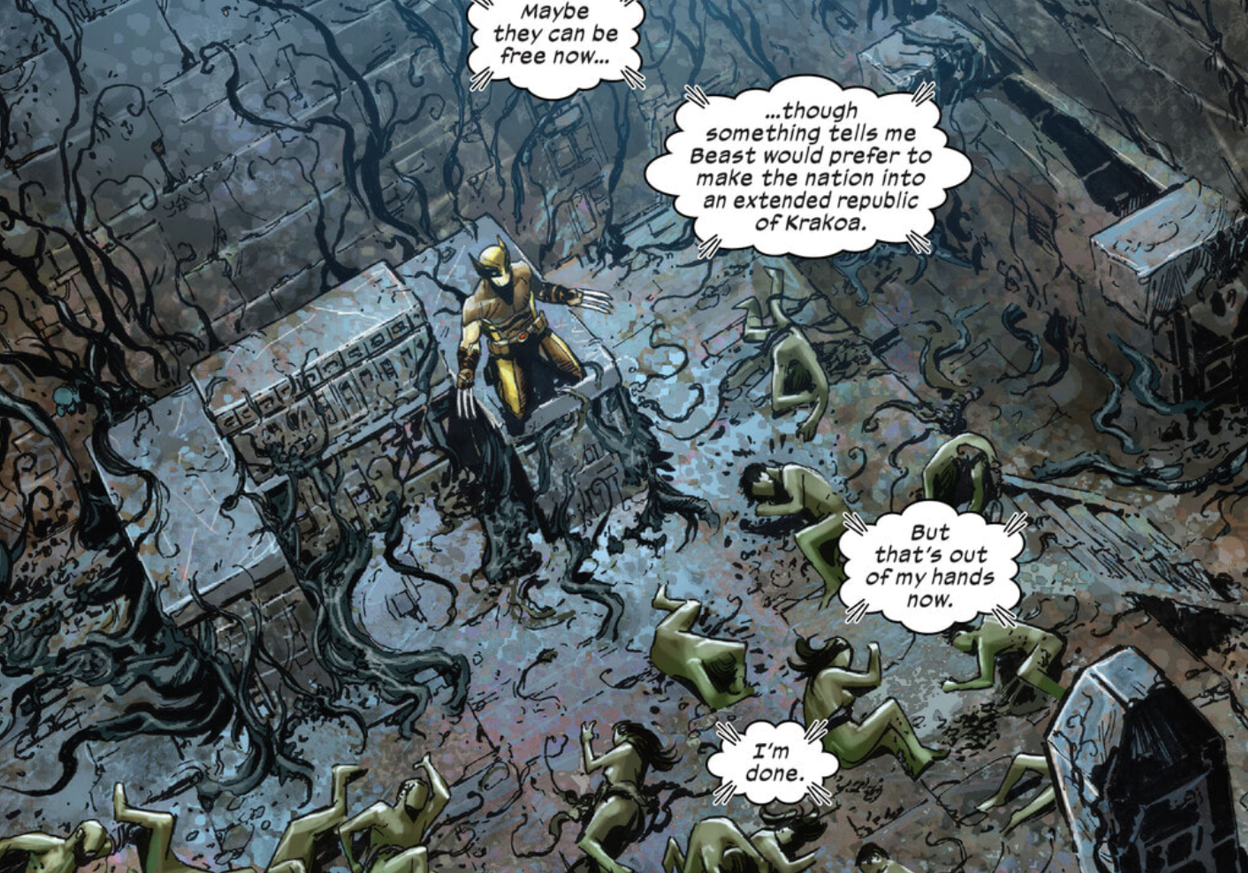 So I've said a lot about these few issues, but this closing scene seems to have been the most bruited about on the internets. Oh well! Much was even made of the fact that Logan knows the size of Colossus' penis. Anyway, it's a nice ending. Personally, I'd like to know more about Sage being "bigger on the inside than the outside"—and I don't mean in a prurient way; she really deserves to get out from under Beast's shadow, and Xavier's.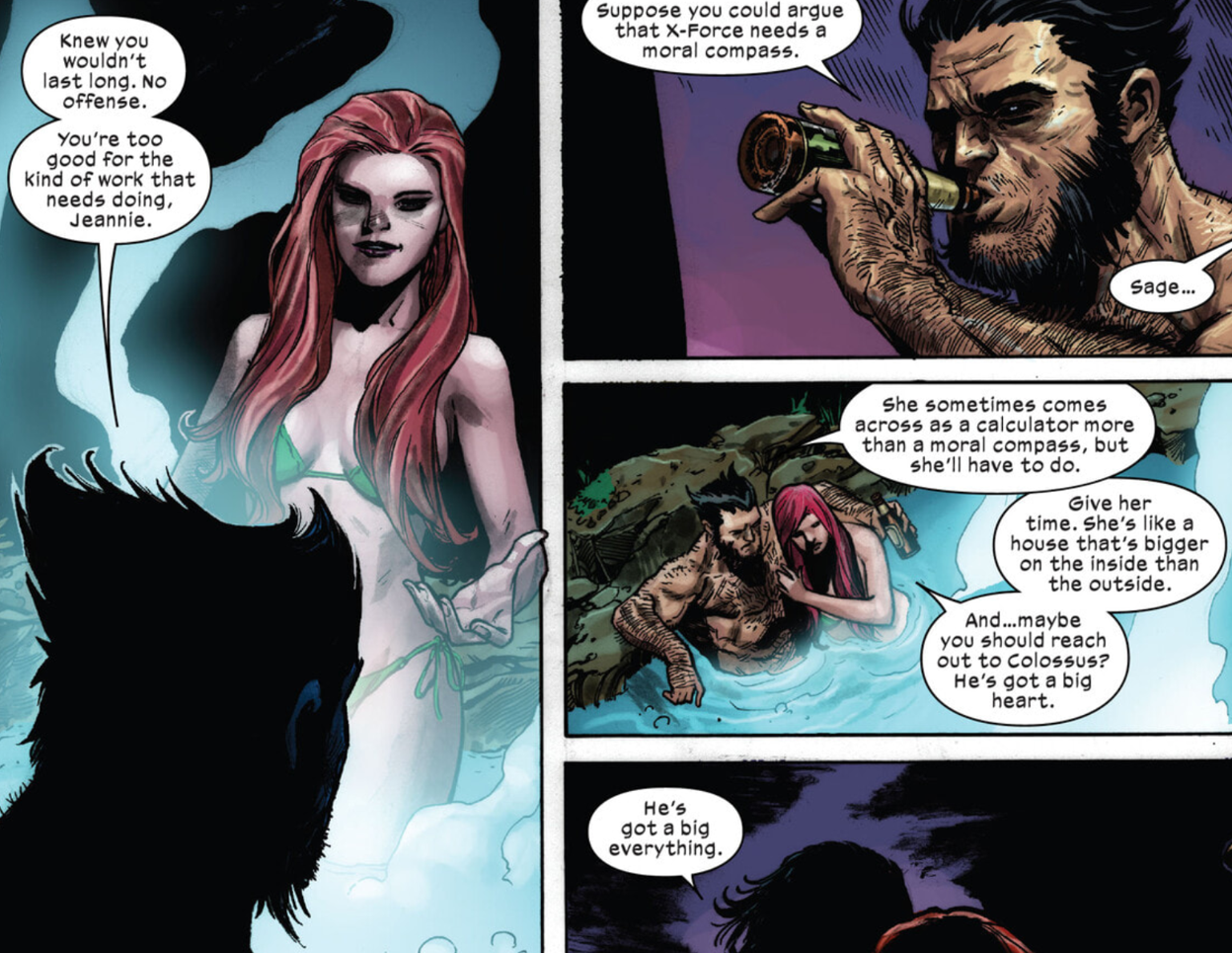 It's X-Force's "taste of poison" that makes this book the antidote to Xavier's "optimism," which is built upon very brittle foundations resting on a swamp of mistrust. In fact, I'd like to see Percy's stewardship of the material at hand here continue for the next several years more than I want to see what other neat tricks Hickman has up his sleeve for mutantkind.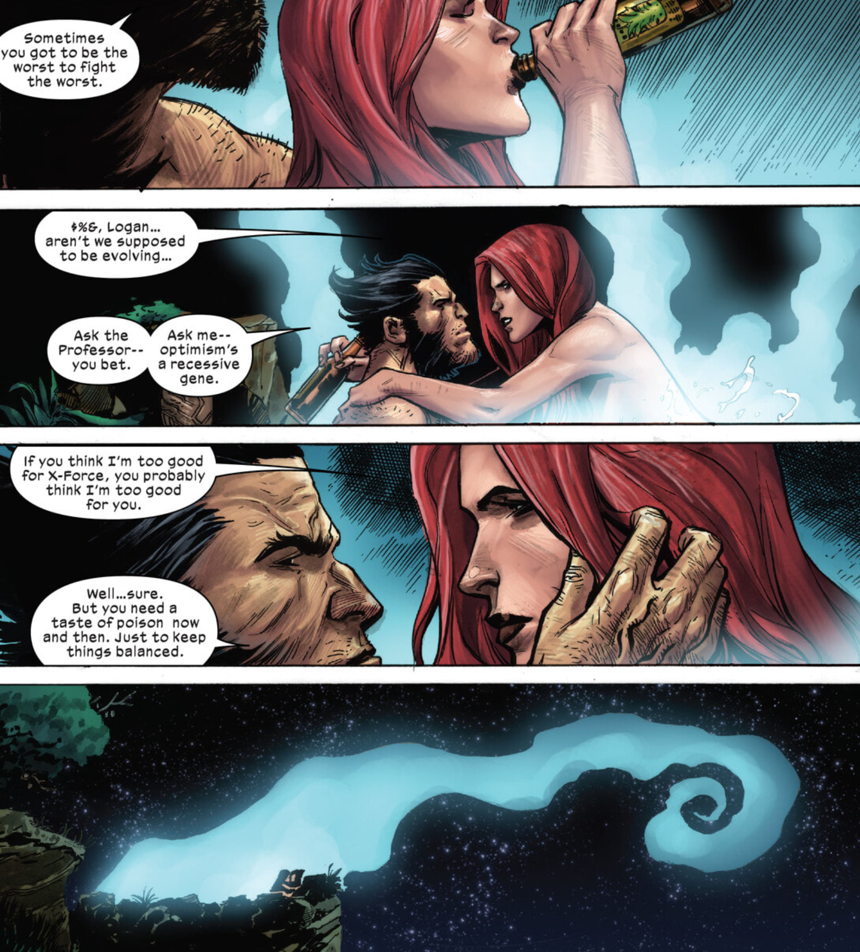 NEXT: Space boys, space bugs, space veggies—and a mysterious witch; or more neat Hickman hat-tricks 😉