X-Force #7-8 (& #9's debut of the Green Lagoon)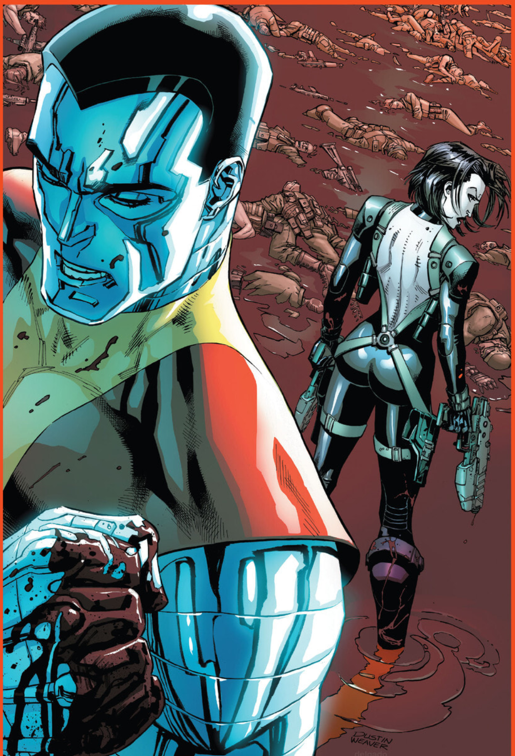 [*From the classic Peter Gabriel hit. Also, note that Part 2 of this run of articles will cover X-Force #6, 9, and 10; Part 3 will cover issues #11-12. Lastly, all X-Force cover images displayed were created by Dustin Weaver and Edgar Delgado.]
Reading back through the Dawn of X, I've maybe been a little surprised to find my overall favorite series among the initial ongoings has been Percy's X-Force by a considerable margin. Now, there are certainly moments in Excalibur that, for me, have outshone almost everything else across the line; elsewhere, the best short, nonevent story arc is, in my view, undoubtedly X-Men #18-19. As for Duggan's Marauders, that title has been an enjoyable slow-burn, but it's also been consistently inconsistent in quality and focus—except that it serves with surprising success as Kate and Emma's impeccably charming and well-deserved showboat. (And New Mutants didn't even land on its feet until Vita Ayala's recent takeover.)
Related:
Support For Comic Book Herald:
Comic Book Herald is reader-supported. When you buy through links on our site, we may earn a qualifying affiliate commission.
Comic Book Herald's reading orders and guides are also made possible by reader support on Patreon, and generous reader donations.
Any size contribution will help keep CBH alive and full of new comics guides and content. Support CBH on Patreon for exclusive rewards, or Donate here! Thank you for reading!
Among the second wave of books, X-Force still comes in well ahead. Wolverine's sort of an auxiliary title, but it does help build out Percy's version of Krakoa—and the strike team's veteran. Cable was a bit of a dud for me, a progressively less interesting and sometimes baffling fadeout in quality and direction. X-Factor was stellar, and so unique, not to mention beautifully drawn; yet its last chapters were muddled due to factors beyond Leah Williams' control—having her book canceled by corporate fiat. So, X-Force's dark spy thrills and grim body horror are, in my view, only rivaled by the comic horror and deranged romance of Hellions from Zeb Wells—and the thoughtful and humane themes and finely wrought friendships of New Mutants once Vita Ayala takeover (its YA material is deployed so smartly, respecting its readers' own intelligence, that, along with how grounded the stories are in a knowing respect for the characters, none of it seems YA even though it really is, in the best way).
One of the few surprise favorites for me, Hellions was a revelation to readers—and most admirable as such. (More on that when we get there.) But X-Force will end up as one of the longest-running titles of this era, and besides anticipating new stories, minis, and ongoings, I most look forward to this title among the line—along with Vita's New Mutants and Duggan's newly launched X-Men, the three books most likely to survive almost wholly intact well into the next year, although I'm hoping Excalibur's trajectory continues deeper into Otherworld, but with a bigger shakeup in the roster (or with increased versatility and stories for those who aren't some version of Betsy; hell, Tini and co. should do a bunch of Otherworld minis and one-shots alongside).
What remains surprising, though, is that mostly the folks whose opinions I value most highly on the X line aren't that hot on X-Force or only occasionally nod to what's so interesting about it. Maybe I shouldn't be too surprised. The other titles I love foreground deepening relationships; X-Force's focus lies elsewhere, looking into the most psychologically armored or isolated of mutant heroes. Overall, Percy's two titles are ultraviolent, masculine books that consistently deconstruct machismo. And there's a whole range of masculinist pathologies under his microscope, with the Beast coming out as absolutely the worst of Krakoa at this moment, or perhaps in a tie with Sinister—although the mad geneticist at least has the saving grace of being a figure of fun. But Logan and Quentin are each in their own way pushed through their most debilitating traits, emerging tainted by violence but more sympathetic. Actually, in Wolverine's case, I just feel increasingly sad about the endless brutality of his existence, whereas Quentin's trajectory has resulted in an almost likable character, a real surprise for me. And Forge has been shown with some unlikeable traits that fit this almost fetishistic weapons engineer. (It's shocking Storm ever loved this perverse utilitarian dwelling in a deeply hidden tract of Krakoa's bowels converted to the ultimate self-serving man-cave as pristine high-tech wonderland, utterly closed off to the outside world. I look forward to seeing the crack-up of his façade of self-sufficiency and self-satisfaction.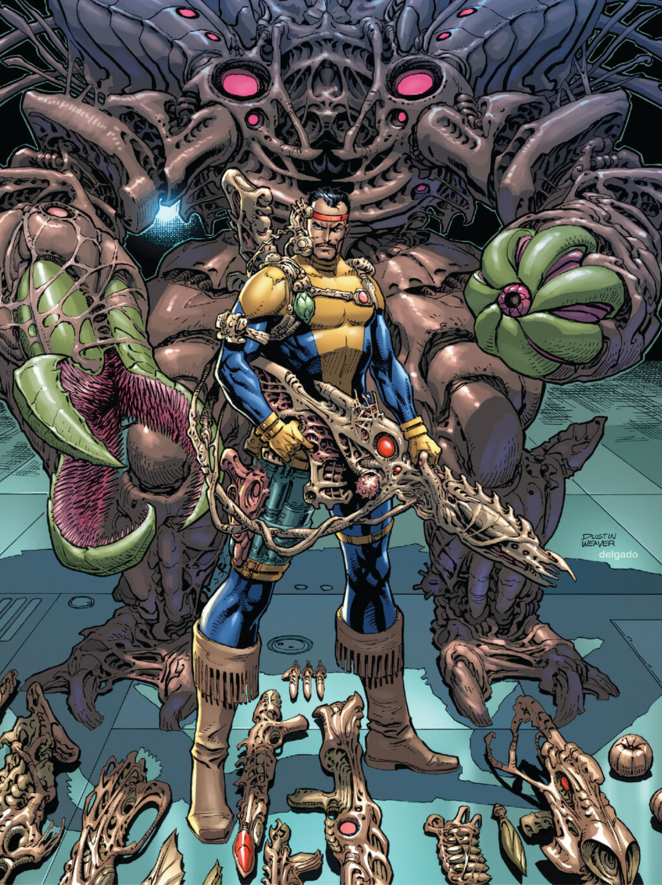 Yet I do wish there was a bit more of Domino and, most especially, Sage. If the latter clearly acts put-upon like a classic literary heroine whose simply more intelligent and commonsense than the company she keeps, it's certainly justified, and yet—where is her further development? Granted, this is a problem every writer following Claremont has had with this character, so it's not damning. I just want more Sage content! Meanwhile, Domino's really gone through it in this book and has at last developed into being much more than a blood-spattered figure of fun, which is how she'd been treated until Gail Simone's recent solo series. But Percy takes her characterization in a very different direction, more a more powerfully fraught grappling with trauma and coping, both the compulsion to run away and the freedom to (try and) forget. Still, though, I miss Domino having (girl)friends—a Simone innovation; I'd like to see her have fun again and grow, simultaneously. (The genius of Simone was in giving this fun-loving antiheroine depth and good-times vibes, sans that easy and all-too-familiar male-gazey sleaze that for so long stunted Domino's character growth.) Percy's take on the character is quite remote from the sex-and-violence Domino of the turn of the century, and the era of mutant utopia has been relentlessly grim for the woman who used to enjoy much better luck. But perhaps the drama at hand is show us that she (that is, Domino's storytellers) over-relied on her talents, blocking her fuller maturity.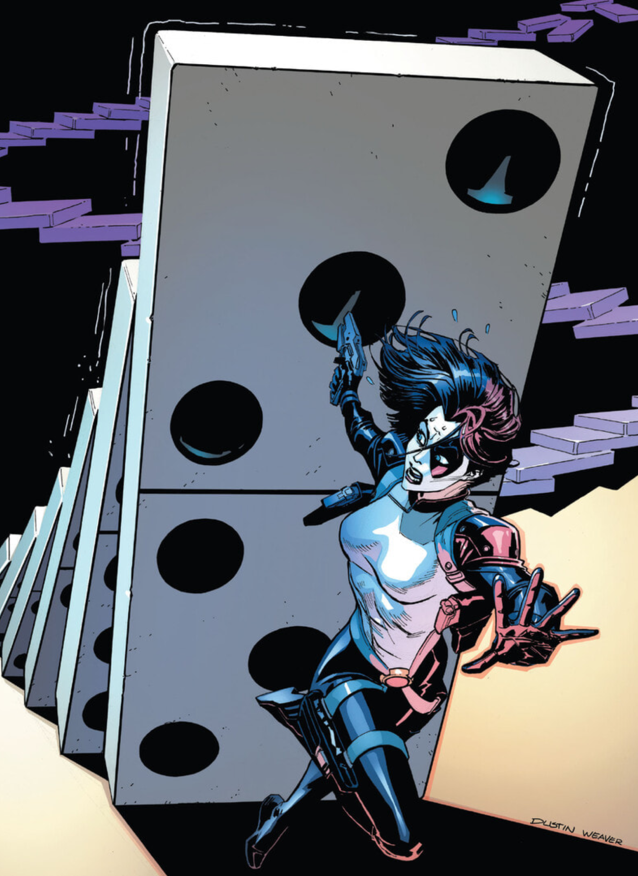 We can only hope that Percy takes or gets the chance to return to the Domino developments on display here in likely the best short arc of the series, issues #7-8. He could more fully give her the classic trajectory of a perfect superhero/action figure into a hero (i.e., a genuine person drawing strength from vulnerability).
(There's been a recent trend of attempting to develop various iconic cheesecake figures of the '80s and '90s into much more serious characters. This has been very unevenly pulled off in She-Hulk's case, but contemporaneous with the Krakoa era, Jed Mackay has done this very successfully with the Black Cat—because like Simone he figured out the most satisfying blend of entertainment—i.e., fun, buoyant action, quips, and character-centric suspense—with compelling character motivation and growth.)
At the very least, I ship Domino and Sage—if that surprises you, it did me too; let's go back to X-Force #7-8 to see how this novel idea popped up.
I. Domino, Trauma Masked (& Colossus, Trauma Buried)
A. X-Force #7—Domino Has Fallen
We open on Sage reviewing with Domino a number of recent assassinations of allies, supporters, and business partners of Krakoa, all executed with impossibly lucky sniper shots. With most of her right side recently skinned courtesy of XENO, Domino touching Sage's shoulder signals what's going on here, confirmed by her own words: "I've lost my luck. I knew it had to have gone somewhere."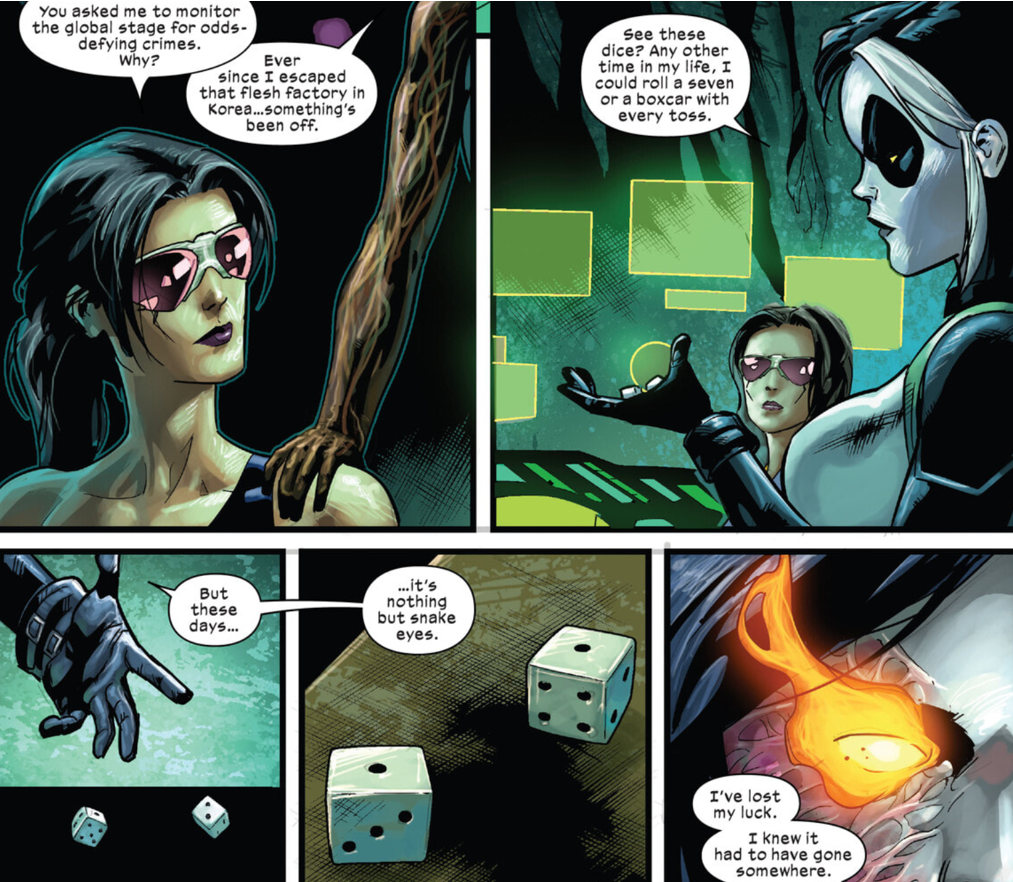 Domino's been dealing alone with her recent trauma—in a way recognizable to anyone who utilizes exercise to forcefully, even aggressively, escape inner wounds.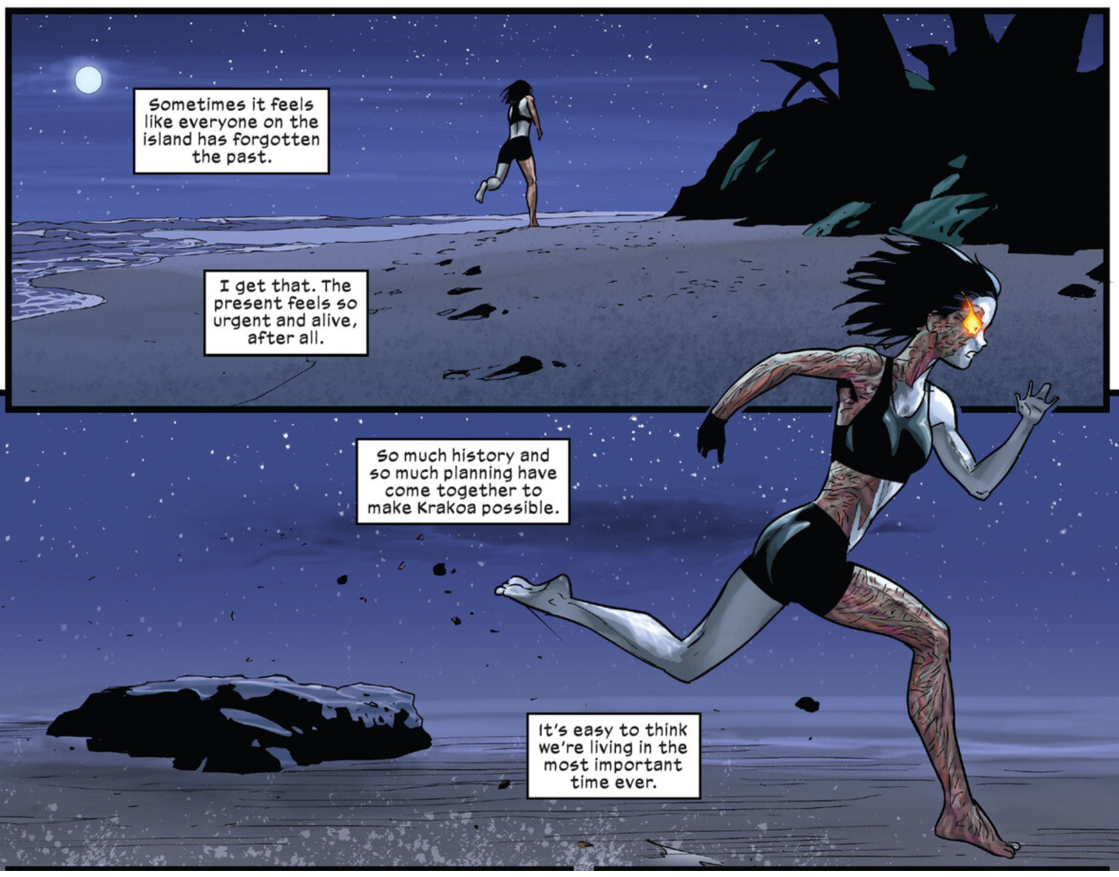 And it's a consistent theme, continued next issue (and beyond).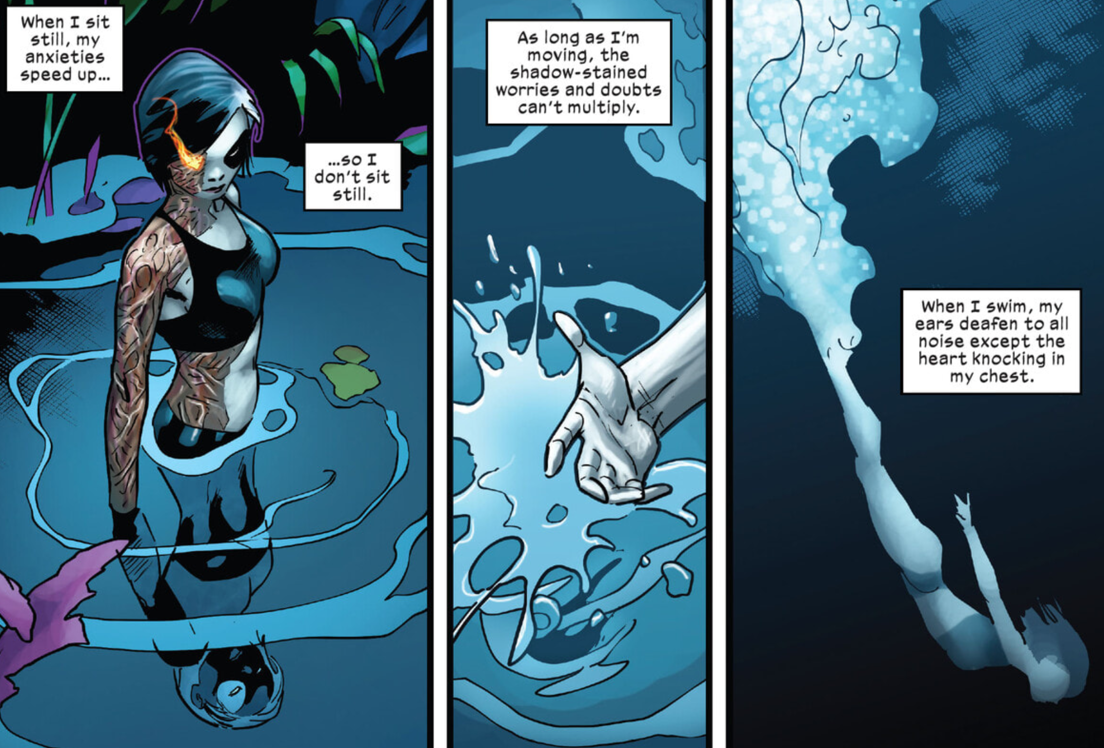 [X-Force #8]
Juxtaposed with Domino's quiet, isolated self-care is Beast's logbook perversely celebrating shining examples of two different but similar machismo-savant idiocies.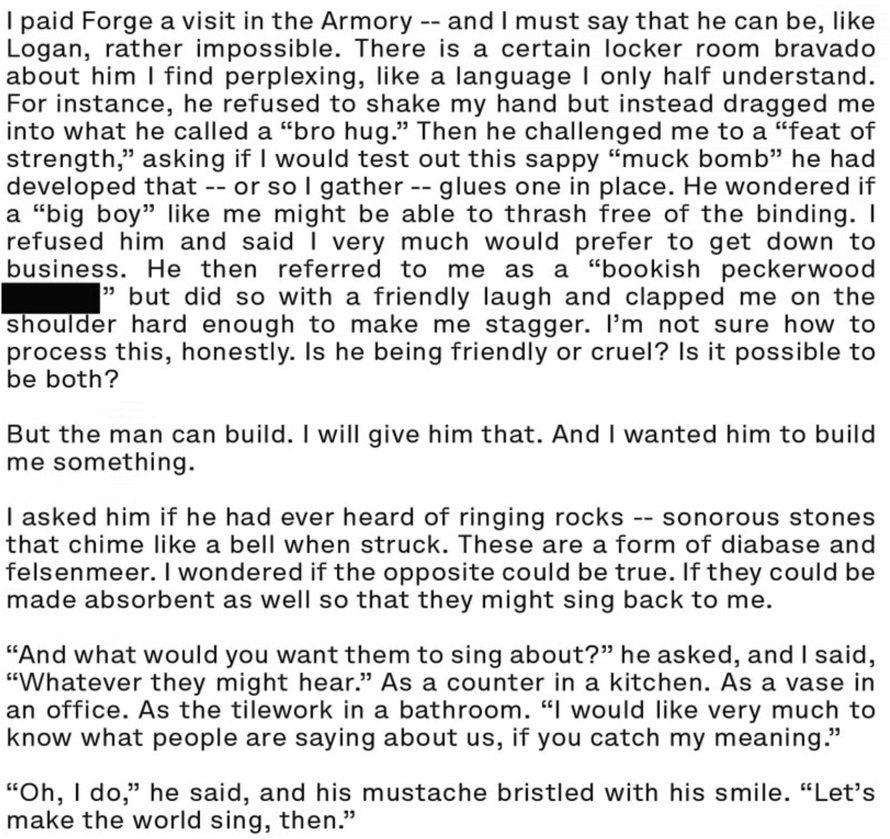 In our last look at X-Force, I touched on Forge and Beast's dark sides; this passage speaks to that.
Then, we see Domino and Colossus encountering each other for the first time in the Krakoan era. Previously mentioned as well, they were once friends with benefits, nothing deeper (to Piotr's frustration. This was in the quite enjoyable Cable and X-Force run from Dennis Hopeless*). They're both dealing with recent traumas after their own fashion. (Piotr has been depicted as a painter since Claremont & Byrne.)
(*This was by far the most fun Colossus had been in years—a judgment that's held up going forward too!)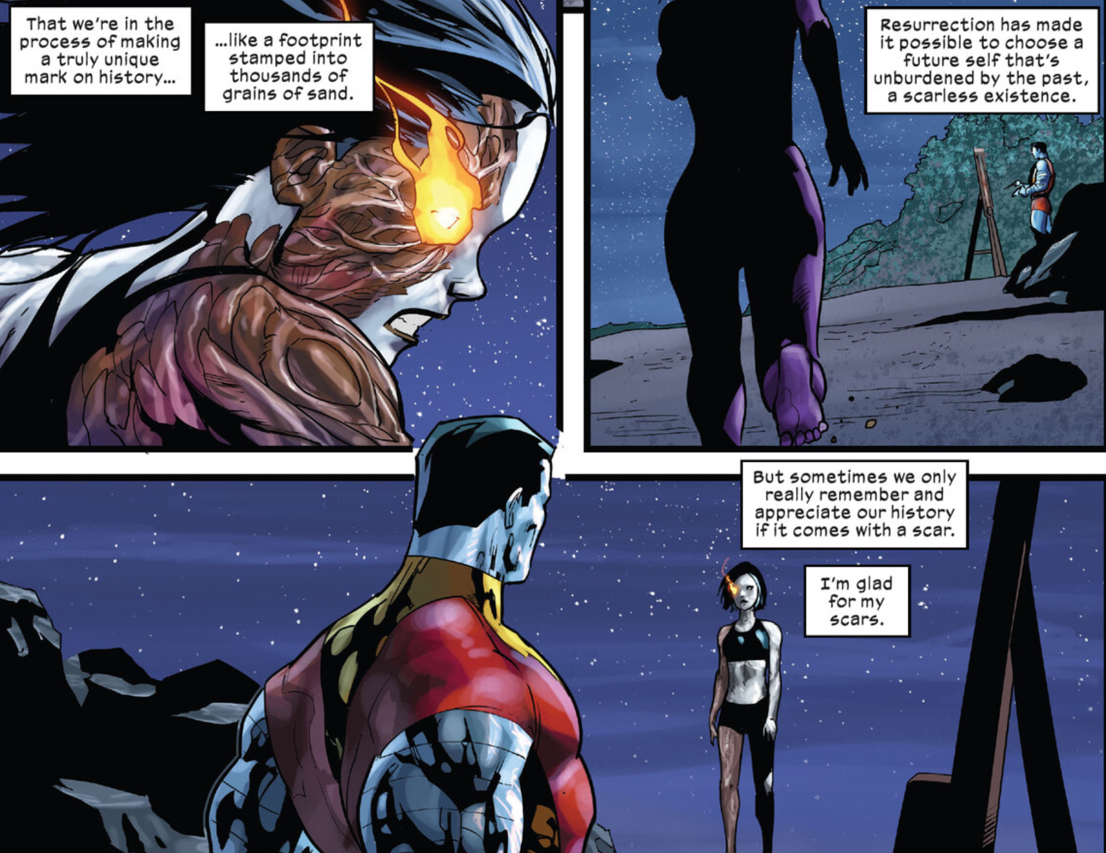 [X-Force #7 image cont. from above]
We also see for the first time something of Piotr's Russia mission, along with his lurid, murky portrait of who appears to be his brother Mikhail, deranged erstwhile cosmonaut and pro-Morlock Social Darwinian revolutionary terrorist. It's rather innocuously mysterious at this point, but we should certainly be wondering why Colossus, who recently returned from a horrendous death, has this fearsome elder sibling on his mind, possibly almost obsessively, if unwittingly. Speaking to his recent trauma, Piotr echoes Domino, but this strange portent adds a layer of ominousness to his underlying condition.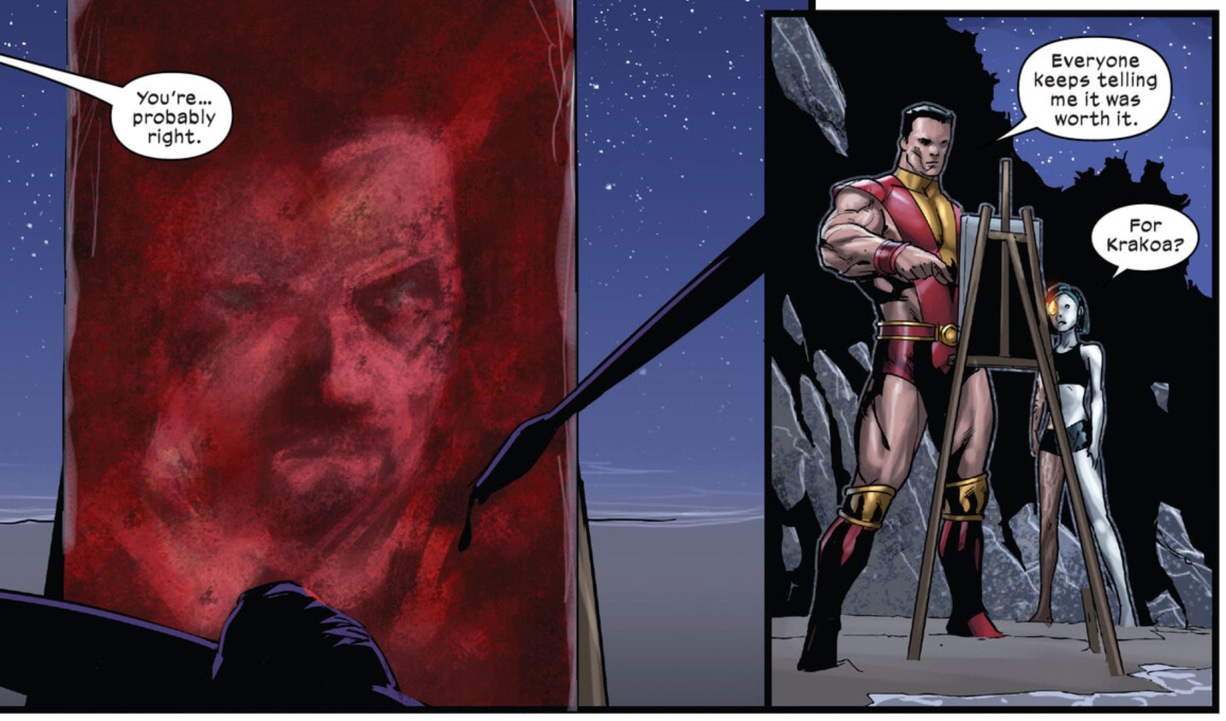 With this enigma juxtaposed with a second entry from Beast's logbook, we should wonder how the mystery of летописец relates to Piotr's disconnected state.
Lurid murk—that's X-Force!
Another impossible assassination sees Domino decide to get proactive now that she's down on her luck. Sage assists with the mathematical smarts, correlating and triangulating the hits to unveil the next target: at the Sierra Institute in Tahoe (NV), due to host an elite pro-mutant summit on Krakoa's new world order.
Domino is openly present and saves the keynote speaker from a distant sniper—smarts trumping luck at last. But the man is on skis, and she must pursue after stealing a tourist's snowboard.
Jan Bazaldua drafts this sequence beautifully, but oh, how we need X-Force cinema soon! (Get crackin', Marvel Studios 😉)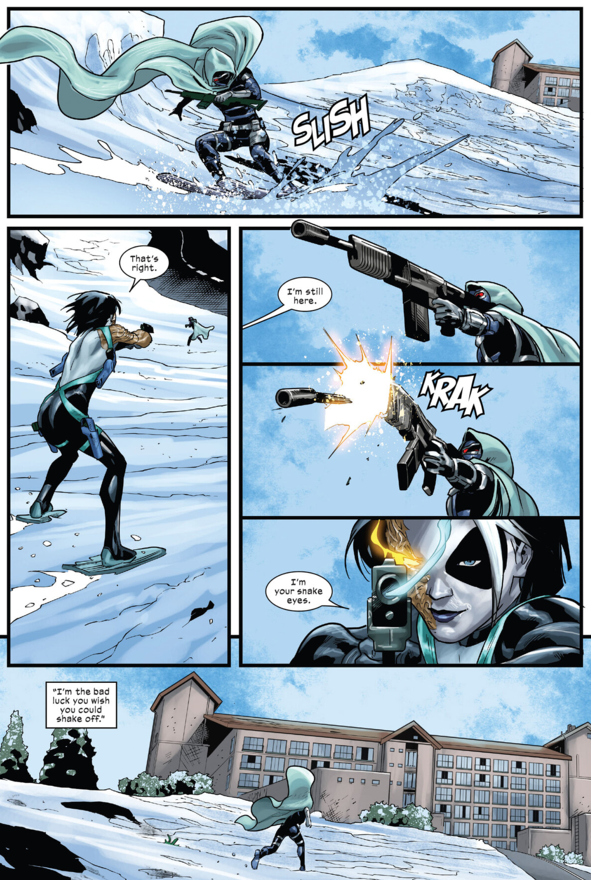 But Domino's luck is still out as the sniper escapes into a hotel casino.
And oh, wait—damn. It's a female assassin, the mirror image of Domino, another thief of her talents, but this one is fully suited, it seems, in some reverse-engineered version of her own skin. A profound violation of Dom's identity.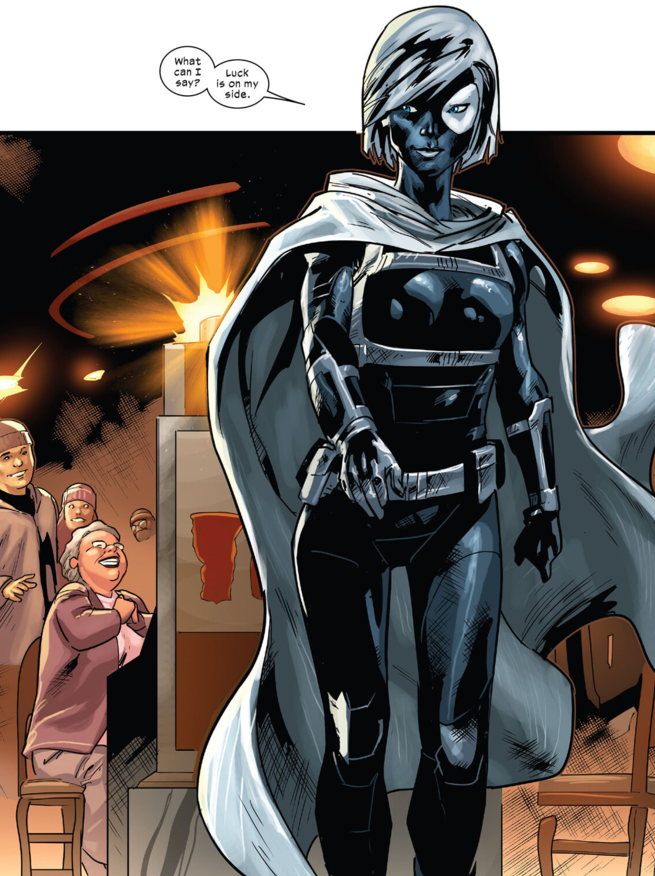 Now, like many a hero before her, Domino must find herself beyond her mutant talents. It turns out mutancy is not the bedrock of a mutant's identity. Just ask Storm. First and foremost, they are human—broadly defined, without reference to genetics or species. All sentient beings partake of humanity (or at least that's a worldview not only worth fighting for but perhaps crucial to our own real-world survival).
B. X-Force #8—Game of Dominos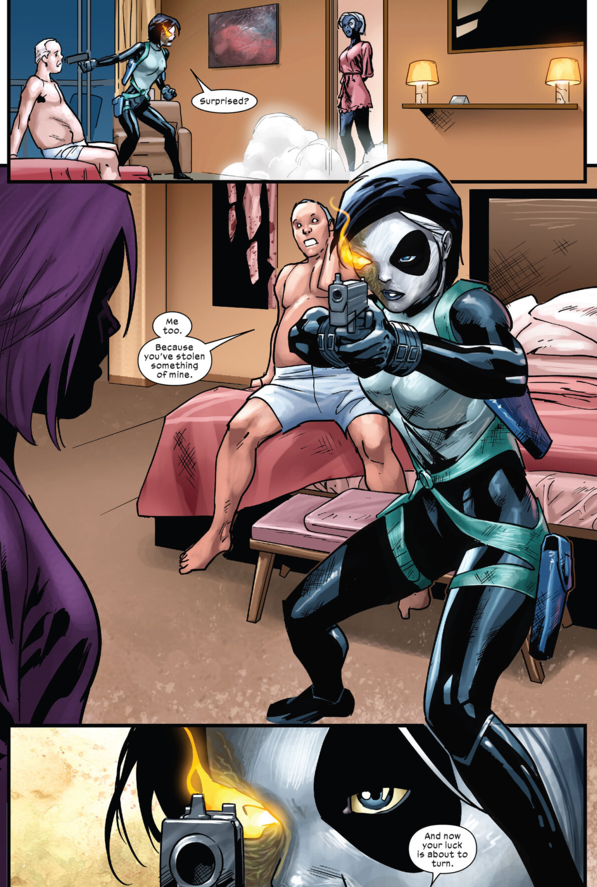 We see the assassin strike again—once more unsuccessfully, a wonderful surprise I wasn't expecting at first, the way Domino catches her prey at last. And she takes the corpse back to Krakoa's Healing Gardens where she and Sage review the autopsy with Cecilia Reyes, showing the corpse's direct relation to the others that had earlier raided the island to assassinate Xavier. And now Domino's luck seems to be coming back with each assassin's death.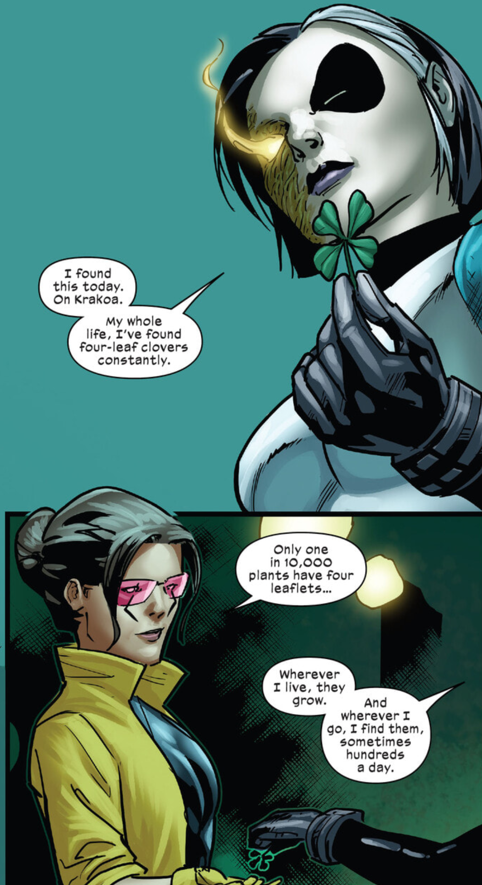 And finally, in the Krakoan era, we see Sage happy for someone! Even just smiling! Because here, at last, she has an equal.
But sadly, Colossus is still remorselessly burdened by his buried trauma, and Domino refuses his invitation to suicide. Perhaps this isn't just because she needs to remember; after all, remembering will guide her toward regaining what she's lost. Or will it?
As we'll see at the Green Lagoon next issue, those already clouded memories may have been deleted permanently with her field-mission death later this issue.
Conversely, however, Piotr doesn't want to know what he's lost or what's been done to him. He just wants to forget. If it has to do with the hard-to-accept vileness of his brother, this shouldn't be surprising.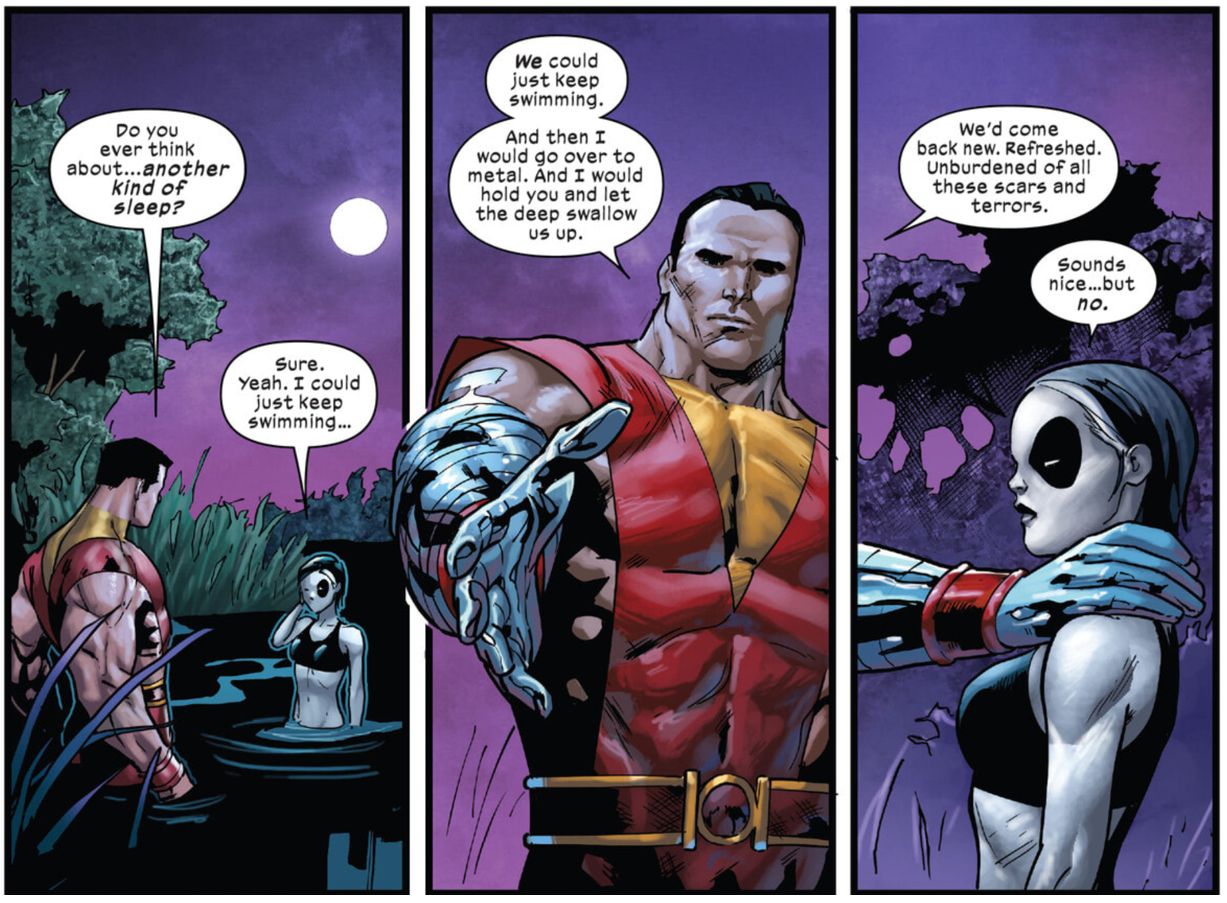 By issue's end, Colossus doesn't hesitate to end the XENO horde's immediate threat by killing all aboard the train—Domino included.
Undoubtedly, this is a shell of Piotr—eerily echoing the X-Force motif of (nesting) Matryoshka dolls.
Looking back, it's clear that Domino and Sage have the most compelling relationship in the title, synergistic and enticing, making us wonder if they could be something more than colleagues. But just as dynamic allies, they're the best of X-Force as a team, the team's true elite.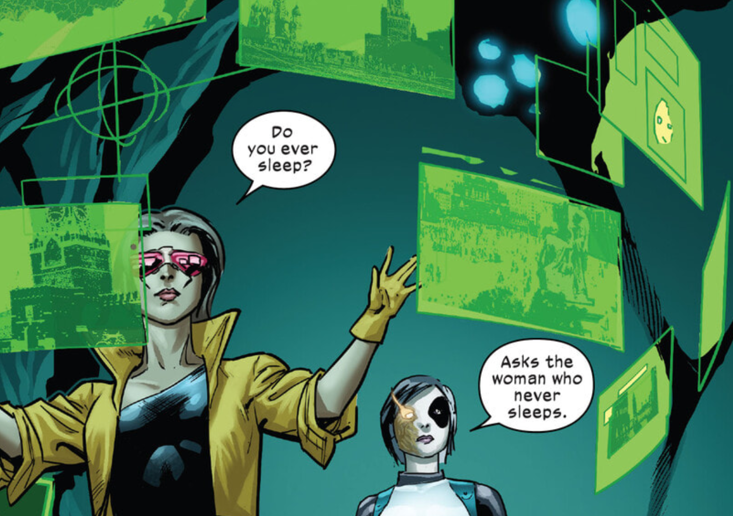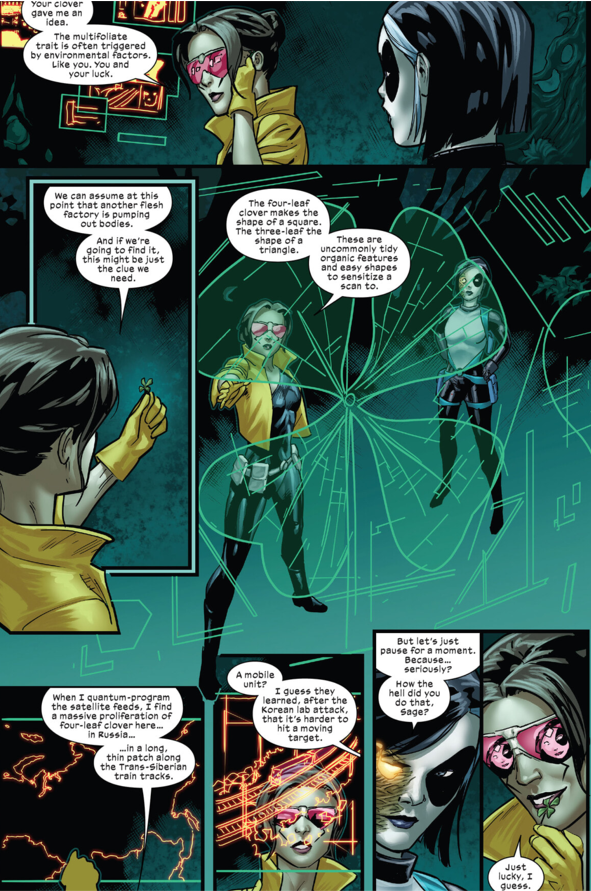 At first, the data page that follows this scene seems oddly placed, but perhaps it's a sly juxtaposition intended to be a dig at normative heterosexual relationships, given that the two lead women in this book would be a far more compelling and healthier item than any other unlikely romantic arrangements here? (Granted, Logan and Jean are already at it, but honestly, as nice as that throupling up was, it was so overdue, it's hard to get that excited about it—especially since that trio doesn't seem to be much of a real throuple.)
Looking at that data page now, the first recommendation for a (baby-making) social venue calls forward, oddly enough, calls forward to the future X-Men team's Central Park headquarters, where Gambit's gambling den is most definitely not a hookup joint but rather a comically mundane bone of contention between our two favorite erstwhile honeymooners.
Big A already has his social venue (which we'll get to in two weeks!), the only one he appears to consider non-frivolous. Of course, he's incapable of realizing frivolity is the point!
Forge's req, "HOT SQUATS," plays up to this secretly sad middle-aged man's loneliness; his enthusiasm throughout the series feels forced, speaking to a thinly veiled midlife crisis. It would surely read differently coming from a younger and more socially happy person.
Ultimately, what inevitably makes the cut as Krakoa's prime everyday social venue is the Green Lagoon, Black Tom's fait accompli in concert with the Krakoan "veg" (Tom using a delightfully grotesque royal we here). But we don't get the absolutely classic debut of that hot spot until the next issue when Cassara returns, giving us one of the most memorable images of this new era. (See Section C below.)
Tracking down a mobile XENO railcar base, the still dynamic field duo of Domino and Colossus ingeniously smuggle a Krakoan gate seed deep into Siberian Russia, presumably with some allied assistance in China. (I wonder if there are readers upset at this at least superficial allyship with the Chinese state or some elements thereof; I'm sure they're ready to throw out all their Chinese-made products to take a stand against the thoroughly evil communists—sure.) Piotr's not partaking in this mission for Krakoa's sake, but rather for Domino's. And she articulates here their different reactions to their recent torment and demise.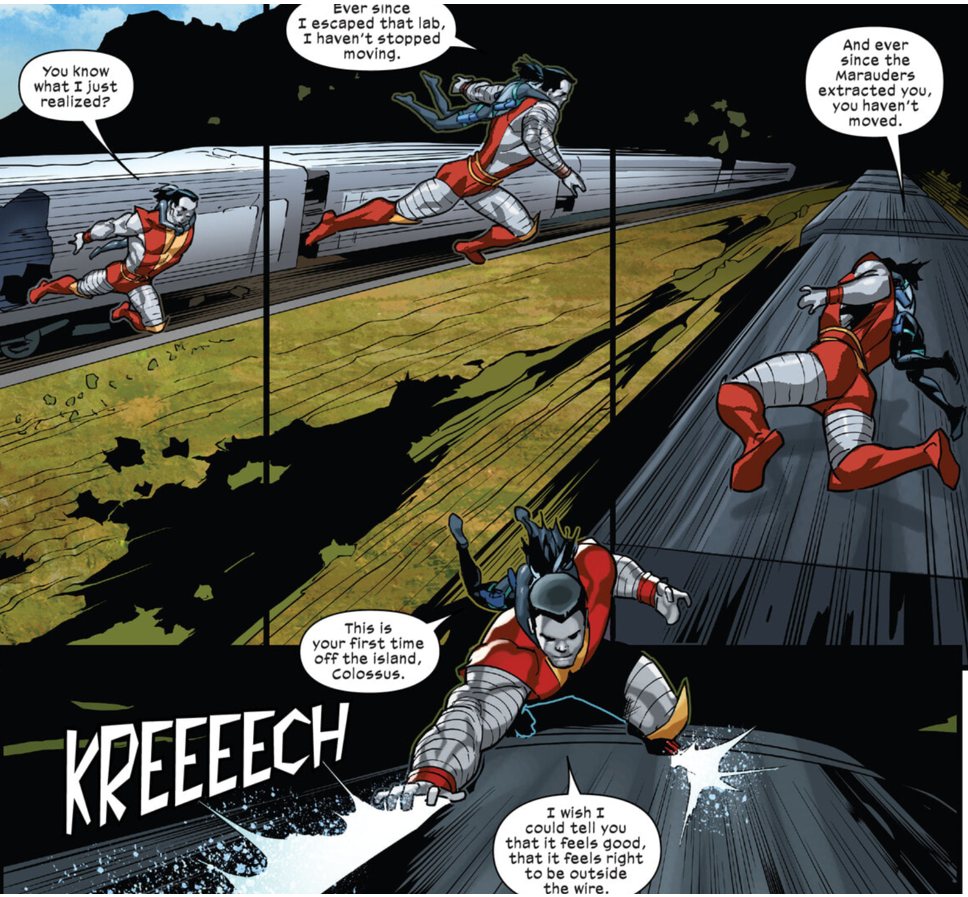 It's also interesting that he calls being off the island as "outside the wire," as if Krakoa is a restraining pen.
Piotr is sure to be inwardly distressed by falling into a railcar tank filled with blood—and another car crowded with body parts and partial bodies in bubbling vats. Domino quietly takes in this gruesome scene in perhaps a more deeply personal manner. As a child, she herself had been an experimental lab product, cruelly bred to be weaponized by a secret program within the military-industrial arm of the US government.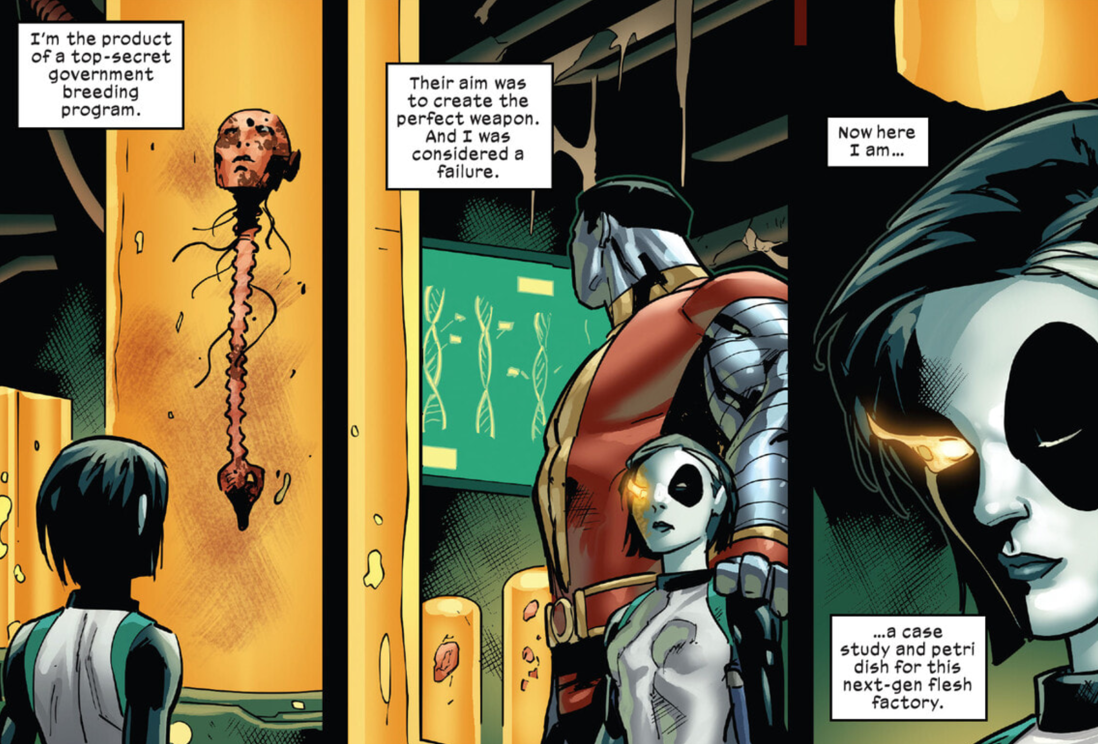 And then they're ambushed by a heavily armed coed horde of lab-made Dominos. Domino herself is killed with Colossus' decisive act of destruction, killing her as surely she would've been otherwise. The bargain obviously is that she'll come back while her engineered doppelgangers will not. But with her dying breath, she makes Piotr promise that all her memories of the horrific things done to her will return with her intact.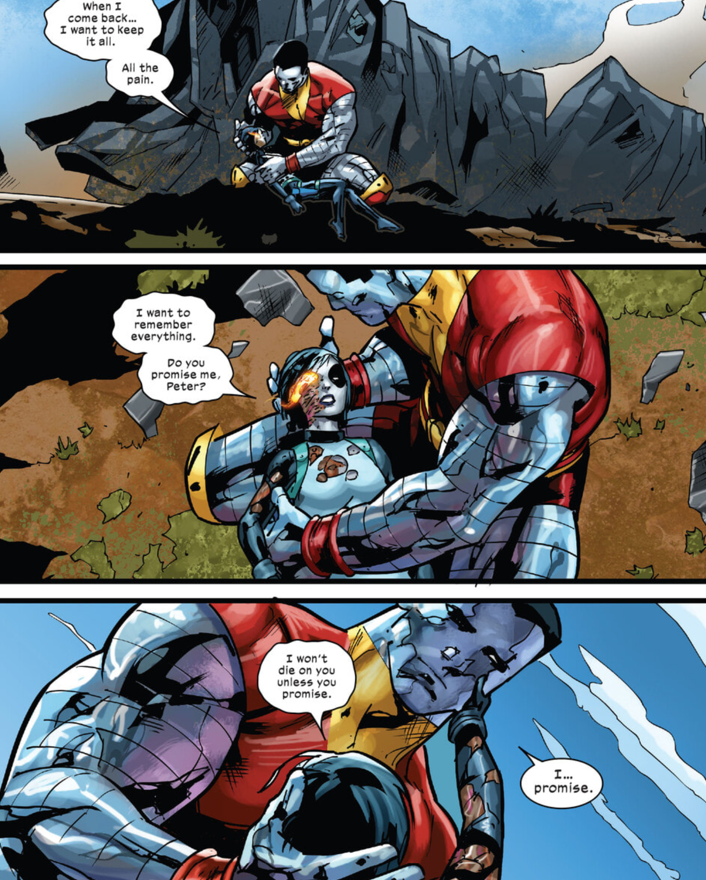 Unfortunately, someone doesn't keep their promise.
And yet, as Beast's following logbook entry confirms, her memory of her XENO captivity was compromised from the start. But at least she brought back the more certain vision—doubly confirmed by Jean's interrogation of the captured merc in issue #5—of the Man with the Peacock Tattoo. Beast suspects that mysterious figure's mask to be made of labradorite, a real stone that he says has "a magic connection to transformation and protection." How he surmised this—ask Sherlock Holmes his own method. Hank is indeed brilliant, insufferably so (and ultimately self-destructively). Whereas Krakoa knows of Orchis already, this is all X-Force has on XENO at this point (besides some small percentage of its assassins' activities). Clearly, the two shadow organizations have very similar goals, though they'd lead to two different nightmare scenarios: a terminator future or a world of superhumans engineered through genocide.
But at chapter's end, we see the XENO figurehead's piddling ego nearly crippled along with his bodyguard, as the shadowy visitor to XENO's council meeting—clearly Mikhail in retrospect—shows him who's boss with an easy hands-off gesture (utilizing his matter and energy manipulation powers. He likely teleported in under his own power as well).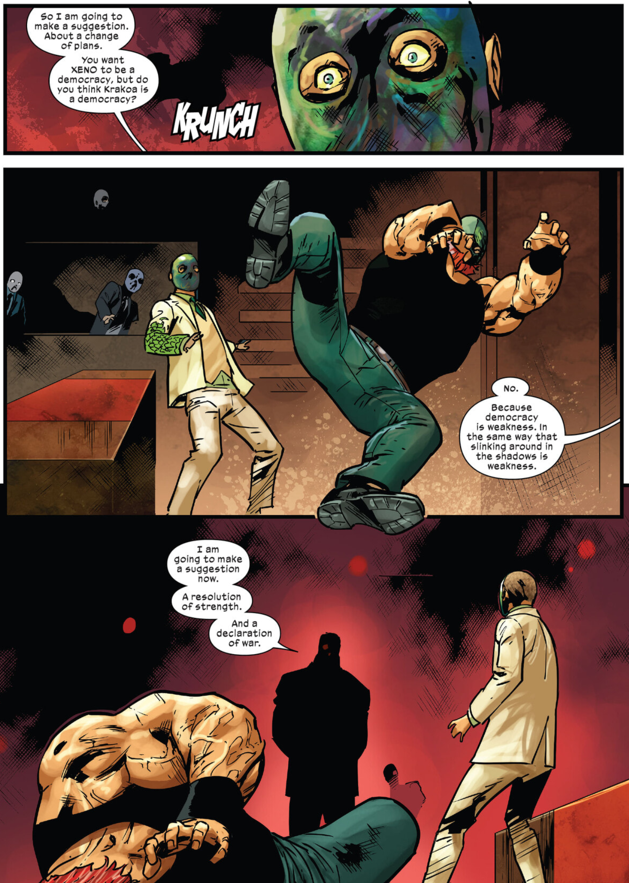 It's ironic, though, that Mikhail calls "slinking around in the shadows" a weakness when that's all he does this entire series! So his condemnation of democratic aspirations in the same breath reeks of hypocrisy. But he'd certainly like to antagonize Krakoa into being what he views as a worthy foe, by turning it into a mirror of his own self-aggrandizing brutality.
Lastly, from an earlier moment of this issue, when Sage and Dom were reviewing surveillance, we saw a man whom the pair seemed to believe was sporting some of Domino's skin. But I'd wager this was a first look instead at a particular Russian scribe with unnaturally inky hands. This is a new character on the scene, so they'd understandably misinterpret this sight. (Again, though, this is only my own guess.)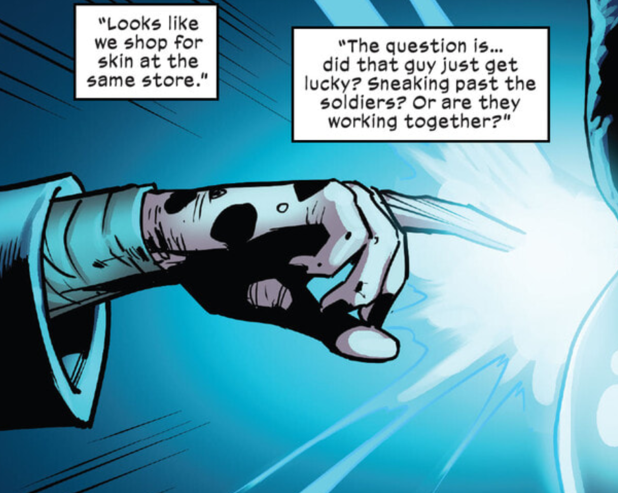 C. X-Force #9, Scene 1—The Wonder and Ambiguities of the Green Lagoon's Debut
This issue's centerpiece, or at least what it immediately became best known for, isn't Beast's atrocity committed against Terra Verde, but rather this first look at that Quiet Council-approved social venue wrought by the hybrid veg-genius of Black Tom and Krakoa—the Green Lagoon. And really it's this image, this beautiful double-page spread by Josh Cassara that is alone worth the price of admission.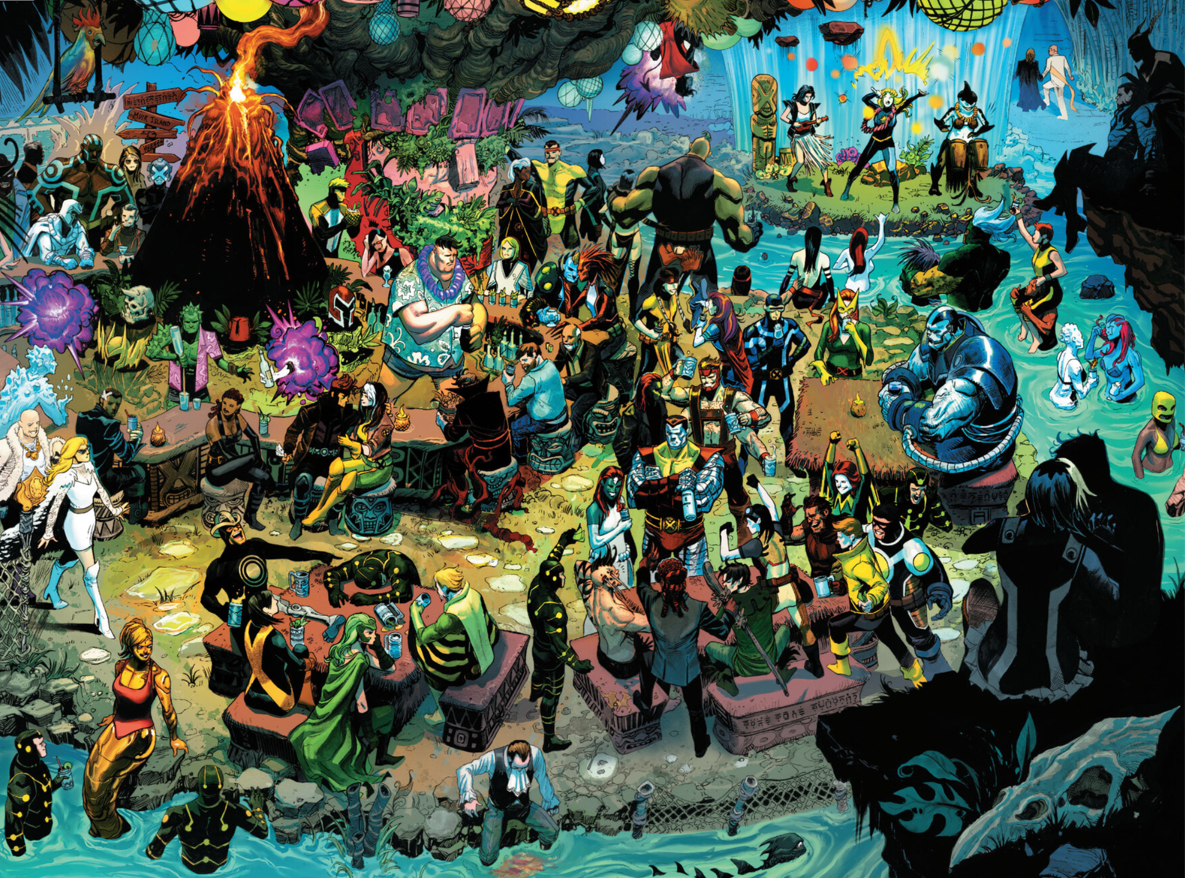 There are certainly many other highlights to this issue, but let's pause and admire this more closely first. What struck me looking back at this spread is the prominence of the Marauders cast—at the edges. Unfortunately, I cut off Callisto in company with Emma and Jumbo Carnation on the left—so I could squeeze in Tempest (not present in the Marauders at this point) on the right. It's cathartic to see Shaw puking his guts out into the lagoon, though I'm glad no one's in the water nearby. In the top right back, Christian Frost is in company with a figure in black, definitely not Iceman, who's iced up on the left. Hindsight has me looking on Emma's brother here with increased suspicion around. The Xavier statue flanking Liz Cheney as she jams Dazzler and Shark-Girl is good fun. Xavier and Mags are on the left side of the bar, in conversation with someone with a pipe, supposedly King Kirby? Seated across from bartender Fred "the Blob" Dukes Black Tom seems to be drawn into himself—though to his right, Tom's creators, legendary artist Dave Cockrum and Chris Claremont, seem to be trying to engage with him.
We could spend quite a while here pointing out bizarre and apparently romantic pairings: Penance and Maggot; Selene and Guido (Strong Guy, himself a recently hellish figure)! The random Magneto helmet behind bartender Dukes will surprisingly become a brief plot point in Si Spurrier's recent Way of X. But let's end here with a look at Apocalypse, Big Daddy A, taking up most of the elbow room at a table with Jean and Scott, who seems noncommittal about being present. It's hilarious that this most serious of mutants showed up to partake of frivolity, after all. He could've declined; Sinister himself is barely present, seated on a precipice to the right, merely observing from shadow, and Exodus clearly declined—probably busy indoctrinating the underage kids at cultic fireside story-time?
Apocalypse doesn't look that present despite his massiveness—perhaps dreaming of his lost Genesis. Meanwhile, Scott's probably thinking about how he never wants to get turned into the monster that once almost killed his baby. He's hilariously oblivious. (Notice Jean's cup!)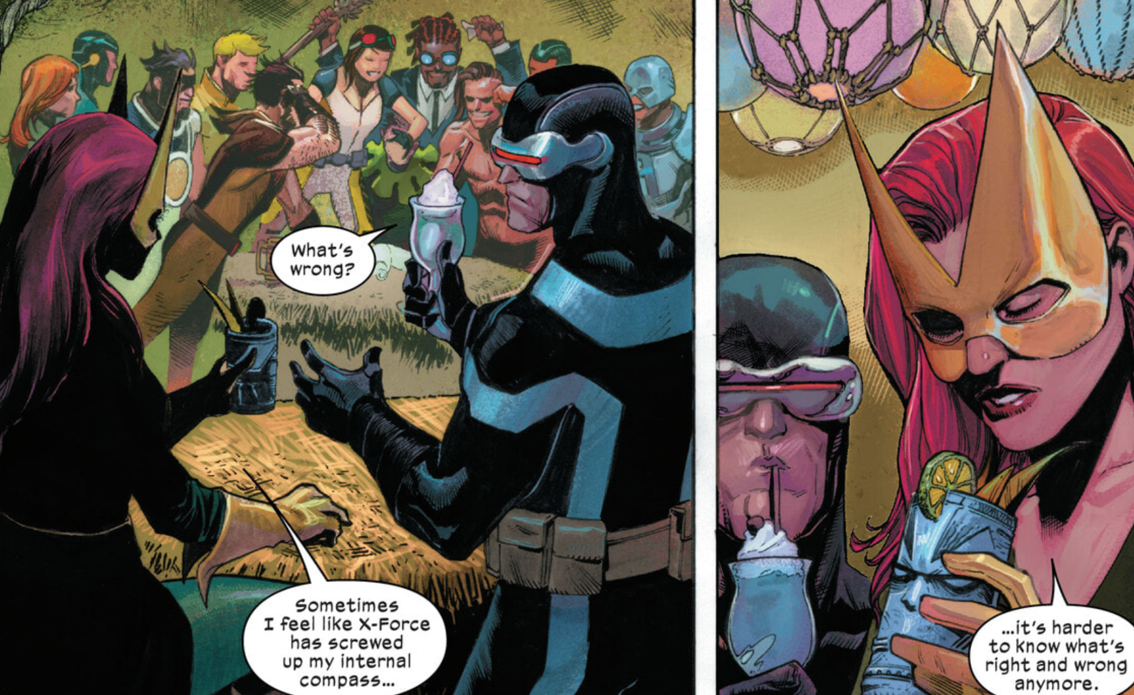 Jean is in the middle—looking on in at Logan in disappointment as he and his son play a horrific game of spin the bottle, with innocent-seeming Gabby (a clone of Logan's partially lab-created daughter) refereeing.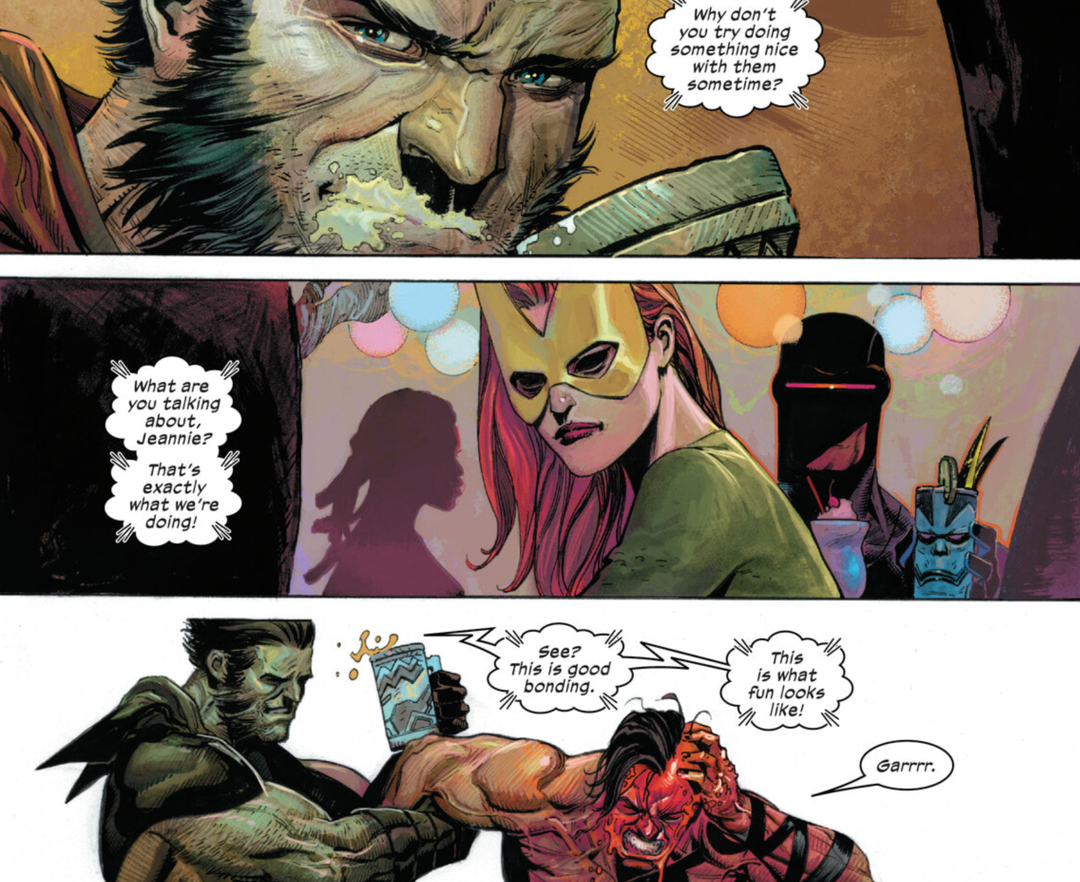 But Logan is the least of Jean's worries when it comes to her X-Force cohort. She'll continue to play something of an auxiliary role until she leaves for the Central Park treehouse—immensely relieved, tbs.
We also see Domino's return here, and who does she go to but the solitary Sage, seated glumly at the bar. But Sage's demeanor doesn't suddenly lighten. No, this is something of a serious conversation on her part—which, surprisingly, Domino isn't having. She's just back to have fun, like the days of old.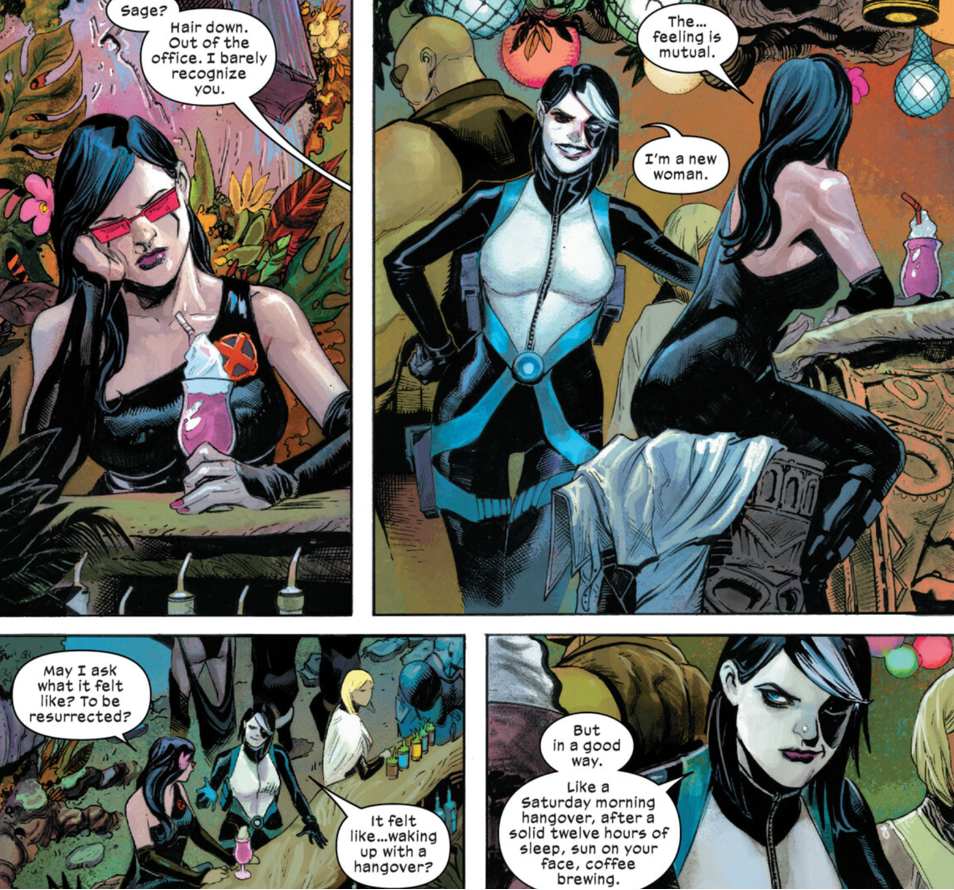 So, yeah, someone forgot to keep their promise. But I wonder if resurrected Krakoans are really returning without any trace at all of some memories, and here I'm talking about those that had been backed up but edited out. Perhaps unwanted traumas are just buried somewhere, like another wounded person nested inside oneself, a Matryoshka doll.
(But this does make me wonder about what happens to the soul or "engram" of the Krakoan who dies and is then resurrected using their last backup. Surely, that terminated and now-divergent engrammatic essence had its own existence—that is now where? We are, after all, talking about a fictional universe with both souls and afterlives confirmed. Unknown to the living, are the engrams of those cut-off lives somehow mystically woven back into the resurrected?)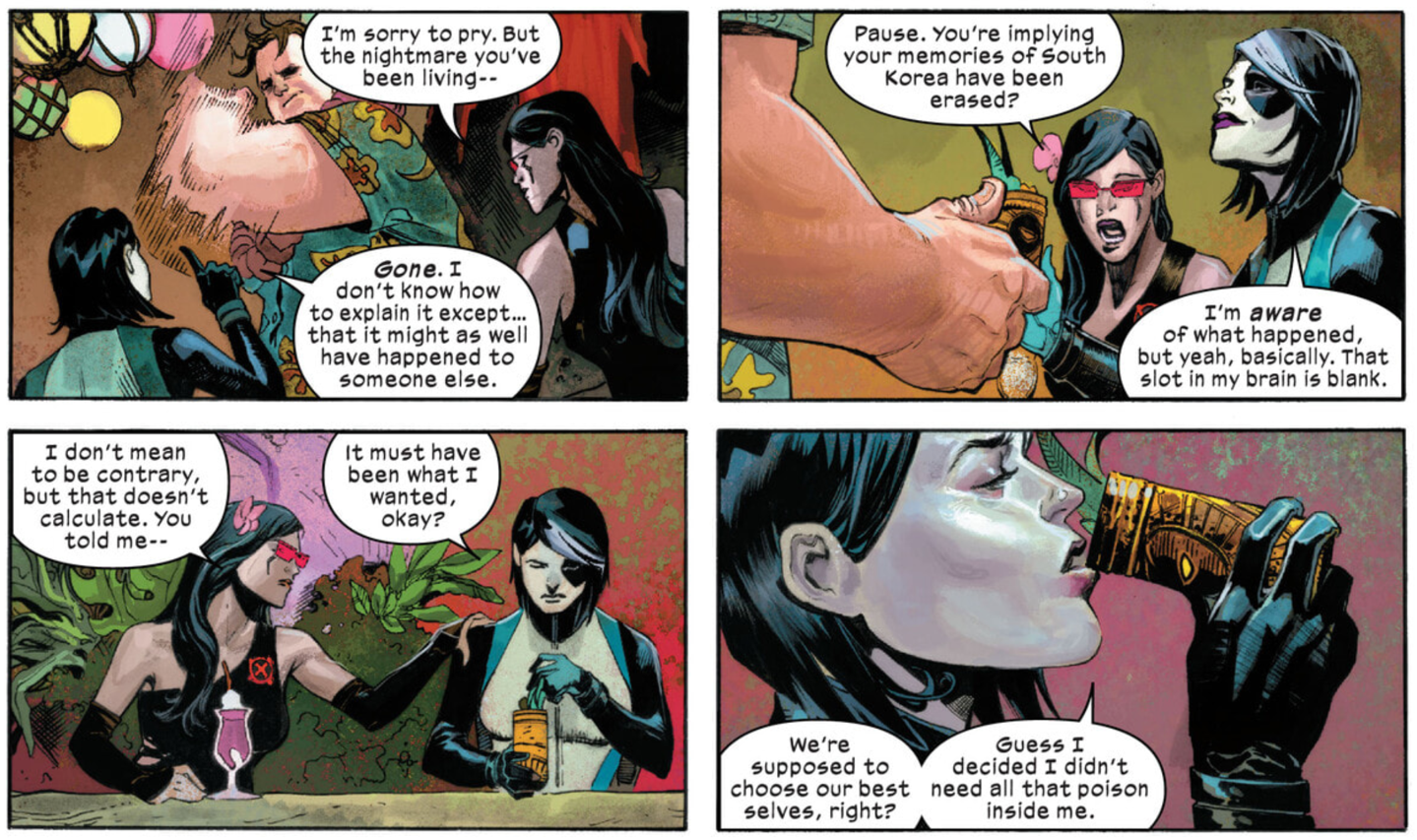 When Percy gave a talk introducing his new series, he said it would be "pure poison," and so here Domino, echoing his words, might find herself with a nasty surprise—she may have resurrected "clean," but she's still stuck in Percy's world 😉.
We'll end here with the clearly somewhat poisoned mind of Black Tom bubbling over—kicking off a classic bar brawl.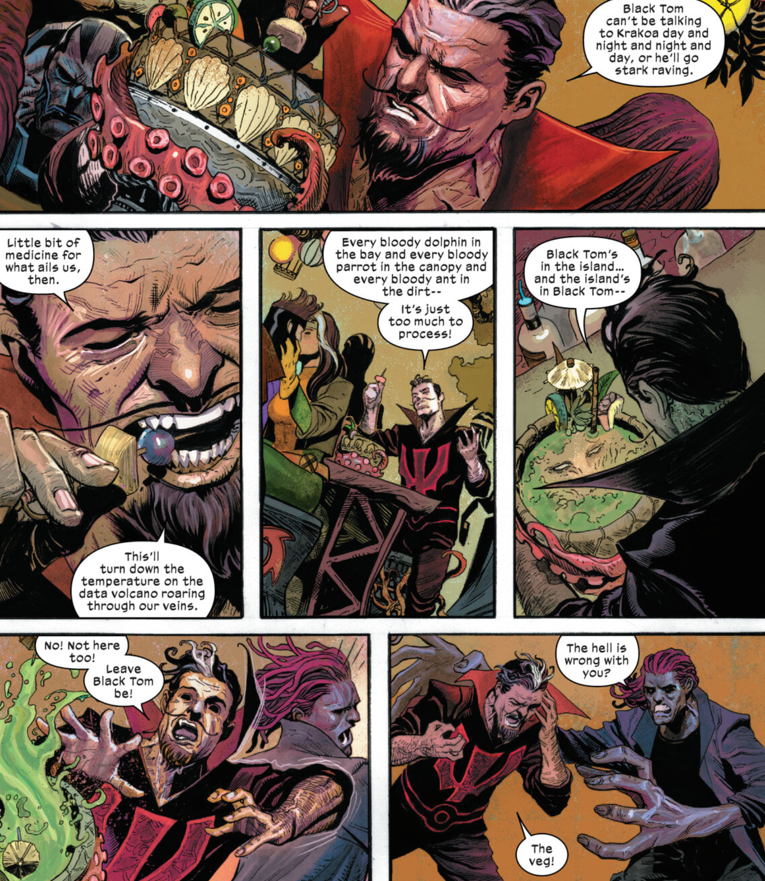 If only we got to see Sage in the field; though a nice showing, this isn't quite the same.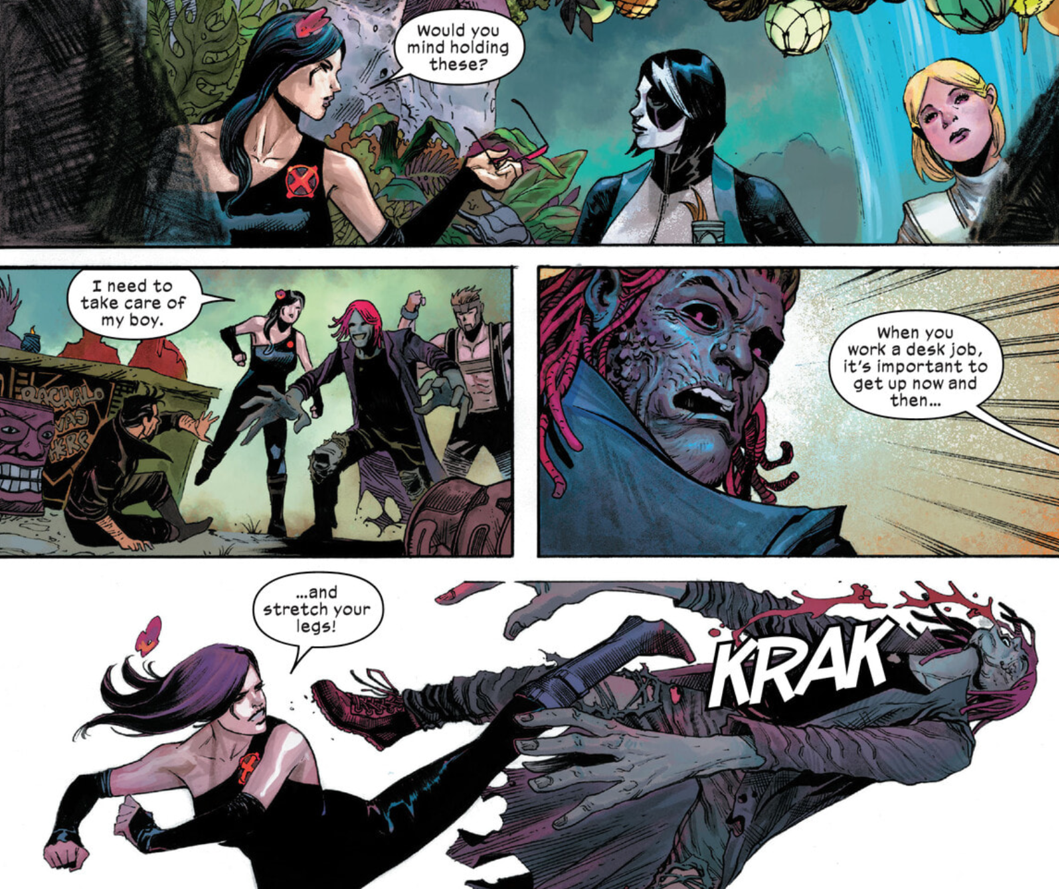 And so this scene of ambiguous revelry—the venue's ambiguities heightened for anyone who's read Spurrier's Way of X by now—comes to a close for the X-Force team as Beast arrives looking for his toys; after all, the mission he's going to send them on will end up being more about his own private games—entirely to Krakoa's discredit.
We'll get to X-Force #6, 9, and 10 in four weeks.
NEXT TIME: X-Men #7—First Crucible (followed by a brief look at Giant-Size X-Men: Nightcrawler)