This week's question is cribbed from one of my favorite TV podcasts, The Hollywood Prospectus:
Does anyone actually like the Fantastic Four?
It's the kind of question that incites me, causing my blood to boil over the inflammatory accusations of the cinematically misinformed. It's also a totally fair question, and one that I was asking my Dad mere years ago.
We live in a world of two diametrically opposed "self-evident" truths. For the Marvel comics faithful, the Fantastic Four are the band that started it all, the first Stan Lee and Jack Kirby comic of the Silver Age and the lynchpin through which the Marvel Universe we love has grown ever since. For the casual pop culture enthusiast, the Fantastic Four have had four dull-to-terrible movies, haven't been one of Marvel's flagship comics since the 60's, and are basically a Norm Macdonald joke (or bonkers Arrested Development C-plot).
They're simultaneously a sacred cow and a bad hamburger. What's the case for the Fantastic Four?
10 Reasons I Love The Fantastic Four
1) The Fantastic Four Introduced Doctor Doom
And Skrulls, and Black Panther, and Silver Surfer, and Galactus, and the Watcher… the list goes on.
Support For Comic Book Herald:
Comic Book Herald is reader-supported. When you buy through links on our site, we may earn a qualifying affiliate commission.
Comic Book Herald's reading orders and guides are also made possible by reader support on Patreon, and generous reader donations.
Any size contribution will help keep CBH alive and full of new comics guides and content. Support CBH on Patreon for exclusive rewards, or Donate here! Thank you for reading!
The point is this: Nearly everything in the Marvel Universe ran through the Fantastic Four for the first decade of their existence. We live in an Avengers world, but it was the Fantastic Four that Spider-Man tried to join in his first ever solo series issue, Amazing Spider-Man #1.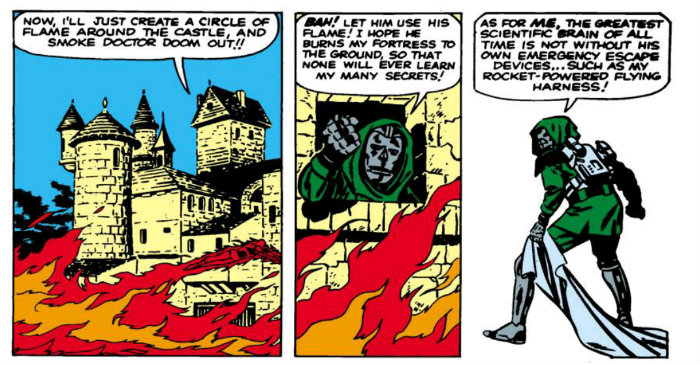 Most importantly, Doctor Doom. My favorite Marvel villain, and quite possibly my favorite rapper. It pains me to say this, and Victor Von Doom would have my head if he overheard, but Doctor Doom just does not matter without the Fantastic Four. Yes, he's been a great villain for the Avengers and Spider-Man, and really the Marvel Universe at large. But none of that has ever mattered more than his fierce, unshakable hatred of Reed Richards and the Fantastic Four. It's one of the best villain pairings in Marvel, right up there with Professor X and Magneto, Spider-Man and Norman Osborn, and Deadpool and Squirrel Girl.
It's a beautiful antagonism, and even when the relationship evolves to the quirky frenemy of Jonathan Hickman's run on Fantastic Four, you know Doom's just a tic away from some mad scheme wreaking havoc on the Four. There's a reason we know Doom's role in Marvel's current Secret Wars is teetering on the edge of his one unseen fear. Just look who Doom bothers to mention in this panel from New Avengers: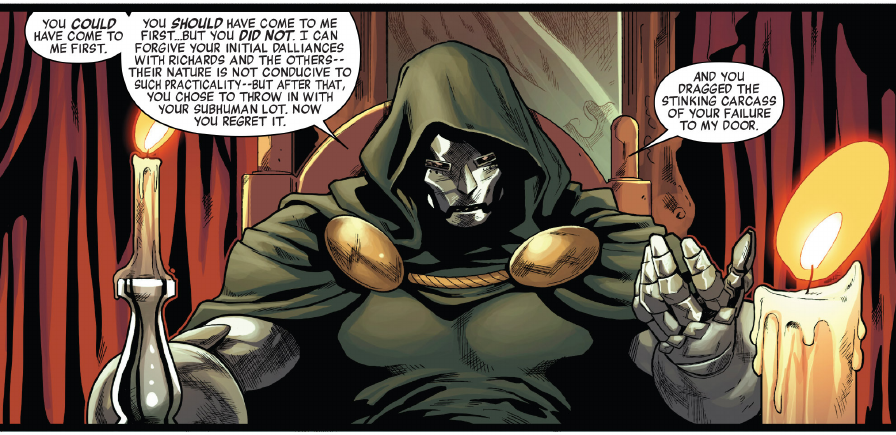 2) Early Reed Smokes a Pipe Constantly And Says Things Like…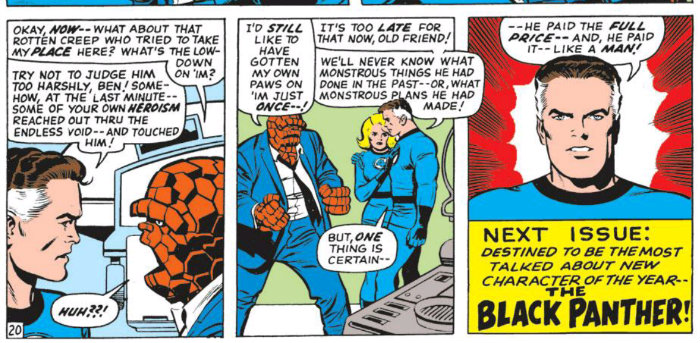 3) Sue Is the Strongest Member of the Family
There's a consistent refrain in more modern Fantastic Four stories that it's not the Thing's rocky bulk or Johnny Storm's fiery versatility, but Susan Richard's force field manipulation that represents the most dangerous threat. This development can undoubtedly be traced back to John Byrne's run in the 80's, but one of the clearest representations that come to mind is how Sue deals with Wolverine during his brainwashing in Enemy of the State.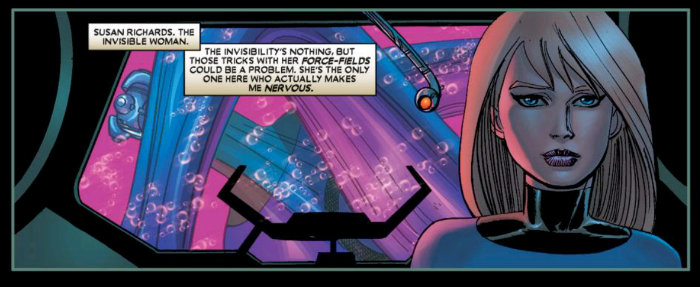 Factor in the fact that she's a mother of two (and a gorgeous one at that) and the artist formerly known as the Invisible Girl is one of the strongest moms in comics.
4) Ben and Johnny and Possibly Making Me Cry
It's often difficult to distill the familial aspects of the Fantastic Four. Check out just about any written piece about what makes the team tick, and you'll definitely see the word "family" more than you care to count. It's frequently unclear what this means in terms of storytelling. In technical terms, Benjamin J. Grimm, aka The Thing, isn't actually related to anyone on the team, and Johnny is just Reed's brother-in-law (but not for 43 issues!).
It's this slight distance that really adds to the dynamic, as Ben and Johnny are more brothers by choice than anything. Naturally, this leads to incessant pranks and needling, but it also leads to some completely beautiful exchanges. There's Johnny taking Ben out for his perfect day in the city during his one day a year he gets to be Ben Grimm (Hickman's 2008 to 2012 run), and then later during the "Three" story arc, there's Ben reacting to Johnny's heroic decision. You'll never hear it from me, but this gets me every single time. Seriously, I nearly lost it just trying to grab this screenshot: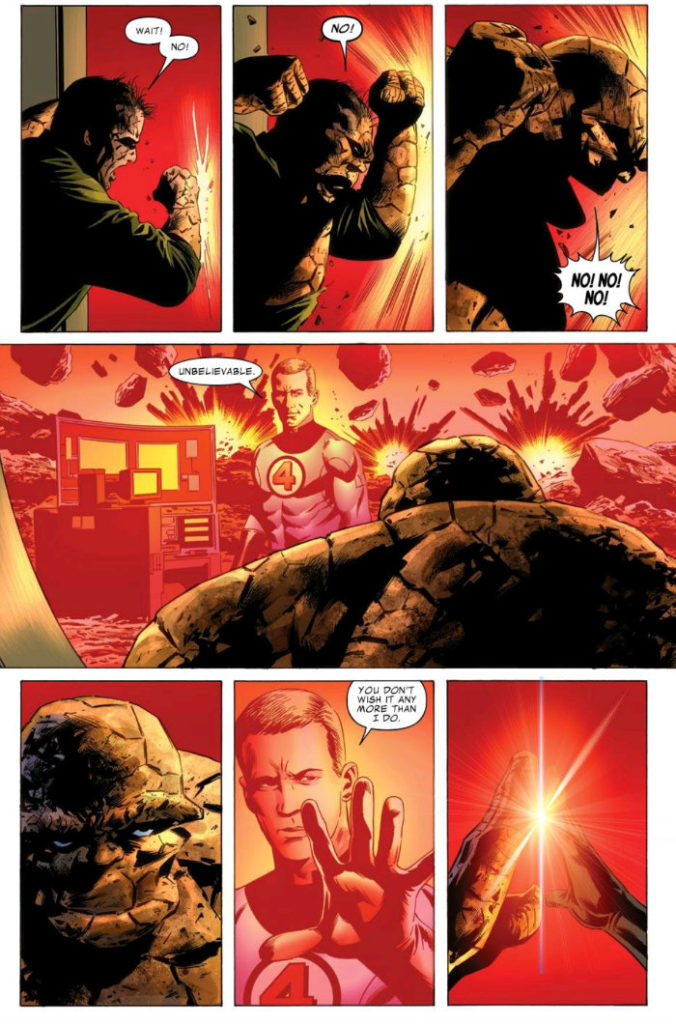 5) Every Time Reed Grows a Sadness Beard
Speaking of tears…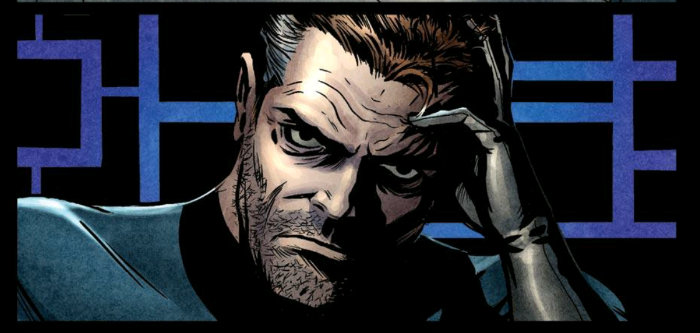 6) Trust
Reed Richards does some pretty insane things for a married man with children. He discovers the negative zone by walking into it with a rope tied around his waist. He tries to figure out how he screwed up the Civil War so bad by teaming up with a Council of Interdimensional Reeds. He gives Sue serious reason to mistrust him, world's smartest man or no.
And yet, even when Reed is making out with a Skrull invader in an effort to conceal his thoughts (sure Reed)

Or when Reed is inviting all of the Fantastic Four's worst enemies over to their house (!!!)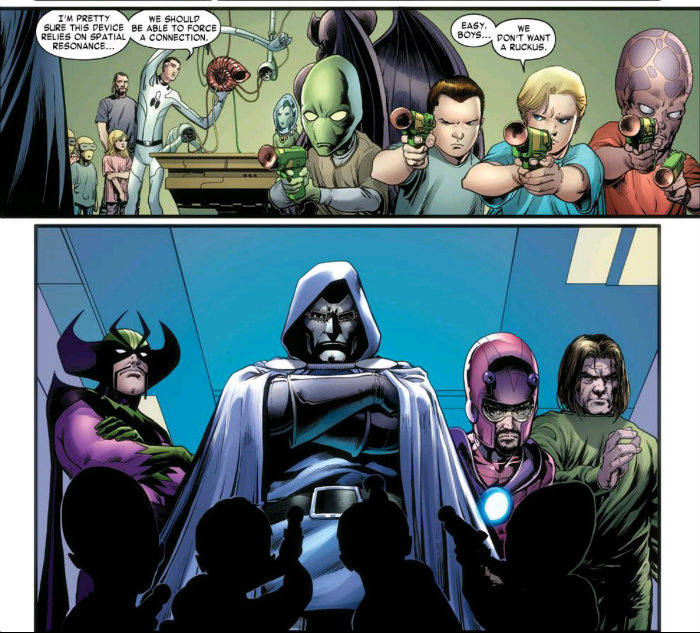 Sue stands by him. It's a wonderful marriage. I've said this too many times already, but it's true: Best marriage in the Marvel Universe! (Honorable mention to Luke Cage and Jessica Jones for the more recent runner up.)
7) Future Foundation
During Hickman's epic science fiction fantasy odyssey, the Fantastic Four branched out a bit by starting their own school (All before Professor X could find his New Mutants patents) and launching a second title. This led to a strong companion piece for Hickman's giant story, as well as a superior Four book from Matt Fraction and Mike Allred during Marvel NOW!
Net net, Future Foundation has been a great addition to the Marvel stable, giving us such joyously humorous child geniuses as Bently-23 and Franklin & Leech. Not to mention:
Spider-Man and the Human Torch rooming together: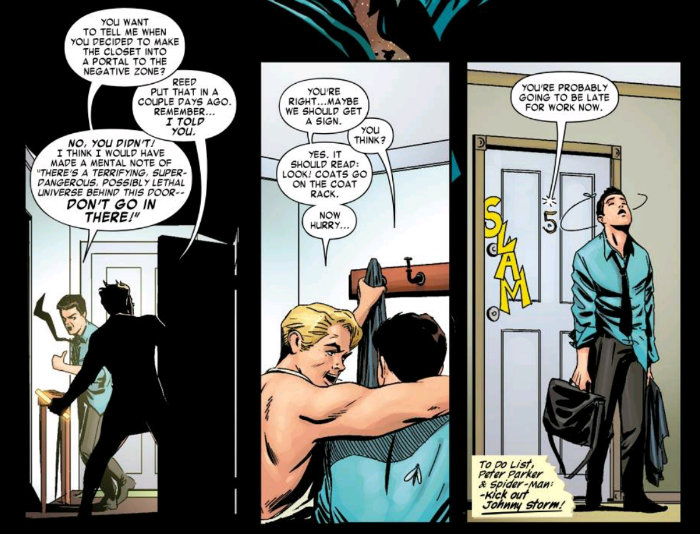 A Pool Party Issue: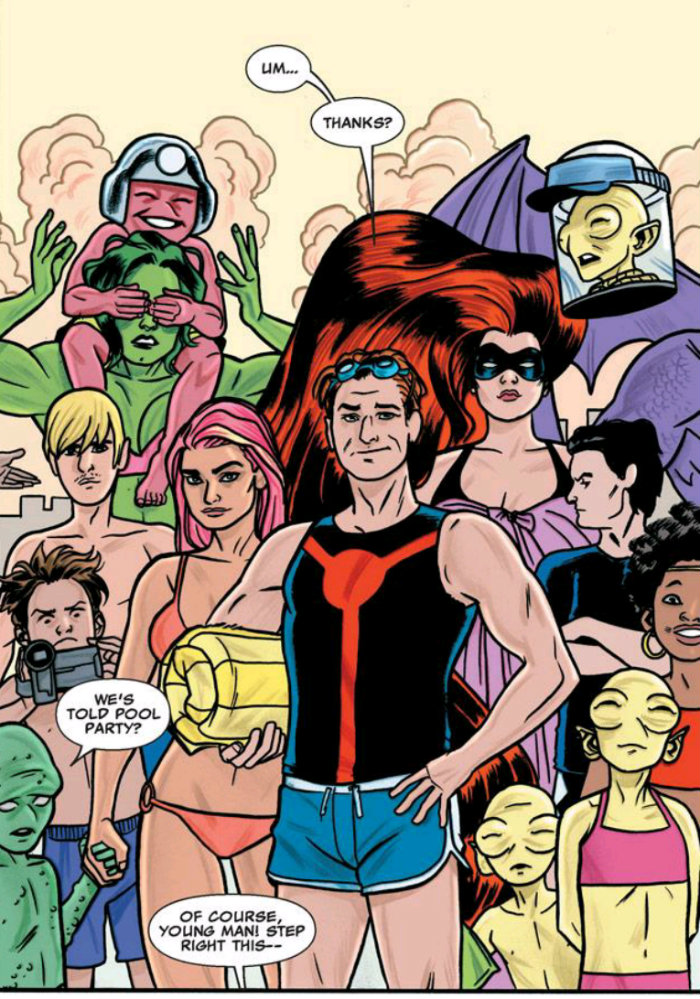 And one of the most unexpectedly beautiful moments involving a floating moloid head in all of fiction.
8) Best Catchphrases in Comics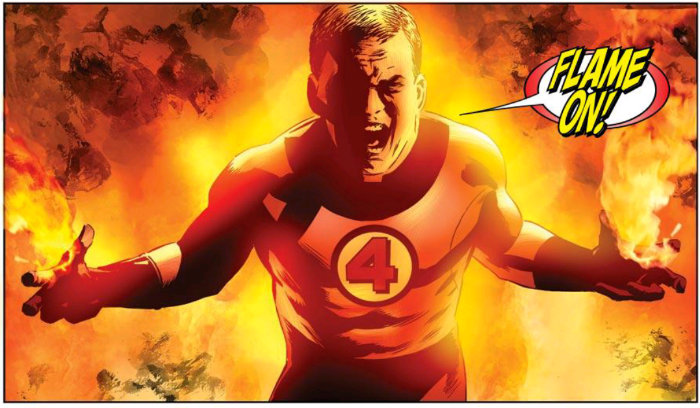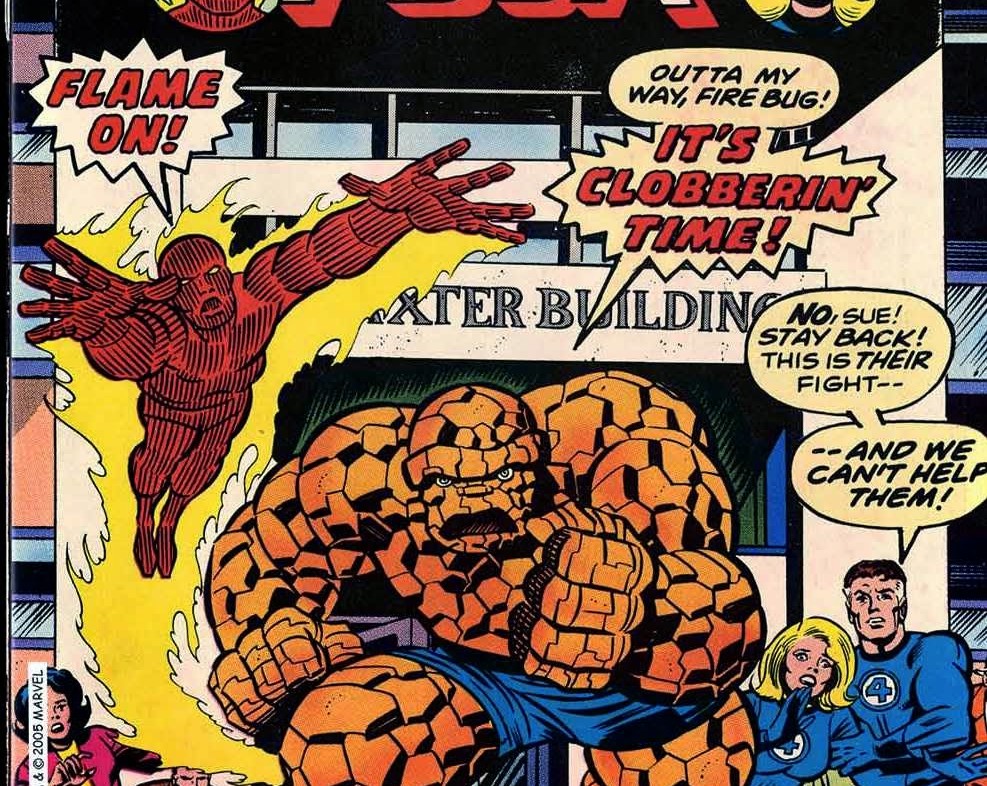 9) The Fantastic Four Don't Have To Do This
While heroes like Batman and Spider-Man have harrowing origin stories that use tragedy to propel them into lives of fighting crime, the Fantastic Four have no such driving force. I could spend much too long explaining their origin (they kind of just steal a rocket because SCREW COMMUNISM?) but simply put, it's patriotic altruism and an insatiable desire to learn that guides the team.

I mean, look at this team, Reed is the smartest man in the world, and they have their own building complete with a plane hangar.
Nonetheless, this family chooses to save earth again and again. They just choose to be heroes. That's just who they are.
10) Odin & Galactus Spoke On Behalf Of Reed Richards At His Cosmic Trial
Come on.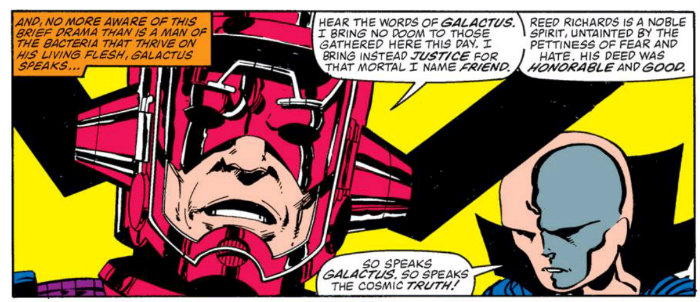 So what do you think? Are the Fantastic Four too dated, or do you love the team for your own reasons? Do what feels right to you in the comments!