This week on "Previously On," I review Tom King and Andy Kubert's Walmart Superman special, consider the trend of comic book publishers reflecting on their own history, and fall in love with new comic book day all over again.

Feature 

Of

 the Week – 
Writer: Tom King
Artist: Andy Kuburt
Issues: DC Walmart Giant #3 to #13
King and Kubert's Walmart Exclusive Superman story began at the apex of King's critical acclaim (Mister Miracle
Support For Comic Book Herald:
Comic Book Herald is reader-supported. When you buy through links on our site, we may earn a qualifying affiliate commission.
Comic Book Herald's reading orders and guides are also made possible by reader support on Patreon, and generous reader donations.
Any size contribution will help keep CBH alive and full of new comics guides and content. Support CBH on Patreon for exclusive rewards, or Donate here! Thank you for reading!
) and concludes after the severe backlash of Heroes in Crisis
. Appropriately, the story (no longer an actual Walmart exclusive – now available at your local comic shop!) falls somewhere between those two extremes, occasionally executing brilliance, and frequently falling into now familiar formulas.
In interviews, Tom King has called "Up in the Sky" his chance to do an All-Star Superman
, and those aspirations, plus the insanely high bar King has set for himself with excellent early works lead to unrealistic expectations. At its heart, "Up in the Sky" is a meditation, twelve pages at a time, on Superman's unflappable resolve to help. Each sequence brings sports team platitudes to life, whether it's "Can't isn't in his vocabulary" or "He's too dumb to stay down." As someone who generally loves stories that hamfistedly hammer home Superman's heroism, "Up in the Sky" pushes the limits of that thrill to their breaking point.
Given the explicit decision to "abandon" Earth in favor of this cosmic rescue, there's a lot "Up in the Sky" is able to do with Superman in space that becomes more challenging within the confines of Bendis' Superman continuity. Even the decision to leave Earth in search of one missing young girl is given the care and consideration needed to sustain the opening chapter. In chapter one, King has the good sense to let Andy Kubert bounce around the DC Universe, as Clark ponders the implications of his absence in Metropolis and planet-side. It doesn't make sense for Superman to go on a search for one person – how many more will die! – and that's the beauty of telling this type of Superman story. It doesn't have to make sense. Because Superman.
As an admitted fan, I'm no less enamored with King's ambition, but I am increasingly less enamored with his approach, especially when applied to the heart of the DC Universe. Every single issue is gunning for all-time classic short story status, and that's a huge part of the reason I love King's comic book work. There are so many superhero comics published every week, and so many published over decades of history, that it's immensely refreshing when creators have a vision for something special – whether it works or not! The most prevalent examples I can think of in superhero comics right now are Scott Snyder, King, Donny Cates, Jonathan Hickman, and Al Ewing (on Immortal Hulk specifically). In the case of Snyder's Justice League or King's Batman, I'd even argue they miss as often as they hit, but they're almost always swinging for the fences.
In the case of "Up in the Sky," too many swings result in grounders to the shortstop, and the feeling that I've seen this one before. Ideas bounce from an alien boxing match to a misguided slip into spousal worry ("The thousand deaths of Lois Lane") to Superman making a bargain with Darkseid. The payoff of King's wholehearted commitment can be transcendent (Mister Miracle) but when it falls short, you realize just what a fine line his storytelling style walks.
All in all, I saw Tom King's name attached to this project (I've actually never been a big Andy Kubert fan, although I quite love his work here) and made every effort to turn Walmart trips into comic trips, but these are not the classics I was looking for. Not for lack of trying certainly.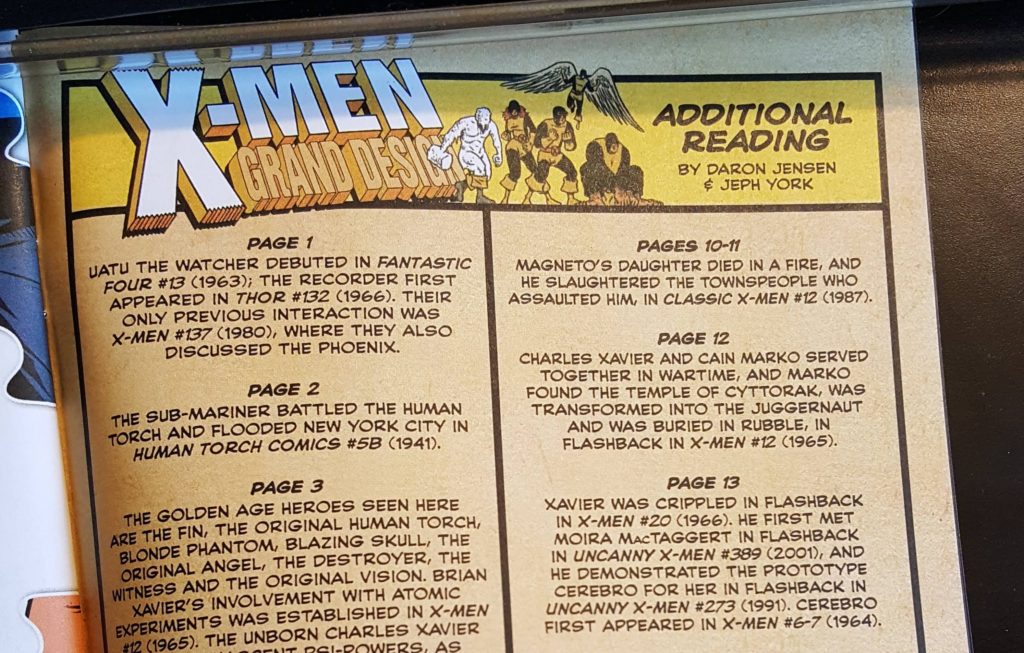 Marvel Comics
Trend: Comic Book History Lessons
Likely inspired by the pure motivations of Comic Book Herald's My Marvelous Year journey through the history of Marvel, the publisher has really taken to recontexualizing their own history for modern audiences. Over the last year or so (just at Marvel) we've seen:
There are a variety of different approaches in that group above, from a cartoonist's conjoined continuity (Ed Piskor on "Grand Design") to a "What If" style narrative where Peter Parker continues to age through his comics history with the decades (Chip Zdarsky and Mark Bagley on "Life Story"). Nonetheless, all of the projects share a respect for sharing the vast and rich history of Marvel stories.
I find this particularly compelling because to me it signals clear recognition that readers crave knowledge of this history (ideally without the overwhelming reality that experiencing it all for themselves requires decades of reading). Marvel is (finally) putting some creative energy behind manageable catch-ups, instead of purely offering new jumping on points every year (don't get me wrong, they're still doing that too… which is… fine.)
In general, the success of the approaches varies wildly. Marvel Comics #1000 was quite bad as a primer for new readers (admittedly, that does not appear to be the intent), whereas the first collection of X-Men: Grand Design is great at streamlining Silver Age X-Men. I'm still on the fence about The History of the Marvel Universe, and am quite curious to see how well it can streamline all of Marvel in six issues.
As a whole, though, I really like that Marvel's leaning in to their history, and acknowledging that a better approach to entry points might be to actually embrace the decades-in-the-making narrative that makes comics so cool in 2019.
LOVE OF THE WEEK
You know, it's the most obvious thing in the world to take for granted, but I love new comic book day. We get new comics every Wednesday. It's Christmas every Wednesday!
Seriously, I was thinking this last Wednesday about the insane amount of reading orders I had to updated across CBH. DC has Year of the Villain, Legion of Super-Heroes Millennium, Event Leviathan and Marvel has House of X and Absolute Carnage. It's a lot to manage, but it's also a lot of fun new story to dissect every week.
Obviously, not every week is going to be filled with excellent comics, but sometimes you hit House of X #3, Absolute Carnage #2, and Superman #14 (among others!) in the same reading session, and it's all worth it.