Last week's installment showed Magneto being acquitted of his past crimes, not just by a world court, but also by his actions against Fenris, the children of Hydra leader Baron von Strucker–and his inheritance of Charles' dream from the Professor himself, just before Xavier was whisked away by the Starjammers to be healed of the injuries he'd been suffering from for nearly the last year's worth of the comic. The past few issues also set up the return of both Cyclops and Storm. In the absence of the team's traditional leaders, both Nightcrawler and Shadowcat have stepped up, but what's going to happen now that Scott and Ororo are back, both accustomed to calling the plays?
The issue, written by Claremont with pencils from Rick Leonardi, opens on a happier note–a full splash page of the X-Men celebrating the arrival of young Nathan Christopher Charles Summers into the world. Cyclops and Maddie's son, of course, is known to long-time X-Men fans as the man called Cable (though he doesn't make his adult appearance until over four issues later, in New Mutants #87). It might be worth noting that the only two characters without looks of joy on their faces are Scott, the boy's father, and Rachel, Scott and Jean's daughter from an alternate reality. Rachel is understandable, to me at least; in her world, her mother was still alive and in this world, she isn't and her father has moved on. But Cyclops…well, Cyclops is a jerk around this time period of X-Comics, rivalled only by his actions during AvX, which arguably weren't completely his own.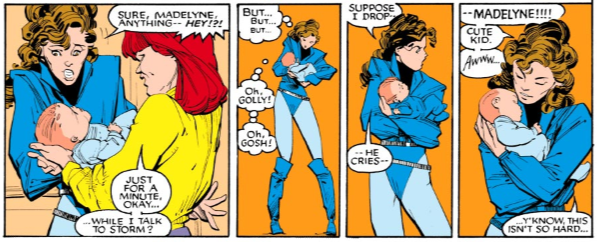 In fact, Madelyne pulls Ororo aside to discuss just that, though in broader terms. They discuss the Professor's departure, Magneto's assumption of command, and Madelyne's concern over Scott's return to the X-Men, where we discover that not only did Scott leave his pregnant wife alone to rush back to the X-Men, but that the whole rest of the team had called to check on her after Nathan's birth, except for Scott himself. In the end, it's Rachel who adjusts to this new situation better than her father, cradling the brother she never had in her reality and promising that he'd never see anything like the dark future she'd come from. Of course, taken with what we know of Cable in the X-Comics to come, this is ironic as hell, but even still, Rachel's the one who becomes Mother Askani in the future and pulls Nathan forward in time to cure him of Apocalypse's virus. It's plain throughout their relationship, across time, that Rachel takes being Nate's big sister seriously, and this is where it all begins.
We cut to the Starjammer, across the galaxy and in a fight with an enemy starship. They win, thanks to the powers of their newest member, Carol Danvers, called Binary. However, the ship is damaged and Charles, though apparently healed up, won't be going home right away. This gives him time to second-guess his choices aloud to Lilandra, the Shi'ar empress he loves, and to be reassured by her. It's pretty obvious he won't have much trouble finding something to do with his additional time aboard the Starjammer. Back at the mansion, Cannonball's computer eats his term paper, the X-Men pair off for a game of baseball and, when Rogue goes airborne to retrieve Colossus' home run, we get a cameo appearance from President Ronald Regan!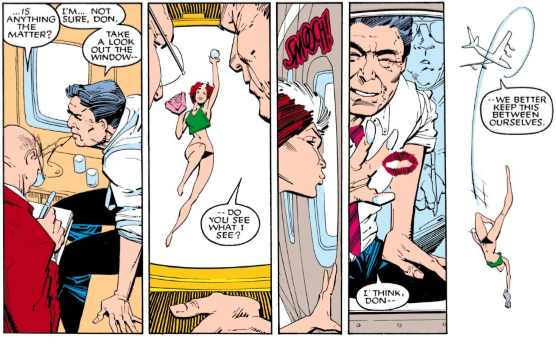 After the game, Kitty goes back inside to grab a shower and overhears an argument from upstairs, in Storm's loft, which she's loaned to Scott and Maddie. We cut to the happy couple arguing over Scott's commitment to the X-Men as opposed to his family. He feels that he needs to stay and lead the X-Men again, that they need him more than ever now that Charles is gone and Magneto's running the school. Maddie, quite understandably, feels different. Their discussion is cut off by Storm, who'd been downstairs with Kitty. She offers a solution: she, though powerless, still desires leadership of the team, and is willing to duel Scott for the right–if he's not chicken, of course.
Support For Comic Book Herald:
Comic Book Herald is reader-supported. When you buy through links on our site, we may earn a qualifying affiliate commission.
Comic Book Herald's reading orders and guides are also made possible by reader support on Patreon, and generous reader donations.
Any size contribution will help keep CBH alive and full of new comics guides and content. Support CBH on Patreon for exclusive rewards, or Donate here! Thank you for reading!
The X-Men kick the New Mutants out of the Danger Room and both teams huddle up in the control booth to watch what's sure to be the fight of the year. And it is quite a tense affair, though in the end, Storm wins, stripping Scott of the visor he needs to control his powers. Scott is surprised and hurt, of course, but readers who've followed the last year or two of X-Men comics probably won't be. Even powerless, Claremont has always written Ororo as a strong, powerful woman, wresting control of the Morlocks from Callisto in a knife fight and surviving the African desert with nothing more than her wits. And in Cyclops' defense, becoming a new father is enough to distract any man!
It's worth noting, as well, how awesome and supportive Maddie is. She understood completely when he left her side when he heard of Charles' illness, and even during the fight with Ororo, she's concerned over the pain a loss would cause him, even though she wants him back with her instead of with the X-Men. It seriously underscores what a poor excuse for a man Cyclops is at this point, right up to the beginning of X-Factor this same year, when Jean comes back and he ditches Maddie and Nathan because Jean comes back from the dead.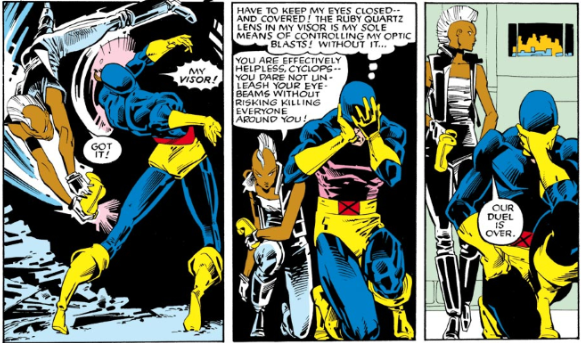 The issue's epilogue shows us Rachel Summers, visiting her grandparents' home once more, to repair the holoempathic crystal broken two issues ago. She not only restores it to it's previous condition, but adds her own imprint to the crystal, alongside Jean's. She may not ever exist in this world thanks to the absence of Jean Grey, but she hopes that adding her essence to the crystal will keep her from ever being forgotten. One thing about this era of X-Men is how Claremont and the editors handling Uncanny didn't wait for "big" issues to pull out all the stops. Issue #201 is at least as classic as #200, if not moreso (and so is #199, for that matter!).
Next Issue: Phoenix vs the Beyonder! With BONUS Sentinels!