Last week's installment gave us an issue from Claremont's classic run that pretty much flipped the X-Men's typical moral stance on its backside, with Rachel calling for the quick demise of a mutant-hating human and Magneto of all people coming down on the side of peace. This week's issue, featuring Arcade, is much more black-and-white. Arcade, bless his heart, doesn't leave much room for moral gray areas. By this time, his character has been around for most of a decade and has tangled with the X-Men a few times in the past, making for some pretty memorable stories from the early Eighties. He's more or less a blend of the Joker and the Riddler, and his stories usually involve a theme park with deathtraps, which makes for fun reading, even if he never, ever beats the heroes he traps, which doesn't do much to set him up as a serious threat.
When we open up the issue, it looks like Colossus and Shadowcat are relaxing on board a Sh'iar cruiser, which would cause a serious WTH moment for readers of the last several issues, which have mentioned the Sh'iar zero times. We get our second such moment on the very same page, when Piotr and Kitty's alone time is interrupted by…Colossus. After Piotr saves Kitty from the fake Colossus and the vacuum of space, Shadowcat is revealed to actually be a Brood in disguise. After a couple more pages, we discover this is really just a dream sequence where Colossus is haunted by his guilty conscience over Kitty, a girl he fell in love with during the Secret Wars and his sister Illyana, who'd been captured by a demon lord and trained as an evil sorceress. When he wakes up, he realizes he's not in his own bed, finds the real Shadowcat sleeping nearby and THEN we see Arcade, who reveals himself as the two X-Men's captor.

We get a quick shift of scenery for one page to set up Cyclops leaving Madelyne in Alaska to come back to the X-Men after receiving a call from Moira McTaggert. Maddie reminds Scott he's not an X-Man anymore, but of course, Scott's concern for Xavier is greater than such concerns, and Chuck's the reason Moira called. Back at Arcade's Murderworld, Kitty and Piotr join Arcade for breakfast, which is interrupted by a missile. Colossus gets rid of it, and then they press the assassin for answers. This time, instead of being targets for a contract, the X-Men have been brought to Murderworld to save Arcade–who, it seems, has been targeted for death by Doctor Doom. Now, I'm not really sure why Claremont chose Doom for this story, since his last Arcade story also featured Doom (X-Men 145-147) and this story has nothing to do with that one, but Arcade stories tend to be more on the zany side, so I'll give Claremont a bye on not giving the matter more thought.
Another quick interlude gives us Nimrod, in human form, having a quick breakfast with a human whose family he's befriended and is staying with. A bad guy comes in to rob the place, and Nimrod smokes him, in front of everyone, in his robot form. It's worth noting that Nimrod's identity is public knowledge, and no one seems to mind. In fact, he's hailed as a hero right after killing a robber with his Sentinel weaponry. Compare that to the X-Men, who are often reviled right after saving someone with their mutant powers. When we return to Murderworld, Kitty and Piotr await Doom's next move, which comes in the form of a giant robot. Since it's only her and Colossus against the might of Doctor Doom, Shadowcat's evened the odds by programming Arcade's army of X-Men robots to work on their side, giving us awesome scenes like this one: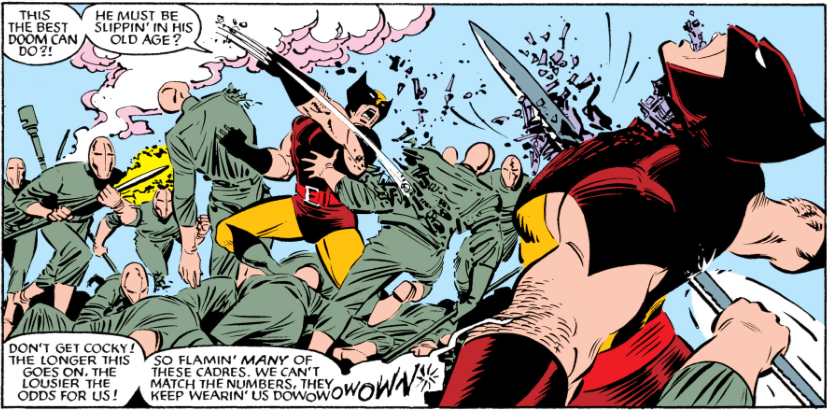 Even with the robo-X-Men  in the mix, it still comes down to Colossus and Shadowcat dispatching Doom's robot. Even then, the fight's not over, as a small attack plane, apparently piloted by Doom, strafes our heroes. Colossus knocks it out of the park…and right into Arcade's base of operations. Piotr "Fastball Specials" Kitty upstairs to head off Doom until he can get there, but arrives only to find Kitty dead at Doom's feet. Pete's about to lay a beatdown on Doom, but is interrupted by the arrival of the real Shadowcat, who phases through Doom's armor, short-circuiting it. "Dead" Kitty, the one who'd been fighting alongside Colossus the entire issue, is also outed as a robot, programmed by Kitty to take her place so she could watch over Arcade from hiding. Then Arcade's henchwoman, Ms. Locke, hauls herself out of the Doom armor at Arcade's summons–the whole thing had been a gamebetween the two of them, celebrating Arcade's birthday by giving her the chance to kill him.
Support For Comic Book Herald:
Comic Book Herald is reader-supported. When you buy through links on our site, we may earn a qualifying affiliate commission.
Comic Book Herald's reading orders and guides are also made possible by reader support on Patreon, and generous reader donations.
Any size contribution will help keep CBH alive and full of new comics guides and content. Support CBH on Patreon for exclusive rewards, or Donate here! Thank you for reading!
Arcade drops our bamboozled heroes off at the X-Mansion and speeds away, leaving Kitty and Piotr to simply chalk their adventure up to experience (since this is Kitty's first outing against Arcade, we won't hold it against her!). We also see them agree to be friends again, putting an end to the estrangement subplot that had been running through the book since the end of the Secret Wars. Finally, on the last page, we return to the Serengeti. Last issue, Storm had been shot and left for dead by Fenris. Now, we see a fierce Ororo that Halle Berry could never play on her best day, ready to kick some tail…and the set-up for next issue.
Oh, dayyum…