Last week's installment was a pretty zany one-off featuring Arcade and Dr. Doom that nevertheless managed to serve a purpose in the overall 80s X-Men story–namely, the rekindling of Colossus' and Shadowcat's kinda-relationship, which Piotr dumped water on by hooking up with an alien chick during the Secret Wars. This week, we get the sequel to Barry Windsor-Smith's epic LifeDeath collaboration with Claremont. The original, which appeared in Uncanny #186, dealt with the repercussions of Ororo being de-powered by a device created by the tech-wizard mutant Forge (at this time, still a new character known only for creating this weapon). Subsequent repercussions include her leaving the X-Men, returning to Africa, running afoul of the Strucker Twins (Fenris, to long-term Marvel fans, and also brand-new creations in 1985) and being gunned down by them a few issues later.
The story opens with Ororo wandering half-naked through the African desert (she'd been left for dead maybe hours ago–two issues of the comic, and had only come to her feet at the end of last issue). So, she's clearly dehydrated, suffering from both shock and blood loss,starting to see crap that isn't really there, and under the deluded impression she still has her powers.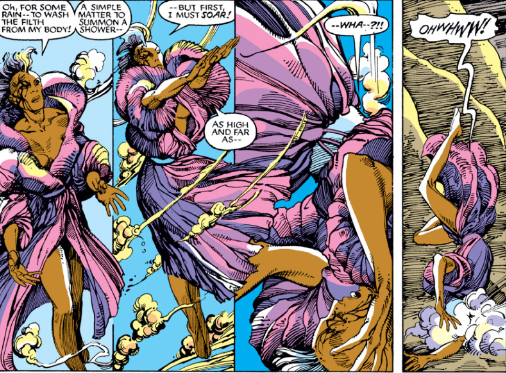 This really is the sort of surreal issue that reads better than it reviews. The next several pages show Storm struggling in her mind with hallucinations of Forge, and later the X-Men–and battling a pit-viper in the real world. After dealing with all this, she encounters the one person within miles of her who might be having a worse day than her–a pregnant woman, Shani, who is the sole survivor of a crashed bus. They spend the night huddled together in front of a fire for warmth, and in the morning, arrive at Shani's village. Shani's village is very poor, at least in part because of machines donated by well-meaning Westerners that later broke down, leaving the villagers with no way to effect repairs.
Ororo and Shani are greeted by Mjnari, the village's leader. Ororo promptly faints, having made it to safety in spite of her injuries and wakes up later in Mjnari's tent. The leader had come to get Ororo because Shani was asking for her.  These people remembered Ororo from her time as a weather-goddess, before she joined the X-Men, and Shani wants Storm's help delivering her baby. Storm comes to Shani's side to help deliver the child, and we're treated to a wonderful wordless depiction of Ororo helping Shani, interspersed with the dancing of the villagers performed to appease the gods on Shani's behalf. The baby comes, but at first, we're a little shaky on the "appeasement" bit: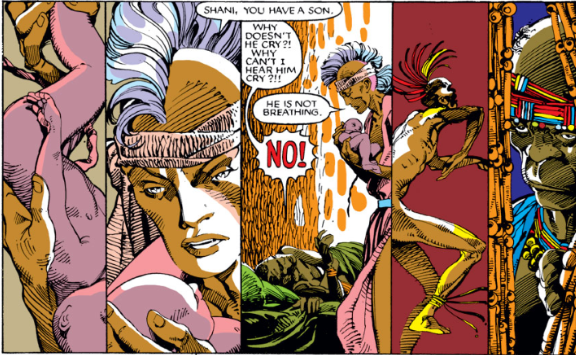 Ororo breathes life into Shani's son, even taking a moment to wonder if she did the right thing, given the conditions the boy will likely grow up in. Then Mjnari walks off, saying something about a final duty he has to perform. Ororo follows him, only to discover the leader, the oldest man in the village, is about to kill himself so that his resources can be used instead to raise Shani's child. She pleads with him, but eventually accepts his explanation, that this was how things were in the village now that their people, once proud because of the abundance the machines brought, were now humbled by their absence.
Support For Comic Book Herald:
Comic Book Herald is reader-supported. When you buy through links on our site, we may earn a qualifying affiliate commission.
Comic Book Herald's reading orders and guides are also made possible by reader support on Patreon, and generous reader donations.
Any size contribution will help keep CBH alive and full of new comics guides and content. Support CBH on Patreon for exclusive rewards, or Donate here! Thank you for reading!
When he passes, she continues to hear his voice in her head. The final part of his words, overlaid as captions to a portrayal of her building a burial cairn over his body, speak of the need for a "bridge" between the world of man and the spiritual world. Ororo takes this to mean Mjnari means her, a bridge between humans and mutants. Finally, for the first time since being stripped of her powers, Storm feels she has a purpose.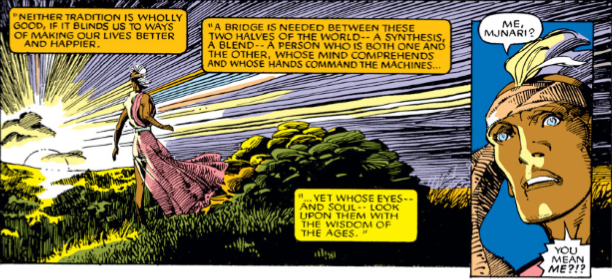 Next issue: The return of Cyclops and Magneto vs Freedom Force!
Bonus: While doing a bit of prep for this article, I came across a post about a THIRD LifeDeath book, that BWS pitched to Marvel but which was rejected. He later re-purposed the story and published it through Fantagraphics, but the new character, Adastra, is obviously a re-powered Ororo and the story even mentions things like "the gift of Mjnari."