Marvel doesn't ever really do the whole "kid sidekick" thing but there's certainly never been a shortage of young super-powered people trying to make their way in a crazy comic book universe.
Although the landscape doesn't really reflect it as much these days with the prominence of Young Avengers and the teenage Champions, for years there wasn't much of a "Junior League Avengers" in the same way DC could seemingly always throw to the Teen Titans. Sure, there was New Mutants but they all wore matching uniforms, clearly signifying as the farm team for the mutant-centric X-franchises. As far as the mainstream hero-base is concerned, this went as a completely unfulfilled niche until the late 1980s.
Debuting unexpectedly in a Thor tie-in issue to 1989's big Acts Of Vengeance crossover event, the New Warriors burst onto the scene! Not only does the roster consist of an unlikely combination of surprising old faces and new working together, what's most interesting is that they're already acting like a team.
When the ongoing series kicks off in Spring 1990, the first issue doubles back and reveals that the Warriors' first actual rodeo is in fact actually much more Avenger-y.  In true super-team tradition, the youthful heroes discover that once they beat the bad guy the sum total outweighs themselves individually and "hey, maybe we should do this again on the regs??". And, so they do…
Let's take a look at these founding New Warriors and a little more background on where they come from:
Support For Comic Book Herald:
Comic Book Herald is reader-supported. When you buy through links on our site, we may earn a qualifying affiliate commission.
Comic Book Herald's reading orders and guides are also made possible by reader support on Patreon, and generous reader donations.
Any size contribution will help keep CBH alive and full of new comics guides and content. Support CBH on Patreon for exclusive rewards, or Donate here! Thank you for reading!
Pre-Warriors Solo Exploits (Related Reading)
Nova: "The Human Rocket" aka "Buckethead". Richie Rider is probably the most well-known of the original New Warriors, starring in solo series as far back as the late 1970s. As a total footnote, when the first New Warriors series begins, Rich is without his Xandarian space cop powers. However, they are jump-started back to activity and for a very brief time he also goes by the name "Kid Nova". (For more on Nova, check out CBH's own Nova Reading Order.)
Collects: Nova (1976) #1-12, Amazing Spider-Man (1963) #171
Richard Rider's debut as Nova, The Human Rocket and a collection of his earliest adventures!
Firestar: Perhaps the second-most recognizable New Warrior to pop culture fans "of a certain age", Angelica Jones is all the same a unique character creation. Starting out as an all-new hero for the early-80s Spider-Man and His Amazing Friends animated Saturday Morning cartoon show, Firestar makes her way into actual comic book continuity a few years later during Chris Claremont's acclaimed run on Uncanny X-Men.
Collects: Spider-Man And His Amazing Friends (1981) #1, Uncanny X-Men (1963) #193, Firestar (1986) #1-4, Spider-Man Family Featuring Amazing Friends (2006) #1
A comic book adaptation of the early 80s Saturday Morning TV cartoon plus Firestar's first in-continuity appearances!
Marvel Boy/Justice: Youthful Vance Astrovik is actually slightly more famous as another character: Major Astro of the 31st Century Guardians of the Galaxy! In fact, most of Young Vance's Bronze Age appearances seem to only center on him being this "preserve the timeline" human macguffin. Later on, he runs away, joins the circus and develops his telekinetic powers guest-starring in latter-day issues of the Thing's 1980s solo series. NW is his actual debut as a costumed hero.
Guardians of the Galaxy: Tomorrow's Avengers Vol. 1
Collects: Marvel Super Heroes (1967) #18, Marvel Two-In-One (1974) #4-5, Giant-Size Defenders (1974) #5, Defenders (1972) #26-29, Marvel Presents (1975) #3-12
The Guardians of the future travel back to modern day, adventure with the Defenders and Major Vance Astro meets himself as a kid! That kid will one day grow up to become the New Warrior, Justice!
Guardians of the Galaxy: Tomorrow's Avengers Vol. 2
Collects: Thor Annual (1966) #6, Avengers (1963) #167-168, 170-177 & 181, Ms. Marvel (1977) #23, Marvel Team-Up (1972) #86, Marvel Two-in-One (1974) #61-63 & 69
More Bronze Age appearances of Kid Vance!
Namorita: As the cloned daughter of the Atlantean Sub-Mariner's cousin, Namorita is maybe the longest-existing exception to Marvel's unspoken moratorium on the whole "kid hero with the same powers as regular hero" schtick. However, given the general Golden Age-ness of her pedigree, it allows her something of a pass. Contemporary to the inception of the New Warriors monthly, Nita is also often to be seen in writer/artist John Byrne's Namor. 
Sub-Mariner Masterworks Vol. 7
Collects: Sub-Mariner (1968) #50-60
Namorita's first appearance! (Where else?)
Namor Visionaries by John Byrne Vol. 1
Collects: Namor: The Sub-Mariner (1990) #1-9
As the New Warriors launch, Namorita is also a regularly featuring support character in her cousin's title.
Speedball: Robbie Baldwin has the short-list distinction of being a co-creation of the legendary Steve Ditko. After debuting in an Amazing Spider-Man Annual, the curiously-powered (something to do with colorful exploding telekinetic balls??) "Masked Marvel" stars in his own short-lived solo series. Like many a great Marvel character, he's actually one that works best as an ensemble player. (Insert "bounces off others" pun here…)
Collects: Speedball (1988) #1-10, Material from Amazing Spider-Man Annual (1964) #22, Marvel Age Annual (1985) #4, Marvel Comics Presents (1988) #14 & 56, Marvel Super-Heroes (1990) #1-2, 5-6
Collecting the earliest appearances of Steve Ditko's late-80s co-creation!
Night Thrasher: Dwayne Taylor. The only all-new character of the original New Warriors but perhaps not all that conceptually original: brainy rich orphan athlete sworn to take down all crime with his vast personal resources. But wait- before you can cough "Batman", let it be known: he has a skateboard!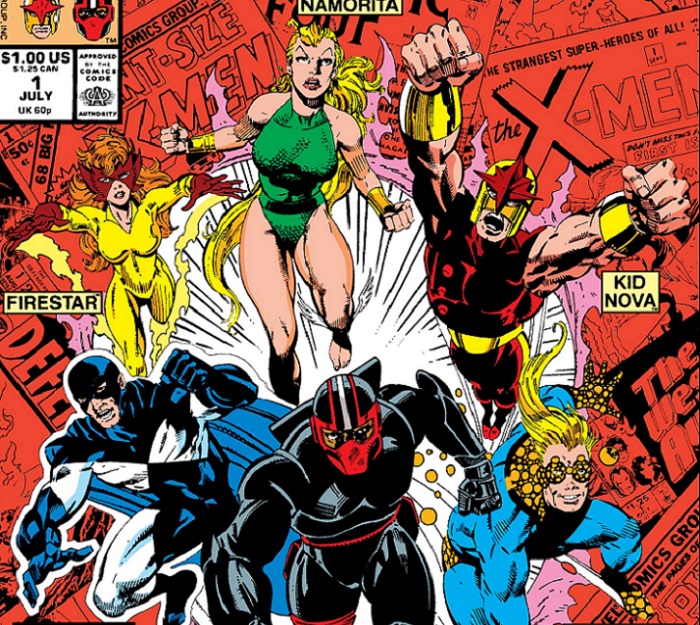 The Classic Era: Heroes For The 90s (Dash, Dash, Exclamation Point)
Although technically created by Tom DeFalco and Ron Frenz for their appearance in the Thor mag, when moving into their own monthly title the Warriors' exploits are championed primarily by writer Fabian Nicieza and artist Mark Bagley. Subsequently, the series sees contributions by creators such as Darick Robertson, Evan Skolnick and Patrick Zircher but it's the "NiceBags" era that fans really seem to respond with the most fondness.
However, after seventy-five issues, this volume of New Warriors comes to a quiet close.
Collects: New Warriors (1990) #1-6, Thor (1966) #411-412
In true Avengers style, the youthful heroes unite against a threat no one of them could stand alone!
Collects: New Warriors (1990) #7-10, New Warriors Annual (1991) #1, New Mutants Annual (1984) #7, Uncanny X-Men Annual (1970) #15, X-Factor Annual (1986) #6
Guest-stars galore with a Punisher trilogy and X-ing over with various X-Franchises!
Collects: New Warriors (1990) #11-17, Avengers (1963) #341-342
Alternate timeline craziness! Plus, youthful would-be Avenger hopeful Rage gets a new, more age-appropriate team!
Amazing Spider-Man Epic Collection: Round Robin
Collects: Amazing Spider-Man (1963) #351-360, Amazing Spider-Man Annual (1964) #25, Spectacular Spider-Man Annual (1979) #11, Web Of Spider-Man Annual (1985) #7, Spider-Man: Fear Itself (1992) #1
Nova and Night Thrasher plus future Warrior Darkhawk all guest-star in the titular arc wherein Moon Knight's crazy jilted ex-sidekick gets everyone involved in a revenge scheme!
Spider-Man & The New Warriors: The Hero Killers
Collects: Amazing Spider-Man Annual (1964) #26, Spectacular Spider-Man Annual (1979) #12, Web Of Spider-Man Annual (1985) #8, New Warriors Annual (1991) #2
Nova's old villain forges an alliance with corporate ne'er do well Carlton Drake as Spidey teams up with the whole gang!
New Warriors: Darkness & Light
Collects: New Warriors (1990) #27-36, New Warriors Annual (1991) #3, Night Thrasher: Four Control (1992) #1-4, Material from Marvel Holiday Special (1991) #2
Things get real dark and heavy as the Warriors' roster goes through some changes! Plus, some mid-90s costume makeovers! It's worth noting that around this time the New Warriors get roped into the Infinity Saga, with tie-ins across Infinity Wars and Infinity Crusade.
Collects: New Warriors (1990) #45-46, X-Force (1991) #32-37, X-Force Annual (1992) #3
Firestar is on the radar as part of an insane plot targeting ex-New Mutants and Hellions!
You can also find continuing collected New Warriors issues in the pages of the Spider-Man Clone Saga – if you dare!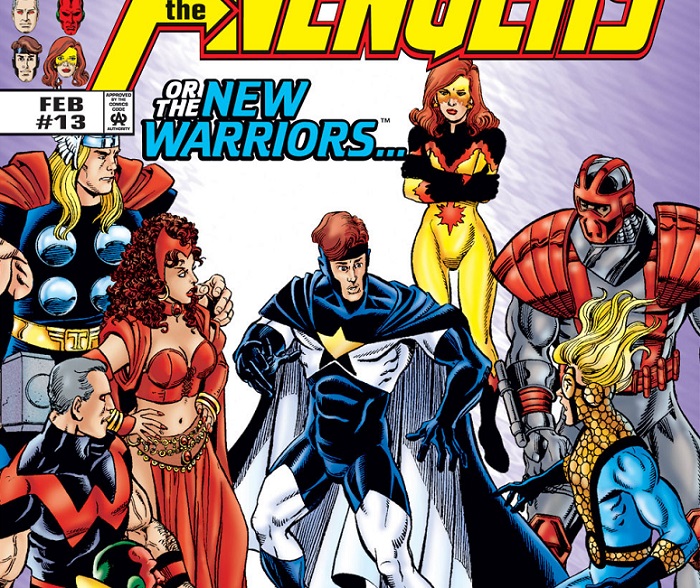 The Heroes Return Era: Heroes For The Late 90s/Early 00s
Without their own monthly title, the Warriors drift into a loose state of implied semi-hiatus. So, when a crisis targeting all former Avengers involves a couple of New Warriors who also happen to be one-time hot-second Avengers, Justice and Firestar tag along with their pals because why not answer the call to the big show?
That said, when the dust settles and a new official Avengers team roster is decided, it's the two outsider noobs who make the cut! Writer Kurt Busiek takes full advantage of Vance's propensity to in-continuity fanboy over all facets of the superhuman lifestyle, having him serve as walking info-dump at nearly early turn. It's only truly worth it for artist George Perez's ability to turn this ultra-footnotey, flashback-intensive exposition into gorgeously elaborate layouts.
While the New Warriors guest-star in full during an issue of this aforementioned Avengers run, representation in their own title is a bit of a scarcity. There is a 1999 reboot starring Nova, Namorita and Speedball but it's short-lived (10 issues) and, as of this writing, is both out of current collected print and unavailable on Marvel Unlimited.
Collects: Avengers (1998) #1-11
When an emergency brings together an everybody-ever gathering, former Avengers Darkhawk and Rage are on hand. However, it's Justice and Firestar who become regular members in this series relaunch!
Collects: Avengers (1998) #12-23, Avengers Annual 1999, Avengers (1998) #0
It's a full-on reunion when the whole New Warriors gang guest-stars in Issue 13!
Collects: Avengers (1998) #24-34, Avengers Annual 2000, Thunderbolts (1997) #42-44
Justice and Firestar stick around for one last crisis (guest-featuring Nova) before stepping away from active Avengers status.
Avengers/X-Men: Maximum Security
Collects: Maximum Security: Dangerous Planet (2000) #1, Maximum Security (2000) #1-3, Captain America (1998) #36, Thor (1998) #30, Uncanny X-Men (1963) #387, Bishop: The Last X-Man (1999) #15, Iron Man (1998) #35, Avengers (1998) #35, Gambit (1999) #23, X-Men (1991) #107, X-Men Unlimited (1993) #29
The circa 2000 New Warriors are part of the heroes trying to restore order after alien empires declare Earth an intergalactic prison planet!
Collects: Avengers: Ultron Imperative (2001) #1, Avengers (1998) #45-56, Avengers (1963) #1.5
Surprise- Justice and Firestar weren't on hiatus, they were on Avengers covert ops! Writer Kurt Busiek brings back his faves for his Avengers finale. Only for the Angel and Vance shipping completists!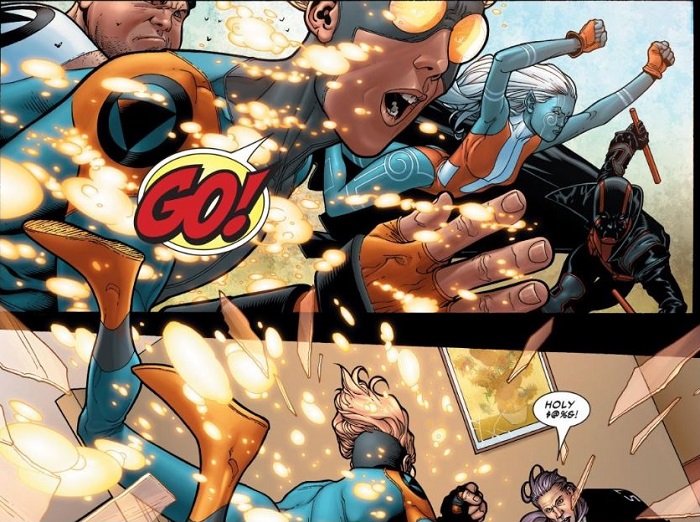 The Civil War/ Initiative/ Dark Reign Era: Heroes For The 2000s, Part 1
In 2005, New Warriors relaunches with a new spin as a six-issue mini. Instead of being heroes in the traditional manner, the classic gang (with a few new faces) get a makeover as reality show stars- filming their adventures with an entertainment network crew.
Like most things, it's all fun until someone gets hurt. In this case, it's something like six hundred someones, though…
When "filmed on location" antics go awry with surprised super-villains in a crowded suburb, the New Warriors pay dearly- with all but one of them caught dead in an explosion (or seemingly thought so). This disaster triggers the first Civil War event.
The remaining New Warriors are somewhat disparate at this juncture and certainly cannot find a common ground from the "good old days". There is another ongoing series reboot in 2007 but it's largely a "in name only" affair- boasting a line-up of depowered mutants taking on all-new code names. 
Meanwhile, Justice is doing what he can to keep sunny spirits in Avengers: The Initiative– as that title actually proves to be one to best capture a bit of the old Warriors moxy!
Civil War Prelude: New Warriors
Collects: New Warriors (2005) #1-6
Zeb Wells and Skottie Young mastermind this off-the-wall reinvention of the New Warriors as a reality show!
Collects: Civil War (2006) #1-7
The Warriors' reality show antics go tragically sideways with severe civilian casualties, sparking a divide in the superhuman community!
Collects: Civil War: Front Line (2006) #1-6
Speedball survives the tragedy but he doesn't feel so lucky to be alive! Elsewhere, pressure surrounding superhero identities makes Firestar rethink her life and temporarily retire!
Collects: Civil War: Front Line (2006) #7-11
Continuing Speedball's transformation into Penance!
Collects: Winter Soldier: Winter Kills (2006) #1, Civil War: Choosing Sides (2006) #1, Civil War: The Return (2007) #1, She-Hulk (2005) #8
When the remaining New Warriors' identities are threatened, they turn to the legal powers of She-Hulk!
Avengers: The Initiative Vol 1: Basic Training
Collects: Avengers: The Initiative (2007) #1-6
With the Superhuman Registration Act in place, Justice becomes part of the training staff at Camp Hammond while other former New Warriors Rage, Slapstick, Ultragirl and Debrii are recruits!
Thunderbolts by Warren Ellis Vol. 1: Faith in Monsters
Collects: Thunderbolts (2006) #110-115
As part of the Initiative and his sentence, Penance is placed in the Thunderbolts US Marshals program- right next to killers and sociopaths like Venom, Bullseye and Moonstone. The director: "former" Green Goblin, Norman Osborn!
Nova Vol. 1: Annihilation – Conquest
Collects: Nova (2007) #1-7
In between cosmic Annihilation events, Nova briefly returns to Earth. In Issues 2 and 3, he has frosty Initiative-era interactions with Iron Man, Justice, Penance and the Thunderbolts!
Collects: New Warriors (2007) #1-6
If all the previous New Warriors are accounted for, who are these brash new mystery youths tagging up the place and sticking it to Tony Stark's Registration??
Avengers: The Initiative Vol 2: Killed In Action
Collects: Avengers: The Initiative (2007) #7-13, Avengers: The Initiative Annual (2007) #1
Something seems off to Justice about The Initiative, so he assembles the ex-New Warrior trainees into Counter Force!
Collects: New Warriors (2007) #7-13
The new Night Thrasher stands revealed as Bandit, the half-brother of the original Night Thrasher!
Collects: Penance: Relentless (2007) #1-5
Robbie Baldwin begins to make peace with his darkness and slowly reclaim his former heroic status!
Collects: New Warriors (2007) #14-20
Coincidentally timed with the events of the Skrull invasion, Justice's Counter Force confronts the new New Warriors!
Avengers: The Initiative: Disassembled
Collects: Avengers: The Initiative (2007) #20-25, Avengers: The Initiative Special (2008) #1
Following the Skrull's invasion attempt, Norman Osborn and HAMMER force the legit Camp Hammond staff underground just as Justice's Couter Force aligns with Night Thrasher. Together they form the Avengers Resistance!
Avengers: The Initiative: Dreams & Nightmares
Collects: Avengers: The Initiative (2007) #26-31
Under Norman Osborn's Dark Reign, Penance is transferred to Camp Hammond while Justice and the Avengers Resistance keep fighting the good fight!
Collects: Mighty Avengers (2007) #27-31
Justice, Rage and the Resistance also manage to side-quest into a team-up of various Avengers factions against a returning forgotten tyrannical Inhuman king!
Collects: Nova (2007) #29-36
Due to a rip in the very fabric of the cosmos, Nova rescues an alternate-past version of Namorita and returns her to mainstream reality!
Siege: Avengers – The Initiative
Collects: Avengers: The Initiative (2007) #31-35
As the villains' Dark Reign comes to a close, the Avengers Resistance takes back Camp Hammond!
Heroic Age Era: Heroes For The 2000s, Part 2
Once Norman Osborn's Dark Reign is ended and a renewed Heroic Age is instilled, the bright energy of the Warriors' classic heyday is allowed to shine through a bit more. Justice remains a stalwart but Firestar moves on into her own separate identity, even joining a whole other super-team.
However, most personifying this positive tonal shift is Robbie Baldwin, reverting back to his jovial Speedball identity after suffering a particularly difficult time in the wake of the Civil War tragedy. 
Collects: I Am An Avenger (2010) #1-5
Justice and Firestar have a brief reunion as the only serialized story arc in this anthology grab bag!
Avengers Academy: The Complete Collection Vol. 1
Collects: Avengers Academy (2010) #1-12, Avengers Academy Giant-Size (2010) #1, Thunderbolts (1997) #147, Material from Enter The Heroic Age (2010) #1
Robbie Baldwin returns as Speedball and joins Justice on staff, training the next generation of at-risk super-powered kids!
Avengers Academy: The Complete Collection Vol. 2
Collects: Avengers Academy (2010) #13-20 & 14.1, Material from Amazing Spider-Man (1999) #661-662, Fear Itself: The Home Front (2011) #1-7, Avengers: Solo (2011) #1-5
Speedball qnd Justice end their tenure as Avengers Academy instructors just in time for the Asgardian Serpent's reign of Fear Itself!
Collects: Fear Itself: Youth In Revolt (2011) #1-6
Firestar and a bunch of former New Warriors alum feature in this take on what the younger set of heroes are up to during the all-in event of 2011!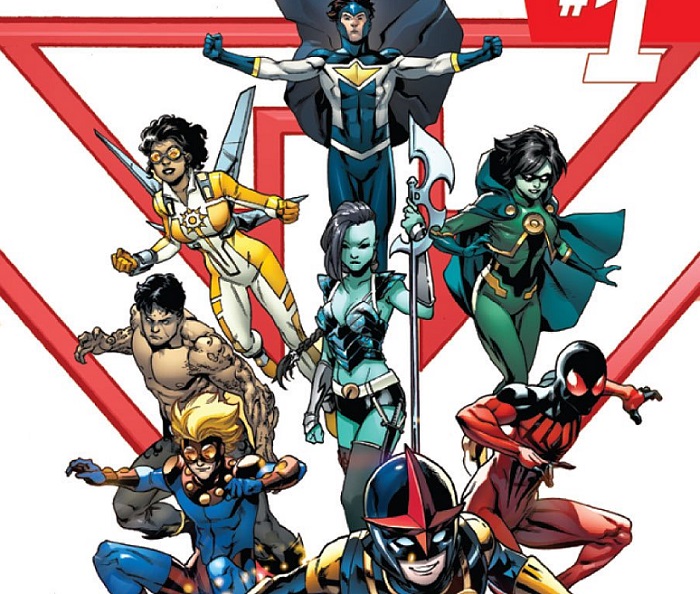 Marvel Now/ All-New, All-Different Era and Beyond: Heroes For The 2010s
With Rich Rider seemingly thought deceased in 2010's cosmic Thanos Imperative event, the mantle of Nova falls to another wet-behind-the-ears kid, Sam Alexander. In the 2013 volume of his solo title, the new guy is asked to help put the band back together by Speedball and Justice. In early 2014, a revival of New Warriors is released by writer Christopher Yost and artist Marcus To. Although this Nova/Speedball/Justice triumvirate acts as its own anchoring axis, the team is largely rounded out by characters Yost populated in various Spider-centric titles just prior to this year-long relaunch. 
Since then, there hasn't been a proper book or an official sighting of the team in someone else's series. Of biggest note in this quiet time, though, is that through the magic of death's revolving door in comics, all of the original principles are (as of this writing) actually available for a potential reunion. 
Night Thrasher, the last of the main Civil War explosion casualties to reincarnate, returns to 2015's All-New, All-Different Marvel Universe within the pages of the Contest Of Champions title.
Even the timeline-displaced alternate reality version of Namorita originating from a literal rip in space has proven to be down for a reunion, recently appearing as a stand-in for herself in the Fantastic Four's "all hands on deck" return!
Classic Nova's currently caught up in deep space insanity in Donny Cates' Guardians of the Galaxy
and Firestar's fate has been linked to all-things-X for at least five years now, so who is to say for these two.
Oh well, two-thirds is still a quorum, right? Warriors– come out and play!
Collects: Nova (2013) #6-10
As Thanos invades Earth, Speedball and Justice look to enlist Sam Alexander, the new Nova, in a reformation of the New Warriors!
New Warriors: The Kids Are All Fight
Collects: New Warriors (2014) #1-6
Justice and Speedball put the band back together with some all-new characters and some legacies of familiar faces, including new Nova Sam Alexander and Peter Parker's other clone, Kaine, as the Scarlet Spider!
New Warriors: Always and Forever
Collects: New Warriors (2014) #7-12
The New Warriors get involved in schemes of the Eternals and the High Evolutionary!
Contest Of Champions Vol. 1: Battleworld
Collects: Contest of Champions (2015) #1-6
Plucked from the explosion that started the first superhero Civil War, Night Thrasher finds himself very much alive but forced to play in a game between the evil old Maestro Hulk and the Elders of the Universe!
Contest Of Champions Vol. 2: Final Fight
Collects: Contest of Champions (2015) #7-10, Punisher (1987) #64
Night Thrasher makes it out of the deadly game and back to mainstream reality!