Welcome to the first week of Comic Book Herald's 'My Marvelous Year.' Below you'll find our reading selections for the year of 1962, and at the end of our reading, you'll find my thoughts on the year and our winners for hero and villain of the year.
Feel free to discuss the comics and any related thoughts below in the comments!
Vote Here For Your Hero & Villain Of The Year! Voting closes on Thursday at 6 p.m. every week. New list and year every Friday!
1962 Comic Reading List:
Marvel Year One – 1962
First of all, thanks to everyone for taking part in My Marvelous Year. The turnout has been excellent and we have way more votes than I could have expected for hero and villain of the year.
Before we get to our winners for the year, some thoughts:
Support For Comic Book Herald:
Comic Book Herald is reader-supported. When you buy through links on our site, we may earn a qualifying affiliate commission.
Comic Book Herald's reading orders and guides are also made possible by reader support on Patreon, and generous reader donations.
Any size contribution will help keep CBH alive and full of new comics guides and content. Support CBH on Patreon for exclusive rewards, or Donate here! Thank you for reading!
10 Takeaways On Marvel Year One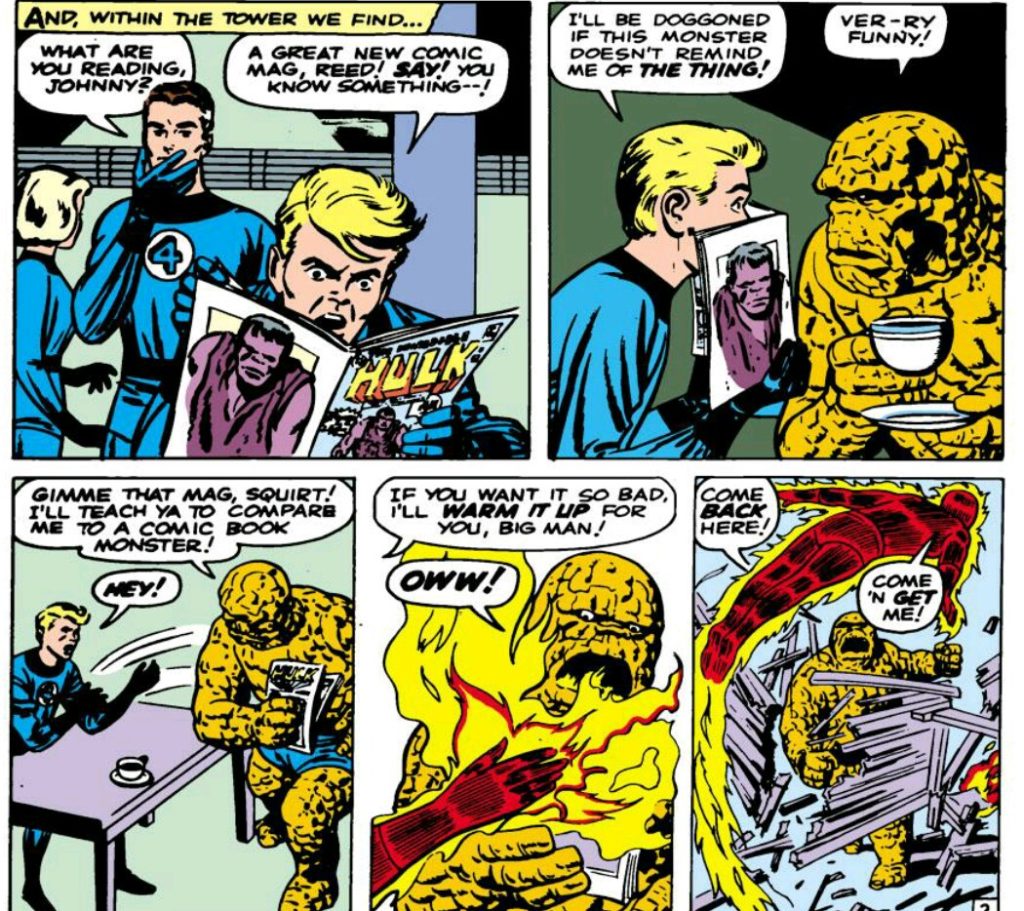 1) It's easy to forget this now, with three poor to atrocious movies in the rearview, but the Fantastic Four were the biggest Marvel attraction by far. It's not just that they begin the Marvel year as we know it, it's that everything Marvel runs through the Fantastic Four throughout the 60's.
The Fantastic Four are Apple's Macintosh computer, or MacDonald's big Mac. Heck, the Human Torch had a side gig in Strange Tales before the likes of Iron Man, Avengers, or Dr. Strange even made an appearance!
2) In their first year as a creative duo, Stan Lee (or as he will heretofore be named, Stanly the Manly) and Jack Kirby (heretofore: The King, aka King Kirby) created the Fantastic Four, the Hulk, Thor, Ant-Man, Spidey (Steve Ditko take a bow), Doctor Doom, Loki, and most importantly the Toad Men. Among others. That's a pretty good way to start the conversation.
3) There's a clear cognitive dissonance between my love for Marvel origins and their importance, and the actual quality of many of these comics. Compared to what's coming, Marvel year one is not the strongest year of comics. There's a nostalgia and historical interest, but with the exception of Fantastic Four #5, I don't really put a lot of these issues among the greats. That will start to turn around fast next year, but there's a palpable (and understandable) sense of beginnings here.
For the most part, Marvel Year One is a fascinating look at this brilliant comic universe testing the possibilities of the comic medium and the superhero genre. Just look at the weird, wild, wide array of powers we see from known quantities like Johnny Storm or Namor. In Strange Tales, you have the Human Torch creating duplicate fire doubles of himself to tale criminals. In FF, you have Namor the Sub-Mariner straight up replicating the powers of all sea life. Not to mention, in Fantastic Four #4, the Thing walks into the belly of a fish with an atomic bomb strapped to his back. Like a modern Jonah and the Whale and literally zero understanding of atomic warfare.
Don't get me wrong, I love these comics. But get ready for the stories to really start to improve as Marvel moves out of their rookie year.
4) It's incredible how much Jack Kirby's art would improve. And remember it's not like the King was new. Kirby bounced around a variety of comics and artwork from through the 40's and 50's, including the creation of Captain America (with Joe Simon) for Timely Comics.
Kirby would, of course, come to define Marvel and frankly comics for years to come, but look at those early Fantastic Four issues and you see concepts without familiar refinement. The Things face is just mush. Torch is a fiery blur. It wouldn't take the master of action long, but 1962 is the raw blueprint for the future.
5) For those of you wondering why we read Amazing Adult Fantasy #7 (the only comic on the list that doesn't connect to the expanded Marvel Universe), it's for two reasons: 1) I wanted to give you a sense of what comics were often like prior to the wave of superheroes following the Fantastic Four and 2) The old non super hero backup tales are loads of fun. 5 page twist endings like those in Amazing Adult Fantasy #15 are frequently a nostalgic blast, and feature some pretty great early Steve Ditko artwork.
6) People are all excited about Deadpool's Meta Marvel, and his propensity to break the fourth wall, but Marvel's meta tendencies are front and center in their first year. Just look at Fantastic Four #2, with Reed Richards showing the Skrulls copies of Journey Into Mystery and Strange Tales! There are all sorts of instances of Marvel comics showing up within Marvel comics (*kaboom*), but I'm still impressed just how early it really starts.

There's a playfulness to these early 60's Marvel Comics that I love, and the Skrulls turning back from their first Secret Invasion because they're scared of Strange Tales is a perfect example.
7) Marvel clearly wanted a high school hero even before Spidey solidified that concept forever, writing Johnny Storm as a secret high school hero in Strange Tales. It's a savvy recognition of their core audience. As you can see in the letters, Stanly the manly and co. renamed Amazing Adult Fantasy to Amazing Fantasy because teens were writing in saying they felt awkward buying a magazine for adults (letter seen in Spidey's first appearance in AF #15).
Speaking of letters, what I wouldn't give for more letters included in Marvel Unlimited!
8) We didn't include it as part of the core reading list, but Incredible Hulk #3 basically prefaces Planet Hulk. I always thought the mega Hulk story of the 2000's was a pure Greg Pak innovation, but there Stan and Jack are in 1962 shooting the Hulk into space as they only way to handle him!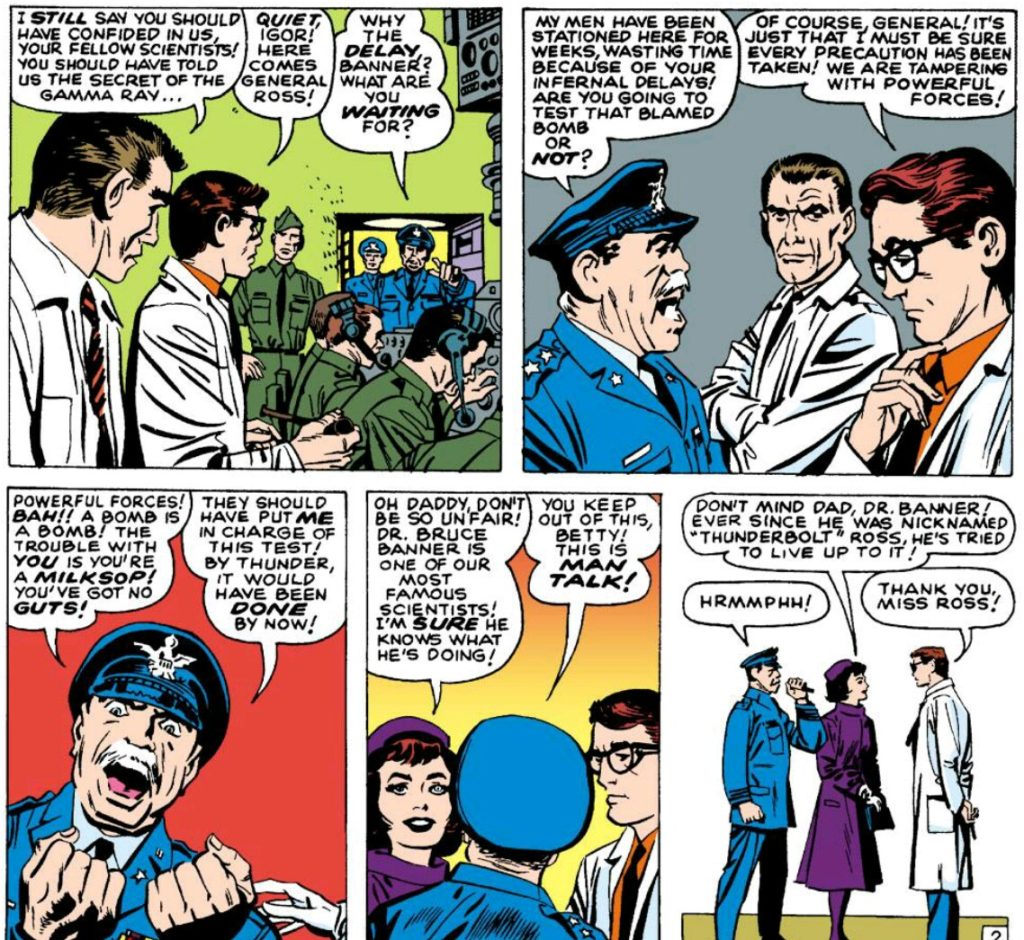 Hulk's a particularly curious trivia piece, as Incredible Hulk launched as Marvel's second solo superhero title, but then fizzled out after six issues. It's the first Marvel era cancellation, although to be fair, Hulk was simply moved to Tales to Astonish, where he shared half a book with Namor the Sub-Mariner.
In addition, Hulk is the only Marvel creation to actually start with a solo title and then move to an anthology collection. Everyone else starts in a book like Strange Tales or Astonishing Tales, and then progresses to the solo world (with Spidey's jump from Amazing Fantasy #15 to Amazing Spider-Man in a single month marking the quickest launch time).
9) Larry Lieber doesn't get a lot of hype as a foundational Marvel creative, but there he is in Strange Tales and Tales to Astonish, scripting the adventures of Ant-Man and the Human Torch.
10) For the record, asbestos is a heat-resistant fibrous silicate mineral that can be woven into fabrics, and is used in fire-resistant and insulating materials such as brake linings. Yes, I copied that from the dictionary, yes, that will continue to be used in approximately 100% of Human Torch related scenes. and no, I won't be able to resist asbestos puns for even one more minute.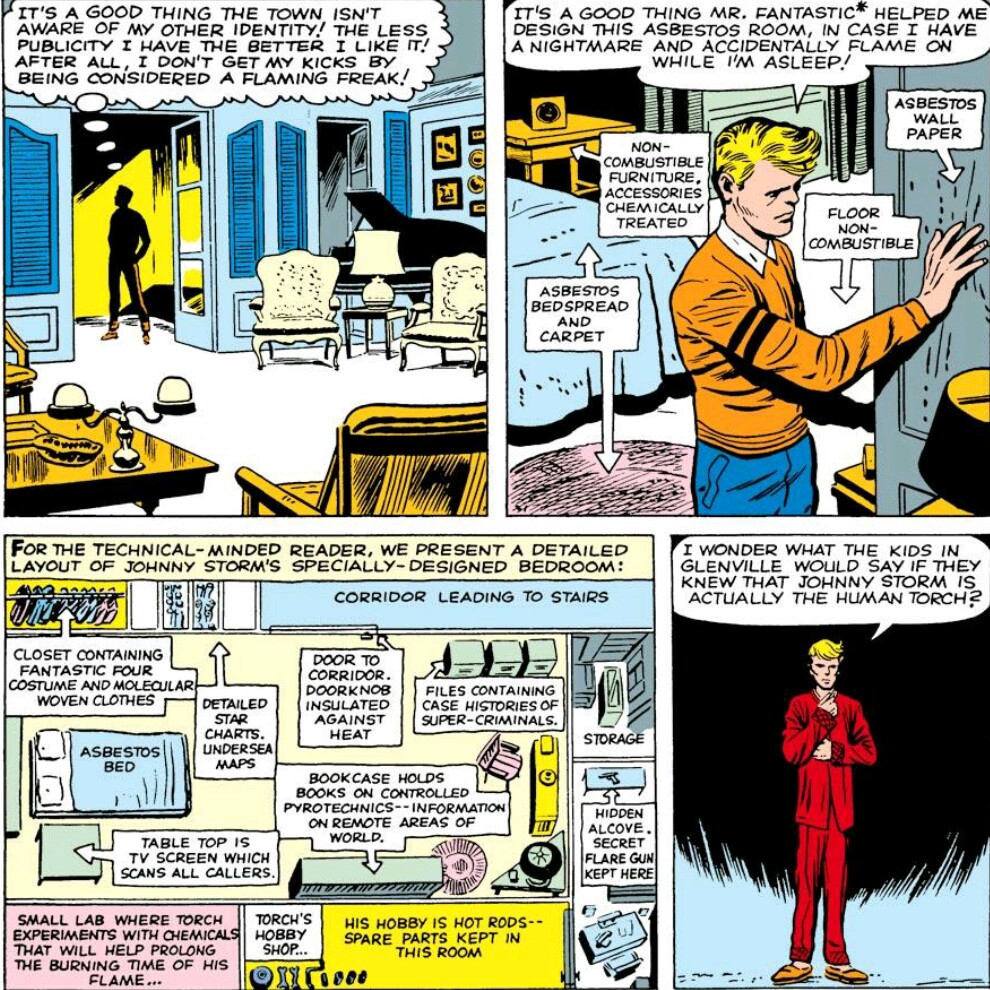 The Voting
Write-Ins Of The Year! – 1962 (and December 1961)
Some brief highlights of my favorite write-in votes that I didn't think to include in the options for MVH and MVV.
The Gargoyle / Communism – A dirty red is the villain, and then the redeemed hero! Say what you will about Stan Lee the Manly, but there's a recurring theme of heroism and heart in all people that is admirable.
We actually had multiple readers vote for The Commies as villain of the year, and I gotta say, that isn't going anywhere as we make our way through the 60's. This is likely unsurprising to any student of history, but the Cold War patriotism of early 60's America is rampant in Stanly the Manly's dialogue.
Invisible Woman  – Props to the lone voter who nominated Susan Storm as the pick for hero of the year. The early 60's aren't great to Sue (believe me, we'll talk about it), but she does have some shining moments. Perhaps none more so than saving the Fantastic Four from the clutches of Doctor Doom in Fantastic Four #5!
The Thing – We had write-ins for Ben Grimm (The Thing) as both hero AND villain of the year! No character in Marvel Year One experiences as much of a character arc as The Thing. The Ever Lovin' Blue-Eyed brawler isn't so ever-lovin in these early issues, as he adjusts to life as… a thing! It's hard to know how much Stan and Jack intended for his rage to quell as his innate heroism took over, but The Thing is mean-spirited, angry, and possibly suicidal (he straps an atomic bomb to his back) throughout the early part of 1962. His transformation – which is most identifiable in Fantastic Four #8 with the introduction of Alicia Masters – is one of my favorite parts of Marvel in 1962.
Comic Book Herald's Favorite Quote of 1962, AKA My New Response Any Time My Wife Asks Where I'm Heading
From Fantastic Four #2, The Thing: "I won't wait any longer! I'm going out… To Fight!… To Smash!"
The Marvel Comic Issue Of The Year – 1962 (and December 1961)
I quite unfairly did not cast this to a vote, but will do so moving forward. And since my selection here would undoubtedly spoil both the hero and villain of the year…
The Marvel Hero of the Year – 1962 (and December 1961)
Marvel Year One is likely the easiest year of MVP voting we'll see, as there are only four issues of Incredible Hulk, four issues of Thor in Journey Into Mystery, a handful of Ant-Man stories, and the origin of Spider-Man in Amazing Fantasy #15.
Spidey did make a late comeback to beat out Thor as our runner-up to 1962 Hero of the Year (by one vote!). It's hard to argue. Thor is undeniably solid out of the gate, laying the foundation for Asgard and Loki's trickery, but Amazing Fantasy #15 is an iconic origin story.
I was particularly amazed how much Spidey's actual origin differed from my memory. He's a real live TV star who passes on his responsibility to stop a burglar simply because he didn't feel like it!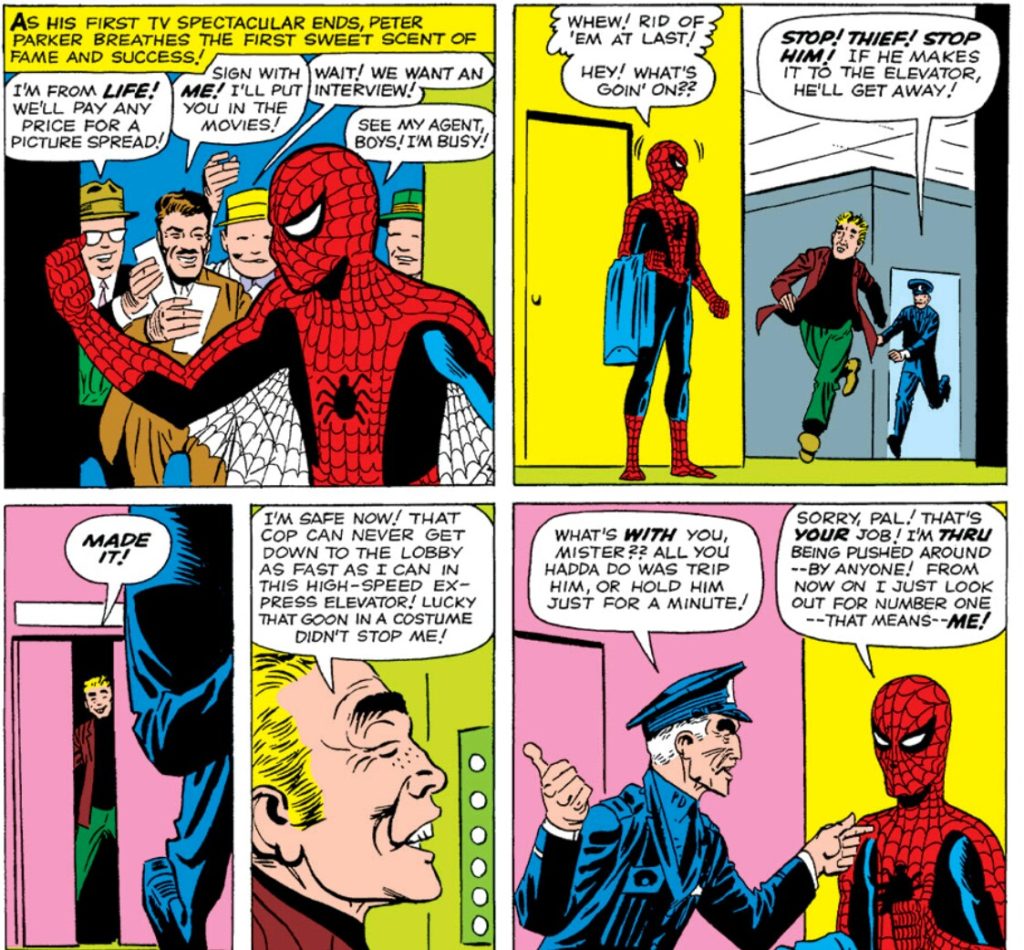 While the origin of my favorite super-hero of all time (Spidey) is worth celebrating, and Thor made a surprising dark horse run at second place in our voting, they can't hold a candle to a full year of Fantastic Four. The FF pulled in a majority 50% of the vote for 1962.
The Fantastic Four's first year is far from their best, and that origin is full of humorously dated moments, but it's certainly an achievement.
I'd also like to take this time to make one thing clear: you should try to read as many issues of Fantastic Four from this time period as humanly possible. These are all essential Marvel comics, and although we have to hone in on a few at a time, the first 100 issues of Fantastic Four should be in every Marvel fans back pocket.
Winner:
The Fantastic Four
The Marvel Villain of the Year – 1962 (and December 1961)
Villain of the year is a much trickier proposition than hero. We have the first appearances of Doctor Doom, Loki, and Egghead. Meanwhile, Sub-Mariner shows up in a typically villainous role 3 times from Fantastic Four #4 through issue #9 (unless, of course, you're asking smitten Sue).
To me, Doctor Doom, Loki, and Namor are the most captivating right out of the gate, so the question really becomes: who had a stronger first year?
Loki's attack on Thor in Journey Into Mystery #85 is fairly entertaining. The story begins with Loki imprisoned within a tree, able to control the plant just enough to shed a single leaf into the eye of Heimdall. Once free, Loki immediately travels to Earth to fight Thor, hardly his most cunning plan. Despite hypnotizing Thor and riding away on a literal flock of seagulls, Loki is bested by Thor in battle.
The real battle, though, as you all made clear, is between Doom and Namor. I have to admit I did not see this coming, with the Sub-Mariner hauling in 39% of the vote, and Doctor Doom narrowly edging him with 44%.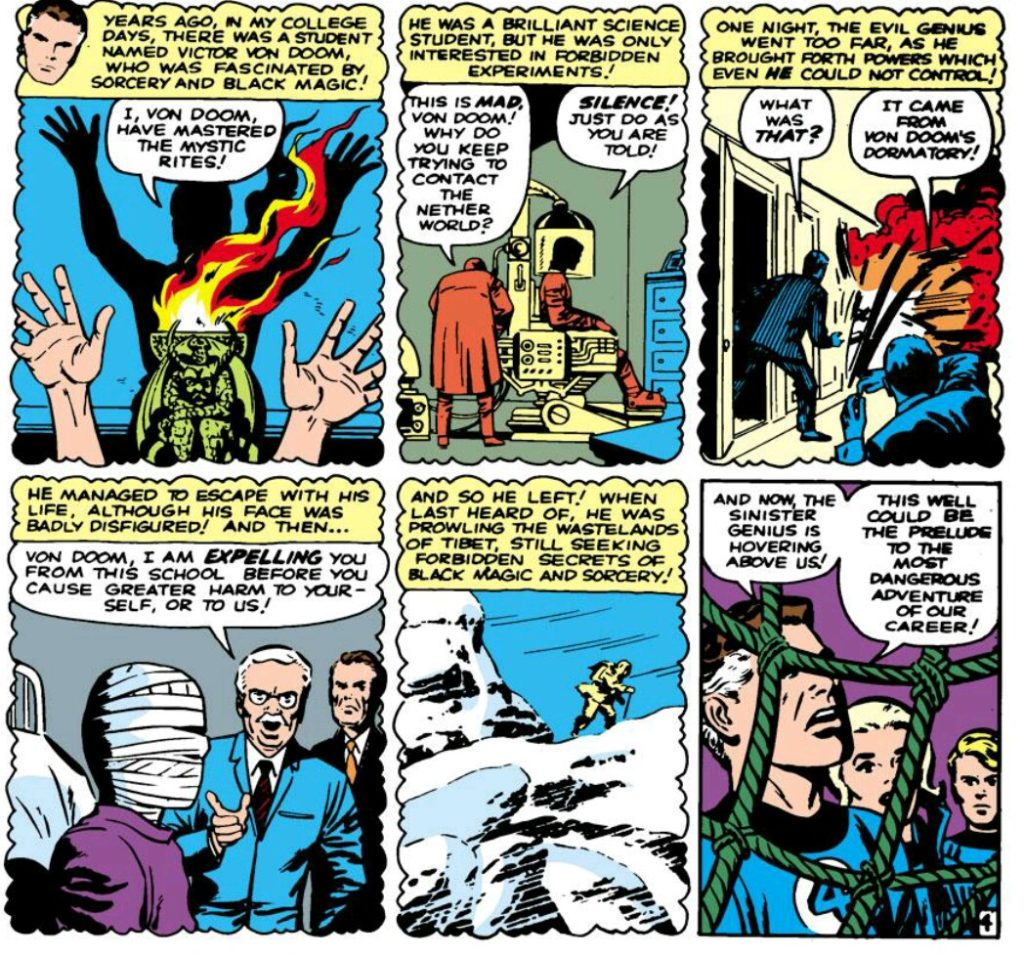 I have to agree with the people. In Fantastic Four #5, Doctor Doom captures and manipulates the Fantastic Four with ease. Not only that, but he forces Reed, Ben, and Johnny to travel back in time (on the time travel device he just up and built) to bring him the treasure of Blackbeard the pirate.
Maybe it's the residual 2015's Secret Wars in me, but all hail Doom.
Winner:
Doctor Doom
Next: My Marvelous Year – 1963
Heroically Support Comic Book Herald!
If you like Comic Book Herald, and are able to donate, any small contribution will help keep CBH alive and full of new comics guides and content. Donate here! Or, support CBH on Patreon for exclusive rewards! Or you can even check out the CBH Merch store and get something nice with a small portion benefiting the site! Thank you for reading!