Below you'll find our reading selections for the year of 1963, and at the end of our reading, you'll find my thoughts on the year and our winners for hero and villain of the year.
Feel free to discuss the comics and any related thoughts below in the comments!
Vote Here For Your Hero & Villain Of The Year! Voting closes on Thursday at 6 p.m. every week. New list and year every Friday throughout 2016!
Enjoy Comic Book Herald's 1963 Spotify playlist while you read!
1963 Comic Reading List:
Marvel Year Two – 1963
Thanks again to everyone for making My Marvelous Year so much fun so far! It's been a blast reading through all these old Marvel Age books with everyone, and you all are voting these things way too close for comfort. I've spent hours debating the Villain of the Year, and so far I've already used my phone a friend lifeline.
Support For Comic Book Herald:
Comic Book Herald is reader-supported. When you buy through links on our site, we may earn a qualifying affiliate commission.
Comic Book Herald's reading orders and guides are also made possible by reader support on Patreon, and generous reader donations.
Any size contribution will help keep CBH alive and full of new comics guides and content. Support CBH on Patreon for exclusive rewards, or Donate here! Thank you for reading!
But before I get to the MVPs…
5 Takeaways on Marvel Year Two
1) Stan and Jack: Hostages of Doom!
Fantastic Four #10 breaks the fourth wall so hard it's a wonder anyone bothered putting it back together. It's not just that we travel to the Marvel offices and see Stan and Jack working on a new concept for a Fantastic Four villain (still waiting on that Groucho Marx rogue issue). It's not just that Stan and Jack meet Doctor Doom, even though the last time we saw him he was riding a meteor into space. It's not even that Doctor Doom enters like a Scrubs gag ("Somebody say Dooom!!").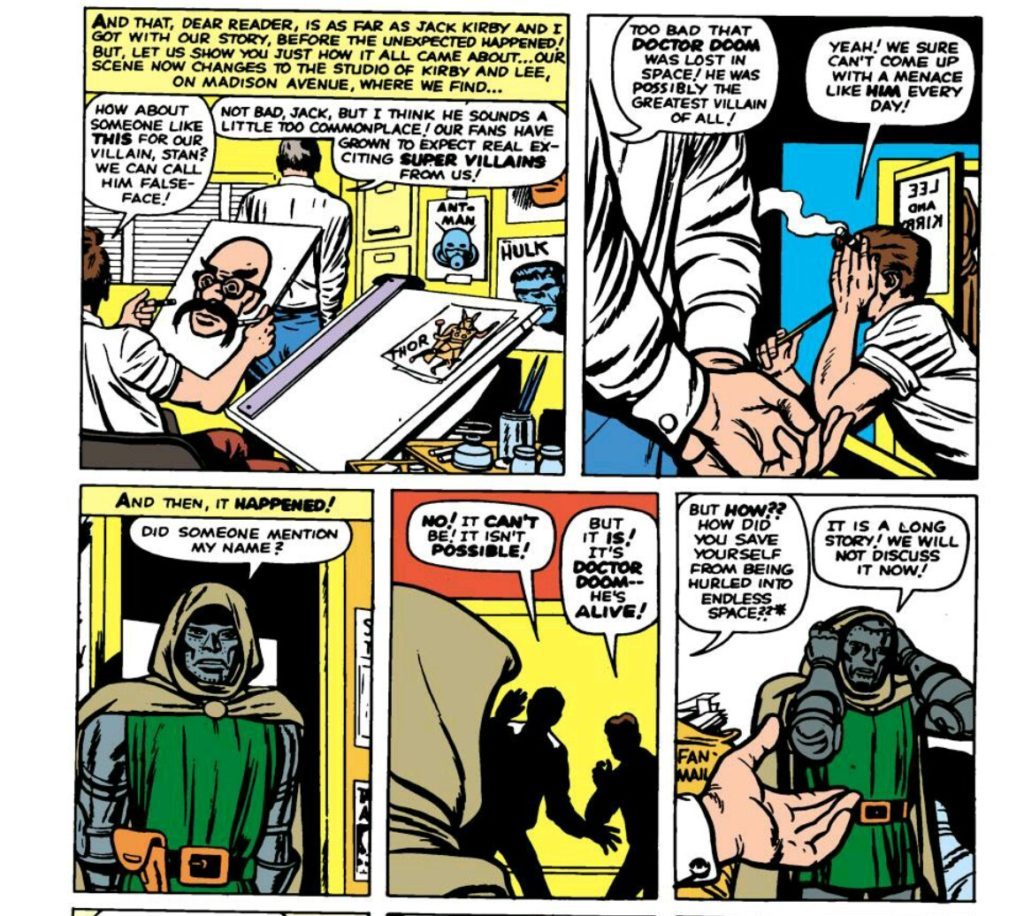 No, it's all of that, but it's mainly that the Fantastic Four are aware Stan and Jack are working on their stories, as they act them out. KABOOM!!! Put your brain back together after that. Even Grant Morrison's Animal Man
is sitting there like "How the heck did they pull that off? Also, be nicer to monkeys."
2) Peter Parker: Nerd, Hero, Labcoat
Not enough can be said about the nerdy aspects of Peter Parker. He's a teenage dweeb who says "Count me out, Kids. I can't make it!" to an invitation that was not even extended to him like some kind of scientific Statler and Waldorf. He's me!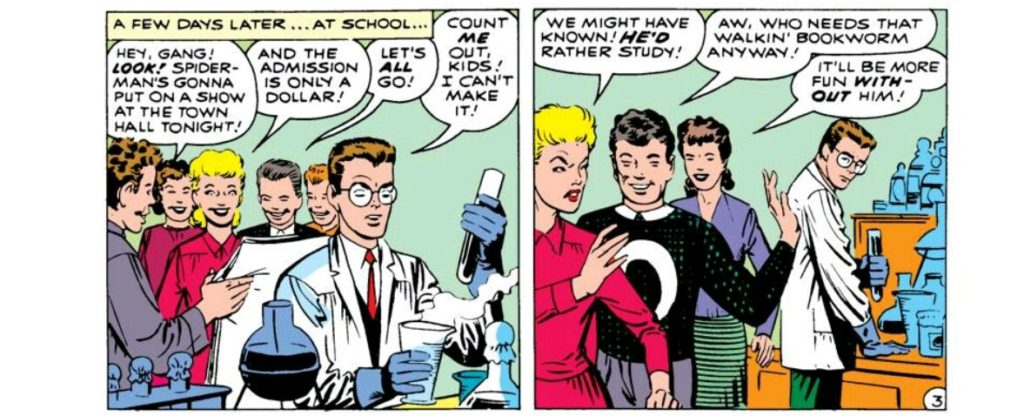 There's a reason Johnny Storm could never be Marvel's teenage hero du jour: he's way too cool. It is literally ancient history so I have no idea how true this is, but if you were doing things like Johnny (driving girls to watch the sun set on top of mountains), you probably didn't have issues of Strange Tales in the back. Unless of course you were actually the coolest person in the universe, in which case you did both.
Then there's Peter Parker, with his doting Aunt, antisocial proclivities, and smothering sense of guilt. If my Aunt was perpetually 90, I'd be looking in a mirror, and I have to think a lot of Marvel readers from the time felt the same.
3) Iron Man Starring in… Walk Hard
There's a fallability to Marvel heroes that makes them extremely charming. Just look at Iron Man in his first appearance. Tony builds the incredible Iron Man armor, Yinsin sacrifices his life to help Tony escape, and… Iron Man stumbles like a drunk baby in his first attempts to walk.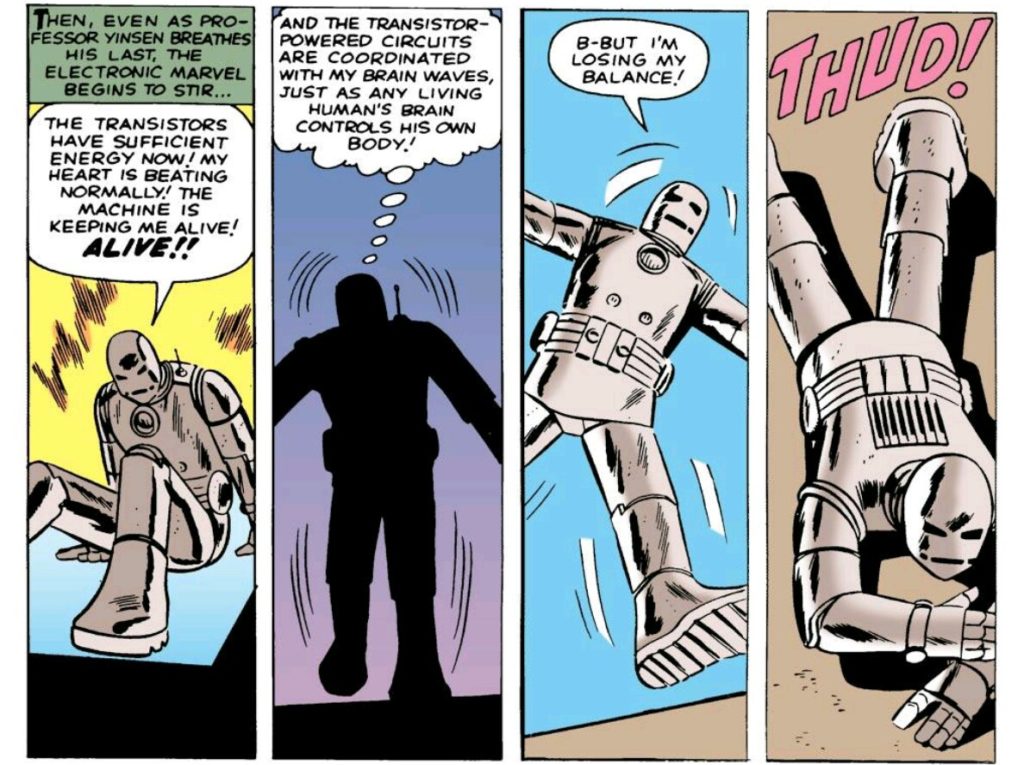 It's a funny scene, and a wonderfully realistic sequence as Tony adjusts to his new life.
4) King Kirby Goes H.A.M On The Baxter Building
There's a reason Jack Kirby fans ride for him like me any time someone mentions Green Day's American Idiot
(it's a modern classic, how dare you?!). Look at that Baxter Building design.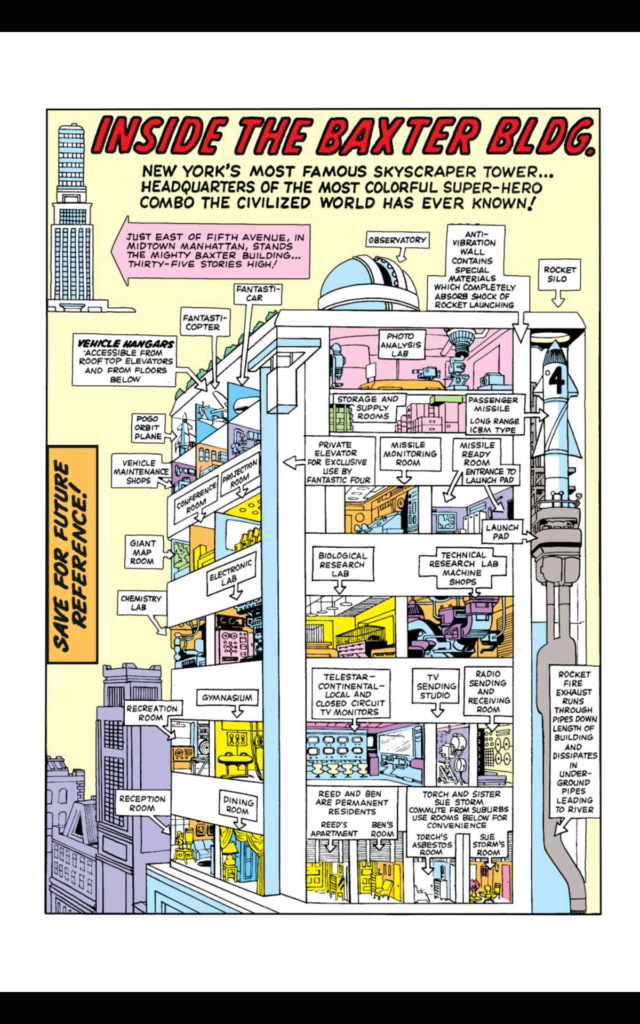 Forget for a moment that intensely dissected blueprints are the best, and look at all the detail and imagination in that one page. Yes, King Kirby created the images and action we associate with the Fantastic Four, Hulk, Avengers, X-Men, and too many others to name… but look at the right side of that building. He gave the Fantastic Four a rocket hanger! In their apartment!
5) Reed Yells At Fans About Women
There's been a fair amount of discussion so far about the inherent early 60's sexism in these issues. While it's not quite Mad Men
, it's certainly of the same world. I'd argue Stan and Jack (and co.) all have overwhelmingly positive intentions, but there's no denying women are treated as "silly females" far too often.
The best example of this is also the strangest. It wasn't part of the core reading, but in Fantastic Four #11 (the introduction of the Impossible Man, go figure), Stanly the Manly takes a moment to mouthpiece Reed Richards in response to fan mail (again, you can kiss that 4th wall goodbye).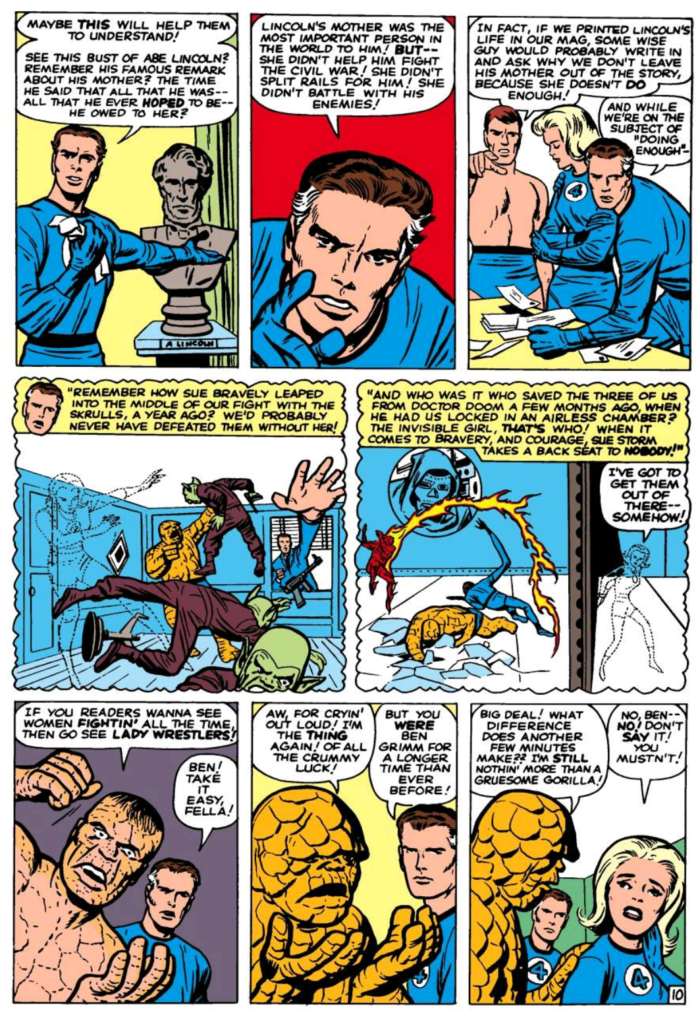 Reed suddenly and angrily starts yelling directly at the reader for saying Sue doesn't do enough on the Fantastic Four. He makes his point with an Abraham Lincoln quote, the assertion that women probably shouldn't/couldn't split rails, and an impromptu Lincoln bust the FF apparently keep in the Baxter Building.
Mostly good, right? They're totally defending Sue and working to convince all their readers that women have value and should be treated with respect.
Well… a mere PAGE later, we get the following exchange:
Sue: "I-I'm so choked up I don't know what to say!"
Ben: "First time I ever heard A FEMALE admit a thing like that!"
One step forward… and a Grimm step back.
Comic Book Herald's Question of the Week
Ok, seriously, who does the Hulk's make-up?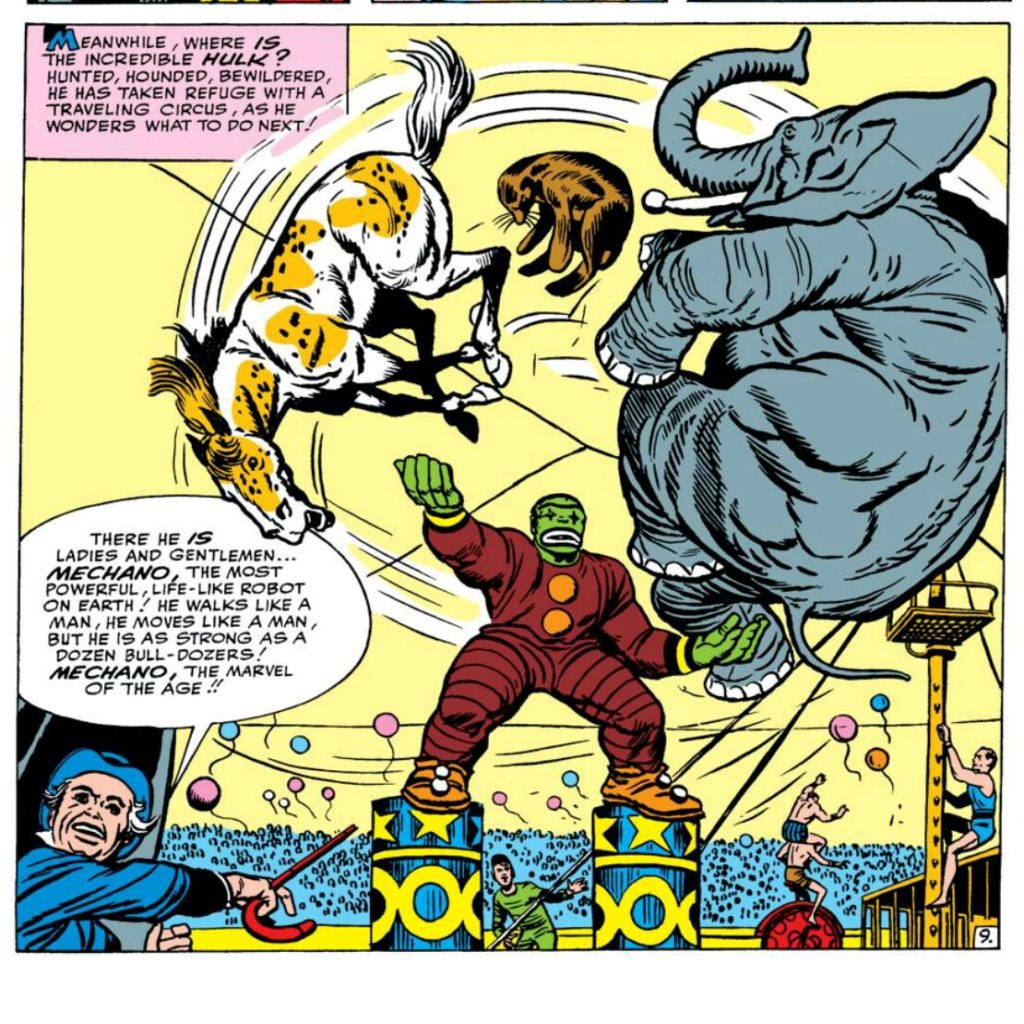 The Voting – 1963
The Marvel Hero of the Year – 1963
In 1962 the Fantastic Four won in resounding fashion with a majority vote. For 1963, we have a new winner in the Amazing Spider-Man, although he won the year in similarly convincing style! Spider-Man hauled in 58% of the Hero of the Year vote, for our strongest margin to date. The X-Men were a distant second place, and Doctor Strange and the Fantastic  Four tied for third.
It's not hard to see why Spidey would win 1963. The year marks Spider-Man's first solo title, with seven issues of Amazing Spider-Man, and the introduction of Chameleon, Vulture, Tinkerer, Doctor Octopus, Sandman, and the Lizard among his regular adversaries.
While The Thing's wise-crackin' certainly sets the tone for any Marvel heroes to come, it's possibly more exhilarating to find shy, bookworm Peter Parker coming alive in his masked heroic pursuits:
For me, the only counter-argument to Spidey's first championship would be that the Fantastic Four quite possibly have an even stronger 1963 than their title run in 1962. The FF really come into their own in 1963, with light-hearted comedy, familial disputes finally feeling like family and not just some people that can't stand each other, and that time Sue got magnetized to a Super-Ape's back and then they met the Watcher!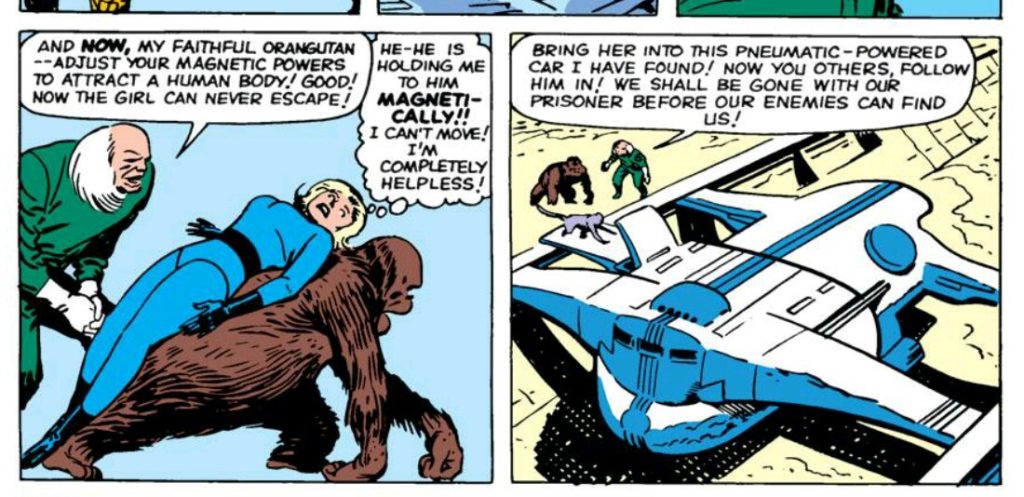 All that said… come on! It's the first seven issues of Amazing Spider-Man! He's our hero of the year for 1963.
Winner: Spider-Man
The Marvel Villain of the Year – 1963
If you thought 1962's showdown between Doctor Doom and the Sub-Mariner was close, just wait until you see 1963. While an expanded roster of villains drew more votes to the median, we still saw a tie nearly too close to call! Both Doctor Doom and Doctor Octopus received ~29% of the vote. The lesson, as always: Stay in school and get your M.D.,  kids.
I'll be honest, this one is hard for me. My default is to simply hail Doom in all matters, and 1963 doesn't offer a lot of reason to think otherwise. The good Doctor stars in some great miniature battles with the Fantastic Four and Ant-Man, he takes over Reed Richards body, plus Doom tries to get Spider-Man to join him to fight the FF in Amazing Spider-Man #5!
On volume alone, Doctor Doom would be a worthy winner. Here's why I downgrade Doom, though: he keeps losing in spectacular fashion.
It's one thing for a villain to lose (we can get used that here in the Marvel age), but after Jet-packing away from a burning castle and riding a meteor to an alien civilization in 1962, the next year finds Doom shrinking to a miniature universe and then hurling himself out of a moving plane to avoid capture. He is a one-man come-back-from-the-dead trope so far, and some of his most interesting facets are still missing (we'll see some of that in 1964).
So, despite my perpetual subservience to our benevolent God-Doom, our 1963 Villain of the Year goes to none other than Doctor Octopus.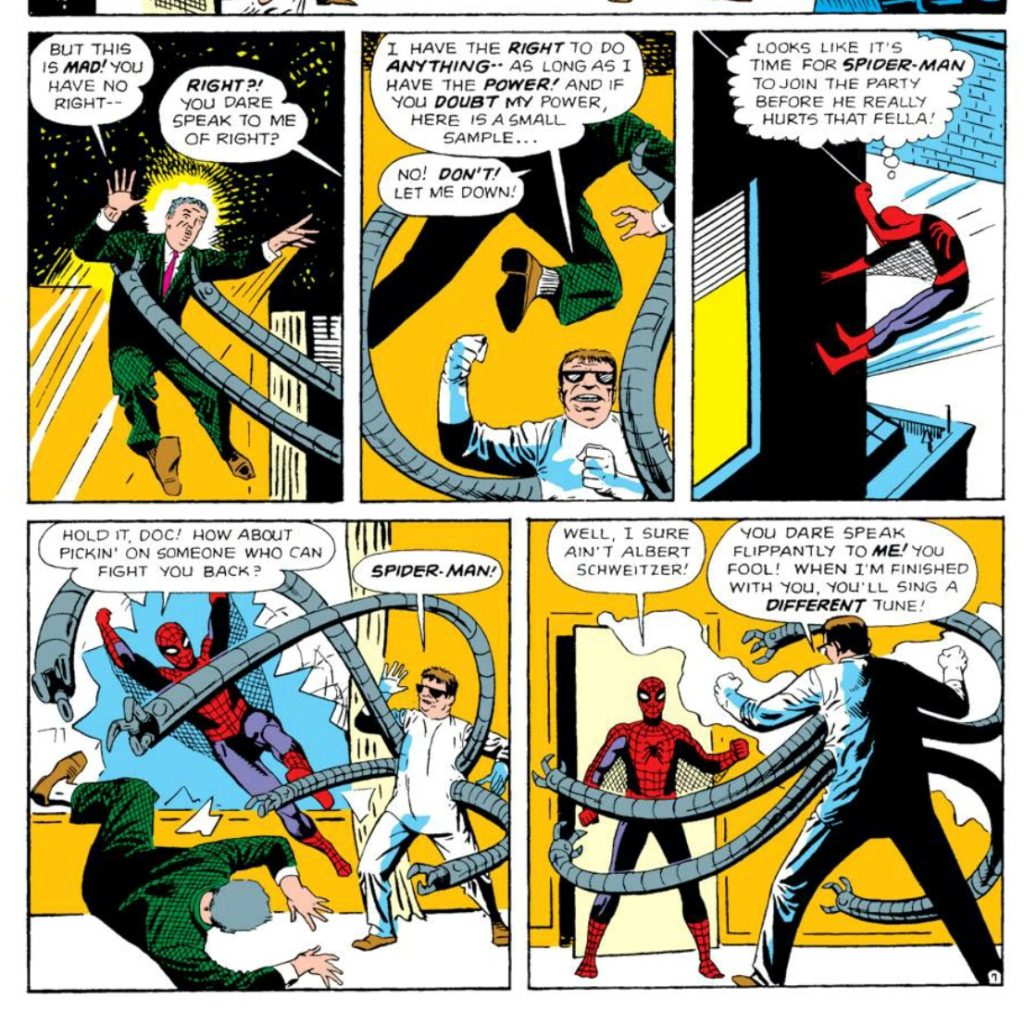 Doc Ock is another villain who is darn near 100% complete following his first appearance. He's so Doc Ock that his scientist colleagues call him Doctor Octopus before the explosion that fuses his deadly arms to his body.
My absolute favorite thing about Doc Ock's first appearance, though, and the reason he wins the title for 1963, is that he's the first Marvel villain to convince Peter Parker to give up on being Spider-Man. Otto whoops Spidey so bad he needs a surprise pep talk from the Human Torch to get back in the game!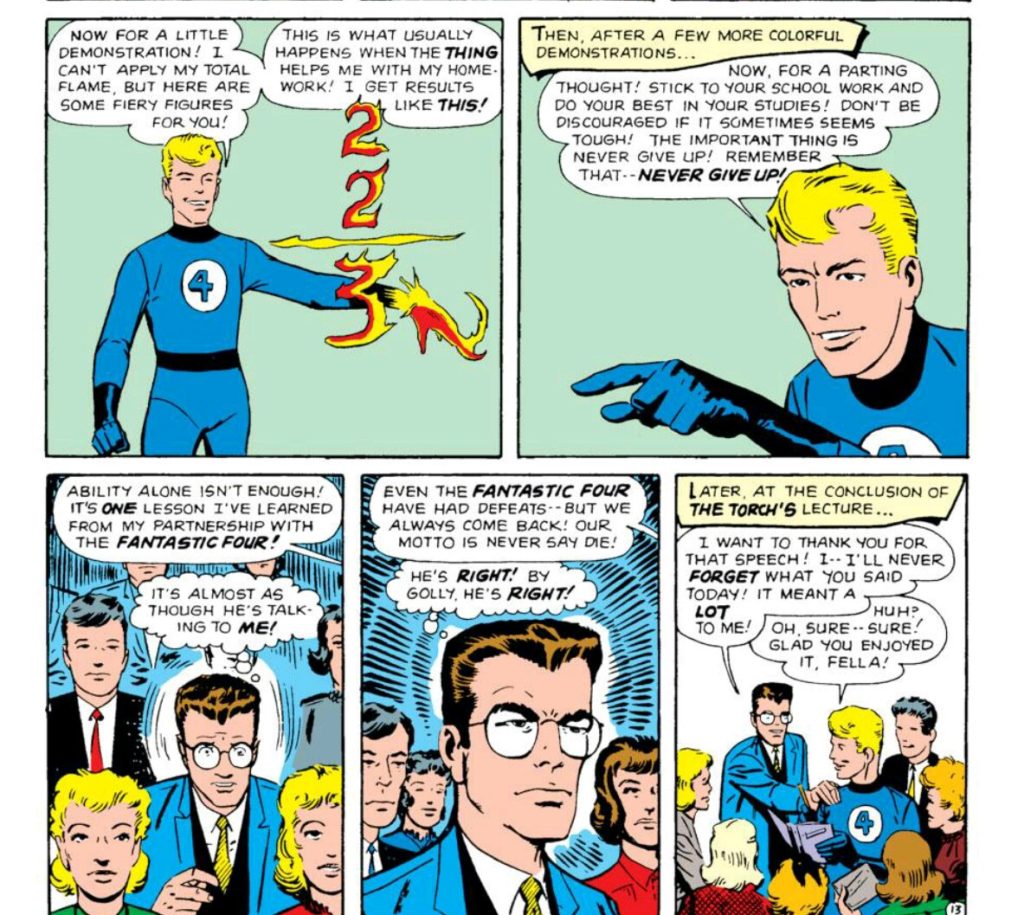 Amazing Spider-Man #3 introduces one of the most important themes in the series, with Peter's doubt and final perseverance driving him to never give up, even when it would be easier. For that reason, plus Stan Lee and Steve Ditko starting to discover their full set of powers on AMS #3, Doc Ock gets the crown for 1963.
Winner: Doctor Octopus
The Marvel Comic Issue of the Year – 1963
We actually had a TIE for issue of the year, with Uncanny X-Men #1 dead even with Amazing Spider-Man #3.
Now, if I'm going to be honest, my swing vote leans towards Amazing Spider-Man #3. The first appearance of Doctor Octopus features all the elements that make Spider-Man great, plus Doc Ock comes out of the oven remarkably well baked.
That said, well, as you've seen, I already gave Amazing Spider-Man #3 one swing vote by selecting Doc Ock for villain of the year. This time we'll give the swing to the people, and to a surprisingly excellent debut for Magneto and the young X-Men.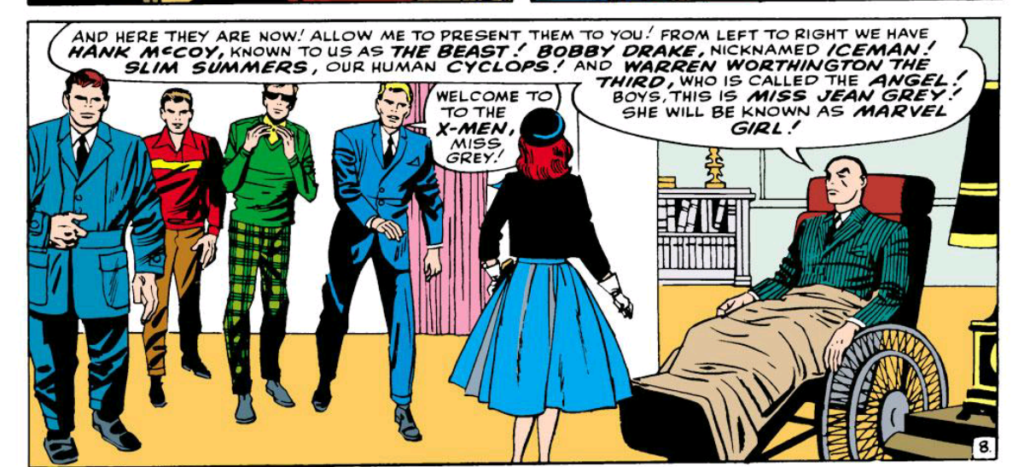 Uncanny X-Men will take a while to truly become one of the Marvel greats, but that first issue lays the groundwork for so much. As one reader pointed out in the club discussion below, it feels like Uncanny X-Men has been running for several issues when you hit this introduction. Professor Xavier's school is in full swing, with demerits flying around left and right!
I could entirely do without Charlie's creep factor (he introduces Jean as "a most attractive young girl," but don't worry, this will get much worse before it gets better), but I do love the Young X-Men. More importantly, Magneto acts and looks perfectly right out of the gate. You want to talk about Jack Kirby's imagination, he knocks Magneto's helmet and cape design out of the park on try number one.
Plus, Magneto's mission statement is already in full force, as he infiltrates a missile solo through sheer power.
So, yes, while Charlie Xavier wins 1963's Creep of The Year, Uncanny X-Men is a deserving winner for issue of the year.
Winner: Uncanny X-Men #1
Next: My Marvelous 1964
Heroically Support Comic Book Herald!
If you like Comic Book Herald, and are able to donate, any small contribution will help keep CBH alive and full of new comics guides and content. Donate here! Or, support CBH on Patreon for exclusive rewards! Or you can even check out the CBH Merch store and get something nice with a small portion benefiting the site! Thank you for reading!