Below you'll find our reading selections for the year of 1964, and at the end of our reading, you'll find my thoughts on the year and our winners for hero and villain of the year.
Feel free to discuss the comics and any related thoughts below in the comments!
Vote Here For Your Hero & Villain Of The Year! Voting closes on Thursday at 6 p.m. every week. New list and year every Friday throughout 2016!
Enjoy Comic Book Herald's 1964 Spotify playlist while you read!
1964 Comic Reading List
| | | |
| --- | --- | --- |
| 1964 | Comic Book Title | Issues |
| 1 | Tales of Suspense | #50, #54 to #55, #57 |
| 2 | Avengers | #4 |
| 3 | Uncanny X-Men | #4, #7 |
| 4 | Journey Into Mystery | #108 |
| 5 | Daredevil | #1, #4 |
| 6 | Fantastic Four \ Fantastic Four Annual | #25 to #26 \ #2 |
| 7 | Strange Tales | #126, #127 |
| 8 | Amazing Spider-Man | #11,#14 |
| 9 | Avengers | #8 |
| 10 | Amazing Spider-Man Annual / AMS | #1 / #18 |
Marvel Year Three – 1964
5 Takeaways on Marvel Year Three
1) 1964's "Don Draper Presents… Sexism!" Anti-Award
I think our clear winner for 1964's "Don Draper presents… Sexism!" anti-award goes to the below panel from Avengers #8. The Avengers confront Kang the Conqueror for the first time, and the Wasp's contribution to the fight is to assert that Kang is probably a nice hunk of man under that perfect Jack Kirby costume design.
Support For Comic Book Herald:
Comic Book Herald is reader-supported. When you buy through links on our site, we may earn a qualifying affiliate commission.
Comic Book Herald's reading orders and guides are also made possible by reader support on Patreon, and generous reader donations.
Any size contribution will help keep CBH alive and full of new comics guides and content. Support CBH on Patreon for exclusive rewards, or Donate here! Thank you for reading!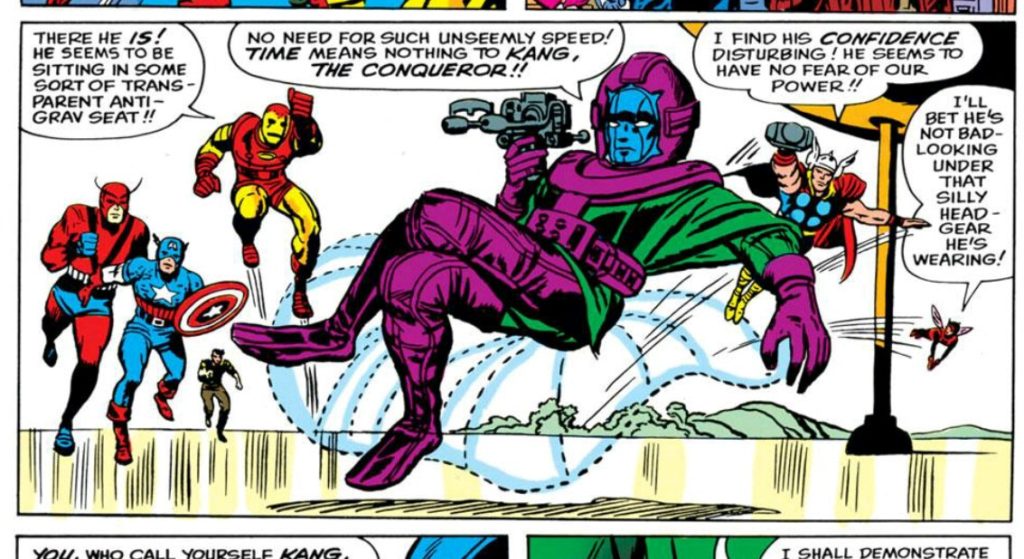 Ignoring for a moment that she's right (of COURSE Kang is a studly mcyumburger), I do kind of love how the Wasp flirts with anything that will move, presumably to get under Hank's skin. Hank is literally a giant stiff throughout Tales to Astonish and Avengers, so Janet poking fun at his expense is A OK in my book.
That said, we're a long ways off from The Wasp being more than the tiny, token female member of The Avengers. It's going to happen, I swear.
2) Lawrence of Arabia, British Beatlemania
Of all Stan Lee's early Marvel pop culture injections, this Beatles reference has to be the most easily recognizable. It's a clear window into the influence of pop culture on these Marvel books, as Beatlemania swept America by storm throughout 1963 and 1964.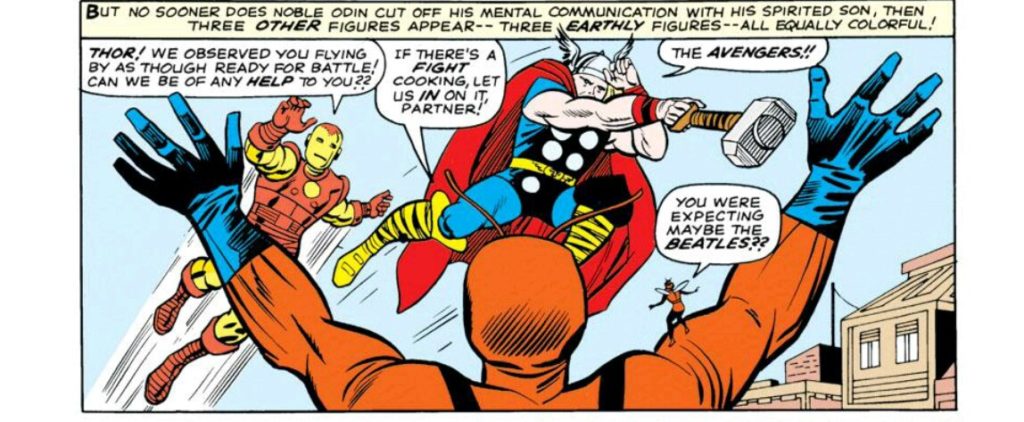 Nothing quite tops Ben Grimm wearing a Beatles moptop wig on the cover of Strange Tales #130, but the Beatles certainly had the attention of the Marvel bullpen.
3) Jagger's Got Those Moves Like Doc Ock
I read this panel and immediately brought a baking sheet of danishes and tea to the closest night club (end result: My wife told me to bring back the danishes she made and I spoke to no none).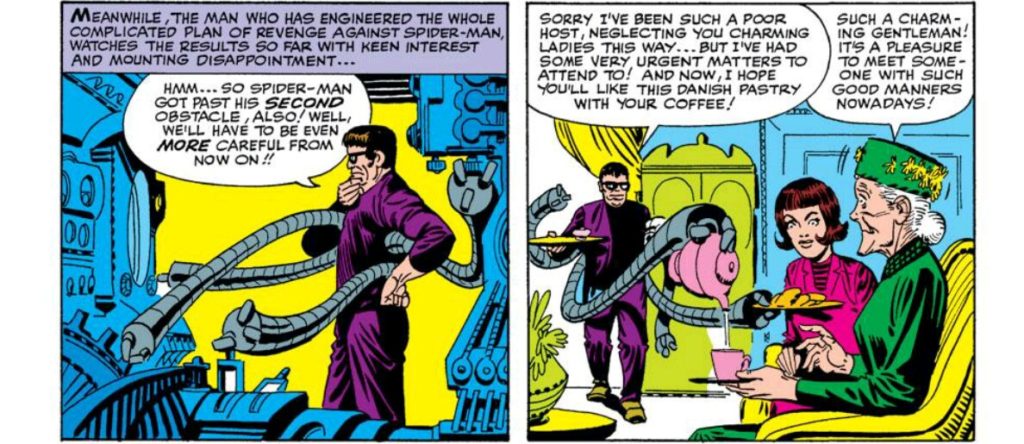 Doctor Octopus kidnapping Peter Parker's Aunt by coincidence, and immediately pulling out his suave Don Juan moves, is one of my favorite aspects of Amazing Spider-Man Annual #1. Of course, even that can't compare to Aunt May's enthusiasm for the lunatic known criminal. Get some Aunt May!
4) Bob Banner
If you needed any reminder that this is still very early Marvel, there's Stan Lee calling the Hulk's alter ego Bob Banner. While most of you will know him as Bruce, this little snaffu would actually go on to redefine the character as Robert Bruce Banner, and at least partially inform the 70's TV show starring Bill Bixby and Lou Ferigno.
It also develops the curious Marvel habit of explaining continuity mixups with even more complex plots and Marvel U factoids.
Speaking of Hulk, no Marvel hero has a more fascinating early yers progression than good ol' Bobby. For all intents and purposes, by the time we see him in 1965, Hulk is a failed hero turned villain. Fantastic Four #25 and #26 are basically World War Hulk, 40 years before that 2000's Marvel Event, with Hulk simply angry at the Avengers and taking it out on Earth. There is nothing heroic about the Hulk in these issues of Fantastic Four. Reed Richards asserts that the jade giant is "misunderstood" but there's no soft side in these issues. Hulk is more of a threat to New York City than the Masters of Evil!
5) Funny Credits!
Artie Simek and Sam Rosen might get my vote for 1964's Marvel hero of the year. The laconic letterers begin my favorite ongoing Marvel gag, with a neverending, ever-changing series of humorous, boisterous introductions for the creative team.
The Voting – 1964
The Marvel Hero of the Year – 1964
1964 is easily the toughest year of voting to date, with strong full years from Avengers, Amazing Spider-Man, and Fantastic Four.
Daredevil's entrance into the Marvel U was a fan favorite this week, with a strong run at second place and over 20% of the Hero of the Year vote. In my book, Daredevil won't be a serious title contender for several years, but I certainly agree that these early issues are both fun and fully formed. Much like so many of the other Marvel heroes we've seen introduced in the early 60's, Daredevil is almost entirely put together from issue #1, albeit yellow.
Personally, I think the vote comes down to the FF and Spider-Man. Both have strong 1964s, with the Fantastic Four basically taking a tour of the Marvel Universe (Avengers, Doctor Strange, X-men), Spider-Man tackling new villains like Mysterio, Kraven, and the Green Goblin, and both series featuring outstanding annual issues.
Here's the winning factor: The Fantastic Four's Annual #2 is ultimately more about Doctor Doom, than it is our fearless imaginauts. Yes, the opening page of Reed caught thinking about sexy Sue is hilarious given Reed's stodgy, brainy personality, but otherwise this is Doom's show, the FF just live in it.
Amazing Spider-Man Annual #1 is also villain-centric, with the formation of the Sinister Six, but it's ultimately about Spidey's ability to overcome his six greatest villains (minus the Green Goblin) all at once (even if Doc Ock's strategy is to actually avoid ever attacking all at once). It's an amazing issue, and much has been made in our discussion (appropriately) of Steve Ditko's art and splash pages for each villain.
End of the day, you need to be reading every Fantastic Four and Amazing Spider-Man issue you can get your hands on, but Spidey again narrowly edges out the win for 1964. The voters agree, as you all placed Spider-Man #1 with over 30% of the vote.
Winner: Spider-Man
The Marvel Villain of the Year – 1964
Much like 1963, 1964's villain of the year ballot is nearly too close to call. The Marvel expanded rogues gallery is sinister, evil, and timey-wimey at this point, and you could make a valid case for any number of characters.
In a particularly weird twist, 1964 gives us a realistic case for three future Marvel heroes, with Black Widow, Hawkeye, and the Hulk receiving votes for villain of the year! In my book, Hulk is the most villainous of the three, wreaking some serious destruction on New York City and Big Ben Grimm before the Fantastic Four and Avengers essentially luck out with his transformation.
The introduction of The Purple Man (no doubt fueled by David Tennant's remarkable performance in Jessica Jones), Sinister Six, Green Goblin and Mandarin also saw plenty of votes. The Mandarin in particular made a late run at over 15% of the vote.
Nonetheless, our winner is a familiar face (who would never actually, under any circumstances, show us his face): Doctor Doom.
1964 is a crucial year for Victor Von Doom, as we get his detailed origin in Fantastic Four Annual #2. Doom's entire foundation is solidified here, with his gypsy origins, cruelly taken parents, scientific acumen, and collegiate interactions with none other than… Richards! in a brilliant twist, Stan Lee and Jack Kirby also develop Latveria, as Doom's fictional territory and perpetual diplomatic immunity.
We also get the introduction of the Doom / Rama Tut time travel / continuity quagmire. If it seemed more confusing than necessary, don't worry, we won't really get a proper cleanup until 2001's Avengers Forever
.
Getting passed all that, the only non-action that could excite me more than a Riddler v. Batman riddle off, is a Doom v. Richards brain fight! It's a fun riff on what is becoming a familiar showdown, as Kirby's imagination machine (true story: he actually had a functioning one of these) tricks Doom into yet another defeat.
Winner: Doctor Doom
The Marvel Comic Issue of the Year – 1964
While Daredevil #4 and Fantastic Four Annual #2 received some love, Spidey issues cleaned up in the 1964 voting. The trick for everyone was figuring out which Spidey issue was most deserving of the title. Amazing Spider-Man #18 and Amazing Spider-Man Annual #1 actually almost split the vote, giving me more power than any one man should have yet again in determining a victor.
I've mentioned some of it already, but there is just too much I love about Amazing Spider-Man Annual #1. Spidey takes on the Sinister Six, the SS have a terrible strategy that makes for amazing Steve Ditko art, and Doc Ock charms the pastries off Aunt May. Oh, and Doctor Octopus takes his name absurdly literally and decides he'll fight Spider-Man in a tank of water, shortly after he puts his new scuba liscense into action.
It's not an easy choice, but the consistency of quality for an extended Annual issue does provide an edge, as does the humorous (and perhaps, soon, telling) behind the scenes gag strip from Stanly the Manly and Ditko. Our winner…
Winner: Amazing Spider-Man Annual #1
Next: Marvel 1965
Heroically Support Comic Book Herald!
If you like Comic Book Herald, and are able to donate, any small contribution will help keep CBH alive and full of new comics guides and content. Donate here! Or, support CBH on Patreon for exclusive rewards! Or you can even check out the CBH Merch store and get something nice with a small portion benefiting the site! Thank you for reading!