What many people thought would be a gimmick title has quickly become one of Marvel's most enjoyable books. Kamala Khan is a Palestinian/American who develops shape changing powers after the detonation of the Terrigen Bomb during the Infinity event. This book began with a five issue arc that established the character of Kamala, as well as her supporting cast, before delving into the world of capes and cowls. Ms. Marvel did not get her costume or really even her villain until the fifth issue. While it was surprising the pace that the series took, this was still a good thing for the story and the characters of the book. Now that all the introductions are out of the way, Ms. Marvel finally gets to participate in some costumed adventures. So, how well does this book transition from world-building to superhero action? Well, let' see.
Picking up where issue 6 left off, Ms. Marvel and Wolverine continue their fight against the mutated crocodiles of The Inventor. Not surprisingly, they prevail and continue on their way to locate a missing mutant. The interactions between the rookie (and pretty awestruck) Kamala and the veteran Logan as they scour the sewers takes up the majority of this issue, and they are a delight to read. G. Willow Wilson does a great job at presenting Kamala as an inexperienced, but headstrong and willing to improve hero who wants to do everything she can to help out those in need; as well as presenting Logan as a more world wearied individual, but who is willing to see his new friend improve in the life she has chosen for herself.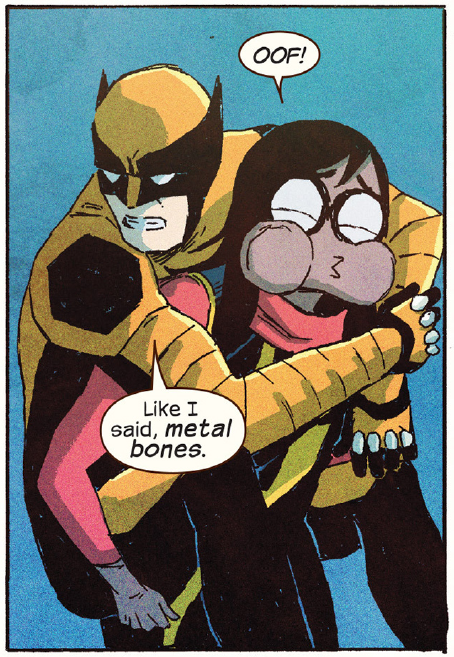 Jacob Wyatt's artwork is fun, energetic, and sweet at the same time. It effectively shows off Kamala's powers to shrink or grow parts of her body through contrasts between her and the environment, or those around her. Wyatt also uses impressive visual techniques to summarize the duo's travels through the sewer in a single page, as well as make it clear to the audience how the room the pair finds themselves in seems to be getting smaller. While I will miss Adrian Alphona if (and most likely when) he decides to the leave the book, I will have no problems if Jacob Wyatt is the one who replaces him.

What began as a very good retelling of a classic teenage superhero origin story has quickly begun to take on a life of its own. Kamala is a fun character who not only represents a positive role model for people who feel "different" or who "don't fit in" with what is considered "normal" in our society, but also a nice representation of superhero fandom itself. She's not a cheap punchline at the fandom's (and the reader's) expense, but a celebration of the fun and inspiration that can be experienced from being a fan of superheroes.
Ms. Marvel is book that gets better with every issue. Wilson is doing something special with an offbeat title that has so far remained fairly separate from the main Marvel Universe (Wolverine guest star notwithstanding). If you want to read a fairly straightforward tale of a teenage superhero trying to find her place in the world, this is just what you are looking for. If this seems too "trite" or "gimmicky" at first glance to you, Ms. Marvel has a lot of heart behind it and you would be remiss if you didn't at least give it a look, especially this issue and the last one. I also can't fault a hero whose favorite food appears to Gyros.
Support For Comic Book Herald:
Comic Book Herald is reader-supported. When you buy through links on our site, we may earn a qualifying affiliate commission.
Comic Book Herald's reading orders and guides are also made possible by reader support on Patreon, and generous reader donations.
Any size contribution will help keep CBH alive and full of new comics guides and content. Support CBH on Patreon for exclusive rewards, or Donate here! Thank you for reading!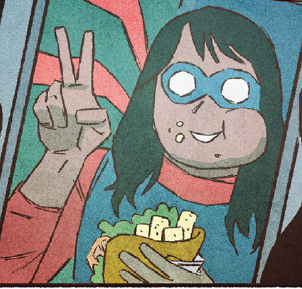 CBH Score: 4.5 out of 5