Once you've started enjoying the gift of Marvel Unlimited, one of your first instincts will be to share the finding with your friends and family. Well… your first instinct will be to lock yourself in a dimly lit room with your comics for the next three months. But after that, assuming we haven't been hit by a zombie apocalypse or the curse of Yorrick, you'll want to share. Can multiple people use the same Marvel Unlimited account across multiple devices?
In my experience, you can have multiple log-ins on the same Marvel Unlimited account. Personally, I am logged in across a phone, tablet, mini tablet and desktop at basically all times. This tells me two things: 1) I have too many devices and 2) there's no reason that couldn't be four separate people logged in across individual devices like that.
Unlike Netflix, Marvel Unlimited doesn't provide unique, personalized log-ins for different users, and in fact has no language around whether or not they intend to support this feature. So the short answer here is that you can share your log-in with friends and family, and that they should be able to use your Marvel Unlimited account.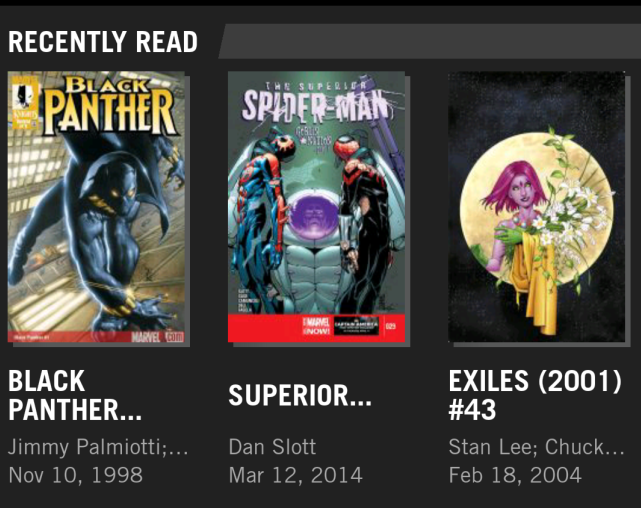 A caveat I would add here is that when I first started using Marvel Unlimited I shared with my brother and every time he was reading I would get logged out of the service. This was two years ago now (#romney2012) and it's not a problem I've had lately. Nonetheless, I mention it because this is an unsupported option and you are susceptible to whatever bugs plague Marvel Unlimited at the moment. I'll reiterate that it has not been a problem across both my personal and a test account within the last 6 months.
So if all that is true, why wouldn't you just pay for one Marvel Unlimited and share it across the globe? There are two primary reasons.
Support For Comic Book Herald:
Comic Book Herald is reader-supported. When you buy through links on our site, we may earn a qualifying affiliate commission.
Comic Book Herald's reading orders and guides are also made possible by reader support on Patreon, and generous reader donations.
Any size contribution will help keep CBH alive and full of new comics guides and content. Support CBH on Patreon for exclusive rewards, or Donate here! Thank you for reading!
The first is that I have no idea how many users can use the same Marvel Unlimited account all at once. There is very likely a bandwidth limit here, if not actual alarm bells sounding when Marvel's Unlimited squad detects one account with 45 users across 45 unique IPs. On the test account that I use for 5-10 people, I was completely unable to load almost any comics last night. Could this be device, wi-fi, or android streaming update specific? Absolutely. Could it also be that two users were already using the account and it was bogged down? I'm not ruling it out.
The slightly less anarchist reason against sharing without bounds is that offline reading and library selections have – to date – been at the account level. So if Johnny in Pittsburgh maxes out the twelve issue offline reading limit with Rick Remender's Uncanny X-Force (good pick, Johnny), Big Phil on the island of Maui can't also select Mark Gruenwald's Squadron Supreme for his offline commuting needs (it's a long flight inland). If you use Marvel Unlimited away from wi-fi frequently, this limitation is reason enough to check out the service at the extremely reasonable $70 / year price point.
Recently, I've noticed for the first time that I was able to select offline reading on my phone separate from the offline reading I had already selected on my tablet. If this isn't a fluke and holds true (note: at the time of posting this has already reverted; so looking like a fluke for now), this is a tremendously nice new option. I set 12 offline issues on my tablet for my commute to and from work on the train. But then when I get to work, or when I'm traveling with just my phone, I have had those same 12 issues aligned to potential offline reading on my phone.
Thing is, I selected the issues (in this case Exiles) for tablet reading because 1) I wanted to enjoy the series and 2) I didn't want to have to deal with smart panel reading problems cutting off text. I don't want to read those issues on my phone, but I am happy to read the final chapter in Superior Spider-Man on a smartphone because I know the smart panel reading will be higher quality (true of really any Marvel NOW or later series).
The ability to set a different set of 12 offline books for each device will be a great addition, and will also reduce the impediments to sharing an account across multiple users. I'll be keeping a close eye to see how this feature holds, and whether this is an intentional feature of update 2.2, or an unintended side effect.