In the slightly altered, immortal words of Ben Grimm: What a potent development!
One year after Marvel announced the Marvel Unlimited app at SXSW '13, the publisher returned to SXSW '14 to announce some exciting upgrades to keep pushing the Unlimited comic reading possibilities. 
New Marvel Unlimited App Features
Two new technological developments, Adaptive Audio and Marvel AR integration, are undoubtedly the stars of Marvel's announcement.
Both upgrades are undoubtedly innovative uses of Marvel Unlimited's unique position within the comic book marketplace. Adaptive Audio incorporates strategically designed soundscapes, including background composition and sound effects, into the comic reading experience. The effect is similar to the Motion Comic experiment Marvel tested with books like Extremis or Joss Whedon's Astonishing X-Men, but see for yourself:

Marvel AR integration is an even more logical connection between Marvel's recent forays into digital comics tech. If you've been reading any ongoing Marvel series, you likely know all about the red 'AR' logo Marvel has been incorporating into comic pages. With the floppies, all you have to do is pull up the AR app on your phone, scan the logo, and find yourself watching exclusive content from the creators and editorial team about the comic in your hands.
Support For Comic Book Herald:
Comic Book Herald is reader-supported. When you buy through links on our site, we may earn a qualifying affiliate commission.
Comic Book Herald's reading orders and guides are also made possible by reader support on Patreon, and generous reader donations.
Any size contribution will help keep CBH alive and full of new comics guides and content. Support CBH on Patreon for exclusive rewards, or Donate here! Thank you for reading!
It's a really cool idea, but I've had all sorts of problems with the app execution. I've probably been able to view maybe 2 interviews, and generally just find myself interrupting my comic to look like I'm searching for a QR code that just doesn't exist.
The integration of AR into the already digital Marvel Unlimited is brilliant synergy (#execspeak) and will hopefully make for much smoother access of this bonus content.

It's worth noting here that, much like Marvel's original app announcement, this is all for iOS users only. So if you have an iPhone or iPad, check it out. The audio feature is currently available on Brubaker & Epting's Captain America: Winter Solider story arc, while the AR integration is available on Jonathan Hickman's Marvel Now! Avengers.
And if you have an Android? Seek out some sharp corners, and pray the enhancements are rolled out for our unloved souls soon.
Enhanced Marvel Unlimited Reading Experience
As potentially fun as those new features are, I'm significantly more excited about the basic improvements to the Marvel Unlimited reading experience.
For starters, the smart panel option is now light-years better than its original incarnation. The experience now closely resembles Comixology's guided view technology, which is a very positive improvement.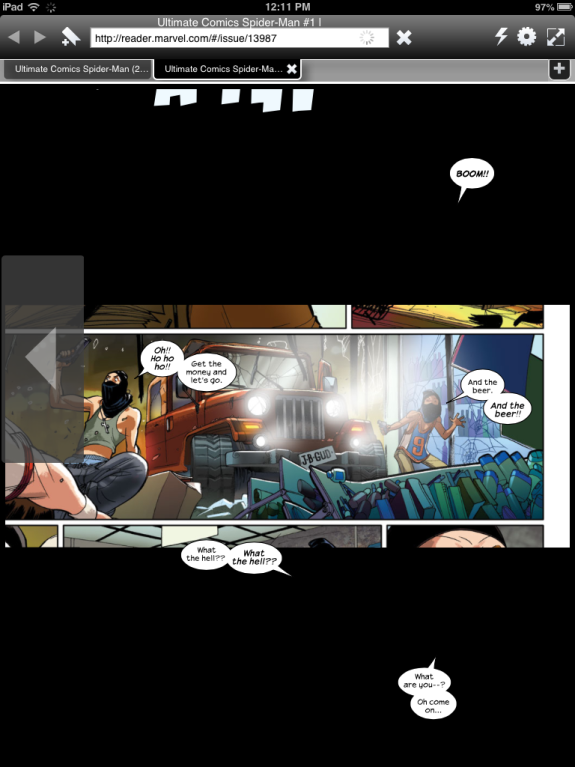 The enhanced panel mode has proven effective on both new and older comics as well. I read two issues of Fraction and Bagley's Fantastic Four, followed by the entirety of Chris Claremont's 1982 classic God Loves, Man Kills.
Both reading experiences were enjoyable, and actually the smart panel mode on God Loves, Man Kills was much nicer on the iPad. With FF I was able to read in single page mode very conveniently, but with Claremont's dialogue sprawling all over the place, the panel view made reading more palatable.
My other absolute favorite development is that when you finish a comic now you get an option to read the next issue! Wooohooo!!! Seriously, Huzzah!!! Let's all take a moment to celebrate.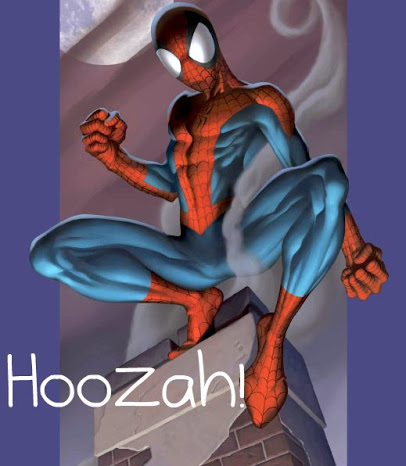 So What Does This Mean For Marvel Unlimited?
I've been saying for a while now that Marvel Unlimited is a remarkable offering, and a visionary way for Marvel to embrace digital comics.
But I've also been saying that without much external pressure from competitors, I didn't know how much Marvel would push themselves to fix a lot of the problems fans are noticing.
To me, the focus the publisher – and let's face it, these days Marvel is far and away the publisher to beat – is putting on Marvel Unlimited at an event like SXSW is a great sign.
The more Marvel enhances Unlimited, the faster the slam the door shut on DC's neanderthal approach to digital.
I have some problems with the Netflix or Spotify comparisons to Marvel Unlimited, but the general idea of online libraries with immense repositories of easily accessible content is clearly a big part of entertainment media's future.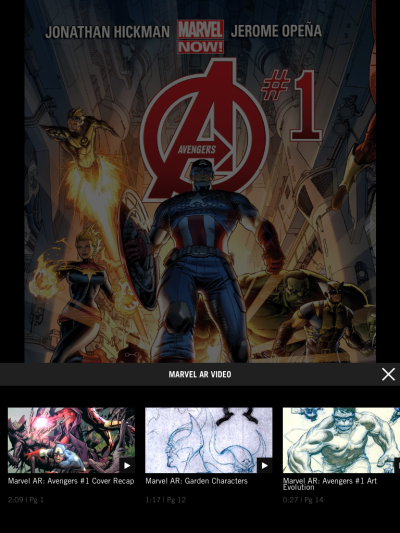 The WWE's new online-only wrestling channel is a great recent example of brands embracing this style of media. The site is being lauded for its remarkable depths of wrestling videos. Fans can spend hours at a time (do I hear a days?) exploring the content that they love for a mere $10 a month.
This is of course the exact thrill that Marvel Unlimited presents. All the Marvel Comics, all the time, any time I want them.
The easier Marvel continues to make consumption, and the cooler the features they add, the bigger of a no-brainer Unlimited becomes.
And from there, think of the possibilities. If Marvel Unlimited is where comic book fans go for their reading fix, why would Marvel need to use a third-party like Comixology? Why not just sell new comics directly through Unlimited, giving subscribers a chance to buy digital and add new releases directly to their impossibly giant library?
 What do you Think?
All in all, I'm clearly pretty excited with the news. I'm waiting with baited breath for these updates to hit Android (and to correct the existing problems there in the same stroke). I'd also like to see some sort of timed panel transition option with the adaptive audio feature. What if I want to do dishes/lift weights/pet a cat while reading a comic. Hands free comics! It's always been a dream.
But enough about me. What do you think? Do what feels right to you in the comments.