In October 2012, Marvel rebranded their entire line of comics under the "Marvel Now" banner, an era that would effectively last for three years until 2015's Secret Wars. It's a fan favorite era of comics, under the editorial reign of Axel Alonso, with titles like Hawkeye, Superior Spider-Man, Thor: God of Thunder, and Jonathan Hickman's Avengers among many others.
2022 marks the 10 year anniversary of Marvel Now, so at Comic Book Herald, we'll be looking back at the best, most interesting, or just downright most confounding Marvel Now titles. This is "Marvel Then."
The Silver Surfer. Cool design, awesome concept, but the character? Norrin Radd himself? Maybe a little lacking in personality, right? Not due to bad writing, but rather the very point of the character when he was first introduced. He was the Herald of Galactus and the man who chose planets for the Devourer of Worlds to eat. Such a character had to be written as lacking in emotion; willing to let Earth be consumed, until finally persuaded otherwise by the sheer force of human good.
And so the characterization continued, even after the Surfer handed in his notice to the big planet-eating guy. When his emotions do come out, they normally take the form of melancholy, guilt, or all-encompassing cosmic rage. As a result, his stories also tended towards the reflective (no pun intended) and serious. A classic example would be Silver Surfer: Requiem by J. Michael Straczynski and Esad Ribic. Generally considered one of the finest works on the character, this miniseries dealt with the cheery concept of Radd confronting his imminent death.
In short, the Silver Surfer was never a Marvel hero whose books you would read if you wanted to smile. Until Dan Slott and Mike Allred came along. For readers who like a healthy dose of laughter in their comics, these two were always going to be a dream combination. Slott had previously produced acclaimed, superhero-sitcom-esque works for Marvel such as She-Hulk and The Thing. And of course, 2014 found him in the middle of his decade-long run on the most famously wisecracking hero there is. Allred's back catalog was just as funny but perhaps a touch more absurdist. Best known for his creator-owned Madman, his biggest Marvel work before Silver Surfer was the fantastically irreverent X-Force/X-Statix
.
Support For Comic Book Herald:
Comic Book Herald is reader-supported. When you buy through links on our site, we may earn a qualifying affiliate commission.
Comic Book Herald's reading orders and guides are also made possible by reader support on Patreon, and generous reader donations.
Any size contribution will help keep CBH alive and full of new comics guides and content. Support CBH on Patreon for exclusive rewards, or Donate here! Thank you for reading!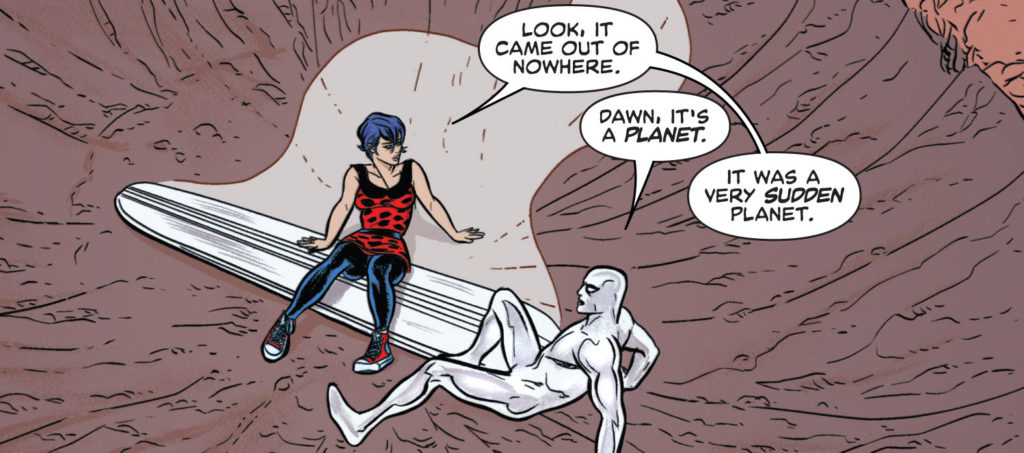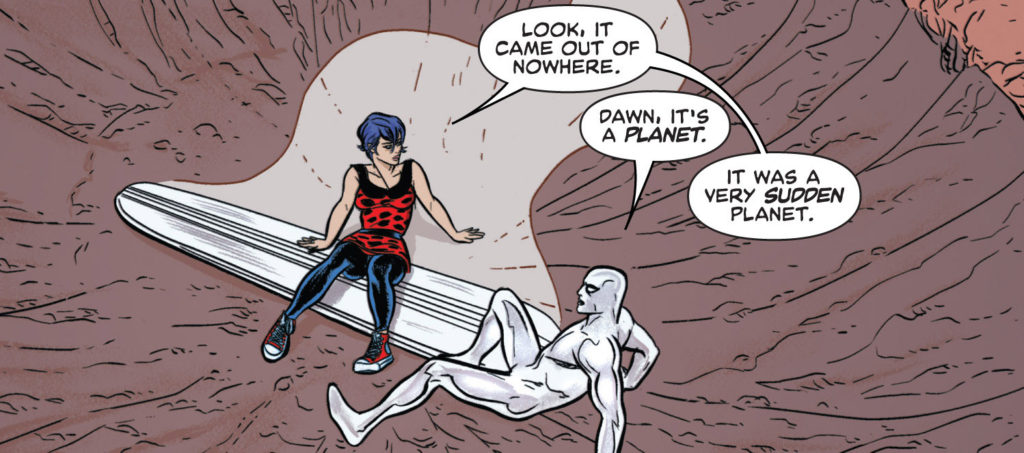 Their Silver Surfer
run started in 2014 under Marvel Now, and ended in 2017 as part of All-New All-Different Marvel, with a brief and relatively standalone Secret Wars tie-in bridging the two volumes. But it's all one story, 100% Slott and Allred, and the central conceit boils down to "what if the Silver Surfer were more like Doctor Who?" Slott, a massive fan of the British sci-fi show, has been very upfront about its influences on the run. The most important element he and Allred decided to borrow–or rather, "Steal," Slott laughingly corrected himself in one interview–was a human companion and gradual love interest for the otherwise stoic cosmic hero. And thus was born the character of Dawn Greenwood.
The intent behind Dawn, and indeed the entire run, can be summarized by one Dan Slott quote:
"…for the most part, you look at Surfer and he's this Shakespearean-spouting guy from the top of a bowling trophy. It's hard to literally get under his silver skin. Giving him a human companion though, a character who's eye-level to the reader, grounds him."
What Slott's writing achieved was all of this and more. Dawn's character did indeed metaphorically ground the Surfer; or just "Norrin," as he is referred to frequently in this run – another writing device that humanises him to a level previously not seen. But Dawn also opens the reader's eyes to all the cosmic insanity that a former Herald of Galactus deals with as part of everyday life. Even Norrin's point of view starts to shift, as he realizes that he's been taking some of the universe's wonders for granted, seeing them now through the eyes of an Earth girl.
The planets and races we come across in Norrin and Dawn's episodic adventures are unlike any we've seen in older Silver Surfer stories. As befits the storytellers, they are less bombastic and more comedic; many have more than a touch of The Hitchhiker's Guide to the Galaxy about them, sometimes blended with the pathos of characters encountered by Slott's beloved Doctor. Indeed, Slott cited Hitchhiker's Guide as additional inspiration for the run, along with Red Dwarf – the man loves his cult British sci-fi. I would hazard a guess that Disney's Aladdin was also on his list of influences; the Surfer's cosmic board takes on a sentient personality in this story, somewhat reminiscent of a certain much-loved carpet. Displaying the board's emotions via a "magic mirror" reflection of the person looking into it is a terrific touch.
Allred's pop art style is a wonderful fit for the story and tone, with the whole series coloured by his regular collaborator and wife Laura Allred. Between them, they produce the kind of eye-popping palette and unique character design that Jack Kirby would have been proud of. Reading Silver Surfer in physical format adds another layer to the enjoyment; in addition to the plentiful and delightful double-page spreads, most pairs of single pages are pleasingly matched to each other in palette and layout. The Allreds are a vastly underrated artist-colourist duo. Their work and style are timeless, and 20 years from now there will be almost nothing that dates the art of Silver Surfer to the 2010s specifically. It is one of many factors that the run has going for it in terms of potential to be an all-time classic.
Another factor is the sheer range of emotions that this book will make you feel. In all the comics I've ever read, only Locke and Key compares to this run in terms of shifting seamlessly from comedy to romance to suspense to heart-rending tragedy, whilst also remaining true to its key genre; in the case of Locke and Key, fantasy horror; with Silver Surfer, space opera. Slott had his share of critics during his Spider-Man run – who wouldn't over the course of ten years – but Silver Surfer is proof that he is right up there with the very best comic writers.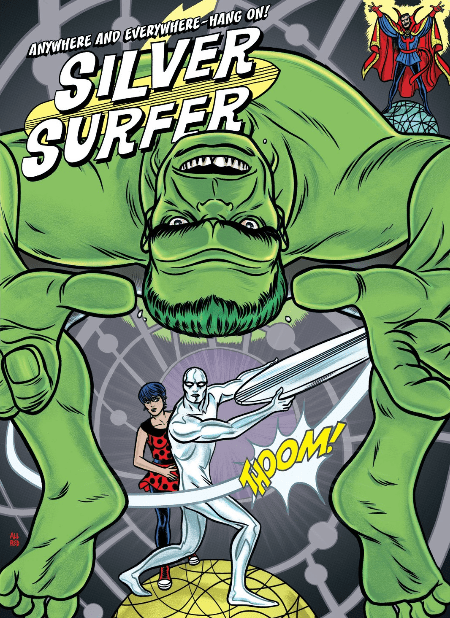 Unfortunately however, the run remains somewhat under-read. To avoid paying ludicrous eBay prices, I had to hunt down copies of the trade paperbacks at charity shops (thrift stores, as you know them across the pond). The well-earned omnibus has been out of print for years, although another print run is coming later in 2022. In my opinion, the reason Silver Surfer was relatively overlooked can be summed up in one word: Saga. There was only really room for noise about one beautiful, emotion-tugging, drily funny space opera in the mid-2010s, and often it was not Slott and Allred's. It's telling that the only year Silver Surfer was nominated for the Best Continuing Series Eisner Award was the year that Saga was not. It's a shame, as the tens of thousands of Saga fans out there would have found a lot to love about this book. The one Eisner that Slott and Allred did win was the 2016 Best Single Issue for Never After #11 of the first of their two volumes. The issue is a testament to their skills as storytellers; it's a Mobius strip of a story that requires you to turn the book upside down, go back to the start, re-read sections, and ultimately break the loop with a Mad Magazine-style fold-in. Reading it physically and digitally are completely different experiences, but it's well worth getting a physical copy if you can, even as a single.
It's always great to see creators push the boundaries of what can be done in the comics medium, but Never After is not quite the high point of the Silver Surfer run for me. That praise is reserved for the end of the run, which is quite simply the best ending I have ever seen in a comic. Close this tab if you haven't read the book yet, although I will try to keep it vague. I have seen many writers have to make a tough choice between a happy ending and a bittersweet one. Slott is the only one I know of who has said "nah, I'm gonna do both." And within the parameters of the story and the worlds he and Allred created, it works perfectly. I was left in awe at how successfully they pulled the ending off; foreshadowing had occurred throughout the run, from the very first issue.
I reread the entire run immediately after finishing it. Knowledge of the ending gave me not only a new perspective on several moments, but tons of respect for the evident planning of that ending from the very start. What had seemed like one-off characters and adventures became key components of the final chapter. Slott and Allred even managed to throw a creation myth into the mix, albeit one indebted to past Marvel lore.
Silver Surfer was one of the last new series to be launched under the Marvel Now imprint. It is also comfortably one of the best, and that's saying a lot. Don't be put off by the dour version of the Surfer you might have in your head. Don't worry about not knowing what happened in Secret Wars (although worry a little if you want to be completely spoiler-free for that event). Just grab the book wherever you can, including Marvel Unlimited, and dive into an incredible cosmic tale, and just a hugely fun ride to boot.