As most loyal MDCU readers know by now, after years of fruitless flashless iPad failure, Marvel Digital Comics Unlimited has recently released their new Beta Reader. The new reader makes digital subscriptions easily accessible on iPad or iPhone, but as with any Beta product, there are some kinks. After around two weeks with the MDCU reader, how does the future of digital comic reading look?
Update 3-12-13: Marvel has recently announced their free Marvel Digital Unlimited app for iPhone and iPad. The app uses its own technology for comic reading, but it looks and feels exactly like the beta reader. It seems clear at this point that Marvel simply prefers the design and functionality of the new beta reader, which is all laid out in detail below.  END UPDATE!
For the most part, the new MDCU reader is looking very promising. After a very rocky start to the reader, with a borderline impossible method of flipping from panel to panel, the reader has reached a nice state of working functionality. Lack of iPad/iPhone accessibility has been one of very few downsides to Marvel Digital Comics Unlimited, so it's pretty exciting to see Marvel really reach out for the needs of the fans here. One imagines they did so with open hearts and joyous grace.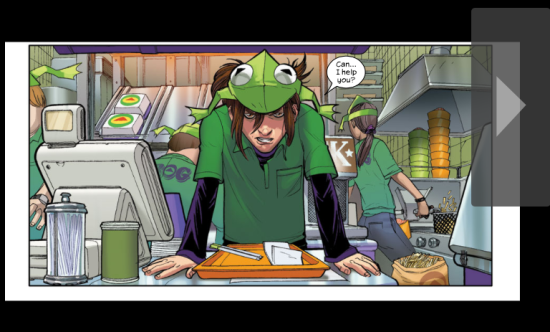 And what you're seeing above is a sample, smart-panel view of the new MDCU reader. That big arrow on the right hand side of the iPad. Just tap that puppy (but do it with a less gross sounding expression) and you're on your way to the next panel.
Of course, this is assuming you set your comic to "Smart-Panel" reading. For some inexplicable reason the default reader setting is currently "One-Page." I think it's likely this will change as the Beta progresses (if you're reading a comic on your tablet or phone, presumably you'd like to see the text at some point, and this isn't really plausible without the panel-by-panel smart reader guidance.) In the meantime, it's just a matter of selecting the icon in the lowermost righthand corner and clicking "Smart-Panel."
Support For Comic Book Herald:
Comic Book Herald is reader-supported. When you buy through links on our site, we may earn a qualifying affiliate commission.
Comic Book Herald's reading orders and guides are also made possible by reader support on Patreon, and generous reader donations.
Any size contribution will help keep CBH alive and full of new comics guides and content. Support CBH on Patreon for exclusive rewards, or Donate here! Thank you for reading!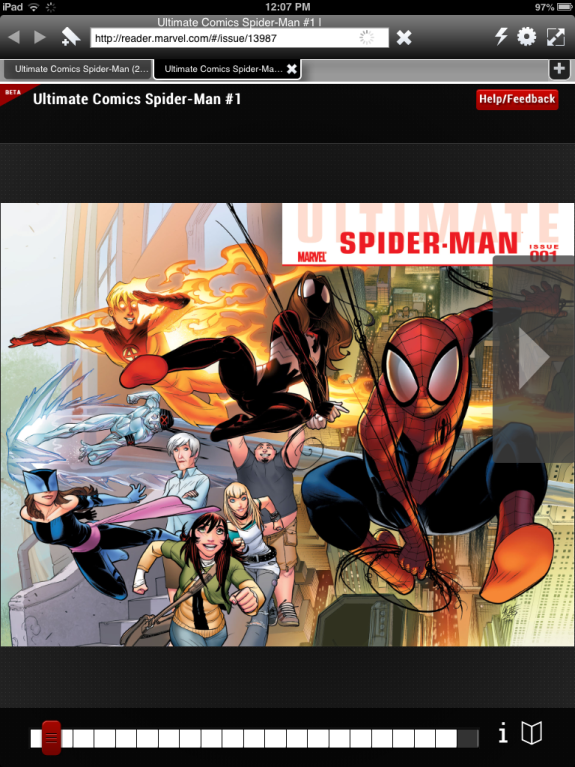 As you can see, it's a pretty nice-looking reader when it's working. For those familiar with comixology, you know just how fantastic looking a comic is on an iPad, and the tap-to-change-panels experience here is equally simple.
The only real issue I have with the reader right now is simply losing balloons and panels in Smart-Panel mode. It's one thing to just have to slide your finger and see a few more centimeters of a panel, but it's another thing entirely to see random balloons in the black void of your iPad.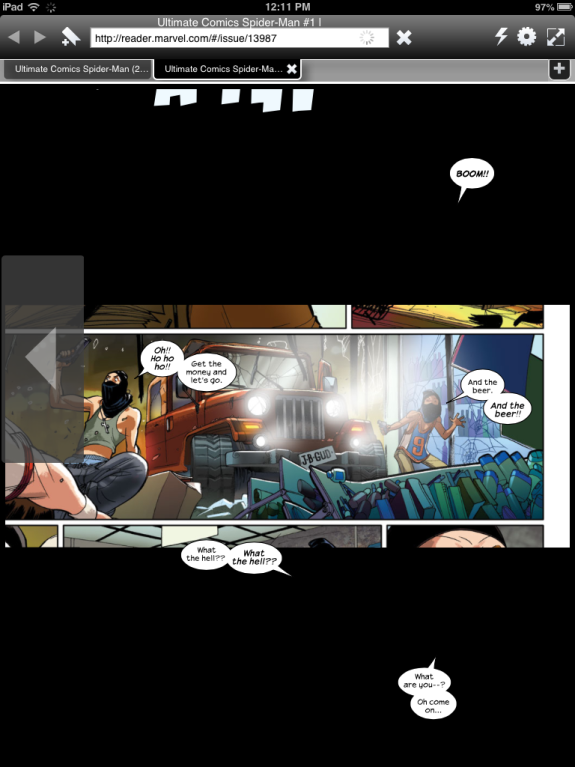 This is fairly common with many issues right now. I read three issues of the Ultimate Spider-Man comeback this weekend (post-Ultimatum. Guys… what happened to the art?) and Dark Avengers #141 (a Siege prelude, and oddly enough the #1 'Most Read' comic on MDCU). USM had limited issues (see above) and Dark Avengers #141 was unreadable because of incorrect panel transitions and misplaced dialogue.
Again, though, this is still early Beta we're talking about. Being overly critical of the reader would be like watching one of those "Louis CK before he was famous!" videos and telling all your friends he's an overrated hack.
Right now, three weeks into a world of MDCU on iPads, the new reader is well on its way to becoming the answer to all our previously unheard, Flash-driven prayers. No more extra steps involving my iPad flash-workaround once this thing is finalized. It's not the reader we need; it's the reader we deserve.
How Do I Get the MDCU Beta Reader?
This is a pretty good question. I'll walk you through the way to switch between the new Beta reader and the old familiar way (which is still my preference for the record. At least until the misplaced dialogue is straightened out some more), but there's no guarantee every subscriber is a part of Beta testing. If you got an e-mail asking if you'd like to participate, you're in. If you're not sure, login to your MDCU account and click 'My Account' (you'll have to move the mouse over your username in the upper right navigation bar). Scroll down a little and you should see the below:

It's a quick click and your reader settings will change. Pretty easy.
I'll be keeping an eye on any Beta reader developments and updating the blog as changes occur.
Have any reader related questions still bugging you? Let me hear about it in the comments and I'll see what I can do to help. Thanks for stopping by!