Marvel Comics has been giving away a LOT of free stuff lately. And not just your standard "here's an old issue of a second-tier story" digital giveaway.
Recent Marvel freebies have included every #1 issue in their publishing history, as well as the starting issues of their digital Infinite Comics line.
As a fan, this is clearly great. But is this a sustainable business model for Marvel, and is it good for the comic book industry as a whole?
The concept of the freemium as a business model gained a lot mainstream attention the past few years. A recent study of iPhone app revenue found that 71% of revenue came from in-app purchases within free apps. The remaining 29% came from Avengers Alliance fans looking for a way to play the game on their iPhone or iPad.
In other words, here's the business strategy: You give the product away first, hook a new customer, and then upsell them on bigger and better ways to continue enjoying the experience they've grown to love.
Support For Comic Book Herald:
Comic Book Herald is reader-supported. When you buy through links on our site, we may earn a qualifying affiliate commission.
Comic Book Herald's reading orders and guides are also made possible by reader support on Patreon, and generous reader donations.
Any size contribution will help keep CBH alive and full of new comics guides and content. Support CBH on Patreon for exclusive rewards, or Donate here! Thank you for reading!
It's an impressive case for the freemium model, but many of us have already seen this in action in the digital space. Some examples:
Spotify – You can listen to as much music as you darn well please on Spotify, completely for free. The catch? If you want to lose the ads and gain access to the iOS app, you can pay a monthly $10.
After falling in love with the convenience and extensive catalog, the on-the-go app seemed too good to pass up. What once was free is now an ongoing payment.
Evernote – You can store all your notes, photos, and ideas in Evernote for free… at least until you hit the upload limit. At that point, you can either stop storing and transferring ideas, or give in to paying for the service. With a billion dollar company valuation, it would seem this strategy is paying off for Evernote.
For Marvel, the most glaring example of the freemium strategy – prior to the Comixology #1 promo – is Marvel: Avengers Alliance.
The flash-based Playdom RPG lets you fight the villains of the Marvel Universe with your favorite heroes. You can sign up for an account right now and never pay a dime to play.
The natural reaction here: so what's the catch? Well, as Avenger's Alliance players know, you CAN enhance your experience by paying real money for in-game gold. You can then use this gold to buy new heroes, or gear, and really dominate the Avenger's Alliance landscape.
As catches go, though, this isn't that extreme. You can enjoy the impressively expansive gameplay of Avengers Alliance without ever paying – it is far from a requirement to enjoy the game. You'll just need to have more patience collecting new heroes – or easy access to unsuspecting parent's bankrolls.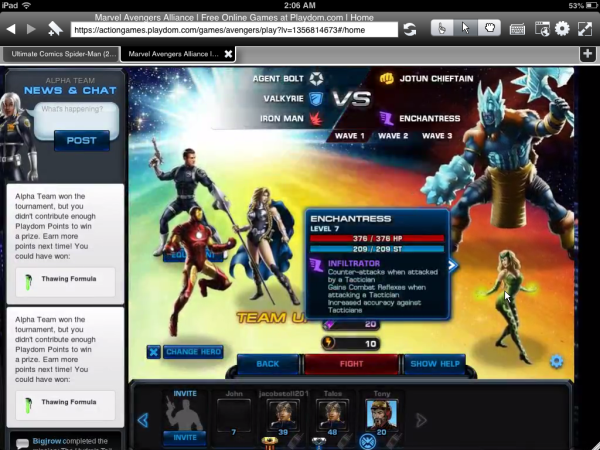 The upcoming Marvel Heroes MMORPG is looking to take a similar approach. Players will be able to run around this encompassing Marvel Universe without ever so much as sacrificing their burrito money.
Admittedly, this starts to sound a little crazy. This is a full-scale online video game… and they're giving it away?
True story. The monetization strategy appears almost exactly the same as Avengers Alliance, only a larger scale. Yes, you can play for free as long as you like. But if you want to play as ALL of your favorite heroes, you'll have to pony up some dough.
For Marvel Heroes, this means 'Premium Packs' of certain heroes in various costumes. Check out this Wolverine pack for an idea.
It'll definitely be interesting to see if this pay-to-really-seriously-pay strategy pays off in the case of Marvel Heroes, as I'm assuming a lot more development hours and funds go into the creation of an MMORPG than a game like Avengers Alliance.
As For the Comics…
As indicated with Marvel Digital Unlimited, Marvel has always been a little more willing to let their biggest fans really dive into the Marvel Universe at a clear loss for Marvel.
Of course, in the case of Marvel Digital Unlimited, there's still a monthly fee (even if it doesn't even cover the lost profit of a single trade paperback).
The recent strategy to truly giveaway digital comics is a slightly new turn, at least on this level.
If you have the Marvel Comics app, or Comixology, you know that Marvel frequently offers free single issues. This is the freemium concept at its simplest. Ideally, you read a free Spider-Island preview and then purchase each issue of the ongoing.
Executing it on the scale of every #1 issue in Marvel history is a different kind of push for digital. This promotion isn't purely for people who are already browsing their Comixology app for deals; this is the kind of giveaway that gets fans to sign up for a Comixology/Marvel account altogether.
The long-term effect here – assuming the promotion is a success, and judging from Comixology's crashed servers, it will be – is increased exposure to digital comic reading, as well as increased exposure to any and all Marvel series.
It's easy to forget, but Marvel Now! launched a mere 6 months ago. This relaunch is still early enough in the cycle that a new reader can conceivably pick up the first issue of a Marvel Now! title and quickly catch up on the next 4-5 issues.
I think this is the brilliance of the #1 giveway. At this point, 6 months removed from launch, all the fans who were going to pay for the first issue of a series probably did. In fact, they did so in huge numbers.
What you'll see from that Publisher's Weekly study, is that readership retention of Marvel Now! titles is hitting surprising lows. Although a #1 issue surge from collectors and general passer-bys is to be expected, the downward trending retention data is troubling.
What better move for Marvel then than to give a whole new wave of readers the chance to have that #1 issue experience and determine for themselves what they'd like to keep reading?
Naturally, you'll see low retention – undoubtedly even lower – with these readers as well. A big chunk of the audience will just take what is free to them and carry on.
But personally, reading issue #1 of Jonathan Hickman's New Avengers immediately convinced me that I was a fool to keep that off my pull-list. I haven't made it to issues like Jason Aaron's Thor or Superior Spider-Man, but it's very possible reading those first issues might have the same effect.
Infinite Digital Comics for Free!
When you combine the massive #1 digital initiative with Marvel giving away their first Infiniti Comic series, you have a truly focused digital push.
Infinite Comics was one of the major Marvel announcements to come out of SXSW, with the promise of comics written directly for the digital platform.
I have to admit, I've always found that concept questionable. What would it really mean to make a comic directly for digital?
Marvel has found an interesting answer in their Guardians of the Galaxy preview issues, and it seems to be:
1) An enormous focus on layouts and panel movements. These comics don't simply swipe from left to right.
2) Taking the potential of animated motion comics and translating it to the digital space. Instead of a weird failed animated TV hybrid, you just get a cooler digital comic.
Here's a sample of Marvel using a single panel to provide a truly digital progression. Each tap of the screen adds another layer, rather than jumping forward to the next panel as expected:
I'm a fan of the three Infinite issues I read. It's a fun reading experience on an iPhone or iPad, with more life-like characters. Issue #2, you really get a sense of who Rocket Raccoon is, and what it looks like when he takes simple actions like moving his eyes.
A lot of this type of sequential action is lost in standard comics, with the space between panels requiring some assumption of time on the part of the reader. With Infinite Comics, that space is occasionally filled in – the novelty feels very unique at this point.
Is a Freemium Good for Comics?
At this point, I would say the Marvel giveaways are pretty savvy marketing moves that not only push forward their own digital initiatives, but the acceptance of digital reading as a whole.
In that regard, this is a good thing for comics. More readers and publishers accepting digital as the logical growth of the medium means more comic books in more homes, for more kids at an earlier age.
It also works to dispel the insane logic that something like "Day-And-Date" digital and print releases are anything to get excited about. Of course, digital issues should be released on the same day as print.
To a degree this is another debate, but I don't think digital pushes like these mean the death of print. I'd actually argue the opposite. These Infinite Guardians of the Galaxy issues are clearly designed to get readers to pick up Bendis's Guardians of the Galaxy #1 in print.
The same logic could be applied to the Marvel Now! #1 giveaways, and I know that I'll be picking up at least one series in print based on the free digital issue I read.
Part of this might just be budget and size, but I don't see many comic book publishers pushing the boundaries digitally the way Marvel has this year. For better or worse, Marvel is clearly setting the standards and making the rules here. The fact that they're doing so with a freemium strategy is definitely appealing as a fan.
Here's to hoping it pays off for the comic industry as a whole.