Marvel's Loki deserves so much more.
To understand why I say this, it is important to know how I was introduced to the character in the comics. I had originally met Loki as a guilt ridden yet mischievous Kid Loki in Kieron Gillen and Jamie McKelvie's Young Avengers
. Loki became one of my favorite characters because they were a fun "Stepford Smiler," someone who cracked jokes and smiled while hiding immense personal issues.
In Young Avengers, Loki magically grew older and was slightly wiser by the end of the series. From there, I followed Loki to their solo series Agent of Asgard
where Loki truly came into their own as a character. Learning that Loki's character development appeared to be retconned after Agent of Asgard made me unwilling to read more until I learned about Loki: The God Who Fell To Earth.
Related:
Support For Comic Book Herald:
Comic Book Herald is reader-supported. When you buy through links on our site, we may earn a qualifying affiliate commission.
Comic Book Herald's reading orders and guides are also made possible by reader support on Patreon, and generous reader donations.
Any size contribution will help keep CBH alive and full of new comics guides and content. Support CBH on Patreon for exclusive rewards, or Donate here! Thank you for reading!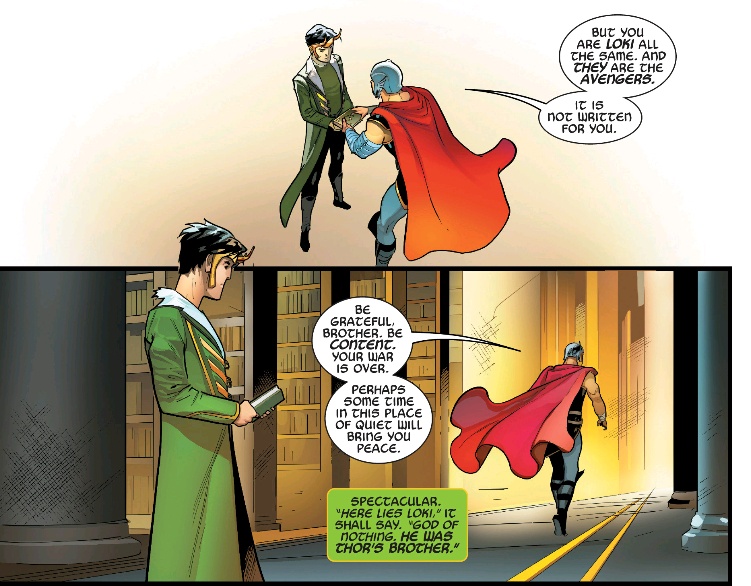 Loki: The God Who Fell To Earth takes place after the comic book event War of The Realms, in which Loki kills the frost giant king Laufey of Jotunheim, their biological father. This results in Loki being hailed a hero and becoming king of Jotunheim in The God Who Fell To Earth, which should've been a good thing. After centuries of plots to get the power and position that their adopted brother Thor has, Loki finally has their own kingdom and the admiration of some people!
However, Loki is more restless than happy. Despite being king of the Frost Giants, Loki doesn't feel they are anything but the "God of Nothing." With a new kingdom comes new responsibilities that make Loki feel confined, so Loki decides to avoid them and try to seek out advice elsewhere. While traveling to Earth to consult Tony Stark (aka Iron Man), Loki inadvertently attracts the attention of the supervillian deity Nightmare.
First, let's get something out of the way: this series was cancelled in 2019 after only five issues. This not only affected the storyline of the book, but also the character development and maybe the artwork. Issue five was especially affected, as it ended so abruptly that it left a bittersweet taste in my mouth. Yet writer Daniel Kibblesmith clearly gave it his all with what he was allowed. Not to mention cover artist Ozgur Yildirim did a fantastic job with the book's cover image of Loki walking down the Brooklyn bridge, a rainbow trailing like a cape from their back and a playful smirk on their face as they casually toss Thor's hammer, Mjolnir, in the air.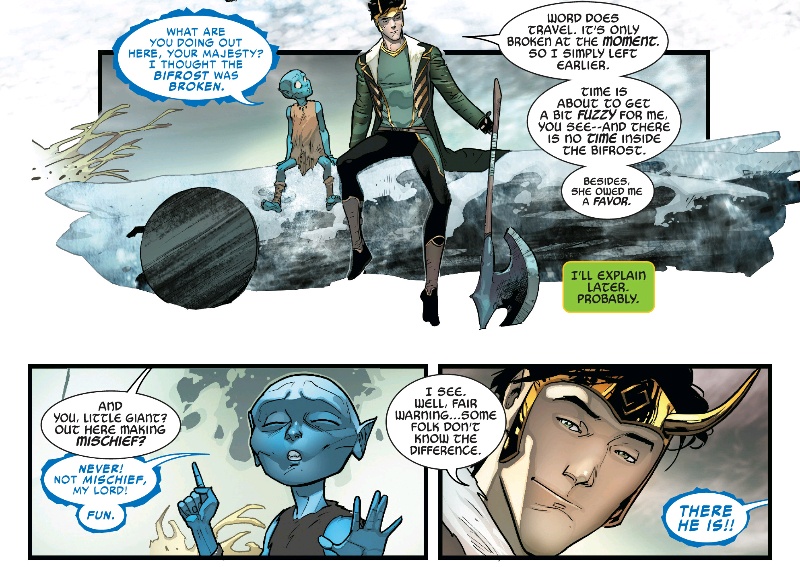 In fact, the book's first four issues and the War of the Realms Omega standalone issue (which was included in the trade) were especially wonderful. The standalone issue kicked things off well with Loki befriending a small frost giant boy named Drrf, reminiscent of the young trickster god. One of my favorite pages in the book involves Loki and Drrf sitting casually on a log as they talk and get to know each other. It's such a tender moment of empathy for Loki that is drawn well by artists, inkers, and pencilers Oscar Bazaldua, Andy Mcdonald and Victor Olazaba. The white and grey of the snow around them serve as the backdrop of Loki and Drrf's conversation, the green and blues of their respective character designs complimenting each other.
When Drrf is picked on by bigger frost giants, Loki asks, "Am I to be king of a pack of cannibals?" One of the frost giants replies, "It's not cannibalism if he's not one of us." Loki, annoyed answers, "Of course, not one of us. Gods, but I'm so tired of hearing that." It is this exchange that sets the theme of most of the comic, which involves Loki figuring out who they can become when they aren't satisfied with who they are right now. Although they have been known by titles such as "God of Stories" and "God of Mischief", none of them seem to fit Loki anymore. As a result of this and their restlessness as frost giant king, Loki now feels that they are "God of Nothing."
Thus begins Loki's newest story, made all the more fun by Loki's internal dialogue and Loki's trickster's tips. They stand out in dialogue boxes that are colored bright green or resembling parchment thanks to colorists David Curiel and Carlos Lopez. The boxes are also lettered wonderfully by VC's Clayton Cowles. Curiel, Lopez, and Cowles' handiwork can also be seen in dialogue bubbles for other characters such as Nightmare, who has inky, sharp, and black speech that adds to his creepiness as a character. By enhancing the dialogue of various characters, the characters themselves stand out even more.
Besides Loki, the small frost giant Drrf, and the supervillian Nightmare, other notable characters include Loki's adopted brother Thor, Tony Stark, and cosmic beings called "Now" and "Then." Out of all the characters, these four have the most impact on what little character development Loki gets in this book. Thor, being a noble hero and newly crowned All-Father of Asgard, thinks that Loki should be grateful to be king of the frost giants since he has a fresh start now. Tony Stark is an egotistical hero who doesn't believe Loki worthy enough to join the Avengers unless he has Thor's hammer. Finally, "Now" and "Then" are the children of Eternity who take Loki to the House of Ideas, a place that contains the exploits of superheroes in books. Seeing Loki's desire to do more with their life, they make him a deal to ensure their story would be rewritten and continued as a hero's in exchange for them having a hero's death.
Loki makes this deal as a result of Thor and Tony's inability to understand Loki as someone who can't be tied down to a single identity or role. Thor expects Loki to be a king similar to himself, while Tony won't let Loki be an Avenger because Loki isn't a hero like himself. These expectations are similar to the ones Loki had to deal with in Agent of Asgard, and the weight of these expectations have caused Loki to be metaphorically and literally boxed in. In Agent of Asgard, Loki broke free of these expectations with their own power as the "God of Stories." It stands to reason that Loki agreed to the deal offered by "Now" and "Then" because it granted Loki more power over their own story.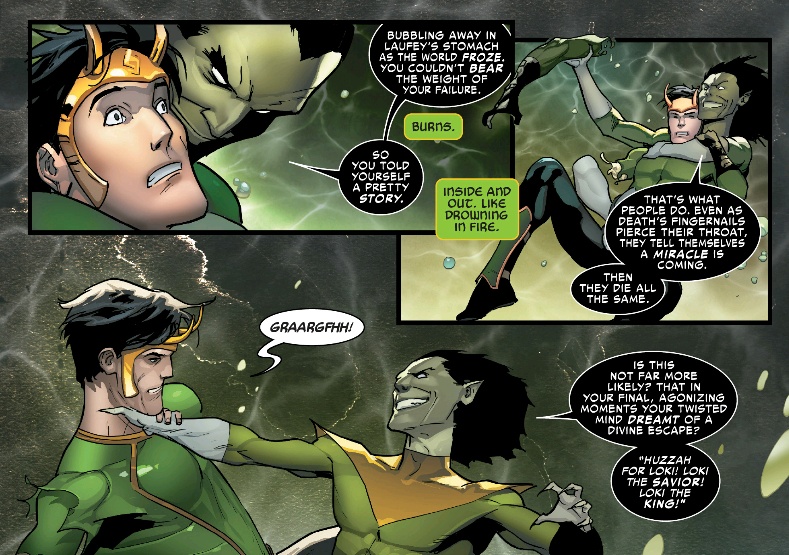 Although Loki's deal with "Now" and "Then" is an interesting concept, the execution in the storyline starts off promising but becomes confusing. Loki's deal may have emboldened them to fight Nightmare because they are currently living a personal nightmare of finally having what they wanted, but not actually wanting it. Loki and Nightmare's battle is compelling and fun because Loki is fighting Nightmare in his mind and outside in the real world. Once that is resolved, the narrative briefly moves to the future and we see Loki wielding Thor's hammer and Thor as an evil villain known as The Unfather. Then, the narrative goes back to the past and Loki is in a Western with Wolverine. After a few pages, the narrative shifts again to the present day and Loki is in a holding cell. There, he recounts "one last story" to his best friend Verity Willis, a fan favorite character from Agent of Asgard. This is when the book ends too soon.
As mentioned earlier, the book's premature cancellation affected its narrative and so left some plot points unresolved. I would've loved to see if The Unfather character was the result of Loki's deal with "Now" and "Then," more fleshing out of Loki's self discovery, and more Verity Willis and Loki interactions. Yet for what it's worth, The God Who Fell To Earth managed to be an entertaining story, if not the best story. I believe Loki said it best, "The best stories are somewhere in between elaborate intricate plans gone spectacularly wrong." Marvel's cancellation kept it from being the best Loki story, and that's why Loki deserves more stories.