This one shot comic deals the reader three separate stories of Wolverine's friends from the X-Men dealing with his recent demise. It helps to see the bigger picture of the impact this death will have on the Marvel Universe by seeing microcosms of grief and remembrance from specific characters. Especially seeing as most of the key players in the Marvel Universe are currently tied up in the events of AXIS, leaving little room to talk about the death of Wolverine. The variant cover for this book is absolutely stunning, by Julian Totino with the paint style and the image in the clouds.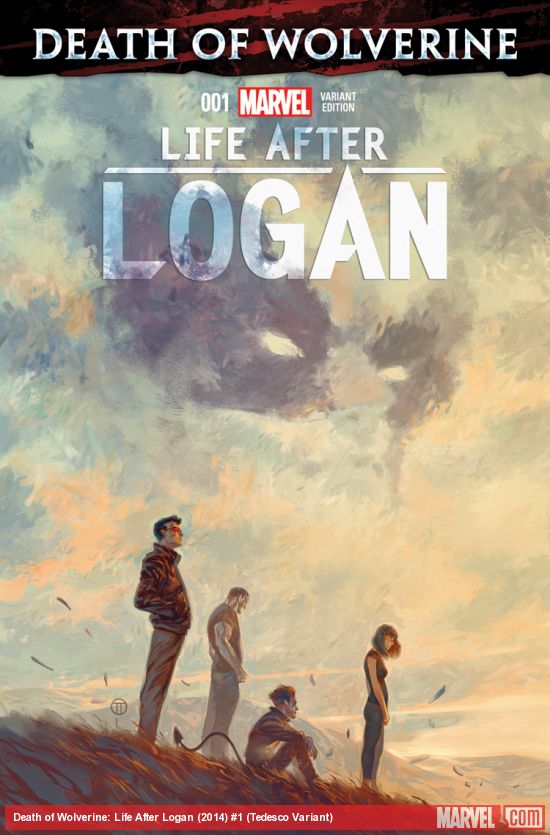 The first story, "You" is focused solely on Cyclops. Wolverine and Cyclops were famous for never getting along, and all of that touch and go animosity it dealt with beautifully in this story. Cyclops, love or hate his character, is a big part of the X-Men and also the Marvel Universe on the whole. After the events of of "Schism", Wolverine broke away from Cyclops, forming his own school at the old location in Massachusetts, while Cyclops remained in San Francisco. Some mutants followed Wolverine as well, and the X-Men have been splintered ever since. After the events of Avengers vs. X-Men, Cyclops killed Professor X and was branded a war criminal by the Avengers and most of the mutant community. He has come a long way in a short amount of time since that point, and it is interesting to see him in this story reflect on all the good and bad between Logan and himself. Eventually, he comes across the perfect way he feels to honor Wolverine, by never quitting, and never giving up. He throws down in a good old fashion bar fight that would make Logan proud.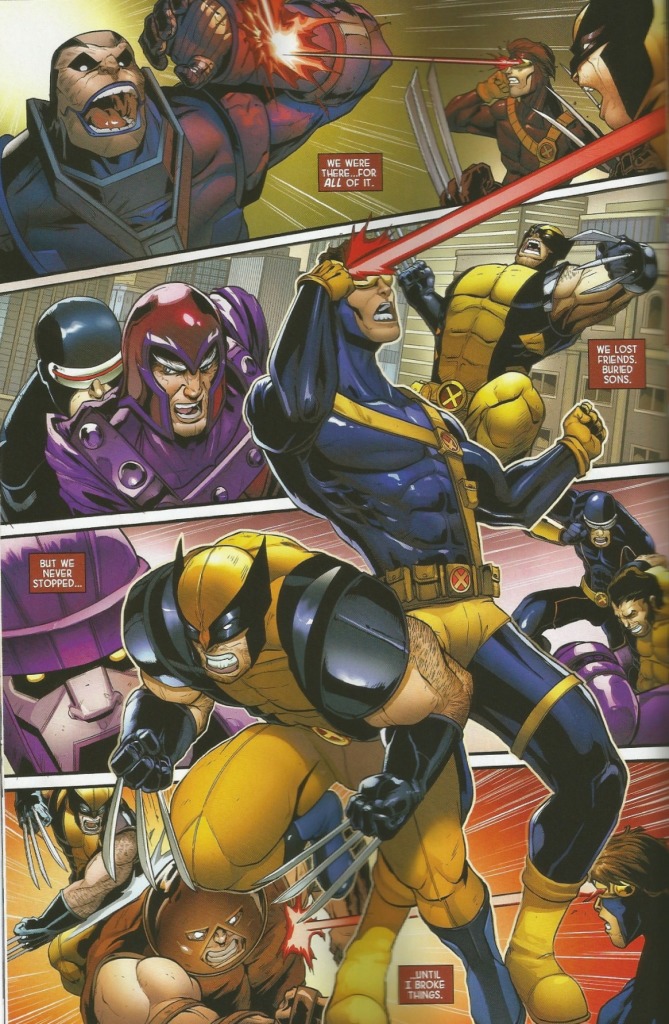 "In His Honor" is the second retrospective story we get to see involving Nightcrawler, the first happening in his own series. This time he is joined by Colossus, and both are very close friends of Logan, having all joined the X-Men at the same time. The two teammates decide to pay respects to Logan's dead wife, Mariko, in Japan. The only problem with that is her family is of the clan Yashida, and they have strict protocol when dealing with outsiders. None of this sways Nightcrawler in the least, gaining access to her grave by revealing his mutant self. Colossus is a little less gung ho about the whole idea, but when things get hairy, they both throw down and start fighting off hordes of ninjas. A true Wolverine adventure through and through, complete with a look into his life and a respects to one he loved dearly. Short and sweet, this story really hits home with the fan in me.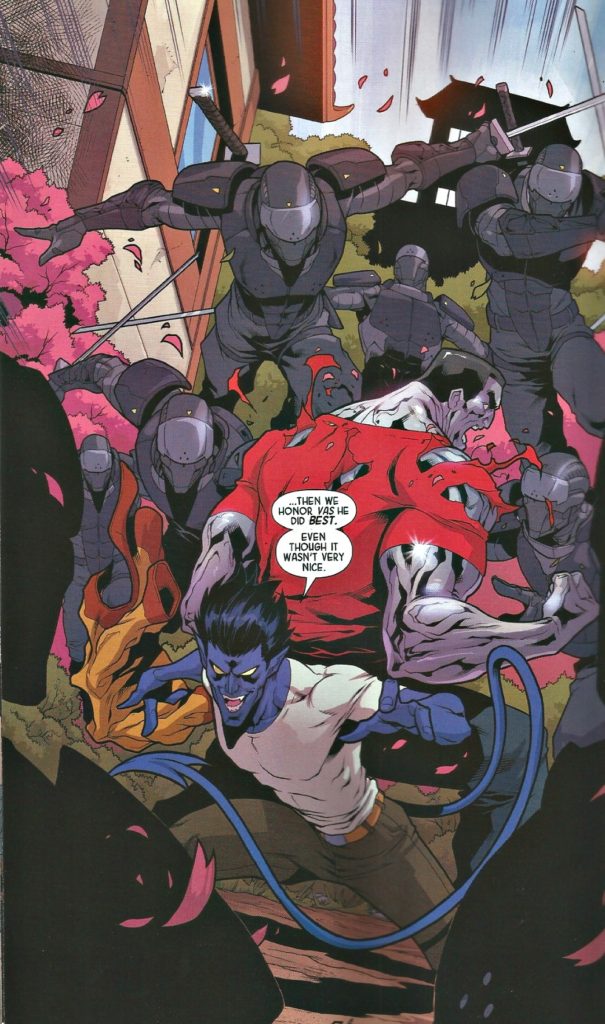 The final story, "A Little Piece of You" is set more in the recent events of mutant times. Wolverine's school is home to many new mutant children, that he was helping to hone their powers and deal with the world that hates and fears them. This story opens with Armor, a young girl that Wolverine had taken under his wing, sitting at a bar surrounded by many of Logan's enemies like Sabretooth and Mystique. She fights them off, but they get the better of her before another student, Julian, steps in and ends the Danger Room holographic session. Armor is just trying to deal with the feelings of loss she has from the void of no more Logan. She is deeply disturbed by how she actually felt it when Wolverine died, and she has only felt that way when family members had passed. Julian points out that she is lucky, because she has a piece of Logan with her always, especially when she manifests her mutant power and uses her psionic armor.
The "Best There Is":
These three stories are nice bookends to the events of Death of Wolverine. It is always interesting to see how characters in the Marvel Universe deal with the death of a hero or villain, much like what happened when Captain America died. Little things stood out as fun and neat instances, like how Cyclops came to terms with his relationship with Logan, or how incredible confident and at peace Nightcrawler is with honoring his friend. The call back in Armor's story to the famous "Can I help? Are you a beer?" exchange between her and Logan was heart warming too, to say the least.
Support For Comic Book Herald:
Comic Book Herald is reader-supported. When you buy through links on our site, we may earn a qualifying affiliate commission.
Comic Book Herald's reading orders and guides are also made possible by reader support on Patreon, and generous reader donations.
Any size contribution will help keep CBH alive and full of new comics guides and content. Support CBH on Patreon for exclusive rewards, or Donate here! Thank you for reading!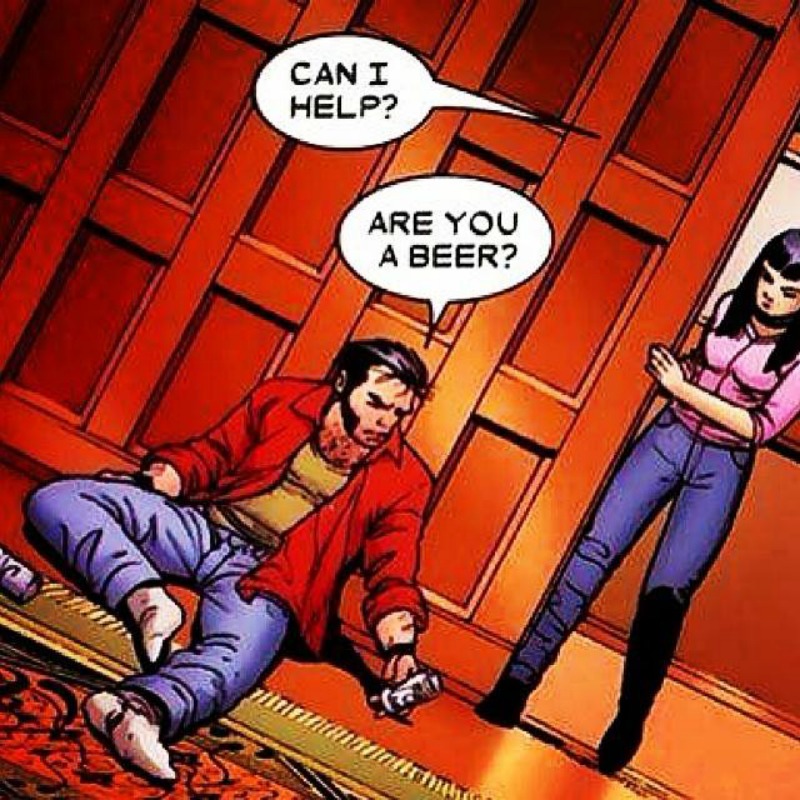 The "Isn't Very Nice":
As nice as it was to see these three stories unfold, I worry that Marvel plans to drag on and on about this death. I have read all the tie ins, and all the stories in other series concerning characters dealing with the loss of Logan. As much as I do enjoy them, it is time to let it go. Move on. Let the healing process happen, and let's all forget about Wolverine just for a little bit, long enough for the seeds of his inevitable return to be sewn.
CBH Score: 4 out of 5. Fun read, but lets hope this is the last of it.
[schema type="review" rev_name="Life After Logan #1″ user_review="4.0″ min_review="0.0″ max_review="5.0″ ]