Swords! In my coverage of X of Swords Creation, I asked if you'd all be interested in a follow-up Krakin' Krakoa ep on the history of the swords in this event, and the answer was a resounding YES. Swords! More Swords!
Today I'll answer:
What are the 10 swords mutantkind will use in their battle against the forces of Amenth in X of Swords?
What's the Marvel history of each blade and what can it tell us about the story to come?
What small clues do we have about the Arakkan forces named swords?
Theories and predictions for what's to come!
Podcast: Play in new window | Download
*Spoilers for discussed comics may follow!*
Support For Comic Book Herald:
Comic Book Herald is reader-supported. When you buy through links on our site, we may earn a qualifying affiliate commission.
Comic Book Herald's reading orders and guides are also made possible by reader support on Patreon, and generous reader donations.
Any size contribution will help keep CBH alive and full of new comics guides and content. Support CBH on Patreon for exclusive rewards, or Donate here! Thank you for reading!
https://www.youtube.com/watch?v=S-HuN0NVeFc
In X of Swords, Creation, the event's first part, Saturnyne, the Omniversal Majestrix, freezes the Krakoa vs Arakko mutant war to set them up for a tournament of champions in which each side will wield 10 majestic blades.
All the swords get named, and based on Marvel's promotional art we can align the blades to characters. On the X side of things we have:
Muramasa – Wolverine
The Sword of Might – (Brian Braddock)
The Starlight Sword – (Betsy Braddock)
Grasscutter & Godkiller – Gorgon
Warlock – Doug Ramsey
The Soul Sword – Magik
The Scarab – Apocalypse
The Light of Galador – Cable
Skybreaker – Storm
One thing you'll notice about a majority of the known swords is that they tend to be broken, missing, or in some way altered prior to their re-emergence here in X of Swords. There are exceptions of course – for example, we've already seen both the Sword of Might and the Light of Galador return in the Dawn of X – but otherwise I'm expecting some early parts of X of Swords to deal with the gathering and retrieval of these weapons, or at least the explanation for how they are already in hand. Epic quests should ensue!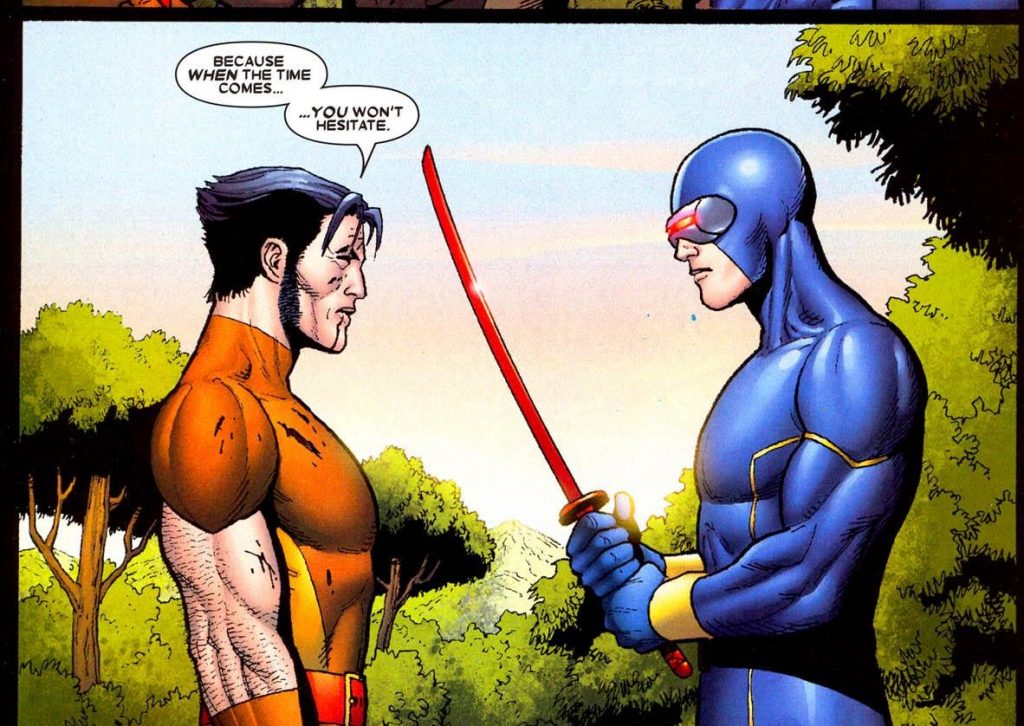 1) The Muramasa Blade
While it's probably most well known at this point as a sword that can shut off Wolverine's healing factor and very much kill him (or anyone with a healing factor), Muramasa is actually the surname of an immortal Japanese swordmaker, who came to prominence (in the real world, and in Marvel history) in the 1500's! Again, this is very much based on a real person, but Marvel's Muramasa fully leans into myths around the swordmaker, categorizing him as both immortal and increasingly mad with obsession over making the perfect, sometimes demonic blades.
The first reference to Muramasa's blades actually runs back to Wolverine's second solo series, and first lengthy ongoing, the Wolverine title that launched in 1988 with Chris Claremont writing and John Buscema on pencils. In the first three issues of the title, we encounter Muramasa's "Black Blade," a cursed weapon that controls its wielder. First, Jessica Drew, aka Spider-Woman is possessed by the blade on Madripoor, and then Wolverine. Ultimately the Silver Samurai collects the blade and is not possessed in a super Big Time move.
The swordmaker returned to prominence following the events of Marvel's House of M event, when Wolverine recovered all his memories in the event's aftermath. We learn that after the slaughter of his wife and unborn child (at the hands of the Winter Soldier no less!), Wolverine turned to Muramasa to make him a blade fully for the purposes of revenge to, and I quote with a Metallica riff behind me, "Kill 'em all." Thus, the Muramasa blade with fragments of Wolverine's soul was created, and it's this blade that has posed a danger to mutants with healing factors ever since. Indeed, at one point Daken integrated the sword into his claws in order to kill his father (Logan cut them out of his hands), and Wolvy used the sword to cut off Sabretooth's head (although like so many Marvel deaths, "it got betta").
Most recently, in the pages of All-New Wolverine
, Laura Kinney, Wolverine, and Carol Danvers, Captain Marvel, were tricked into giving up the location of the Muramasa blade, which was then turned into Wolverine killing bullets by the Orphans of X. The bullets are used to shoot through Daken in a wound that won't heal, but surgeons can cut around the wound to let his healing factor take effect for a larger wound (comics science!). To combat this threat, Laura visits Muramasa himself, and had a new Muramasa armor forged from soul fragments of Logan, Daken, and herself.
This will come up later, but there's also a brief connection between Muramasa and Gorgon here, with Gorgon owing the swordmaster a piece of himself for a new blade. This could come up again given Gorgon's inclusion in this event!
One of the highlights of the named Arakko swords is that a Murumasa blade exists on both sides of the aisle. The assumption I'm making is that one is wielded by Wolverine and the other by his arch-enemy in the making, Solem (anagram for "Moles" which means nothing, but makes me laugh at the idea of that being his name instead). There's a possibility this could mean one of them begins wielding the Murumasa blade, and then the other obtains it for a time – effectively that it switches hands.
2) The Sword of Might
The Sword of Might has been a part of the Captain Britain mythos since inception in 1976 – in that regard, it's actually the sword here with the longest Marvel Comics history. In his origin, Brain Braddock is given a choice by Merlyn and Roma between the Amulet of Right and the Sword of Might. He chooses the Amulet of Right, and over time we've learned that most Omniversal Captain Britain make this selection in order to inherit their power.
One of the biggest misconceptions of The Sword of Might – one that Marvel itself is guilty of! – is the assumption that it's the same sword in the stone as Excalibur. This is not correct, at least if we're to believe Captain Britain and Mi13
aka my favorite Captain Britain series on Marvel Unlimited. In this series by Paul Cornell and Leonard Kirk, Excalibur and The Sword of Might are clearly referenced as separate entities, with separate properties applied to each. In this instance, the Sword of Might is used by the invading Skrull army to merge with other magical items into an all powerful Skrull chain.
We've actually seen a lot of the Sword of Might already in the Dawn of X, particularly in the first arc of Tini Howard and Marcus To's Excalibur. After his possession by Morgan Le Fay, Brian Braddock gives the amulet of right to Betsy (thus making her the new Captain Britain), and chooses the sword of might as his dark weapon. Even after his revival at the hands of his brother Jamie (something we really should be keeping an eye on), Brian continues to dream of Merlyn and Roma and selecting the path of violence, aka the Sword of Might.
This is where we enter some interesting questions around the inclusion of Brian Braddock in X of Swords. He's broken, angry, and quite changed from the Captain Britain we've known. It makes sense that he'd still feel a duty to the realm of Otherworld, and want to protect his sister and her allies, but he's still also not actually of Krakoa.
I'm willing to bet Jamie brought Brian back as a mutant this time, if for no other reason than to mess with him. More likely, though, this is part of a deliberate scheme by Apocalypse. It seems certain that Apocalypse helped Jamie Braddock take the throne of Otherworld's Avalon with some rationale behind the decision, and who better than an omega level reality warping mutant to toy with the mutant protection of the Braddock family, a protection that runs through generations.
3 – 4) Grasscutter & Godkiller
Grasscutter and Godkiller are of a piece, crafted for a war between Japanese and Greek Gods. While they don't debut in its pages, the history of the swords is most memorably showcased in the Jonathan Hickman written Secret Warriors
.
In Secret Warriors, Grasscutter is wielded by Alexander, aka Phobos, the god of fear. The boy-god actually used the blade to murder his own father, Ares, in the pages of the 2006 miniseries Ares, and in Secret Warriors the blade is stained red with the blood of the god of war. Godkiller is gifted to Gorgon by the mysterious Hydra-allied Kraken. Ultimately, Phobos and Gorgon have an epic swordfight, in which both Godkiller and Grasscutter are shattered, although Gorgon uses the shattered hilt of Godkiller to seemingly kill Phobos.
At some point in this event it may be worth digging deeper into the character of Gorgon, whose Marvel history includes almost incalculable murder and leading several factions of Hydra. Gorgon's mutant amnesty on Krakoa is one thing, but his inclusion as a Captain is a much bigger deal than I've made of it so far. I'll also note here that in X-Men #4, it's pointed out that Gorgon's Captainship is dedicated to protecting members of the Quiet Council, specifically the Autumn leaders (Magneto, Prof, and Apocalypse), yet in X of Swords: Creation, Apocalypse wanders into Otherworld without Gorgon as part of the fellowship. Weird oversight!
While I don't know if Gorgon already has Grasscutter and Godkiller remade – this certainly seems like a task up Forge's alley – he is shown wielding two blades in the pages of X-Men #4, when he maims and amputates human military forces during the Autumn council's business meeting. Gorgon's possession of both blades is based on these connections, and the Marvel key art that features him among the Krakoa 9, wielding one sword in each hand. This does raise the question, though, if Krakoa is missing a swordbearer. Could this be S.W.O.R.D.'s role?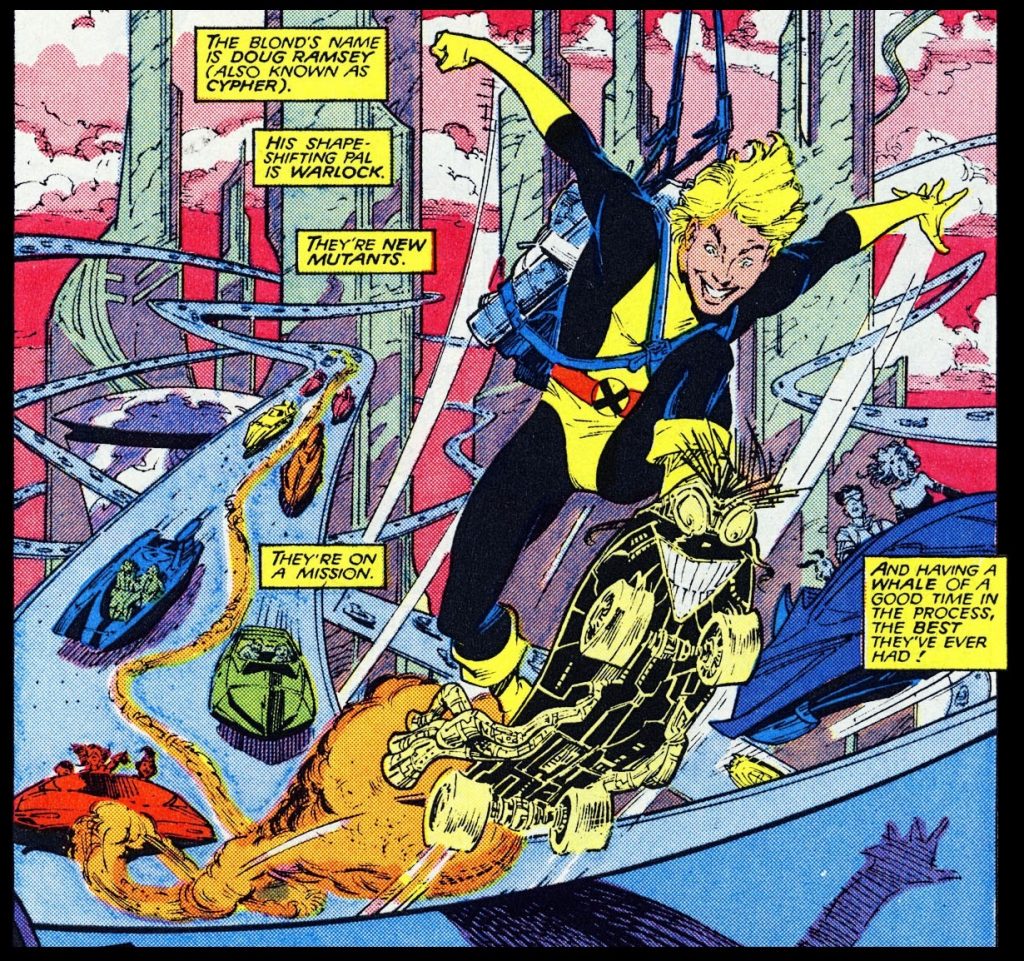 5) Warlock
Since the Technarch ally Warlock can transform into virtually anything, Doug Ramsey wielding Warlock as his sword makes plenty of sense. The "Team Supreme" have been combining their might since forming a bond in the mid 1980's New Mutants, with Doug frequently wielding Warlock as his armor, given his own vulnerabilities in combat situations.
We've actually seen this very recently in Giant-Sized Storm with Doug wielding a Warlock mech suit in The World. I questioned this at the time, but this is actually kind of odd, because the previous two appearances of Warlock (X-Men #7 and Giant-Sized Nightcrawler) it was clearly a secret that Warlock was around. Doug even made Magik swear not to tell anyone. And now here he is, well past that point, without any explanation given.
Warlock's impact on mystical realms is particularly interesting to me. How does the unknowing agent of the Phalanx impact Otherworld? In the past, we've seen the techno-organic virus have a significant impact on Limbo, with the entire realm infected prior to Inferno. Combine that with the fact that Doug and Warlock have clearly planted some seeds on Krakoa way back in the pages of House of X and you have a team supreme with way more of a potential impact on X of Swords than you might initially expect.
If anyone has a chance of knowing what Krakoa thinks about all this, it's Doug. It's crucial to remember that much of X of Swords is about rejoining the two lands that were one, and I actually think it's a possible outcome that at the end of X of Swords it's no longer Krakin' Krakoa but Obsessin' Okkara (and hopefully not Analyzin' Arakko – we'll workshop these). Doug's inside track, plus whatever behind the scenes work he's doing with the techno-organic virus could have vast implications.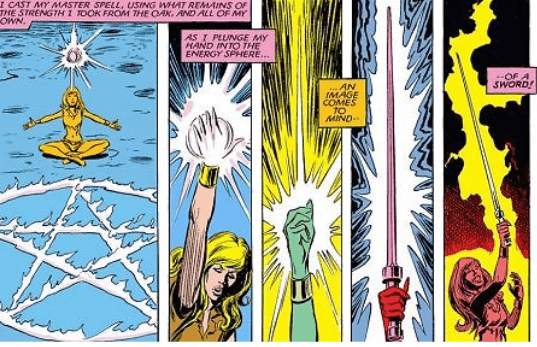 6) The Soulsword
Speaking of New Mutants, Illyana Rasputin's Soulsword is one of the most well-known mystic weapons in the Marvel Universe, and forever linked to the character. In her 80's miniseries, Magik creates the Soulsword using her own life energy and magic, and over time anyone who wields the sword becomes the ruler of Limbo, like Illyana has been for large stretches of her history. This may also be the easiest sword to account for, as Illyana has seemingly had it throughout the Dawn of X.
One of the biggest questions I still have is how Limbo compares / stands in contrast to the dimension of Amenth where the Arakko mutants have been trapped. In the early stages of the build to this story, I theorized that these mutants were in fact trapped in Limbo itself.
It's also worth noting that in the past when Illyana's been in harm or taken off the board, the armor and soulsword have transferred to Kitty – now Kate – Pryde. Given Kate's recent resurrection in the pages of Marauders this could be a nice way to integrate her character into the event.
Perhaps splitting the Soulsword could be a path to getting the Krakoa mutants their 10th swordbearer as well.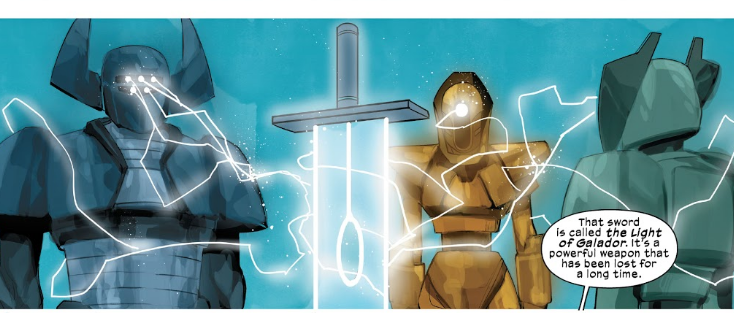 7) The Light of Galador
The most deliberately set-up blade in X of Swords has been present since Teen Cable found it in the foot of a monster in the Dawn of X's Cable #1.
The sword is immensely powerful, and the Galadorian spaceknights planned to use it to entirely conquer Earth and create a new Galador. We've also seen Cable use the sword in Creation to power the transporation device that connected himself Cyclops and Jean to SWORD. Don't forget too, we have old man Cable trapped in some red hellish dimension – could he be in Amenth planning for this moment?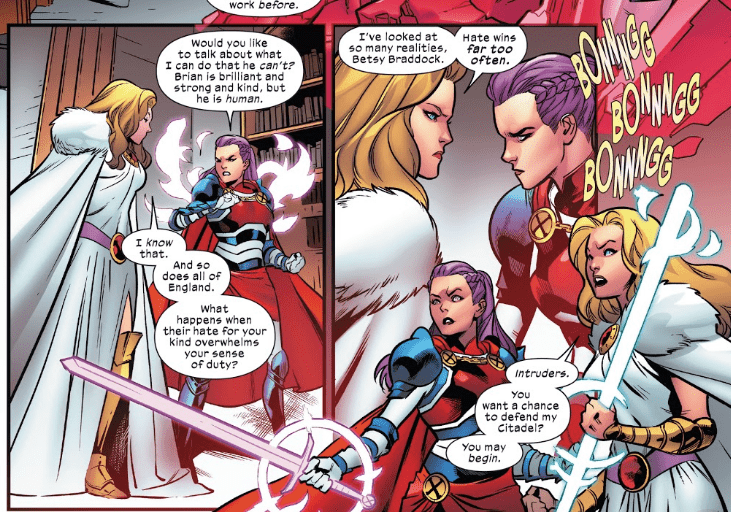 8) The Starlight Sword
As far as I can tell, the Starlight Sword has not been used in Marvel before, but based on naming connections to the Starlight Citadel, and Betsy Braddock role as Captain Britain in this event, every implication is it will be a new sword Betsy wields.
Heading into X of Swords, in the pages of Excalibur, Betsy and Saturnyne finally have a confrontation, and address Betsy's new standing as Captain Britain. Essentially, Saturnyne is mistrusting of Betsy's mutant loyalties, and how they'll compete with her own Omniversal protector priorities. This is theory, but granting Betsy a Starlight Sword as part of this contest could be Saturnyne's way of testing Betsy as her champion, granting her strength to ensure the protection of Starlight Citadel.
It's interesting to consider what this sword might be made of, too, considering the forging we've seen happening in Saturnyne's chambers in the Free Comic Book Day pages carried through into the Creation issue. There's a possibility that the sword could be forged of extra dimensional alien powers.
If this is how this all plays out, it's interesting that Saturnyne would take such a deliberate role in the proceedings. She's kind of taking a neutral tournament ringleader role at the end of Creation, so arming Betsy as her champion certainly seems to put her on the apparent side of Krakoa. I'm not sure Saturnyne really cares who wins, though, so long as they leave the Starlight Citadel and Otherworld peacefully, which suggests one of the Arakkan swords could also be of her making – arming both sides to continue playing the middle.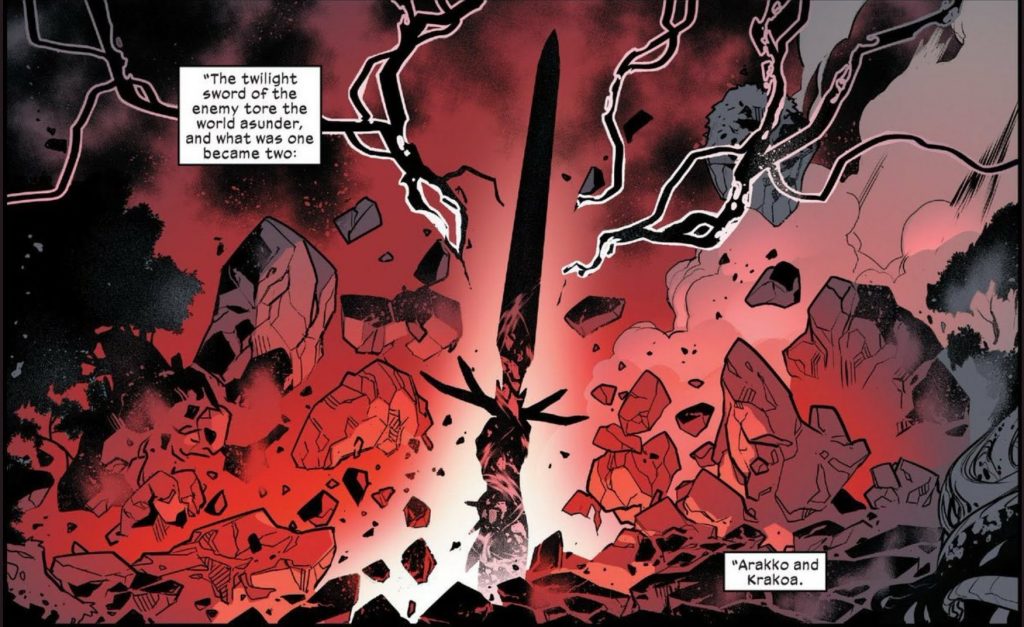 9) The Scarab
Before I get into any Marvel history that might connect to this blade – spoiler: there's not much! – I'll say I'm confident The Scarab will be a brand new addition to the Apocalypse arsenal and mythos, since Hickman and Howard are very much rebuilding Apocalypse throughout their respective and coalescing narratives. We didn't know he had a family before this event, surely there's room for a secret sword.
Plus, we have seen Apocalypse wielding a sword in flashbacks to the splitting of Krakoa and Arakko, and given the historical import of those images, I'd have to think it's going to be the same sword, likely locked away in one of his temples for safekeeping. What will be interesting is what kind of mystical properties the Scarb might contain, whether it's imbued with powers and technologies of the Celestials that Apocalypse has benefited from over the years as well.
Now, technically, in the oversized Black Knight: Exodus
one-shot from 1996 (in a story that manages to cover Dane Whitman, Apocalypse, Exodus, and Sersi of the Eternals!), there's a mutant acolyte of Apocalypse named Scarab. While this Scarab does have strong enough skin to break Exodus's sword, the idea of the X-Office reaching back to reference this Scarab feels about as likely as a Liefeld Major X tie-in suddenly getting added to the event.
Going back to this flashback, too, consider the line "The Twlight Sword of the enemy tore the world asunder, and what was one became two."
Who is this enemy? In my very first theory video after the C2e2 announcement of the event earlier this year, I drew connections between the language here and the Twilight Sword of Marvel's history, most famously wielded by Surtur against Asgard in Walt Simonson's classic Thor. But now that we've seen Amenth, the dimension where these demons come from, and some of the dimension's history in X-Men #12, I think it's still a huge question who was actually leading this invasion, and why. The implication is that it's the character Annihilation, but there's more to this than meets the eye.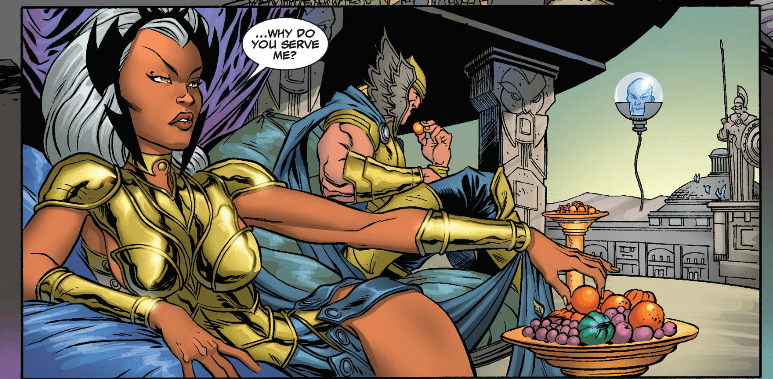 10) Skybreaker
There's no known "Skybreaker" weapon that I've found, but the name has been associated with Storm before, in the pages of the Greg Pak written X-Treme X-Men. In the first alternate reality the team visits, Storm, aka Skybreaker, is a Goddess and married to Thor. It would be cool if Storm's blade was somehow forged using alternate reality goddess energy, but I doubt the connection will be that literal.
If anything, X-Treme X-Men
is worth revisiting because it involves tracking down evil Xaviers across reality, which of course mirrors many readers interpretations of Charles Xavier's actions in House of X.
As it stands, this gives us a pretty blank slate for Skybreaker. While the name does have an Asgardian ring – obviously Beta Ray Bill's Stormbreaker is a parallel – I'm hoping Skybreaker is forged in the vibrainum vaults of Wakanda. This is a weird place to announce this theory, but I'm increasingly convinced Ta-Nehisi Coate's 2021 plans of Black Panther and the X-Offices 2021 plans for Storm are going to merge into a huge storyline – I won't say what just yet! – and forging this sword for her in X of Swords would be some fun groundwork.
There are a handful of other famous X-swords that could have been a part of the event, but really the only one I'm kind of disappointed not to see is the Cerebro Sword, which felt like some pretty deliberate set-up for the X of Swords event. Regardless, these are our swords, and our champions, and I can't wait to see how X of Swords plays out from here!