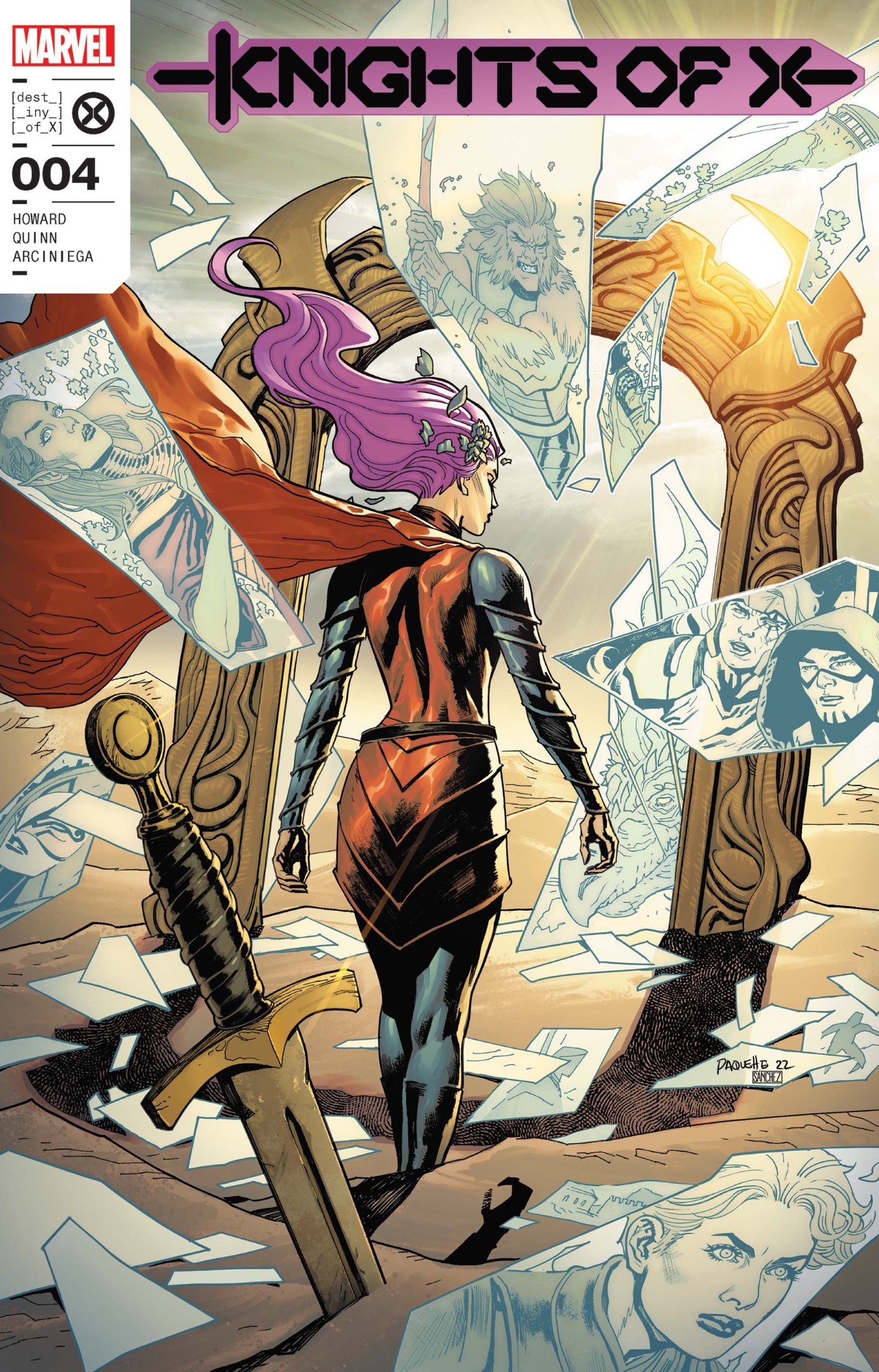 Credits: Tini Howard writes; Bob Quinn draws; Erick Arciniega colors; Ariana Maher letters; stunningly gorgeous covers, the real highlight here, from Yanick Paquette and Alejandra Sanchez Rodriguez.
To whatever degree you do or don't enjoy the foundational Claremont-and-Davis Excalibur run (1988-90), as a mash-up of various genre settings and modes, it was unusual in the mainstream comics landscape. For readers who grokked to it, Claremont and Davis were playfully subverting the superhero genre while allowing in outside genre elements and, of course, a playful but earnest exploration of sexuality—apparently too subtle for some fans to pick up on, while that apparent subtlety dazzled others with its colorful boldness. Excalibur has even inspired a fun reread podcast, Oh Gosh, Oh Golly, Oh Wow!, hosted by a trio of academics enthused by the iconic title's sexually coded antics.
To step into those shoes following Claremont and Davis' departure would've been a daunting task, and unsurprisingly, no one has ever been up to it—except for Davis himself a few years later. Still, Tini Howard does come next closest; yet her effort remains a far cry from the ebullient wit and zing of that original run.
Not that it needs to be the same, but comparisons are inevitable. Following "X of Swords," several issues of Howard and To's Excalibur were excellent, especially in portraying Betsy and Kwannon's fraught dynamic and the return of Malice. But like most of the Krakoan-era titles pushing toward the two-year mark, there was an increasing sense of floundering or disarray before a muted wrap-up and big relaunch that, inevitably, met an increasingly circumspect enthusiasm from the fans.
With Knights of X #1-5, Howard and new series artist Bob Quinn (who did amazing work on Way of X and Cable: Reloaded), had comparatively scant real estate to give us a bang-up adventure, which was good after too many issues of Excalibur and not enough focused development and payoff. By far, the only thing that made this incidental miniseries (it was an ongoing that was quickly canceled) is the first kiss between Betsy and Rachel—even while the build up to their romance has been almost entirely lacking (More on this strangely not particularly romantic ship below). At the very least, the storytellers gave us what many of Rachel's fans have known since her early days with Claremont's X-Men: She will clearly never be into dudes (Just don't you dare marry these two off now, Disney! Oh, but does anyone really think we'll get to see either of these ladies date as lesbians? Nope, this is the new brand, and they're going to stick to it because that's branding).
Support For Comic Book Herald:
Comic Book Herald is reader-supported. When you buy through links on our site, we may earn a qualifying affiliate commission.
Comic Book Herald's reading orders and guides are also made possible by reader support on Patreon, and generous reader donations.
Any size contribution will help keep CBH alive and full of new comics guides and content. Support CBH on Patreon for exclusive rewards, or Donate here! Thank you for reading!
It didn't exactly end on a high note as the conclusion was rushed—which particular problem isn't the fault of the writer; it's an unenviable job writing a monthly that could be canceled at any moment because the sales don't match other books starring Wolvie, Spidey, Cap and so on. But the final issue is quite incoherent: There's clearly a gap between issue #4 and the conclusion, and the Mordred plot is summarily dropped (and Gambit's return from issue #3's "death" is only very partly explained away).
All is tidied away in a cavalcade of dei ex machina. Our Betsy will now run her Corps from the region formerly known as Mercator (presumably temporarily renamed, "Fort Krakoa"—original) and bow to none. Rachel's ability to monitor the Multiverse is what allows Betsy's freedom from Otherworld management (whether from Saturnyne, Roma or Merlyn).
The main problem here is that however much Howard expanded Otherworld, what we now have is a range of distinct fantasyland venues, some imbued with tropes of horror, either classically gothic or sci-fi dystopic, and others straight out of, well, a very flat, paint-by-numbers Arthuriana and Victoriana with trivial gestures at current sensibilities. Despite vague potential in Betsy and Saturnyne's feud, there's little that's exciting or genuinely funny about this on-the-nose dynamic, the closest we get to humor in this mini. That sort of comic opera can be really fun and diverting; here, it's just irritable and dull. So, different fantasylands stitched together but not exactly mingling with any kind of fascinating dynamic are simply static backdrops to the blunt and blocky "quest" narrative of a handful of individuals, only one of whom (Meggan) is actually of Otherworld. There are no transgressive elements to rouse the tired tropes Howard has been employing since the start of her Excalibur.
The interactions we do get between the different fantasy realms are entirely schematic and abstract. There are alliances in a war between fear and tolerance, hatred and acceptance—but we have almost no sense of who lives in these places, except for the entirely stock peasant folk of Otherworld. And that is about as dull as you can get in this genre. Ewing has done far more with his Arakkii communities with far less page space.
Knights of X continues the trend from Howard's Excalibur of aiming for only the most superficial version of a genre mash-up, a mere stitching together of different fantasy venue backdrops, which, frankly, could be from any number of other genres of the fantastic—their individual character and composition doesn't matter because they're simply not the real focus. The tritest of tropes, easily recognizable to all readers, are deployed time and again entirely in service to the narrative of another Krakoan super-team, in this case, one that has never gelled (arguably, though, none of them has, with the knock-out exception of Wells' Hellions).
Indeed, the one fantasy artifact given a critical role in the story, the Siege Perilous, has long been established as central the X-Men mythos. It is of Otherworld, but its notoriety wasn't established until the Outback Era of Claremont's Uncanny run, where it was a gift (and, of course, a sort of curse) from Roma after she helped the X-Men fake their deaths and relocate to the Australian Outback; the period closed with the team stepping through the Siege's magical portal and coming out very different and far elsewhere—and amnesiac, as they lived their "heart's desire," however twisted (as with Betsy ending up in an Asian assassin's body; cringey Orientalism aside, there was also Havok ending up as a fascist Genoshan stormtrooper).
In other words, Howard is primarily troping on a thoroughly X-Men trope—while the stock fantasy tropes deployed in creating the anodyne Otherworld backdrop are little more than wallpaper (The Siege Perilous also functions as a get-out-of-jail-free card for Gambit who never really "died" in issue #3*). The reverence with which this artifact is treated here is very much at odds with Claremont's depictions of it, but that's okay, as long as current storytellers can sell it; Howard's endeavor here was curtailed with the title's cancellation.
(*And yes, Gambit was indeed very briefly Apocalypse's Death in the oddball and all-but-forgotten run from Peter Milligan in the mid-2000s.)
To be clear, I am all for more queer content in mainstream comics; the more the merrier. But here, there's nothing exciting about the relationships depicted. There's very little romance. Maybe it's Disney corporate that is tolerant only so long as it's given the anodyne veneer of the "family friendly," but spicy romancing you will not find in these pages. This mini is kiddy fare firmly in the worst version of a hard G-rating. However, as it's Howard's name attached to this project, and the fantasy tropes are not under censorship and yet are as lacking as the story's romantic excitement, in the sense of both adventure and passion, readers can only assume that Howard is the one playing it all too dreadfully safe.
The frustratingly mild exception here is the one pseudo-revelatory kiss of the series, the first one shared between Betsy and Rachel—which has been expected since the beginning of Howard's Excalibur, meaning quite a long time now! The real problem here, beside the delay (which I'm sure can be blamed on corporate), is that Howard did very little to build their dynamic in a way that make this moment feel earned and exciting; it only pays off to prior fans of these two characters, not for readers getting to know them during the Krakoa era. And even then, it's founded on very little shared page space, so it's likely that most avowed X-heads aren't going to remember all that clearly. Again, no effort has been made to convince us that the pair will click, that this choice isn't as random as it seems right now; and to be clear, I'm all for shipping them, but it's the writer's job to make it convincing, inevitable, natural. Fandom has done more to persuade others that this is their destiny than the writer has.
That said, Betsy and Rachel's dynamic duo status can really be seen, virtually for the first and last time, in the "House of M"-tie-in arc in 2004's Uncanny X-Men #462-465 from Chris Claremont and Alan Davis (See Brian Wood's fortunately brief X-Men run a handful of years later for a bit more—or not!).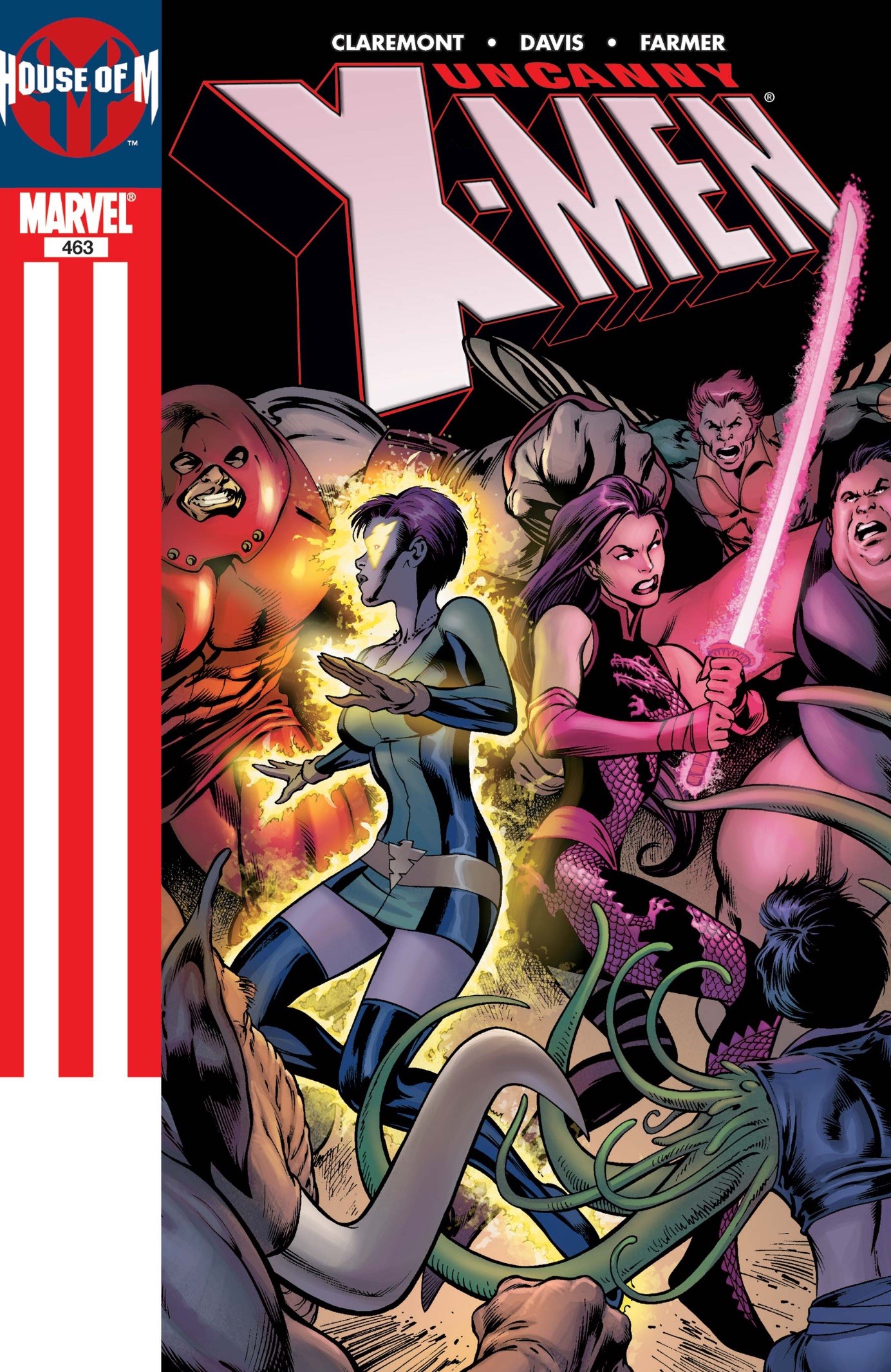 An equally bedeviling problem for this couple's future is that Rachel, who has the most interesting origin among the Summers mutants, is the least developed among their number—or rather, her character growth starts and stops with Claremont and Davis, that's it.
We do finally get some juicy background on the realm ruled, mysteriously, by Absolon Mercator, a nobody, virtually, in X-Men lore—a too-powerful Omega matter-manipulator (see District X and X-Men The 198). Per issue #3, it was Apocalypse who granted Mr. M sovereignty over this desert waste just for safeguarding the Siege Perilous, with Apocalypse's implicit revelation as to the mutant provenance of the artifact, which is a new twist.
Of only vaguest interest is that the portal has somehow become fused with the entire Mercator demense. They are one and the same; so, the Siege Perilous is now a landscape, a fantasy wasteland, where hallucinatory psychodramas can be acted out in an ulterior kind of reality.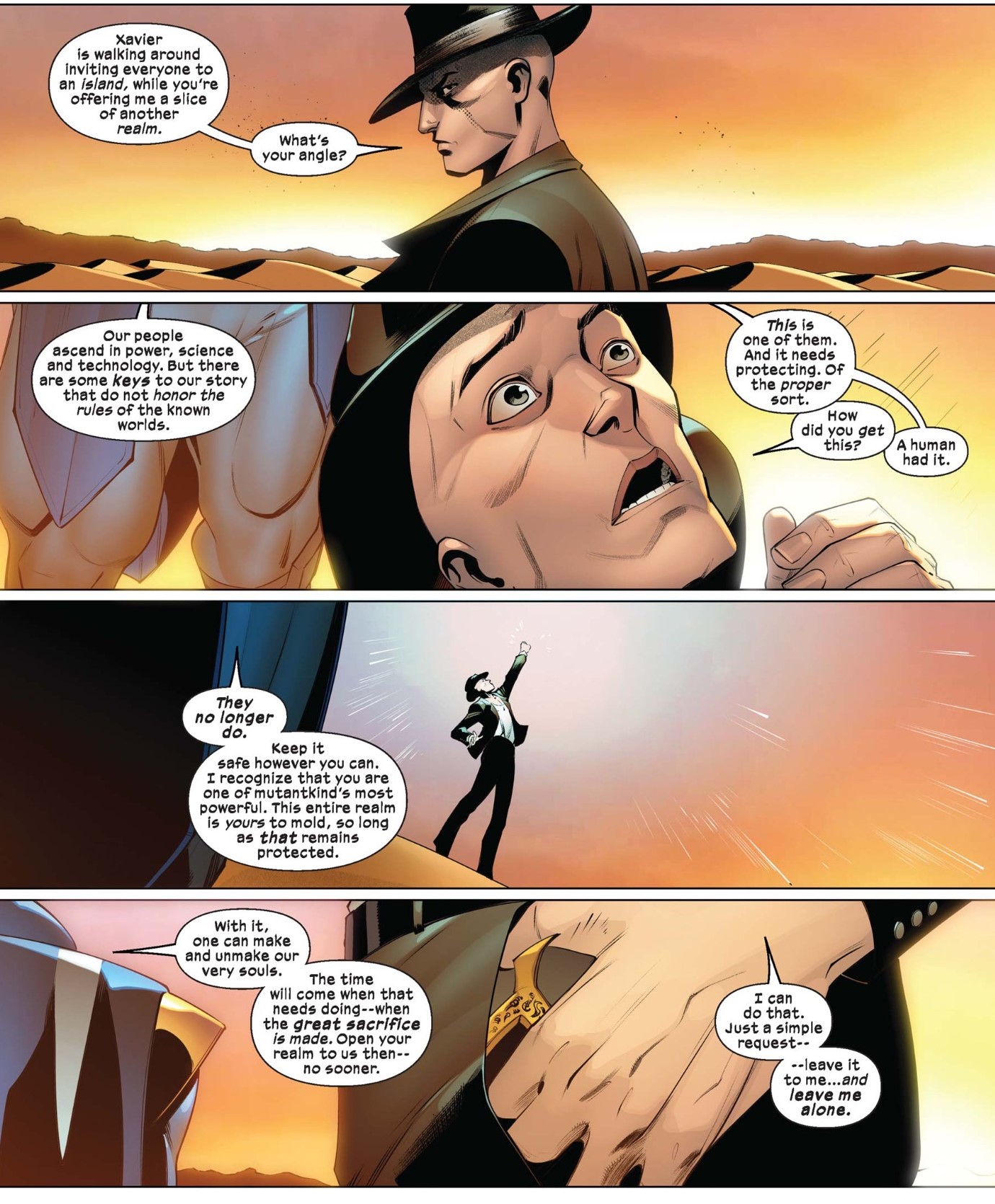 One issue features each character very briefly battling personal demons by way of the Siege Perilous, but don't expect anything nearly so edgy or enlightening as what Arcade had Mastermind do to the heroes of Zeb Wells' Hellions. Instead, seasoned readers learn nothing new, and even for the newly initiated, there's little of interest, it all goes by so quickly and schematically. If you've been reading since "Dawn of X," you've probably picked up a fair amount since 2019, and there are no startling or essential developments here—except for the long-predicted, frustratingly delayed Betsy-and-Rachel kiss (scant water from corporate's stone-dry lips of avarice, perhaps).
Where Immortal X-Men and X-Men: Red are each subverting conventions in their own delightful ways, Knights of X is simply paint-by-numbers, stitching standard superheroics to entirely stock genre fantasy. Most unfortunate is that the vaguely D-&-D-style "quest" team never really gels. Perhaps Howard's remit with her upcoming Betsy Braddock: Captain Britain solo series will allow her to tell a more focused story made all the more compelling for its focus on a single character arc.