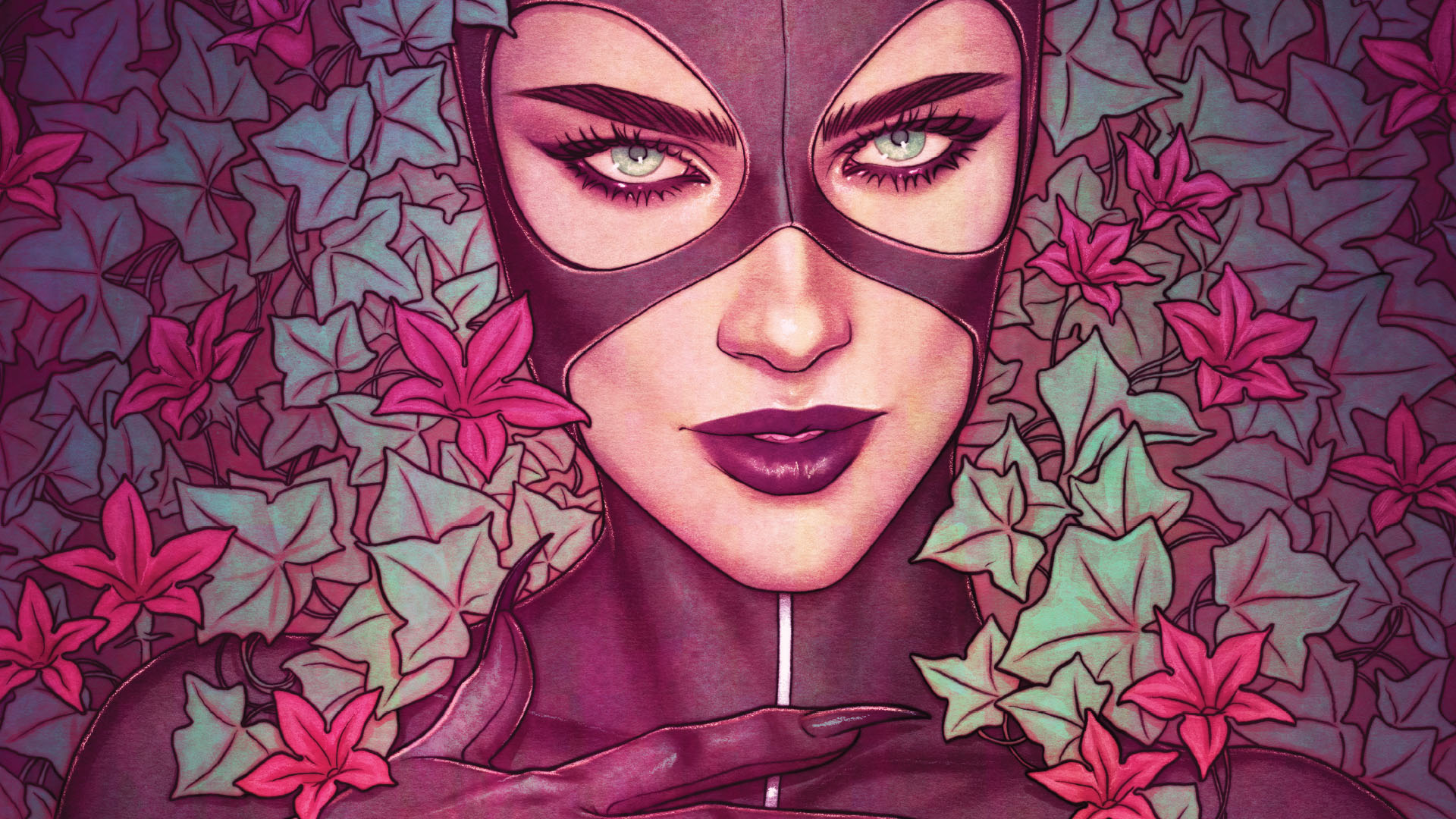 With stories like Swamp Thing, Justice League Dark, The Many Deaths of Laila Starr, and These Savage Shores, Ram V is rapidly gaining public acclaim and acknowledgement for his talent and ability to craft stories with a beautiful poetic quality. Catwoman: Vol. 5: Valley of the Shadow of Death
continues that winning streak with multiple standout issues. Unfortunately, Ram V has to accomplish a lot of story in a very small amount of space, and by dedicating so much time to multiple standout single issues, he runs out of space and is forced to rush the ending.
Valley of the Shadow of Death is an essential companion to James Tynion IV's Batman run. Plot threads from Batman Vol. 1: Their Dark Designs and essential plots for DC's Fear State occur in the story. Ram V is trying to kill three birds with one stone: taking out the corrupt heart of Alleytown, continuing the Father Valley arc, and setting up Alleytown to be invaded by the Magistrate heading into Fear State. In a sense, not one goal is accomplished well, and yet the book still succeeds.
Written by Ram V
Pencils by Fernando Blanco (Catwoman #29-31, 2021 Annual, and #33), Juan Ferreyra (2021 Annual), and Evan Cagle (Catwoman #32)
Colors by Jordie Bellaire
Support For Comic Book Herald:
Comic Book Herald is reader-supported. When you buy through links on our site, we may earn a qualifying affiliate commission.
Comic Book Herald's reading orders and guides are also made possible by reader support on Patreon, and generous reader donations.
Any size contribution will help keep CBH alive and full of new comics guides and content. Support CBH on Patreon for exclusive rewards, or Donate here! Thank you for reading!
Collects: Catwoman #29-33 and Catwoman 2021 Annual
The story of Catwoman taking over Alleytown, told in Catwoman Vol. 4: Come Home, Alley Cat, is continued in Vol. 5 through the continued investigation into the mysterious drugs. Some plot threads are left very loose; Father Valley continues to watch Selina Kyle before finally engaging, but not resolving the plot; and Magistrate begins the invasion heading into Catwoman Vol. 6: Fear State. Yet despite the lack of resolved plot lines, Ram V still has a really solid beginning, middle, and end.
At the beginning of the arc, Catwoman is investigating the mysterious new drugs, resulting in exciting answers to questions from Batman Vol. 1: Their Dark Designs. In the middle, Ram V demonstrates his mastery of writing comics. And at the end, when Father Valley fights Selina, the battle is sudden, terrifying, and climatic, with a stellar villain entrance amplified by Fernando Blanco's fiery art and the terrifying biblical quote: "And when you see the city surrounded by armies then you shall know that desolation is near." (Catwoman #33).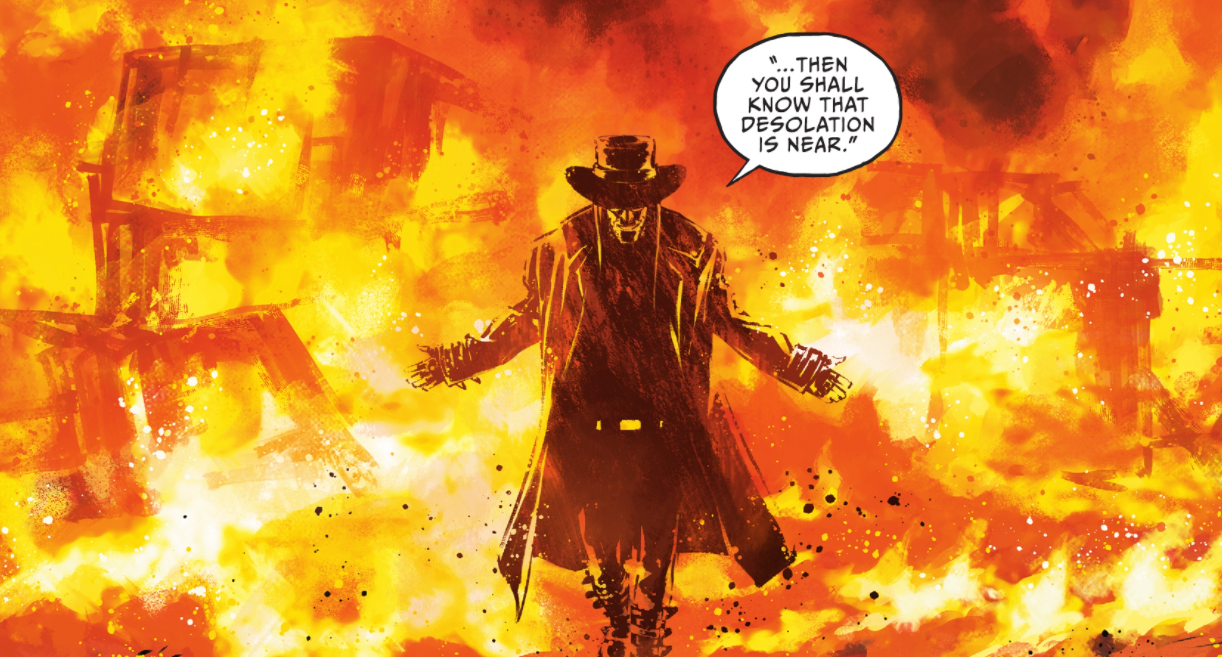 Father Valley is the best new villain of the post-Metal era of DC. Chanting haunting Bible verses, he is dangerous and full of depth. Though initially he comes across as simply a unique bounty hunter, the more time you spend with the character, the more compelling he is. The character also fits Ram V's voice and skill phenomenally, as each Bible quote comes from verses that allude to thematic stories and events full of unique relevance to society. The quote when Father Valley ambushes Selina is Luke 21:20, which tells of the signs at which Jesus predicts the world will end. This prophecy alludes to the events that are about to happen in Alleytown, as the next line in the Bible is: "Let those who are in Judea flee to the mountains, let those in the country not enter the city … there will be a great distress in the land and wrath against the people." Alleytown is swarmed by the Magistrate here, and Fear State is about to begin, and people either need to leave or they will be punished.
The title of the volume, Valley of the Shadow of Death, comes from Psalm 23, where David tells of God always being with him even in the darkest of moments. But in Father Valley's darkest moment during Catwoman 2021 Annual #1, Ram V subverts that notion, as God is not there; in that valley, Father Valley is instead being forged and changed. A former Brother of Dumas indoctrinated in Christian extremism becomes an antichrist, now acting as a hypocrite with the "Sinners in the Hand of an Angry God" mentality. When Father Valley kills, he justifies himself as "a redeemer," and yet his actions are the opposite of redemption. These paradoxes make Father Valley compelling, and I really hope Ram V's run isn't the last we see of him.
Catwoman #31 and #32 are stellar examples of non-linear storytelling. Catwoman #31, titled "Miss Direction," focuses on the story of Selina Kyle misdirecting security guards while she steals Ivy. Ram V keeps readers in the dark about what's happening in order to showcase Selina's skills as a con artist. He waits until the last possible moment and as such manages to turn what plot-wise is a very simple predictable event into a thrilling mystery. Catwoman #32, on the other hand, focuses on who Catwoman is. Through a series of stories about Selina Kyle, Ram V characterizes Selina as the stealthy, intelligent mastermind whose vulnerability is the people around her. Though filler, this issue tells a set of great character stories.
My one major complaint with Valley of the Shadow of Death is that the story is often rushed. Ram V only has these five issues for the lead-in to the Magistrate's invasion of Alleytown, while still trying to tell his own story. Though he successfully justifies Simon Saint's involvement in the plot, he struggles to explain the Magistrate's increasing presence in the book. The idea that tensions between the Alleytown citizens and the Magistrate are rising lacks any context behind it, as the book relies too heavily on the Batman main story to explain who Simon Saint and the Magistrate are rather than on giving readers a story about the Magistrate's action in Alleytown. Given that Catwoman #32 is a filler issue (although a beautiful and well written one), it is hard to defend Ram V for not having enough space to tell that part of the story.
Catwoman Vol. 5: Valley of the Shadow of Death is a resounding success and one of the best DC books of the year. With creative storytelling choices, important plot beats for the broader Batman Family of stories, and a stellar new villain, Ram V and Fernado Blanco delivered one of the best Catwoman stories in the last ten years.