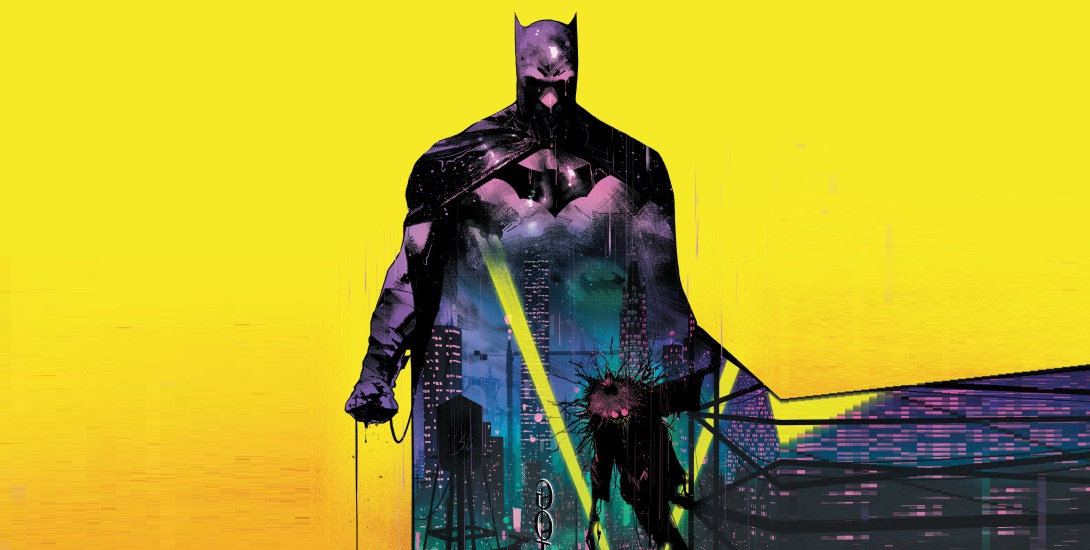 Infinite Frontier is well into its seventh month of storytelling. The big Batman event Fear State is just beginning, and now is the perfect time for DC to release its first Infinite Frontier trade, Batman Vol. 4: A Cowardly Lot. This story, which collects parts of Infinite Frontier #0 and Batman #106-111, sets the stage for Fear State. But by focusing on setup, the trade lacks a clear narrative with which to drive the plot and as such is left feeling dense and empty at the same time. While a main plot thread feels absent from the volume, the individual moments, characterization, and world building are very compelling and still lead to a very enjoyable albeit unsatisfying read.
Written by James Tynion IV
Pencils by Jorge Jimenez
Colors by Tomeu Morey
Collects: Part of Infinite Frontier #0 and Batman #106-111
Support For Comic Book Herald:
Comic Book Herald is reader-supported. When you buy through links on our site, we may earn a qualifying affiliate commission.
Comic Book Herald's reading orders and guides are also made possible by reader support on Patreon, and generous reader donations.
Any size contribution will help keep CBH alive and full of new comics guides and content. Support CBH on Patreon for exclusive rewards, or Donate here! Thank you for reading!
Batman Vol. 4: The Cowardly Lot
Before the main arc of Batman: A Cowardly Lot begins, the trade opens with the Batman parts of the Infinite Frontier launch book, Infinite Frontier #0. In it, we witness the events of A-Day as Sean Maloney, who plays a major role in Cowardly Lot, struggles to survive Arkham's gas attack. This edited version of the story, however, feels very incomplete and includes dialog from Diana and the Quintessence that doesn't make a ton of sense without the rest of the comic as context. There's a page featuring a panel for each story in the Batfamily line that feels especially out of place compared to the main issues of Cowardly Lot. I get why it was included, but I feel like Ben Abernathy (the editor of the trade) should have either just included the entire issue or done more cutting to make sure that this edit makes sense without extra context.
Once the arc gets to the main story however, it shows off everything that makes Tynion's Batman run fun: new characters, put into new places, and using Gotham to explore compelling themes. In keeping with his focus on creating interesting new characters, there are new villains in Gotham called the Unsanity Collective who want to reboot Gotham. There's Simon Saint, a billionaire who wants to establish a police state in Gotham called the Magistrate, and a mysterious ecoterrorist named the Gardener who is searching for Ivy. Each of these new characters has something cool to offer and creates compelling dynamics that drive the plot in unique directions. I talk more about these characters and what makes them work so well in my article Batman's Infinite Frontier: The Bold New World of Gotham.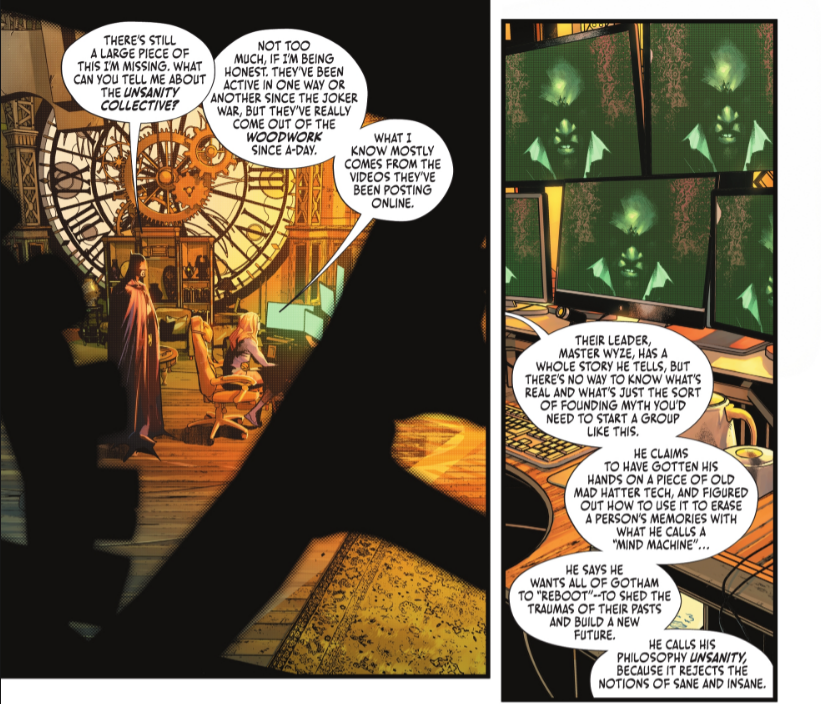 Characters we know and love get to shine and go in new directions as well. Batman, for one, is faced with a very different Gotham from the one he's been used to. Now only a millionaire, Bruce finds himself lacking resources, and meanwhile Gotham's view of him has dramatically shifted. The rise of anti-maskers (no, not the COVID kind, although there are parallels) has led to a surge of anti-vigilantism and an increasing appetite for the death penalty. Gothamites are facing an upsurge in violence and losing trust with the old forces that protected Gotham for decades. Bruce and the rest of the Bat-Family must navigate this tough environment.
Harley Quinn also gets a new direction in this trade. In a hilarious moment, she tries to be a hero, but can't run to the scene of the crime in time and asks how heroes can "afford cars…and grapple guns without robbing a bank every minute." Tynion has a stellar voice for Harley Quinn, always with just the right amount of humor, but he also provides a more personal, softer side to Harley. In a great exchange with Ghostmaker, Harley compares Ghostmaker's secrecy to her own and notes how only two people really know her, and how "one of them used it to control me, and the other used it to set me free." There is a real depth to Harley's character that has traditionally felt lacking with DC's portrayal of her.
Thematically, Tynion really shines. Cowardly Lot gets to some really powerful themes that address the current political climate of fear and hatred. After a string of so many hardships, just the littlest thing will cause Gothamites to hide in fear. Regardless of the truth of the situation, the thought of another villain attacking Gotham has led to the triumph of fear over the truth. The aptly named title truly drives the theme home. While talking to Miracle Molly, Batman notes "When I started…I knew that the criminals of the city were a superstitious and cowardly lot…" Miracle Molly replies, "But now you're smart enough to see that it's not just the criminals right? This world makes cowards of us all. Too afraid to go down uncharted paths towards salvation."
The specific issue that conversation takes place in, Batman #108, especially, is a masterpiece in terms of exploring complex themes in the text. Tynion really finds gold as he explores Miracle Molly's character. He gives her this almost poetic voice that is full of powerful lines and beautiful moments. As Miracle Molly looks out with Batman at the cyberpunk-esque Gotham, she remarks, "Look at that beautiful world and all of the beautiful people living in it. It breaks my heart. Seeing people work themselves to death playing in a system that does nothing for them. A cold unfeeling system that was designed decades ago and has been falling apart for longer than any of them have been alive." Miracle Molly is one of the most compelling new characters at DC, and it's because of the honest, poetic-like, text that Tynion gives her to explore many of the themes core to human values and society.
When things get scary in Gotham and change in uncomfortable directions, the people turn towards Totalitarian voices promising "law and order," like Mayor Nakano and the magistrate, just as so many countries face similar shifts to the right. Tynion really gets to this serious theme in an approachable way that doesn't feel preachy or forced, but instead feels natural and makes sense. Addressing themes like this are where he really shines as a writer.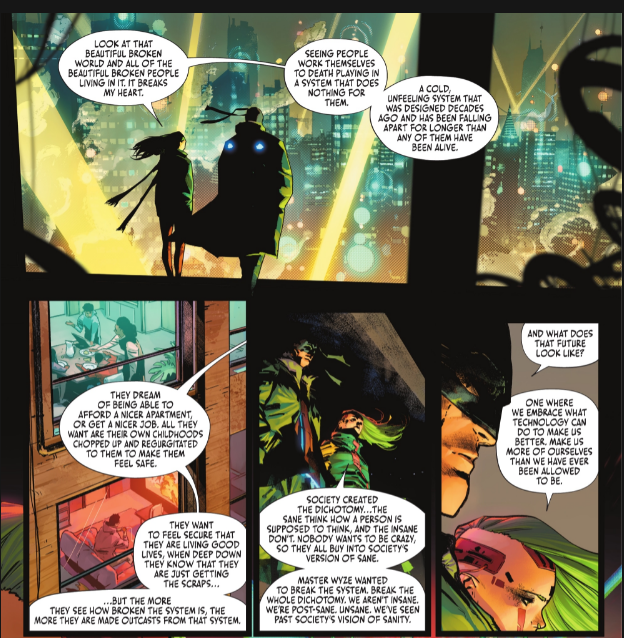 Though full of compelling moments, the trade doesn't have a clear main plot — instead it wanders around until Fear State begins. One moment Batman spends a whole issue on Scarecrow before deciding to spend a different issue investigating the Unsanity Collective with a very weak justification connecting the two: "they may be at the center of everything." While both issues are good, they feel like they belong to two different books. One focuses on Renee Montoya, Harley Quinn, Scarecrow, and Ghostmaker, and the next ignores all of those plot points for the Unsanity Collective and the Magistrate. While each story, side plot, and beat have compelling and interesting tales to tell, Tynion waits too long between those moments, which feels disparate and makes the story harder to follow.
The disparate storytelling of Cowardly Lot also comes from a wide number of plot points that don't resolve or even come to a strong stopping point. The Harley Quinn/Gardener/Ghostmaker storyline, for example, finds itself without any sort of ending or tease by the end of the volume, only really having enough time to explain who the Gardener is, establish a Harley Quinn/Ghostmaker dynamic, and hint at what Ivy is doing. The lack of space dedicated to that plot point results in the setup feeling largely unnecessary and instead takes away from establishing a clear narrative. That subplot has lots of cool moments, but fails to get off the freeway due to a lack of space.
Similarly, the opening beats where Scarecrow tortures Batman in each issue feel pointless and empty due to a lack of time dedicated to them. That part of the story doesn't move forward at all and instead stays stuck in place and uninteresting. I understand that Tynion was trying to tease the ending of the story and take a "look how we got there" approach to telling the story, but it only served to interrupt the pacing of the volume.
Where the lack of a clear narrative struggles to give the story a cohesive vision, the stellar art by Jorge Jimenez and color by Tomeu Morey more than make up for it. Full of the bright neon lights associated with cyberpunk mixed with the unsettling images of horror, Jimenez shows such an array of talent. Scarecrow is deeply unsettling. Gone is his burlap stack, and replaced is a nightmarish post-apocalyptic scarecrow full of needles and a massive gas mask. When focused on Scarecrow-centric sections of the trade, there is a dark, ominous feeling. For example, in a speech by Nakano, Scarecrow watches from afar, almost like a Lovecraftian monster straight out of FromSoftware's Bloodborne. When focused on the Unsanity Collection or the Magistrate, a cyberpunk aesthetic dominates, as cars reflect bright pinks and dazzling city skylines that feel grandiose and stunning even when only covering a small area of a page. Jorge Jimenez is one of the greatest artists of this era of comics and his hard work really brings the piece up.
Despite struggling to create a clear narrative, Tynion's talented ability to weave complex themes, create fun new characters, and the story's stellar art really allow the story to shine through its shortcomings. I can't wait for Fear State and to see where this story goes next.