III. Year 10, Doug's Meet-Cute with Krakoa (pgs11-19)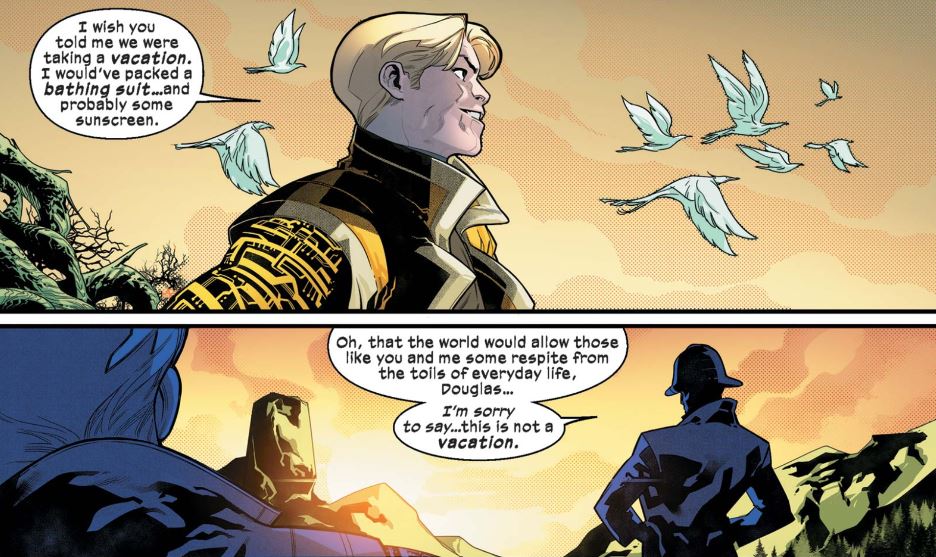 A. Doug Meets Krakoa—Ambivalently at first; then, with eerie enthusiasm
This is the first we've seen of the six-month gap after Rosenberg's Uncanny X-Men and before HOX/POX, though it raises more questions than it answers! This scene certainly isn't here to reveal that Doug communes with Krakoa. Their relationship and his creation of a Krakoan language in distinction from Krakoa's own have all already been functionally established.
No, this scene is meant to be another layered puzzle piece! Though it might mostly be misdirection with just a kernel of something vastly important hidden in plain sight. Who. Knows.
Related:
Support For Comic Book Herald:
Comic Book Herald is reader-supported. When you buy through links on our site, we may earn a qualifying affiliate commission.
Comic Book Herald's reading orders and guides are also made possible by reader support on Patreon, and generous reader donations.
Any size contribution will help keep CBH alive and full of new comics guides and content. Support CBH on Patreon for exclusive rewards, or Donate here! Thank you for reading!
Previously: More in the Hickman X-Men Re-Read!
It sure is interesting that the scene opens with Doug's throwaway comment implying that Xavier told him nothing about their destination. Indeed, it quickly becomes obvious that he doesn't know anything, so I wonder how that scene went: Sure, Professor! I'll just fly with you wherever in that creepy safari outfit.—Ok, but remember, it's business, not pleasure, Douglas.

Note that Doug's already wearing the Warlock sleeve "months ago," but we still don't know how Warlock was revived or preserved from his apparent death in the last issue of Rosenberg's Uncanny X-Men before House of X #1.
But Xavier's safari outfit really is creepy. Especially because it's almost exactly the same as what his sister, the Mummudrai Cassandra Nova wore in her first appearance, in another tropical paradise, no less—Ecuador's Amazon, which hid in its vastness the abandoned Master Mold, to which she coerced Trask to activate its production of the machines of mutant genocide (New X-Men #114, 2001).

[NX114 by Grant Morrison, Frank Quitely, Tim Townsend, Brian Haberlin, Comicraft, 2001.
Here, Cassandra has just tried to take over Xavier's mind thousands of miles away]
Whoa! Xavier in his safari outfit brought Doug (likely through coercion) to a tropical paradise in order to have him make contact with Krakoa as a sentient being and somehow persuade it—which we don't see here—to start developing the sustainable infrastructure for a utopian mutant renaissance.
So, yeah, there are both weird parallels and corresponding divergences. Does it mean anything beyond developing a kind of figural inter-textual beauty possible only in comics? Who. Knows.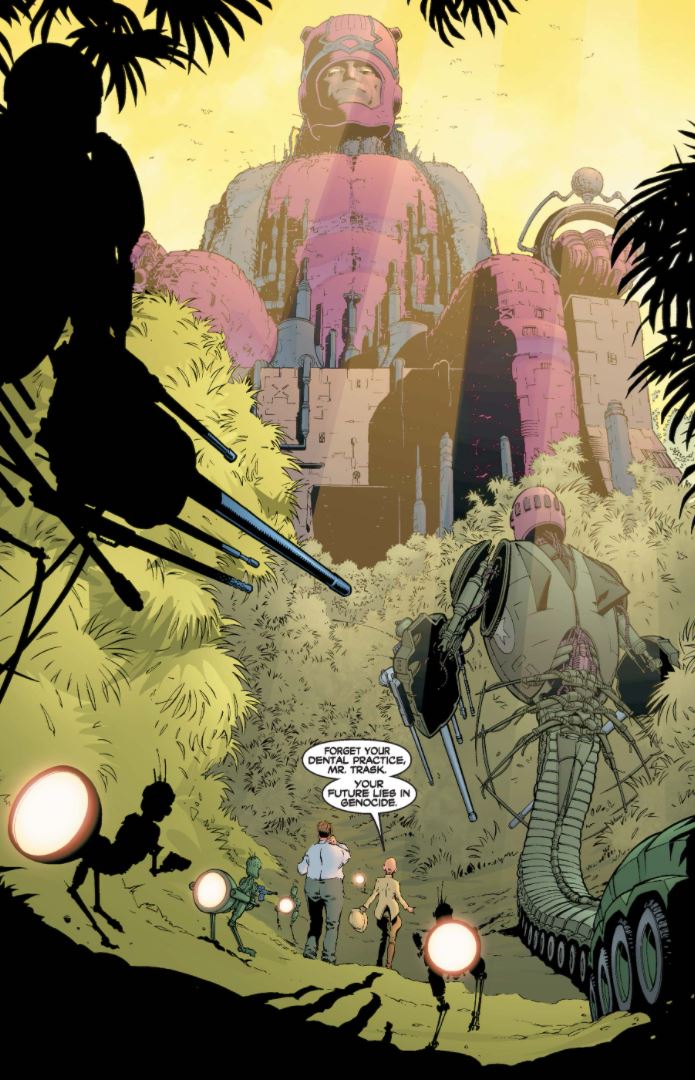 [NX114]
The subtext of Doug and Xavier's weird interaction on page 12, though, seems impossible to interpret. Doug affirming that Xavier should've expected sarcasm from the mutant master of linguistic nuance does actually make sense, but the exchange is odd and distinctly unfriendly.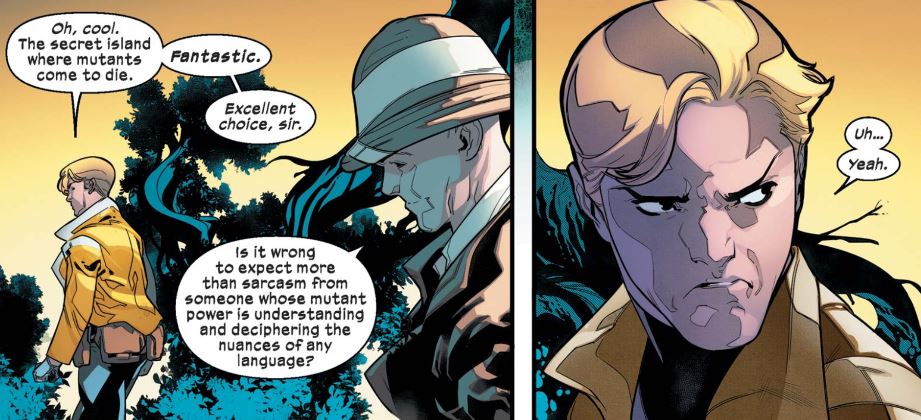 Xavier's communication so far has been emotional and nonspecific/nonlinguistic, but he clearly has developed some kind of pacific connection with Krakoa. Not only has the classic air of menace vanished—on Krakoa's part in any case—but its vestigial humanoid manifestation couldn't be more different from Giant-Size X-Men and onward, up to the image of its hillock-sized clone in Gillen's Sinister London (UX vol.2 #14). Here, it's simply grown a craggy, almost bearded giant's head—with very human eyes and nose—even the suggestion of human teeth past the foam of green foliage around its "lips." It appears relatively static, like its not going to detach a pair of feet and go rampaging. Its prior embodiments were fanged, glaringly bug-eyed, and more reminiscent of a berserker Man-Thing, or John Carpenter's Thing.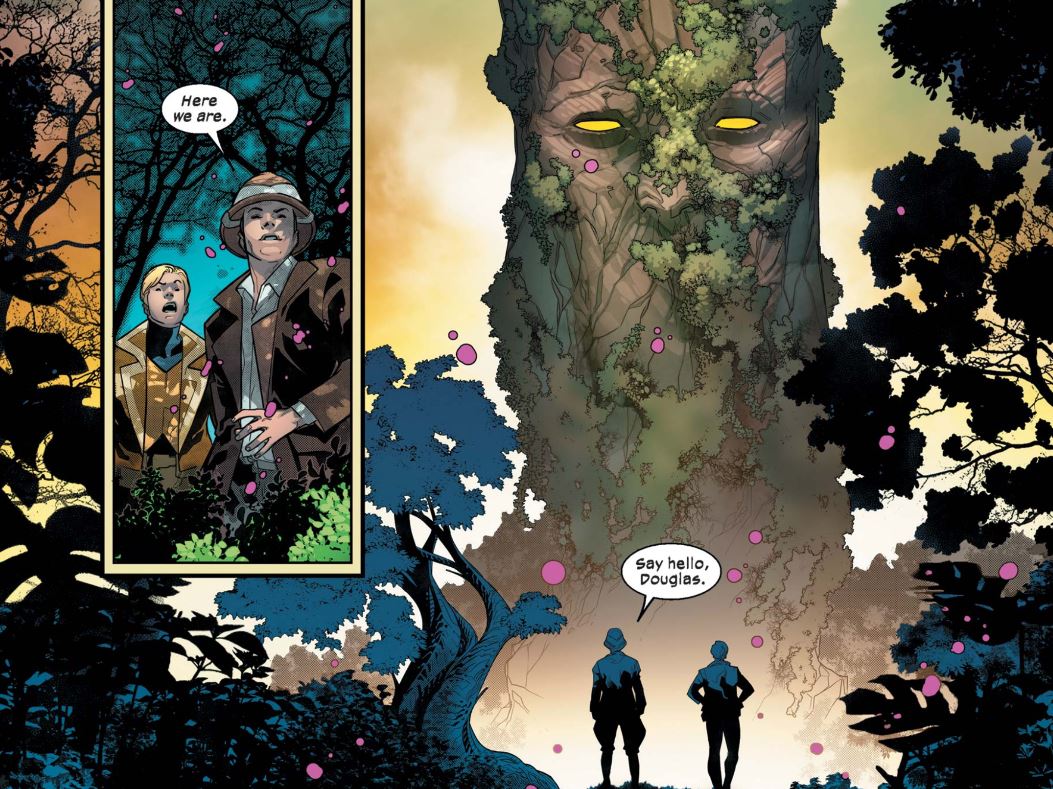 Still, what here could distract from the most bizarre moment in all of HOX/POX? Doug's Warlock sleeve lightly touches and swiftly infects Krakoan foliage with the Technarch mutant's techno-organic virus.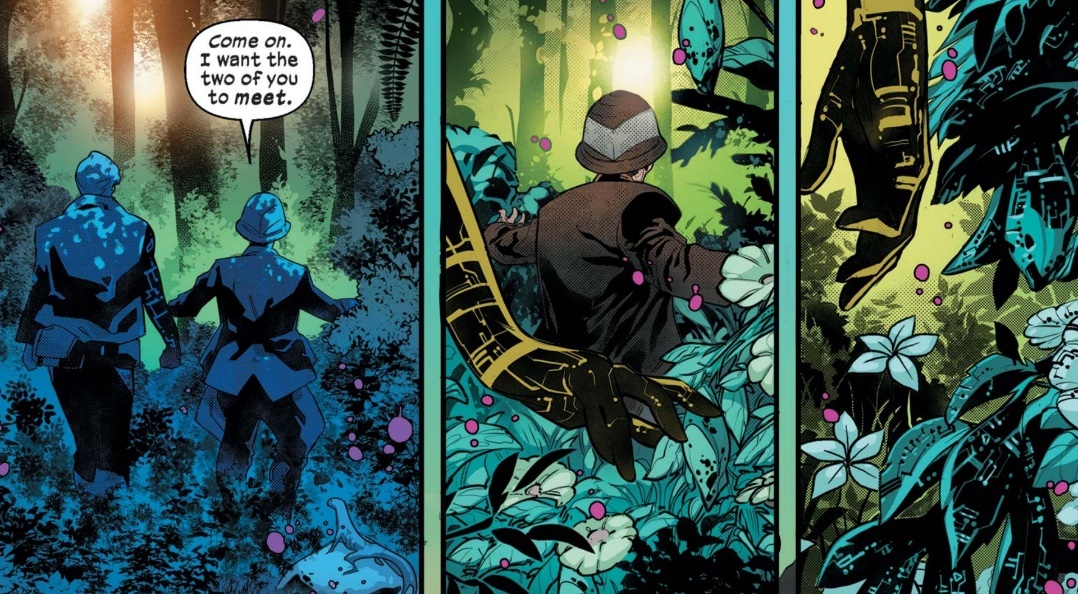 Xavier certainly wasn't looking! Did Doug even notice? And is Krakoa smiling??
Some fans have developed a working cipher for Krakoa's native language based on post-HOX/POX stories, but going back to this early interaction, the strange font remains indecipherable.
Now here's maybe the biggest mid-game curveball in HOX/POX: "We were Okkara. The one land." And the "twilight sword of the enemy"?! This surely can't be Surtur from Walt Simonson's Thor, right? After all, demons and hellish dimensions are already integral to the X-Men experience!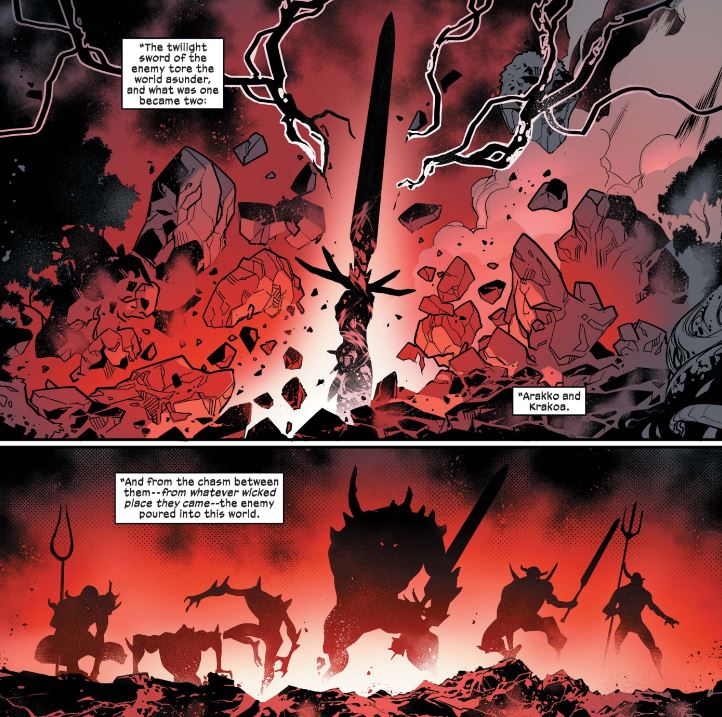 And then, Apocalypse—which really comes out of nowhere! So, where the hell is Kra—I mean—Okkara?! Somehow, it doesn't seem likely this mutant of Ancient Egypt—meaning Okkara's antiquity can't be prehistoric—and what seem like the most Ancient Egyptian of his Horsemen ended up in the South Pacific without a lot of worldbuilding backstory that we just haven't seen elsewhere in Marvel history.
But this shouldn't be too surprising, I guess: Krakoa is mobile. Okkara likely was too. Maybe it originated near Ancient Egypt. That'd be interesting!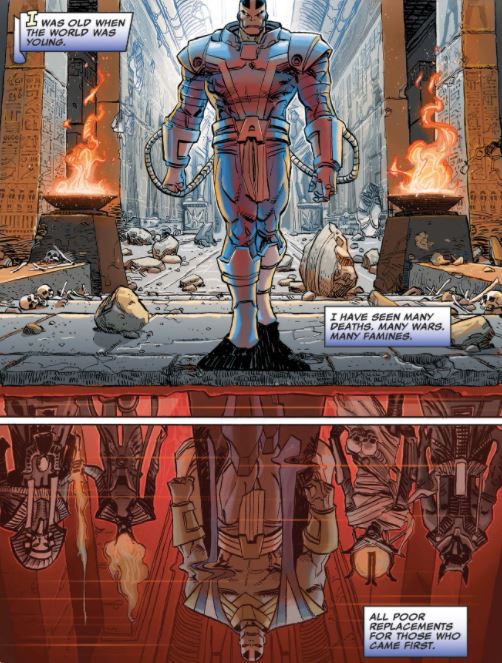 [Marvel Comics #1000, "The First Horsemen" by Hickman, Dustin Weaver, Joe Sabino, 2019]
In any case, this enigmatic montage of an ancient past completely throws out previous Krakoa origin stories, including 2018's Journey into Mystery: The Birth of Krakoa, just an updated rehashing of the go-to origin for everything metahuman in the Silver Age: it was all that nuclear testing and fallout. Handwaving and pseudoscience that doesn't even pretend to make sense are much less interesting than the intense hints at some ancient epic myth the creators here have succeeded in skillfully doling out for some future payoff.
Moreover, this mythic vision can't help but recall Plato's myth that each human is half of a missing whole, literalized in the vision of the first humans as what would look to us like an amalgamation of two people. These primordial beings were so powerful the gods feared them and so sundered their original selves into two halves scattered so widely that they'd likely never find each other—and even if they eventually did, they probably wouldn't easily recognize each other, each appearing as a broken, malformed piece. Such aspects might be worth keeping in mind going forward!
"The first mutant"—which is interesting, because by all accounts Selene is supposed to be much older—"stood in the gap," which clearly recalls Hickman's S.H.I.E.L.D. miniseries (2010-2011) and his origin for that modern spy agency as rooted in Ancient Egypt and a foiled Brood invasion, the defense against which Apocalypse—already 300 years old—played a crucial role. That original inspiration for planetary defense was called the Brotherhood of the Shield.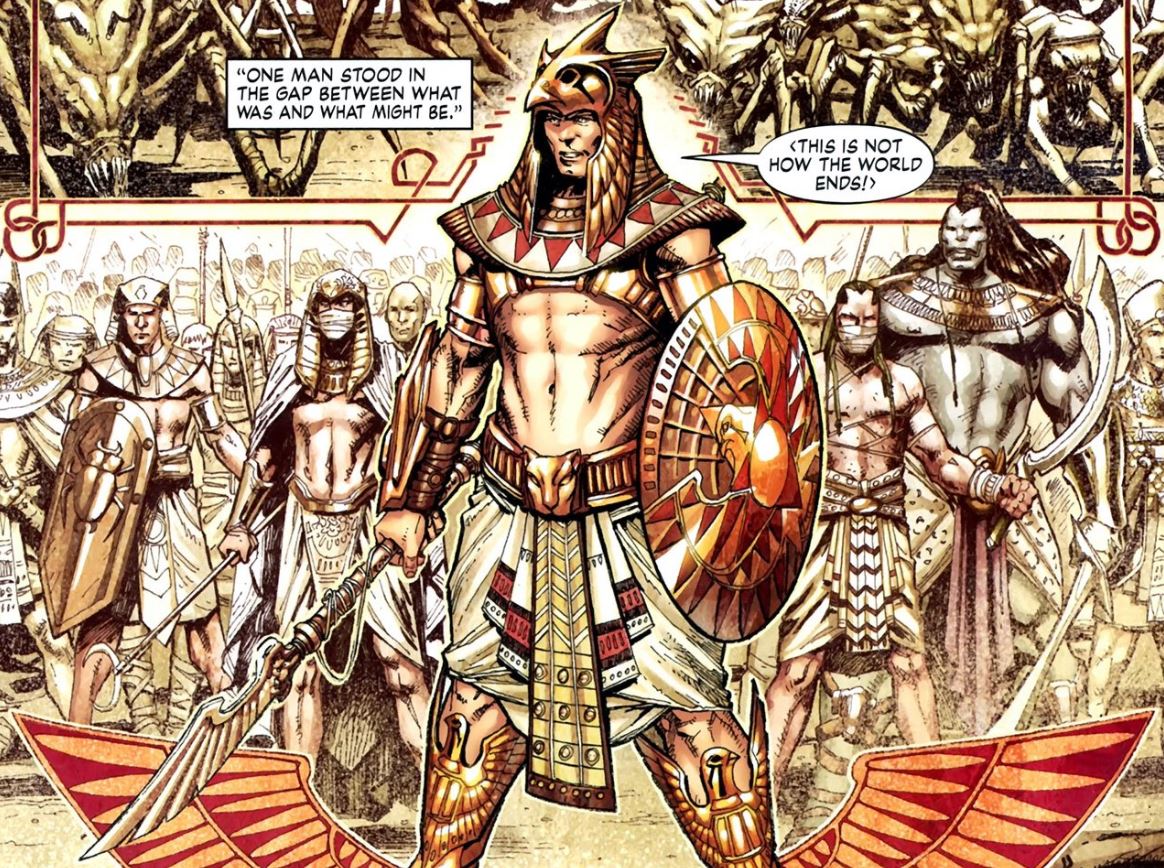 [S.H.I.E.L.D. #1 by Hickman, Weaver, Christina Strain, Todd Klein, 2010]
But this epic of "the twilight sword" sundering Okkara seems to feature an older-looking Apocalypse. Or maybe we should start wondering if he ever time-traveled… After all, he grew up deeply familiar with Kang/Rama-Tut's time-traveling Sphinx, which had crash-landed in Ancient Egypt shortly before Apocalypse's birth (as detailed in Rise of Apocalypse #1-4, 1996). But it was broken. Rick Remender's Uncanny Avengers #6 (2013) followed chronologically by his Uncanny X-Force #3 (2010) makes clear that Kang/Rama-Tut made some kind of deal allowing Apocalypse to travel to several points across history to select his "Final Horsemen," but the specifics of this arrangement and how it worked weren't made clear, and it hasn't ever come up post-Remender.
It would certainly be interesting to find out Apocalypse had somehow time traveled earlier in his life, but there's no indication that ever happened.
Now, turning the page …
Okay, wow. There's a sudden jump! We don't see Xavier's reaction to this ancient world-shaking revelation nor how either of them processes it casually enough to nonchalantly end up "later," on the next page: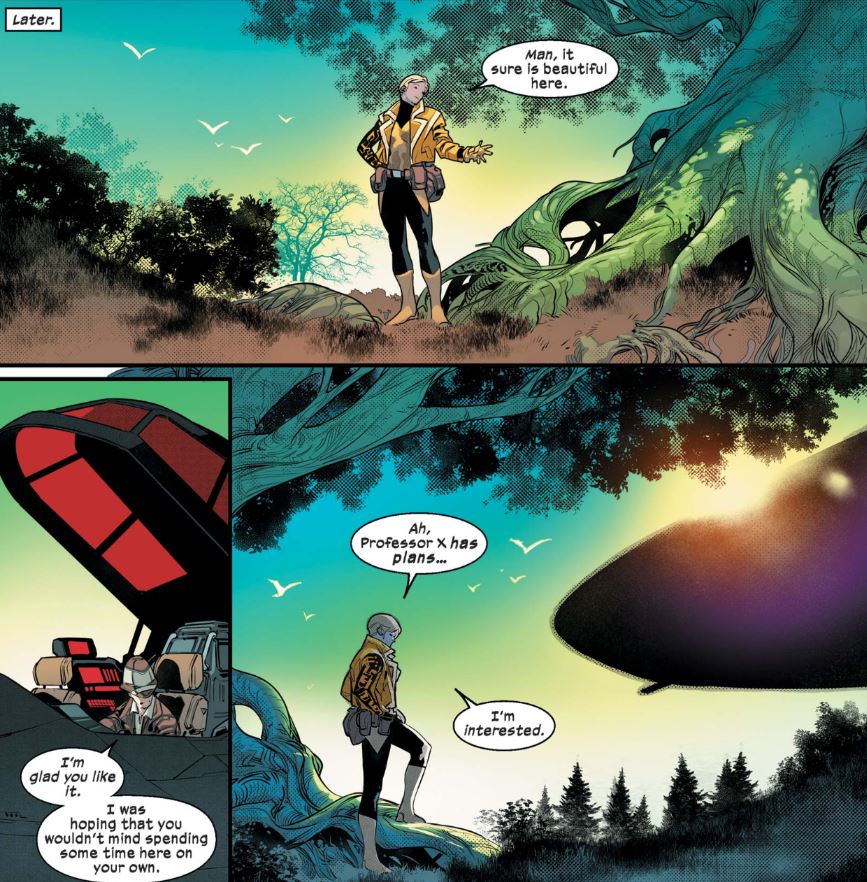 There's Doug's sarcasm again! The first speech bubble, at least. The second? Maybe he's diffident; after all, it's not like he's had much going on lately, hanging out in a non-X title like Daredevil. (He's been aimless.)
Seriously, what the hell?! Well, it might be logical that Doug didn't quite get "the warrior-god in blue" and "his FOUR to sentinel" were what we the readers could visually identify them as, but then I guess that just raises the question of what Doug's linguistic powers allow him to "see." In any case, it's still strange that there's this odd gap where there would've been some rather interesting reaction and discussion.
Only once the pair are back at the Blackbird does Xavier fill his once and future pupil in on why they even came there!
While throughout mutant history, there have been many an episode of overwhelming telepathic revelation, Xavier uploading his Krakoan vision into Doug's mind all at once can't help but recall him being shocked by Moira's own sudden gift of all the centuries of her secret lives. As Moira fears with Charles, should we worry about Doug?
Maybe? Probably! Because another clear parallel here is with Xavier in Year 1 on page 8 of this issue. There, he's not just sweating it out to make the denizens of Bar Sinister forget about his and Erik's visit—Xavier's telepathic effort starts with persuading Sinister to get to work on their "sinful, secret confederacy": "First, you need to begin the good work."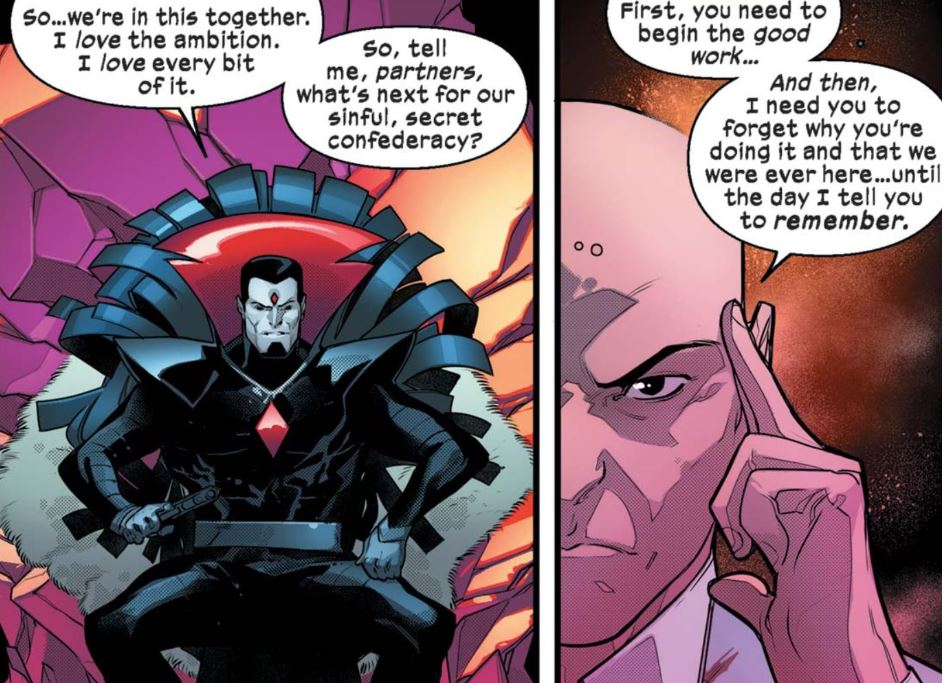 In the Year 10 Krakoa scene, Doug's been fairly detached, even cynical, in regard to Xavier and their trip (leaving aside the weirdness with the T-O virus for now!); however, that detachment ends "later" on page 17 when the good Professor, already getting in the Blackbird's cockpit and ready to bail on Doug, just says: "I'm glad you like it. I was hoping that you wouldn't mind spending some time here on your own." Right, that's not weird at all—especially considering Doug's ignorance about their destination at the start.
Well, I guess Xavier told him to pack a duffel—or was the Professor just being thoughtful ahead of time, packing a bag with everything he'd figure Doug would need? Who. Knows.
But Doug's still skeptical on page 17 ("Ah, Professor X has plans …")—when he says he's "interested," it's italicized but not bolded in the style of that neat recent evolution in Marvel comics lettering allowing readers to interpret dialogue on a broader spectrum of emphasis, and ambiguity. Here, I read it as Doug's ambivalence, also when he answers "Okay" to Xavier's characteristic arrogance: "It's better if I show you." (Apparently, his pith helmet interferes with telepathic deliveries?)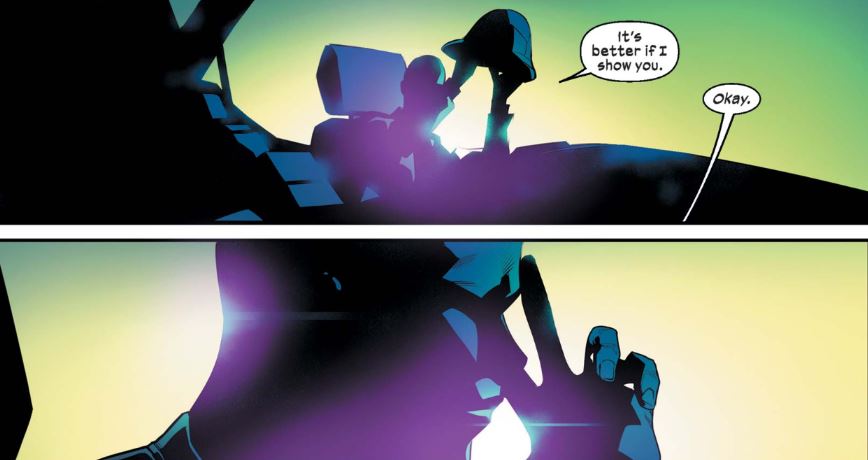 After Doug halfheartedly/skeptically conceding to Xavier's telepathic download, following the shock of it, he says: "Well. That's ambitious." Eerily echoing Sinister's own delight over Charles and Erik's ambitions. But obviously Sinister is already hip to the game in ways no one else has ever been—a stark contrast to Doug's innocence and unworldliness.
Xavier's response to Doug isn't: "Does this work for you? Do you have anything else going on right now? Oh, I'm sorry do you have a personal life?" Nope! It's like: Well, of course, you simpleton. I'm Xavier. And then: "How long will it take?" With again, that subtly italicized emphasis—suggesting some kind of subtle coercion??? But Doug's thoughts are all in; he's already diligently thinking out the technical details.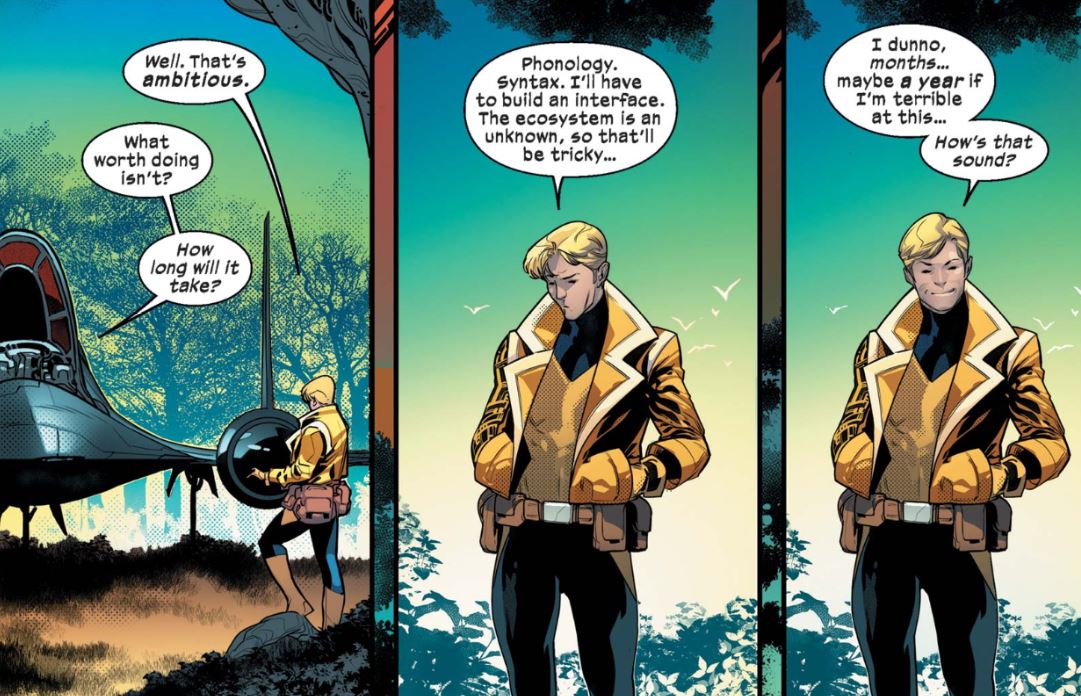 He makes his estimate—which in hindsight we can take to mean that he wasn't terrible at this project after all since it took only half a year—and his question to Xavier is what Xavier's should've been to him initially: "How's that sound?"
To reiterate: Doug is completely taken with Xavier's vision and plans in clear contrast to his detachment and diffidence at the start of this Krakoan tour with the Professor.
"Best get to it." Doug's cheeks are pink with boyish excitement!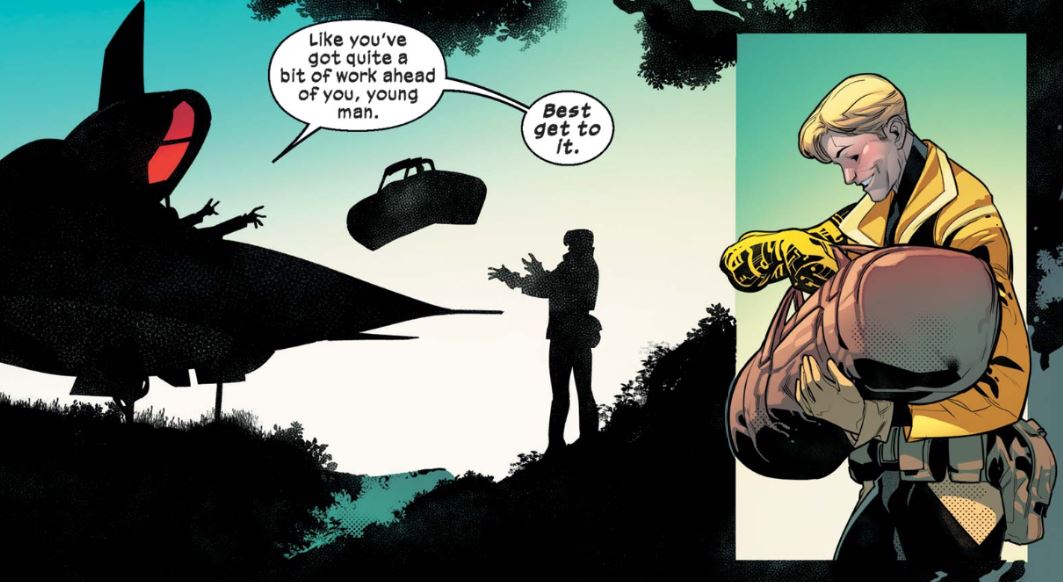 This scene: Almost no answers—except the wild mystery of I was once a greater whole, Okkara—but a lot of very strange questions.
The extent and implications of Doug's relationship with Krakoa remain mysterious.
B. Krakoan Systems (pg19; What about Infrastructure?)
What sticks out about this graphic on "Current Krakoan Systems" is that the four listed seem to be focused almost wholly on security, though it's not clear what Trinary's "Secondary/External Systems" might be. Still, should we assume sanitation systems are wholly Krakoa's purview?
It spoils nothing to say that Sage, Black Tom, and Beast will all come into focus in Ben Percy's X-Force. Black Tom's name here is surprising, though; traditionally an X-Men antagonist and Juggernaut's great love (one of those open-secret situations), the Irish mutant has for many years now had the ability to control vegetal life, embiggen and heal himself in symbiosis with plant matter, and even in a sense commune with such an environment, all due to a secondary mutation. Sounds like a shoe in for Krakoan infrastructure!
Skunkworks are elite R&D "radical innovation" projects for small dynamic groups of bleeding-edge talent. Be sure that Forge is busy in the bowels of Krakoa engineering all manner of mutant biotech…
C. HOX 3's Krakoan Language Data Page (pg28)
An autochthonous/indigenous language originates in a specific geography; it isn't imported from elsewhere—like American English or Spanish. Native American and Australian Aboriginal languages are autochthonous. So, the further description of Krakoan here undercuts the claim that it's indigenous!
The new people of Krakoa don't speak Krakoa's own native language—which itself would have to be called the properly autochthonous speech of the land here, not the sovereign people's Krakoan—whatever sovereignty means here exactly. Granted, the colonizing mutant Krakoans aren't displacing native peoples, but the creation of this nation is inarguably a colonial endeavor (that doesn't necessarily mean imperial. Colonization is a tool of empire, but not all colonization efforts fall under the purview of imperialism. Although I'm sure some X fans wouldn't mind the look of a mutant imperium on Earth and beyond 😉.)
What's clear here is that Hickman is deliberately creating fraught contradictions at the very foundation of the Krakoan nation. The fallout will be much drama for creators and fans that hopefully pays off.
We'll return to the question of this language again, but for now, it's important to remember that Doug's Krakoan cipher isn't a transliteration of Krakoa's native speech. Doug manufactured this language (which isn't really a language to us the readers because otherwise we'd actually have to learn it; to the audience, it's just a cipher).
Colonial Krakoan is also a securitized language, a language born of justified paranoia. Meanwhile, Krakoa's native speech is indecipherable and incomprehensible to everyone but Doug. That exception does open up the possibility for more who might yet understand the island linguistically; already, we know Xavier can communicate with it empathically. There may be other forms of communication, as well.
For now, one certain conclusion: Doug is the second bedrock of the Krakoan nation. And in POX 4, we've seen his very odd introduction to the island. Something's off.
IV. Year 1000, Earth's Viral Eschaton (pgs20-25)
And we're back in the subdued beauty of Year 1000's cityscape, immaculate and softly hued but lacking human mess and vitality—a beautiful lifeless geometry.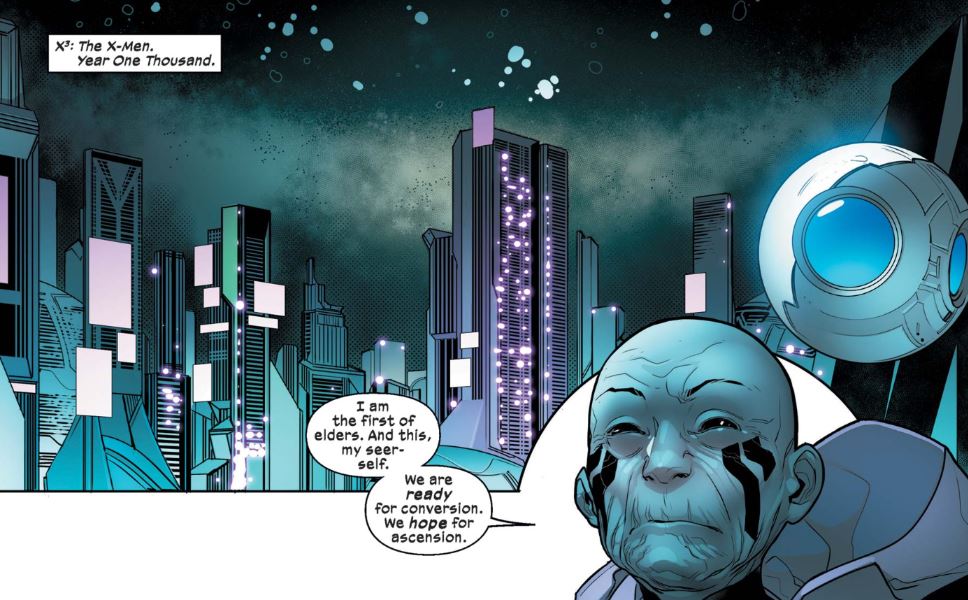 The wizened, grey-blue "first of elders" appears sexless, though I hope Hickman isn't equating androgyny with sterility—but our culture long ago developed that association into an almost automatic trope.
What's most compelling right off, though, is the elder calling the drone by their head "my seer-self," which sort of sounds like an inversion of classic Warlock-isms (like "selfriend")—and Warlock's absence throughout Moira's lifetimes can't help but feel significant given all the focus on matters techno-organic and the mystery of the T-O Virus silently spreading to Krakoan flora months before the new nation was born.
Further resonance between this "seer-self" and matters techno-organic: Juxtapose this Year 1000 drone with the Year 100 orb that painfully infected/converted a baby's flesh with/to the T-O Virus à la Warlock back in POX 3. The function of each device is an inversion of the other's, and their external resemblance is uncanny, given the context and the juxtaposed timelines.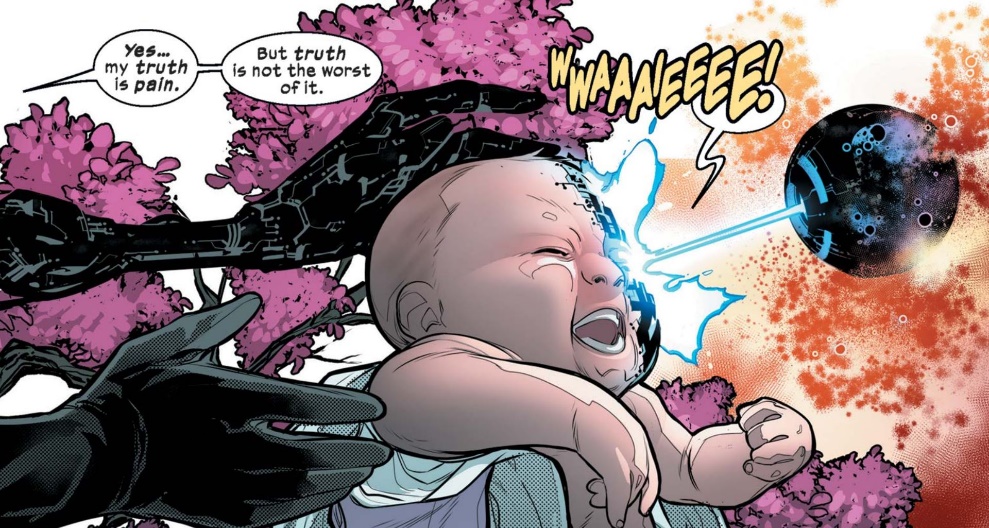 [POX 3, Year 100]
Now, when we think of seer today, we might still think of a person who's in touch with their spirit or is said to have spiritual or prophetic insight. But it's also a word that corporate branding around big data or AI products is deracinating from those original meanings. Moreover, if having access to seer-like sensibilities traditionally means that someone's reached their higher self, the elder here is making a mockery of that: Their highest potential as a human being they've placed outside themself, in a cold little orb of machinery. In a very real way, they've already begun the process of their digitized "conversion."
Sensibly, the technological Phalanx don't care to discuss matters spiritual, like hope. Ascension to them isn't a matter of desire or visionary impulse; it's about what computes—or doesn't.
"Will-you-ascend" isn't a question that will be satisfied by anything but a binary Y/N. They don't care at all about the elder's musings.
Tellingly, the posthumans can no longer "tolerate" wonderment—the feeling of being just short of transcendence; that elevation of perspective that creates curiosity has become intolerable as what passes for humanity has long since settled into its dogmatic assumptions:
The "great union" with the Phalanx is the only vision tolerated on Earth—which means humanity has already demolished its own spirit.
Love the Kirby hat porn the Phalanx are sporting—classic Kirby-esque stylings for Marvel cosmic beings, but here on the grimmest set of upstarts in the universe.
Only on page 21, when the Phalanx converts and annihilates the elder's neat little "seer-self" does everyone, even the little Nimrod drone(!), seem shocked by what's already been happening—since the dim sky blackened with the shadow and Kirby crackle of the Phalanx-converted Nimbus.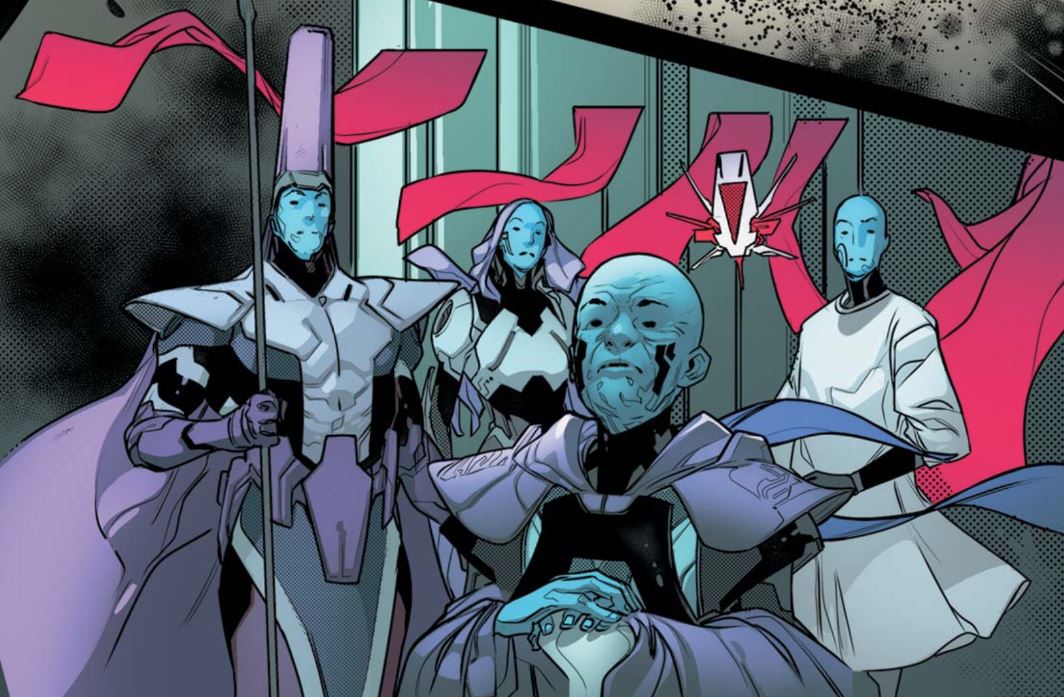 Page 22: the elder has grown doubtful. And the Phalanx's response to their question should at last be revelation enough that humanity's end has arrived: "Am I in there anywhere?" "Anywhere-there-in-we-[Phalanx]-am"—meaning, sure, we converted you, you are us, there never was a you, there's only us Phalanx.
By the way, that exchange of dialogue is an effectively creepy chiasmus. Hickman has intentionally been using that structural patterning throughout HOX/POX—as discussed way back in our look at POX 1.
And wow, the Phalanx in the first panel there looks absolutely ghoulish, a nightmare fit for the Goblin or maybe even Carnage.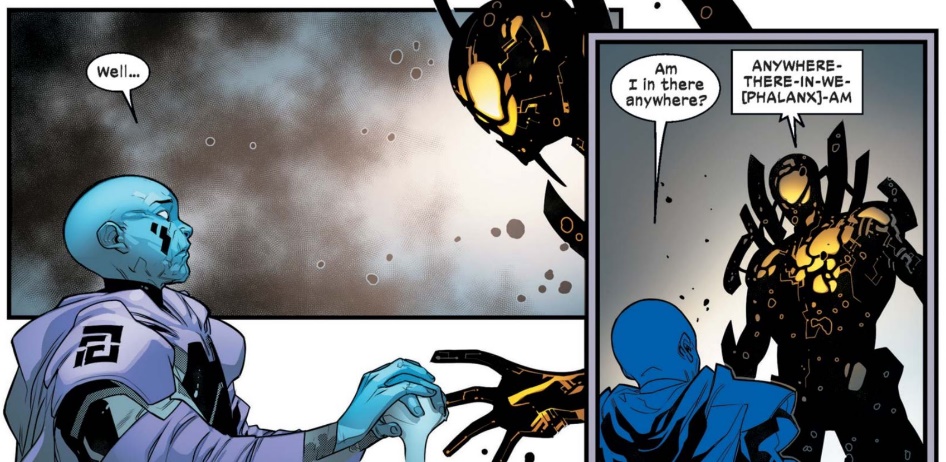 The elder's code seems like a mythic allusion, but it's not clear. The city on the hill is traditionally Jerusalem (or the Christianized version of it, any idealized Christian community). It also seems like they're talking about a nuclear holocaust here (a trope of thriller fiction in Middle Eastern venues). Or maybe ironically the luminosity of the visionary city turns out not to be symbolic of its genius and beauty but rather its self-destructive meltdown.
We discover the Phalanx uploaded a copy of the elder's consciousness, which again the elder seemed to offer up as greater than their fleshly self, while they're stuck with their corporeal form, including their mind, as the world ends. Only a copies of posthumanity will ascend. And how many will be made before the end? We've seen little of this world. Obviously, those trapped in the Preserve are excluded. But who else is? How few will be "lucky" enough to have their consciousnesses copied and uploaded?
Despite the T-O virus already seen in Year 10 imprinting on and converting Krakoan flora and the Phalanx gobbling up the posthuman entourage on page 25, the posthumans' assumption seems to be that as seen during The Phalanx Covenant, biological entities can be absorbed, but their sentience can't be assimilated without major degradation. They hope their digitized consciousnesses will fare better. But it's clearly idiocy.
The Phalanx deform into a spiked sphere—really looking viral now, and much more than the "seer-self" resembling a large-scale version of that POX 3, Year 100 orb blasting its techno-organic branding.
"Await-response"? But how will they "endure the dichotomy" as they wait?! (Echoing the priest's language in POX 3.)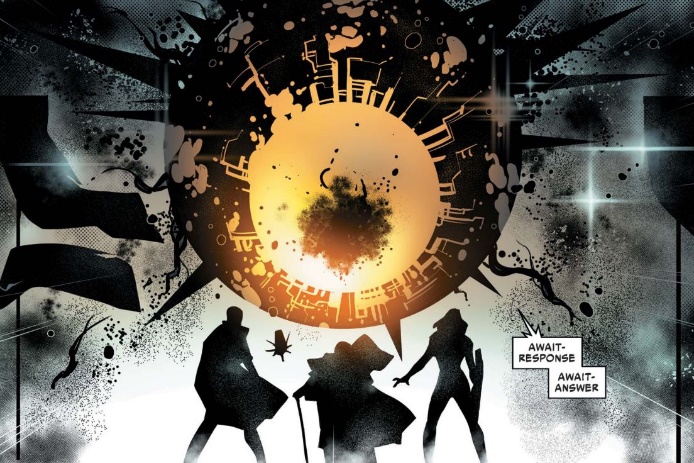 Well, the Librarian doesn't even understand what's going on. And he remains bemused even as he learns; by the bottom of page 24, he's aware of as much as the woman, but he's clearly not feeling celebratory. None of them is, not even Nimrod—"Not one bit."
It's also odd that the elder isn't shown on this page. Their location is made clear by the hovering Nimrod, which we already saw in position above their head. We see the man and woman flanking the floating robot. Whatever the reason for visually removing the elder, these four are basically Earth's representatives, all that's left, except the out-of-place Edenic garden inside the Preserve …
It's almost like Nimrod the Greater presents here as the classic angel at one's shoulder—and the guardian of humanity, helping ferry the species along until they're raptured by their prayed-for eschaton.
The woman quibbling about how to label the elder's supposed ingenuity (it's not deceit; just a workaround) further suggests that she was overly emphatic about not calling the Phalanx imperial. But they are.
What else is empire but the viral spread of a particular culture seeking to establish itself and go on replicating in places where there were once others. The imperial is allergic to otherness, to the foreign; it's all or nothing. Imperialism is the need to colonize and own worlds or destroy them in the attempt.
It feels bleak and kind of hard to swallow that far-future humanity, extrapolated and apparently developing without cataclysmic/apocalyptic disruption from our own time, can't see that the Phalanx represents life entirely lacking in the richness of civilization as we've created it. But I guess that's the downside of belief in our own dogmas—humans all too often create intricate belief systems that lead to their own undoing or destruction, with horrific collateral damage. And the disdain posthumanity has here for the flesh is paralleled by the traditional Christian disgust with and/or devaluation of our worldly vessels.
The woman blandly speaks to the dogmatic aim of this religion: That they be deemed "useful" in some grander scheme—cogs in a transcendent machine.
Meanwhile, the erstwhile angel at their shoulder turns snide, more like a demon crouched at the ear: "They want us and not you."
In our own time, yearning after fantasies of escape and/or the afterlife go hand in hand with the negligence and disdain with which we're destroying the Earth that sustains our lives and that of all other creatures.
The religion of the Code may not turn out so different from the religion of the Word.
Regardless, the woman speaking with admirable/insane(?) calm about this price on their ascension—really, their machinic (dis)simulation—clearly recalls Xavier's opening epigraph on needs outlasting desires and presages his similar closing statement on the very next page: What is the cost of this audacity?
As hypothesized in our opening piece on this issue: The cost of achieving paradise will be its undoing.
The cost of posthumanity's ascension will be its destruction. Already, the price of this singular trajectory has cost humanity its soul and likely laid waste to much of our denigrated planet.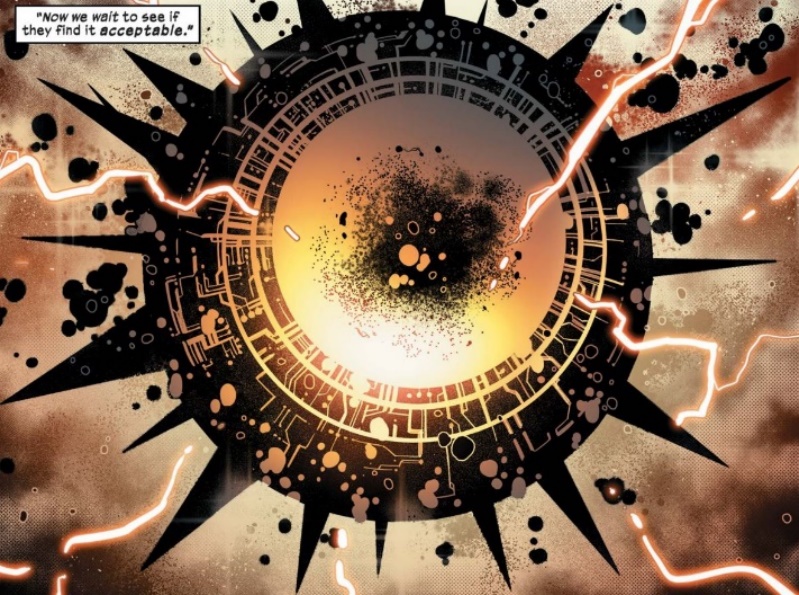 Note that we now have two instances of Apocalypse making a heroic stand in HOX/POX (in the deep past and Year 100), while the posthumans wouldn't know the meaning of heroism, sacrifice, and the nobility of being mortal … I wonder if mutants with the privilege of Krakoan resurrection will have learn hard lessons if they don't want to end up like these dead-enders, a static omega point that's forgotten how to change, how to die—and make way for the new.