I. Something Sinister This Way Comes
A. Is Something Sinister Staring Us in the Face?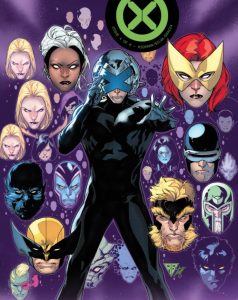 On a first read, R.B. Silva's dramatic POX 4 cover doesn't seem to have anything to do with the contents of the issue, as if this cool picture he just happened to draw was too good not to be one of the covers.
Something random about HOX/POX?! Perish the thought.
Related:
Support For Comic Book Herald:
Comic Book Herald is reader-supported. When you buy through links on our site, we may earn a qualifying affiliate commission.
Comic Book Herald's reading orders and guides are also made possible by reader support on Patreon, and generous reader donations.
Any size contribution will help keep CBH alive and full of new comics guides and content. Support CBH on Patreon for exclusive rewards, or Donate here! Thank you for reading!
Previously: More in the Hickman X-Men Re-Read!
Let's look more closely. Sure, the specific arrangement might not tell us anything about a larger narrative design, but there's something strange going on here. First, notice that the Cuckoos (only three out of the five, two of whom were just in HOX 1) all have evil-looking expressions–at odds with their demure depiction throughout HOX/POX. Granted, no one looks particularly happy on this cover! But it's weird that Beast's face is sunk in such deep shadow, when no one else's is, although Kurt's comes closest.
Now, as to why we've got eight or nine veteran X-Men on display but only five foregrounded equally with Sabretooth–who knows. In the background, clockwise from Xavier's lower right we have a very 90s-looking character (a super glam Cable/Stryfe?), Nature Girl (above Beast), someone in a hood (below Storm), possibly Graymalkin and Darwin or Caliban (one of these faces is hidden by the title logo, as is a golden person with a tall fin on their head), Sunspot, and again, Graymalkin or Darwin or Caliban, someone who definitely recalls Misty Knight (which would make her the one nonmutant here; all these faces flanking Jean's).
It's probably Iceman (in his wilder, Omega-ramping guise) next to Scott, putting him furthest back among the veterans, while closer up on Scott's either side are the chimeras Rasputin IV and North. The blond man nestled against Xavier's hip looks like Alex having a bad day.
The pair between Xavier's legs? No idea. But with the oddly hidden fin-head above, these three have the edge here in having the most unusual visual design.
Regardless, it's interesting that the chimeras are on Xavier's left–sinister–side. Snicker, snicker. Seriously, though, if we were to read this cover as a heraldic shield to be scanned along a diagonal from Jean to Wolverine and the uber-glam Cable/Stryfe, we might wonder about the image's clannish aspects. After all, Beast always saw himself as Xavier's right-hand man, seeing Scott's 21st-century evolution as a betrayal. Jean, too, is more likely to break from the Professor. Sabretooth is his another kind of sinister. But looking at the other faces we know, these speculations run aground pretty quickly.
Still, this fun heraldic reading of the cover is literally a bar sinister, which in heraldry always denotes illegitimate birth (bastardy); through that lens, Krakoan resurrection would be anathema.
But let's conclude with the obvious: a mutant genetic library is necessary for chimeras, as seen from Life Nine; Cerebro is now used–thanks to Forge and Shi'ar tech–to copy and store apparently flawless facsimiles of every single mutant mind on Earth (only); Xavier here is depicted in parallelism with Sinister, standing in Arbor Magna, on POX 5's cover; the Librarian has Cerebro's lookalike, a helm with access to an archive of mutants broken down molecule by molecule into pure data (with "not enough soul to save," POX 1).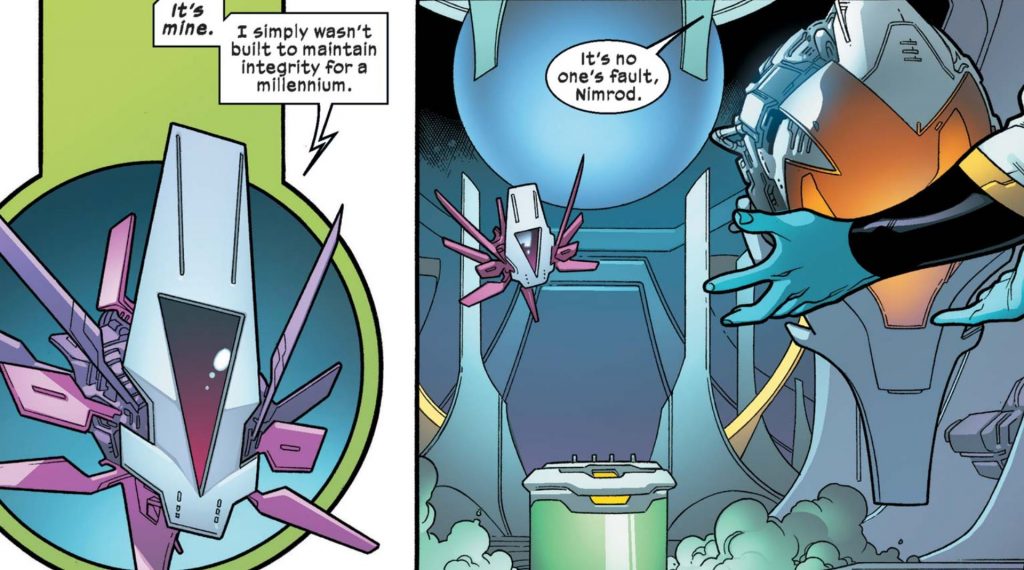 Did Moira encourage or inspire Xavier's development of the mutant-tracking Cerebro, or at least its redesign as this much more powerful device? And what hints do we take seriously or just as macguffins when considering the connections between Xavier, Sinister, and the Librarian?
Just don't forget that one such very disturbing connection has already been established, in X-Men: Legacy #211-214 by Mike Carey (2008), where flashback sequences reveal Sinister encoding not just his DNA but his current personality into the genes of several of his peers' children, including Charles. Say what?! Hey, it's canon. And this was Carey's retcon of an older story from Fabian Nicieza developing out of his closing arc on Gambit (#21-24, 2000) and detailed further in his 2001 X-Men Forever miniseries.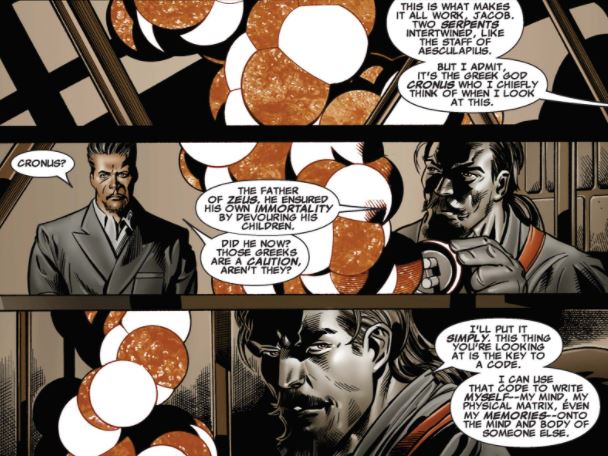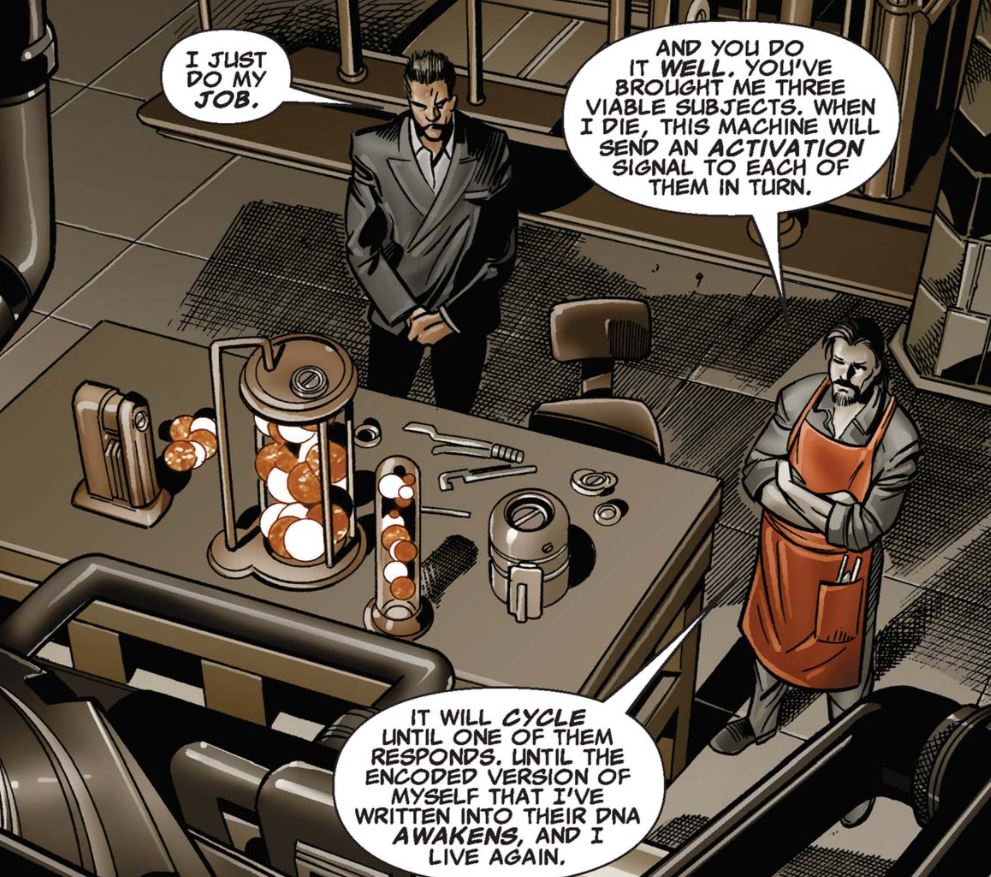 [XL 213, art by Scot Eaton, Andrew Hennessy, Frank D'Armata, Cory Petit]
Notably, this disguised Sinister wore no cape; this secret US government program, beginning in 1946, involved research into mutant genetics courtesy Sinister/Milbury's pioneering work (pre-Watson and Crick!); his peers included mutants Irene Adler and Amanda Müeller ("The first mutant he ever met," XL 213), as well as men whose unexpressed X-genes were likely to result in mutant births (Charles and Sebastian Shaw, but not Cain Marko); and the Sinister who presents himself to Xavier's mind as he awakens within does have that fabulous signature cape.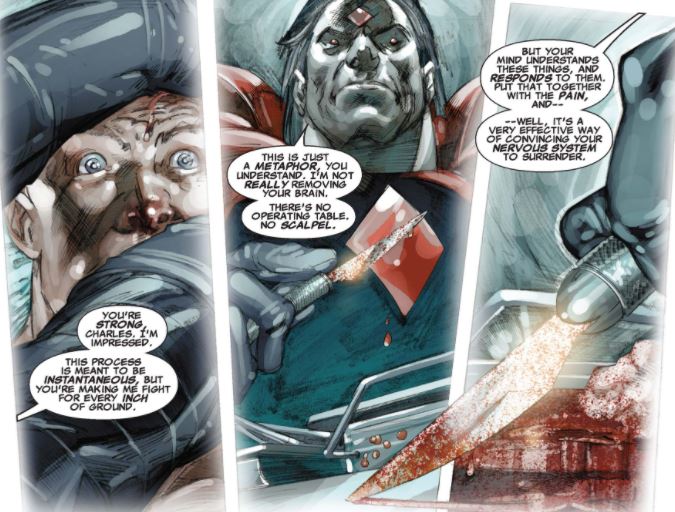 At story's end, in the present day, Xavier managed to eject the usurping Sinister from his mind, while Sebastian and Gambit destroyed Sinister's Cronus device–which would've guaranteed the success of the mad geneticist's resurrection in another body upon his current body's demise. It's all rather tidy (except for the tease of Miss Sinister).
The notion of multiple Sinisters existing at once would have to wait a few years, until Kieron Gillen's Uncanny X-Men #1-4 (2011)–"Everything Is Sinister" (see below).
One more mystery from Nicieza's time with the X-Men: Gambit #13 revealed Müeller–an immortal born in the 19th century–as Scott, Alex, et al.'s twice great-grandmother.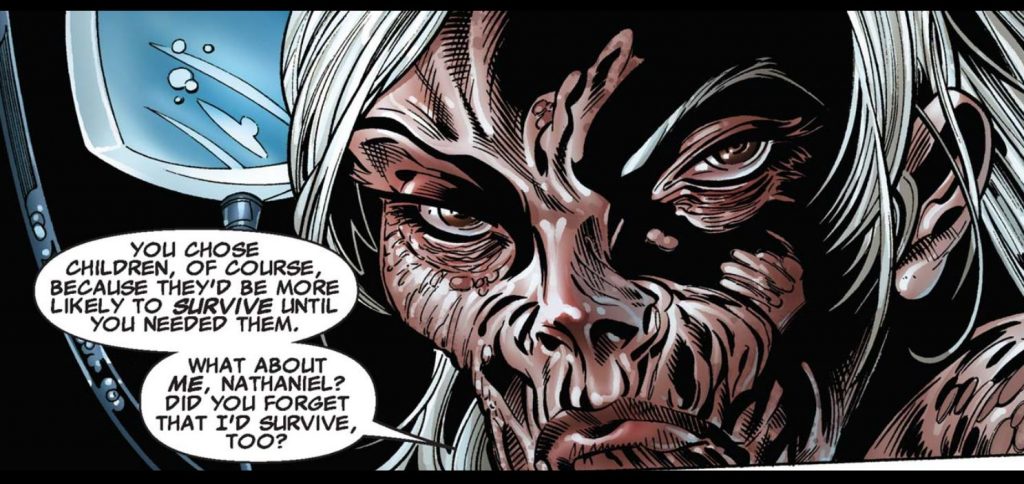 B. Sinister Dread, Sinister Price
Xavier's opening and closing epigraphs are very closely tied. In the first, his fear concerns the ultimate cost of the Krakoan project–that they (with Xavier here speaking for mutantkind collectively) end up weaponizing themselves to secure their paradise, which will of course result in paradise lost. (And even mutants who aren't weaponized could become mere instrumentalist components in gamified mutant tech systems. Gee, it's almost like Hickman is critiquing his own systematizing tendencies…)
So here we are, tilting toward the last third of HOX/POX, which is more about worldbuilding. This chapter, arriving just after the series' second action-heavy climax, is equally taken up with ambiguous revelations. We could say this is the puzzle-box heart of the whole narrative: "Something Sinister," subtitled: "With a Cape."
I can't help it. "Something Sinister" keeps bringing to mind Something Wicked This Way Comes, Ray Bradbury's 1962 novel, a dark fantasy about two tween besties and their brief but terrifying foray into the shadowy world of a traveling carnival come to their small town. The carnival master is one Mr. Dark, the Illustrated Man, his tattoos each embodying one of the hapless people he's enthralled into joining his troupe. Essentially, all the carnival players are his proxies, initially won over by the granting of  their unexpressed desires–while in reality the Illustrated Marvel is feeding off them. That's right! It's a rather prudish allegory for the dangers of carnivals.
But one of its central themes is timeless: humanity's anxiety over death and dying and the way we avoid thinking about mortality by escaping into fantasy, to our detriment if we go too far and fall prey to our own magical thinking. (And we're supposed to believe the Krakoa era is death-proof!)
The novel's still a huge influence, and Bradbury's theme of the "dark carnival" haunts the fiction of Stephen King, R.L. Stine, and Neil Gaiman.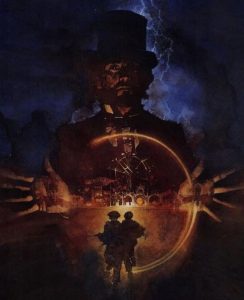 [Something Wicked Comes This Way movie poster, 1983]
Incidentally, the humble middle-aged man who defeats Dark is named Charles (father to the more angelic/innocent of the two boys).
And if you're familiar with Gillen's "Everything Is Sinister," there's definitely something creepily carnivalesque about Mr. Sinister.
Taking one more turn down the road of influence, we might wonder at Bradbury taking his title from Shakespeare's Scottish play, where the line, spoken by one of the witches, refers to the coming of Macbeth–and his imminent awakening as a dark beast of ambition. His path to usurping the throne is one of ice and blood. It begins with him seeking knowledge of his future (from the witches) and ends with a hollowed-out man, "all sound and fury signifying nothing," who of course has no way of enjoying his very brief tenure as an usurper atop a pile of corpses, unable to drop his blade for fear of swift and inevitable retribution. Those murdered in the name of securing the future of Macbeth's ambitions include children.
Moreover, there's a heavy implication that seeking one's destiny through divination–seeking to escape the doubts of the present moment, wanting the future now, before it arrives in its natural way–this kind of dark magic has a literally devastating price.
As with Bradbury's novel, the ultimate savior is a modest, humble man. It's the loyal, unambitious, and by-the-book Macduff. (Sort of like Cyclops minus his bad rep as husband and father?)
Tentatively closing this circle for now, Macduff was the one prophesied to defeat Macbeth, who had taken at face value the witches' assurance:
"Be bloody, bold, and resolute. Laugh to scorn

The power of man, for none of woman born

Shall harm Macbeth. (IV.1.90-92)

But too late, Macbeth learned that his ultimate foe was from his mother's womb untimely ripped"
(V.8.19-20).
Which unfortunately recalls the decades of speculation that a third Summers brother was born in this way in an act of violence (for which see, with that warning in mind, the flashback sequence in Uncanny X-Men #156, 1982, reimagined much later as the birth of Gabriel Summers in Ed Brubaker's X-Men: Deadly Genesis #6, 2006). A fourth Summers brother, Adam X, was born in a lab (see Captain Marvel #3 by Fabian Nicieza, 1996. Nicieza's penchant for 90s-stylized mad-science genetics is duly noted.)
So, these two classic literary works have some heavy thematic resonances with Hickman's work on HOX/POX–but what does it all boil down to? For now, we can assume there's some dreadful intimate connection between Xavier and Sinister that predates Sinister's invitation to Krakoa; but with Sinister there, in whatever form, Krakoa itself will likely become at some point a venue for much carnivalesque upheaval, if it's not already given what we see in HOX/POX; and the governing status quo and Xavier's lonely reign over Krakoa might prove rather brief in the bigger picture that Hickman is architecting.
To close with Shakespeare again, something is rotten, or maybe just sinister, in the state of Krakoa.
(Did I mention that the king later murdered by Macbeth had, in Act II, scene 2, gifted his loyal thane a diamond as symbol of his largesse–not to mention cultivating loyalty?)
C. Bar Sinister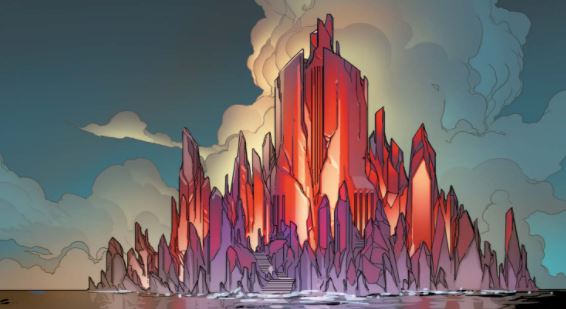 Now, let's journey to the topsy-turvy world of Bar Sinister, almost a pocket dimension in its islanded isolation. Our initial view of it parallels that of Island M in POX 2; otherwise, it's a stark contrast with a colder-seeming sky, with its cold blues and greys. Even the sea seems gelid in its placidity. Instead of being depicted arriving by boat, Erik and Charles seem to emerge out of the wan sun–or is it a portal of some kind?
The island's crystal structures–looking a lot like the ruby quartz Sinister used in fashioning Scott's first power-controlling glasses, in the Nebraska "orphanage" where Scott grew up (see X-Factor #39; more below). The bigger facades have large cracks, and all of the growths are jagged, contrasting the setting with Island M's paradisaical feel. Magneto's home base definitely has an eldritch luridness, but it's also a place for sun and fun on the beach. While the weathered and verdigrised architecture of Island M is open to the elements, Sinister's island home is insular; whatever's happening is going on inside or barricaded behind this lattice of serrated crystalline shards.
Indeed, its myriad resident clones appear very well preserved and seem to take pride in their immaculate couture and pallid cosmetics–as if it's all a grand, sociopathic fantasia born out of a sick dream native to Nathaniel Essex's origins among the English gentry. He was the sort of gentleman who believed the help should be seen, not heard. Again, the British author Kieron Gillen is the one who developed this concept of a clonal society of Sinisters in "Everything Is Sinister," though it was purely in the present day (2011).
Wait–Nathaniel who? Before trying to situate this scene, let's make this origin story tidy as can be: Mister Sinister first appeared in Uncanny X-Men #221 (1987), but his story goes much further back. While he was mentioned by the Marauders as the mastermind of the Mutant Massacre, beginning in UX #210, his backstory as it developed from 1996 onward was one wild retcon after another, reaching all the way back to the 1859, when Darwin published On the Origin of Species–quickly capturing the imagination not just of scientists throughout Western Europe and the British public generally, but one Nathaniel Essex as well. (This 19th-century material is from Further Adventures of Cyclops & Phoenix #1-4 by Peter Milligan and John Paul Leon, 1996.)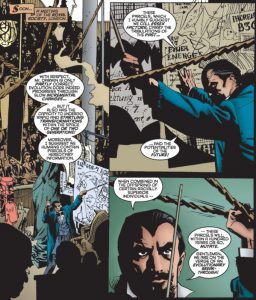 C1. Nathaniel Essex
While experimentation on cadavers was par for the course for any medical professional then or since, Essex's experiments were edged into Frankenstein territory, turning him into an unrepentant pariah among the scientific community. He'd set out to prove that mutant-style mutation (i.e., impossibly swift evolution) was a logical possibility that Darwin and company had discounted. Two years before, it had been the death of Adam, his four-year-old son, that sparked his burgeoning mania for hacking human biology, to ultimately understand how congenital defects, like those that killed his child, can be eradicated. Unfortunately, his methods are hasty, unconstrained, and monstrous.
The language of chimerism isn't used here, but that's what his first "crude prototype" of humanity's possible future emphatically is–a monstrous fusion of the human and animal "and other inorganic materials" (Further Adventures #1). So Milligan has Sinister's morally unconstrained mad science originating from his inability to grieve, which alienates him from his pregnant wife and from human society generally.
But he begins his (super anachronistic) discovery of genetics here, calling genes "parcels" or, as he "humbly" suggests, "Essex Factors." Of course, a product of his time, Essex glibly throws some racist Social Darwinism into the theoretical mix; a metaphor for his class as well, he proudly declares himself a monster and begins a swift descent that has elements of both Faust and Jekyll & Hyde.
Increasingly obsessed not just with foreseeing humanity's evolutionary future but mastering it as well, Nathaniel takes his now intoxicated Social Darwinism from lowlife tavern to London sewer, where he finds "freaks and fools and all types of misshapen folk" trapped in squalid confinement, courtesy scummy human traffickers who call themselves the Marauders. Some of them are likely mutants, some not; one looks like an ordinary young boy–picked up as a recent orphan and later revealed to be an ancestor of the Summers family. Essex wonders if his own son's deformities were "part of nature's drive toward the future … or simply pointless and cruel." To find out, he starts experimenting on the Marauders' freakish captives.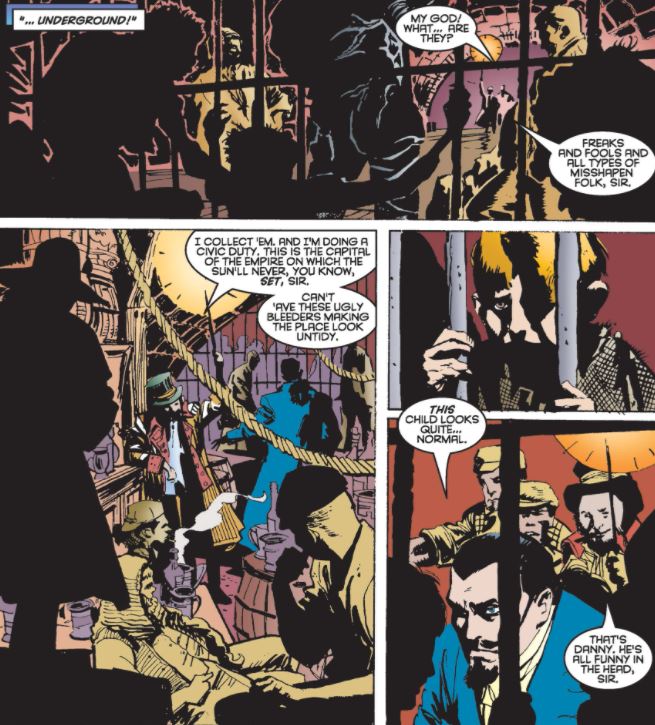 Meanwhile, sewer workmen accidentally awaken Apocalypse from centuries-long sleep. Say what?! Just roll with it for now. After a chance encounter with the Marauders, whom he quickly subjugates, they take En Sabah Nur to meet Nathaniel Essex. Unsurprisingly, Apocalypse's interest is piqued by Essex's Social Darwinist zeal. Deciding the scientist would make an excellent servant in his millennial long game, the ancient mutant transforms him via his Celestial technology into an immortal übermensch.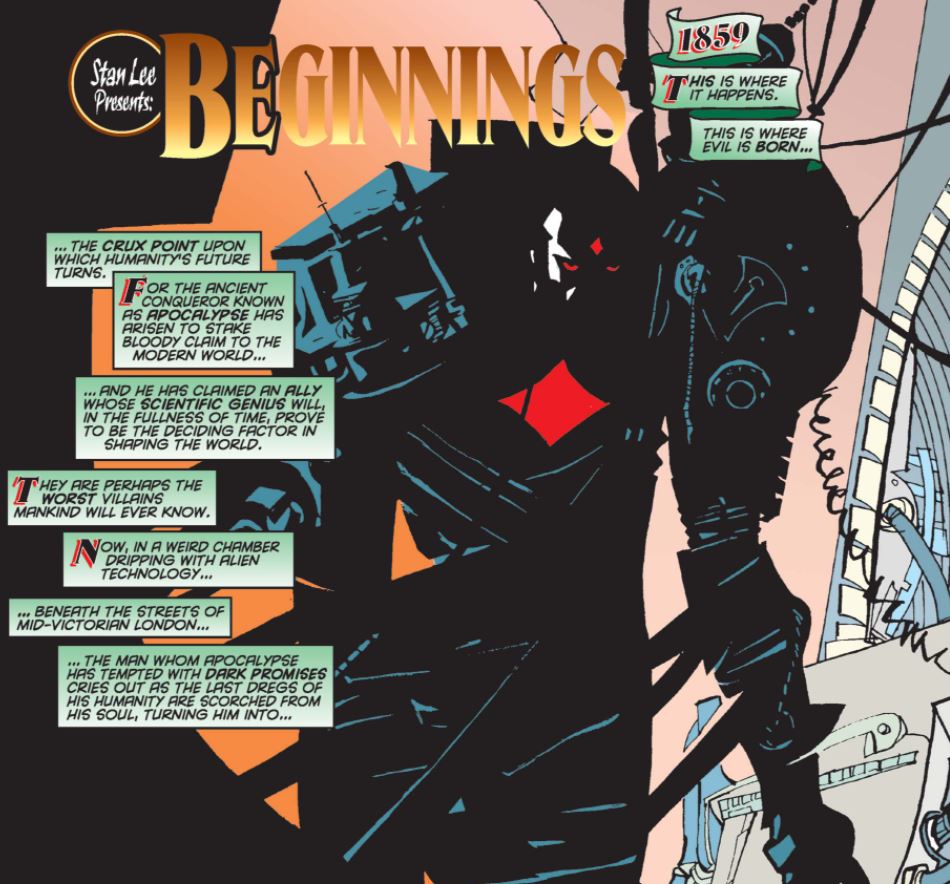 [Further Adventures #4]
Of course, Essex betrays Apocalypse, tailoring a virus to attack him and forcing him back into hibernation. But at this point, there is only Sinister, Essex's new chosen name to go with his transformed identity, nothing but "blessed ice" now flowing in his veins. He cares nothing for anybody, not even his family–his empathy completely zeroed out.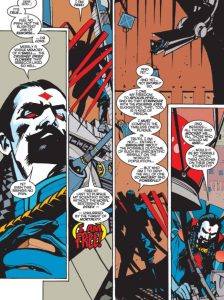 But there's plenty of twisted and snide emotions still driving Sinister on, however impersonally expressed. He's also in a real bind: Apocalypse will have his revenge one day, so he's compelled to follow his theories of mutant evolution toward eventually breeding a mutant powerful enough to defeat the ancient mutant upon his return. He takes a particular interest in the Summers bloodline–but it hasn't been revealed exactly when this develops.
As the decades roll by, he's continuously busy torturing and killing in the name of his version of science, spreading his damage to many corners of the Marvel universe, also working with Nazis in Auschwitz, experimenting on children (a particularly distasteful retcon from Claremont in 2005's Excalibur #7). Disguised as Dr. Milbury at Oxford, he even took on Moira as his pupil, in lieu of Xavier, who'd gone off to the Korean War (Excalibur #14, 2005). (At this point, however, I doubt the modern in-universe narrative is going to repeatedly tie major characters to any real-world events, except for Magneto's experience of the Shoah.)
Sinister buys up a Nebraska orphanage, installs a mad-science lab beneath it, and arranges to have young Scott transferred there for further observation and testing (X-Factor #39 again; see also X-Factor #35 and the backups in Classic X-Men #41-42). Of course, it could be that Scott and Jean time-traveling to 1859 gave Essex/Sinister the notion for the glasses he later fashioned for Scott at the orphanage; he certainly wondered at the time travelers as proof of his theories of mutancy.
There's a lot that I'm leaving out for the sake of expediency. But we'll return to Sinister's past as needed. Don't forget, though, that not only do we not know who the Prime Sinister is when Xavier and Magneto come calling, it's equally uncertain who the usurper is, beyond being a mutant partly bred from John Proudstar's DNA (per the Red Diamond pages here).
C2. When Is This Anyway?
Unlike with his visit to Island M in POX 2, Xavier here seems very unhappy about visiting Bar Sinister, as if he's grimly trying to maintain his composure. But what does Charles know about Sinister? After all, this has to be before Mutant Massacre, where Sinister is first mentioned in the X-Men's hearing, and by which time Xavier's been stranded in Shi'ar space. Besides–and I forgot to include this in our POX 2 review–after Charles' original body was destroyed by a Brood infestation in Uncanny X-Men #167 (1983), his mind was transferred to a clone body courtesy Shi'ar technology (always with the Shi'ar-tech deus ex machina!) and Moira's assistance. But it was about a year before the psychological trauma surrounding his inability to walk fully receded, allowing him full use of his legs in New Mutants #14 (1984).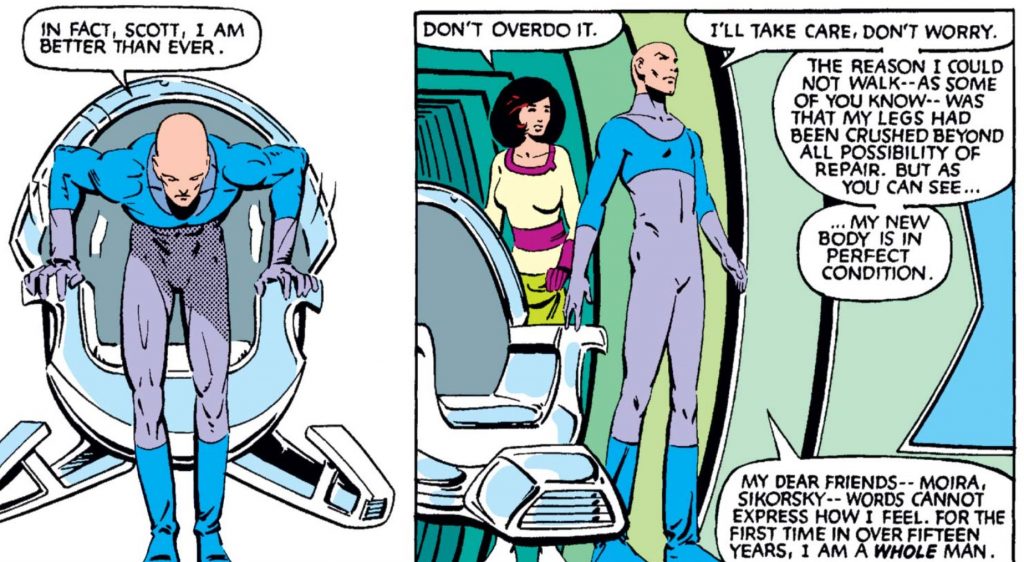 [UX 167, pencils by Paul Smith]
So, both the visit to Island M and Bar Sinister must take place after UX 167 but before 180 (contemporaneous with NM 14). But the Bar Sinister scene is deeply problematic because Xavier's wheelchair is gone. He's using the golden hoverchair!
The hoverchair doesn't appear until 1991's X-Men #1, years after all these secret events should take place. In fact, it's designed in that relaunch issue by Forge using, you guessed it, Shi'ar technology! (We should also be wondering what role this tech has played in developing the Resurrection Protocols; after all, Moira faked her death with a "Shi'ar golem" that fooled everyone–and apparently had a soul, given her/its presence in the afterlife in Chaos War: X-Men.)
Now publication-wise, Sinister first appears with a cape in UX 221. This iteration we now understand, per the revelations in POX 4, was a mutant. But we don't know if this is the same Sinister who's arrived on Krakoa and joined the Quiet Council. As to when the Bar Sinister here occurs, it's clear Xavier and Magneto are surprised by the existence of the mutant Sinister, and so they have no idea how long this new, usurping Prime Sinister has been fixated on mutants.
Obviously, we know it's been a very long-term obsession. So it's strange that the initial Prime Sinister is so dismissive of mutant genetic research. Has the caped one been carrying on all his experiments in secret from the other Sinisters, or at least the one initially on the throne? We just don't know.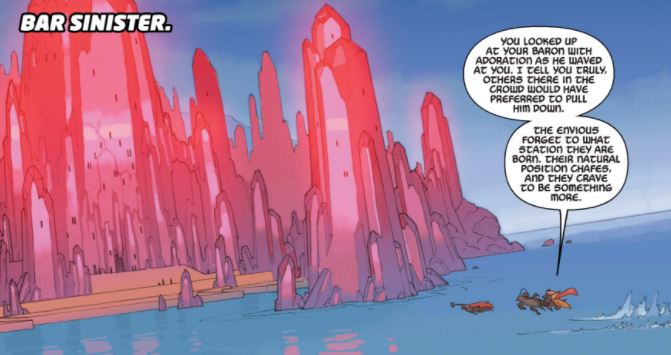 [Secret Wars #2, art by Esad Ribic and Ive Svorcina]
The most telling quote about Bar Sinister comes not from Earth-616, but Hickman's Battleword (in 2015's Secret Wars), where this Sinister dominion was first introduced, looking almost exactly the same as here. One of his human servants, Matt Murdock described the place thus:
Bar Sinister is ruled not by an individual but a virus. A self-replicating tribe of genetic jerks. Clones can't do everything, of course. For some things the master still needs individuals. He needs artists. He needs tame wonders, controlled by teleport-tags or simple terror. He needs slaves. ("Hell's Kitchen" by Si Spurrier, in Secret Wars Journal #2, 2015)
The point being: There's so much about the 616 Bar Sinister we just don't know. How many, Sinisters are running around free, off the Prime Sinister's leash? Are there non-clones there? Is it safe to assume mutants are already being experimented on there?
The biggest problem here is that this definitely takes place years before Xavier discovers Sinister embedded himself into his DNA, his body, his mind–his whole being. This copy has been dormant as far as Carey explains it, but once awakened, Sinister shows an intimate knowledge of Xavier's entire past. This creates an even more profound challenge for the secret of Moira's mutant power and her past lives. And even if Xavier doesn't have an eidetic memory, do we know that Sinister doesn't? We should understand that Sinister's mind can't be broken, because he's already beyond the pale.
[XL 213 again]
So, Xavier visits Bar Sinister sometime in "Year One," completely unaware that he's met Sinister already, as a child, which he doesn't remember until the Carey story. But when Sinister does awaken inside Charles in XL 211-214, he should at the least manage to remember Charles' telepathic erasure of his and Erik's visit and their urging of him to pursue the compiling of a global mutant genetic library.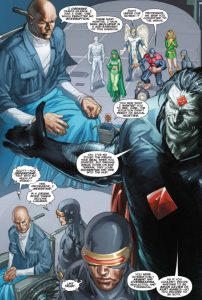 The wildest thing is that Charles and Erik think they're being so clever here, not knowing that Sinister has already been in on this game much longer than either of them have. Xavier doesn't know that he was subject to Sinister's experiments–nor that Scott and Alex were. What's really curious is how they did find out about Mr. Sinister–in whatever iteration–and his secret island. Maybe it was their old buddy the High Evolutionary? That would be weird; it could also make for an awesome tale.
Next time, we're going finish up Year One here by just looking at the scene itself–which is truly a sinister delight. In the meantime, (re)read "Everything Is Sinister
"! (UX #1-4, 2011)