Brilliant with a touch of madness, the High Evolutionary has a unique history even by Marvel standards. The High Evolutionary is obsessed with using genetic manipulation to advance the human race, a fixation that has taken him from early human to a being capable of going toe to toe with Galactus. He stands apart from your typical mad scientist in that his actions, while beyond extreme, are genuinely for the betterment of humanity and supported by sound science. They say to make an omelet, you have to don a metal battle suit, violate some ethical standards, and re-engineer a lot of eggs.

Related Reading Orders:
Evolutionary Road
A tale as old as time: a brilliant scientist is given the keys to unlocking the genetic code and uses it to evolve animals into humanoids.
Thor Epic Collection: The Wrath Of Odin
Support For Comic Book Herald:
Comic Book Herald is reader-supported. When you buy through links on our site, we may earn a qualifying affiliate commission.
Comic Book Herald's reading orders and guides are also made possible by reader support on Patreon, and generous reader donations.
Any size contribution will help keep CBH alive and full of new comics guides and content. Support CBH on Patreon for exclusive rewards, or Donate here! Thank you for reading!
Collects: Thor (1966) #131-153, Annual (1966) #2.
Thor stumbles upon the Mountain Wundagore stronghold of the High Evolutionary and his New-Man. Thor's distraction causes the creation of Man-Beast.
Also, Scarlet Witch and Quicksilver are seen spying on the High Evolutionary, but let's put that in our pocket for later.
Incredible Hulk Masterworks Vol. 3
Collects: Incredible Hulk (1968) #102, Tales to Astonish (1959) #80-101.
Facing a New-Men mutiny in space, the High Evolutionary abducts the Incredible Hulk but is surprised when he gets stupid fleshy Banner instead.
Collects: Marvel Premiere (1972) #1-2, Warlock (1972) #1-8, Incredible Hulk (1968) #176-178.
A power-leveled High Evolutionary attempts to create a counter-earth; Man-Beast intervenes, corrupting the brand new planet. Oh, Man-Beast. The High Evolutionary finds a cocooned Adam Warlock floating in space and revives him with the Soul Gem, all to get revenge on his grim, hyphenated legacy. A lot to unpack there.
Fantastic Four: Crusaders & Titans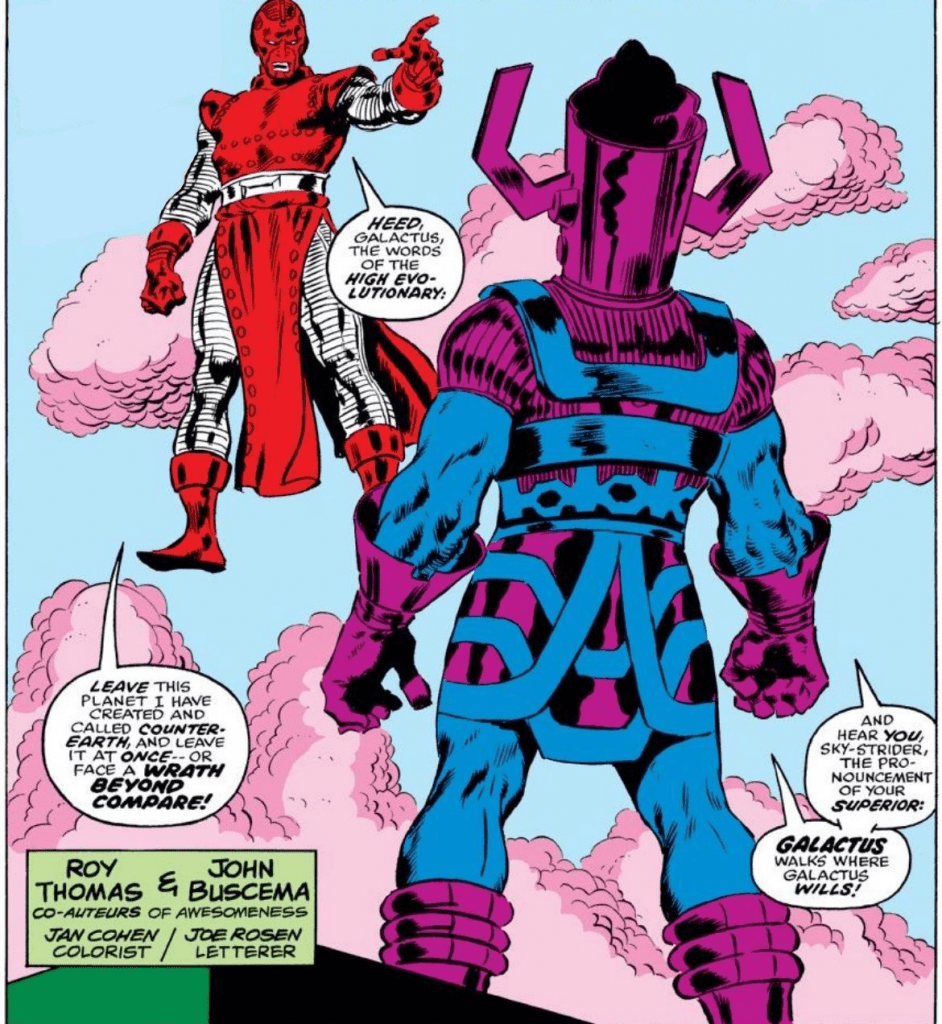 Collects: Fantastic Four #164-176.
That's a nice planet you got there, High Evolutionary. It'd be a shame if Galactus ate it.
Spider-Woman Masterworks Vol. 1
Collects: Marvel Spotlight (1971) #32, Marvel Two-In-One (1974) #29-33, Spider-Woman (1978) #1-8..
When you mess around with genetics, you are bound to be part of some other hero's origin story, in this case, Spider-Woman.
Guardians of the Galaxy: Tomorrow's Avengers, Vol. 2
Collects: Thor Annual #6; Avengers (1963) #167-168, #170-177, and #181; Ms. Marvel (1977) #23; Marvel Team-Up (1972) #86; Marvel Two-In-One #61-63, and #69
The Beyonders find the High Evolutionary's counter-earth to be adorable and want to put it in their museum. The idea that entities as advanced as the Beyonders exist blows the High Evolutionary's mind, and he turns to the Hulk for an unthinkable favor.
Evolutionary War
The High Evolutionary's mental state stares into the abyss as he kicks off his boldest campaign yet.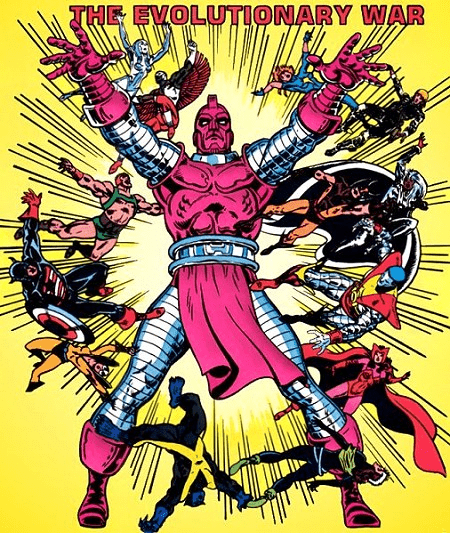 Collects: X-Factor annual #3, Punisher annual #1, Silver Surfer annual #1, New Mutants annual #4, Amazing Spider-Man annual #22, Fantastic Four annual #21, Uncanny X-Men annual #12, Web of Spider-Man annual #4, Avengers West Coast annual #3, Spectacular Spider-Man annual #8 and Avengers annual #17
At the time, telling a single story across various Marvel books annuals was a unique idea. The High Evolutionary's history is retold before he launches an attack on multiple fronts, against basically the entire Marvel universe.
Thor Epic Collection: In Mortal Flesh
Collects: Thor (1966) #401-418, Annual #14.
Collects: Thor (1966) #417-425 and material from #416
After the failed Evolutionary War, the High Evolutionary went through a bit of a rough stretch. From 1989 to 1997, the guy mainly appears in unremarkable (and generally uncollected) issues of Thor. Except for the Black Galaxy Saga. Here, the High Evolutionary is returned to his human form by the Celestials, then driven to near madness as he attempts to regain his powers.
Collects: Quicksilver #1-13, Heroes For Hire (1997) #15-16, Heroes For Hire/Quicksilver Annual '98
Well known pacifists, The Acolytes, attack the High Evolutionary and Mount Wundergore.
Ka-Zar By Mark Waid & Andy Kubert – Volume 2
Collects: KA-ZAR (1997) 8-14, ANNUAL '97
Fleeing to the Savage Land and struggling with his mental stability, the High Evolutionary falls head over heels for an equally unstable Shanna.
Collects: UNCANNY X-MEN #379-380* CABLE (1993) #78* X-FORCE (1991) #101* WOLVERINE (1988) #149 and X-MEN (1991) #99.
The High Evolutionary is led astray by a disguised Mister Sinister, who convinces him to remove the X-gene from Mutants. How does he do this? Giant sky laser.
High Evolutionary Comeback Tour
The High Evolutionary would inexplicably disappear from the pages of Marvel comics for 7 years before returning and getting right back into the business of messing around with genetics.
Collects: X-Men: Endangered Species One-Shot, and #1-17
In the wake of "No More Mutants," Beast consults with the High Evolutionary on possible cures.
Annihilation: Conquest: Book Two
Collects: Conquest #1-6, Nova #4-7 & Annihilation: Conquest – Wraith #1-4:
The High Evolutionary has again taken to space where he begins bioengineering Kree. His relationship with Adam Warlock is tested as they face an assault from the Phalanx Ultron.
Wolverine: First Class – The Rookie
Collects: Wolverine: First Class #1-4, Incredible Hulk #181.
A flashback to Wolverine and Kitty Pryde's early days as they dragged into another battle between the High Evolutionary and Man-Beast.
Collects: Thor/Iron Man #1-4
The High Evolutionary attempts to create a new God for the 21st century. He sets his sights on Tony Stark, which is a bold choice.
Collects: SILVER SURFER (2011) #1-5.
The High Evolutionary drains the Power Cosmic from the Silver Surfer, leaving him in a fragile human state. What could go wrong when a brilliant man with a history of mental instability receives such great power?
Collects: FF 1-5
Collects: FF #6-11
The remaining Council of Reed members create a problem so big that Reed Richards is forced to bring in their most dangerous and brilliant foes to help solve it.
Avengers by Jonathan Hickman: The Complete Collection Vol. 2
Collects: Avengers (2012) #6-17, New Avengers (2013) #7, Material From Shang-Chi: Master Of Kung Fu (2009) #1
The High Evolutionary attempts to use the Children of the Sun as a battery to power Terminus. Somehow the Avengers have a problem with this idea.
Online Game
The High Evolutionary suffers his greatest setback yet: his forced inclusion in a Facebook game. Our boy—along with Mister Sinister, the Lizard, Stegron, and some grad students that needed credit in "how to make Iso-saurs"—end up in a power struggle against Sauron and A.I.M. in the Savage Land.
Did you know he once carjacked Galactus? With his bare hands? Or that he could transform Hulk into Banner and back again at will? None of that means anything now.
New Warriors, Vol. 1: The Kids Are All Fight
Collects: New Warriors 1-6, Amazing Spider-Man 1
New Warriors – Volume 2: Thrashed
Collects: New Warriors #7-13
The High Evolutionary kicks off a second Evolutionary War to avoid a Celestial judgment.
Uncanny Avengers Vol. 1: Counter-Evolutionary
Collects: Uncanny Avengers (2015) #1-5
The High Evolutionary reveals a controversial (and maybe weirdly contractual) secret about the Scarlet Witch and Quicksilver's confusing past.
Scarlet Witch Vol. 3: The Final Hex
Collects: Scarlet Witch #11-14, Uncanny Avengers Annual #1
That secret, having fixed nothing, nonetheless causes fallout to continues as Scarlet Witch searches for more information about her past.
Ultimates 2 Vol. 2: Eternity War
Collects: Ultimates 2 (2016) #7-12
Please don't hold this against him, but the brilliant High Evolutionary is once again tricked into furthering another villain's scheme. This time, assisting the Maker's attempt to consolidate all universes into one.
Avengers & Champions: Worlds Collide
Collects: Avengers #672-674, Champions #13-15
While the Avengers and The Champions continue to bicker, The High Evolutionary abducts Viv Vision and the Falcon to his Counter-Earth with plans for "upgrading" them.
Collects: Amazing Spider-man (2018) #16-23, #16.HU And #18.HU-20.HU
When Kraven wants 70 clones, you give him 70 clones.