As often as the X-Men historically interact with the vast Marvel cosmic landscape of alien civilizations, most often when we think of mutants, we're thinking of generally Earth-bound human looking characters. In the Hickman era of X-Men, though, we're as immersed as we've ever been in the philosophy that Krakoa is for "all mutants" – not all EARTH based mutants. How might this impact the world of Marvel's X-Men comics?
Today I'll Answer:
+ Are there alien mutants in the Marvel Universe?
+ Does the Krakoan mission extend to these alien mutants, and how does this fit Marvel's X-Men into the Marvel cosmic landscape? How cosmic is Krakoa's mission?
+ How does the new Marvel space age set up a confrontation between the X-Men and Earth's Mightiest Heroes?
Support For Comic Book Herald:
Comic Book Herald is reader-supported. When you buy through links on our site, we may earn a qualifying affiliate commission.
Comic Book Herald's reading orders and guides are also made possible by reader support on Patreon, and generous reader donations.
Any size contribution will help keep CBH alive and full of new comics guides and content. Support CBH on Patreon for exclusive rewards, or Donate here! Thank you for reading!
*Spoilers For Discussed Comics – Including Empyre – May Follow!*

*ALIENS DO EXIST!*
Put simply, there are definitely alien mutants throughout the Marvel Universe. Some of them – like Warlock and Longshot – have been consistent members of X-Men or adjacent teams throughout Marvel history. There are other less obvious aliens like Ariel and Cerise, or less definite mutants like Broo, but there's a fairly wide spread array of choices throughout the comics that prove Marvel mutants exist across most of the big Alien civilizations we know of. Kree, Skrull, Shi'ar, look across the MU and you'll find examples.
Now, there is some debate I suppose whether alien mutants have the same X-gene as Earth mutants – I'll admit to a certain lack of clarity around a longtime X-Men ally like Warlock, who has also been declared a "non-mutant" in the pages of All-New X-Factor – but generally speaking there are at least mutations across the cosmos that are similar in nature to what we see in Earth's X-Men. This includes Ariel in the original Fallen Angels, Cerise of the Shi'ar, and even examples from The Negative Zone, and a far-flung future of Jason Aaron's in Wolverine and the X-Men when future Phoenix Quentine Quire surprises headmaster Logan with all the alien mutants of the galaxy.
One of the most memorable examples proving this comes from the late 90's into early 2000's X-Men introduction of Cadre K, a group of Skrull mutants Professor X takes in and leads for a time. In the pages of Maximum Security: Dangerous Planet by Kurt Busiek and Jerry Ordway, we see Professor X leading the K-Class Skrull mutants – Skrulls who would have been disposed of for their genetic imperfections by the Skrull empire without intervention. Cadre K functions very similarly to Silver Age original 5 X-Men, with Professor X selling them wholesale on the dream of mutant acceptance through acts of selfless heroism towards even those aliens who fear and hate them.
It's a part of the Ages of Apocalypse
alternate realities, so far from a certain future, but there's a lot of interesting potential in Alan Davis' story from X-Men #98 that connects. Davis delivers a Marvel 2099 X-future in which mutants across the cosmos have established a secure future. Concepts here like "The Universal X Alliance" and "X-World" sound very up Hickman's alley (Alan Davis did guest on Giant-Size Nightcrawler, and Hickman's praise was pretty effusive). In Davis' take, "none are as rife with potential energies as terrestrial mutants. Humanity is still unique in all the universe that way." So there's a distinguishing clarification between Earth Mutants and Alien Mutants, but they still live together in peace and harmony (you know, until Apocalypse reveals this false reality was all his doing and tries to trick them into imbuing him with unheard of Celestial energies).
It's interesting to retroactively apply what we know about Professor X's role after House of X / Powers of X to those comics. With the new Hickman lens, Charles may take in the Skrulls not out of pure altruism but also out of building alliances across the cosmos. Was he even then preparing for the long game, thinking about mutant survival on the grandest possible scale?
* X-MEN COSMIC *
Certainly it makes sense for Professor X, Moira and the mutants of Earth to begin reclaiming their power and prominence in the galactic landscape by starting with Krakoa on Earth. But as the story progresses, and we consider the scale and scope of mutant survival across space and time, surviving on *Earth* actually isn't enough. We know this from Moira's lifelines in the pages of Powers of X, where we see her story unfold on satellite mutant colonies in space.
Intriguingly, Moira's lives don't necessarily expand and colonize into space with any consistency, at least as far as we're made aware. From her annotated lifelines, and the glimpses we're able to see in Powers of X, cosmic elements on Moira's radar include:
+ Life 9 – Year 53 – Mutants repel the second Great Annihilation Wave
–> Year 58 – Formation of Sinister breeding pits on Mars (from an enslaved Mister Sinister)
+ Year 100 – Collapse of Mars. Asteroid K established.
+ Year 101 – Mutant exodus to Shi'ar space (this is 51 years after Nimrod comes online)
The *final* threat we've seen Moira face – in a way – is that of the Phalanx, and ascension into their hivemind collective. That's a deeply cosmic threat in the Marvel Universe. So yeah, I'm focused and engaged with absolutely everything the X-Men have to tackle *first* before these future state situations become possible, and obviously success purely on that level is no given! But it's essential to remember the scale of what mutantkind is truly trying to prepare for, and how trivial things like Wolverine fighting vampires kinda feels in the face of that enormity.
It's something I keep coming back to, but Jonathan Hickman and collaborators didn't spend pages upon pages in Powers of X elaborating on the types of Galactic societies only to ignore all those implications. The battle is man vs. mutant vs. machine, but the war is worldmind vs. phalanx vs. technarch all the way up to dominion. Where do mutants fit in any of that? That has to be the question Moira X is asking herself with all her planning for a mutant future.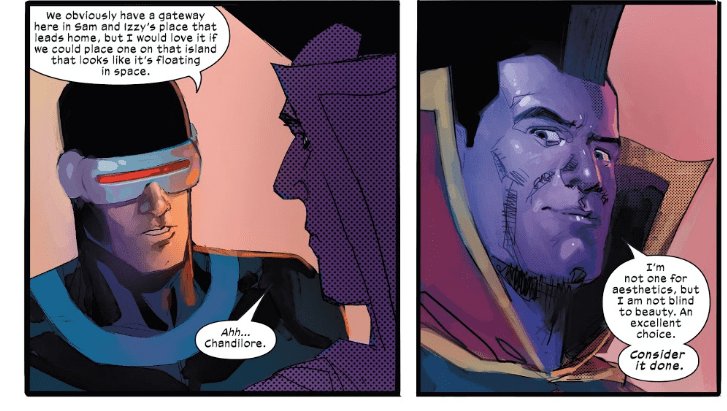 Cosmic Mutant Seeds
Yes, Krakoa needs to be rock solid before expansion works, but expansion – into space – has to be a part of the Krakoan mission. Not only is it where the narrative is moving, but mutants are also in a race to expand their numbers. Remember "make more mutants" is a literal law on Krakoa. Expanding outwards into the final frontier is yet another way to make this reality.
We've seen hints of this already –
In the Hickman and Rod Reis issues of New Mutants, Hickman uses a story about the original New Mutants in space to set up a fair amount of cosmic seeds. Hickman and Reis set the stage for the Brood King Egg (more on that in a second), the Shi'ar superguardians relationship with mutants, and in New Mutants #7, a Krakoan gate off Chandilar, the Shi'ar throneworld, on a floating space island called Chandilore.
While, yes, this sets up easy access for hot Summers family space dates at the beach, it also looks to me like a reaction to the fact that it took until year 100+ in Moira's 9th life for mutants to really evacuate to Shi'ar space. The option to begin colonizing further into the outer reaches of space much earlier in this lifeline is a huge benefit.
Plus, in those same issues of New Mutants, Hickman plays briefly with cementing Xandra as the leader of the Shi'ar Empire. This kinda flew under the radar, but this might actually be a bigger deal than anything else that's happened in the Dawn of X. Xandra debuted in the Kelly Thompson written and Oscar Bazaldua drawn Mr. and Mrs. X
(reminder that Thompson's work on Rogue / Gambit pre-House/Powers is super underrated). Like all healthy children, Xandra was created from the genetic material of the then deceased Charles Xavier and Lilandra Neramani.
This is kinda darn important in a story where Professor X is so central, given Xandra's status as a genetically engineered Shi'ar/Mutant hybrid. Historically, the Shi'ar / X-Men alliance has been fraught, really only ever held together by the romantic connection between Charles and Lilandra. Even with that, it's the Shi'ar that hold Jean Grey accountable for her galactic genocide of the D'Bari as Phoenix, and the Shi'ar that are controlled by Cassandra Nova to attack the X-mansion. They have fought each other as often as they've fought together.
With Xandra on the throne, though, we have yet another instance where Hickman's X-Men can "Break the Rules," i.e. break away from the status quo that we've come to known. Instead of a tenuous ill-defined relationship, a mutant ruler of the empire opens the possibility for a new mutant paradigm in space. Given the seeds Hickman's planted in New Mutants of Shi'ar vs Kree discontent, this potential alliance has galactic consequences.
Of course this is all generally riding on the assumption that Xandra and Charles Xavier have some sort of positive relationship, and we actually don't know that to be the case just yet. Plus, you have to factor in the strong chance that the Shi'ar people remember the last time a mutant lorded over them (shouts to Emperor Vulcan!) and aren't exactly jazzed about the liklihood of a sequel. But it's a strong connection and possibility.
Speaking of strong alliances, we see the X-Men form an even more unlikely ally when Broo takes over by eating the King Egg of the Brood. Broo has also been described as a mutant Brood due to his ability to feel empathy (seriously), and schooled with Wolverine and the X-Men (for what it's worth, he's also recently offered tech support for the Avengers, which is both amazing, and means he might have inside espionage capabilities for his new Brood clan).
The Brood have been longtime X-Men villains, and have rarely really been on anyone's "side," so the fact that the X-Men might now have a full-on Brood alliance is a huge shift in the cosmic scales. It actually reminds me of the Marvel cosmic event Hickman keeps pulling from in his Vulcan subplot, War of Kings. In War of Kings, the Earth Inhumans form an alliance with the Kree, essentially taking control of a vast cosmic power, setting off shifts in the cosmic hierarchy of power that ultimately lead to all out war.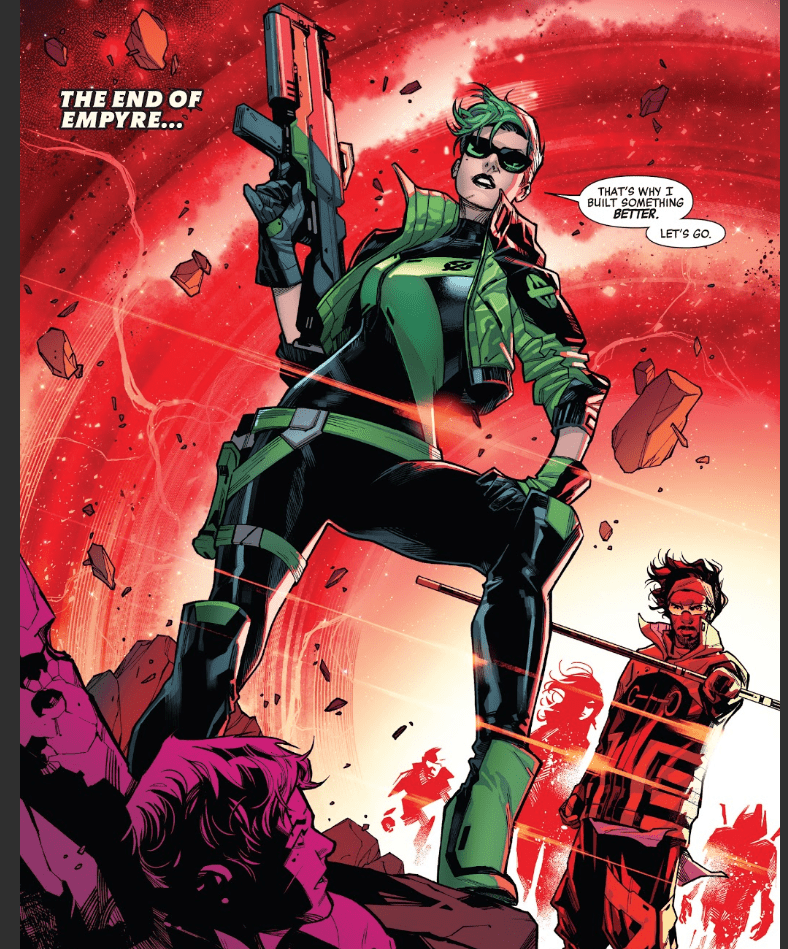 * EMPYRE AFTERMATH: X-MEN EDITION*
And this is where things get especially interesting to me because shifts in the cosmic scales are exactly where we find the Marvel Universe following the events of Marvel's 2020 event series, Empyre. Long event short, Empyre ends with the new Kree/Skrull alliance re-solidified, and Teddy Altman, aka Hulkling, aka the King of Space, cemented as their ruler. Marvel writers Al Ewing and Dan Slott are declaring this the new Marvel space age.
The biggest change in the power dynamics of Marvel Cosmic is that instead of constantly sabotaging the other through all out war, the Kree and Skrull combine forces to become *one of* the largest powers in space. Now, if faced with Krakoan expansion, especially if allied with the Shi'ar and Brood, I don't necessarily see the Kree/Skrull responding too kindly. Combine that with Teddy's Earthbound Avengers allegiances, and you've got one side of the cosmic scale tilting towards Krakoa/Shi'ar/Brood and the other tilting Avengers/Kree/Skrull. Forget Avengers vs. X-Men 2 – We're looking at World War GalaXy. And yes the X in GalaXy is capitalized.
It's a mild tangent, but I do think it's interesting that in two of the most detailed Moira lifelines – 8 (the Magneto life) and 9 (the Apocalypse life) – Moira's mutants come into direct conflict with versions of the Avengers. In life 8, Magneto loses in the War of M, and in life 9, Apocalypse defeats the Avengers world. I wonder, is this confrontation inevitable, and a necessity, to secure true mutant survival into the distant future? For mutants to stop losing, do the Avengers need to be taken out of the picture? A question for another time, and answers we may be closer to than we realize.
After all, the conclusion of Empyre: Avengers Aftermath teases a future with Abigail Brand leading some sort of space security force with an X branded on her jacket. Brand is the longtime Director of S.W.O.R.D., essentially the SHIELD of space, and a character and agency that debuted in the pages of Joss Whedon and John Cassaday's Astonishing X-Men. Crucially, Brand is also the product of a relationship between an extraterrestrial father and mutant mother, with mutant abilities of her own.
Following Empyre, Brand is fed-up that neither Captain Marvel nor anyone on the Avengers bothered contacting Alpha Flight (in charge of space security since the end of Secret Wars) and quits her established post. The implication in the future-state tease is that Brand is going on to form her own form of security for Earth's protection, and given the X on her jacket, it's likely it's a relaunched, Krakoa sponsored SWORD (for a little inside baseball, Marvel is also reprinting the hardcover of the Kieron Gillen and Jamie McKelvie X-Men: SWORD
collection, which doesn't feel like a total coincidence!).
Plus, it definitely looks like Manifold standing behind Agent Brand, an extremely powerful mutant teleporter who debuted in the Hickman Secret Warriors back in 2009, and was raised under longtime mutant ally Gateway. Manifold plays a role throughout Hickman's Avengers work, and of late has been a part of the Ta-Nehisi Coates run on Black Panther. Integrating Eden Fesi into the X-Men cosmic comic makes tons of sense, and all but assures that's what's coming from Al Ewing et al.
For my money, this adds up perfectly in the build to Krakoa securing control of so much more than a future for the mutants of Earth. And if this all feels like a fan's wild conjecture – well, one, you're probably right, that's what I do – but also, Al Ewing has been reported on the X-Men editors and writers Zoom calls over the past year. Now, it's possible he was just there to coordinate the X-Men's Empyre tie-ins, but given that Ewing's Immortal Hulk success currently has him as the absolute biggest writer at Marvel not named Jonathan Hickman, adding a book from Ewing to Marvel's most successful lineup of books would be a slam-dunk. A cosmic book from Ewing – also the current writer of Guardians of the Galaxy, and very much the architect of this Marvel age of space – feels like a shoe-in.
In the meantime, though, I think it's not enough for our mutants to control Earth – they have to have their sights set on the Galaxy. They're simply playing a bigger game. We know they have the allies and reach to get there. Now it's just a matter of planning and conquest.