Starting around Marvel's 2015 Secret Wars, I started thinking more about the concept of creative visions creating their own shared universe tapestry within Marvel or DC Comics. This came on the heels of what I viewed as the cohesive-yet-separate visions of a Hickman-verse, Remender-verse, and Bendis-verse within the broader boundaries of Marvel.
Of course, the grandaddy of all modern creative visions is Grant Morrison's now thirty-plus year writings across the DC Universe. The Morrison-verse is genuinely captivating entirely on its own terms, without reading much DC in between (not that that's a *bad* idea!).
Morrison is inarguably one of the all-time great comic book writers, and while their work can absolutely be off-putting, their sheer creativity and propensity for redefining superhero comics is virtually unmatched.
Related Reading Orders:
Support For Comic Book Herald:
Comic Book Herald is reader-supported. When you buy through links on our site, we may earn a qualifying affiliate commission.
Comic Book Herald's reading orders and guides are also made possible by reader support on Patreon, and generous reader donations.
Any size contribution will help keep CBH alive and full of new comics guides and content. Support CBH on Patreon for exclusive rewards, or Donate here! Thank you for reading!
From lesser known heroes like Animal Man to icons like Superman, there are very few corners of the DC Universe that Morrison hasn't influenced. Their work on Batman titles through the late 2000's is so prolific it requires its own Morrison Batman reading order.
Below you'll find a complete guide to the DC Comics written by Grant Morrison.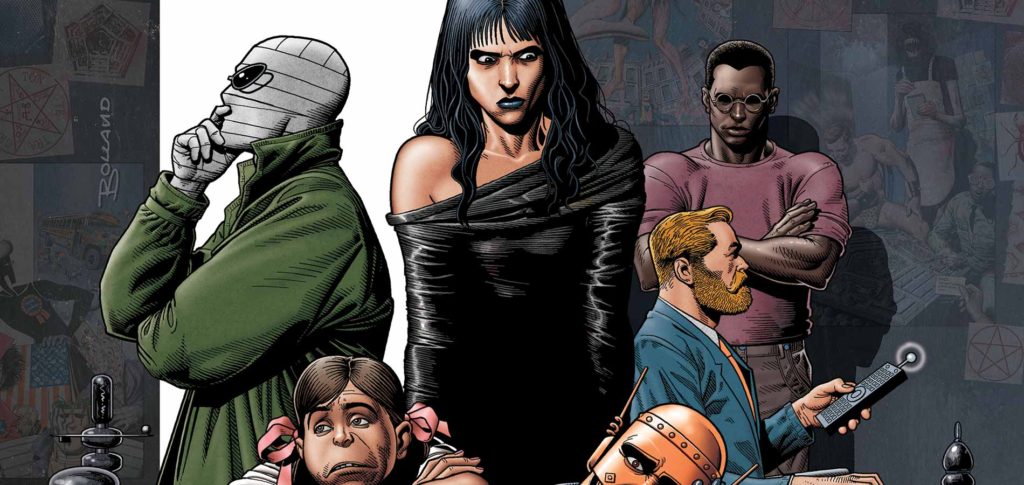 The DC Comics of Grant Morrison!
Collects: Animal Man #1-26 And Secret Origins #39
Author insertion into comics wasn't a new trick in the late 80's – Bob Haney was doing as much in "Brave and the Bold," and Stan Lee and Jack Kirby were frequent guests in the pages of Marvel's Fantastic Four – but Morrison may have been the first to really hone in on a superhero meeting his literal creator as the central narrative. Of course that's the famous ending of Animal Man, and there's plenty of good proto-Vertigo comics writing along the way, such as the iconic "Coyote Gospel."
Collects: Doom Patrol #19-63 And Doom Force Special #1
One of my favorite ongoing superhero comics of all time – no seriously it's inside the top 10 on my best comics of all time list – and a beautiful rendering of madcap imagination without limitation. Grant Morrison and Richard Case (primarily) reintroduce a revamped Doom Patrol as DC's strangest superteam, adding pure brilliance like Danny the Street and Flex Mentallo along the way.
Collects: Secret Origins #46, #50
Collects: Ogn
While it's one of Morrison's most successful comics, the Batman collaboration with Dave McKean is also very unlike much of Morrison's superhero oevre. The Arkham Asylum standalone graphic novel is an all-time best seller for good reason, but it's not as thoroughly grounded in Morrison's own DC Universe continuity as their work will become. Still, this comic is likely the reason the Batman Arkham video game series exists, and certainly the reason Killer Croc is the size of a small skyscraper in that all-time great play.
Collects: Batman: Legends Of The Dark Knight #6-10
Without question my least favorite Morrison book on the list, as the legend himself helps build Legends of the Dark Knight second story arc.
Swamp Thing: The Root of All Evil
Collects: Swamp Thing #140-150
Flex Mentallo: Man of Muscle Mystery
Collects: Flex Mentallo #1 To #4
From the pages of Doom Patrol.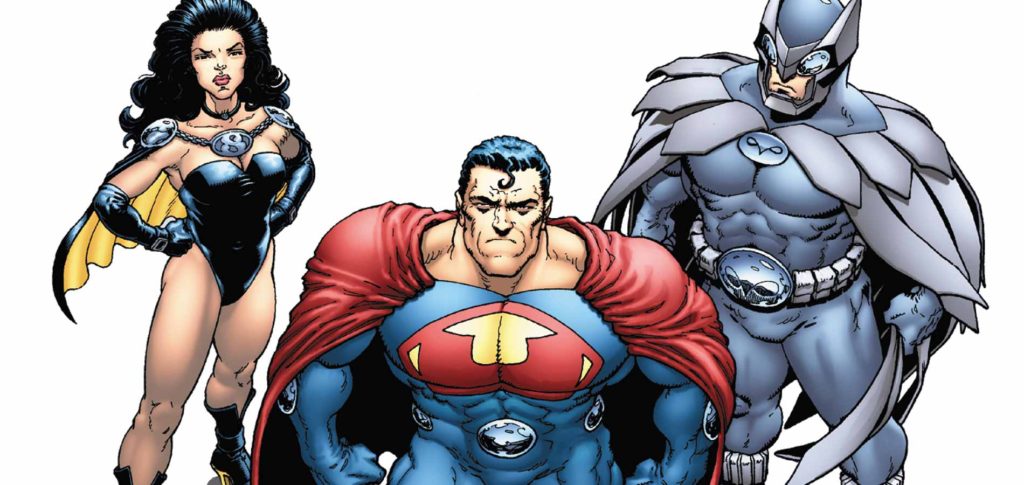 JLA: The Deluxe Edition, Vol. 1
Collects: Jla #1-9 And Secret Files And Origins #1
Following major DC Universe events like "Death of Superman" and "Knightfall," DC finally arrived at making the JLA the biggest game in town again, with Grant Morrison and Howard Porter (primarily) at the helm. The initial core roster of Wonder Woman, Aquaman, Superman (in his electric blue guise!), Batman, Martian Manhunter, Flash (Wally West), and Green Lantern (Kyle Rayner) will forever be the core League for readers of this generation. Mix in future members like Plastic Man, Huntress, Aztek, Zariel, and Big Barda, and you have a truly excellent Justice League comic that ran for nearly 40 issues and holds up well today.
JLA Presents: Aztek – the Ultimate Man
Collects: Aztek: The Ultimate Man #1-10
JLA: The Deluxe Edition, Vol. 2
Collects: Jla 10-17, Prometheus (Villains) #1, Jla/Wildc.A.T.S #1, And Jla Secret Files #2
The entire JLA run is well worth reading, but I do have to say that "Rock of Ages" may well be my favorite story arc of the bunch. Morrison finds a way to blend a Lex Luthor led Injustice Society and Jack Kirby's 4th World, in ways that are both thrilling and foreshadowing.
JLA: The Deluxe Edition, Vol. 3
Collects: Jla #22 To #26, #28 To #31, Jla #1,000,000
JLA: The Deluxe Edition, Vol. 4
Collects: Jla #34, #36 To #41, Jla Classified #1 To #3, Jla: Earth 2
Collects: Dc One Million 1-4, Action Comics 1,000,000, Adventures Of Superman 1,000,000, Aquaman 1,000,000, Azrael 1,000,000, Batman 1,000,000, Batman:Shadow Of The Bat 1,000,000, Catwoman 1,000,000, Chase 1,000,000, Chronos 1,000,000, Creeper 1,000,000, Detective Comics 1,000,000, Flash 1,000,000, Green Arrow 1,000,000, Green Lantern 1,000,000, Hitman 1,000,000, Impulse 1,000,000, Jla 1,000,000, Legion Of Super-Heroes 1,000,000, Legionnaires 1,000,000, Lobo 1,000,000, Martian Manhunter 1,000,000, Nightwing 1,000,000, Power Of Shazam 1,000,000, Resurrection Man 1,000,000, Robin 1,000,000, Starman 1,000,000, Superboy 1,000,000, Supergirl 1,000,000, Superman 1,000,000, Superman:The Man Of Steel 1,000,000, Superman:The Man Of Tomorrow 1,000,000, Wonder Woman 1,000,000, Young Justice 1,000,000, Jla In Crisis Secret Files, Dc One Million 80-Page Giant #1, Booster Gold 1,000,000, Superman/Batman 79-80
Conceptually, DC One Million is quite brilliant. Executionally, it's not a super easy comic to jump into. It's perhaps lazy short-hand to describe it this way, but DC One Million is the hardest Morrison Morrison's during the back half of the 90's, and that's going to be exciting for some and a damn headache for others.
The Flash by Grant Morrison and Mark Millar
Collects: The Flash #130-141, Green Lantern #96 And Green Arrow #130
Collects: Ogn
One of Morrison's most accesible standalone reads, produced in conjunction with the great Frank Quitely. "Earth 2" develops the "evil elseworlds" version of the JLA with characters like Johnny Quick and Ultraman.
JLA Confidential, Book 1: Ultramarine Corps
Collects: Jla Classified #1 To #3
This is definitely a miniseries that benefited from a broader understanding of Morrison's grand schemes, with early elements of story that will play into Seven Soldiers and Batman Inc.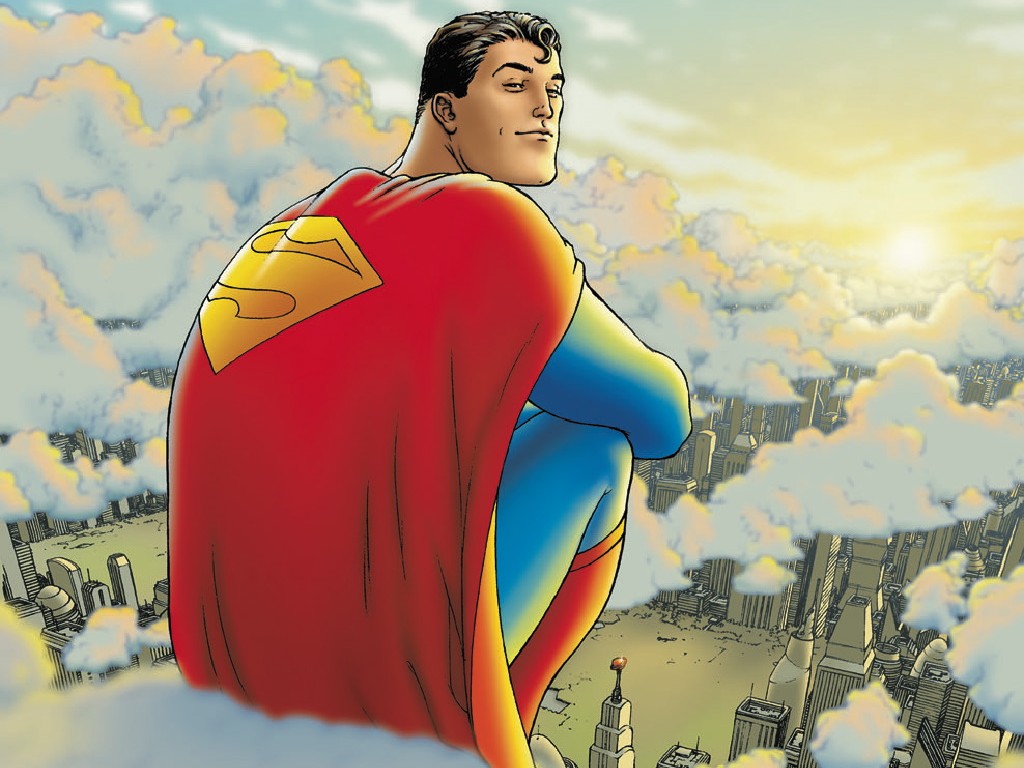 Collects: All Star Superman #1-12
An inarguable all-time great, as Morrison reunites with We3 and New X-Men collaborator Frank Quitely to tell my favorite Superman story.
Collects: 52 #1-26
52 is a bit trickier as part of a Grant Morrison exclusive reading order since the entire concept of the weekly year-long series was collaboration with Greg Rucka, Geoff Johns, Mark Waid, and Keith Giffen. Nonetheless, 52 is both a fun post-Infinite Crisis read, and full of excellent Morrison concepts (I'm particularly fond of the mad Science Squad).
Collects: 52 #27-52
Batman by Grant Morrison Omnibus Vol. 1
Collects: Batman #655-658, #663-683 And Stories From Dc Universe #0 And #30 And #47
I've written in detail about Morrison's time on Batman, but suffice to say there are easier entry points into Batman comics of the 2000's, but none are quite so rewarding. In addition to building new characters like Damian Wayne, Proffesor Pyg, and Dr. Hurt, Morrison revives a number of long forgotten Silver Age Batman concepts, and modernizes them for new readers.
Seven Soldiers by Grant Morrison Omnibus
Collects: Seven Soldiers #0-1, Seven Soldiers: Shining Knight #1-4, Seven Soldiers: Guardian #1-4, Seven Soldiers: Zatanna #1-4, Seven Soldiers: Klarion The Witch Boy #1-4, Seven Soldiers: Mister Miracle #1-4, Seven Soldiers: Bulleteer #1-4 And Seven Soldiers: Frankenstein #1-4
Collects: Final Crisis #1 To #7
For me, Final Crisis will always be the *hardest* Morrison read in their own deep and often complicated canon. It's an impressive book, and an unabashedly interesting view of the DC cosmos, but it is far from accessible. I appreciate what Morrison is trying with Final Crisis more than I out and out actually enjoy the book.
You can find the whole event guide via Comic Book Herald's Final Crisis reading order.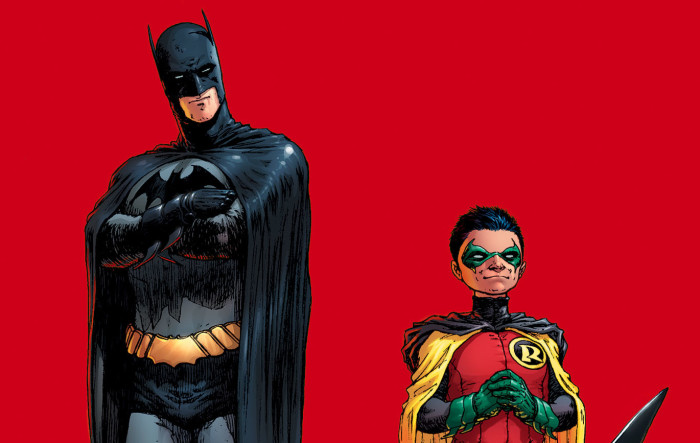 Batman by Grant Morrison Omnibus Vol. 2
Collects: Batman #700-702, Batman & Robin #1-16 And Batman: The Return Of Bruce Wayne#1-6
Collects: Batman Incorporated #1-8 And Batman Incorporated: Leviathan Strikes! #1
Likely my favorite part of the Morrison written Batman run, as a new series launches to reflect Dick Grayson's new role as Batman with Damian Wayne as his Robin.
Batman Incorporated, Vol. 1: Demon Star
Collects: Batman Incorporated #0-6
Batman Incorporated Vol. 2: Gotham's Most Wanted
Collects: Batman Inc #7-13, Batman Inc Special 1
Superman: Action Comics, Vol. 1: Superman and the Men of Steel
Collects: Action Comics 1-8
Superman: Action Comics Vol. 2: Bulletproof
Collects: Superman: Action Comics 9-12, 0 And Annual 1
Superman – Action Comics Vol. 3: At The End Of Days
Collects: Superman: Action Comics #13-18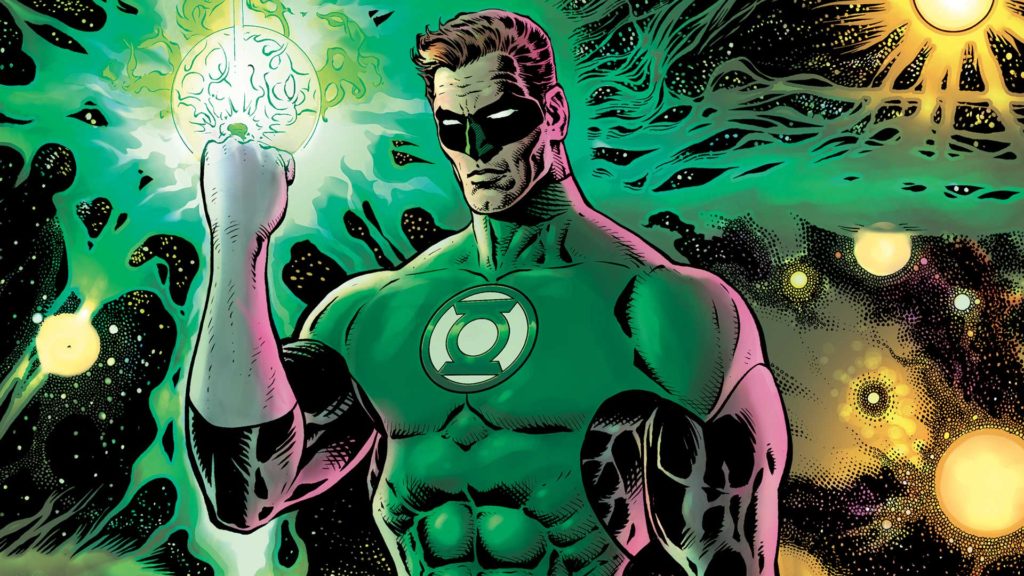 Collects: The Multiversity #1 And 2, The Multiversity Guidebook #1 And Multiversity Issues: The Society Of Super-Heroes #1, The Just #1, Pax Americana #1, Thunderworld #1, Mastermen #1 And Ultra Comics #1
I love Multiversity fiercely.
Wonder Woman: Earth One Vol. 1
Collects: Ogn
I called "Gothic" my least favorite Morrison written DC book in the guide, but the Wonder Woman Earth One series is a close second. I had high hopes for the Morrison and Yannick Pacquette graphic novel, but it's a shockingly flat disappointment.
Wonder Woman: Earth One Vol. 2
Collects: Ogn
Wonder Woman: Earth One Vol. 3
Collects: OGN
Collects: Dark Knights Rising: The Wild Hunt (2018-) #1
Although Scott Snyder and Greg Capullo deliver the main event, DC Metal does owe a clear debt to the works of Grant Morrison. From flipping over their map of Multiversity to show the dark multiverse to recurring references to "The Return of Bruce Wayne," Snyder and company are clearly inspired by Morrison's contributions to the mythos. It's appropriate then that Morrison himself hopped in to co-write "The Wild Hunt" one-shot which features the shocking return of the Science Squad!
Collects: Sideways (2018-) Annual #1
The Green Lantern Vol. 1: Intergalactic Lawman
Collects: The Green Lantern #1-6
The Green Lantern Vol. 2: The Day The Stars Fell
Collects: The Green Lantern #7 to #12, Annual #1
The Green Lantern Season Two Vol. 1
Collects: The Green Lantern Season Two #1-6
The Green Lantern Season Two Vol. 2: Ultrawar
Collects: The Green Lantern Season Two #7-12
Grant Morrison and Chris Burnham include a short story for the Dark Knight's 1000th appearance.
Superman and the Authority
Collects: Superman and the Authority #1 to #4