Try to imagine a solution to everything; not just the problems of the world, or the universe, but everything in existence. How do we reach this perfect world? And what will it cost to bring that vision to life?
Since their creation at the hands of Jack Kirby and Stan Lee, the Fantastic Four have stood as a monument to our limitless hope and imagination: a family bound together through a shared love of adventure. While the team shared countless stories over the years, taking them to the fringes of the unknown, even hope can start to dwindle over time. Decades of fear brought on by the information age would lead to a darker vision of the future, but it would be Marvel's Civil War that ultimately fractured the four, with Reed Richards' role in Iron Man's regime driving a wedge between himself and his family. While talented writers like J. Michael Straczynski and Dwayne McDuffie would take steps to reunite the team, readers were still looking for someone to bring back what made them great in the first place: their desire to explore the unknown, and build the foundations of a better tomorrow.
This return to form would arrive through writer Jonathan Hickman, and a sprawling three-year run that would leave ripples across the entire Marvel Universe, re-establishing the Richards family as its beating heart. Pulling from the team's past, present, and future, Hickman and an extensive team of artists, inkers, colorists and letterers would deliver a saga that would redefine the Fantastic Four, both as the world's greatest comic magazine, and the family behind it all.
It Always Begins The Same Way…
Even the grandest stories have to begin somewhere, and for writer Jonathan Hickman, the story of his Fantastic Four begins with one man: Reed Richards. Arriving on the book in 2009 with little knowledge about the team, Hickman began devouring the book's previous stories, where he found two major sources of inspiration: the FF's dual identity as both team and family, and Reed's transformation into a colder, more pragmatic figure. While comics in the early 2000's had been embracing a darker tone for some time, Reed's involvement in Marvel's Illuminati and Iron Man's pro-registration forces were seen as a complete betrayal both in and out of fiction, with the rest of the FF leaving him behind as his desire for a perfect world boiled over into an obsession. Countless writers would address this shift, with Straczynski and McDuffie having Reed and Sue rebuild their marriage while Mark Millar would bring back the team's high-concept adventures. But for Hickman, Reed's turn showed something deeper: a shift in his outlook from boundless optimism to something colder and darker. Something that Reed would have to confront within himself for the team to move forward.

Picking up in the wake of Marvel's Dark Reign, Hickman's run begins with an incredible discovery: traveling through dimensions on a device called "the bridge," Reed has come into contact with his multiversal counterparts, who have banded together into a "Council of Reeds," determined to prevent threats and solve problems on a universal scale. While Hickman had seeded this concept in an earlier (much weirder) story, the writer would spend his first arc defining the Council and what they represent within Reed: his struggles between his own humanity and the greater good he desperately wants. These inner struggles are elevated through Dale Eaglesham's art, which draws heavily from the imagery of rugged adventurers like Tom Strong and Doc Savage: idealized figures dedicated to the mission above all.
Support For Comic Book Herald:
Comic Book Herald is reader-supported. When you buy through links on our site, we may earn a qualifying affiliate commission.
Comic Book Herald's reading orders and guides are also made possible by reader support on Patreon, and generous reader donations.
Any size contribution will help keep CBH alive and full of new comics guides and content. Support CBH on Patreon for exclusive rewards, or Donate here! Thank you for reading!
"Reed is more intimidating and forceful, and less the nerdy professor," Eaglesham states.
"I want villains to be afraid of him physically as well as of his mind. That is not to say I want to wash the humor or any goofiness out of Reed or his relationships, far from it. I want to maintain that, but add to it the imposing presence of a brilliant scientist and powerful superhero. This combination (is) a lot of fun to explore."
Across these events, Hickman draws a parallel between Reed and his father Nathaniel, another great thinker who left his family to serve what he saw as a higher purpose. It's this tension that becomes the bedrock of Hickman's first arc: Which is worth more? Duty, or family?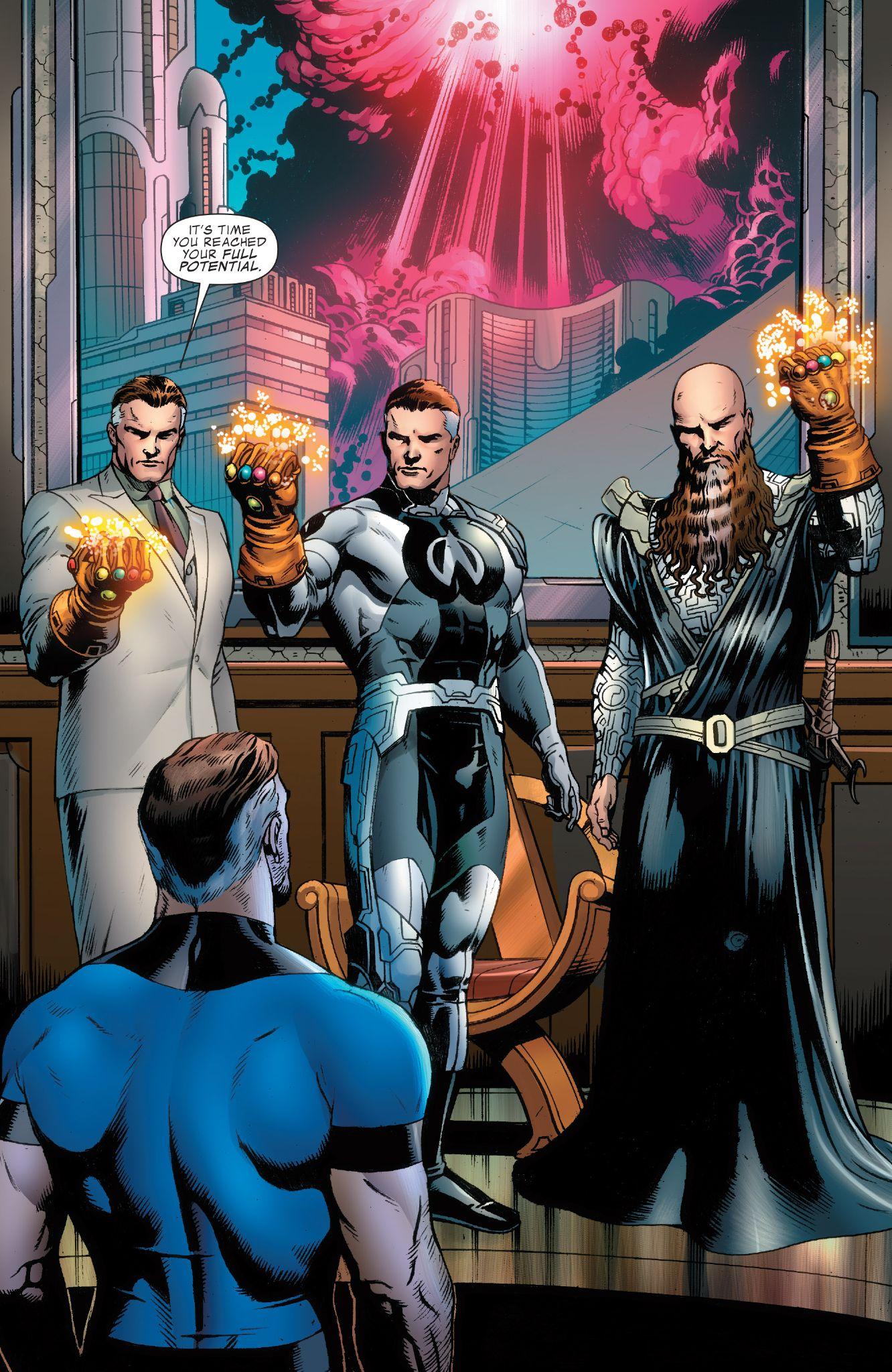 Through the Council and their actions, the writer elevates Reed into something more mythic than the standard superhero: a great man driven to do great works. Hickman has returned to the concept of "the great man" throughout his career, but Fantastic Four delivers his most pointed commentary on it: Reed's dedication to science is admirable, but becomes dangerous and self-destructive when left unchecked. Without his family, he is lost…compromised.
"I've certainly grown to love him more, but Reed's my favorite character," states the author. "Because of Civil War and all the stuff that had happened, he was kind of a dick, right? Reed's responsible for a lot of stuff – he's always had all these plans of how to make things work, and if you think about it, he's been wrong a lot. I felt like I had to fix Reed in a way, and make him a more likable character again."
Using the council, Hickman takes this character flaw to its natural conclusion, with the group's machinations bringing about its own destruction; their good deeds crushed under the weight of countless necessary evils. But even in failure, there is hope. While the Council's obsession traps them in their mission, Reed manages to find a better way, not just embracing his family, but letting them take up his mission alongside him.The path to greatness isn't just family or duty, but a combination of both. Nobody can build a better world on their own. They need help.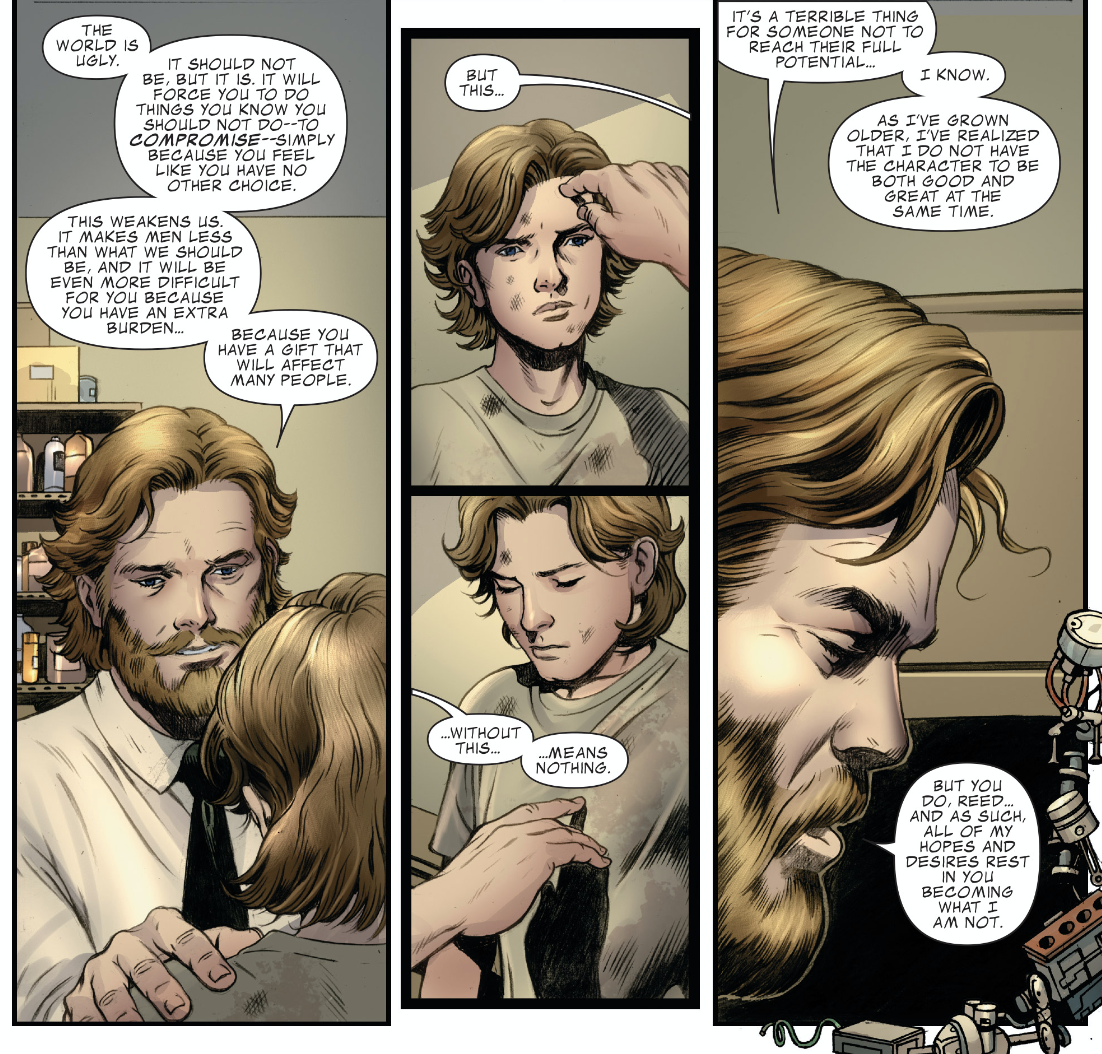 The Prime Elements
The FF's dual role as team and family has been a huge part of their stories for decades, but the mix of one versus the other can change depending on who's writing. For Hickman, the priority was re-balancing the book's prime elements, setting the Richards' tight-knit family drama against sprawling universe-hopping adventures.
"I've read more FF in the last two-to-three months than I had in my entire life," recounts the writer. "One of the things that became pretty clear to me was that the Ultimate Fantastic Four title has had a big impact on the regular series. Fantastic Four is about fantastic adventures and the family, but when Ultimate FF was launched, it kind of turned into a science explorers type book. The physics of something isn't the heart of the book. That's not what I think we need to get back to. To me, Fantastic Four is about the family structure…it's about wild, chaotic, fantastic ideas, as opposed to how things work in a functional world."
While the book's second arc feels like a return to the classic Lee-Kirby era (complete with family squabbles and little green men), the writer also has something much bigger at play, with countless threads converging into a mysterious prophecy built around the past, present, and future of the Richards family. Four cities, each an inversion of Reed's "perfect society," begin appearing across the Marvel universe, with the dark costs of each threatening everything in their path. Long story short, the FF's enemies have evolved, and overcoming these threats means the group will have to change, too. Free of the Council, Reed and the team meet these new threats with boundless imagination, rejecting the cynicism of the larger scientific community to build a foundation of their own.
What follows is a complete transformation of the FF, as new members join the team, long-dormant plots finally come back into play, and each of the founding members develop larger roles in the Richards' ever-growing family unit.
As these threads continue to spin Hickman's master story for the book, the sheer scale of what's at stake finally comes into focus, as the unshakeable optimism of this new FF starts to collide with each new threat, leaving ripples across the universe. Only one force can prevail here. Hickman's made it clear that the Richards family is the key to averting disaster, but how can hope endure when everything seems destined to end? How can one family survive a world…where everything dies?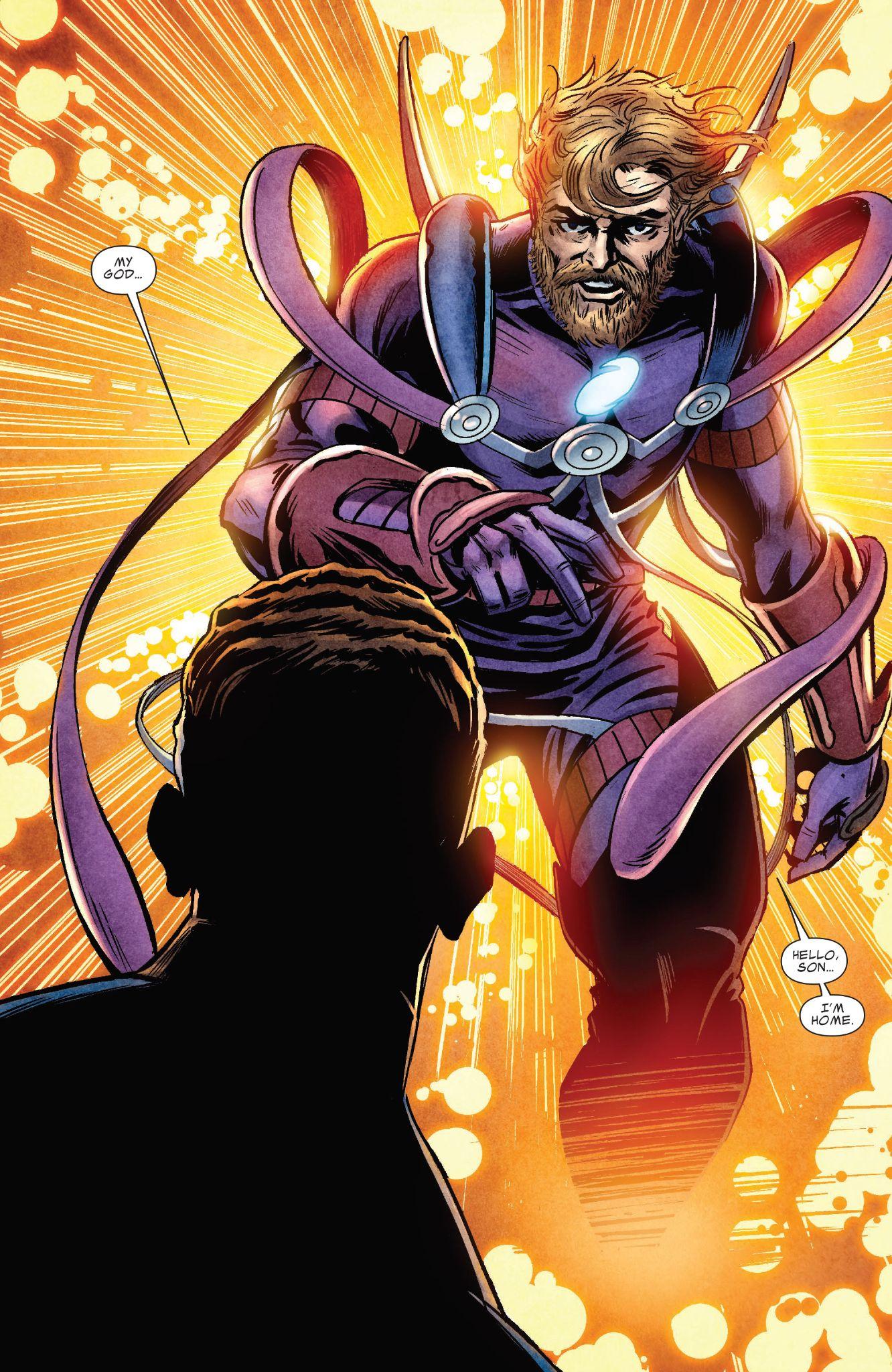 Everything Dies
Since his beginnings on the title, Hickman has built his Fantastic Four around two dueling philosophies: the FF's hope in a better tomorrow, and the grim realities of the universe…everything that begins must also end.
As the team fights threats from across their history, the events in Franklin's doomsday prophecy continue their march to a horrifying conclusion. This isn't just another superhero punch-em-up, it's a war against fate, against an end that seems increasingly inevitable. In sharp contrast to the Kirby-esque iconography of the earlier run, this third arc feels more real, tangible, and human, thanks in part to Steve Epting and Neil Edwards' more realistic pencils. A far cry from the rugged icons we've seen before, the FF's humanity becomes more apparent than ever as they're slowly overwhelmed by the forces of a hopeless universe.
Hickman even brings back Nathaniel Richards as a living embodiment of this flawed outlook, revealing his hand in the creation of the Council of Reeds and the countless crises that have spiraled out of their actions. Acting out of his own self-preservation, Nathaniel has only doomed his family, a mistake that forces him to come to terms with his failings as both a father and a scientist.
This wave of nihilism hangs over the book's third arc, splitting the founding members and pushing them to their limits to achieve the impossible: Reed returning life to a dying star, and Sue holding off a civil war in Atlantis, leaving Johnny and Ben standing between the kids of the Future Foundation and the endless hordes of Annihulus. Some are rewarded for their faith, and for a moment, the writer even hints that everything will work out in the end. But as he's been saying since the beginning, things are about to change for the Fantastic Four. Even a team built on hope can't last forever in a universe that devours it. Something has to give, and when it finally does, it enacts a terrible cost.
If Hickman's earlier stories were a re-invention of what came before, his third arc's finale, fittingly titled "three," is his ultimate act of change for the team. Following the surviving members through a month of mourning, the writer and artist Nick Dragotta see the Fantastic Four broken beyond repair for the first time, with Reed, Sue, and Ben all lingering on their own personal abyss.
The loss of Johnny Storm has fundamentally changed everything about the Fantastic Four and what they represent, but Hickman's crises are still on the horizon, and it's clear that the Richards family are the only ones who can stop it all. But how does a family endure when its been broken apart? What keeps us going when the world gets too dark to bear? For the writer, that answer is hope. Hope that we can continue to evolve, to push past the impossible, to leave a better tomorrow for the next generation. Hope that what was lost can always be found again.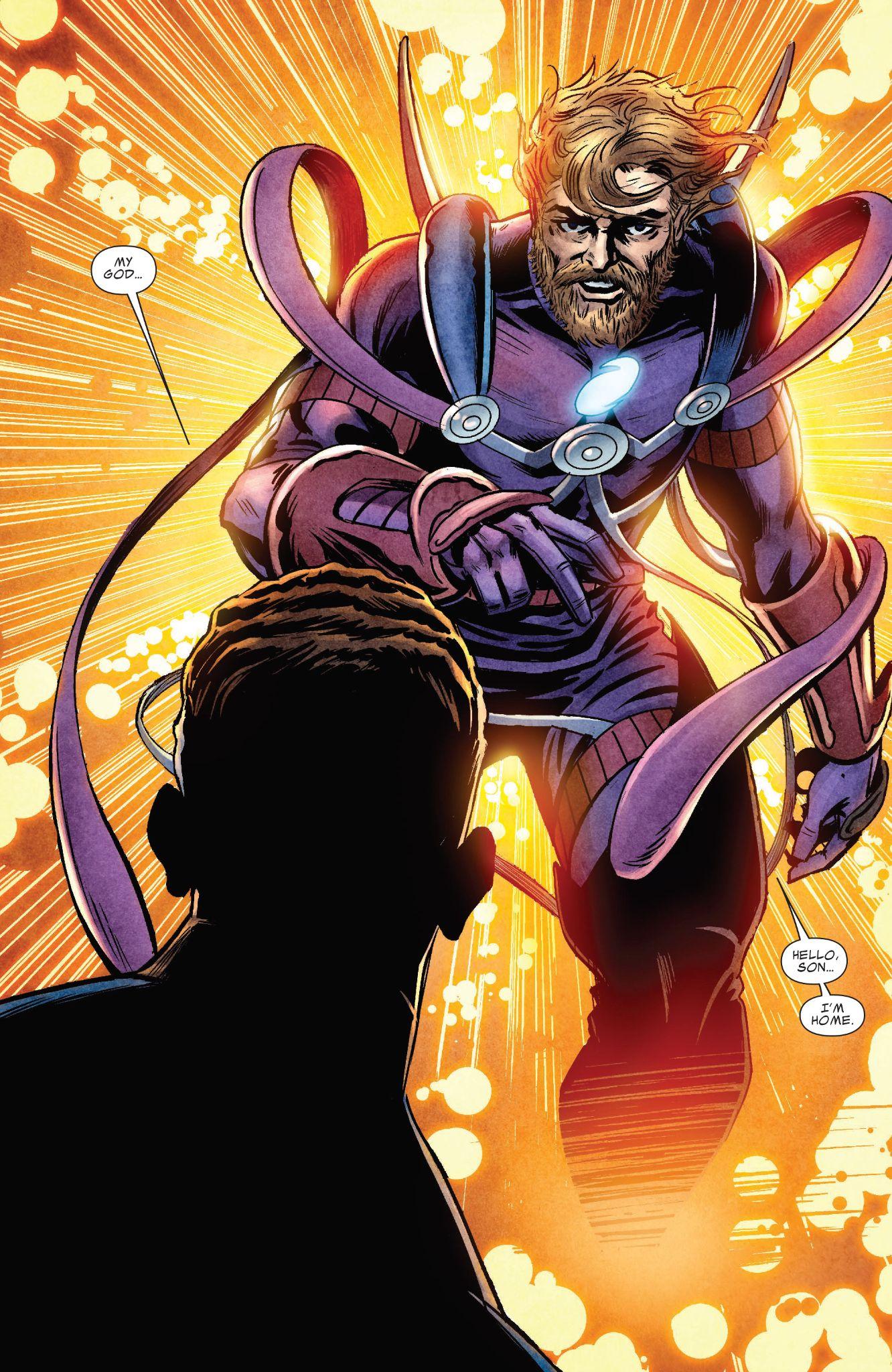 Sources:
https://www.cbr.com/best-things-about-jonathan-hickmans-fantastic-four-run/#a-fantastical-exploration-of-ego
https://www.cbr.com/nycc-hickman-and-eaglesham-talk-fantastic-four/
https://web.archive.org/web/20131110034440/http://www.newsarama.com/1925-jonathan-hickman-secret-warriors-the-ff-and-more.html
http://www.multiversitycomics.com/news-columns/marvel-then-jonathan-hickman-and-family-matters/