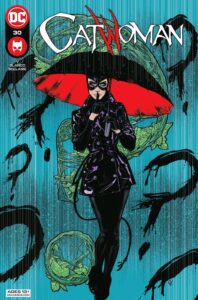 Kicking off with a fill-in issue that soon blossomed into a full run spanning nearly twenty issues, writer Ram V's Catwoman showed everyone's favorite feline-themed larcenist settling into a new home in the charmingly named Alleytown neighborhood of Gotham with a new supporting cast. After the Bat/Cat sort-of break-up of Tom King's run and Joëlle Jones's road trip relaunch, this era allowed her to set up a solid home base for the first time in years, though it was not to last.
As Selina herself would be quick to remind you, standing still for too long can make you a target. Still, one thing that sets her apart from previous incarnations here is the way she accepts that danger as the price she pays for finding community. Asking Selina to settle down long enough to give herself a good long look in the mirror, this somewhat loosely constructed run remains one of her more complicated turns.
Catwoman #9, #14-15 & #25-38, Annual 2021, Catwoman: Future State #1-2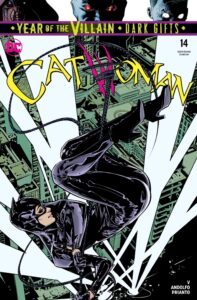 AN ALLEY OF ONE'S OWN
In these issues, which actively separate Selina from Batman and allow her to interact with the greater world of Gotham independently, getting to know Selina in her own words becomes the priority. Additionally, they don't have the same level of baggage that the last run needed to work through to get her to this point of acceptance, meaning this is where we get to see Selina flex.
The first issue of the Ram V's main run kicks off with #25, which will remain a highlight for the character as three different stories work to establish a new status quo. As she teams up with the Riddler and the Penguin to pull off a heist only to inevitably betray them, Selina's prankish side is on full display, but so is her tendency to take much greater risks than she needs to. The Penguin gets in a shot at her, and she lucks into a last-minute save from Detective Hadley, who tries to be her man on the inside, only to be rebuffed in the following issues.
Support For Comic Book Herald:
Comic Book Herald is reader-supported. When you buy through links on our site, we may earn a qualifying affiliate commission.
Comic Book Herald's reading orders and guides are also made possible by reader support on Patreon, and generous reader donations.
Any size contribution will help keep CBH alive and full of new comics guides and content. Support CBH on Patreon for exclusive rewards, or Donate here! Thank you for reading!
Meanwhile, two backup stories focus on Selina's first run-in with the group of young neighborhood thieves who ultimately become known as the Strays. Though she eventually grows to lean on these kids to help her clean up the streets of Alleytown, their first interaction shows them mistaking her for a mark, then being quickly corrected. The second backup offers a distrustful cat watching Selina move in, which is ultimately won over by her charisma. This story is especially a gift for those among us who miss the days of a Selina Kyle who didn't just collect nameless strays, but was willing to go to the ends of the earth for her cat Isis in Batman: The Animated Series. Though this cat isn't likely to make another appearance, the story shows the level of care Selina can give her pets, temporary though they may be.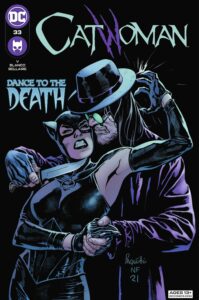 YAY THO I WALK THROUGH THE VALLEY OF CATS
Several minor and major villains pop up in these issues, but there's little disputing that Father Valley is the most definitive. Initially hired by the Penguin, who seeks to take revenge on Catwoman for her issue #25 betrayal, Father Valley transforms his vendetta against Selina into a spiritual quest and turns on Oswald, insisting that he'll do things on his terms. This ultimately leads to at least one of Selina's friends dead at his hands before V's full arc wraps, and the two have an epic showdown that easily qualifies as the highlight of the run.
Catwoman Annual 2021 takes a look at Father Valley's backstory, which ties into former Batman Azrael's upbringing. After Azrael's father, Ludovic Valley, sent his son away to "protect" him, he took in an orphan boy named Karl, who he enlisted into his Order of St. Dumas (known to longtime Batfans for being an at least slightly murderous religious sect). When Ludovic is commanded by The Order to commit mass murder, he does so, leading Karl to become disillusioned as the two square off and Karl nearly dies. Having become a quasi-religious death-dealer, he brings that fanaticism to his fight against Catwoman and ruthlessly sets Alleytown aflame.
Poison Ivy also plays a pivotal role in the series, with a cabal of villains mining her to create new drugs. She spends much of this series as an object bounced around to fulfill plot points, so, much as with V's Swamp Thing run, it's unlikely that fans of the character will find this excursion particularly satisfying. On the other hand, V brings in several other longtime Batman villains for gratifying, if brief, moments. Initially appearing as a mysterious "friend," Clayface ultimately reveals that he's attempting a face turn and has assembled his own small crew, including mainstays like Killer Croc, Knockout, Cheshire, and Firefly. They help defend Alleytown after Valley attempts to bring the community to its knees through a raging fire.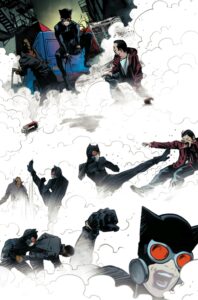 I MEET DEADLINES WITH A LITTLE HELP FROM MY FRIENDS
There is no selling short the collaborators of this run, whose primary artist is Fernando Blanco, no stranger to the Batbooks. Blanco excels at drawing a dynamic Catwoman against sprawling landscapes comprised of neon lights and urban decay. Likewise, the complicated fight scenes and wild panel layouts for which Blanco is known go a long way in adding an extra element, making Selina's skills as a martial artist stand out more than ever before.
Blanco eventually departs, with Nina Vakueva stepping in with a slightly sketchier style that adds cartoonish fun to the fight scenes of later issues while remaining very much grounded in defining Alleytown as its own unique neighborhood. Scenes in which several classic Bat-villains work together against the common enemy when some armed men show up to take over Alleytown come to life due to Vakueva's energetic style, as do scenes in which the classically over-the-top Harley Quinn bounces through a number of vicious fights to get to her lover, Ivy.
Jodie Bellaire's work as a colorist gives the book an entirely new dimension, with several iconic scenes in which the colors steal the show. Particularly in issues like #33, a doomsday prophesizing Valley emerges from an inferno that rages around him, destroying much of the Burrough that Selina has sought to defend. The feeling of apocalyptic momentum is conveyed through Bellaire's masterful portrayal of the flames that surround him. Likewise, Tom Napolitano's lettering excels in the sound effects that add gravity to the series of explosions that occur throughout the last several issues of V's run. Though not entirely steady from point to point, there's no denying that the creative team works in tandem to deliver on not just Selina's arc, but that of Alleytown as well.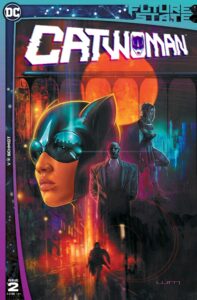 WHAT DOES IT ALL MEAN FOR SELINA
This series features some side quests, including the fill-in #9 and the two-parter in #14 and #15 that ostensibly started V's take, despite being in the middle of the Joëlle Jones run. Mired in Bat/Cat drama with a shaky and uncertain Selina at its core, this is arguably the weakest link in Ram V's take on the character, but it is in service of building a more interesting Catwoman. Meanwhile, in Catwoman: Future State, Selina is cast into a possible future in which Bruce has died, and she continues to fight for the people of Alleytown. She and Bruce are ultimately reunited when it's discovered he is still alive, granting him a chance to quip that maybe bats also have nine lives. As with much of Future State, this is a fun outing but doesn't particularly tie into the overarching run.
In #26, the Penguin notes that Selina has gone soft, and it will be easy to use those she cares about against her, but much of this run is about how much stronger she becomes as she fights for and with others. Though her stay in Alleytown doesn't last past the end of this run, she makes significant strides in cleaning it up and establishing a solid community that will be there long after she leaves. This becomes the perfect statement of her character and a more positive continuation of her story. The assurance that she likely will not stay, but nor will she leave others in a precarious position, almost answers the questions Selina was asking herself throughout Jones' run as she scrambled to unravel her unpredictability in the wake of leaving Bruce at the altar.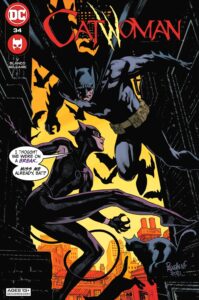 Another standout of this era is Selina's physicality. While prior runs, including Jones' sleek and fast take on the character, have prioritized Catwoman's flexibility and knack for dodging, sparring, and escaping, this run has many moments in which Selina shows surprising physical force. In #25, she kicks a guard through a door and sends him flying in a move you would expect from Batman. Multiple full and double-page spreads through the run capitalize on her ability to fight while keeping it moving, focusing on the goal, and never getting distracted. Many issues display a symbolic dance with a tiger occurring in Selina's mind as she attempts to dance around the creature, and the unarmed Catwoman makes for a surprisingly physical match against the great cat. She and the Strays regularly resort to alarming levels of violence, with her using a mechanic shop to beat down a group of men at one point and them electrocuting a group of trained killers at another. Granting Selina a level of brutality that she has seldom possessed, these arcs stand out for giving us a genuinely intimidating Catwoman.
As of now, Tini Howard's take on Catwoman is well underway, leading into a new era of Gotham with all-new villains for the Cat. However, the last runs of Catwoman Vol. 5 delivered on offering distinctly different tones that helped build to where Selina is today, making it one of the most solid stints that Catwoman has had in her eight-decade-plus history. Though not without its shaky moments, V's take on the character led Selina to a level of self-awareness that she may not yet have had, while showing us a great deal about how she interacts with others and why people are so captivated by her. Since the Bat/Cat split, Catwoman has had a greater push than ever to stand on her own as one of Gotham's powerhouses, and this run went a long way in establishing her as precisely that.