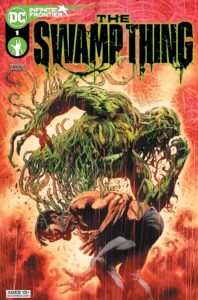 Despite its legendary status in the DC Universe, the Swamp Thing series has spent many years in relative limbo. Created by Len Wein and Bernie Wrightson as a creepy but fairly standard horror comic for DC in the '70s, the concept morphed into the basis for what is widely regarded as one of the most essential graphic novels ever with Alan Moore and Stephen Bissette's take in Saga of the Swamp Thing. Many industry greats have tried their hand at the character since, giving us no shortage of excellent runs of many different flavors, but there's been some starts and stops along the way.
With the most recent prior entry in the Swamp Thing story being a mini-series written by co-creator Len Wein in 2016, the 2021 series, The Swamp Thing Volume 1: Becoming, pans the camera away from Alec Holland as the human basis of the character. Taking a step in a different direction with the introduction of Levi Kamei as the avatar of the Green, this series distances us from the metaphysical concerns of the Swamp Thing itself, instead asking larger questions of humanity. Are we doomed as a species to repeat our mistakes until we tear ourselves apart, or is this a painful growing process in which we are becoming something new?
Covering: Future State: Swamp Thing #1-2, Swamp Thing Vol. 7 #1-4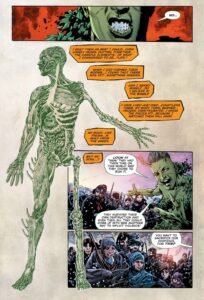 The State of the Future
This trade is broken up a bit strangely, collecting the first four issues of Vol. 7 alongside the Future State crossover issues. The crossover issues envision a Swamp Thing for the far-flung future, though it manages to stay thematically in line with the present-day issues. We don't know which Swamp Thing we're dealing with exactly, but he comes into conflict with classic Swamp Thing villain Jason Woodrue, who is using the power of former Infinity Inc. member Obsidian to threaten others. Swamp Thing puts an end to this and saves the humans, but in doing so he destroys his traveling companions. Through these two issues, several pages detail how the Swamp Thing formed these companions out of raw vegetation to embody certain aspects of himself, such as "hope" and "doubt." By the end of the tale, he acknowledges that they can never grow, and these humans might still find a way to do just that.
In the present day, Levi is traveling back to New York after visiting his family in New Delhi. Intending to get back in touch with his roots, he found himself more alienated than ever. The visit ended with his father passing away, leaving our hero with unresolved feelings and the certainty that his father never truly cared about him after he left home.
Support For Comic Book Herald:
Comic Book Herald is reader-supported. When you buy through links on our site, we may earn a qualifying affiliate commission.
Comic Book Herald's reading orders and guides are also made possible by reader support on Patreon, and generous reader donations.
Any size contribution will help keep CBH alive and full of new comics guides and content. Support CBH on Patreon for exclusive rewards, or Donate here! Thank you for reading!
Levi reflects on his move to NYC as a teenager and the sense of panic that filled him at the prospect of something so totally new lying ahead, with the world he knew fading rapidly into his past and the future unknown. Equating his sense of fear then with what he's feeling now, he drifts into sleep only to be awakened by a nightmare in which he, bonded with the Swamp Thing, rips the plane apart in the middle of the sky. Even as he reflects on a past that seems so far away, it creeps back into his life as it is heavily implied that his connection to Swamp Thing was borne of his brother's unscrupulous dealings with occult forces.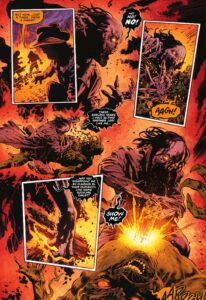 New Friends and Old Foes
A villain called the Pale Wanderer is introduced, based on a myth of a Civil War soldier who grew revolted by humanity and retreated to the desert, becoming a mystical force. While the rotting Anton Arcane made for the perfect antithesis of the early Swamp Thing and the two evolved to mirror each other in new ways over time, this new take on the character is vegetation incarnate set against sand. Levi gets the better of this threat by creating life where once there was none, growing a majestic tree in the middle of a parched piece of land.
Yet we see in later issues that the Pale Wanderer's misanthropic tendencies are a thing that both the desert and the Green share, each having seen humanity at its absolute worst. This places Levi in the unique position to take the awesome power of Swamp Thing and channel it into new feelings of hope—if he can withstand the forces that are working to destroy him.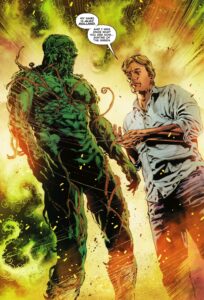 Callbacks to earlier volumes are everywhere, with detailed descriptions of an insect's functions when a coroner explains how blowflies feed off of corpses, explicit anatomy shots during the Future State issues, and even a ghostly Alec Holland arriving early on to help guide Levi through the Green. With a sense of self-awareness of the text, Alec urges Levi to sense the memory of the Green, connecting him with a larger arc that exists outside of a singular moment. When Levi pushes Alec for more information, Alec notes that he too is simply a memory, and vanishes from sight.
Likewise, longtime friend of the Green, Ivy (not Poison, she notes), makes an appearance, physically split into two personas. Fans that have grown weary of Pamela Isley's portrayal as fractured and mentally unsound will find nothing to challenge that read in this volume, though this creative team treats her a bit more kindly than most. Casting her as two selves—one beneficial and with distorted word bubbles and dialogue reminiscent of a Lewis Carroll character, the other severe and untrusting—the narrative allows her a heroic moment before she vanishes from the text. Woodrue also shows up, attempting to guide Levi's potential love interest Jennifer through the swamp, though, as always, his motivations for doing so remain dubious.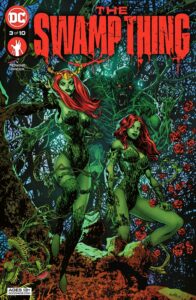 The Swamp Thing We Deserve
Narratively, this volume has yet to tread much in the way of new ground, but it isn't necessarily intending to do so. Instead, we're looking at an old premise with a fresh set of eyes, and the difference in direction is needed in order to bring the concept behind the Swamp Thing into a realm more relevant for modern readers. While many stories of the past have questioned Swamp Thing's attachment to humanity or sent him on various adventures exploring his connection to the Green, this series uses a new character to pull the lens back a bit and place the Swamp Thing into a larger context of what his existence means for the world.
Granted a human protagonist to offer a bridge between modern life and the timeless perspective of the Swamp Thing, we are given the sense of scope needed to get a better look at how wondrous the Green truly is. Stylish and fresh, this is a story with a lot of heady concepts. It has yet to fully right itself by the end of this trade, but by laying the groundwork for a whole new era for the character, it's delivering the Swamp Thing story that needed to be told in 2021.