Thanks to the box office success of Spider-Man: No Way Home, the cinematic history of Spider-Man is a hot topic around the water cooler for about a billion reasons, and with almost two decades worth of Peter Parker on the big screen, there is a lot to discuss. In those twenty-odd years, Tobey Maguire, Andrew Garfield, and Tom Holland have each given a take on the live-action wall-crawler that captures fundamental aspects of the character we love, all while telling vastly different types of stories about who Spider-Man is and how he fits into the world around him.
Believe it or not, dear reader, there are even debates on this here Internet about which big-screen version of Spidey is the best! And it's true that while all three performances are undeniably Peter and his alter ego, they're not quite the same Peter. So where should you start if you want to read the stories that best represent your favorite on-screen Spidey?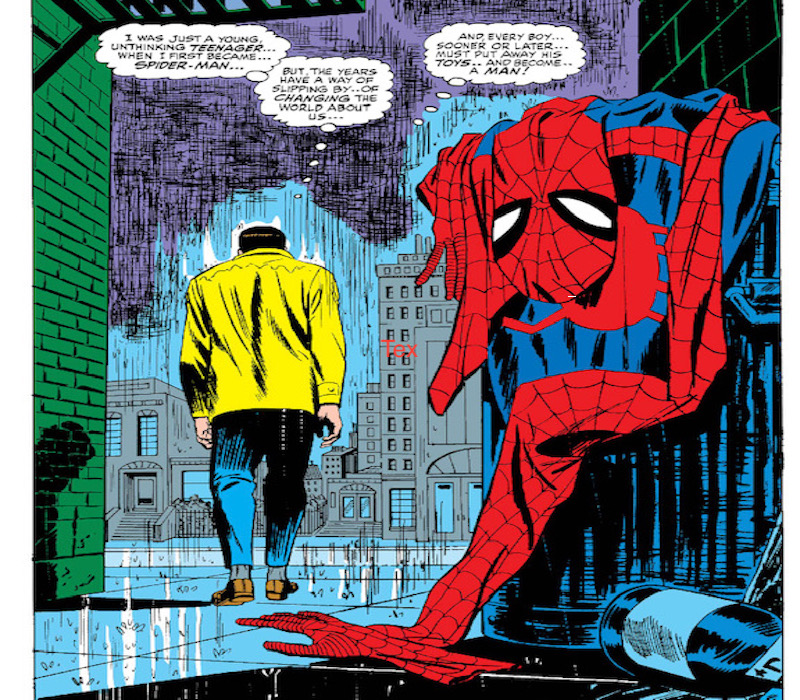 Tobey Maguire – The Silver Age Spider-Man
The first act of Sam Raimi's Spider-Man is unabashedly inspired by 1962's Amazing Fantasy #15, hitting several iconic beats from the origin story Stan Lee and Steve Ditko told there: Peter Parker is bitten by a radioactive spider during a scientific demonstration; he briefly uses his newfound powers for monetary gain and actively decides not to stop a thief he encounters; his Uncle Ben is murdered; Peter pursues the murderer to an abandoned warehouse, where he discovers that the killer and the thief are one and the same, and poignantly internalizes a lesson about power and responsibility.
Given how much the film's plot pulls from Spidey's first print appearance, it's only fitting that Tobey Maguire plays Peter as a wholesome young man ripped straight from those very same pages. In the movie's early scenes – Peter running after the school bus on its way to the field trip to Oscorp, gazing wistfully at Mary Jane Watson through his camera's viewfinder, and living his pre-carjacking life at home with Aunt May and Uncle Ben – Maguire gives a performance full of wide-eyed earnestness, whose "Hiya, Harry!"s and "Tally-ho!"s feel completely genuine. Maguire perfectly embodies Peter as Stan and Steve created him in those initial pages of Spidey's publication history.
As the Raimi trilogy continues, Maguire gets the opportunity to sell the "Parker luck" so well established in the 1960s stories, as the cost of being Spider-Man takes an increasing toll on Peter's life in ways great (Harry Osborn's descent into obsession and Goblinhood) and small (late pizza deliveries and term papers). One of the most famous Silver Age arcs that encapsulates this stage in Peter's life – and serves as a major inspiration for the character's journey in Spider-Man 2 – ramps up in 1966 and culminates in 1967's Amazing Spider-Man #50, "Spider-Man No More," by Stan Lee and artist John Romita. Here, after months (in publication) of bad breaks financially, romantically, and with Aunt May's health, Peter gives up the superhero game and deposits his costume in the trash in what has become one of the most iconic panels in Marvel Comics history. Don't worry, he gets back into his Spidey duds a few pages later.
Support For Comic Book Herald:
Comic Book Herald is reader-supported. When you buy through links on our site, we may earn a qualifying affiliate commission.
Comic Book Herald's reading orders and guides are also made possible by reader support on Patreon, and generous reader donations.
Any size contribution will help keep CBH alive and full of new comics guides and content. Support CBH on Patreon for exclusive rewards, or Donate here! Thank you for reading!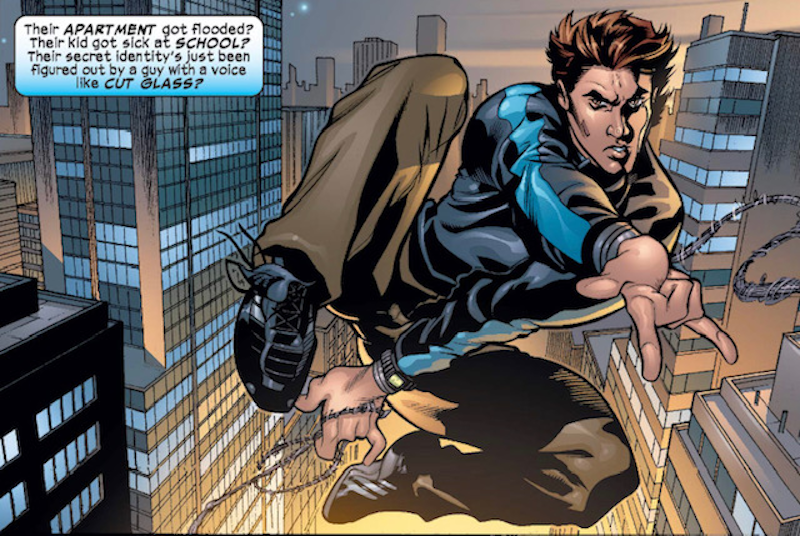 I don't think I'm alone in reading Andrew Garfield's Peter and Spider-Man as a cockier version of the hero than Maguire's (a certain infamous symbiote-inspired dance scene in Spider-Man 3 notwithstanding). The character in The Amazing Spider-Man and its sequel has an undeniably harder edge, a brash confidence. Garfield's Spidey is a jabber-mouth and a show-off, at times cavalier and juvenile with his spider-feats. He's nonchalant, casually tossing Gwen Stacy out their high school's window after webbing up the Lizard, pantsing the eventual Rhino, and blithely yanking a cop to safety as a billboard falls in the Times Square fight with Electro.
Outside of the red and blue tights, Garfield's Peter is more confrontational, even occasionally reckless when it comes to maintaining his secret identity. He uses his new powers to get back at Flash Thompson on the basketball court, shattering the glass backboard with a dunk in front of dozens of his classmates. He confesses his identity to Gwen on her balcony while her father the police captain sits right inside. At the beginning of the sequel, he arrives late to his high school graduation after a thrilling chase, struts onto the stage, and makes out with valedictorian Gwen in front of the entire crowd. Garfield's Peter is no shy outcast – he is confident and assertive, sure of himself and his abilities in both sides of his dual life.
This version of Peter is a bit jarring to yours truly, but fans of Garfield's interpretation should check out the first twelve issues of Marvel Knights Spider-Man by writer Mark Millar and artist Terry Dodson, published from 2004-2005. In these issues, Peter is feeling himself both in and out of the costume, happily married to Mary Jane Watson and accepted as Spider-Man by Aunt May. Peter is at the height of his powers, and he needs to be, because Millar puts him through the wringer. A parade of practically Spidey's entire rogues gallery wreaks havoc on his life for months, all while Peter searches for a kidnapped Aunt May and tries to figure out which of his enemies has learned that Peter Parker is Spider-Man.
Millar imbues Peter with a confidence that, as in Garfield's portrayal of the character, occasionally borders on recklessness as the stress of his situation mounts. Peter confronts one of his villains on the sidewalk, no costume in sight; he overturns a New Yorker's car while he's helping the man change a flat; and he is (understandably) short-tempered throughout, taking some of the "friendly" out of "friendly neighborhood Spider-Man". This is a fun series with great action, high stakes, and a self-assured web-slinger at its center.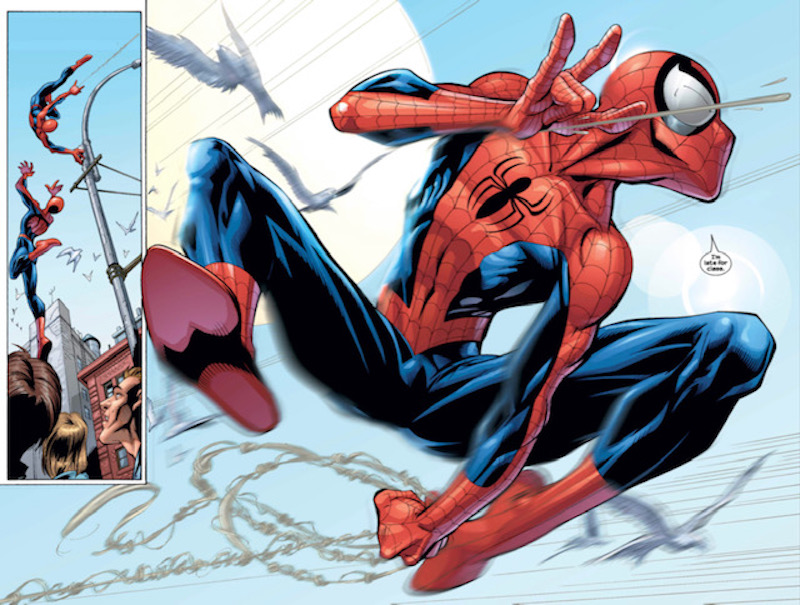 Tom Holland – Ultimate Spidey by Bendis & Bagley
Unlike the previous two big-screen iterations of the character, Tom Holland's Peter has grown up in a world full of superheroes. While he excitedly and capably joins that world when Tony Stark shows up in his apartment in Captain America: Civil War, he is still very clearly just a kid. That fact is hammered home over the course of Holland's tenure in the MCU, giving him exponentially more time than Maguire or Garfield to portray Peter as an awkward teenager trying to balance saving the day with awkward teenager problems like homecoming, debate club, and detention.
Few comic book writers have contributed more to building out the world of teenage Spider-Man than Brian Michael Bendis, one of the architects of Marvel's Ultimate line of comics and the author behind that line's flagship title, Ultimate Spider-Man. In Ultimate Spider-Man, Bendis presents a modernized take on Peter's high school days. Throughout the series, homework, curfew, jocks, and parties are just as meaningful antagonists for Peter as the Kingpin, Electro, Doc Ock, and Green Goblin. Bendis populates the series with classmates for Peter to bounce off who are rich, engaging supporting characters in their own right, all of whom exchange snappy dialogue that would fit right in with any of Holland and company's charming line deliveries in the MCU. After all, what would a Bendis-written book be without the trademark banter the author has become (in)famous for?
Holland's Spider-Man also has plenty of interactions with the other heroes of the Marvel Universe. Suddenly, he has become part of a community that includes synthezoids, super soldiers, aliens, and magic, and he never hesitates to let everyone around him know just how unprepared he is for <<waves hands>> all this.
If you prefer this side of MCU Spider-Man over the high school shenanigans, Bendis has you covered there, too, with the first two volumes of New Avengers. The series began in 2004 with a relaunch in 2010, and is set in main Marvel continuity and written by Bendis with pencils from various artists including David Finch and Stuart Immonen. Spider-Man joins a new incarnation of the team after dozens of supervillains escape from the maximum security prison, The Raft. Over the course of the series, Spidey and team go up against Savage Land dinosaurs, Skrulls, a "reformed" Norman Osborn, and demonic entities, none of which Pete thinks he is qualified to deal with. But as we've learned over the years, Spider-Man always rises to the occasion.
The debate over whether Tobey Maguire, Andrew Garfield, or Tom Holland best does the character of Peter Parker justice may very well be fought until the end of time. But no matter which side of the argument you land on, I hope this exploration shows that there's a Spider-Man story for us all.