The epic Life of Captain Marvel and the first appearance of Thanos the Mad Titan! Keep reading for the full Comic Book Herald overview.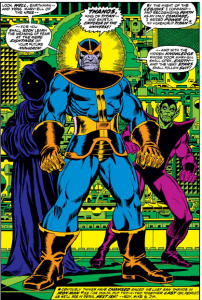 Comic Book Run: Essential Captain Marvel, Vol. 2 (Marvel Essentials)
Publication Dates: Feb 1973 – Jan 1974
Writer: Jim Starlin   Artist: Starlin, Al Milgrom, Various
CBH Score: 8.0
Support For Comic Book Herald:
Comic Book Herald is reader-supported. When you buy through links on our site, we may earn a qualifying affiliate commission.
Comic Book Herald's reading orders and guides are also made possible by reader support on Patreon, and generous reader donations.
Any size contribution will help keep CBH alive and full of new comics guides and content. Support CBH on Patreon for exclusive rewards, or Donate here! Thank you for reading!
Continuity Relevance?: Yes, major.
Who Needs It?: The beginning of Thanos, a major development for the cosmic cube, and one of the most famous runs in Marvel Cosmic history! This is the Life of Captain Marvel!
Origin of Thanos, The Mad Titan
Although this comic book arc is centered around Captain Marvell, the alien Kree protector of Earth, the storyline is equally important because of another character: Thanos.
Iron Man #55 may seem like an odd inclusion for an Essential Captain Marvel collection, but it's within the pages of Iron Man that Marvel cosmic architect Jim Starlin unleashed the villanous might that is Thanos. You'll want to start with this comic before you move on to the main event.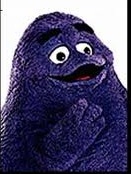 If it has crossed your mind that Thanos looks kind of funky – like the wild offspring of Grimace and a Super Skrull – that's because he really is a genealogical  smorgasbord.
Thanos is:
1) Born on Titan, one of Saturn's moon and home to the race of Titans
2) Born with the deviant gene, and therefore a Deviant, opposite and evil counterpart to Marvel's Eternals
3) Maybe kind of a mutant, but who's judging?
4) Full of serious "I Love Death" issues as a result
Much of this is revealed in Iron Man #55 as Thanos is given full opportunity to showcase his skills as a master strategist. In his first full panel reveal, he's also given full opportunity to showcase his sweet boots, and slender frame: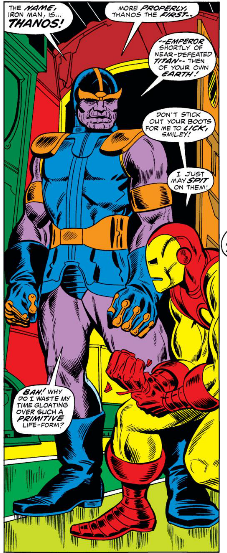 Captain Mar-vell & Thanos – A Match Made in the Heavens
When you're a cosmic hero like Captain Marvel, it's pretty imperative that you have adversaries that are both immensely powerful and yet somehow down to… whatever planet they're on. That's what writer/artist Jim Starlin perfected here with Thanos and Captain Mar-vell. Despite all his advanced Kree powers and nega bands, Captain Mar-vell couldn't just outpunch a guy like Thanos.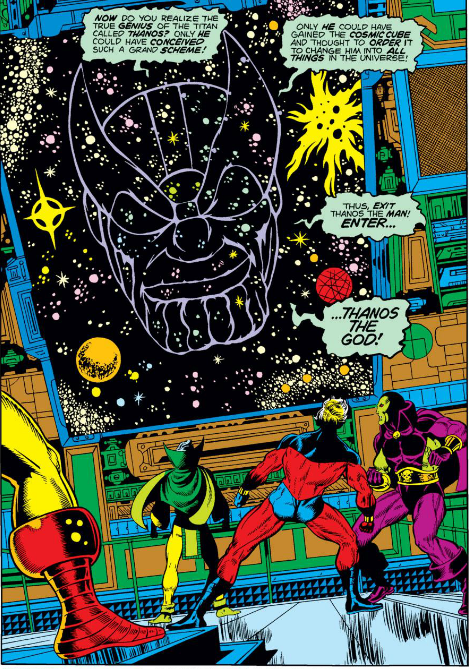 The arc here, Captain Marvel 25-33, is really a whole bunch of set up until we get to the juicy parts: Thanos subjugating his people on Titan, tracking down the cosmic cube, and Captain Marvel and the Avenger's attempts to stop him.
End of the day, Starlin's work on this unloads almost an embarrassment of riches that Marvel writers are still using today. First you have Thanos, the God of Death, and Drax the Destroyer, a force of life hellbent on nothing more than the destruction of Thanos.

Better yet, you have Thanos doing what he does best: Plotting to grab hold of a mysterious object that will bring about the destruction of all we hold dear. Even free tacos (not the free tacos!).
The cosmic cube is one of the cooler artifacts in the whole Marvel Universe, and although it's displayed different power sets over the years (reality altering vs. an immense energy source), Starlin does a nice job of developing the drama around the cube. There's little doubt that once the cube falls into wrong hands (see: of Titan, Thanos), it'll be hell on Earth for guys like Captain Mar-vell.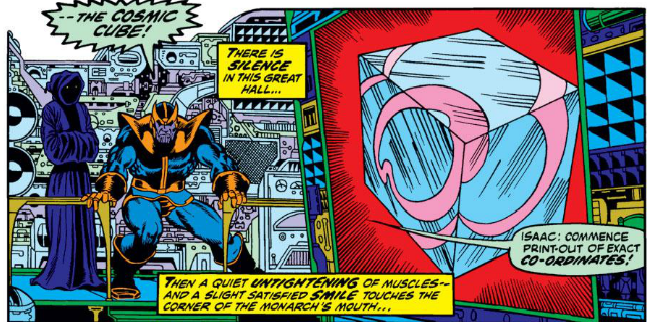 Early 1970's Captain Marvel Holding Up Today?
So here's the thing – if you're a Marvel comics history buff, the events of Captain Marvel 22-33 are extremely essential. This is where Jim Starlin really begins building the Marvel cosmic universe, where Captain Marvel becomes the epitome of a hero, and where Thanos gets his diabolical first effort at universal domination.
Having said that, I skipped over a lot leading up to the actual cosmic cube discovery. I mean a guy only needs to see Rick Jones go back and forth with Captain Marvel so many times before he's ready to kick a Rick.
Nonetheless, I recommend this one highly, primarily because of the historical importance, and also because of some of the innovative art Starlin was whipping out.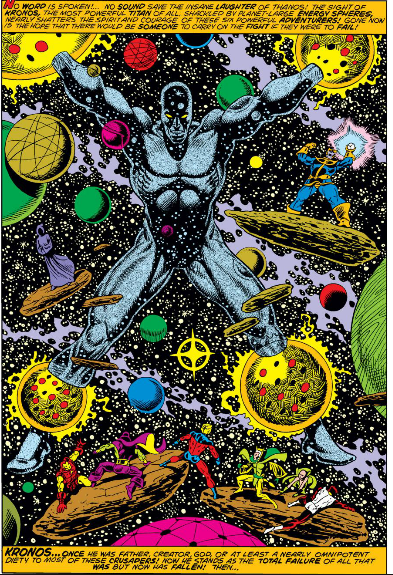 Would Thanos get cooler? Without a doubt. Would anyone ever tell a finer Captain Mar-vell story? Aside from the second half of this essential volume, The Death of Captain Marvel, you might have a harder time with that one.
Want more on Thanos? See the Complete Thanos Reading Order.