[Adam Kubert & Frank Martin Jr.]
Hey—at least it wasn't a wipeout!
It sure looks real pretty. We continue to get some of the loveliest Josh Cassara art—but only where he's really allowed to breathe, in the quieter, more painterly moments, as here. It's quite romantic, and I'm sure the captain and his new mate thought so too 😉.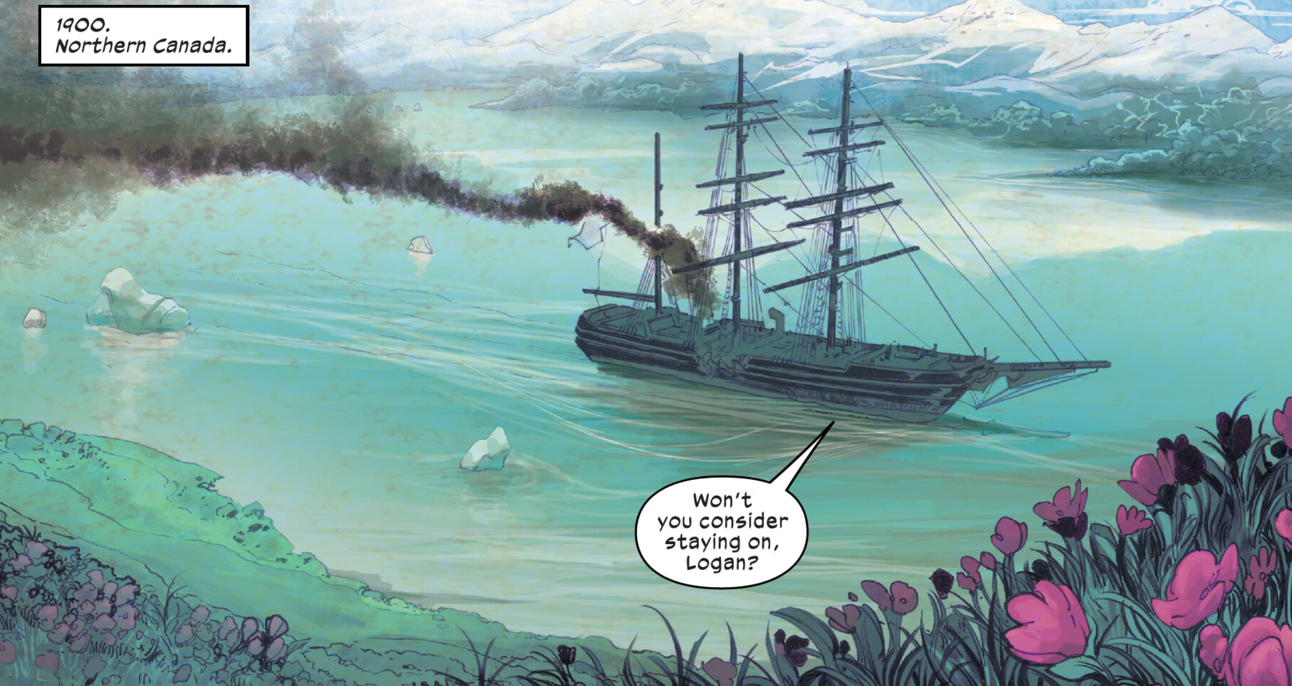 But the problem overall is that the fighting feels too visually crowded and stuffed in, even a bit rushed, or maybe that's just because it feels so constricted on the page. It didn't help that the lack of plot logic around Mikhail and Red's time-travel assassination attempts had me checked out weeks ago.
And what's resolved here at the end? Without corporate logic dictating the necessity of an event in the gap between Inferno and "Destiny of X," X Lives would've made most narrative sense as a few issues of Wolverine, no more than that. So, Krakoa gets the Cerebro Sword back. Woo. Why am I supposed to care again? Oh, we see in the X Deaths finale that Sage uses it to depower Omega Wolverine. How? Well, hey, she's got a mutant computer brain, so she can reprogram just about any bit of tech into what she needs. Okay.
Support For Comic Book Herald:
Comic Book Herald is reader-supported. When you buy through links on our site, we may earn a qualifying affiliate commission.
Comic Book Herald's reading orders and guides are also made possible by reader support on Patreon, and generous reader donations.
Any size contribution will help keep CBH alive and full of new comics guides and content. Support CBH on Patreon for exclusive rewards, or Donate here! Thank you for reading!
So, why couldn't she have just as well used any other piece of tech to depower Omega Wolverine? Anyone? Oh, it's because the Sword looks cool?
Again, not a total wipeout, though—the artists really do their darnedest to sell it. Maybe for those who weren't already thrown by the story's basic lack of logic, it worked? Truly, I hoped others did enjoy it more. I'm just thinking what else I'd have been spending my small comics budget on instead.
That said, there was still a great deal of potential throughout X Deaths, but it's now clear that issue #4 was the premature climax of the series. There was a lot going on there, and in a less constrained format, more about the future Terminator Moira could have been explored. Instead, we're left with the irresolution that typifies not just most comics but now the Krakoa era, which had initially promised to be more distinguished as a narrative with clear, almost novelistic stages that would culminate in some final act.
But it's not like Krakoa as a society would need to collapse at the end of this narrative. There would just need to be some kind of resolution in terms of the main conflicts. However, with Hickman not being able to bring his original intentions to any kind of satisfying denouement—Moira's reveal as a villain is a twist, certainly not a downward action—we've now had this Percy interregnum with, again, no closure in the least. Much is implied about the present and new future Moira, which might be satisfying for a little speculation until readers are afforded further development of this new phase in her (machinic after)life (XI?)—but, really, does anyone expect that to happen soon? (More speculating on this further down.)
Obviously, though, we all know what a dystopian future looks like for mutantkind, so maybe retreading that with just the novel element of Terminator Moira would just be recycling an exhausted past—indeed, so many bad futures have passed on by now, perhaps a look into deep time that supersedes the tired binary of utopia/dystopia would be a true novelty!
Wasn't that part of the initial interest in "Moira's many lives"? Yes, it was.
(Sure, Forge's translation(?) of the Krakoan pod's memory drive is full of Percy's characteristically fine gothic horror grotesquerie—but how many "days of a past future" have we seen? It will never be canon, and so I just don't care.)
It's All for the Very Last Page
The biggest outcome, of course, is that Moira is now a big-time X villain. And insofar as she's analogous to Cameron Hodge—a resentful man whose unrequited love (for Warren in his case) led to his self-damnation, selling his soul figuratively and literally to become an immortal machine-demon monstrosity—we really have a much more interesting nemesis than the leader of the fascist Right—partly because it's a bit better planned (this being a much less helter-skelter era of Marvel) but largely due to the simple but perfect fact that Moira is so deeply embedded in the very heart of Xavier and the X-Men's history. Enter: Omega Moira, she who was at the start of it all and will likely be at the end, at least of the Krakoan Age.
The first couple pages of X Deaths are definitely among the absolute best of the whole event. Of course, this again makes us wonder why this wasn't instead Immortal Moira or the like. (Yes, I know, it's the $.)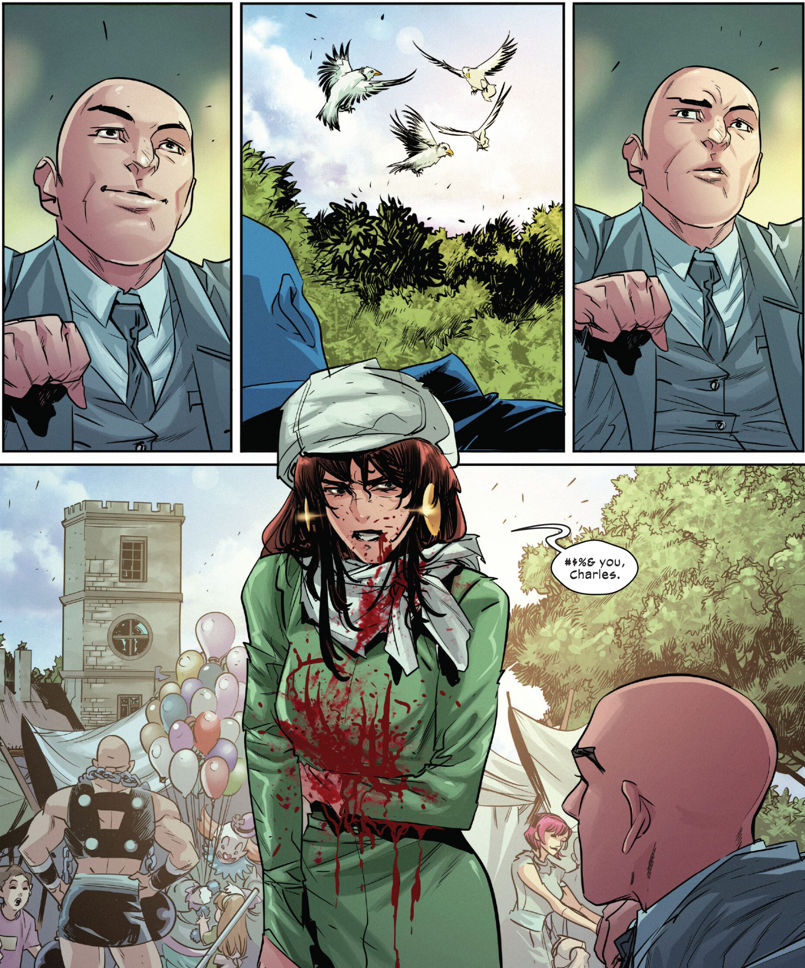 [Federico Vicentini & Dijjo Lima]
Her fate* does beg the question of what to do with her long term. Like many a super-team's archnemeses, she is likely too powerful to bring out on stage for a big showing more than a few times a decade. More than that and the impact and mystery around her current mythic high will drop off fast.
*Yay, punning!
Either way, her now-immortal existence presents a worthy challenge to future storytellers to tackle her only when they're at the top of their game. Mr. Percy has done an admirable job presenting the full threat, but with the awkward branding of this event, no doubt necessitated by overbearing corporate logic, this style of mini-event that superficially pretends to be about the most commercially successful Marvel mutant while trying to economically fit in enough about its most interesting facet—which is definitely not Wolverine, however critically essential his weaponization is to mutantkind's future survival—certainly won't work better upon repeat. I still see no reason not to have a Moira miniseries 2-3 years from now, where she's not even directly antagonist to Krakoa in the moment; it obviously wouldn't need to be exhaustive, but this character is so rich—it would be a disservice to fans and the overall Krakoa narrative not to see her spotlighted exclusively, without the distraction of: How many Wolverines can we fit onto the page.
Whatever happens with Moira going forward, these opening pages of X Deaths' final chapter are just about the most compelling and impactful we've seen for this much-storied character. In some ways, it's too bad that her story doesn't end here. Again, it will take a very strong writer to pull off her evil self's "swan song." I'm sure not a few of us would want to see Hickman himself return to do the honors himself. But let's not get our hopes up too early.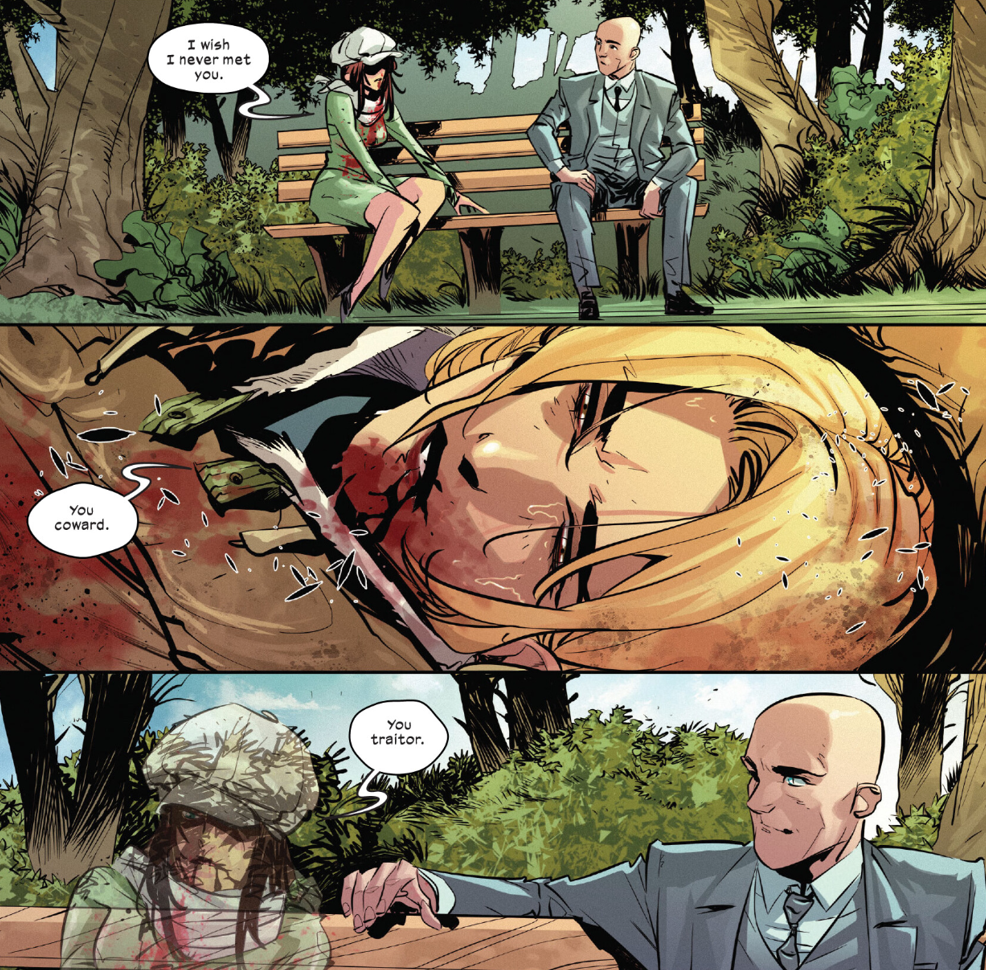 Maybe Arnab Chakladar will get a second act? Otherwise, hmm—kind of a waste. He too would make for something like an updated version of Cameron Hodge; there is potentially, um, potential.
Lotta potential three years in!
Speaking of, we get a little promotion for adjacent slasher books still in the offing—Sabretooth is smiling evilly in the Pit (man, hanging like that from vines for so many months has got to hurt nonstop, for everyone down there; after all, in the real world that is technically understood to be a form of torture); and the Beast is still missing the eye he took out himself, the result of his hubristic experiments with enemy technology gone awry. Famously a Wolverine/X-Force hater until the Krakoa era, he here reaffirms his fetishization of Logan as a "stabbing" weapon that will "save the world." Poor choice of words, doctor. And ick, it looks like he's winking at Sage as he (drunkenly?) confides his grossly cynical, ethically bankrupt power fantasies.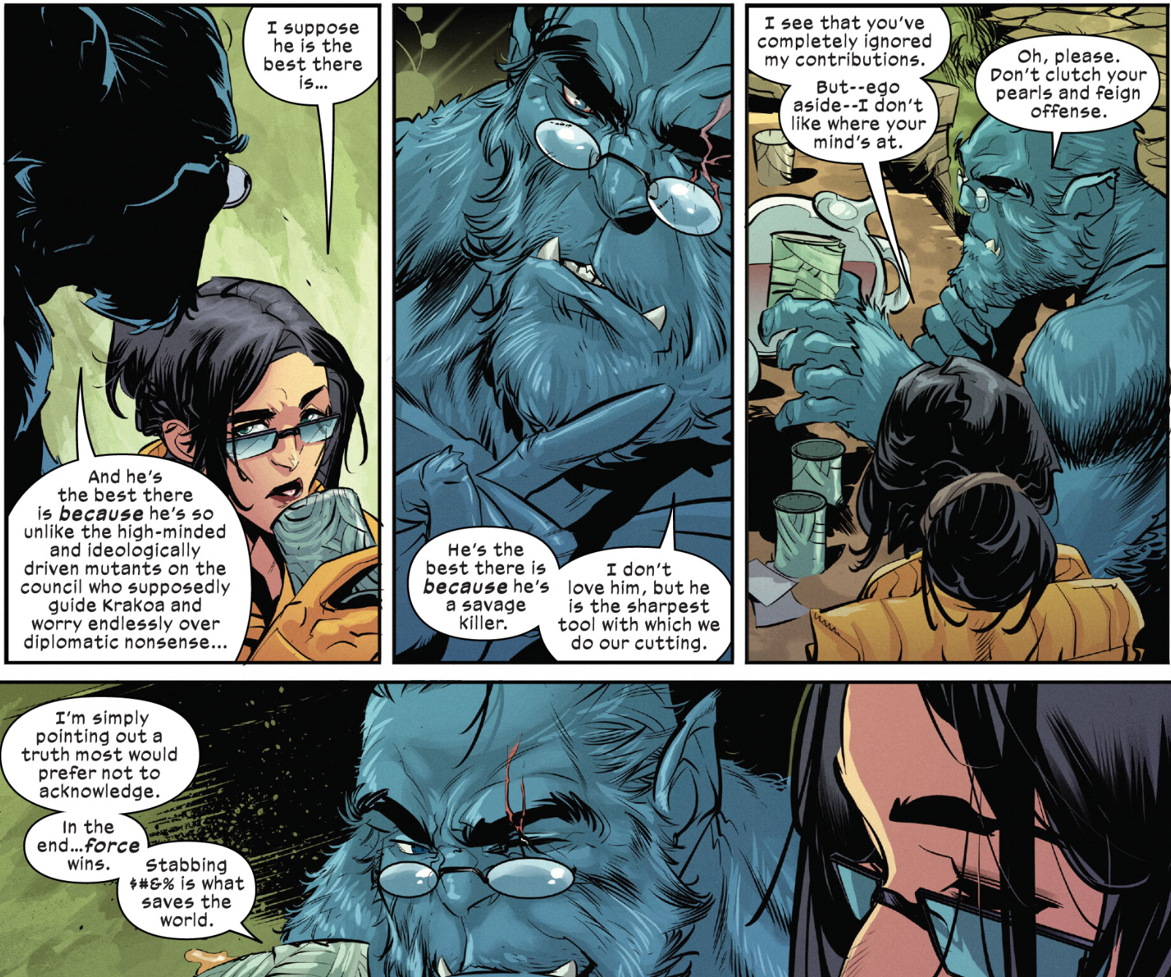 Hopefully, we will see some resolution to his current abyssal trajectory this year?
NEXT: Deadpoo Immortal X-Men.