Last we saw Stephen Strange, he was de-supremed (the Sorcerer Supreme mantle passed to Wong during the 5 year Blip), sporting a rare hoodie-cape combo (would love to see more of this in the world), and engaging in casual magic malpractice with Peter Parker in Spider-Man: No Way Home. Saying the good Doctor handled Peter's request to re-bottle the world's knowledge of his secret identity badly is like saying Chris Rock's jaw seems kinda strong. Doctor Strange didn't ask the hormonal, emotional 17 year old ANY questions before diving into a multiverse-breaking spell, let Peter distract him to the point of implosion during the spell, and Chris Rock's jaw is clearly made of adamantium.
Worse, throughout "No Way Home" Stevey took ZERO responsibility for his involvement in the multiversal Sinister Six incursion, and near breaking of all reality. He constantly blames Peter, and is only forced to acknowledge his significant role in the mess a single time, when MJ calls him out on it. Dr. Strange's origin journey is about replacing his insufferable arrogance with enough humility to learn from the Ancient One, but here it's clear that the arrogance has returned in force. Heading in to the second Dr. Strange movie in the MCU, it's clearly time for Stephen to relearn what it means to be a hero.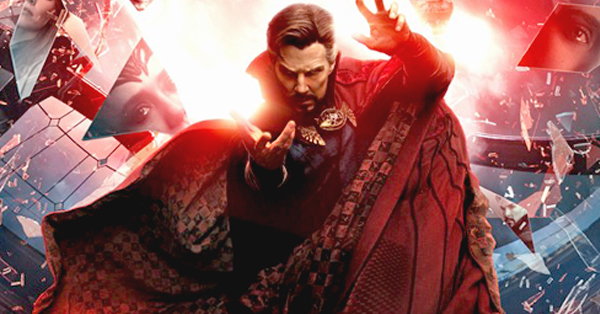 Warning: Spoilers follow for this unreleased and unseen movie!
Of course, the sudden eradication of multiversal barriers is a helluva time to try get your mojo back, which makes it a good thing Strange is joined here by Wong, Wanda Maximoff, and MCU newcomer America Chavez. Throughout comics history it's easy to think of Doctor Strange as one of the most solitary heroes in the Marvel Universe, trapped in Dark Dimensions waging mystical war on Dormammu without a single Earthly human presence to be found, but over the years Strange is simultaneously surrounded by a wide variety of supporting players from Wong to Clea to Zelma Stanton to Bats (ghost dog) to Rintrah (green minotaur wizard). Even an evergreen favorite story like Brian K. Vaughan and Marcos Martin's "The Oath" only works because Strange is aided by Wong and the Night Nurse.
For all his magical prowess, Strange can rarely do it alone these days.
Support For Comic Book Herald:
Comic Book Herald is reader-supported. When you buy through links on our site, we may earn a qualifying affiliate commission.
Comic Book Herald's reading orders and guides are also made possible by reader support on Patreon, and generous reader donations.
Any size contribution will help keep CBH alive and full of new comics guides and content. Support CBH on Patreon for exclusive rewards, or Donate here! Thank you for reading!
And given the state of the Marvel Multiverse, alone is well out of the question. The post-Endgame, post-Avengers direction for the MCU is dedicated to the Multiverse, the infinite variety of "Marvel Universes" spread across the cosmos, and in the first wave of MCU on Disney+, namely WandaVision, What If, and most importantly Loki, we've seen the fracturing of the walls that kept these crisis on infinite earths separated. For those who haven't kept up as closely with Disney+, the most important connective tissue is easily Loki episode 6, where Jonathan Majors swaggers onto the show and explains what Multiversal War looks like. Spiraling out of Loki's introduction of Kang the Conqueror, what we learn here is there's a Council of Kangs war spreading throughout the multiverse, in many ways mirroring Jonathan Hickman's multiversal incursions from the pages of New Avengers. And although his Kang the Conqueror is only alluded to here in shadow and as the looming big bad at the end of the tunnel, Strange stumbling onto this build to multiversal earth incursions, multiversal refugees, and plots to *stop* all the many incarnations of Major's would-be Conquerors are preposterously exciting.
Backing up, it's in Spider-Man No Way Home that Strange begins to see the multiverse is in a shockingly vulnerable position, and although Peter's sacrifice allows Strange to close off an imminent invasion of the Spider-Man actors guild of America, it leaves him with an obvious question: What happened in the multiverse to make this possible?!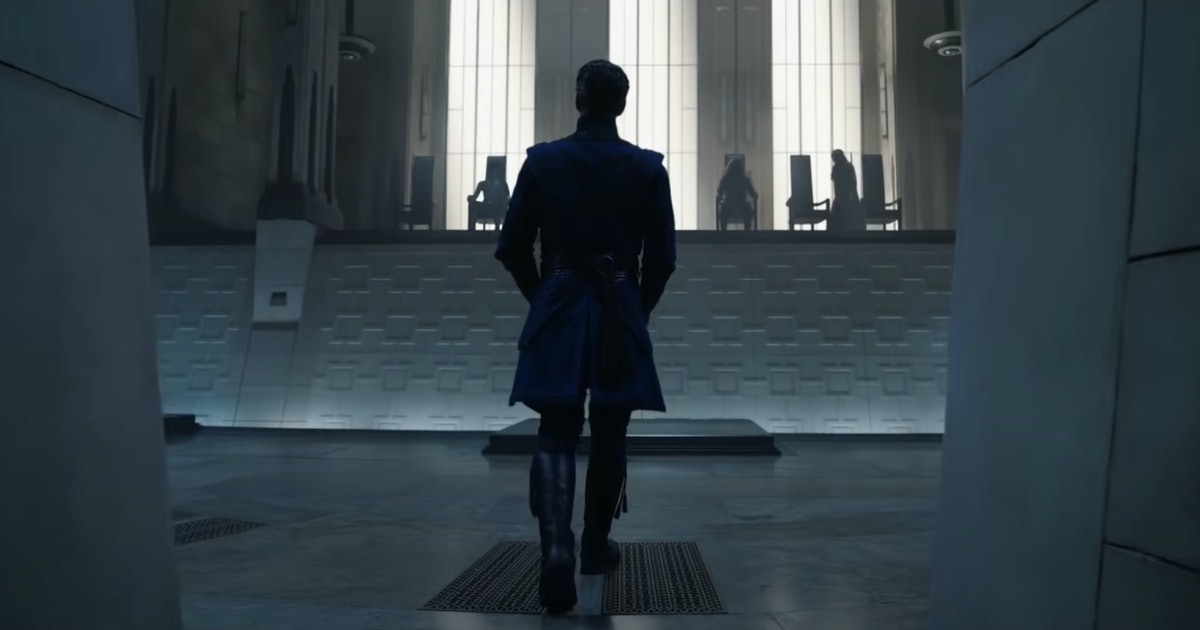 Delightfully, this puts the arrogant Doctor into a position of understanding *very little*, a scenario where everyone from Baron Mordo scheming in his rival magic fortress to multiversal refugee America Chavez knows significantly more about what's happening. Chavez is a particularly welcome addition, narrowly escaping her world as it gave way to a Kangvasion, and offering a powerset of travel through various dimensions, magical realms, and yes, Zombie-fied Marvel Universes. Her character definitely doesn't have enough to do throughout the film, but you can see glimpses of the potential, particularly when acquainted with certain other would-be Young Avengers in the pivotal reunion of the Magic Maximoffs.
The ultimate lesson for Dr. Strange comes from the introduction of the multiverse's Illuminati, made up of Professor Charles Xavier (Patrick Stewart), Dr. Susan Storm (Jessica Alba), Darker goatee Dr. Strange (Benedict Cumberbad), Superior Iron Man (Guy Pierce), and my personal favorite, Lockjaw (what's up ABC's Inhumans!). Obviously X-Men fans have been freaking about mutants in the MCU since Sir Patrick's sultry tones reared in the Multiverse of Madness trailer, but I was most pleasantly surprised by the decision to bypass the Fantastic Four franchise's Reed Richards for Sue, and given the impending arrival of a Fantastic Four movie at the end of this phase, it's a far more relevant teaser and driver of story for what's to come than anything X-Men related (at least aside from introducing MCU heads to the age old doctrine that Professor Xavier is a Jerk).
This Illuminati is made up of a who's who of the resistance against the Conquering Kangs, all powerful players who have seen their universes destroyed in the Kang's mad war for control of reality and time. Honestly, I'm a big enough sucker for the concept of the Illuminati
, these uber powerful players and strategists taking the fate of the worlds into their secretive, misguided hands, that I would have liked to have seen this group as a real part of the ongoing big picture narrative in the war against Kang. And while it's possible we may still come back to that, a dark turn is inevitable, and an imprisoned Wanda, America, Mordo and Wong have to blast their way out of the Illuminati stronghold before the Stephen Strange from "our" Earth can quite be convinced of the utilitarian pragmatism that would lead this Illuminati to destroy "our" Earth for the sake of their ultimate scheme to save the multiverse.
It's a giant-sized ethics exercise not dissimilar from Eternals, and like the Celestials, this era of MCU is SO MASSIVE it has me wondering if the scale is all just too much. Don't get me wrong, I *love* the idea of comic book multiverses, and examples like a 2015 Secret Wars
or Morrison's Multiversity
show much can be done with the concept. But in trying to go bigger than Thanos, the Infinity Gauntlet, and the time travel of Endgame, the MCU is walking a very fine line between "the coolest thing you've ever seen" and "too big to care." It's early enough in the build that it's mostly immune, but Multiverse of Madness feels this struggle at times, especially as short shrift is given to Elizabeth Olsen's Scarlet Witch or Chiwetel Ejiofor's Baron Mordo in favor of (admittedly very fun!) reality hopping spectacle.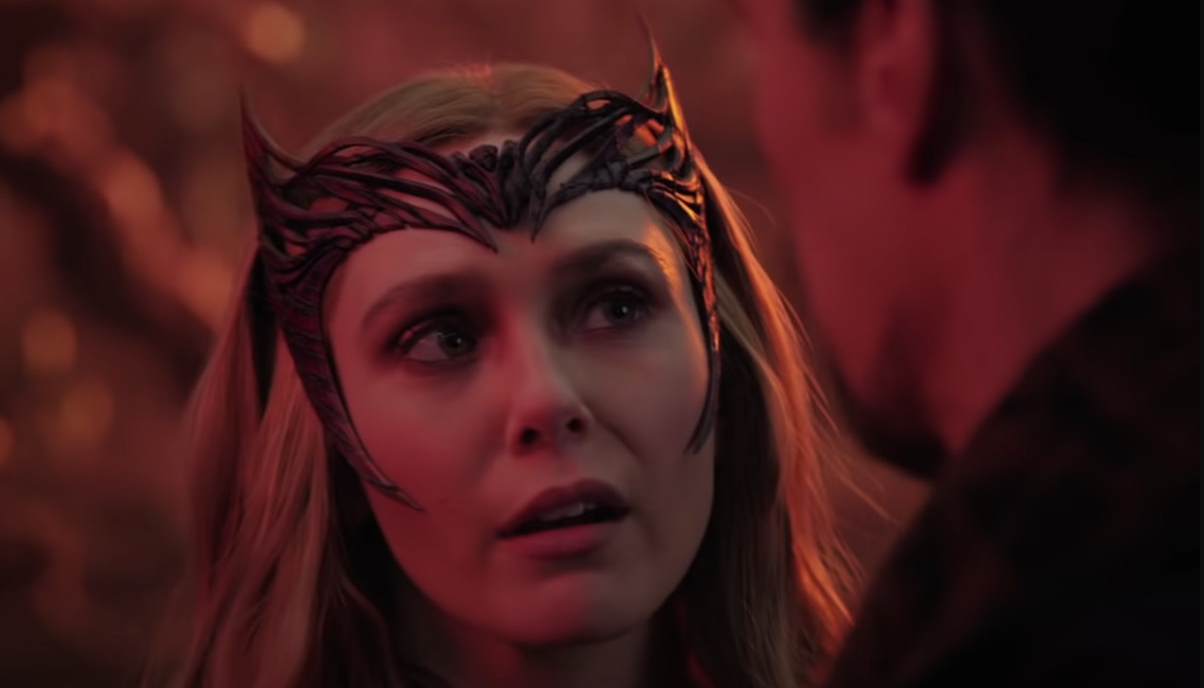 It would have been easy to slide Baron Mordo into a Ronan the Accuser role here, but I appreciate that Mordo is not simply a Kang lackey, and is instead looking to truly leverage what's happening in the multiverse to his own benefit. The MCU's Mordo is more nuanced than his comics counterpart, and his quest to rid the world of undeserving sorcerers is at least in part *aided* by Kang's vision for the multiverse. At the same time, it's easy to see that seeing his own dimension destroyed doesn't leave his mission much purpose.
As for Scarlet Witch, as a major fan of WandaVision, I would have liked to see more conversation about Wanda's misuse of reality warping and deeply concerning tortuous imprisonment of an entire town of people, but Multiverse of Madness is no more interested in reconciling all that than WandaVision's last episode was. Ironically, Dr. Strange is often deeply condescending of Wanda's magical maladies in comics, but here he's really just glib and flippant with any lectures or posturing. He really just needs an ally of her power level and doesn't want to make time to get to the bottom of what she's done. There are exceptions of course, as Strange does attempt to lay the blame on Wanda's shoulders for breaking the Multiverse in the first place (which is a nice acknowledgement of the dramatic irony that neither of these characters has seen Loki). It's yet another example where Strange will direct fault anywhere but inward.
For Wanda, the exploration across realities is both a chance to Avenge™, and more importantly, seek out where Billy and Tommy, her magically created children from Westview may be lost. As I hinted earlier, with America's brief YA meet-cute, the twins are out there, but it's going to be a few sequels before we see them fully integrated into the MCU's roster of heroes. There's an opportunity here for Multiverse of Madness to tease the possibility of Wanda reuniting with a Vision from across the multiverse, but I'm glad that doesn't become a focal point. The MCU's certainly been guilty of quickly undoing seemingly important progress character's have made (what's up Thor needing a bigger hammer in Avengers: Infinity War), but the whole point of WandaVision was some kind of closure and acceptance that Vision is dead. Plus, with the twins already occupying all of her attention, bringing Vision from Earth-6969 would just be too much.
As a whole, there are three or four extended screams and horror sequences that suggest Sam Raimi was, in fact, involved in the direction of Multiverse of Madness, but generally you can feel the weight of homogeny keeping the film in the MCU template boundaries. Like a lot of MCU sequels, it's bigger, messier, and more willing to play with the playground of the Marvel Universe (across studio boundaries even!), and for that reason I probably enjoyed myself more than the tight yet predictable origins. As you should expect, it's also a clear bridge unveiling the movie side of Marvel's vision for the impending Secret War for the Multiverse, although I'd argue it effectively manages the difficult trick of operating as a Doctor Strange movie and stepping stone to the next major Marvel movie event.
Speaking of which, I had almost forgotten about Wong's ties to the post-Blip Avengers (revealed in Shang-Chi's post-credits scene), but given he's now Sorcerer Supreme, and working closely with the Avengers, the movie's final sacrifice makes a ton of sense. You have Strange, Wanda and America Chavez trapped in the multiverse, but also available to hop dimensions and form their own Kang resistance as they try to figure out a way to warn their own Earth. This moment will inevitably come, but by delaying it here, you carve out a way for upcoming MCU entries – Thor: Love and Thunder and Black Panther: Wakanda Forever – to avoid the all-encompassing war for the multiverse, and tell their own stories. It's a strategic win, and I'm excited to see more of these characters when they resurface down the line!
Of course, the main thing everyone's going to be talking about is that, yes, the Fantastic Four have arrived. Sort of. Dr. Sue escapes the Eviluminati on Counter-Earth as the only semi redeemable character in the bunch, and in the post-credits we see her looking up where to find "Johnny Storm" aka the Human Torch on this Earth. I appreciate that Sue's first thought is to find her brother rather than Reed in this moment (remember she lost her Fantastic Four to Kang, so it's not the original make and model). Beyond that, the sequence ultimately raises more questions than answers – so this is really the Sue the MCU is going to move forward with in Fantastic Four (my guess is still no) – but it solidifies in text that the Fantastic imaginauts of the MCU will come from throughout the Multiverse, likely to save the day at the end of Phase 4. It works!