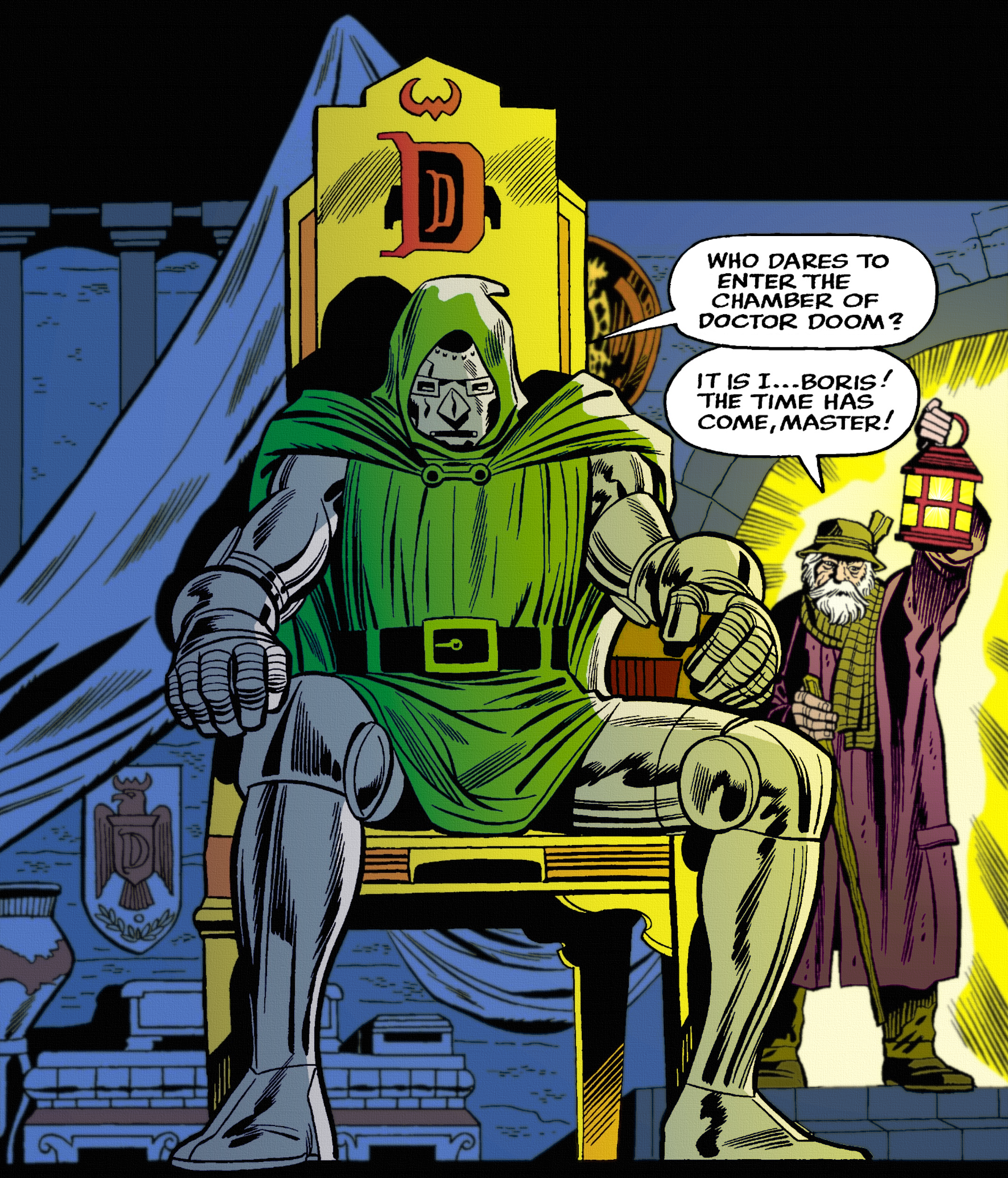 It isn't controversial to say that Doctor Doom is Marvel's best villain. And if it is, Doom will end that nonsense talk real quick. He was Marvel's first big villain! He was Marvel's Darth Vader years before Star Wars was a gleam in George Lucas' eyes! He's three-dimensional!—figuratively speaking, at any rate. He is Victor von Doom: king of Latveria, son of the Roma, sorcerer and scientific genius, and much more. So it's no wonder that, when Marvel decided to put together omnibuses centered on supervillains, despite them not usually having a title of their own, Doom was amongst the first to get the treatment (second only to that slippery snake from Asgard, Loki; but, if you value your life, don't remind Doom of that.) Marvel titled this omnibus Doctor Doom: The Book of Doom
, which accords the King of Latveria the respect he deserves. After all, we all know he likes to hear his own name, so having it twice in the title must please him.
Related:
Fantastic Four reading ord– (those responsible for including this link have been sacked)
First of all, there is much to say about this new type of collection. Marvel omnibuses used to mostly collect a single title, sequentially, until we got author-centric volumes that could collect stories from several different series. For characters like Loki and Doom, who have rarely had their own title, let alone an ongoing one, collecting their stories is complicated further, not just because they appear in scattered issues of the same title (Thor for Loki; Fantastic Four for Doom), but also because the Marvel universe allows them to move to other titles. Deciding what to collect requires much more thought than with the usual omnibus and, interestingly, Marvel approached Loki and Doom in two completely different ways, perhaps as an experiment to see which avenue worked best for them.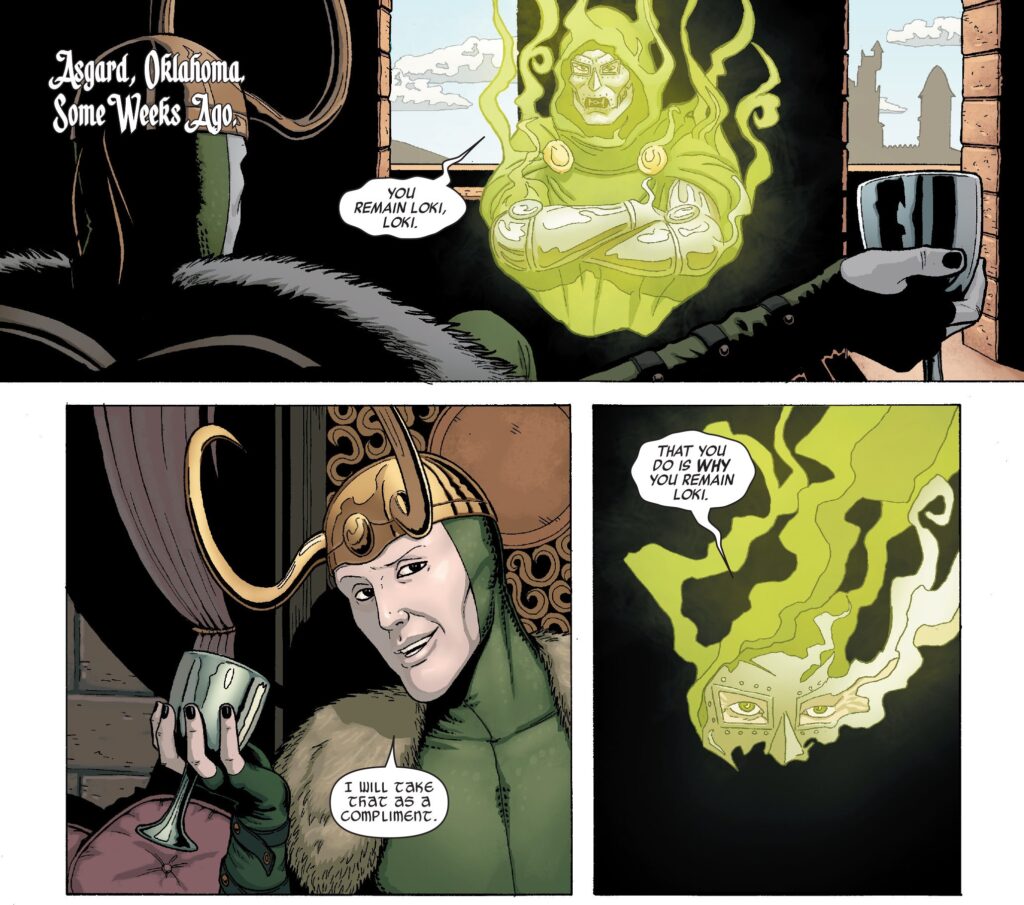 Loki's recent omnibus, which the great Sara Century reviewed here last year, was pointedly a "volume one", collecting each and every one of Loki's appearances from his debut in 1962's Journey Into Mystery #85 to 1970's Thor #181, comprehensively covering the entire era in which Thor was written by Stan Lee, mostly with artists Jack Kirby and John Buscema. When it was announced, I had hoped Marvel would go the same route with the likes of Kang and Doom, but Doctor Doom: The Book of Doom is a different beast. You may notice the lack of a "Vol. 1" in the title. For Doom, Marvel went the "greatest hits" route: The Book of Doom is not a comprehensive collection of all of his early appearances, but an editorially curated series of his best and more important stories from his debut in 1962's Fantastic Four #5 all the way to 2006's Books of Doom limited series, a modern retelling of his origin from which the collection takes its name.
Support For Comic Book Herald:
Comic Book Herald is reader-supported. When you buy through links on our site, we may earn a qualifying affiliate commission.
Comic Book Herald's reading orders and guides are also made possible by reader support on Patreon, and generous reader donations.
Any size contribution will help keep CBH alive and full of new comics guides and content. Support CBH on Patreon for exclusive rewards, or Donate here! Thank you for reading!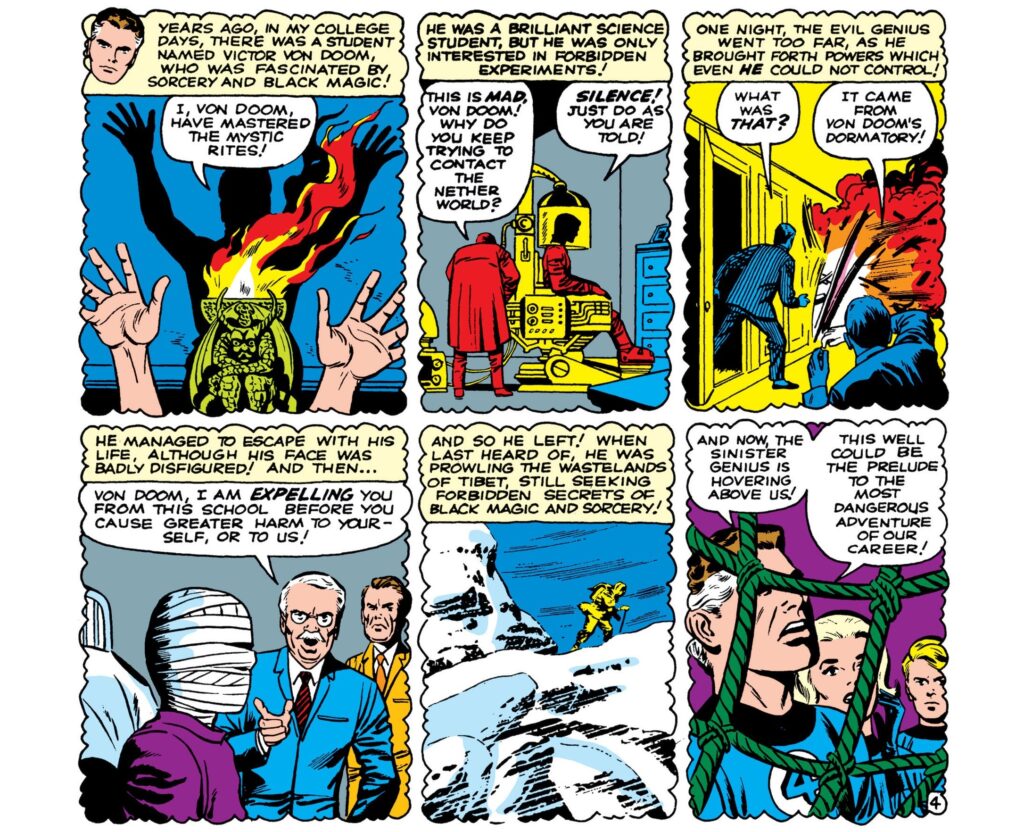 The reason I focus so much in the differences between these two approaches is that the reading experience changes drastically as a result: while Loki Vol. 1 reads very much like any other Silver Age omnibus, as an item for completionist collectors, The Book of Doom is a more accessible kind of collection, as it includes several modern stories the average reader will likely be able to appreciate more easily, and provides the reader with an excellent bird's-eye view of Doom's history for almost half a century. The trade-off—and it is a considerable trade-off which may dissuade potential buyers, in particular the completionist kind—is that the reader will have to fill a lot of the blanks in Doom's convoluted continuity, especially in instances in which the volume collects but a few key issues of Doom-centric stories. This is most notably the case with Super-Villain Team-Up, which is the first ever title starring Doom alone but is only sparsely covered in the collection.
That is not to say there is not great stuff in The Book of Doom. You will find most of Doom's best-regarded and famous stories within. Doom shows his potential as a villain from the start, in Stan Lee and Jack Kirby's Fantastic Four #5 and #6, although it isn't until the second annual of the same title that we learn the villain's tragic origin and most of the pieces that comprise Doom fall into place. Believe it or not, until then there was no trace of his rule over Latveria (or anywhere), his background as one of the persecuted Roma in Eastern Europe, and other aspects that would end up being a fundamental part of the character. But no matter: that annual came soon enough, merely two years after his debut, and thus Marvel's best villain was born.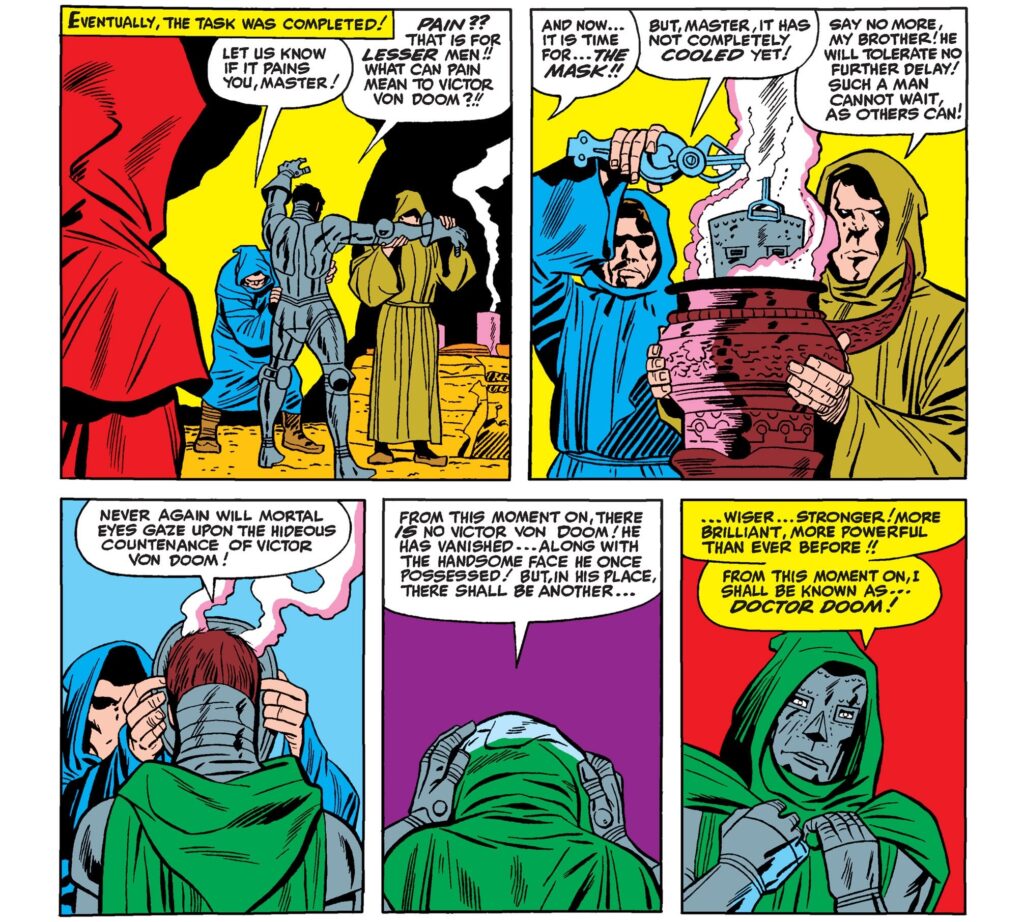 In the years that followed, Doom would repeatedly battle against his archenemy Reed Richards, Mr. Fantastic of the Fantastic Four (apparently best known to him as "RICHAAAAAAAARDS!"). But he would also venture beyond that series! In this book you will find him facing a certain friendly neighborhood arachnid in Amazing Spider-Man #5; the mutants, in particular Storm (who of course catches Doom's eye), in Uncanny X-Men #145-157; and Tony Stark in Iron-Man #149-150, a classic story known as "Doomquest" that takes them back in time to the mythical kingdom of Camelot, where Stark has to survive not only Doom but the evil sorceress Morgan Le Fey. Oh, did I mention Victor von Doom invented a time travel machine? He's a resourceful kind of guy!
In the 1970s, Doom would star in Astonishing Tales and Super-Villain Team-Up, the first titles in which he truly starred. Only some of their issues are in this collection, but if cuts truly had to be made (and, at 1336 pages, they had to, if they were going to publish only one volume), it must be said they were made thoughtfully: the early and closing issues are included in full, skipping over the less crucial middle portions. Astonishing Tales pits the king of Latveria against fellow ruler-of-a-made-up-nation T'Challa, the Black Panther, king of Wakanda, in an early encounter that will recur through their history—and not always as enemies! In Super-Villain Team-Up, as you may expect, Doom "teams up" (it usually ends up in a fight) with several villains in his caliber, namely Namor, ruling prince of Atlantis, and Magneto, at the time a mutant supremacist leader. Interestingly, both of them would take an increasingly heroic turn as time went on and, even in these stories, it's clear that while Namor and Magneto may be "villains" to some, they're villains of a very different sort than Doom's. Although it's a pity the omnibus doesn't cover these two titles in full, the featured stories do provide a good look at how Doom operates as king of Latveria and how he regards his supposed villainous counterparts from other books—spoiler alert, he doesn't hold them in high regard and considers himself superior in all ways that matter. Which is fun to read!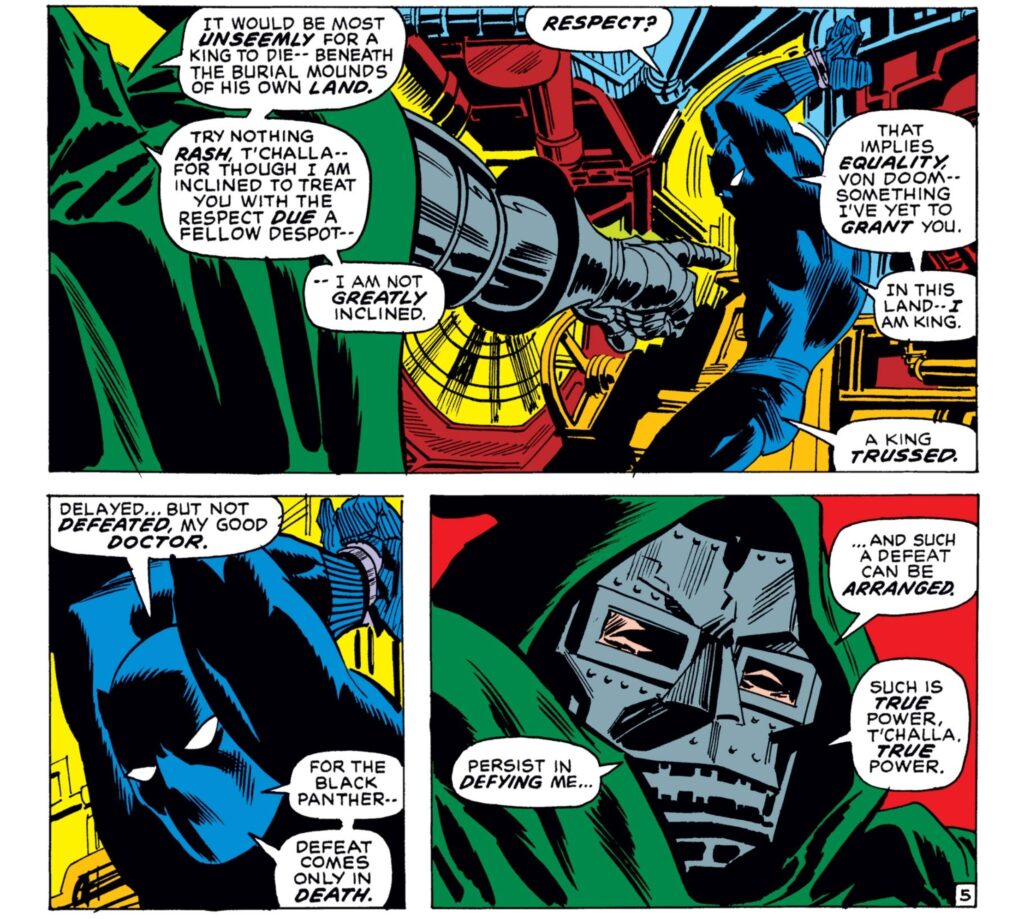 The book skips over every single 1970s appearance of Doom in Fantastic Four in order to get to the John Byrne era, which is widely regarded as a much-needed revitalization of the self-appointed "World's Best Comics Magazine", which hadn't been living up to the mantle since Lee and Kirby (especially Kirby) left the book. Byrne's approach to writing (and illustrating) Marvel's first family and their world, who had just entered the 1980s, is a more grounded one, and his depiction of Victor von Doom followed suit. We get to see more of Victor's inner life here, as well as—without spoiling much—his… family affairs. In the middle of the Byrne run, Jim Shooter and Mike Zack's Marvel Super-Heroes Secret Wars was published. Despite it being created as a "beat 'em up" between most of Marvel's heroes and villains in order to sell toys, Secret Wars proved to be an excellent Doom story: while everyone else is busy punching each other at the behest of a cosmic being, Victor decides he can do better and schemes to steal this cosmic being's near-infinite power. That's the quintessential Doom story right there. Sadly, the omnibus merely collects the final three issues of the series; though the best of Doom in Secret Wars is certainly in its ending, skipping over the first nine issues of setup in which Doom is the only one to spend his time cleverly planning against the cosmic Beyonder does blunt the impact of the ending quite a bit.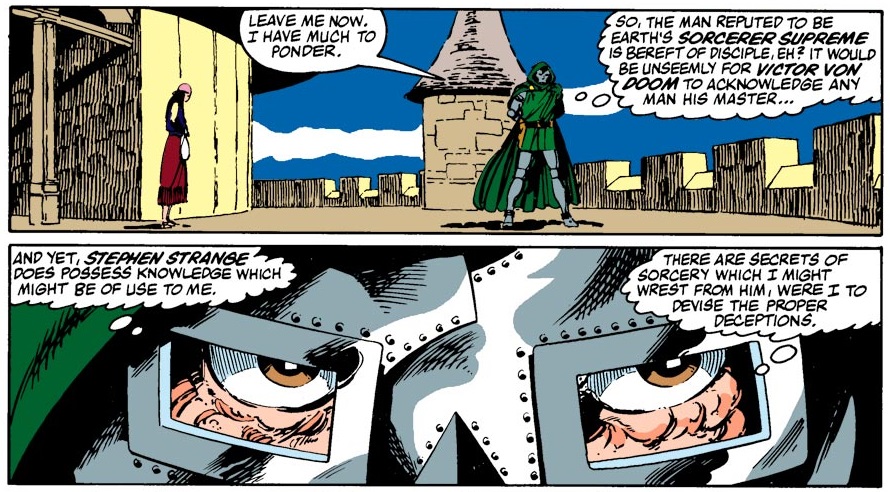 Thankfully, what follows in this collection may be some of the character's best stories, rendered in full. First, the Emperor Doom graphic novel by David Michelinie, Mark Gruenwald, Jim Shooter, and Bob Hall has Victor finally get what he always wanted: rule over Earth. Whenever we see Latveria, it's usually depicted as a place where Doom rules absolutely but where his people largely live well and in peace. Which is to say: seeing Doom "rule the world!" has more bite than with the average supervillain, whose version of "ruling" the planet is nearly indistinguishable from destroying it. So, once Doom's won, once he's become Emperor of the World, surprisingly it's not all that bad! The world is at peace! I won't spoil what it is that dethrones Doom, but I'll say it results in one of the most compelling examinations of Victor von Doom's character that Marvel's ever published. Speaking of which, the absolute best examination of Doom follows suit: Roger Stern and Mike Mignola's Doctor Strange & Doctor Doom: Triumph and Torment graphic novel, which I previously described as "not just one of the best stories ever told for Doctor Strange but the definitive Doctor Doom and Mephisto stories, period." This is where the thread of Victor's origin is finally pulled on: when he was a child, the soul of his witch mother was imprisoned by Mephisto, and he's tried to open a window into the Hell dimension ever since (in fact, a failed experiment to do exactly that was what scarred his face in the first place.) And now, so many years later, Doom finds a way to do so, with the help of Doctor Strange…without having to beg, of course.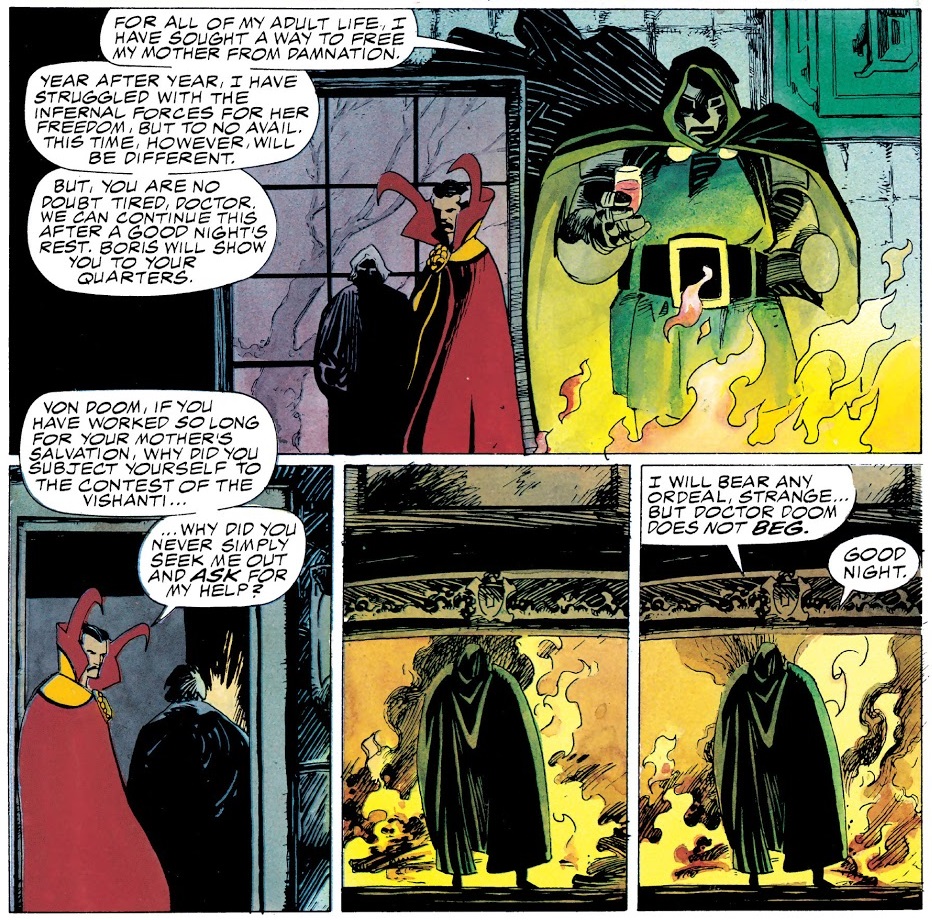 In what I can only describe as an indictment of the state of Marvel comics in the 1990s, the book skips over that entire decade to get us to Mark Waid and Mike Wieringo's critically acclaimed mid-2000s Fantastic Four run, which had Doom do the unthinkable in an arc under that name. If the likes of Emperor Doom and Triumph and Torment make us relate to Victor and even pity him in ways we haven't before, Waid and Wieringo achieve the opposite in "Unthinkable": Doom's villainy reaches levels of depravity never seen before or since, taking the Fantastic Four and their entire family to the brink. Though this is a well-written story, it does rely on shocking the reader to properly work, so let's just leave it at this: in order to attain new power, Doom sacrifices the only (surviving) person he's ever loved, and wears their skin as his new armor. And that's just the start!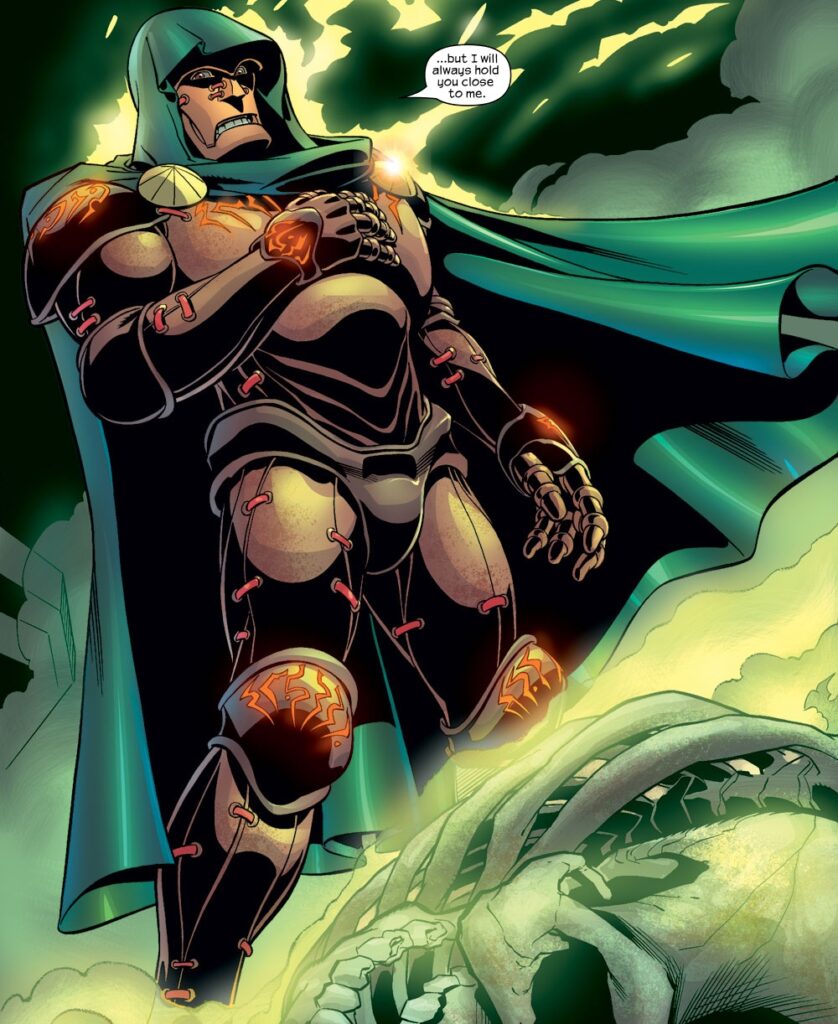 Suitably, the newest comic collected in this volume is one that returns to the character's beginnings and provides the omnibus with a title: Ed Brubaker and Pablo Raimondi's Books of Doom. This six-issue limited series may be your cup of tea if you'd rather read a modernized, detailed interpretation of Doom's origins, absent any 1960s awkwardness and camp, but if so there are much less expensive ways to experience this limited series, and I don't think anyone's buying an immense hardcover containing almost 50 years of comics to get a quick way to experience Doom's origins that's more palatable to modern readers. As an ending to Doom's greatest hits, it's appropriate enough, but it's also a bit too self-serious and gritty for me to recommend over other stories that could've been included, such as some of Jonathan Hickman's definitive work on the character from his Fantastic Four and New Avengers runs, and in 2015's Secret Wars.
Overall, this omnibus is a book worthy of the name Doom, as it includes most of his best stories, but I can't help the feeling that Doom himself wouldn't be too happy with some of the elisions found within, especially in titles in which Doom himself starred. In other words, this isn't going to end up in Latveria's library as Lord Doom's Complete Official History, but as a primer for the average Doom-curious person it's more than enough to get an idea of why Doom is Marvel's best villain.
At 1336 pages and retailing at $125 USD, the massive Doctor Doom: The Book of Doom Omnibus collects the following stories, in this order: Fantastic Four (1961) #5-6, Amazing Spider-Man (1963) #5, Fantastic Four Annual #2, Fantastic Four #39-40, Marvel Super-Heroes #20 (A); Astonishing Tales (1970) #1-3, #6-7 (B Stories), #8 (C); Giant-Size Super-Villain Team-Up #1-2, Super-Villain Team-Up #13-14, Champions (1975) #16, Amazing Spider-Man Annual #14, Uncanny X-Men (1963) #145-147, Iron-Man (1968) #149-150; Fantastic Four #236 (A), #246-247, #258, #278-279; Secret Wars (1984) #10-12, Marvel Graphic Novel #27: Emperor Doom, Marvel Graphic Novel #49: Doctor Strange & Doctor Doom: Triumph and Torment; Fantastic Four #350, #352, #358 (B); Marvel Double-Shot #2 (A); Fantastic Four (1998) #67-70, #500; Fantastic Four Special (2006) #1, and Books of Doom #1-6. Doctor Doom magnanimously let these writers and artists depict him in these above: Jack Kirby, Stan Lee, Roy Thomas, John Byrne, Jim Shooter, Mark Waid, Ed Brubaker, Roger Stern, David Michelinie, Chris Claremont, Denny O'Neil, Larry Lieber, Bill Mantlo, Gerry Conway, Bob Layton, Walter Simonson, Frank Giacoia, Mark Gruenwald, Tom DeFalco, Christopher Priest, Mike Wieringo, Paolo Raimondi, Mike Zeck, Mike Mignola, Dave Cockrum, Wally Wood, Bob Hall, Gene Colan, John Romita Jr., Frank Miller, George Tuska, John Buscema, Mike Sekowsky, Keith Giffen, Arthur Adams, and Paolo Rivera.