2.3.0 What Comes Next?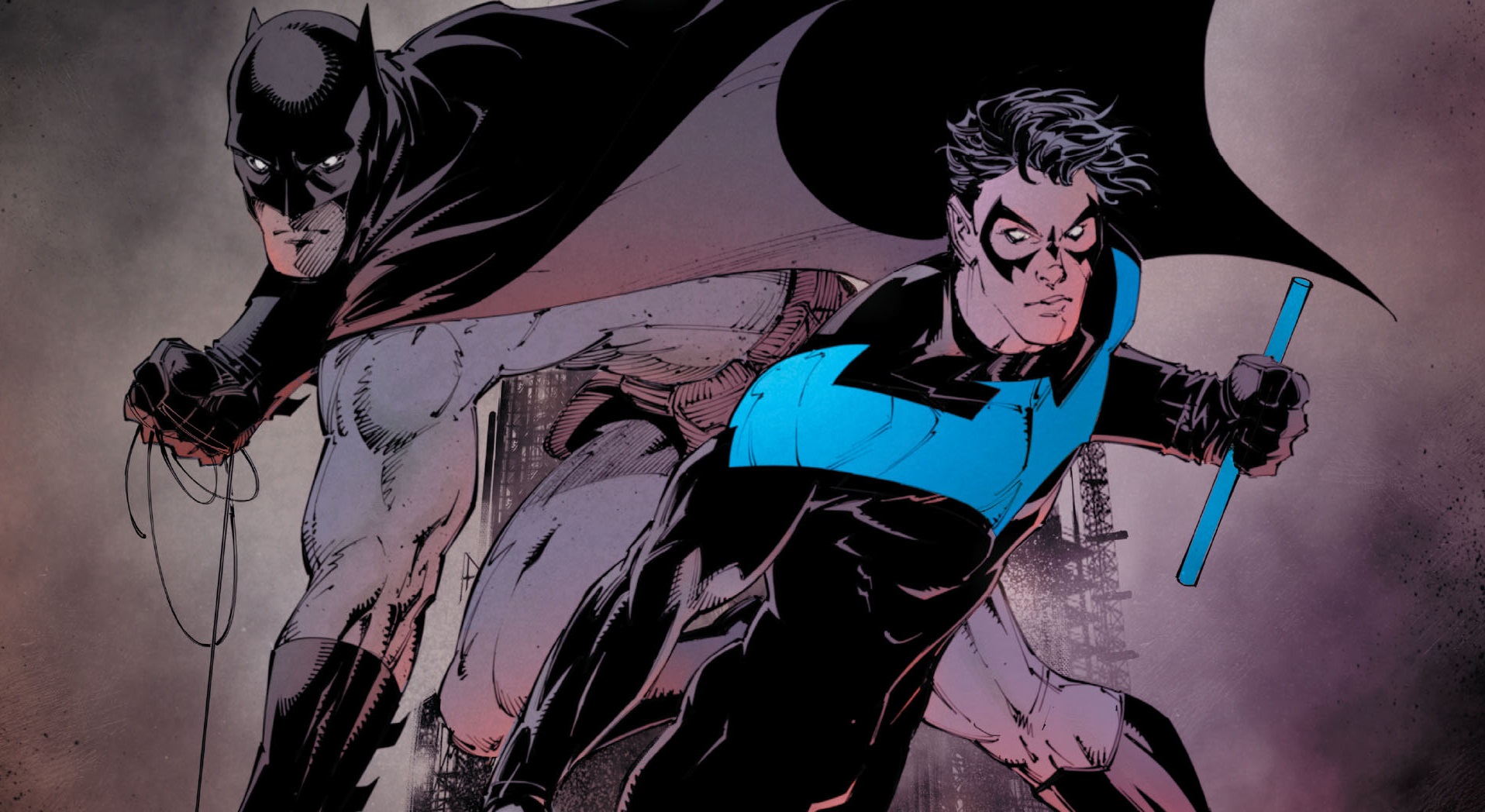 Shadow of the Bat
With Fear State out of the way, the next chapter of the Batman Family has begun with Shadow of the Bat, a fifteen-part story by Mariko Tamaki. Focused on a Gotham without Batman and the rise of Arkham Tower (the replacement to Arkham Asylum), the story is expected to be a big launching point for the Batman stories over the next year. Told over three separate acts, Tamaki's story dives into the legacy of the Arkham prison system from many angles. From revealing the status of the Penguin and his Iceberg Lounge, to creating new characters like Dr. Wear and the Party Crashers, to giving Batwoman and Huntress their time in the spotlight, this saga will be a massive story of 2022.
This story also has a really important meta-narrative to pay attention to. Mariko Tamaki has risen in the mainstream as a top comics writer over the last three years . Starting with her critically acclaimed Supergirl: Being Super in 2016, Mariko Tamaki has been on the rise, recently winning the Eisner for best writer for Harley Quinn: Breaking Glass and Laura Dean Keeps Breaking Up with Me. This year, Mariko Tamaki finally got to become a more influential voice in the superhero main continuity storytelling thanks to Future State: Dark Detective and her first DC ongoing with Detective Comics.
Previously: Part One – The Road to DC Infinite Frontier
In the same way James Tynion IV really rose to prominence with his Detective Comics run, Mariko Tamaki has the potential to do the same here. There's a lot of pressure on her to land this story and a lot of potential for it to amplify her work and talent to the mainstream audience of comics. If she does a great job with this story, I could easily see her becoming one of DC's go-to writers (like Williamson, Snyder, and Tynion) in the next year.
This event will also serve as a proving ground for what the bat-family without Tynion will be like. The main Batman is a Williamson storyline focused on detaching itself from the rest of the Bat-Family, and as such Detective Comics will become the main Gotham story. The stellar work Ben Abernathy, Tynion, and the rest of the Bat-writers did to connect their books together may either fall apart without Tynion or stay together and connected. If they stay connected, I think we are in for another stellar year of Batman books. So far, two months in, this story has been phenomenal and arguably the best DC book on shelves. Every week has been full of twists, turns, and a stellar mystery. With one final act to go, I really hope Mariko Tamaki can pull off the finale.
Support For Comic Book Herald:
Comic Book Herald is reader-supported. When you buy through links on our site, we may earn a qualifying affiliate commission.
Comic Book Herald's reading orders and guides are also made possible by reader support on Patreon, and generous reader donations.
Any size contribution will help keep CBH alive and full of new comics guides and content. Support CBH on Patreon for exclusive rewards, or Donate here! Thank you for reading!
Shadow War
The Batman Family also has a second major event incoming on the Joshua Williamson side. Now that Tynion has left the Bat-Family (except for his Joker book, ending in April), Willaimson has taken the reins. Already writing Robin, Deathstroke Inc., and the Justice League Incarnate books, he is now adding Batman. Each of these books shares a character that will bring them together: Talia al Ghul. Talia is a really interesting character who has been lurking in the shadows of 2021. First, at the end of Death Metal, she was revealed to be part of the team of heroes and villains who would watch out for the multiverse. Then in the Robin prelude story told in Batman #106 and Detective Comics, it was revealed that she was making moves on the League of Lazarus (who we now know was run by her grandmother). In Bendis's Checkmate, she took over Leviathan from Mark Shaw (the original Manhunter). Finally, in the Deathstroke Inc. prelude from Batman: Urban Legends #6, she was revealed to have a connection in T.R.U.S.T.
Now, to end the year, DC has revealed that these plot points are going to come together in an event called Shadow War. It will be a crossover event between all of Williamson's ongoings (Batman, Deathstroke Inc., and Robin), similar to Justice League: Endless Winter and X of Swords in style and focused on the al Ghul family. It begins in March with a prelude of Robin #12 and Deathstroke Inc. #7, and then the beginning of the event will be Shadow War Alpha #1. Solicits have made me very nervous about this book, but as it isn't out yet, I am cautiously hopeful.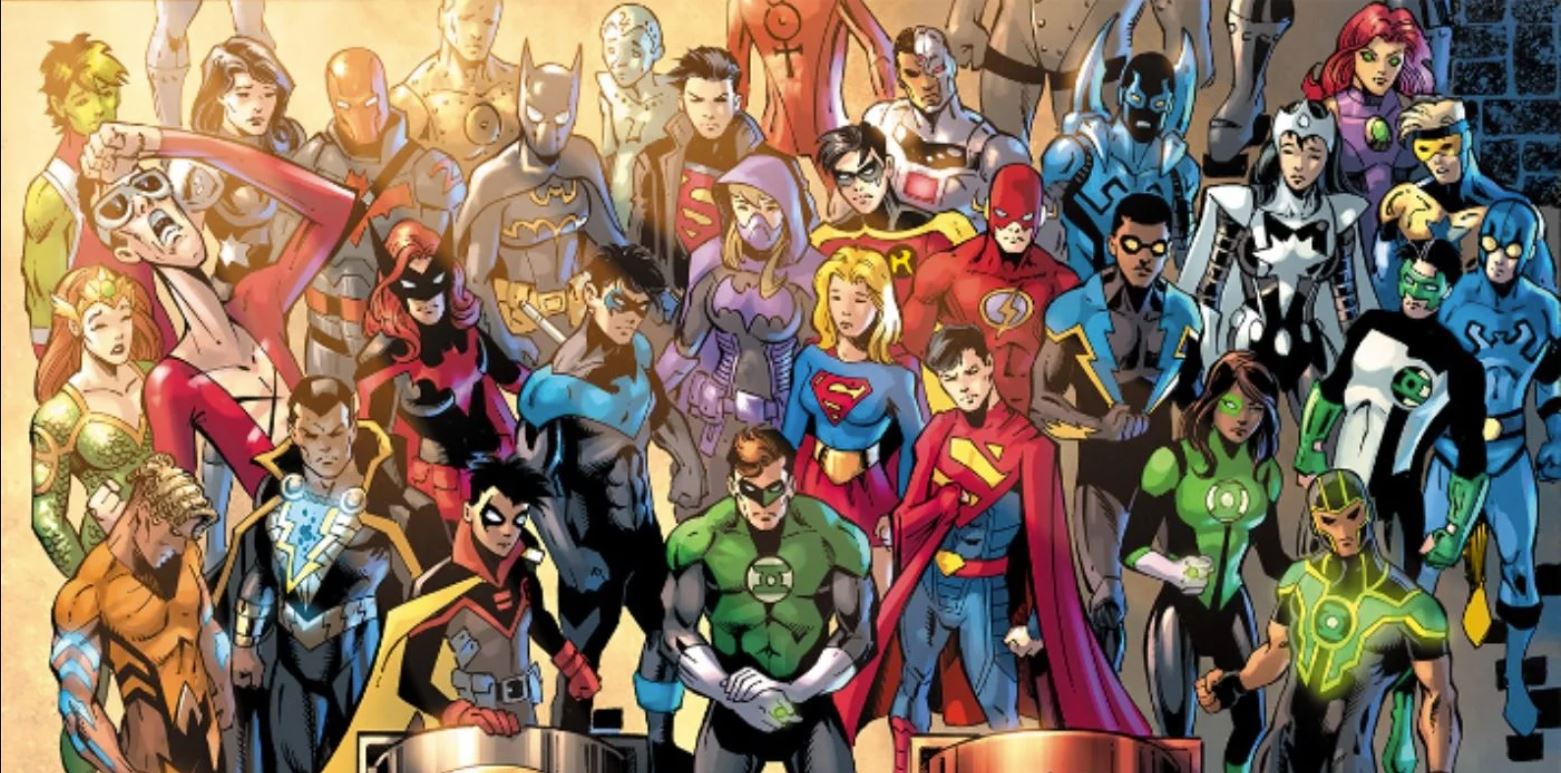 Williamson's Death of the Justice League, Dark Crisis Event and the Great Darkness
Williamson has been working on a three-act saga that began with the Infinite Frontier mini-series, and has continued with Act 2 through Justice League Incarnate. Death of the Justice League and Dark Crisis are coming. We don't quite yet know the scope nor the number of tie-ins, but we do know that it will open with Justice League #75 followed by Road to Dark Crisis #1, and then Dark Crisis.
After the reveal that the big villain will be the Great Darkness, the DC line is setting up plenty of plot threads. The threads for Williamson's big 2022 event, though, are becoming more and more clear. For example, Bendis's upcoming Justice League vs Legion of Superheroes both continues the story of his Legion of Superheroes from 2019 and reintroduces the Great Darkness as a major villain and force in the multiverse. Similarly, Jeremy Adams's The Flash will be focusing on a tangential villain, Eclipso, who's already shown up three times this year as a mysterious character with plans: first in Infinite Frontier #6 as a teaser image for what's to come, then briefly in Superman and the Authority where he tried to make a move on new hero Lightray, and finally in a teaser image from Williamson's Deathstroke Inc. #2. Finally, in Flash #777, we will hopefully begin to understand his motivations, especially with the Justice League Dark and Gemworld getting involved.
There are still two more Great Darkness plot threads to expect to surface in the coming months. First Nekron is back after Darkest Night, and he's after something. Secondly, the Upside-Down Man has a role in this story after living inside of Zatanna in Justice League Dark. And finally, Morrison's mysterious Empty Hand from Multiversity #2. I find it particularly interesting to look at the role Multiversity #2 has had in influencing Williamson's story. People forgot this at the time of Infinite Frontier #6, but Multiverse-2 has been a concept for a while. First introduced at the same time as the Empty Hand, Multiverse-2 is the remnants of the original pre-Crisis on Infinite Earths world. The Empty Hand particularly has felt like one of the most significant unanswered plot threads of the last decade, and seeing it return is intriguing to say the least.
With all of these Williamson plot threads, there is some worry that he may struggle to deliver on a compelling event. While his Robin has been incredibly fun, his Infinite Frontier story has been hit-and-miss. Some of my favorite moments of Infinite Frontier come from Williamson's work, and yet I worry that the Infinite Frontier event mini struggled with clarity and was sometimes too grandiose to be understandable and compelling. Justice League Incarnate has also had a bunch of problems with its handling of Morrison's multiversity. In particular, Williamson's emphasis that the Great Darkness has been behind every major crisis has been a rough story move. That being said, Williamson is clearly doing a lot of stellar work and has a vision for the next year of comics, and I'm more than willing to see where things go.
Lightray Is… the Fifth World?
At the end of Superman and the Authority
, the comic left us with a tantalizing image of a piece of the Final Barrier constantly rewriting the words "Lightray Is." Lightray, a new character who was born on Mars on a parallel world, still has a lot of questions surrounding her, but this teaser image that ends Superman and the Authority gives us lots of questions and little answers. After Eclipso tries to capture Lightray, she joins the Authority on their way to War World. Here is what we know now. One: The Final Barrier comes from the Metal Wars (presumably Dark Nights: Metal when the use of tenth metal broke the source wall) and the Source of Creation (maybe the World Forge?). Snyder already did a whole "creators of the multiverse" story, but I wonder if DC is interested in looking at this a little more closely. Considering the events of Justice Incarnate, where Doctor Multiverse is revealed to be unique in the multiverse alongside Darkseid, I wonder if Lightray will fit into this puzzle. I think the most interesting idea is the coming of the Fifth World. Wherever this plot thread goes, though, is bound to be fascinating.
The Impending Future State
The initial premise of Future State was that readers would get a sneak peek at the world at various points in the future and then see how we got there. However, many writers seem to be taking a slightly different approach. For example, Tim Sheridan used Future State to tell his underwhelming Four Horsemen Saga, where the Four Horsemen basically ravage the land, all but killing Wally, destroying Titans Academy, and eventually (millions of years later) destroying the universe. Now, we are getting closer and closer to the events of Future State and the Horsemen's arrival, from the recent Halloween H-dial experiment in Titans Academy #8 to the transformation of Dane. But there is a way that this future may be avoided. In Future State: Suicide Squad there is a Black Adam backup story that reveals that Black Adam, knowing the universe is about to die, time traveled back to 2021 to the Rock of Eternity, where he was eventually discovered in Shazam #3. He reveals to Billy what is coming, and it remains to be seen if Future State will come to pass. Initially Sheridan intended to end this story at issue #12, but he's since been green-lit for one last arc, and I have no idea where this story will go. Hopefully, the future that could be happening won't happen and that the character of Titans Academy can continue on.
The Green Lanterns are also approaching their impending Future State. One of the biggest flaws of Geofffrey Thorne's Green Lantern has been his struggle to write compelling Green Lantern stories without the classic Green Lantern rings. In many ways, he's viewed his story as Halo-esque following the big blow-up of the Green Lantern Central Battery, but as we start to get more info about who blew it up, the biggest mystery is whether Thorne will commit to this direction after Green Lantern #12 or not. Solicits have teased that the Green Lanterns are trying to avoid Future States of the timeline, but the story has also already deviated heavily from the Future State Green Lantern books. First, when the Central battery blew up, the placement of the various heroes was off: Teen Lantern wasn't living on Mogo and Jessica Cruz's experience with the Yellow Lanterns was different. Yet that doesn't prevent Geoffrey Thorne from continuing this current direction. I'm worried that the quality of the book will continue to struggle until Geoffrey Thorne gets back to more traditional Lantern stuff. His first three issues before the lantern exploded were phenomenal and it's gone south from there. Hopefully this future state is avoided.
Amanda Waller's Plans and the War for Earth-3
In Fear State Omega, Amanda Waller, representing the US government, was given the technology of the Magistrate and Miracle Molly. Meanwhile, she's made secret deals to get her hands on Lazarus Resin and helped create Task Force Z. On top of that, Checkmate works for her. Now, Waller has set her sights on Earth-3. In March, her story will culminate in the event War for Earth-3 in a traditional crossover between Titans Academy and Flash. What comes next still isn't known, but it is certain that the Suicide Squad story will continue with Miracle Molly joining the cast.
New Writers and Books:
DC has many new books and runs coming up in 2022. In Monkey Prince, Gene Luen Yang is bringing the mythology of Journey to the West into DC. In Catwoman, Tini Howard seems to be leaning more into Catwoman's bisexuality. Over at Milestone, DC is releasing four books: Hardware: Season 2, Icon and Rocket: Season 2, Static: Season 2, and Blood Syndicate. Milestone has new Earth-M titles which take place away from the Dakota-Verse, including the newly announced Duo: Season 1. Meanwhile, the Eisner nominated Naomi: Season 1 is getting the long-awaited sequel Naomi: Vol. 2. Mark Waid is returning to DC to write the ongoing Batman/Superman: World's Finest in March. Tim Drake is likely to get his own book based on teasing in Batman: Urban Legends #10. The Wildcats are expecting to make a significant return, likely in their own book. Shawn Martinbrough is writing a six-issue Red Hood mini-series, and Ram V is writing season 2 of his critically acclaimed Swamp Thing and an Aquaman Black Label book called Aquaman: Andromeda. Though Bryan Hitch recently confirmed that the JSA announced in Stargirl Spring Break Special #1 was canceled over Twitter, DC is still expected to continue that plot thread this year. In the future of the DC Universe, Terry McGennis is expected to take on a living Gotham with Batman Beyond: Neo-Year in April. Meanwhile, a team book featuring Yara Flor, Jonathan Kent, Jace Fox, Jo Mullein, and Jackson Hyde could be in the works if Future State is anything to go off of. Other things are also likely to show up including another DC Pride anthology, and the delayed Mary Marvel Shazam book.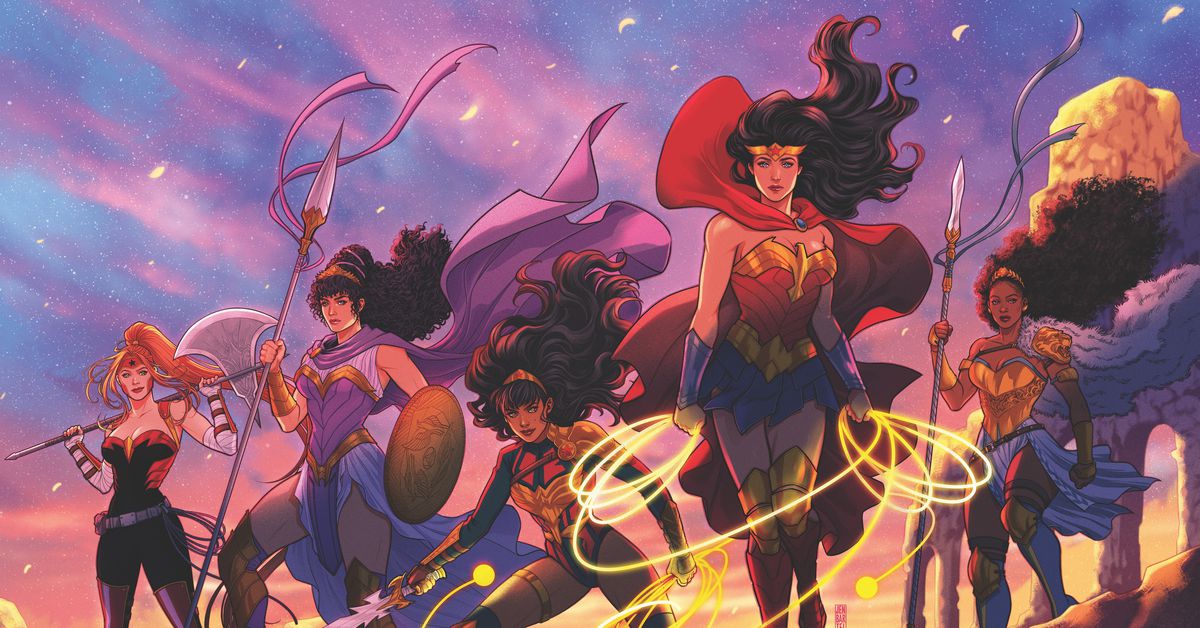 Trial of the Amazons
After a stellar opening year, the Wonder Woman books are marching towards the Trial of the Amazons, which seems for now to be a war between the different Wonder Woman tribes. The Esquieda seem ready to go to war with Thymiscira. Why? We still don't know, but the three tribes are getting ready for something. My understanding is that this will be a traditional crossover between Wonder Woman and Wondergirl, but I wonder (no pun intended) if there will be a third book. One of the successes of the Wonder Woman books right now is the inclusion of each tribe having their own stories. Wonder Woman's back up story is Bana Mighdall, Wonder girl is telling the side of Esquieda, and Nubia and the Amazons follows the events of Thymiscira. I wonder where this story is going, and truly can't wait to see it! Trial of the Amazons is a traditional crossover that will start in March.
The Aquamen
One of the early complaints of Infinite Frontier was the lack of Aquaman stories, but fortunately, Aquaman has since gotten a lot of love. With three different books currently coming out (although I'm not convinced Deep Target is in-continuity), there is more Aquaman content than we traditionally ever get. With the focus of the story on the incoming Aquaman Jackson Hyde and his father Black Manta, these two stories will be coming together soon for Brandon Thomas's first ongoing series, Aquamen. Designed as an Aquaman Family book, I'm super excited to see where this book will end up.
The Return of Lex Luthor
Lex Luthor had a very bad 2020. After becoming an alpha humanoid and nearly recreating the universe following Year of the Villain, he was beaten by The Batman Who Laughs, and then kinda left alone and abandoned for a while. With his return in Superman: Son of Kal-el 2021 Annual, followed by taking over Batman Incorporated, he's preparing for something. What is it? I'm still not certain, but seeing Lex's story in 2022 should be exciting.
Final Thoughts
Throughout these six parts I've gone into deep dives on a wide range of elements of Infinite Frontier, but the theme throughout has been really stellar expansions of diversity and tightening the storyline of the universe to be more connected and meaningful. I came into 2021 cautiously optimistic, and I'm so happy that my optimism was warranted. I genuinely love reading DC Comics every week, and looking into the future, I'm just as excited. Sure, I'm nervous about some stuff coming up, but I'm willing to see where the ride takes me. If DC can continue this trajectory for 2022, the Infinite Frontier will be more than poised to be the best post-modern period of DC comics. What's coming out is new and fresh and full of a new generation ready to take over and thrive. These DC comics writers and artists of today are poised to become the shapers of the universe over this decade, and that will be such a stellar route for DC. As we move towards the next big phase, the frontier ahead of us may truly be infinite.
Thanks to everyone who read through this six part series. I'm so thankful to Dave Buesing and the CBH editors for taking on this project and I can't wait for Infinite Frontier Year Two!