Not to be confused with the lovable steed from Toy Story, Bullseye is one of Marvel's deadliest villains, and one of Daredevil's fiercest antagonists.
In addition to senior membership among Daredevil's villains, Bullseye has also had connections to Marvel's Kingpin, Elektra, Thunderbolts, and oddly, Deadpool.
Below you'll find a complete guide to the Marvel comics appearances of Bullseye. I've marked my personal favorites with the Comic Book Herald logo next to the series title, so you can fast track through as desired!
Related Reading Orders:
Support For Comic Book Herald:
Comic Book Herald is reader-supported. When you buy through links on our site, we may earn a qualifying affiliate commission.
Comic Book Herald's reading orders and guides are also made possible by reader support on Patreon, and generous reader donations.
Any size contribution will help keep CBH alive and full of new comics guides and content. Support CBH on Patreon for exclusive rewards, or Donate here! Thank you for reading!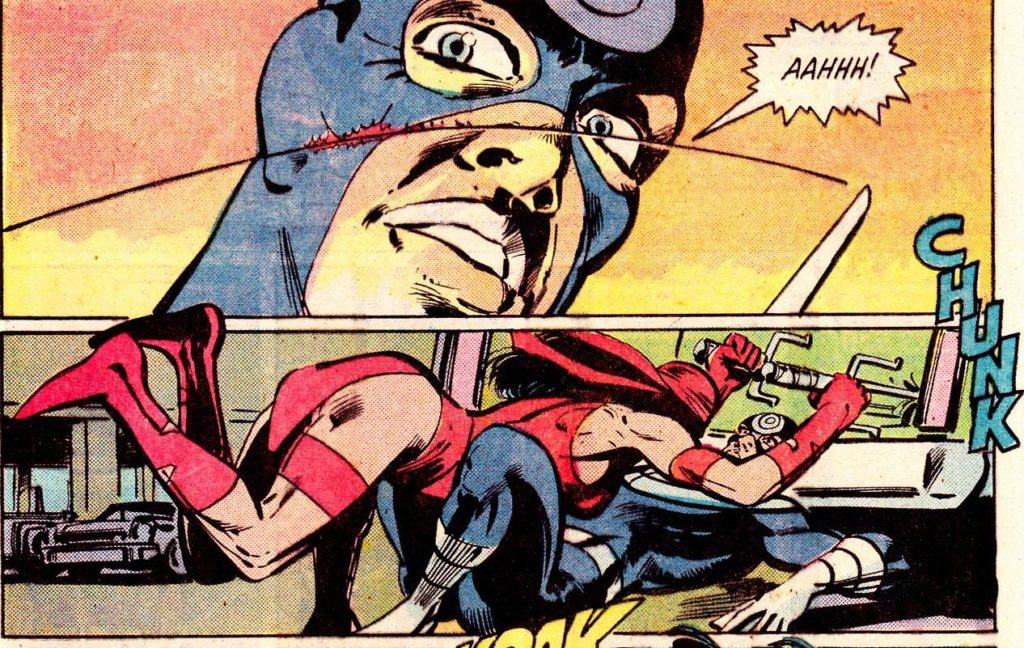 Bullseye Comics Reading Order
Collects: Daredevil #131, #132, #141, #142, #146
Bullseye debuted in Daredevil #131, by creators Marv Wolfman, Bob Brown, and Rich Buckler, declaring on the cover that "Bullseye nevere misses!"

Daredevil by Frank Miller & Klaus Jason Omnibus
Collects: Daredevil 158-161, 163-191; What If? 28
Comics visionary Frank Miller would take both Bullseye and Daredevil to the next level throughout his multi-year run on the title. Miller's run on Daredevil includes the iconic showdown between Daredevil, Elektra, and Bullseye!
Daredevil vs Bullseye by Ann Nocenti
Collects: Daredevil #284 To #290
Strangely difficult to find for a number of years, long time Daredevil writer Ann Nocenti delivers an instantly iconic Daredevil vs. Bullseye battle, with each character pretending to be the other!
Bullseye in the 90's
Captain America: Streets of Poison
Collects: Captain America #372 to #386
The Red Skull and Kingpin of crime get into a gang war, so naturally Crossbones and Bullseye get a call!
Collects: Elektra #1 To #2
Bullseye's shadow looms large as Elektra makes her 1996 solo series debut.
Collects: Deadpool #16, #28
The long, strange relationship between Bullseye and the Merc with a Mouth begins!
Collects: Daredevil (1998) #1 To #8
Bullseye cements his, frankly, already cemented place as the most haunting murderer in Matt Murdock's tortured existence.
Daredevil / Bullseye: The Target
Collects: One-Shot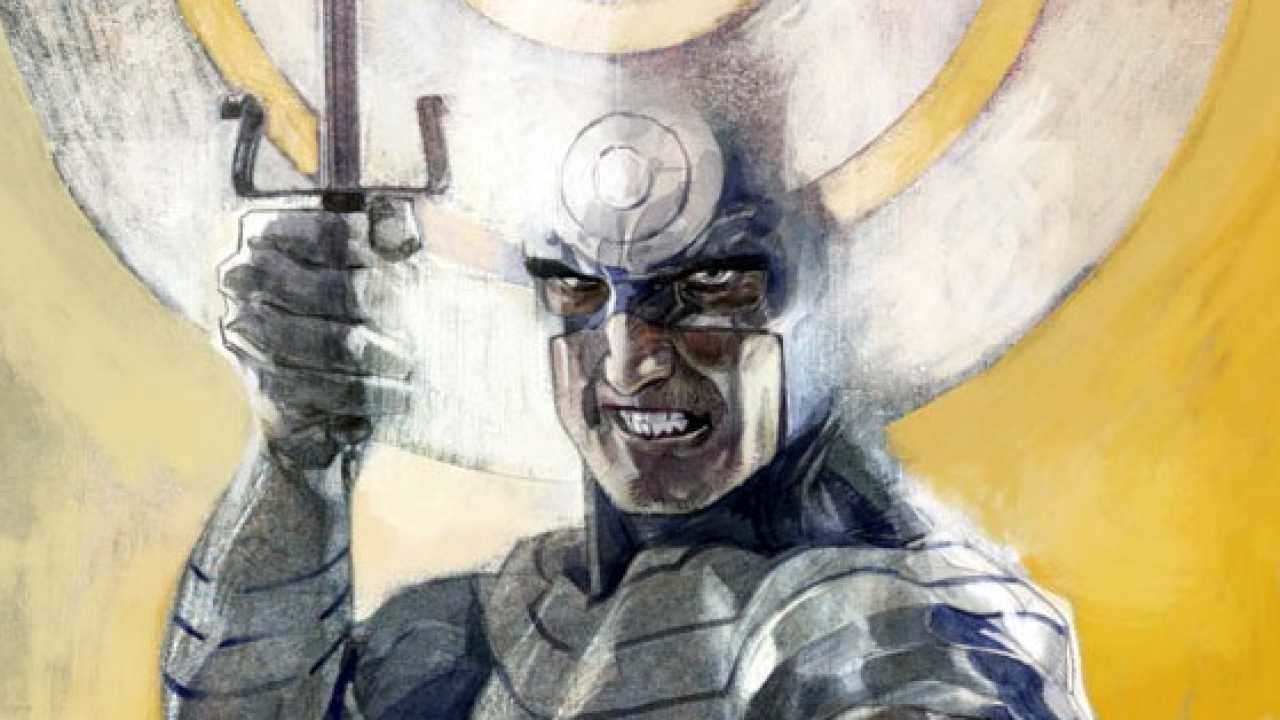 Bullseye Enters the 2000's

Daredevil by Bendis and Maleev Ultimate Collection Vol. 1
Collects: Daredevil #16-19 & #26-40
Daredevil by Bendis and Maleev Ultimate Collection Vol. 2
Collects: Daredevil #41-50 & #56-65
Collects: Identity Disc Miniseries
Collects: Bullseye: Greatest Hits #1-5
Collects: Punisher Vs. Bullseye #1-5

Daredevil: Devil in Cell Block D
Collects: Daredevil (1998) #82-87
Collects: Civil War #1 To #7

Thunderbolts By Warren Ellis & Mike Deodato Ultimate Collection
Collects: Thunderbolts #110-121
By Warren Ellis and Mike Deodato
Collects: Daredevil (1998) #111-115
Collects: Punishermax #6-11
Jason Aaron and Steve Dillon take on the Punisher and the Maxline Bullseye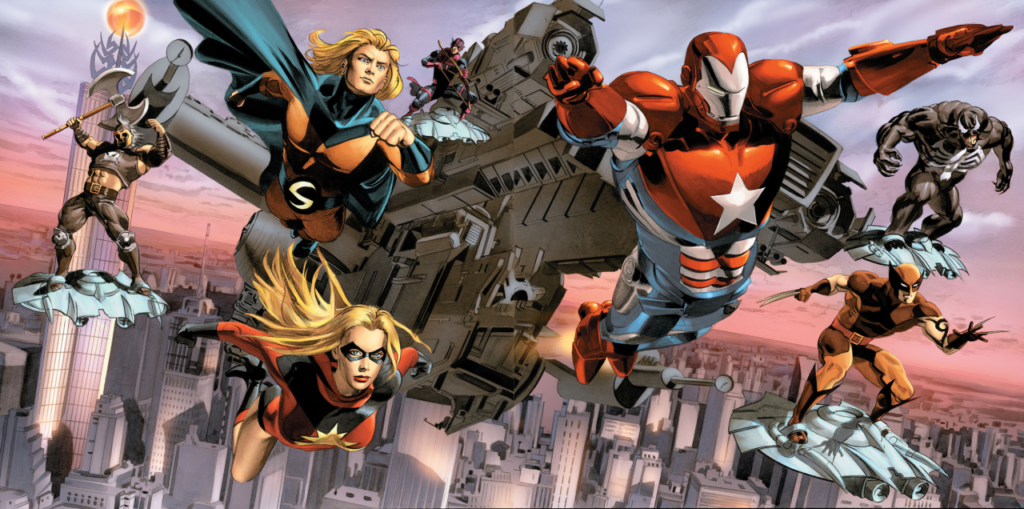 Bullseye and the Dark Avengers

Dark Avengers by Brian Michael Bendis: The Complete Collection
Collects: Dark Avengers (2009) 1-6, 9-16, Annual 1
Really from Dark Avengers on through Shadowland, I recommend checking out the complete guide to Marvel's Dark Reign. I've highlighted the most Bullseye centric stories here as well.
Moon Knight Vol. 4: The Death of Marc Spector
Collects: Moon Knight (2006) #21-25, Moon Knight: Silent Knight #1
Collects: Dark Reign: Elektra #1 To #5
Collects: Dark Reign: Hawkeye #1 To #5
Collects: Deadpool (2008) #6-7 & 10-12
Punisher & Bullseye: Deadliest Hits
Collects: Punisher: Trial Of The Punisher #1-2, Bullseye: Perfect Game #1-2, Material From Daredevil #500
Collects: Dark Reign: The List – Daredevil 1; Daredevil (1998) 501-512; Shadowland 1-5; Shadowland: Elektra, Bullseye, Ghost Rider, Spider-Man, After The Fall; Shadowland: Moon Knight 1-3; Shadowland: Blood On The Streets 1-4; Shadowland: Daughters Of The Shadow 1-3; Shadowland: Power Man 1-4; Thunderbolts (1997) 148-149; Daredevil: Reborn 1-4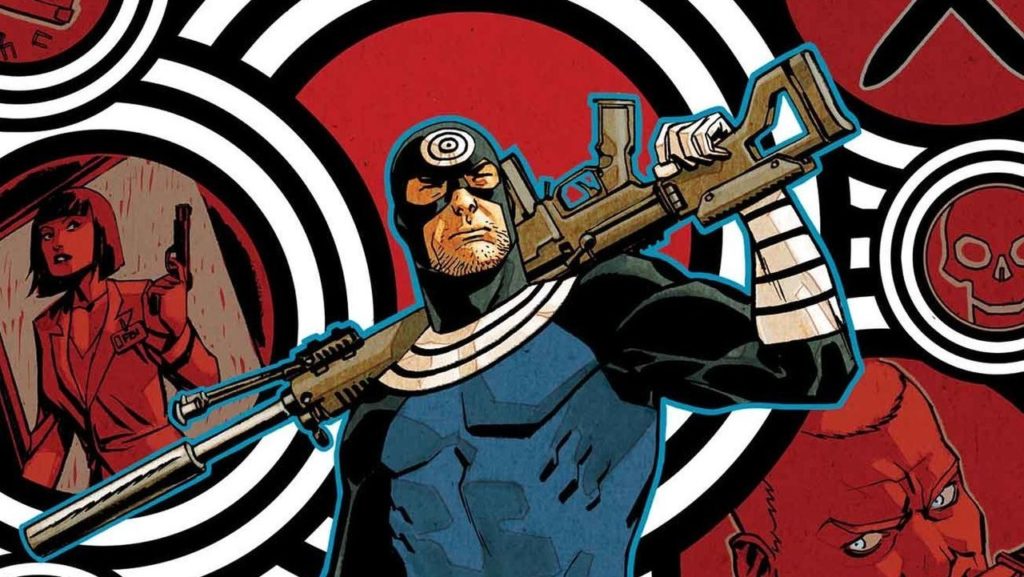 The Return of Bullseye in Marvel Now!
Collects: Daredevil #16-21
Collects: Daredevil 22-27
Collects: Elektra (2014) #1-5
Collects: Elektra (2014) #6-11
Bullseye: The Colombian Connection
Collects: Bullseye 1-5
Wolverine: Old Man Logan Vol. 8: To Kill For
Collects: Old Man Logan (2016) #36-40
Old Man Logan takes on Wilson Fisk, the new mayor of New York, which naturally means a certain pinpoint accuracy assassin can't be too far off.