Horror Cinema is rarely kind to the people who make it.
The genre is often seen as a lower artform of ill repute where those who make it, at best, get a reputation for three films while their larger work is ignored as garbage. The best case scenario for many a horror filmmaker is to remake the same film over and over again for a quickly dwindling audience. Even filmmakers like John Carpenter or George Romero are left scrambling for budgets because no one wants to support their endeavors.
But perhaps the filmmaker most hurt by this reputation and systemic failure is Tobe Hooper. For many people, Hooper is the madman who did The Texas Chain Saw Massacre and then nothing else because he was too much of a wild card to actually make a real movie. Some might see him as the guy credited for Steven Spielberg's Poltergeist. Both of these are largely inaccurate claims to make about Hooper that only limit his range as a filmmaker.
In truth, Hooper was a consummate professional with a love of cinema. He used his keen and clean style to tell stories of capitalistic collapse, trauma, and also carnivals. While not as radical as the utopian Romero, Hooper nevertheless kept his art free from the so-called apolitical, even in his later works. He created many a beautiful neon drenched shot, worked with some of the best actors and cinematographers, and never forgot what made a good film. And, as with many a horror filmmaker, he was cast aside after The Mangler, an adaptation of a Stephen King story about a murderous laundry press, which Hooper turned into a parable about the systemic evils of capitalism. But even in his final works, the DTV Djinn, you can see the filmmaker who terrified the world with a chainsaw wielding cannibal.
I bring this up because in many ways, Proctor Valley Road
feels like a lost Tobe Hooper movie. The story of a group of girls who can be best described as trouble going up against an evil, neon drenched witch in a story where capitalism is the impetus for the events feels right at home with Poltergeist's real estate horror and Dance of the Dead's rebellious youths. The inciting incident is even set in a carnival.
Support For Comic Book Herald:
Comic Book Herald is reader-supported. When you buy through links on our site, we may earn a qualifying affiliate commission.
Comic Book Herald's reading orders and guides are also made possible by reader support on Patreon, and generous reader donations.
Any size contribution will help keep CBH alive and full of new comics guides and content. Support CBH on Patreon for exclusive rewards, or Donate here! Thank you for reading!
That isn't to say writers Alex Child and Grant Morrison (or the ever brilliant colorist Tamra Bonvillain) were heavily inspired by the works of Hooper, but rather the work fits within the mode Hooper's work reveled in. On that front alone, it's highly worth reading. To say nothing of the charmingly written script. Child and Morrison are a terrific writing duo, capable of making the cast of characters shine in even the most minor of scenes. That this is Child's first comics work is something of a shock considering how at ease he is in the field, even with Morrison's aid.
And yet, when I read and reread this book, what I always come back to is the art. While this is by no means Naomi Franquiz's first major work (she had previously done stellar work for the first Tales of Harrow County miniseries), this feels like a star making moment. Franquiz is capable of capturing both the grotesque horror of the supernatural as well as the humanistic quality of the main characters.
Take, for example, this scene where Rylee is possessed by the villainous Landlady: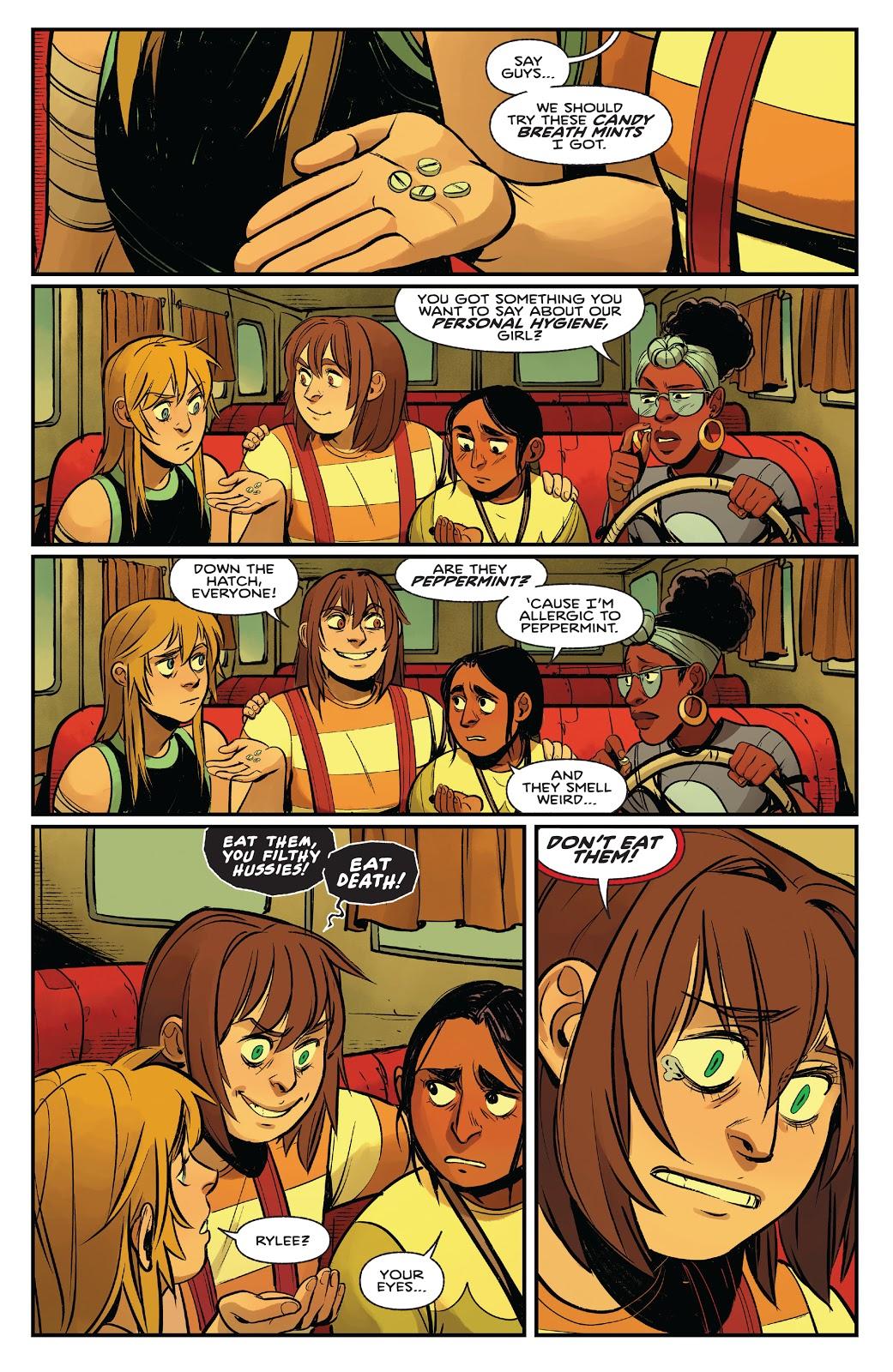 In the first group shot, nothing seems out of place. At most, Rylee seems a bit too smiley here given what's happened so far. (Then again, she is offering e.) The next panel, however, shifts things slightly in Rylee's eyes. Where previously drawn with smoother lines, Franquiz adds more jagged lines to them, making the eyes look more and more manic. Not to mention the smile that's just a little bit too wide to feel right on a human being, a smile that only gets wider and wronger in the following panel. Not to mention the sudden shift from Rylee's brown eyes to the Landlady's toxic green added by Bonvillain makes the scene truly horrific.
And horror is indeed the game at play here, in a truly horrifying book. I could spend the whole article simply going "Look at this" and following it up with images such as: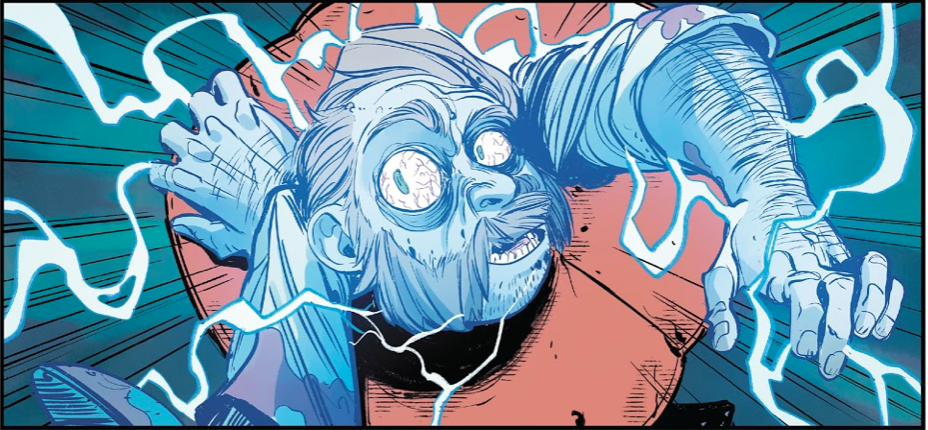 And you'd get the point. But that would miss a large chunk of what the book is like. The fact of the matter is, this book is a delight with some of the funniest lines I've seen in a comic this year. Take this moment near the start of the series.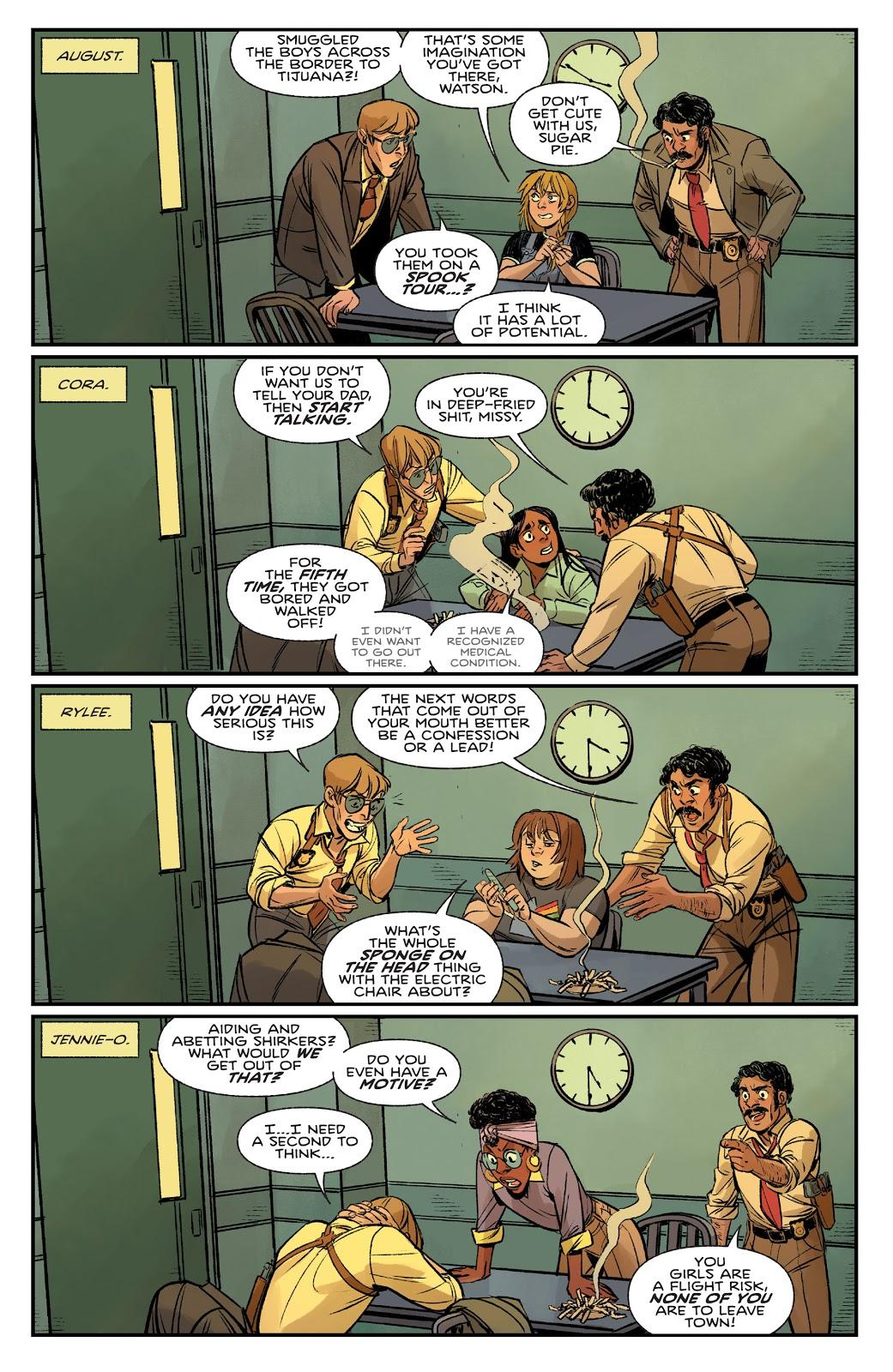 Our four leads are all being interrogated by the police for their involvement with the disappearance of four boys. The police think they helped the boys flee the country after getting their papers to fight in the Vietnam War. In the first four panels, we have the police officers feeling as if they're in a state of power and control with the girls. This leads to the punchline where the radical Jennie-O confronts the police over their incompetence. Note the facial expressions throughout the piece, how the pair of cops become more and more disheveled with each girl before buckling down to Jennie-O's confrontative manner. Even with the more timid Cora, there's a sense of exhaustion in the visible officer's eyes that only adds to the subtle humor of the scene.
There are other moments of comedic brilliance from Child/Morrison/Franquiz/Bonvillain from the vicious grin on August's face as she drives the stolen police car to the small, petty fight that breaks the girls up to Cora's method of defeating the child ghost to the Landlady's cruel sense of humor. It's an absolute blast that never goes too far into farce to take away from the horror the series keeps going at.
At its core, however, Proctor Valley Road is a charming tale about four girls fighting a ghost so they can see a Janis Joplin concert. What's not to love?
That isn't to say the book is without flaws, however. The writing on the final issue feels rushed in terms of what's happening. Like it would've been better as two issues instead of one. (I'm still not completely sure how the girls defeated the baddie beyond a vague "the power of friendship" and I suspect another draft/issue could've helped that.) There are points where the book is trying to be a bit too clever, like the opening issue's usage of clever transitions from one scene to the next. And the character of Cora feels a bit weaker and less developed than August, Rylee, and Jennie-O.
And yet, it's hard not to get caught up in the infectious and delightful spirit of the book. It's a fantastic horror story for the Halloween season and worth a read any time of the year. Highly recommended for anyone up for a good fright.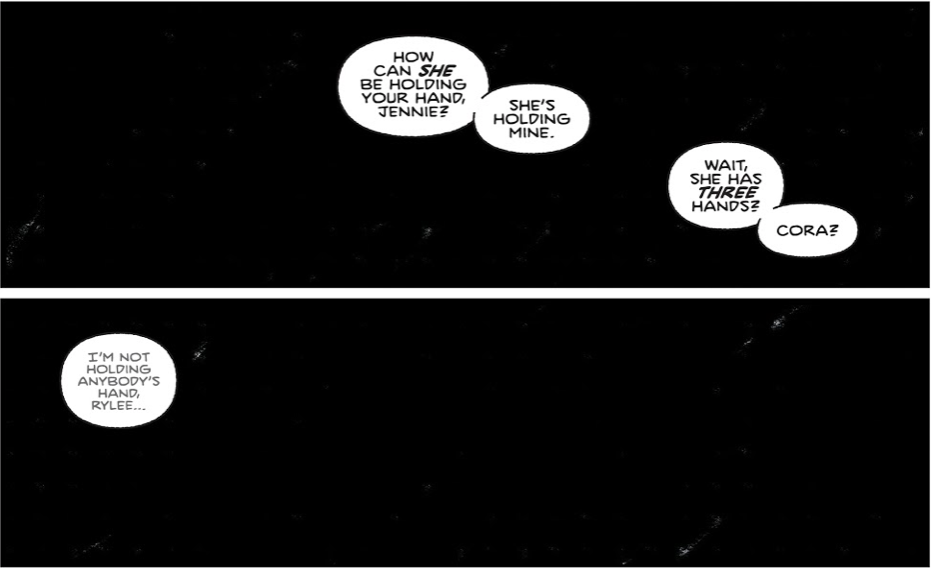 (For more on Tobe Hooper, please read Scout Tafoya's Cinemaphagy: On the Psychedelic Classical Form of Tobe Hooper)