She-Hulk's history has been a bit of a rocky road, one that's gone in some wildly different directions over the years. To begin with, Jennifer Walters was plagued by the She-Hulk, and she struggled to define herself outside of her superpowered alter ego. By the end of her first series, she'd come to grips with the She-Hulk and actually preferred to stay in that form. She joined the Avengers and the Fantastic Four, and took on new, fourth-wall-breaking characteristics that would later be passed onto characters like Deadpool. This again led to a change of direction of Jennifer. She died multiple times, began and ended relationships, encountered alternate reality selves, and, most recently, saw a power surge that significantly changed her personality while in Hulk form.
Today, She-Hulk has a wider array of stories to look back on than ever before, but she continues to exist at the whims of greater crossover events. Still, with a new TV series on the horizon, it feels like a great time to look back at some of the hidden gems and greatest hits of She-Hulk's long history.
Related: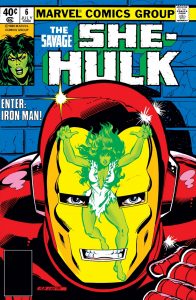 It's no secret that the early days of She-Hulk mostly felt like writers throwing things at the wall to find out what would stick. The first run of its solo series struggled to find its foothold, only finally figuring out its direction just before its cancelation. But there are some important gems in there, and Jennifer Walters' first encounter with Tony Stark is certainly one of them.
Support For Comic Book Herald:
Comic Book Herald is reader-supported. When you buy through links on our site, we may earn a qualifying affiliate commission.
Comic Book Herald's reading orders and guides are also made possible by reader support on Patreon, and generous reader donations.
Any size contribution will help keep CBH alive and full of new comics guides and content. Support CBH on Patreon for exclusive rewards, or Donate here! Thank you for reading!
Stark and his history with Hulks in general is not great, and his first encounter with She-Hulk leads to an immediate fight and a vow from Jennifer that she'll knock him out the next time she sees him. Fast forward to the last entry on this list and you'll see that, despite their tenuous friendship, these two have been adversaries just as often as anything else.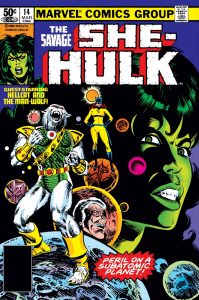 The original She-Hulk solo was also completely bonkers in much the same delightfully strange way as most Marvel comics from the early '80s, which is part of why this story makes the list. It's short, features forgettable villains, and has very little in the way of repercussions for future stories.
But it does introduce us to She-Hulk's long and storied relationship with the very temporary future Mr. She-Hulk, Man-Wolf. Not only that, but we also see a very brief team-up between Hellcat and She-Hulk, which is the beginning of a beautiful friendship.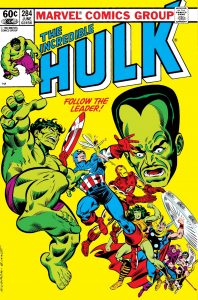 Bill Mantlo's run on The Incredible Hulk is fairly brief, but he managed to do a lot while he was in charge of the book. One interesting element of his run was how he portrayed the relationship between Bruce and Jennifer.
In Savage She-Hulk #1, Bruce comes through town to visit his cousin Jennifer, and, via a blood transfusion,he saves her life but also makes her a Hulk. Here, we see that he's been wracked with guilt over this, and he begs for Jennifer's forgiveness. Jennifer flips this on its head by telling him that she not only forgives him, she's grateful, and she wishes that he could learn to make friends with his conflicted other half. Bruce and Jennifer don't interact as much as you might think, but when they do, it's always interesting.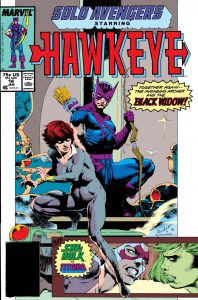 The She-Hulk story in this issue is short, but it's one of the best of its era. Brought to us by the classic Excalibur creative team of Chris Claremont and Alan Davis, we see She-Hulk valiantly attempt to challenge the Mutant Registration Act on behalf of a client. Though she does her research, she's still incredibly nervous, and it only gets worse as the villain Titania begins wrecking things outside the courthouse with the sole aim of getting Jennifer's attention. Every time she thinks it's over, the fight begins again, until her case is rescheduled to the next term. In the end, she can do nothing but laugh at her own chaotic life.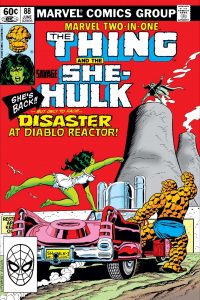 One of the great unsung friendships of the Marvel Universe has got to be She-Hulk and the Thing, who have served together on the Fantastic Four many times. These two have great chemistry, with the fun-loving side of Jennifer highlighted by the cantankerous truthfulness of the Thing. The warmth these two feel for each other comes across, even in a story as wild as this one.
The She-Hulk was, during this time, plagued by car troubles, and when her car breaks down, she depends on a verbal agreement with a car dealership to deliver her a new set of wheels after she appears in a TV commercial for them. This is where she runs into the Thing, who is suddenly stranded after his own circumstances fall through. The two flirt, though Ben is loyal to Alicia Masters, and when their romance doesn't pan out, they team up for some good old fashioned superheroics instead.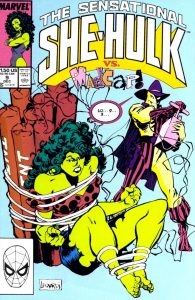 The creative team on Sensational She-Hulk fluctuated pretty wildly, and this is indeed one of the difficult-to-track-down filler issues of the era, written by neither John Byrne nor his successor on the book, Steve Gerber. Still, though this story is not exactly essential, it's a ton of fun to read, and it does a lot to define the tone of the series.
The meta element of the humor is at the forefront when She-Hulk has an argument with the book's editor, Bobbi Chase. This ends with her having a big fight with the truly bizarre villain Madcap, and the two battle each other using methods that one usually doesn't see outside of a Looney Tunes cartoon.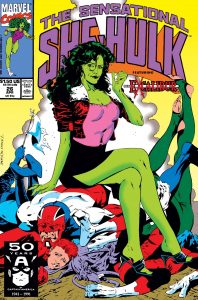 She-Hulk has crossovers with the X-Men fairly regularly, at least in passing, and she's represented many a mutant in court. This issue brings us a meeting between She-Hulk and the UK team of Excalibur, including Captain Britain, Rachel Gray, Kate Pryde, Nightcrawler, and Meggan. Jennifer catches a plane to defend one of their members in court.
Meggan is being brought up on charges for turning into a monster and destroying a fast food restaurant, and that fact pretty much sets the tone of fun absurdity that carries the issue all the way to the end. The wild, meta spirit that early Excalibur and She-Hulk share makes for a highly entertaining match-up.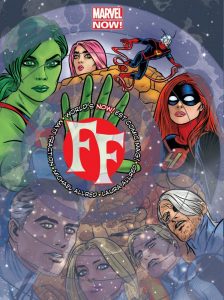 When the Fantastic Four intends to take a very brief trip into the Negative Zone, they set about assigning replacements just on the off chance that something goes wrong. Naturally, something goes horribly wrong, and the Fantastic Four are lost. Meanwhile, their replacements, who barely know each other, have to make it work as the FF – otherwise known as the Future Foundation.
This story is ridiculous and heartwarming in equal measure, and while it is about more characters than one, it highlights She-Hulk's character so well. Her romance with Wyatt Wingfoot is briefly rekindled, and she and Ant-Man co-lead a chaotic but highly adorable ragtag team of heroes.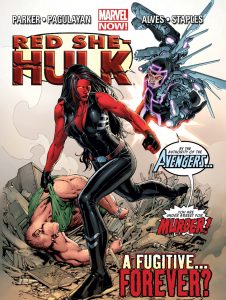 This is a bit of a cheat, since Red She-Hulk is Betty Ross and not Jennifer Walters, but while Jennifer was believed dead in 2012-era Marvel comics, this was the She-Hulk that briefly took her place. Betty Ross was likewise believed to be dead, and had been brainwashed and resurrected to become not just the Red She-Hulk, but a deadly mercenary to boot.
Despite the aftermath for both Betty and Jennifer, the Red She-Hulk series was heavy on violence and action, but ended up being a surprisingly emotional series that didn't outstay its welcome. Betty and Bruce would ultimately be reunited, and Jennifer would return from the land of the dead to enjoy another solo series.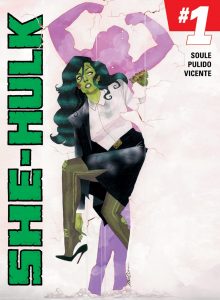 This She-Hulk series took us behind the scenes of Jennifer Walters quitting her demanding job at a legal firm only to start her own. She hires a directionless Patsy Walker to work for her, giving her good friend a job to pour her energies into. The series enjoys a lot of segues into the greater Marvel Universe as She-Hulk defends various clients, but the overarching story focuses on a mysterious case in which several people were involved, but none of them can remember specifics.
The humor is in a good place and it doesn't distract from the direction of the story, and the characterization of Jennifer is better than ever before. The supporting cast introduced for this series was a lot of fun, and it features plenty of guest stars, not to mention giving us a great mini-saga in which Jennifer Walters and Matt Murdock face off in court.
She-Hulk is one of those characters that works great on a team. Every time she joins up with the Avengers or the Fantastic Four, the book's quality goes up by about 20%. Even when working among an ensemble cast, she's the kind of character that stands out enough to make an impression. Both A-Force series give us great examples of She-Hulk working alongside other women towards a common goal, and her leadership abilities truly shine.
These issues give us a look at how Jennifer interacts with characters like Niko Minoru, Medusa, and Carol Danvers, not to mention a new character, Singularity. The story changes by the volume, but the character study is consistent through both, and Jennifer is compelling in her position of relative authority on the team.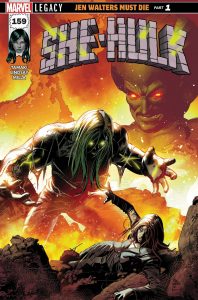 Mariko Tamaki is one of those writers that brings so much character work to a story, and that's why her whole run with Jennifer Walters (first in Hulk, then in She-Hulk) is one of the best ever to hit the stands. This is her third and final volume, and it's a doozy. The Leader returns and makes the demand that, well, Jen Walters must die. Any Hulk fan knows that there's always more than meets the eye to this guy, but that knowledge doesn't lessen his full-out attack on Jen's life.
This run stands out for, among other reasons, avoiding romantic entanglements while Jen sorts out her friendships and her business. The difference of focus is a nice change of pace. This story set Jen up for her appearances in Aaron's Avengers.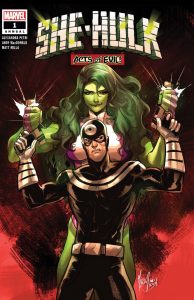 Normally, "zany" isn't a word used to describe Bullseye stories, but this issue is a classic farce. The story revolves around a classic body swap adventure between She-Hulk and, well, a robot. While Bullseye schemes and attempts to get the drop on her, Jennifer must think her way out of her unusual predicament. This story brought in a lot of the classic comedy elements of the Sensational She-Hulk era while tying the character to her modern continuity, and it was a great take. If someone gave this creative team a whole ongoing series, I would not be mad.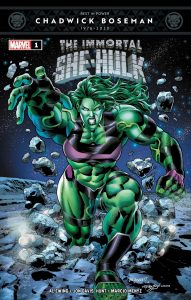 This is a recent story, and the tone is a bit more somber than most of the earlier entries, but it's worth a read, especially if you're looking for current context for our Jennifer Walters. Al Ewing, who already approached some interesting themes around superhero immortality in the ongoing Immortal Hulk
, tells a tale entitled "The Three Deaths of Jennifer Walters," in which Jennifer addresses the fact that she keeps dying and coming back from the dead.
A lot of the recent changes the character has been through are at the forefront, and it's interesting to see a hero struggle with the emotional fallout of not being able to die in a real or lasting way.