2013 has been a year of firsts. I started a new job, I spilled scotch on a suit, and I started actively collecting ongoing comic issues for the first time.
Up until this year, I've been in the "wait-for-the-trade" camp of comic book readers, locked in a chrono-statis field designed to avoid spoilers and, one day, catch up to the timey-wimey holy grail: current continuity.
Naturally, though, the trade-only fiscal discipline didn't last forever. I walked into a comic shop on September something 2012, dove head first into issue #7 or #8 of DC's New 52 (that's right; the New 52 got me to buy comics), and I haven't looked back since. I also haven't had a dime in my savings account, but let's keep that between you and everyone other than my wife.
Since I've started collecting ongoing series, I've been particularly focused on getting started with new comic book series as they begin. As a continuity-geek, I live in a perpetual state of "I can't miss out on anything!"
I mean, what if the next Sandman starts this year (what if it's actually the new Sandman from Neil Gaiman?) What if the next Watchmen quietly enters the scene (and what if it's actually the not-at-all quiet Before Watchmen?)?
Support For Comic Book Herald:
Comic Book Herald is reader-supported. When you buy through links on our site, we may earn a qualifying affiliate commission.
Comic Book Herald's reading orders and guides are also made possible by reader support on Patreon, and generous reader donations.
Any size contribution will help keep CBH alive and full of new comics guides and content. Support CBH on Patreon for exclusive rewards, or Donate here! Thank you for reading!
As a result, I'm a sucker for a number one issue. The comics industry knows this is the witch's apple to sleeping beauties like me (wait, what?), and I can't pretend it doesn't work. I have to get started from the start! It's in my continuity chromosomes.
So what you have below is very much like a mid-year best of list, only with the following caveat: It's my list of the best ongoing comics that you can reasonably get started with right now, in order of how easy it will be to catch up to the storyline.
I need to add that this list is limited by any series that I either avoided or… gulp… missed out on. As such, you'll see no Fatale from Ed Brubaker and Sean Philips (I already read Criminal through the omnibus and I'm sticking with that approach), no The Massive from Brian Wood (this is a regret), and very few Marvel or DC titles (these are just less practical to get started with out of the blue. I mean some nuts spend all SORTS of time trying to figure these guys out).
Otherwise, though, I think this is a pretty solid list of a bunch of my favorites that you can start collecting from your local comic shop (or Comixology if you want to join the digital revolution) this/next month. 2013 has been a great year for comics – here's why:
10) Manhattan Projects
Jonathan Hickman and Nick Pittara's madhouse, revisionist science theater is twelve issues and two trades into one of the most bonkers titles out there. There are certain stories that might translate across different art forms, and then there's Albert Einstein chasing the robot reincarnation of Franklin Delano Roosevelt across a space station death trap. Comic book wackiness at its finest, with just enough history mixed in to keep your search history loaded with names like Enrico Fermi and Henry Daghlian.
Get Caught Up! – Volume 1 & Volume 2. Issue #13 is out at the end of July from Image Comics.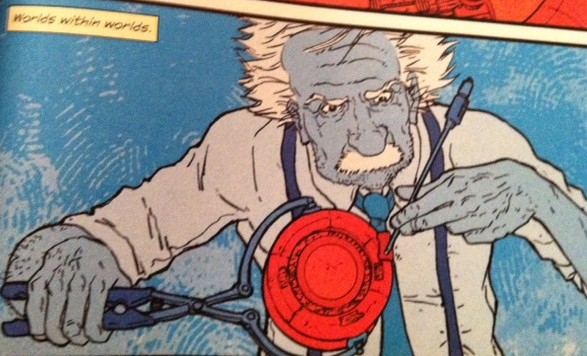 9) Mind MGMT
Were this simply my mid-year best of 2013 list, Mind MGMT would be a resounding first place as my favorite comic of the year.
In terms of jumping into an ongoing series, though, Matt Kindt's wonderfully mysterious psycho-espionag
e thriller is a little tougher. Mind MGMT is twelve issues in, and each issue is loaded with easter eggs, insights, and bonus nuggets that make rereads very rewarding. It's also a little less practical to try and get caught up by the time Dark Horse releases issue #13 at the end of July; Volume 2 of the series is only available via pre-order right now.
Nonetheless, if you can get caught up on issues #7-#12 at your local comic shop, or through the Dark Horse digital store, I highly recommend. This is a comic arc you'll want to say you were a part of.
Get Caught Up! – Mind MGMT Volume 1 & Volume 2
8) Saga
Similar situation as Mind MGMT – definitely a top three favorite (competing with Matt Fraction and David Aja's Hawkeye for that number two spot), but Brian K. Vaughn and Fiona Staples are already two trade volumes into the instant classic story.
Saga is easily the most recommended comic book on the shelves, and we're early enough into the storyline where you can pretty reasonably get up to speed with the series. The "Romeo & Juliet start a family except they're in Star Wars" concept of Saga has already vaulted the book into "comic for people that don't even read comics" territory, which is pretty telling. Trust me, a couple years from now when everyone at the comic shop is talking about the conclusion of this series, you'll want to say you were there when.
Get Caught Up! – Saga Vol 1 & Volume 2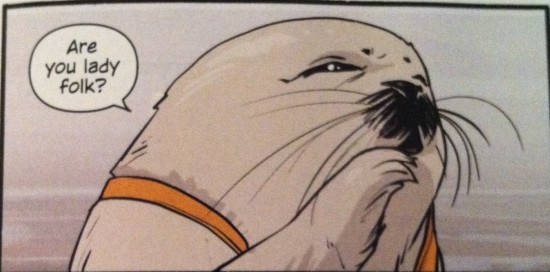 7) Bedlam
I'd heard good things about both Bedlam and Nick Spencer (of Morning Glories fame – another frequently referenced gem a little too deep into its run for me jump in), but I didn't really understand why until I found Bedlam #1 for free on Comixology.
The first issue is a stunningly well executed spin on the classic Joker vs. Batman dilemma, with a great hook: What if the Joker couldn't be evil and violent anymore? What if he had to help?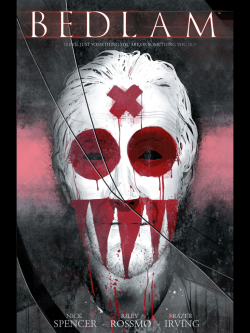 I won't ruin how Spencer creates this scenario, but his anti-hero/monstrous villain, Madder Red, is one of the most compelling characters to hit comics this year. Bedlam is only on issue #7, so you can very quickly catch up through one trade and the most recent issue from your LCS. Personally, I downloaded the first 6 issues on Comixology and absolutely inhaled the series, completely unable (is that unwilling?) to put the book down.
Get Caught Up! – Bedlam Volume 1
6) Young Avengers
Ok, I know I said there'd be limited Marvel & DC comics on this list, but Young Avengers is too well done to avoid mentioning. Kieron Gillen and Jamie McKelvie have taken Allen Heinburg and Jim Cheung's young heroes and hardly missed a beat from the original series. It's teen drama, but it's thoughtful, action-packed, and occasionally heartwarming. This series is worth picking up on either one of two things alone: 1) Kid Loki's bacon divination spell or 2) Gillen & McKelvie's sensitive, charming, fearless handling of a teen homosexual relationship in a mainstream comic book. I'll let you choose whichever is more appealing to you.
In addition to all that, there's at least one genre-bending stylistic innovation per issue. Six issues in and Gillen & McKelvie's ability to put to page something I've never seen before in comics is astounding. If you're a fan of the art form and the places it can go, Young Avengers is guaranteed to satisfy.
Get Caught Up! – Young Avengers Vol 1 (out September 2013)
5) East of West
Jonathan Hickman's having a pretty good year. 
For most writers, the stellar and beloved Manhattan Projects, alongside a little comic called Marvel's Avengers & New Avengers, would be more than enough. Hickman came along and dropped East of West on us, though, with art from Nick Dragotta. Just four issues in, but in my opinion it's the best of the bunch.
What makes East of West so compelling? Well, it's a dystopian future world, a la Fallout, and the literal four horseman of Apocalypse are the main characters. These aren't exactly your X-Men's Apocalypse, though, and Hickman and Dragotta are fast creating one of the most interesting science fiction universes in comics.
Get Caught Up! – East of West Vol 1 (Trade pre-order available in September 2013)
4) The Wake
Scott Snyder and Scott Murphy's The Wake has long, building moments that lull you into a sense of security. I've read this story before. This doesn't feel very interesting AT ALL.
Suddenly, you're in the future. There's a girl talking to a dolphin and I'm pretty sure they're having a genuine conversation. What.
The Wake is an aquatic horror thriller from DC's Vertigo imprint, and through two issues it's managed to reel me in despite all my expectations to the contrary. From his work on American Vampire and Batman we know Snyder is one of the best writers in the business. I'm willing to bet that The Wake continues to bolster that reputation as the pieces of this mystery start to come together. And if not, it's listed as a 10 issue series, so you can hop in and be done within a reasonable, clearly stated timeline.
Get Caught Up! – The Wake on Comixology (only two issues so far)
3) Astro City
I missed out on Kurt Busiek's legendary Astro City the first go round (to my credit, I think I was like 4 when it started) and I'll be shamed if it happens again.

Part of the challenge with Astro City is that, unlike the other new series on this list, it does come loaded with universe continuity and history. The second issue of the series will be released today, but the first issue seemed to indicate this was an issue Busiek is well aware of. It's largely inviting, and although there's a clear sense of "remember this character?" I don't think it should you keep you from diving into the new iteration of Astro City.
If you're worried about missing out on history of The Samaritan and the Honor Guard of Astro City, you could always dive into the past. Otherwise, it's pretty easy to get started with the first two issues of a brand new run on the series today.
Get Caught Up! – Astro City #1 
2) Jupiter's Legacy
There's a good chance that you know Mark Millar, and there's a good chance that even if you don't think you know Mark Millar, you know Mark Millar.
The comic book writer behind Kick-Ass, Wanted, and Marvel's Civil War is without a doubt one of the most successful dudes in the industry. Jupiter's Legacy is his new magnum opus, alongside Frank Quitely, the artist who gave us All-Star Superman with Grant Morrison (among others).
I haven't been all-in in on many of Millar's others comic books (I'm looking right at you Wanted), but there's little use denying he's a master of concept. Jupiter's Legacy continues that… well, legacy… with a look at the universe the classic superheroes (think Golden Age Superman and the Justice League) have left for their new, modern super-children (ok, teens/young adults).
This series easily has the potential to reach "all-time great" status, or at least one of the all-time most discussed. The arc is only two issues in, and due to a lengthy two month period between issues, is nearly the easiest series on the list to get caught up with. That said, you'll need to head into your local comic shop to check this one out: Millar is not allowing digital sales of the book.
1) Punk Rock Jesus
So, ok, yes, this is kind of cheating.
Punk Rock Jesus is a (stellar) six issue limited series from Sean Murphy, current artist working with Scott Snyder on The Wake. The story is inevitably deeper and more profound than any synopsis can encapsulate, but the concept for Punk Rock Jesus takes a slightly futuristic America (2020 and on) and clones Jesus Christ for a reality show. Hilarity ensues. Ok, no, no, not hilarity, although Murphy certainly has the skill and writing nuance to create lighter moments amidst religious, political, and ethical turmoil.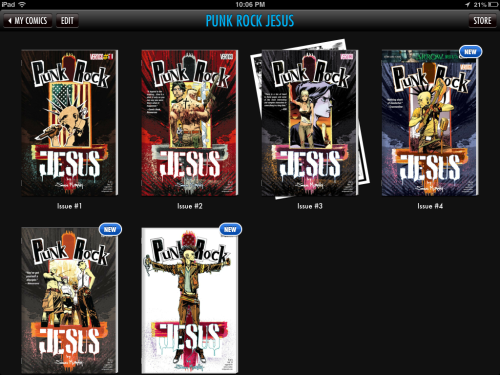 The all black-and-white comic series is a genuine work of art, tackling some of the biggest issues in American political discourse in six issues of heavily detailed, graphic story-telling.
And as far as jumping on points go… there isn't a series on this list that's easier to join than Punk Rock Jesus. You can read all six issues right now, and I highly recommend that you do.
Get Caught Up! – Punk Rock Jesus
There you have it – my 10 best ongoing comics of 2013 that you can get started with today. What do you think? Miss any of your favorites? Do what feels right to you in the comments.