"I just like having it in my hands."
If I'm saying this it means one of two things: 1) I'm defending myself after my wife complains about me having my hands down my pants in broad daylight or 2) I'm explaining why I prefer print books to digital.
I'll never stop shoving my hands down my pants (I'm my own man! What's that? Dirty dishes? I'm on it, honey!), but digital comic book reading may have won me over this past week. Here's why.
If you follow comic industry news, you probably heard the two big digital announcements within the last week.
First, Comixology extended its largely pleasant and mutually beneficial digital comics monopoly with subscriptions and bundles. Subscriptions are a long time coming, and of course just mean you can subscribe digitally to have your favorite comic series added directly to your Comixology library without needing any pesky reminders to go in and buy. It's just extending the concept of the pull list to Comixology.
Support For Comic Book Herald:
Comic Book Herald is reader-supported. When you buy through links on our site, we may earn a qualifying affiliate commission.
Comic Book Herald's reading orders and guides are also made possible by reader support on Patreon, and generous reader donations.
Any size contribution will help keep CBH alive and full of new comics guides and content. Support CBH on Patreon for exclusive rewards, or Donate here! Thank you for reading!
Bundles, on the other hand, gather suggested reading collections, frequently at discounted rate. Have you heard of Image Comics' Chew but never got started, and now it's on issue #37 ongoing and you feel like you missed out? No worries! Comixology has bundled every issue into a very reasonable $39.99 package.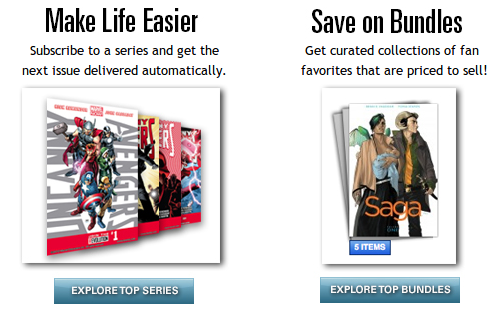 More on the Comixology news in a minute, but the gist of the additions are as follows:
It's preposterously easy to collect ongoing comics digitally. You might never have to leave your house again.

Catching up on awesome, critically acclaimed runs is easier than ever before, and generally more cost efficient. No more waiting for the hardcover omnibus collection that never come – you can get the whole collection (when its available) fast and easy.
On the heels of the Comixology updates came the news out of Image Expo that Image Comics (esteemed creator-rights advocate and publisher of Saga, Chew, and The Walking Dead) now offers digital comics DRM-free!
If you're like me, you immediately did a fist pump upon reading this (just one; this isn't a dance party, Chief) and then wondered aloud: Wait… what does DRM stand for?
DRM means "Digital Rights Management," or in the world of comics before this announcement "Digital Restrictions, Man." Before the Image Comics announcement, this has essentially that meant that you don't really own any digital comics you purchase. You're just renting a digital version, but there's no file or anything for you to actually own and store, a la an mp3 through iTunes.

Image's DRM-free policy, means that when you purchase a comic through the Image Comics digital store, you actually get a PDF, CBR, or CBZ file along with the purchase. These file types have long felt like the mysterious work of Pirate E. McTorrent, but now digital file ownership is actually being embraced by the number three comic publisher (and I'm talking sales when I say that). It's a huge move for digital comics, which are increasingly taking their share of the comic marketplace.
That dissonance you're sensing, though, is the gap between the Comixology updates and Image's heralded win for digital ownership. On one hand, it's easier than ever to collect all your comics through Comixology, sitting on your couch and never moving and clicking like 4 buttons and owning ALL OF THE COMICS. And on the other hand, you don't much own ANY of them.
If, say, Comixology were to host an unprecedentedly large Marvel #1 sale, and all of their servers crashed, no Comixology comics would be available. There is no back up file and alternate option to access those comics during that time. This can be dangerous.
Personally, though, the convenience of Comixology – particularly now after subscriptions and bundles – is so extraordinary that I'm not as worried about comic book ownership as I probably should be.
Since the announcement, I've been able to catch up on the first issue of Greg Pak and Jae Lee's Superman/Batman #1, subscribe to the series, catch up on issues #14-25 of Injustice: Gods Among Us ($0.99 each), subscribe to that series, and purchase every collected issue of Chew for over $10 off what I would have paid on Amazon.
I did all of this without needing to drive to the comic shop, or worry about whether they were open or not, or really even needing to put on boxers. Screw pants, I'm going straight to whether or not I was clothed at all.
And really, end of the day, with these new features Comixology becomes the perfect comic book connect for the lazy naked human in all of us. It's like intravenous comics, fed directly into my imagination cells.
Plus, I'm about a shoebox full of comics and a trade stuffed into an already full shelf away from exploding my apartment. There will always be a part of me that prefers owning a physical copy (and I'll continue collecting my favorite comics in physical form for now), but there's a lot to be gained space-wise by purchasing digital.
Are there flaws in this revolution? The Image update to DRM-free points out one glaring one, but again, their strong move might mean better news for the ghost of comic book future.
Otherwise, the only real concern I have would be the impact on the local comic shops. I totally know what to make of this one yet, and since I'm collecting issues through both Comixology and my LCS, I figure I'm just bleeding money into the comics machine every way imaginable. I'll be broke and mad within a year, so maybe I just won't have to worry about it.
What do you think? Still resistant to digital comics, or embracing the digital wave of the future? Do what feels right to you in the comments.
Related articles