It would take Crisis on Infinite Earths
to stop Superman. Wolfman and Perez's cosmic classic was meant to be the first story in a new era for DC's heroes. Which meant the end of Superman and Action Comics, and the creation of one last story.
Alan Moore's Whatever Happened to the Man of Tomorrow?
marks the "end" not for the hero, but more for Superman's two on-going series and what they represented. It's a bold book that provides a kind of final statement on the hero's whole ethos, and it's still a magnificent example of how to say goodbye to not just heroes, but particular definitions of heroism.
Whatever Happened to the Caped Crusader?
is, unabashedly, an attempt to recreate that prior miracle. Like its predecessor, it comes before an important reboot (in this case, the major developments and cosmic expansion between Final Crisis
, Blackest Night
, and New Krypton
), the death of an iconic hero (Batman: RIP
.), and ushers in the ending of two of DC's longest-running titles (Batman & Detective Comics).
What's Good

The Writing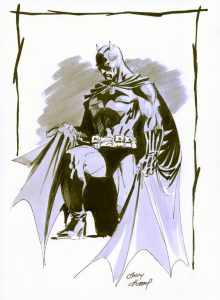 Whatever Happened to the Caped Crusader? is a series of vignettes told by Batman's villains, each one illuminating some part of the Dark Knight only they knew. It's a classic frame tale, like Canterbury Tales or, closer to home, one of the very best episodes of Batman: The Animated series.
Support For Comic Book Herald:
Comic Book Herald is reader-supported. When you buy through links on our site, we may earn a qualifying affiliate commission.
Comic Book Herald's reading orders and guides are also made possible by reader support on Patreon, and generous reader donations.
Any size contribution will help keep CBH alive and full of new comics guides and content. Support CBH on Patreon for exclusive rewards, or Donate here! Thank you for reading!
Here, the frame is a "funeral for a friend," with Batman as the man in the pine box and his funeral parlor being a dive bar in Gotham. The story is told mostly through eulogy and delivered entirely by unreliable narrators — foe and friend alike — which lets the tale get playful in twisting and revising continuity to fit the frame.
The Art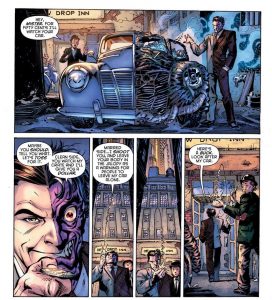 For this book, Gaiman is rejoined with artist Adam Kubert, his partner on Marvel 1602
. 
Kubert's work is the best part of this book. It's rich and dramatic… and wonderfully wild. F0r this story, Gaiman asked his artist to mimic the styles of iconic Batman artists like Carmine Infantino, Neal Adams, Jim Aparo, and more. There's a fantastic illustration of Two-Face's car that seems so wonderfully Jim Lee. Kubert returned his pages, saying, "I drew these as if those artists were trying to impersonate me," and that explains how the book moves so subtly and naturally between styles. There's a strange cohesion here, like many people with one goal rather than one with many. 
Maybe the most shining example of Kubert at work is how each time a new speaker approaches the pulpit, Batman's body changes in the casket to match their artist.
What's Less Good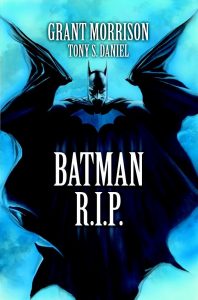 Whatever Happened to the Caped Crusader? came out at the tail end of Grant Morrison's landmark run, which, incidentally, also featured Andy Kubert on art duty. I read both in real-time, and I remember Gaiman's effort being a colossal disappointment by immediate comparison. 
Now, years removed from this, Gaiman's work fares a little better. But no matter how much time has passed and no matter what you do, don't hold Gaiman's final Batman tale beside Moore's Superman.
Single Issues
Gotham, England
For more than 30 years, Neil Gaiman has been the embarrassed icon of quaint and quirky Britishness. And this book simply will not let you forget it.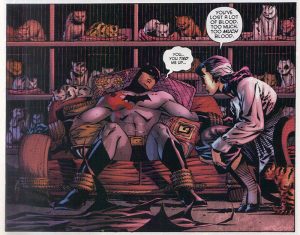 WHTTCC? begins outside of a bar, where a classic English vagabond seems might be running some fake valet scam. One that might run him afoul of the worst villains in DC comics (Oh, the wit of it. The irony.) Inside of the bar, there are references to the Globe Theater, Lewis Carol, the Bard… after that, Gaiman seems to have just thrown Victorian lace over the furniture. 
Batman's aesthetic owes a lot to Victorian horror, but here it's outrageously distracting — I mean, even I don't quote Chaucer and I'm objectively terrible — and totally removes the noir and mob elements of his world.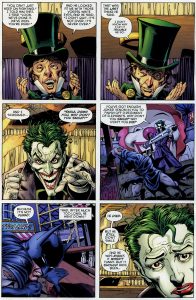 The second issue is mostly spent explaining the meta of the two books, which is delivered by its unseen mystery narrator, a character so unseen and so mysterious as to be distracting. The mechanic wastes time, and having to further explain doesn't solve one problem so much as create three more…
The first book is told in two vignettes. The second is told in 12 (not counting mom epigraph.)
The idea behind this is solid, as it keeps the story from focusing on just one Batman at the expense of all of the others. But it makes the final issue thin and clunky. Furthermore, it causes a lot of repetition (so many characters, all with one purpose, all committing the same action.)
Almost Got 'Im
In 2009, Neil Gaiman was coming back into comics cold after having spent a long time away from the medium, working on books and other distractions. While Gaiman absolutely has the potential to write great comics, I'm not sure that this time he had the ability. No matter how big his name is, or how impressive his resume, this book should not have been his big return. First, because this character and this kind of story are both much too complex to pick up running like this. Second, because there was too much riding. But more importantly second, because Gaiman has always had an inferiority complex with Alan Moore.
Which is writ large between their two works.
Gaiman and Moore
Whatever Happened to the Man of Tomorrow? focuses on a single story about a single Superman. The story starts enormously, holding seemingly the entire narrative potential of its hero and yet it accepts having a finite end. By doing this, Moore could say something definitive about the book, our love of it, and what we were losing.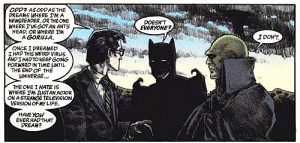 Whatever Happened to the Caped Crusader? is the insecure opposite. It tells more than a dozen stories about at least as many Batmans. And not only are they unfocused, but they're non-canonical. They're stories by unreliable witnesses, refuted by the book's narrator, and I don't think it even takes place in Gotham.
Caped Crusader is just a retread; there's nothing new here. Even Gaiman's biggest take on Batman — the writer's portrayal of Alfred Pennyworth's dark involvement and complicity in Bruce Wayne's end — is a retread of a Sherlock Holmes twist that Gaiman had already lifted for another work six years earlier. I'm not even positive this tale takes place in Gotham. The book seems destined to chase hopelessly after the work which it's so nearly named.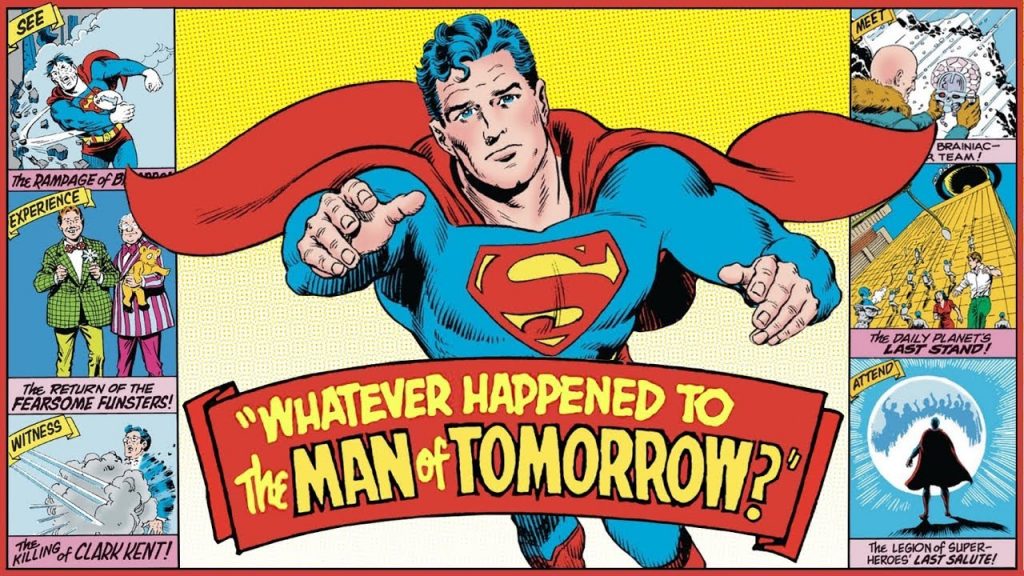 Finality
The end result is that nothing is real here, nothing is final. There are no definitive takes on why we love the character because there are too many to count. It all seems half-baked, to the point where I think this was never supposed to be the last Batman story so much as it was supposed to be Gaiman's first story back. All of the voices are his, the influences are his, it's even held together with some Sandman references.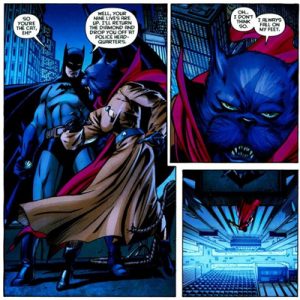 Normally I'd try to find a bright side and suggest the book for someone: new or nostalgic Batman fans, Gaiman die-hards, Andy Kubert fans, someone. But to be honest, I just don't know who this book is for. There's not enough Gaiman or Batman to make this a clear purchasing decision. And while Andy's work is superb, the ever-shifting aesthetic feels more obligatory than revelatory (see: Cat.)
In spite of Andy Kubert's best efforts, the book doesn't seem to not understand itself at all.
In Moore's story, the lesson is not that Superman died nor the inevitability of that death. Instead, Man of Tomorrow? was about just how much it took for him to go into that good night. It took everything because that's what the hero gave every time. In Gaiman's story, it's as if anything can kill Batman because Batman is born of death and damned to it.
So perhaps, we think, Batman is always dying. Maybe even always dead. Intentionally or no, Gaiman shows that nothing has ended; nothing new began. The same people that claim Batman's life will do so again and again, and they will not mourn him… only themselves. The same way Bruce did in Crime Alley.
In the end, Superman saves the world. At the end of Caped Crusader, has anything really changed?