The world of comics was given a mainstream kick in this pants this week when Marvel announced on The View it was adding boobs to Thor and melanin to Captain America on the Colbert Report. Beneath the arguments of sexism and racism and cries of selling out and loss of originality, fans may have forgotten the week started with a small announcement regarding one Barbara Gordon aka Batgirl.
After a largely-successful run that saw some controversy when she was abruptly fired and then quickly re-hired a week later, Gail Simone is stepping away from the title and the character she redefined with the introduction of the New 52. During that time, Simone, who is also penning a bad-ass interpretation of Red Sonja, added her mark to a hero that defined gender stereotypes in comics. Batgirl didn't need to show skin or flash her taters to titillate villains or impressionable readers. The book was entertaining, it was intelligent, and it was heartfelt. The stories often revolved around her family, including her father, Gotham City Police Commissioner James Gordon, and her close friends. Her love life, or lack thereof, was touched upon, but not so much that it became an awkward-girl-can't-find-a-man-because-of-work parody.
The book was important culturally as well with Simone's introduction of Alysia Yeoh, the first-ever transgender character in a mainstream comic. Despite those who claim the "gay mafia" is beating them over the head with the issue, Alysia's story was never overdone, never made political. It simply was what it was, just like it tends to be in reality.
With storylines that saw the Joker, who shot and paralyzed her from the waist down years earlier, return; her father shoot and nearly kill her sorta boyfriend; her homicidal brother attempt to kill her and her family; and a loss of faith in The Man himself, Batman, Barbara has been through a lot during Simone's run.
Starting with issue No. 35, it all changes again.
Support For Comic Book Herald:
Comic Book Herald is reader-supported. When you buy through links on our site, we may earn a qualifying affiliate commission.
Comic Book Herald's reading orders and guides are also made possible by reader support on Patreon, and generous reader donations.
Any size contribution will help keep CBH alive and full of new comics guides and content. Support CBH on Patreon for exclusive rewards, or Donate here! Thank you for reading!
According to reports (SPOILERS), Barbara loses everything in a fire and decides to move to the college district of Burnside. Part of her new life includes a new costume due to the destruction of the old one and here's where fans became vocal. Comic fans can usually take change in locales pretty well, but change a costume that has been static for decades and people start to lose their minds. But we'll get to that in a second.
The new creative team of Cameron Stewart and Brendan Fletcher (writers) and Babs Tarr (pencils) are younging up Barbara Gordon. A costume that is less spandex and more leather with Doc Martens and a mission to earn her Master's Degree, the new Batgirl is doing something we as fans haven't seen her do: be young. She's going to hang out with college students who do the sort of things college students do. She's going to fight crime in Burnside, leaving Gotham to the rest of the Bat Family. Much like Dick Grayson taking Nightwing to Bludhaven, Batgirl's move to Burnside is an attempt for her to become her own woman, away from her father and away from Batman.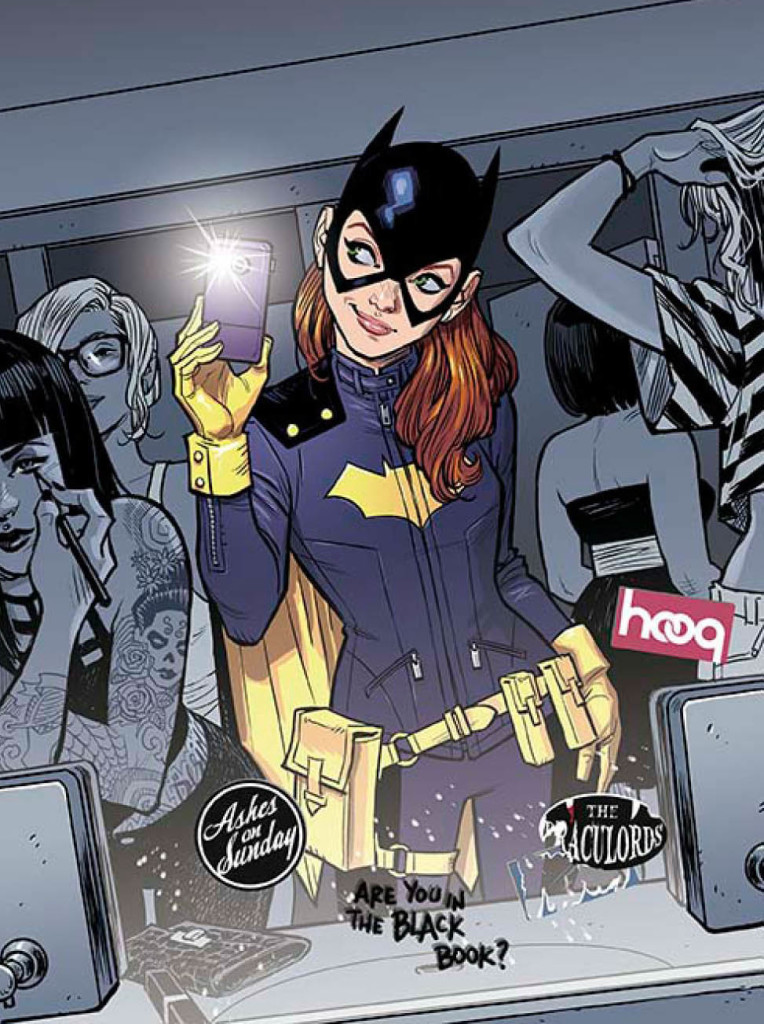 Being one of those aforementioned fans, I was ready to hate the new costume, but the more I look at it, the more I'm drawn to it. It's more realistic, given her more a Hit Girl look, and less like sleek eye candy. She's forced to make a new costume with the items at hand and the result is a uniform that is appropriate for her surroundings.
While Tarr's pencils are pretty sweet and have that indie look, I don't know that I'm a fan of how young Barbara is being made to look. Based on the ages of Batman and Nightwing and based on Batgirl's own experiences, I would place her in her mid- to late-20s. In the drawings that have been released this week, however, she appears to be in her mid-teens.
But that's a very small complaint on my part. As someone who has been a fan of this title since Batgirl: Year One, I'm very much looking forward to yet another transition in Batgirl's life and am hoping the new creative team is up to the task of filling Simone's very large creative shoes.