Two issues in, and we already get a giant battle between a demon Nazi with two giant robots and a large percentage of Marvel's biggest characters. Apparently Rick Remender didn't get the message that Marvel events are supposed to hold back on anything exciting until the last issue (or maybe last two), and the rest of the event is meant to promise that something cool is coming like they're dangling a shiny object in front of our faces. Anyway, Axis began on a good if not spectacular note, but how does the second issue continue the tale of Red Onslaught's rampage?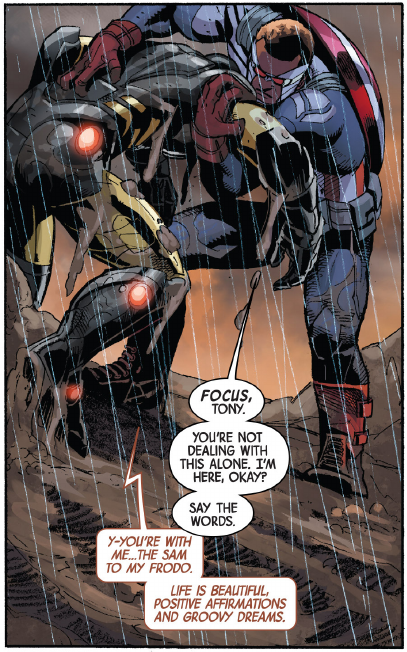 Following off the cliffhanger of last issue where Red Onslaught creates two sentinels based on designs that Tony Stark had subconsciously created during Marvel's Civil War event, things are not going very well for our heroes. Tony Stark is understandably shell-shocked that his friends are being taken down by something he designed (however indirectly). Eventually Captain America snaps him out of his shell-shock state, however most of this issue is filled with Stark's inner monologue about how he has always taken notes of how to take down those he considers to be a rival (which eventually became everyone), and how he hates that this aspect is a part of him. Iron man throws together a desperate plan to stop Red Onslaught, and things quickly get even worse. That's actually a good way to summarize this issue: the heroes' backs are on the wall, they fight back, and things get worse very fast. That's not a bad thing, I'm not saying that this is extremely predictable or anything (I mean it's a corporate event, how "shocking" can it get), there just is a pattern to the storytelling.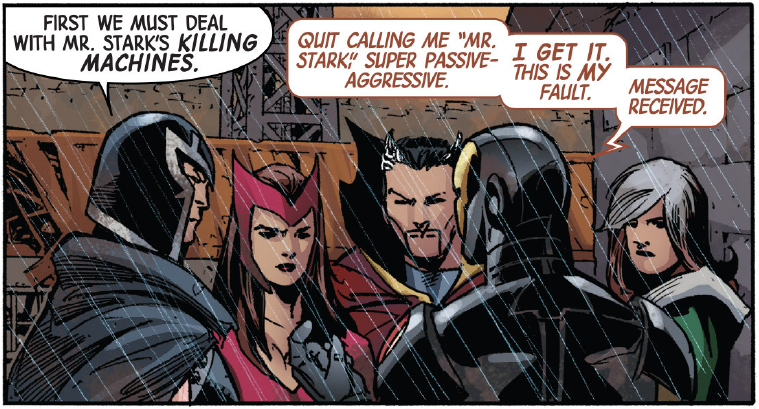 Rick Remender cuts back a bit on the quipping this issue, mainly having Iron Man throwing jokes around, but it all fits with the tone and helps elevate the stakes for this book. He does have some really good interactions between these characters, with the highlight being the back and forths between Iron Man and Magneto. If there was one rather odd thing about this issue, it's that more than halfway through the issue, the text boxes switch from focusing on Iron Man to Havok. It fits with what's going on at the time, but it's also rather jarring to suddenly switch characters in this manner. Remender also is able to write some very good "inspirational speeches", especially the one Stark makes when he needs to motivate the remaining heroes to pull off one final assault on Red Onslaught. Even though Remender is cutting back on the joking a bit here, he still is able to make this issue a fun and enjoyable read.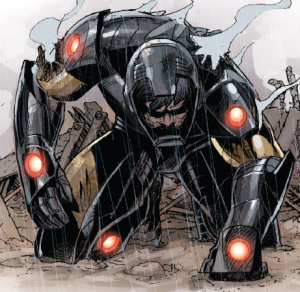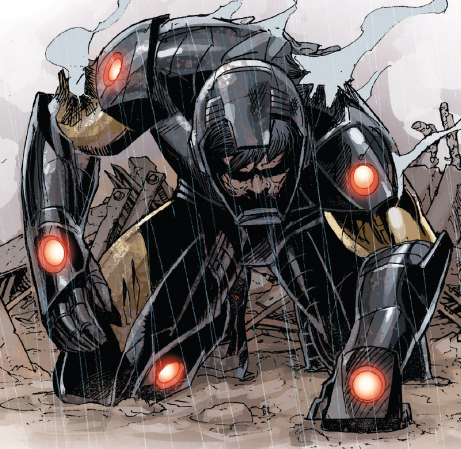 Adam Kubert's artwork is still solid overall, but it starts to waiver a bit in this issue. The line-work starts to get a little more sloppy looking during the middle of the issue, one particular scene that stands out is a moment between Wasp and Havok where there is not a lot of detail on their faces (more notably on Havoks deformed face). Thankfully the artwork is strong where it counts. The big battles between heroes and sentinels, Red Onslaught himself, and the emotions being depicted on the characters faces especially when everything seems lost. Let's hope he returns in strong for to this series seeing as the next two issue will be done by Leinil Francis Yu.
Overall Avengers & X-Men: Axis is shaping up to be a fun event. We're two issues in, they have basically comprised almost entirely of fighting, and the stakes are being continuously raised throughout the book. There are still some hiccups involving the large cast of characters, large number of plot points being carried over into this book, wavering art, and more jokey dialogue from the characters (especially last issue), but everything seem to be coming together so far. While we still have seven more issues (and several more artists rotating in) to see if this event falls flat on its face, with Rick Remender at the helm, I think we're in for an enjoyable ride.
Support For Comic Book Herald:
Comic Book Herald is reader-supported. When you buy through links on our site, we may earn a qualifying affiliate commission.
Comic Book Herald's reading orders and guides are also made possible by reader support on Patreon, and generous reader donations.
Any size contribution will help keep CBH alive and full of new comics guides and content. Support CBH on Patreon for exclusive rewards, or Donate here! Thank you for reading!
CBH Score: 4 out of 5

[schema type="review" rev_name="Avengers & X-Men: Axis #2″ user_review="4.0″ min_review="0.0″ max_review="5.0″ ]