What power in the universe can stand before the Annihilation Wave?
Bound together by the need to survive, one group of often-ignored intergalactic heroes and villains will be the only thing standing between the Marvel Universe and its complete destruction. And from this fight will come the rebirth of Marvel Cosmic and a new generation of heroes.
Annihilation
, an event that spanned 29 issues, two years, and 8 different series, was brought to life by writer Keith Giffen and editor Andy Schmidt to give dozens of characters, worlds, and concepts a new lease on life. But to do so, the Marvel Cosmic Universe needed to be brought to the brink.
The seeds of Annihilation were planted in 2005 with the closing arc of Thanos: Redemption
and the Drax the Destroyer
miniseries. But it was the publication of Annihilation Prologue and four separate alternating miniseries that tracked the characters of Nova, Silver Surfer, Super-Skrull, and Ronan the Accuser that marked the arrival of Annihilation – an intergalactic epic that saw allies and enemies from across Marvel Cosmic's history band together to fight the overwhelming hordes of Annihilus. As this army surges from the Negative Zone and destroys everything in its path, the known order and makeup of Marvel is utterly destroyed by Giffen and a legion of writers and artists to make way for something new.
Support For Comic Book Herald:
Comic Book Herald is reader-supported. When you buy through links on our site, we may earn a qualifying affiliate commission.
Comic Book Herald's reading orders and guides are also made possible by reader support on Patreon, and generous reader donations.
Any size contribution will help keep CBH alive and full of new comics guides and content. Support CBH on Patreon for exclusive rewards, or Donate here! Thank you for reading!
Annihilation was somewhat eclipsed at the time of its debut by the concurrent publication of Marvel's Civil War in 2006 – itself a massive event that touched every ongoing book. Civil War fractured Marvel's earthbound hero community and by the nature of it starring characters like Captain America, Iron Man, and Spider-Man, it gained greater attention at the time than Annihilation. But in the years since, Annihilation's reputation has surpassed Civil War due to both its quality and long-term impact.
Let's examine the historical and editorial roots of the event, Giffen and company's storytelling choices, and the event's long-term impact to understand how Annihilation rebirthed Marvel Cosmic through its destruction.
"All serve Annihilus! Annihilus is the will and the way and he WILL NOT BE DENIED!" – Prologue
—–
Building The Wave
—–
Marvel Cosmic is the overarching term applied to the characters, worlds, and concepts that make up everything outside of earthbound Marvel stories. But it's an idea conglomerated from a massive amount of creators over the decades. You can trace it all back to Stan Lee and Jack Kirby's Galactus Trilogy in 1966, or at least I have already, but it's something that has been continually pushed forward with each new story. These additions range from creators like Chris Claremont adding in a variety of X-Men-related ideas like the Shi'ar Empire and The Phoenix Force to Roy Thomas' Kree-Skrull War reshaping empires and embroiling The Avengers in a conflict far larger than Earth.
But the decade leading up to Annihilation was almost entirely devoid of major cosmic stories.
Prior to Annihilus' attack, the last major Marvel Cosmic event was The Infinity Crusade in 1993, unless you count the rather minor Maximum Security in 2000. After Starlin's Infinity Trilogy and the ongoing Infinity Watch series, which ended in 1995, Marvel Cosmic largely fell apart without a unifying direction. Aside from the occasional X-Men story, the continued adventures of The Fantastic Four, and Jim Starlin telling other Thanos writers to stay off his lawn, Marvel Cosmic went to the wayside.
In no small part, it was due to a lack of interest from Marvel Editorial and specifically then-new Editor-in-Chief Joe Quesada.
"Joe's made no secret of the fact that, by and large, the cosmic side of the Marvel Universe didn't speak to him as directly as some of the other characters did," said then-Marvel Heroes group editor Tom Brevoort (quotes in this piece are from interviews as part of Sktchd's oral history of Annihilation). "So while we'd occasionally dabble in those fields, there wasn't a great deal of effort being expended on it overall."
A lack of interest in Marvel Cosmic was both a help and hindrance in editor Andy Schmidt getting a new cosmic event going at the publisher.
"I was looking for something I could take the reins on," said Schmidt. "I had been formulating ideas and trying to convince Marvel to let me do a big event out in outer space. There were several different versions of events that I had pitched that went nowhere. The fact that I kept pitching it eventually got me the status of, 'Well, if anything comes in Marvel Cosmic, give it to Andy to review.'"
At the time, Jim Starlin's ongoing Thanos series was the only active piece of Marvel Cosmic and when Starlin left the book after 6 issues, Schmidt moved veteran writer Keith Giffen onboard and together, the two began creating a proof of concept for what would become Annihilation. First came six more issues of Thanos, and then the 4-issue Drax The Destroyer miniseries, which turned the massive, low-intelligence brute into the cunning, knife-wielding killer loved by fans today.
Drax sold poorly, but it's warm reception proved that what the creators did on a small scale could be done for a universe of characters.
What separates Annihilation from the previous approach to Marvel Cosmic, one largely shaped by Jim Starlin's tales of Thanos and Adam Warlock, is that Giffen and Schmidt's vision was primarily focused on smaller, lower-powered characters in a war setting, instead of on intergalactic, godlike beings grappling with questions of existence.
If Starlin's seminal Infinity Gauntlet is the struggle to both attain and then be destroyed by godhood, then Giffen's Annihilation is the struggle to simply survive when faced with overwhelming, mindless destruction. There's no time for reflection, no time for larger questions of life's meaning in the battle to stop the universe's genocide. Characters once seen as either heroes or villains are distilled down to their essence in the fight to survive and it's only then that we see them grapple with their own natures.
Look at the roster of Annihilation, helpfully outlined by Nova Corps Files published in the backmatter of each issue, and you'll get a laundry list of creators who helped shape Marvel Cosmic over the years. What Annihilation aimed to do was consolidate this wide variety of tones and influences into one consistent vision. A vision of a battle-torn universe where the need to survive outweighs the simple division between good and evil. And it's a vision that defined Marvel Cosmic for years afterward.
"In a lot of ways, Annihilation was a rehabilitation of the perceived value of cosmic properties," said Schmidt. "There was a rehabilitation of the names and the perceived value in the readers and retailers. We had to build the confidence back up."
And to build that confidence up, they had to burn everything down.
"Nnn – Aaggh! No! Too fast! It's all happening too fast!" – Prologue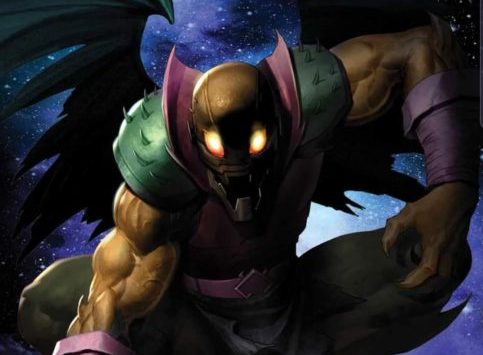 —–
Annihilation Arrives
—–
Annihilation starts with a massive bang. A humongous fleet of ships from the Negative Zone punch into the Marvel Universe and immediately destroy the space prison known as the Kyln. And before anyone has time to react, the Annihilation Wave arrives at Xandar – homeworld of intergalactic police The Nova Corps, wiping them out in mere minutes, with only Richard Rider surviving. Billions dead and no end to the wave in sight.
What makes Annihilation thrilling from start to finish is that it makes readers deeply invest in multiple distinct characters and then mercilessly tightens the knot around them. The pace of the prologue, the Nova miniseries, and the main event in particular are relentless, with Giffen increasing the danger of the Annihilation Wave with every new reveal. And at the head of the wave sits Annihilus, a longtime Fantastic Four villain now hellbent on completely destroying the universe whose continued expansion threatens his rule of the Negative Zone.
There's no complexity to Annihilus. No redeeming qualities or ulterior motives. Like his bug army, Annihilus is a monolithic threat in pursuit of pure destruction.
Nova may have the entire power of the worldmind at his disposal, but even that isn't enough to beat Annihilus one on one. To showcase just how deadly the villain is, writers Dan Abnett and Andy Lanning have Annihilus brutally suck the life out of longtime hero Quasar. With each miniseries building toward the event in a model similar to what DC had just done with Infinite Crisis, the Annihilation Wave takes a toll on a different corner of the universe. The consumption of a newly thriving planet in Ronan's series. The capture and death of former heralds of Galactus to power the wave in Silver Surfer. The decimation of the Skrull Empire in Super Skrull.
As said by Abnett, "The Marvel cosmic characters were not only at the bottom of the toy box, they were broken and no one cared. Which meant there was much more latitude in what we could do with these characters."
Each of these series, brought to life by different writers and artists, show what it will take to save the universe and how even the greatest sacrifice may not be enough.
These four miniseries vary in tone and pacing. And while they also vary in quality of writing and art, they each feel distinct. Thankfully, artist Andrea De Vito and colorist Laura Villari really bring their A game to the main series, having to give life to fleets of ships, massive explosions, larger than life characters, and enormous worlds with every page. Annihilation is wide screen storytelling meant to rival Star Wars in scope while bringing a more visceral sense of action. Giffen also creates a rising tension to accompany the constantly increasing stakes while giving ample room to both tragic twists and heroic triumphs.
Annihilation takes characters with decades of history and spreads them across a universe filled with all manner of complex empires. But Giffen makes this story easy for new readers to pick up because of the nature of its central conflict. The Annihilation Wave sweeps across the cosmos and destroys the structures that had been in place for decades and as a result, characters are forced into brand new dynamics and the histories that defined the geopolitical layout are rendered irrelevant in the face of hungry death.
"In a way, it was simply … astonishing. Complete. Total. Utter. There aren't enough words to describe this level of devastation." – Issue 3
Annihilation has a massive scope. But what makes it successful is that Giffen is intensely focused on his relatively small group of central characters. It's clear from early on that Nova is the lead of Annihilation. Surviving the Wave's destruction of the Nova Corps and then grappling with taking on the entirety of the Nova Force's power in his own miniseries transitions into the main six-issue event, where readers largely take on his point of view through data log captions. But it's how each supporting character comes together and bounces off one another that keeps the series feeling fresh and thrilling.
Having these leads each given their own story means that readers become invested in their struggles. It's a natural buildup of personal stakes and varying viewpoints of the conflict. So when each hero or villain makes a critical choice in the main event, readers quickly understand what that means for both the larger conflict and smaller character arc.
In particular, Drax's evolution from unthinking brute to deadly assassin to compassionate surrogate father gives Giffen's event its beating heart. And Annihilation is the moment when Nova went from third-string supporting team member to badass intergalactic hero. And while Star-Lord would go on to be fully fleshed out in later stories, it was Giffen who brought Peter Quill into the modern Marvel Universe for new life.
"It was dusting off a lot of stuff," said Giffen. "It was trying to drag the Marvel cosmic realm kicking and screaming into modern comics."
Annihilation also gives us the thrill of seeing fresh character dynamics. That's everything from Drax training Nova to wield his power to Thanos creating a nefarious alliance with Annihilus to Ronan and Super-Skrull forming a strange duo for the sake of a stronger army. Even if these characters have been given countless stories in the years since, there's something still fresh and bold about Annihilation's dynamics that aren't possible in a typical Marvel event where heroes who have shared the page hundreds of times are once again teamed up.
And given their relative obscurity in a time before the guarantee of ongoing comic series and MCU movies, anyone can die at any time in Annihilation. It didn't hurt that most of Marvel editorial was intently focused on the behemoth that was Civil War.
"For the most part Andy was able to just put his books together and roll," said Brevoort. "There was a sense of Annihilation being sort of "alternative programming" for those readers who weren't into the idea of Civil War."
That showed in its sales figures as well. While Civil War #1 sold 260,000 copies in May 2006, Annihilation #1 only sold 60,000 in August of that same year. The cosmic side of Marvel will always be the alternative side of comics no matter how big Thanos or the Guardians may be on film. But few event comics can reach the emotional shock of Drax finally killing the one man he's been designed to destroy, the terror of the Annihilation Wave descending on our already overwhelmed heroes, or Nova using the last of his strength to turn Annihilus inside out.
"This is for the billions dead by your hand … This is for Nova Corps!"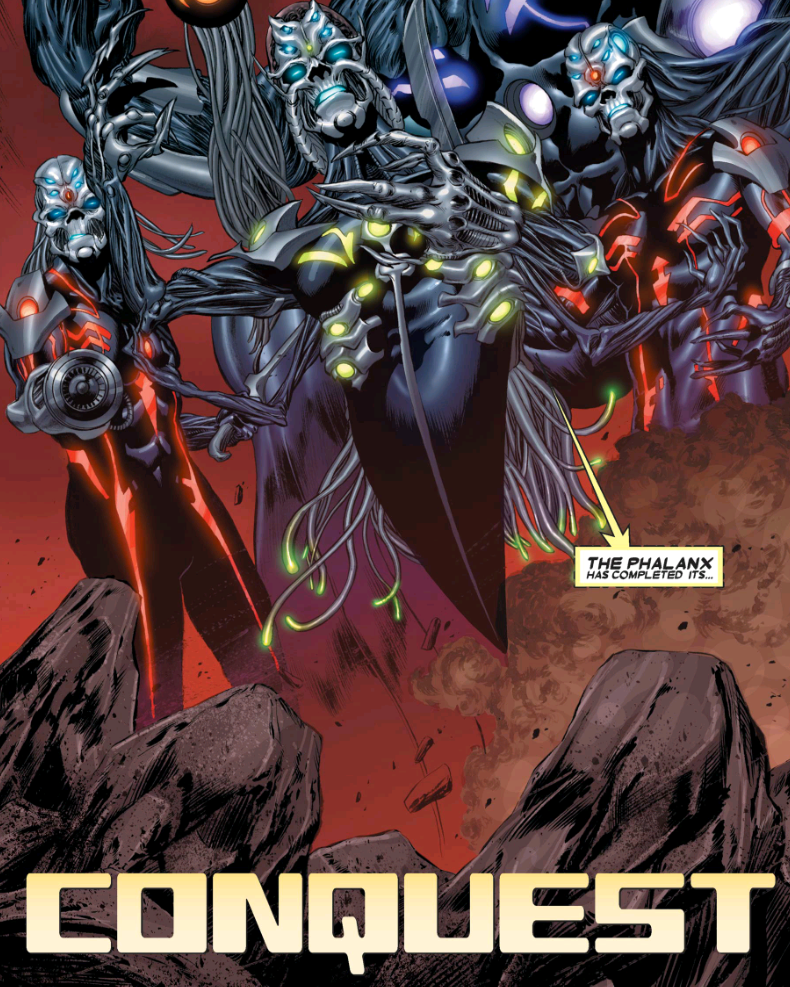 —–
The Legacy of Annihilation
—–
With the Annihilation Wave broken in a last ditch effort, our weary heroes find a small semblance of peace. But Giffen hints that the universe will need saving again soon. What Giffen and Schmidt didn't realize was that it would need to be saved much sooner than they expected.
The success of Annihilation immediately led to Marvel greenlighting a sequel, Annihilation: Conquest, which began only 2 months later. But the success of the original event led to Schmidt's promotion and move to the X-Men books. Meanwhile, Giffen simply didn't want to spearhead another giant event so soon. The originators of Annihilation were gone, and in their place were Dan Abnett and Andy Lanning, who had written Nova's miniseries and solo spinoff book following the event.
Given the success of Annihilation, Conquest was allowed to go even stranger and deeper with character and storytelling choices, pulling in The Phalanx as villains and Rocket Racoon and Groot as heroes. Today, Rocket and Groot are major players in the MCU, but in 2007, these two were extremely obscure figures from decades ago. In fact, they were so obscure and weird that when Giffen pitched them repeatedly for the original Annihilation, they were rejected. Almost as obscure were the Guardians of the Galaxy, but this space-faring group of heroes and their ongoing title sprang from Conquest with Abnett and Lanning at the helm.
What began in 2004 lasted through 2011, being brought to life through a variety of ongoing titles, like Nova and Guardians of the Galaxy, and universe-redefining events, like Annihilation Conquest, War of Kings, and The Thanos Imperative, all largely created by Abnett and Lanning, who were given their first shot at Marvel Cosmic with the Annihilation Nova miniseries.
This era of Marvel Cosmic came to a close with the miniseries Annihilators and Annihilators: Earthfall, and in the time since, the intergalactic side of Marvel has continued to morph. In particular, Jonathan Hickman's Infinity event, Jim Starlin's return to Thanos, and a series of Guardians titles largely inspired by their movie interpretations have shaped Marvel Cosmic. But without Annihilation, the Marvel Universe would look incredibly different.
"Crossover events for any company usually fit into one of two distinct categories," said Abnett. "They're either overly controlled or completely haywire. And I think that somehow Andy's editorial touch managed to keep tight control so that it all worked and held together whilst allowing for the imagination to run wild and to shape it as we went along. I'm not sure how he did it. I remember it very clearly as being an unusual experience. There was an even amount of both freedom and direction."
What made Annihilation special was multiple unique voices coming together under a unifying direction that didn't limit vision and passion in service of editorial mandate or franchising money. Today, Annihilation stands as a feverish, desperate struggle to survive where only sacrifice and luck can save a universe on the brink of destruction.
And from that destruction came a generation of heroes and adventures with greater life and potential than ever before.
Sources:
The Completely Insane & Utterly Comprehensive Guide to Marvel Cosmic Comics (1963 To Present)
https://www.cbr.com/keith-giffen-andy-schmidt-answer-your-annihilation-questions-part-1/
https://web.archive.org/web/20121007102146/http://www.comicbookresources.com/?page=article&id=6479
The Completely Insane & Utterly Comprehensive Guide to Marvel Cosmic Comics (1963 To Present)
"We Were Growing Something There": An Oral History of Annihilation and the Resurrection of Marvel Cosmic
https://comichron.com/monthlycomicssales/2006/2006-05.html
https://comichron.com/monthlycomicssales/2006/2006-08.html