Annihilation marks the beginning of Marvel's cosmic renaissance of the late 2000's. Full review to come – keep reading for the Comic Book Herald Overview.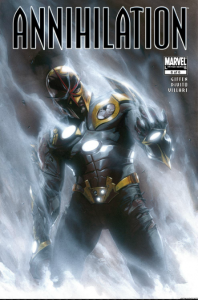 Comic Book Run: Annihilation (1-6) + Prologue 1
Publication Dates: Aug 2006 – Jan 2007
Writer: Keith Giffen    Artist: Andrea Di Vito
CBH Score: 8.1
Continuity Relevance?: Yes, major.
Who Needs It?: There is a hole in the edge of space and in the hole is our annihilation. Annihilus has come. Also, Thanos at his most mysteriously manipulative.
For More on Thanos: